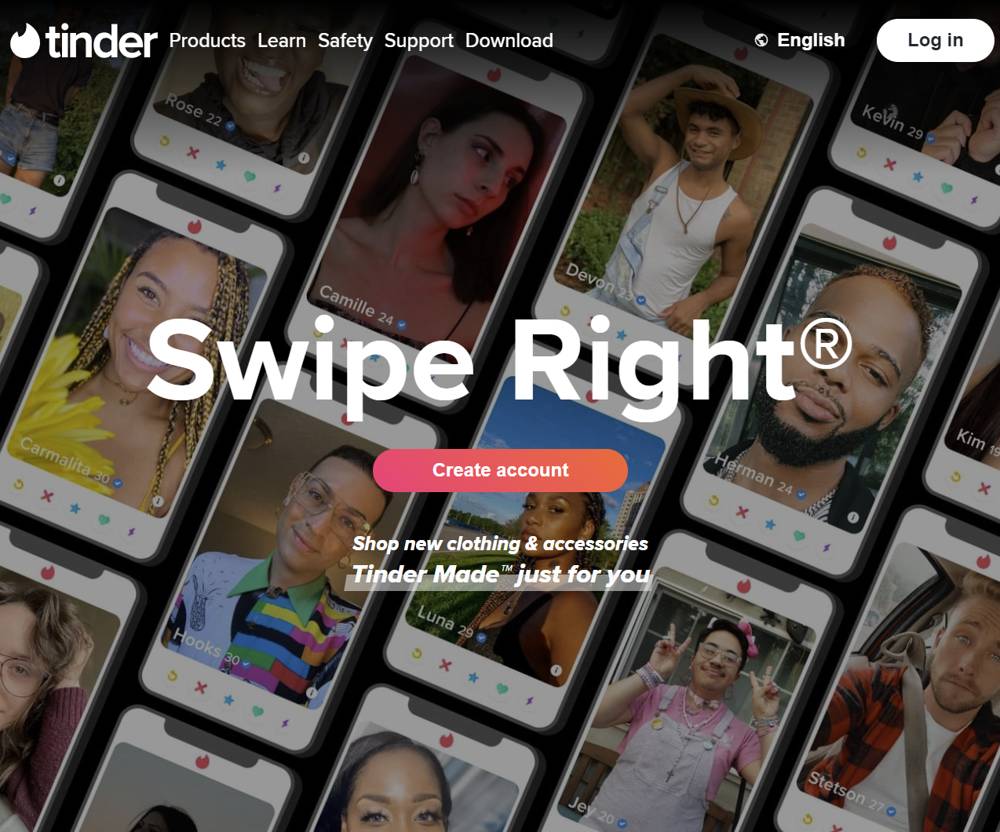 If you're interested in upgrading from a free Tinder account to a premium membership, you'll pay between $4.50-$26.99 a month. Find out if a premium membership is right for you – and what it includes – by checking out the rest of this post.
Quick Cost Breakdown:
Cheapest Membership: $4.50 per month
Most Expensive Plan: $26.99 per month
Best Value: Tinder Platinum – $9.00 per month
Free Trial Available: Yes!
Is it worth it? Jump to the conclusion to get our final thoughts!
How Do You Pay for Tinder Membership?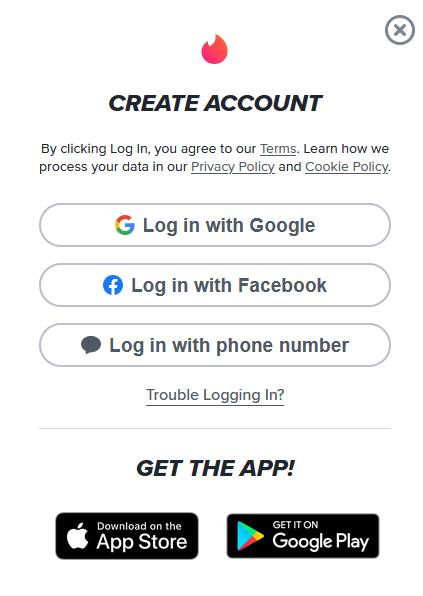 First, head to Tinder and create an account. You can set it up with Google, Facebook, or your phone number. Regardless of which you choose, Tinder will need your phone number to send you a verification code.
After verifying your account, add at least two pics to set up your profile. Then, you'll be ready to upgrade your membership.
Navigate to the top lefthand corner of the page and choose the membership tier you want. You can also select "Upgrade your Love Life" to see all the options.
After selecting a membership, you'll have to decide how long you want it for – one, six, or twelve months. As with most dating sites, the monthly rate decreases as the length of the membership increases.
Finally, choose how to pay for the membership. If you're on a mobile device, you can use one of the payment methods accepted through the App Store or the Google Play Store.
Tinder also accepts direct credit card payments for users on mobile devices and its website. You can choose from the following:
Visa
MasterCard
American Express
Does Tinder Cost the Same for Everyone?
Until recently, premium Tinder members between the ages of 30-49 paid around 65% more than younger users – but its age-based pricing has come to an end. Tinder stopped the practice shortly after a report from Consumers International and Mozilla that exposed the pricing structure.
Comparing Memberships – Tinder, Tinder+, Tinder Gold, and Tinder Platinum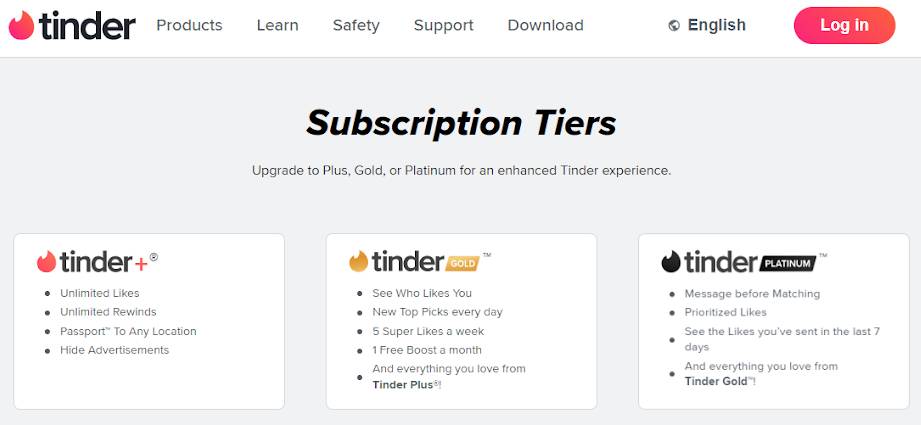 Tinder has a free membership along with three paid options. You can use the free version to set up a profile and swipe left to pass on profiles and swipe right to like them. The caveat is you're limited to a certain number of likes in a 12-hour period. Tinder's previous limit was 100 likes, but now, it varies by user.
You'll get unlimited likes with Tinder+, along with the following:
Unlimited Rewinds
Passport to any location
Ability to hide advertisements
If you have some extra cash burning a hole in your bank account, you can unlock even more features with Tinder Gold. Along with everything included in the free and Tinder+ memberships, Tinder Gold also comes with the following:
5 Super Likes each week
A free boost every month
Option to see who likes you
New Top Picks daily
And lastly, Tinder Platinum is an option for power users. You'll get everything included with the previous memberships, along with the following:
Message before matching
Prioritized likes
Access to all the likes you sent in the last week
Tinder Gold sits in the middle of the paid memberships, and we think it's the best value for paying members. It includes what's arguably Tinder's best feature – the ability to see who liked you. You can swipe right on folks who liked your profile, creating matches.
While we think this is the best value for serious Tinder users, that doesn't necessarily mean we think a subscription is worth it. Stay tuned for our final thoughts about paying for a membership to Tinder.
Do Tinder Memberships Renew Automatically?
Yes, Tinder will keep charging your card until you go to Account Settings and cancel. You can cancel at any time after paying for your membership.
Can You Use Tinder Without Paying?
Yes, Tinder offers a free account that includes basic features. Most members start with a free account to get a feel for the app before paying. Then, they upgrade if they love Tinder and want more features.
Is Tinder Membership Worth It?
In a word, no. There's really nothing special about Tinder. It only stands out because it's quick and easy to use – and that leads to some disappointing (and often heartbreaking) connections.
The app doesn't take anything but looks, location, and sexual orientation into account, so you can easily be matched with someone who makes your skin crawl. And as bad as that is, the potential for harassment is worse. The site's making some efforts to cut down on serious harassment, but we're not impressed so far.
But hey, we aren't against casual dating apps in general – just Tinder.
You can have casual fun online and still find a good match by using a dating app with an actual matching algorithm. Then, it'll connect you with people you enjoy being around instead of folks who make you consider hiding in the bathroom until they leave.
If you want casual dating without all the disappointment, check out Zoosk.
So, it shares a couple of things in common with Tinder. You can get started fast, without a long questionnaire, and it lets you swipe. But it also has something you won't find on Tinder:
An actual matching algorithm.
It uses a behavioral-based algorithm, so it learns as you go. That's how it manages to keep the sign-up process so short. And since the matches are based on your actions inside the app, they're on point and about much more than looks.
It also has some other features you won't find on Tinder, such as virtual dates. Learn about all the cool features by reading our Zoosk review. Oh, and check out the link inside the review to try Zoosk for free.