If you want to upgrade from a free to a paid Zoosk membership, you can expect to pay between $10.00-$29.95 a month, depending on your plan and location. Stay tuned to learn more about Zoosk's premium memberships and find out which one provides the best value.
Quick Zoosk Cost Breakdown:
Cheapest Membership: $10.00 a month
Most Expensive Plan: $29.95 a Month
Best Value: 6-Month Plan ($13.5 a month)
Free Trial Available: Yes! (Click to Claim)
Is it worth it? Jump to the conclusion to get our final thoughts!
How Do You Pay for a Zoosk Membership?
You'll need to go to Zoosk's website and create an account before purchasing a membership. You can sign up with your email address, Facebook, or Google account.
The sign-up process is relatively fast. You'll need to enter basic information, such as your name and location. Then, Zoosk will prompt you to add a photo, although you can skip this step for now. Keep in mind that if you don't upload a profile picture when signing up, you'll need to add one before connecting with singles.
After filling out the short questionnaire, you'll be redirected to the homepage, where you can sign up for a membership. Click "Subscribe" on the bottom left-hand side of the page and select the subscription you want to purchase.
Then, choose one of the following payment methods:
PayPal
Visa
Mastercard
American Express
Discover
You'll be charged for the entire membership instead of paying each month. For instance, if you choose the 3-month membership at $19.98 a month, Zoosk will charge you $59.95.
Does Zoosk Cost the Same for Everyone?
No, pricing differs slightly based on location. For instance, the 12-month membership costs:
$10 a month in the United States
$19.20 a month in Australia
$12.50 a month in Canada
£15.00 a month in the UK.
We've also noticed slight pricing variations in different cities in the United States, especially for the 3-month plan. From what we've seen, it looks like people in smaller cities tend to pay less per month, but that's not guaranteed since the prices fluctuate.
You can find out how much you'll have to pay by clicking on the "Subscribe" button located on the homepage.

Comparing Memberships – Free vs. Premium vs. Coins
Zoosk uses a "fremium" model, allowing you to create an account and browse profiles for free. You can also like and pass on profiles without paying any money.
If you want to interact with folks, you'll need to upgrade to a paid subscription. There are four paid membership options: 1-month, 3-month, 6-month, and 12-month. All of these memberships include the following premium features:
Unlimited messaging
Full access to SmartPicks
See who has viewed your profile
Unlimited chat
Access to Great Dates
Even though you'll get the same features with all the paid plans, the 6-month subscription is our favorite. For starters, it has a low monthly cost. Sure, you'll pay for all six months at once, but that still only comes to $79.99 for half a year of access.
And here's another reason we're all about the 6-month membership…
Zoosk is a casual dating site, and most casual daters want to meet lots of different singles. If you're only on Zoosk for one to three months, you'll place a hard limit on the number of dates you can get. On the other hand, you'll be swimming in dates if you stick around for six months.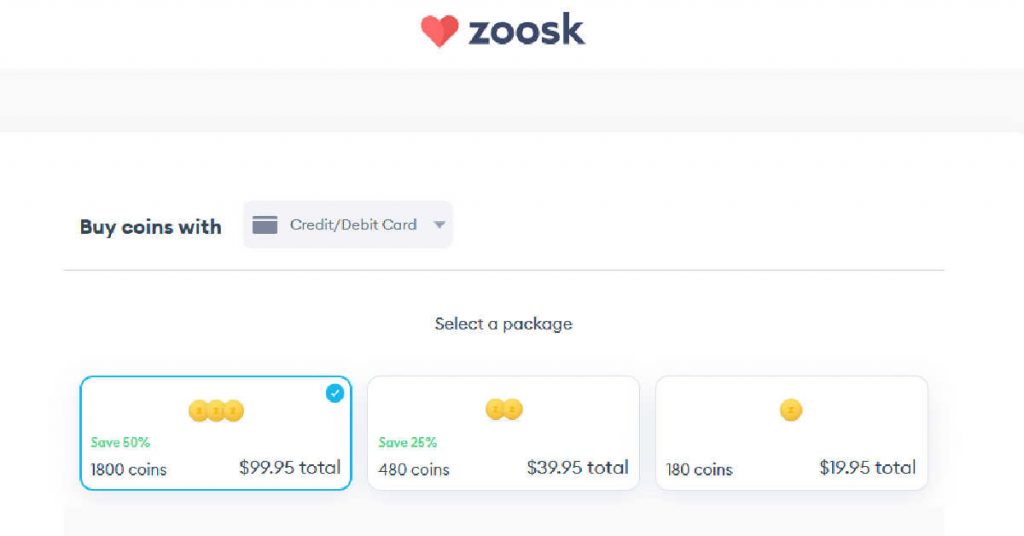 Zoosk Coins
So, we've covered freemium and paid memberships, so now it's time to look at another option: Zoosk Coins.
Both free and paid members can purchase Coins to unlock additional features. You can use Coins to:
Go invisible
Boost your profile to other members
Buy virtual gifts
Receive delivery confirmation on messages
Zoosk offers the following pricing options for Coins:
180 coins for $19.95
480 coins for $39.95
1800 coins for $99.95
Some members buy coins if they don't get much attention on Zoosk. We recommend checking out our article to find out why no one is noticing your dating profile first. The post has some actionable tips that will help you stand out on Zoosk and other dating sites. If you're still having trouble, you can try Coins, but we don't recommend buying them out of the gate.

Do Zoosk Memberships Renew Automatically?
Yes, your membership will automatically renew until you cancel it. You can cancel your membership by clicking on "Settings" and navigating to "Subscription." Then, select "Cancel Subscription."

Can You Use Zoosk Without Paying?
Yes, you can use Zoosk for free, but you'll need to upgrade to a paid subscription to communicate with other members. If you'd like to try out the casual dating site, grab our Zoosk free trial today.
Is a Zoosk Membership Worth It?
Yes, Zoosk is absolutely worth it, especially if you're into casual dating. The site has more than 40 million members, and most of them want short-term relationships ranging from one-night stands to month-long affairs.
We also love the diverse membership base. You'll find people of different ages, races, ethnicities, and sexual orientations here. Seriously, everyone has a home on Zoosk.
So, Zoosk is our pick for casual dating, but what if you want something serious? While you can find some serious singles on Zoosk, we recommend going with a dating site that's geared toward long-term relationships.
If you're into serious dating, eHarmony is the best site out there. Grab our eHarmony free trial if you're looking for a romance that goes the distance.