Membership costs for The League dating app can be anywhere from $33 a week to $999 a week depending on what plan and features you're looking for and the amount of time you're willing to sign on for to get a deal.
It's one of the more expensive dating apps out there, but many seem to feel that it's worth the cost. Keep reading to learn about the premium features and membership tiers available.
Quick Cost Breakdown for The League:
Cheapest Membership: 1 Week Member ($99.99)
Most Expensive Plan: 1 Month VIP ($2,499.99)
Best Value: 2 Month Owner ($499.99 a month)
Free Trial Available: Yes! (Click here to Claim)
---
Can You Use The League Without Paying?
Yes, you can use The League for free after getting off the waiting list. If you'd like to check it out, use the link above to claim your free trial to The League. This will allow you to use The League as a "Guest" for as long as you would like.

How Do You Pay for The League Membership?
You need to create an account on The League before upgrading to one of the paid membership plans. First, go to The League's website and select "Join the League." Then, enter your phone number and click "Text Me" to receive an invitation to download the iOS or Android app.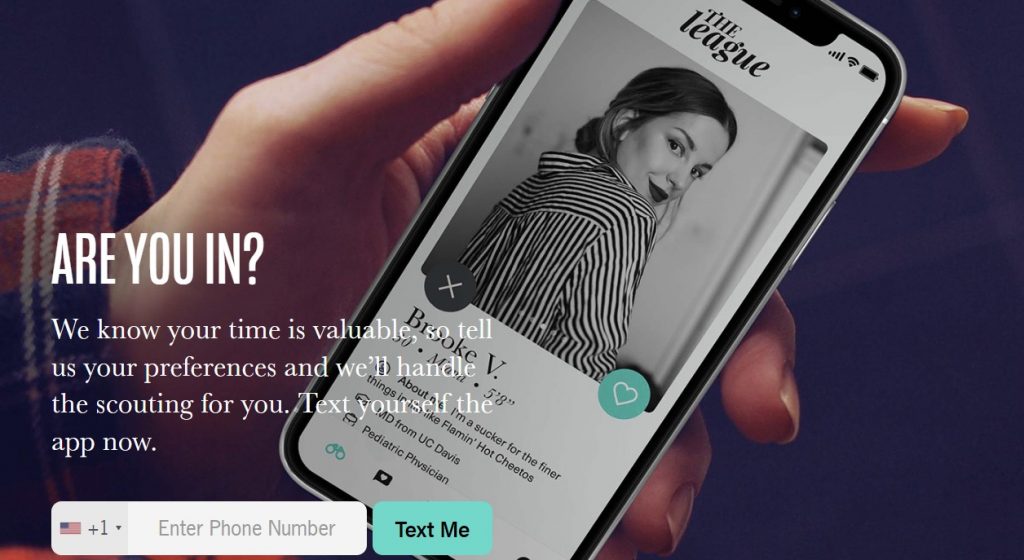 Once you receive the text, click on the link to download The League dating app. Then, launch the app and click "New User" to set up your account. After that, you'll need to tap "Find Me Love" if you want to land dates or "I'm Not Single," if you hope to build your social network.
The League is an exclusive dating app, so you'll need to verify your account via SMS or Facebook next. Then, you'll go on The League's waiting list as a Guest (free member).
Finally, you'll be ready to subscribe and pay for a membership to The League. Scroll down the page and tap "Join the League" to open up the subscription options. Choose one of the three plans and pay through the App Store or Google Play. The League will charge your default payment method.
The App Store accepts the following payment methods:
Apple Card
Apply Pay
Apple Cash
PayPal
Apple Account balance
Most credit and debit cards
If you use an Android device, you can connect one of the following payment methods to your account:
American Express
Discover
JCB
MasterCard
Visa
Visa Electron
PayPal
Google Pay

Comparing Memberships – Guest, Member, Owner, Investor, and VIP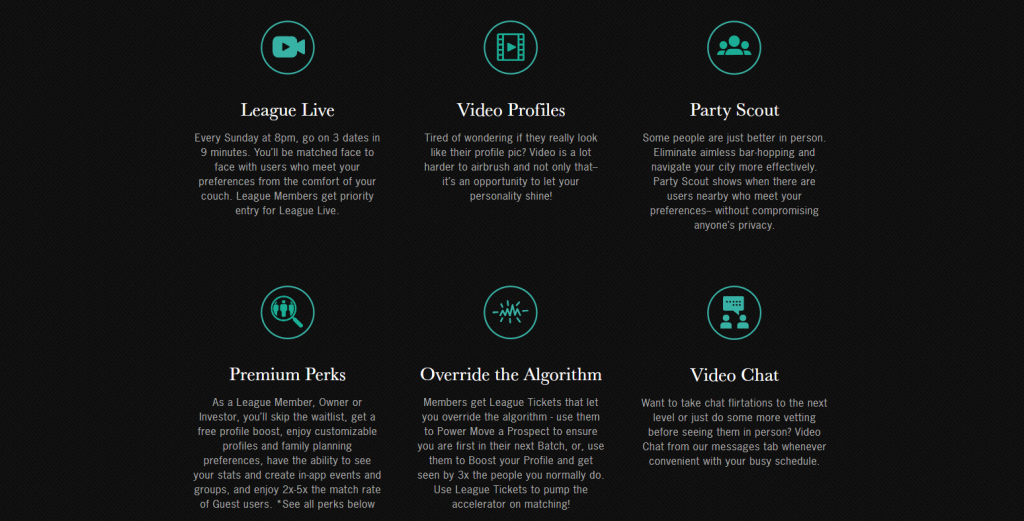 You can use The League for free with a Guest membership. As a Guest, you will receive the following features:
3 Daily Prospects
Up to 3 Video Dates at 8 pm. on Sundays
Access to groups and events
Hide your profile from coworkers
Add videos to your profile
Option to pay for a Profile Boost
---
If you want to unlock more features, you'll need to pay for a Member, Owner, or Investor subscription. All premium subscriptions will allow you to:
Move to the front of the waitlist
Review extra daily prospects
Receive additional batch prospects upon purchase
Go on more weekly speed dates
Edit introductory messages
Have priority access to League Live
Promote events to groups
Create groups and events
View read receipts
Pre-block users
Search users by handle
Customize profiles, bio, and hide your age
Update professional and education information
Set family planning preferences
See personal profile stats
View past prospects and likes
Search for prospects in multiple cities
Send intro notes to matches
Gain exposure with a free profile boost
So, that's what the Member, Owner, Investor, and VIP plans have in common, but what sets them apart? Each subscription includes a different number of Video Dates, daily prospects, and extra batch matches. Plus, the Owner and Investor plans come with additional premium features.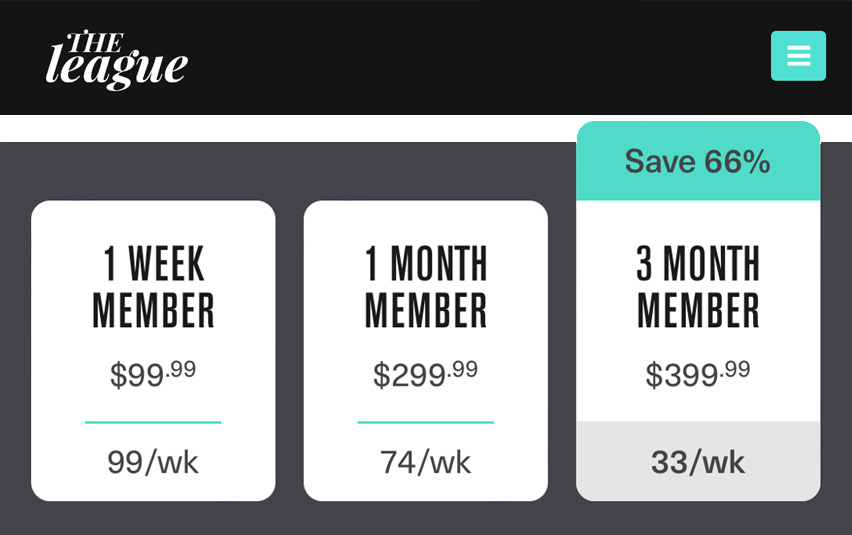 Let's break it down, starting with the Member subscription. As a Member, you'll have all the previous features, along with:
5 daily prospects
Up to 5 Video Dates a week
5 extra batch prospects upon purchase
Get matches from 2 city locations.
---
The Owner plan is a step up from the Member subscription. As an Owner, you'll receive:
6 daily prospects
Up to 6 weekly Video Dates
6 extra batch prospects upon purchase
Detailed read recipes
Unlimited Power Moves, rematches, and undoes
Unlimited rematches
X-ray Vision (see if a prospect has already liked your profile)
Get matches from 3 city locations.
---
With The League's Investor plan you'll notice a pretty significant price jump. From here on up you will start to access elite perks that are not available on the previous plans we've discussed. If you upgrade to Investor status, you'll receive all the previous features, plus:
7 daily prospects
Up to 7 weekly Video Dates
7 extra batch prospects upon purchase
Pre-select Video Dates
Free Power Move Notes
Access to full list of likes
Private profile until sending a like
View likes in real time instead of waiting for Happy Hour
Unlock warm Intros
Get matches from 4 city locations.
Ultimately, We think that the Owner plan is the best value. Features like Power Moves and rematches can help you make more connections. Plus, the Owner plan is lot cheaper than the Investor plan while offering many of the same features. But if you want to get the absolute most our of The League Membership, there is one final option with more features than any other…
---
That's right! The League is now offering a new membership tier called VIP which costs $2,499 a month. If you subscribe to be a VIP member you will receive all the previously mentioned features as well as:
8 daily prospects
Up to 8 weekly Video Dates
8 extra batch prospects upon purchase
Get matches from 10 city locations.
Unlock the Instant Match features
Get a VIP badge on your profile
Have a dedicated concierge.
It certainly offers a lot of unique value, but we recognize that most users are not going to be able to afford to pay $625+ to use The League dating app.

Do The League Memberships Renew Automatically?
Yes, premium subscriptions to The League automatically renew each month until canceled. If you want to cancel your paid membership, go to your subscriptions in Google Play or the App Store, select The League, and cancel the membership.

Is The League Membership Worth It?
Absolutely! The League is an excellent choice if you're young, ambitious, and have high standards. However, most members are between the ages of 25-35, so it can be hard to get matches if you're in you're 40 or older. It can even be a challenge when you get deeper into your 30s.
Fortunately, EliteSingles is the best dating app for professionals in their 30s and beyond. Most of the members are between 30-55, so it picks up where The League drops off. Plus, it's quite a bit cheaper than The League, so you can save your money for your dates.
We recommend that you try EliteSingles for free if you're a professional in your 30s or above.