Finding the right dating app for you can seem like a tall task. In a world where you have thousands of options to choose from and no clear way to get good analysis, it can seem quite daunting. However, online dating wasn't designed to feel that way. It was designed to be an efficient and helpful way to connect singles who are struggling with antiquated in-person methods.
But you can only enjoy those great benefits if you're able to find the best dating apps for you. As our team has an immense number of resources we can tap into to analyze, rack, and stack online dating apps, we felt it was our duty to help singles out. In this section, you'll find our collection of online dating site and app reviews.
Some of the questions we'll answer about the biggest dating apps on the market include:
Is this site really worth it?
How does the matchmaking process work? Is it effective?
What kind of relationships is this dating app designed for?
If you're ready to truly find the best dating apps in a sea of options, let's dive right in to the answers you're looking for.
The 5 Best Dating Apps of the Year
---
1. Elite Singles – Top Pick: Best Overall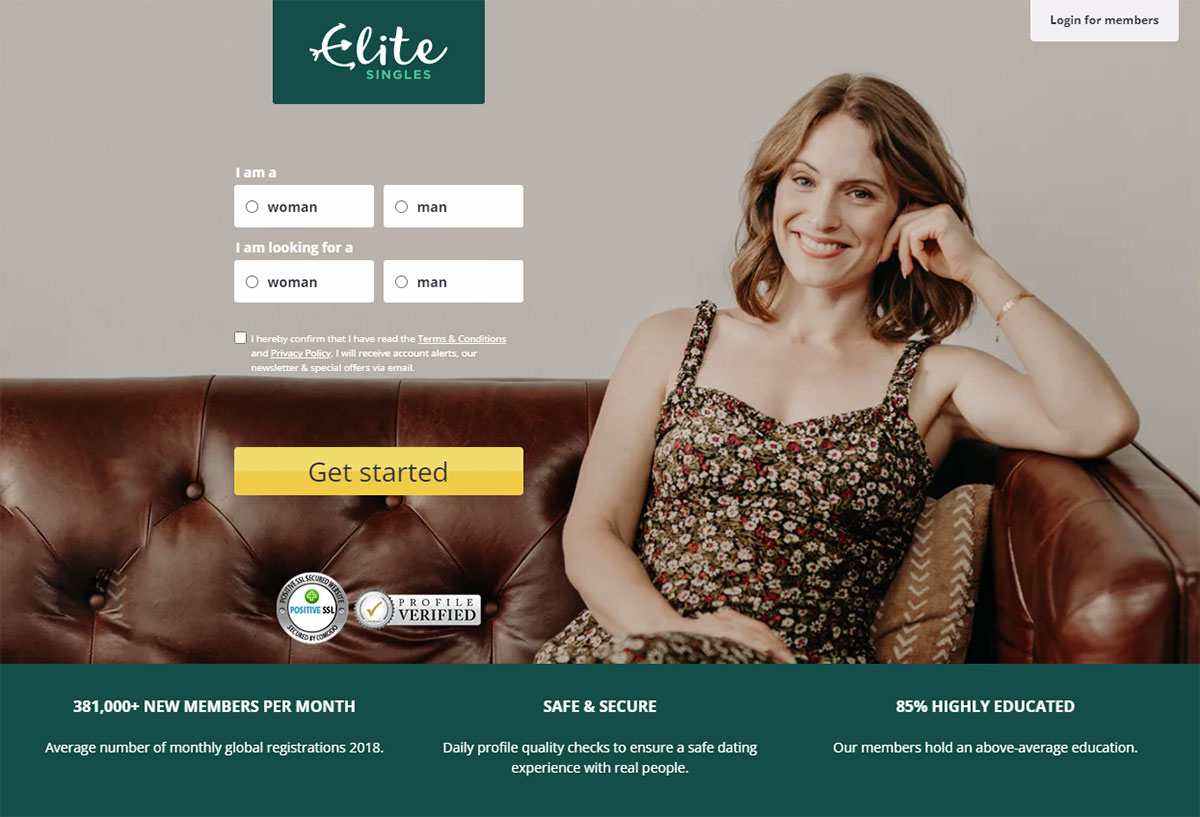 Pros
More than 85% of the singles hold an above-average education
Nearly 400k new users join every single month
Available on iOS, Android, and the web
Cons
Well-thought out user area, but older design
Not ideal for very young singles (under 25)
The number one best dating app on our list for this year is Elite Singles. The app does a phenomenal job of being everything to everyone without being too big. The main draw of the site is that it is designed for higher educated singles or for those who value education or success. If you're looking for high-quality singles that are looking for relationships more on the serious side of the aisle, Elite Singles should be glued to the top of your best dating apps list (like it is on ours)!
Additional Resources:
---
2. Eharmony – Best for Serious Relationships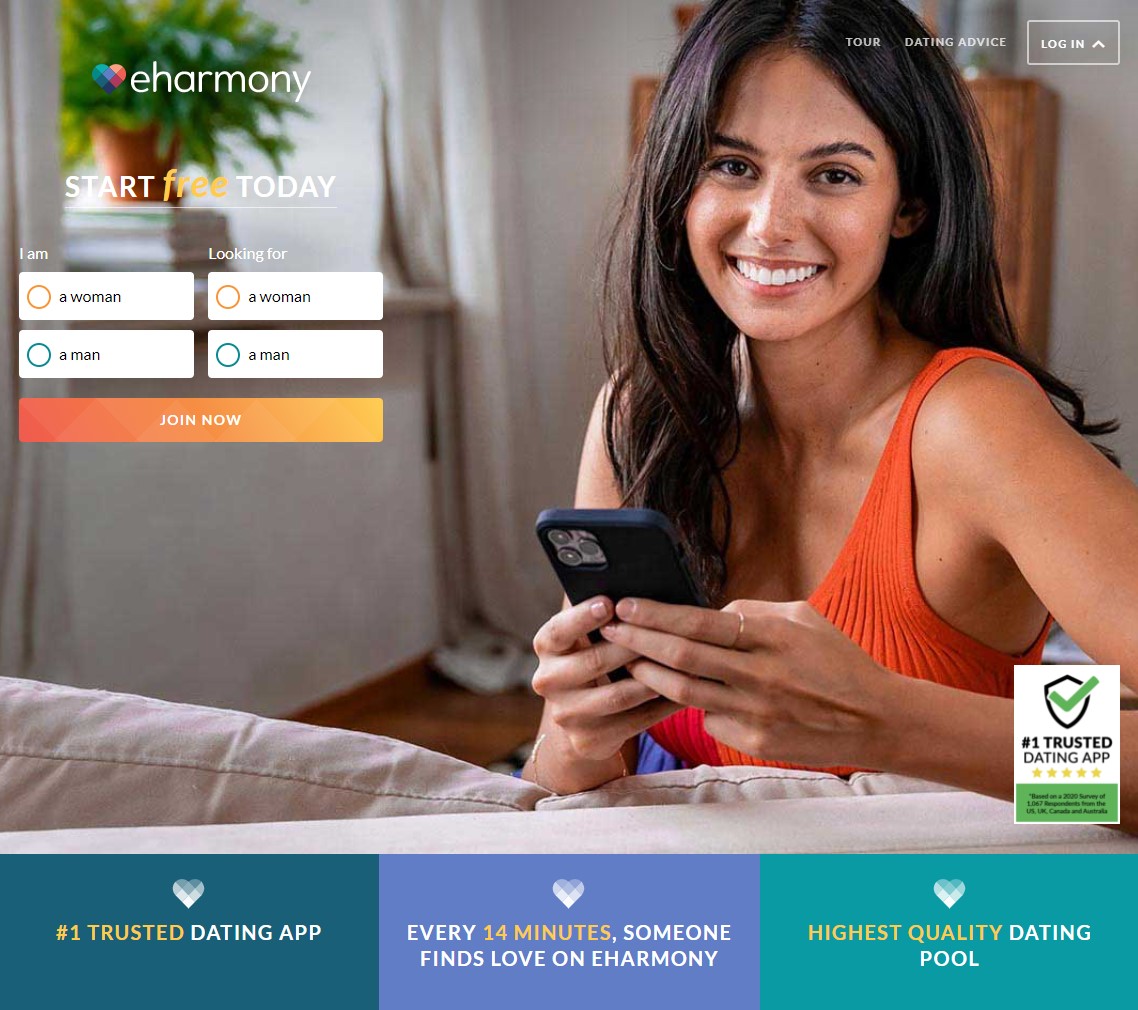 Pros
One of the strongest track records of matchmaking success
Ideal for singles looking for committed relationships or marriage
More in-depth sign up process acts as a great quality filter
Cons
Not ideal for singles who want casual relationships/dating
Not ideal for singles who aren't committed to investing time in the dating process
While Eharmony is number two on our list, it really was more of a tie with Elite Singles. When it comes to any discussion about the best dating apps, Eharmony is (and should) always be one of the first sites mentioned in that conversation. Designed exclusively for singles looking for serious and committed relationships, Eharmony uses a matching questionnaire and a few other special resources to help singles find the love they're looking for. And the reason we're so high on them? Because it works. Out of all the top dating sites on our list, Eharmony has one of the strongest and most documented track records of success in the industry.
Additional Resources:
---
3. Zoosk – Best for Most Members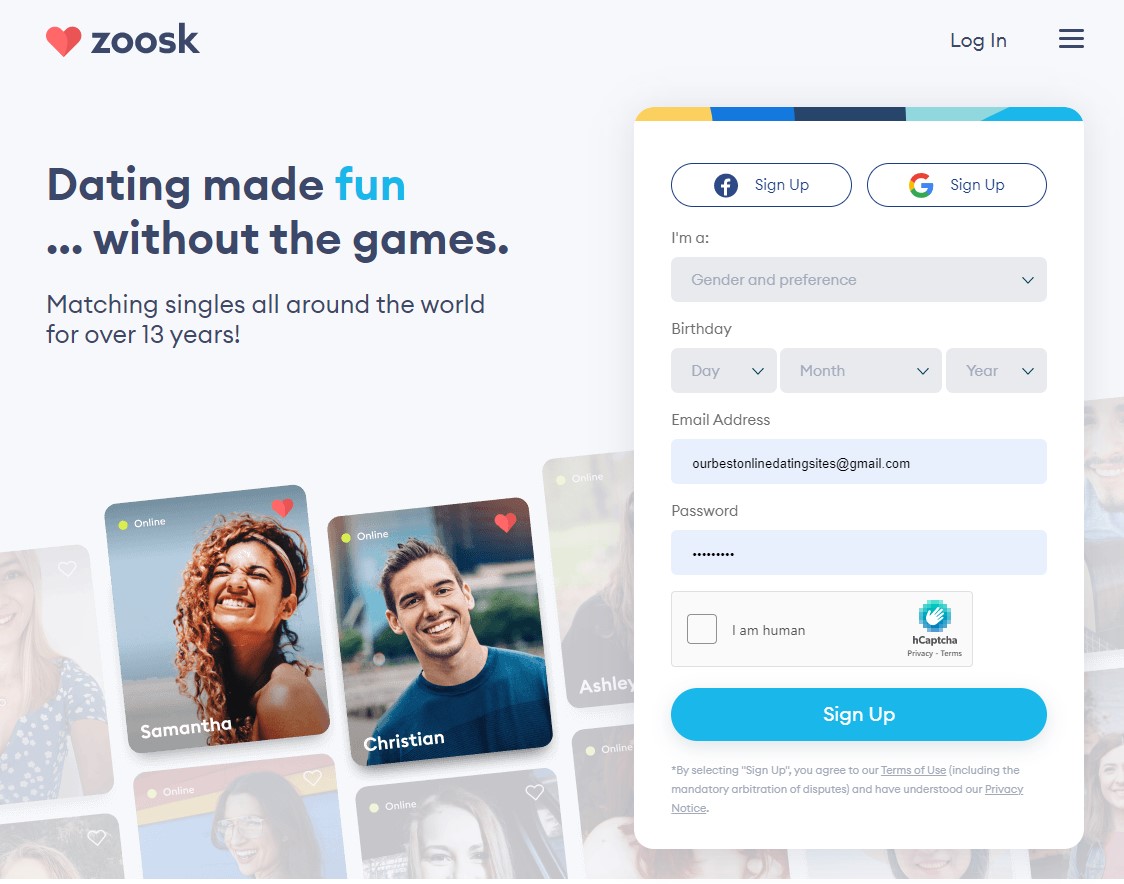 Pros
Great for casual dating or serious relationships
Over 30 million downloads
Great track record with over 13 years in the dating industry
Cons
You may have to sort through some people who are looking for different types of dating than you are
With so many members, you may feel like you're getting more messages than you were looking for
When it comes to online dating sites, the biggest benefit is that you get access to a lot more singles than you would in your normal day-to-day life. With Zoosk, the site takes that to a new level—and that's why they're firmly on our list of the best dating apps. With over 30 million downloads, expect to see thousands of members within your area. This means that you're never going to be short on options and you're truly going to be getting the most value out of your membership.
Additional Resources:
---
4. Higher Bond – Best for New Dating Apps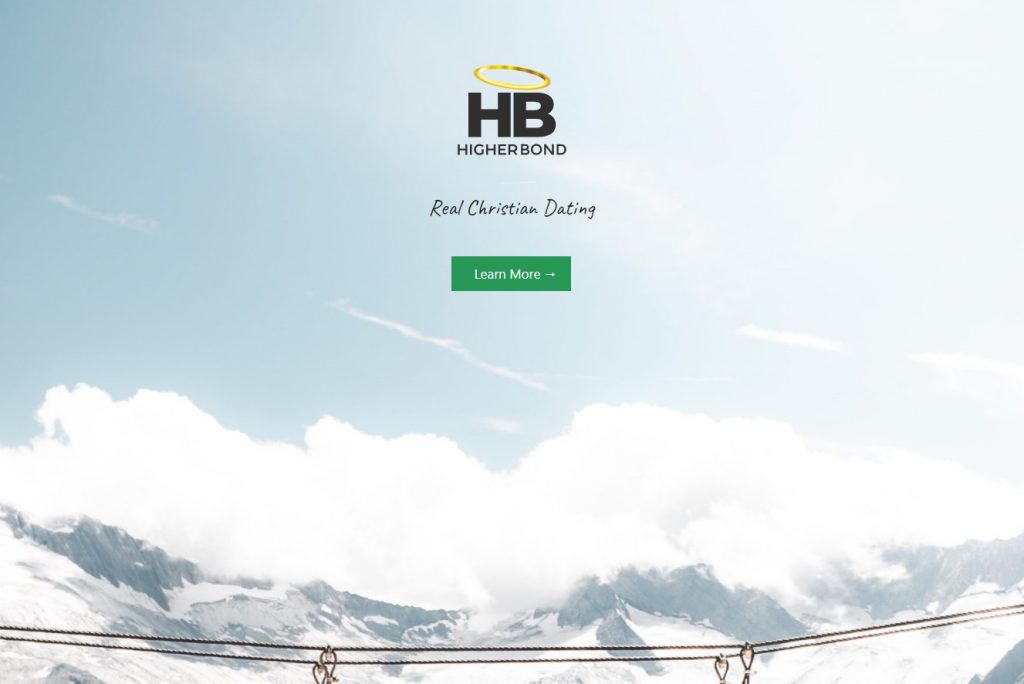 Pros
Perfect for single Christians who take their faith seriously
Ideal for singles looking for something new and different
100% Christian-owned company
Cons
Brand new, so smaller user base
Normally you'd see us shy away from newer online dating apps (because we like to see them prove themselves first), but that's not the case with Higher Bond. This brand new Christian dating app makes our top five best dating apps list with flying colors. The app launched in mid 2022 and since has been using it's faith-based matching algorithm to help Christian singles find exactly what they are looking for. If you're serious about your faith and finding the right person to date, you have got to give Higher Bond a try.
---
5. Christian Mingle – Best for Religious Dating
Pros
Great for serious or casual Christian singles
Over 15 million users
Very simple and easy-to-use interface
Cons
Not good for non-religious singles
Simpler profiles (may be a pro)
While we're on the topic of faith-based dating, our best dating apps list rounds out with another Christian dating site—Christian Mingle. If you're looking for something new and targeted more towards serious Christian singles, go with Higher Bond. But if your faith is something that might be a bit more casual or you're looking for a larger pool of singles, Christian Mingle may be the right pick. This top dating app has been around for years and boasts a userbase of over 15 million singles.
Additional Resources:
---
More Dating App Resources
---
Reasons You'll Love These Dating Sites
Whether you want to call this our ranking methodology, our secret sauce, or just our review criteria, one thing remains the same—it's important. Unfortunately, too many online dating publications fail to allocate the necessary resources to really determine what the best dating apps are. And whether that is bias, ignorance, or just laziness—it's unacceptable.
Here, though, we pull back the curtain and give you full transparency into how we decide which dating apps are the best, which don't make the cut, and why. To get that honest transparency process started, here are some of the ranking factors we look at during our curation process.
A Track Record of Meaningful Results – Every app out there will claim to be the best dating app on the market. However, talking the talk and walking the walk are two different things. When we're making our picks for the winners and the duds, the quality of their track record of success is the right first stop.
Focus on Safety – Hands-down, the most important deal breaker for us when ranking the best dating apps is safety. While it may not be the flashier side of reviewing or ranking (like features or member quality), it's a must have. You have got to be able to know that the site you're dating on has your back, is taking a proactive stance towards safety, and has the systems and features in place to keep you protected.
High-Quality Members – There is absolutely no reason to ever use a dating site if it doesn't have high-quality single members who fit the mold of what you're looking for. The best dating apps know how to market to and attract these kind of singles (like yourself) and help match them up.
Brief Look at Quantity – Yes, we said quantity and not quality. While we always favor a quality over quantity approach, a dating app with only a few high-quality singles isn't going to be that helpful. There not only needs to be high-quality singles (like we mentioned in the last point), but there also needs to be enough of them to go around. However, quantity without quality is not something that works for us; hence, the "brief" look at the absolute numbers.

More Online Dating Apps to Consider
Sometimes you're looking for something specific, which is awesome! We're always excited when singles know what they're looking for. If you've made it this far in our best dating apps guide, then maybe you're looking for something a little more specific than the options we've already recommended. If that's you, we've got good news. We've included below a handful of other top dating apps for you to consider checking out.
Best Dating App for Young Professionals – The League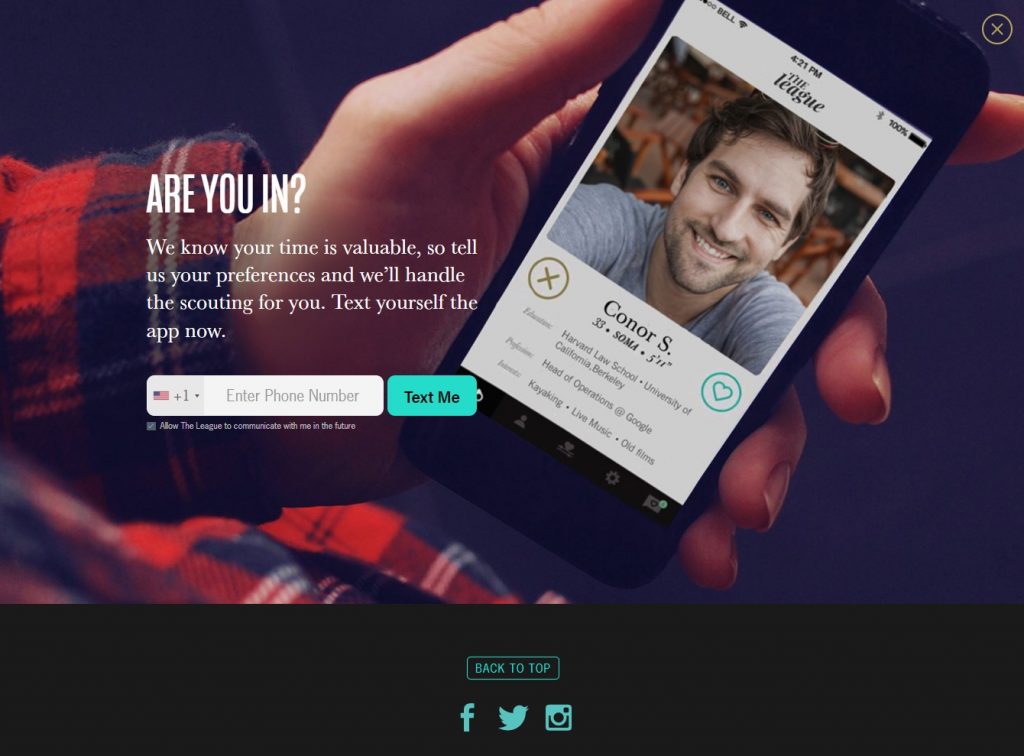 Another "new kid on the block" when it comes to dating apps is The League. Designed for "higher caliber" singles, this dating app requires you to get on a waiting list to join, have to get voted in, and comes with a higher price tag. While this might not sound that awesome, the site does bring a higher echelon of singles quality.
---
Best Dating App for Seniors – SilverSingles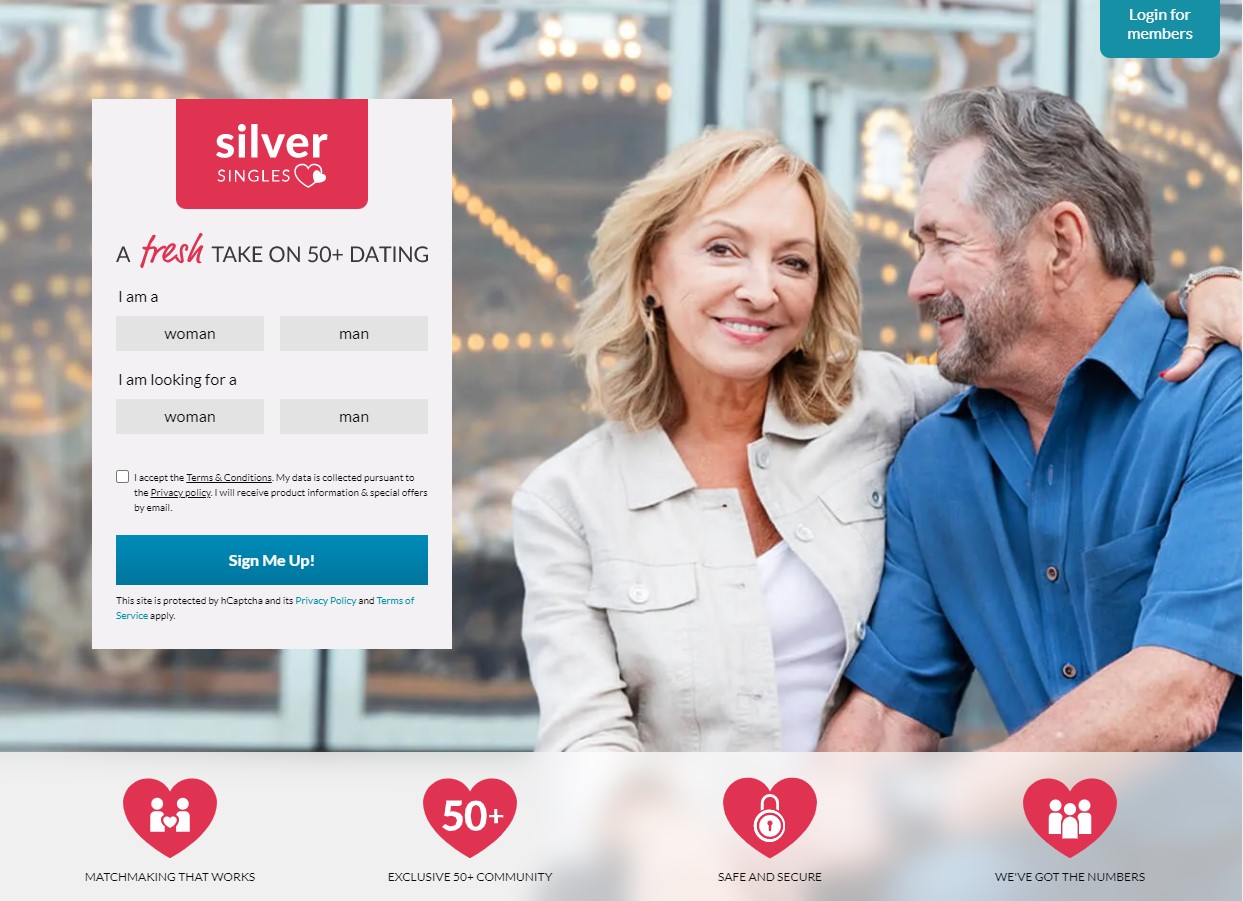 If you're into your later years in life (over 50) and looking for someone in the same age bracket, you may want to check out a niche dating app designed for singles with a little extra grays upstairs. We're talking about SilverSingles, the leading dating app for senior singles. Yes, you can have fun finding senior singles on the mainstream apps we've recommended, but if age is a deal breaker—this is the way to go.
---
Best Dating App for Jewish Singles- Jdate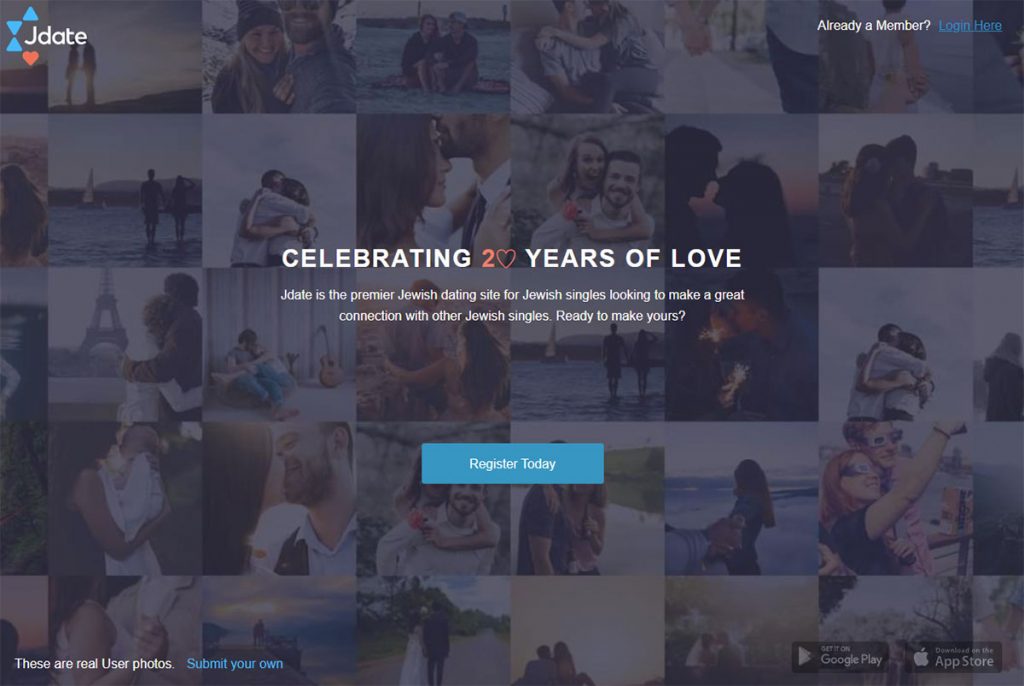 For Jewish singles, Jdate takes the cake as the top dating app. Why? Well, whereas most niche dating apps struggle to get enough members to be worth it, Jdate comes with a large and active userbase of Jewish singles. If you're not serious about your Jewish faith, this is not the app for you. But if you're looking for someone who also values their faith, Jdate is probably the best dating app for you.
---
Best Dating App for Catholics – Catholic Match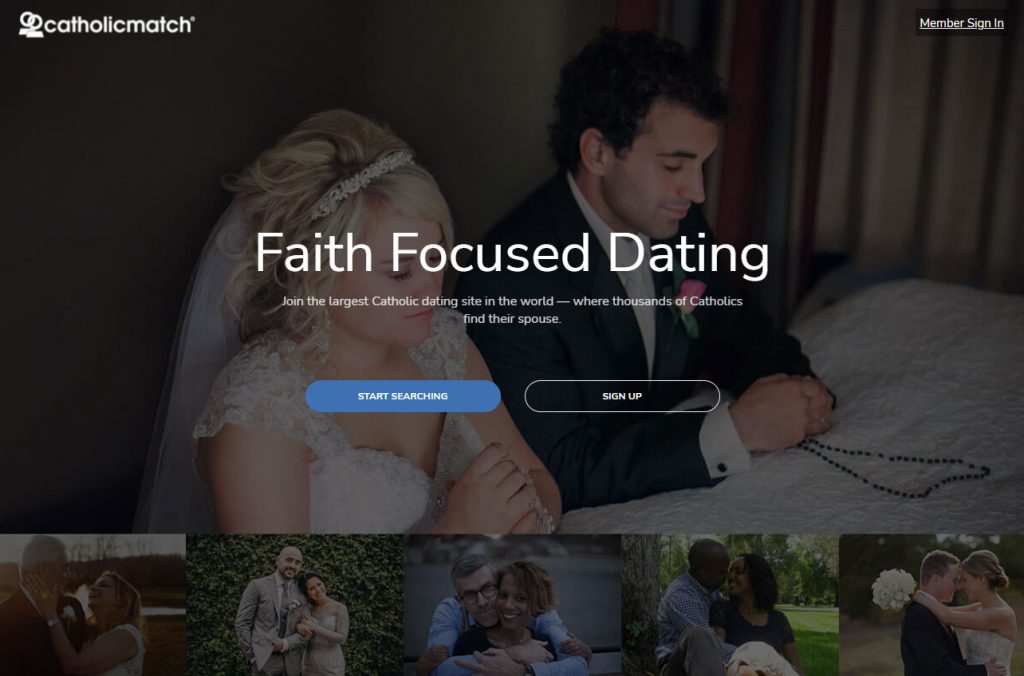 Calling all Catholic singles! If you're Catholic and you're only interested in dating other Catholic singles, then this is probably the right app for you. Again, yes, you can find people with the same faith views on mainstream dating apps, but if you want to be in a 100% Catholic singles only environment (that is supported by church leaders), you'll want to give Catholic Match a go.
---
How to Select an Online Dating App – Step by Step
Even though we've narrowed down the options list for best dating apps, there's still a selection process you have to go through. Why? Well, the best dating app for you is probably different than the best dating app for someone else. Each app offers a slightly different experience, different singles pool, and different matchmaking experience. It's so important that you take the time to figure out the one that is best for you and that will give you the best chance of finding the love you're seeking.
Here are the exact steps you can use to select the best dating app for you.
Start with a curated list of top dating apps. – If you just Google the best dating apps, you'll find hundreds of options. Start by finding a list of pre-screened options to narrow down the choices. The list we've provided on this page is exactly that, so you've already completed step one!
Make a list of what's most important to you. – The next step is determining what you're looking for, what type of relationship you want, and what type of matchmaking experience you want to use to get there. Make a list of the things you absolutely need (deal breakers) and the things that you want (would be nice to have).
Select 2-3 options that fit your list of wants and needs. – Once you have your list completed, compare it with the list of the best dating apps we provided in this guide. Find a few options that you think might check all the boxes on your needs list and as many of your wants as possible too.
Utilize the free trials. – The next step in picking out the best dating app for you is to get in there and try some things out! We've linked free trial accounts for every app on this page so that you can test things out on your own. This is the single best way to find the best dating site option for you.
Once you find a great fit, go for it! – After you find a site or two that fits your needs and wants, it's time to go for it! Create your profile, upgrade to a premium account, and start sending some messages!

Browse Top Dating Apps by Category and Interests
Most people looking for dating apps have something specific in mind. Maybe you're looking for someone with similar interests that you can relate to? We have great news.
Whether you're looking for someone who shares your beliefs, career, lifestyle, or other interests, there is almost certainly a niche dating app designed for exactly that! To learn more we encourage you to check out the pages linked below:

Best US Dating Apps by State
Online dating apps continue to get more and more popular in the United States as time goes on. Currently about 45% of all adults in the US claim to have used a dating app at one point or another, but what apps are they using? More importantly what dating apps are the singles near you using?
That's exactly what we'll be exploring with the best dating apps by state pages linked in this section. Each will explore the most popular dating sites in that state, the dating scene in major cities, and explore frequently asked user questions. If that excites you be sure to find your state in the list below:

Best Dating App FAQ
What is the #1 dating app?
The number 1 dating app is currently a near tie between Eharmony and Elite Singles. The winner for you depends uniquely on what you're looking for (type of singles, type of relationship, matchmaking system, etc.).
How much do dating apps cost to join?
The cost of joining a dating app can range from a few dollars up to several hundred dollars per month. Generally, you either have an option to purchase a la carte services or a monthly membership. While it may be tempting to find free dating apps or the cheapest option out there, online dating is a world where you get what you pay for, so keep that in mind. Sometimes a higher price point means more serious singles who are actually committed to and engaged with the process.
Should I join more than one online dating app?
Joining more than one dating app might be good for singles who have a lot of time to commit to finding that special someone. However, the more apps you join, the more messages you'll get, and the more you'll need to be committed to the process to have success. What we generally recommend is for people to start with one online dating app and add no more than two more (three total) if they want to get more results. Remember too, you can always end a subscription and try out a new app down the road as well.
What is the best dating app for a serious relationship?
The best dating app for a serious relationships is Eharmony.
What is the best dating app for casual dating?
The best dating app for casual dating depends on how casual of an arrangement you're looking for. If you're merely looking for hookups, Tinder may be the best fit. If you're looking for casual dating that could possibly turn into something meaningful down the road, we'd recommend trying Zoosk as it serves both needs.
How long does it take to join an online dating app?
The sign-up time for joining an online dating app depends on the app you choose. An app like Zoosk has a quicker sign up process that can take under 5 minutes whereas an app like Eharmony that has an in-depth sign up process can take up to 45 minutes to get started.
What's the difference between a dating app and a dating website?
In the early days of the online dating industry, there was a big difference between dating apps (that only worked on your phone) and dating websites (that only worked on your desktop computer or laptop). Today, most dating companies offer the ability to access their systems from any device. So, while "dating app" still technically means a program you download on your phone or tablet from the iOS or Google Play store and "dating website" means accessing the account through a web browser (either on your desktop, laptop, or the browser on your phone or tablet), the words have become interchangeable. In other words, when someone says "dating app" or "dating site," they are referring to the same thing.