With world-class barbecue and even better college football, there's a lot to love about Alabama. And hey, we'd never forgive ourselves if we didn't mention the beautiful beaches and friendly people. Let's just say there's no such thing as meeting a stranger in Alabama.
And you'd think that would mean that dating is easy, but according to the residents, that's far from true. While folks are open to chit-chat, most don't want you to walk up and ask them out. This might be a traditional state, but that tradition is dead.
It might seem like the odds are stacked against you, but you can find your match by using one of the best Alabama dating apps. Check out our top four picks for Alabama residents.
Top 4 Dating Apps in Alabama in 2023
We imagine you want to jump in and start swiping but hold up just a second. See, we chose apps for different groups and dating goals, so you'll want to select the right one to set yourself up for success. And that's not all. We'll also give you some insights into the Alabama dating scene and share the best apps for some of the state's biggest cities.
Are you ready to go from a dating disaster to a coupled-up success story? Let's dig into the top dating sites in the state.
Jump to:
---
1. Zoosk — Best for Casual Dating in and Out of College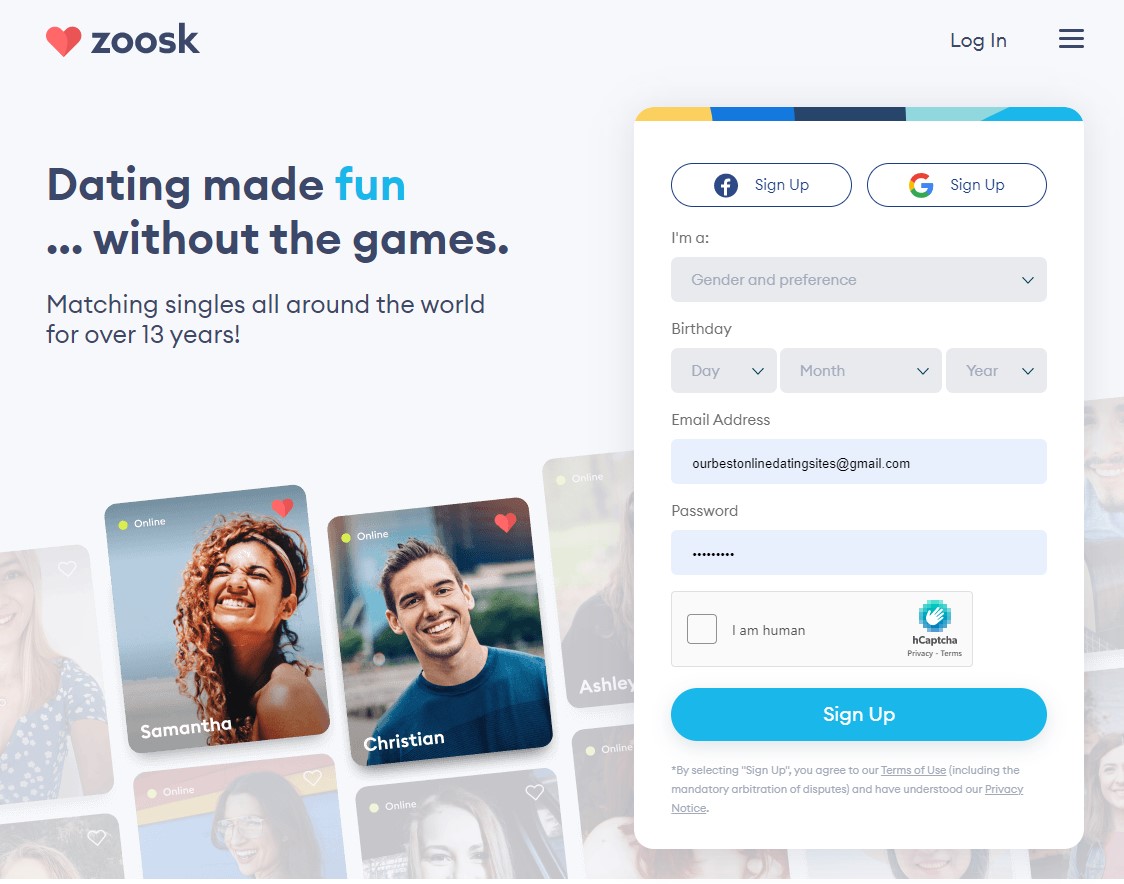 Who Will Love Zoosk: Casual singles that want lots of options
Who Might Not Enjoy Zoosk: Serious daters ready for marriage
Biggest Pro: More than 40 million members in Alabama and around the world
Biggest Con: Limited options for those seeking serious relationships
Starting Price: Premium memberships start at $11 a month
Alabama is home to dozens of colleges and universities, and around 300,000 students enroll at an institution of higher learning here each year. While some of the students met their plus one in high school and plan to stay together forever, most want to have some fun in their college years and are open to casual dating.
But it's not just the college crowd that likes to keep it casual. Alabamian women usually don't get married until the age of 26, while guys generally walk down the aisle around 28. Before taking the leap, many of them like to keep it casual until they find someone who's marriage material.
And that's what makes Zoosk the best Alabama dating app for people not quite ready for marriage. It's accumulated more than 40 million members around the world, with the majority interested in casual connections. At the same time, we've also heard about long-term love starting with a swipe on Zoosk, so you never know what'll happen.
---
2. eHarmony — Best for Alabama Singles Ready for Marriage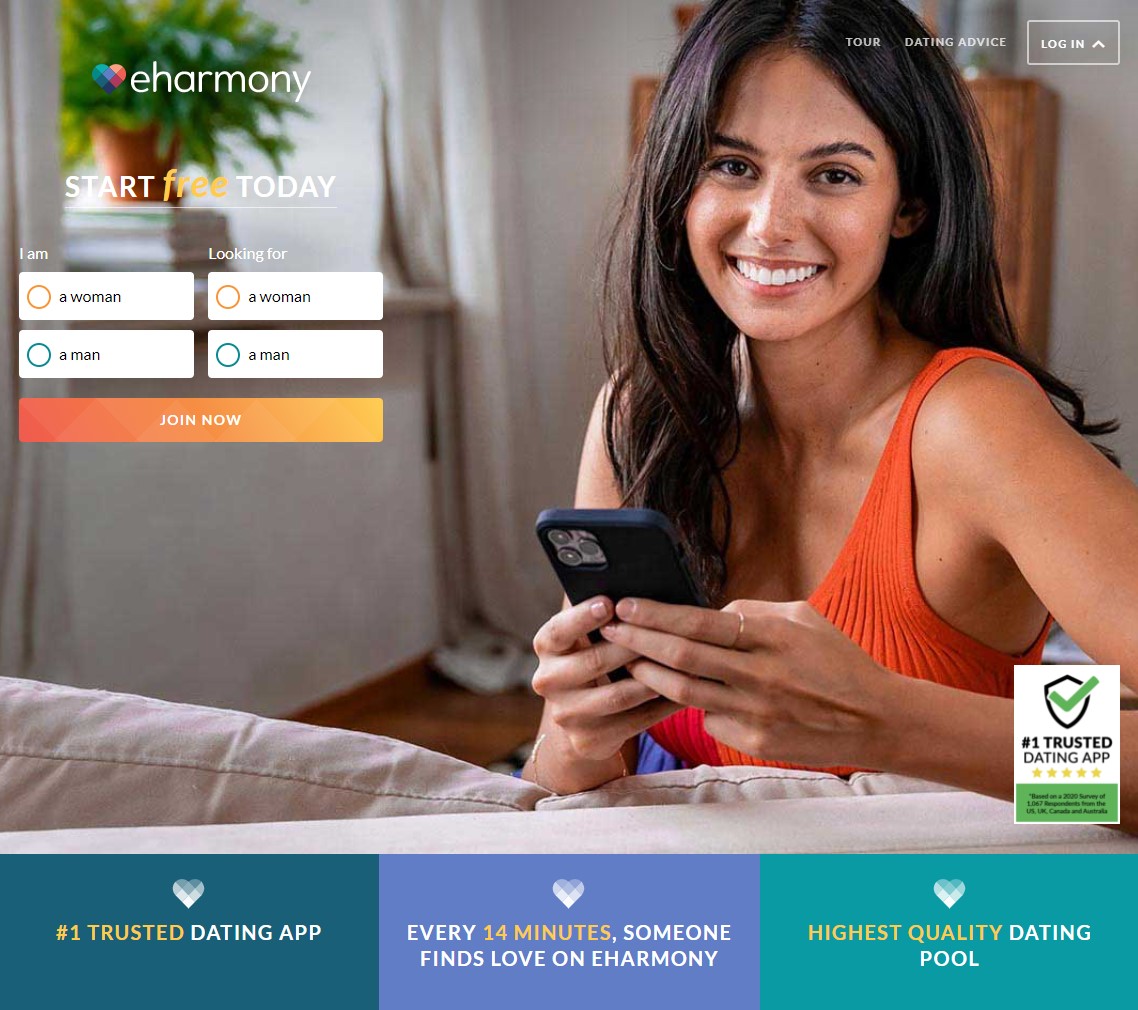 Who Will Love eHarmony: Alabama singles pursuing serious relationships
Who Might Not Enjoy eHarmony: Casual, short-term daters
Biggest Pro: Science-based matching algorithm
Biggest Con: It takes around 20 minutes to sign up (but it's worth it for the match quality)
Starting Price: Premium memberships start at $21.54 a month
Since Alabama residents tend to be religious, we weren't surprised to see that marriage is treated with respect here. Lots of singles have dreamed about marriage since they were young, and many are saving themselves until after saying, "I do."
But here's something that did surprise us…
While the national divorce rate is just a tick below 11 percent, Alabama's is over 12 percent. That made us scratch our heads, wondering why such a religious state has so many divorces. We realized that Alabama residents cite various reasons for divorce, but it usually comes down to one thing: lack of compatibility.
But that won't be an issue if you use eHarmony to find your husband or wife.
Clinical psychologist Dr. Neil Clark founded eHarmony after spending decades working with couples dealing with marital problems. He identified qualities and factors necessary to create a long-lasting (and happy) marriage and based the signup questionnaire on them.
It's like having your own professional matchmaker, but you can get started for free. Create your free account today so you can go on your last first date.
---
3. EliteSingles — Best for Serious Professionals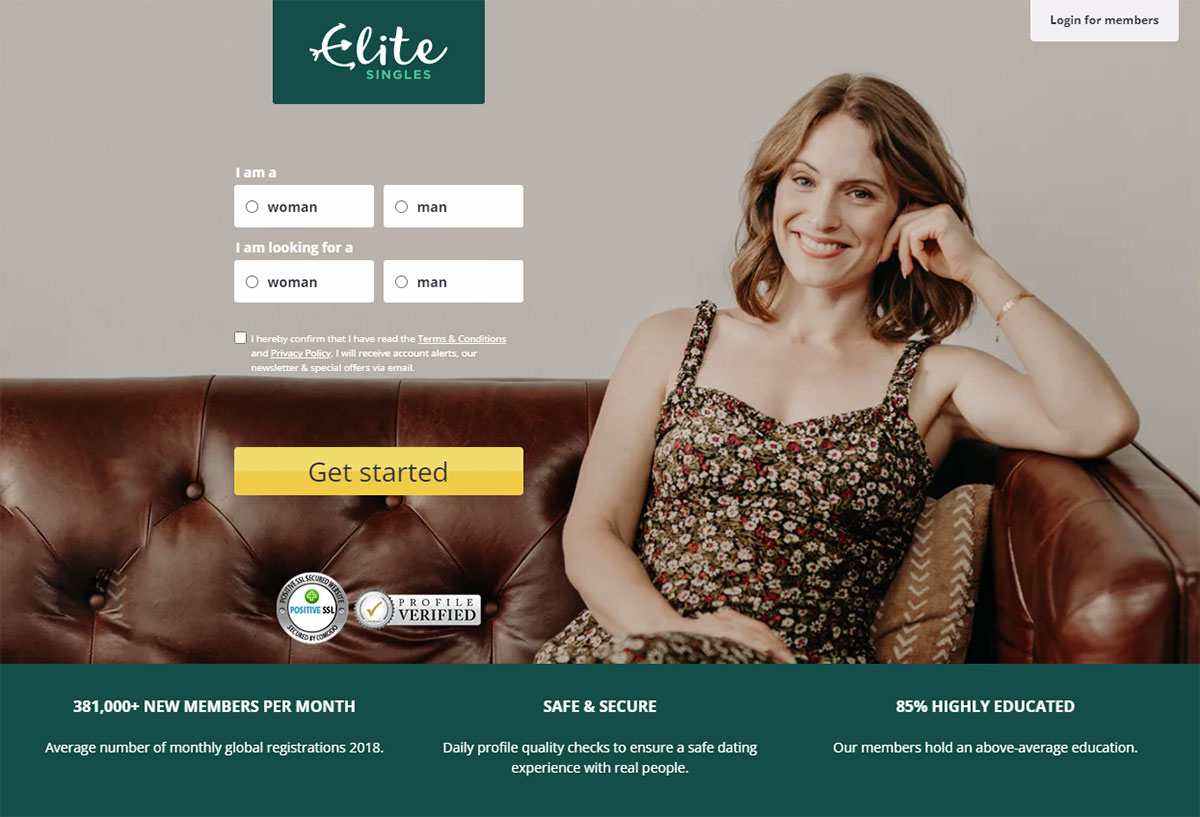 Who Will Love EliteSingles: Professional singles looking for ambitious matches
Who Might Not Enjoy EliteSingles: People not interested in their careers or serious relationships
Biggest Pro: Most members are well-educated professionals
Biggest Con: Limited features for free accounts
Starting Price: Premium memberships start at $14.95 a month
Alabama is home to some top-tier colleges, including the University of Alabama and Auburn University, and they churn out qualified graduates year after year. Many of them start careers as soon as they get their degrees and continue moving up the professional ladder.
These career-oriented professionals live throughout the state, but some of the most popular neighborhoods include Highland Lakes, Mountain Book, and Shoal Creek. Most of the time, they choose homes a bit outside the city limits, but they have everything they need.
Scratch that. They have almost everything…
As your income bracket increases, the number of available singles seems to decrease. You have to protect your wealth and career while looking for love, and that can make you a little leery of the dating scene. That explains why so many high-earning professionals are single.
Fortunately, EliteSingles will solve that problem for you. The name truly says it all. The members are among some of the state's most elite professionals, so you can find someone to spend the rest of your life with here.
You've raised the bar high and don't want to match with someone who slides under it. Choose from singles of your same caliber by creating your free account on EliteSingles today.
---
4. Christian Mingle — Best for Religious Alabama Singles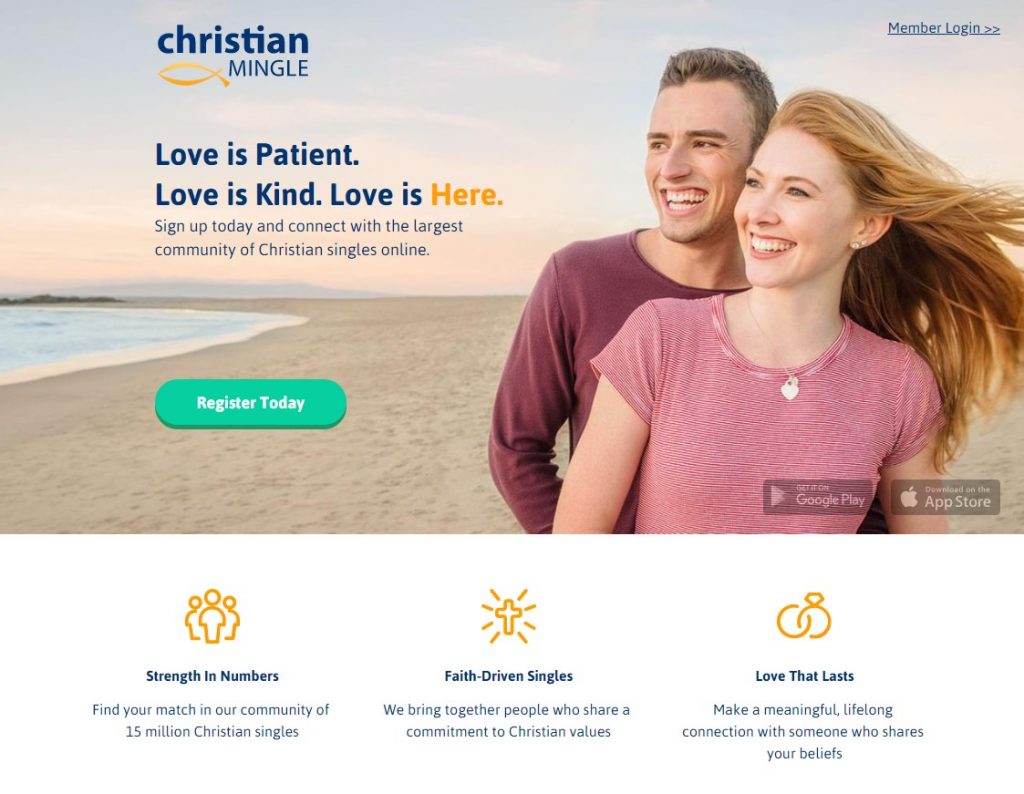 Who Will Love Christian Mingle: Christians interested in serious relationships
Who Might Not Enjoy Christian Mingle: Secular Alabama singles
Biggest Pro: Dating pool of more than 15 million Christian singles looking for long-term commitments
Biggest Con: Not many casual or short-term daters
Starting Price: Premium memberships start at $24.99 a month
If you think Alabama seems a little religious, you're definitely correct. According to the Pew Research Center, the state ties with Mississippi as the most religious state in the union. And most Alabamians are more than dabblers. They go to church regularly and say religion is a big part of their lives.
While there are some Jewish and Muslim people throughout the state, 86 percent of the adults in Alabama are Christian. And if you're a religious, church-going Christian, you want the same. After all, it won't work if you spend your Sundays at church while your match watches football.
Taking that into consideration, we've chosen Christian Mingle as one of the best dating apps in Alabama.
The site understands that religious involvement means different things to different folks, so you'll answer questions about how often you go to church and what denomination you are. But you won't stop there. It also digs into your personality and interests, so you'll find a true match.
If you put God before everything else, you need a partner that feels the same way. Head over to Christian Mingle so you can find religious men or women that are ready to start something serious.

What is the Dating Scene in Alabama Really Like?
Gender Roles Aren't What You Think — Sure, parents teach Alabamian boys to be gentlemen, so opening doors and paying for dates is a must. At the same time, the women here are fierce. If you're looking for a damsel in distress, Alabama isn't the place for you. The women here can hold their own, so don't expect to walk all over them just because you hold the door and pay the bill.
Meeting Parents is Part of Making it Official — It's hard to have a long-term romance in Alabama without meeting the parents. Men and women here tend to be close to mom and dad, so once they mention meeting them, you know it's getting serious. And sometimes that meeting can lead to marriage, so wear your best clothes and get ready to make a good impression.
Get Ready to Show Some Pride — From college football to hometown barbecue, Alabamians have a lot of pride in their surroundings. Cutting down the south or making jokes about southerners won't win you a second date, so immerse yourself in the state and culture to impress your match.
Dating Isn't Expensive — Thanks to the lower-than-average cost of living, dating is cheap in Alabama. The national average for dinner and a movie for two (plus a bottle of wine) is over $100, but it's less than $88 in Alabama. That'll give you a little extra wiggle room if you feel like splurging.
Religion is Part of the Dating Scene — Some states are losing their religion, but that's not the case in Alabama. Most of the residents are Christians to the core, and it can be hard to find love if you're not a believer. If you're in the minority, you'll want to stick to college towns and big cities. Most of the singles there are still religious, but you'll find people that are more open-minded about differing beliefs.
Interracial Dating is Becoming More Common — Like other southern states, Alabama is diverse, and interracial dating is becoming increasingly common. Unfortunately, though, progress is moving a little slower here. The state didn't officially end the ban on interracial marriage until 2000, and there's still some discrimination. You'll find that the younger crowd is much more open to it, so college towns are a good fit for interracial couples.
Casual Dating is a Thing — Most people think that casual dating is off the table if you dip below the Mason-Dixon, but it's time to put that perception to rest. Yes, many people here want to get married, and some are holding out to have sex. But others are into casual flings and one-night stands. So, when you consider that, it's easy to see that dating in Alabama is quite a bit like dating in other states.

Dating in Birmingham
Best Birmingham Dating App Recommendation: Christian Mingle and Zoosk
As the largest city in the state, Birmingham is bustling with activity. Each week, you can find single business professionals and UAB students mingling downtown. From bars and restaurants to live music, there's always something going on in this part of Birmingham, and some people try to couple up here.
But downtown Birmingham isn't a good place to land a date. The indoor spaces are so loud that you'll have trouble introducing yourself, and it's even hard to grab a seat next to people you don't know.
If you strike out downtown, work and church are the two best options for meeting people in the real world. In fact, you probably know some couples that met in these places. But for every successful match, there are dozens of swings and misses.
If you want to stop looking and start matching, it's time to go online.
Really, any of the Alabama dating apps from our list will get the job done if you live in Birmingham. Still, we have to give a special shout-out to two apps.
Christian Mingle is the first one on our list. Birmingham is the most religious city in an already religious state, so we know lots of singles are using it to find love. And unlike church, this app has millions of people down for love.
And then there's Zoosk. We love this app for UAB students that want to keep it casual. And don't forget, this app has also led to some life-long connections.
Population: 210,928
Men: 46.71%
Women: 53.29%
Unmarried: 64.58%
Median Age: 36.2
White-Collar Workers: 78.51%
Blue-Collar Workers: 21.49%
---
Dating in Mobile
Best Mobile Dating App Recommendation: eHarmony
Some people call Mobile a miniature version of New Orleans, thanks in part to its Mardi Gras festivities and good-time vibe. But while New Orleans is the hookup capital, it's a lot harder to ask people out in Mobile. You can expect to get rebuffed if you ask for phone numbers while out, so you'll be nursing your ego instead of planning a date.
Now, we're not saying that love connections never happen in public. If you want to try your luck, Dauphin Street is a good starting point. The downtown strip has lively bars and plenty of places to eat. And hey, you can always meander down to the waterfront to meet some folks.
You can also find people at events or try your luck at church. But hey, don't worry if you strike out. We think you'll find a lot more success on a dating app than you will in person.
But which Alabama dating site should you choose?
Mobile is a family-friendly place, with lots of people pursuing marriage. And that's what makes eHarmony the right choice. You don't have to walk down the aisle right away, but you can make a life-long connection.
Be sure to check the compatibility score when looking through your options. The higher the score, the greater the success rate. Connect with someone with a score of 110 or higher for your best chance at success – and your best shot at beating the odds.
Population: 189,994
Men: 46.95%
Women: 53.05%
Unmarried: 55.82%
Median Age: 37.3
White-Collar Workers: 79.51%
Blue-Collar Workers: 20.49%
---
Dating in Montgomery
Best Montgomery Dating App Recommendation: Zoosk
So, let's start with the good news. Around 60 percent of Montgomery residents are single, so there are lots of fish in the sea, so to speak.
We hate to add a "but" here, but around 60 percent of those singles are women. Now, if you're a guy, that's a high-five-worthy statistic, but it's not good news if you're a woman. It means that your options are a little slimmer than you'd like, especially if you try to find dates in the wild.
So, back to the good news. You can encounter a fair share of professional singles at the Shakespeare Festival or by attending the symphony orchestra or ballet. And don't forget the art galleries and museums if you want to match with some cultured guys or gals.
There's also a nice mix of quietish bars that are good for meeting people, or you can go to one of the louder offerings if you want to keep the conversation to a minimum.
We're going to be honest, though. Few success stories come out of these places. Instead, most singles prefer using Alabama dating sites.
Because of the gender imbalance, we think it's best to go with an app that has lots of profiles. And that's why Zoosk is our favorite option for Mobile singles. You can browse through millions of profiles until landing on that special someone.
Population: 199,054
Men: 46.91%
Women: 53.09%
Unmarried: 58.21%
Median Age: 36
White-Collar Workers: 77.8%
Blue-Collar Workers: 22.2%
---
Dating in Tuscaloosa
Best Tuscaloosa Dating App Recommendation: Zoosk or EliteSingles
Home to the University of Alabama (Roll Tide!), Tuscaloosa is a college town through and through. At the same time, professors and others call the city home, so there are singles of all ages.
Because the university is the heart of the city, guys and gals often try to find dates at football games and other school activities. And while some get lucky, most of them head home alone.
There aren't many other options for those that can't find dates at football games. Sure, they can stroll the river-walk or head to a park to look for dates, but the options are limited. You're more likely to run into couples than single folks, making you feel lonelier than you were when you walked into the place.
But you can put your loneliness in the past by using one of the best Alabama dating apps. And when it comes to Tuscaloosa singles, two stand out.
So, let's go with the students first. If you're attending UA, Zoosk is the dating app for you. You can flip through profiles like Tinder, but it's much more advanced. Each interaction feeds the algorithm information, allowing it to fine-tune your matches.
And while college professors and other non-students can use Zoosk, EliteSingles might be a better fit. The city is full of white-collar workers that gravitate to this site, so you can meet ambitious people with demanding careers.
And hey, students, keep this app in the back of your mind so you can make the transition after graduation.
Population: 100,633
Men: 48.27%
Women: 51.73%
Unmarried: 62.93%
Median Age: 29.5
White-Collar Workers: 76.87%
Blue-Collar Workers: 23.13%
Undergraduate Enrollment at UA: 31,670 students

Alabama Dating Sites FAQ
Can I Look for Singles Outside of My City?
Don't worry if you've run through all the singles in your city. You can change the location when using a dating site in Alabama, so check out singles in different cities, states, and even countries.
Is the Free Trial Worth it?
Absolutely. You can browse profiles and check out the quality of the singles for free. You might even make a connection without spending your cash.
What's the Most Popular Dating App in Alabama?
Christian Mingle is the most popular dating app in Alabama. Men and women 18 and over flock to the app to find faith-based matches.