Alaska might be a beautiful paradise, but it's far from picture-perfect when it comes to dating. Some of the larger cities are bustling with things to do, but the dating scene isn't nearly as active. And it's even tougher for those Alaskan singles living in rural areas.
But that doesn't mean you have to spend the rest of your life alone. See, around 80 percent of Alaskans have internet access these days, and a big chunk use the web to find dates. After pouring over the data, we uncovered the top apps and are ready to share them with you.
Here's a sneak peek of the best Alaska dating apps…
Top 5 Dating Apps in Alaska in 2023
And since our mission is to help single Alaskans find love, we didn't stop there. We're also going to help you choose a dating app based on your status, goals, and location. Plus, we'll cover the dating scene in the state so you can dive right in and find that special someone.
Are you tired of spending your days alone and are ready to find your plus one? Let's get started. Before long, you'll be ready to download one of our favorite apps and start looking for your ideal match.
Jump to:
---
1. eHarmony — Best for Making it Last for the Long-Term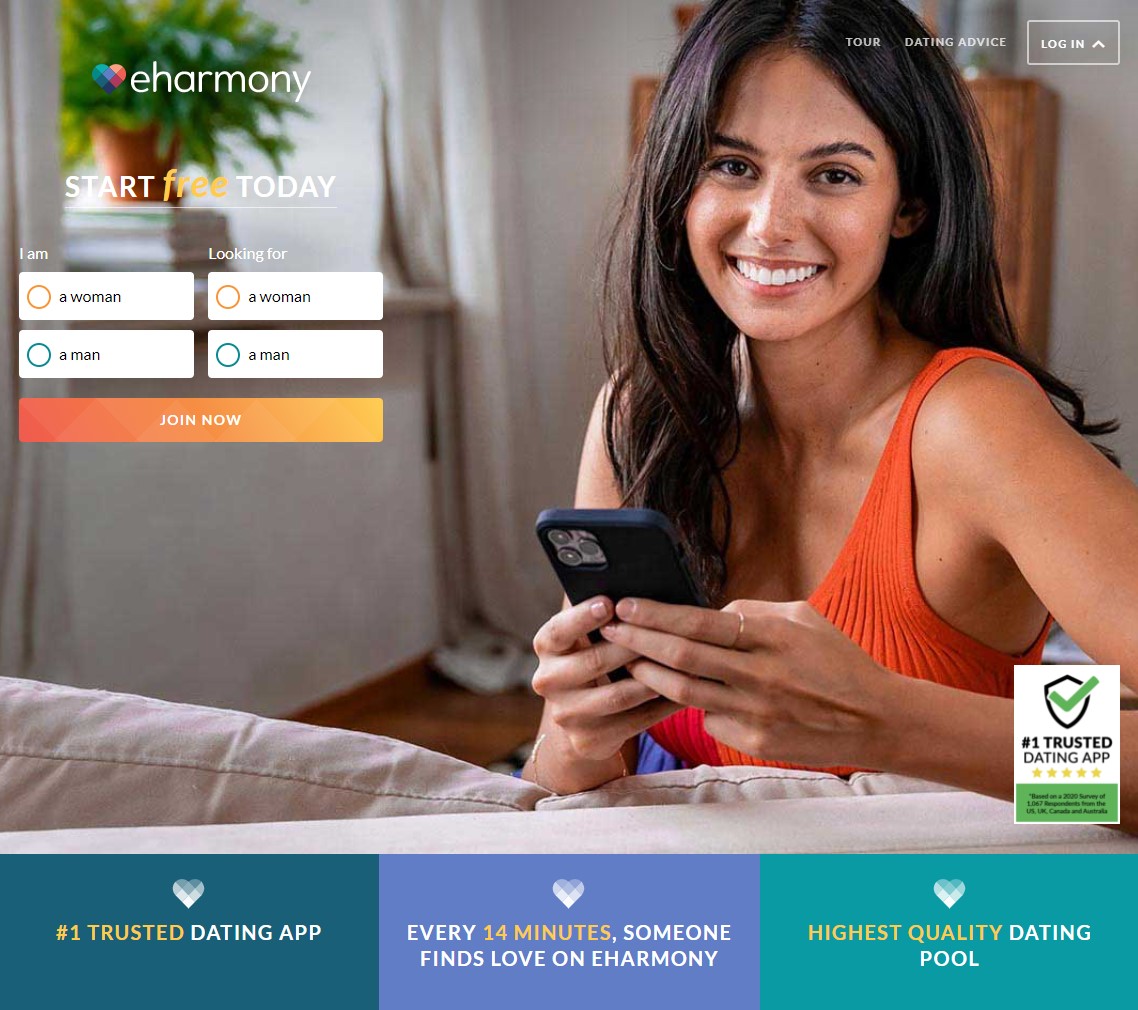 Who Will Love eHarmony: Alaskans who are tired of dating around and ready to find true love
Who might not enjoy eHarmony: Casual singles not ready to make a commitment
Biggest Pro: Science-based compatibility test that pairs people based on marital satisfaction
Biggest Con: Only a handful of members are down for casual dating
Starting Price: Premium memberships start at $21.54 a month
Data shows that Alaskans don't shy away from marriage but making it work is another thing entirely. See, Alaska has the eighth-highest divorce rate in the union, so lots of relationships end in disaster.
We did some digging to find out why so many Alaskans get divorced. Some of the most cited reasons include incurable mental illness, habitual drunkenness, and adultery. And quite a large percentage claim that a failure to consummate the marriage caused the split.
And while those are all different reasons, it comes down to one thing: those couples weren't right for each other.
Considering that Alaskans are into long-term commitments but have trouble finding the right partners, we think it's time for more singles to use eHarmony. The app's science-based compatibility test pairs people that are likely to have high marital satisfaction rates. The test really works, explaining why couples that meet on eHarmony tend to stay together forever.
And hey, we get that you might be a little gun shy about trying to find your forever partner if you've been burned before, but this is all reward and no risk. You can sign up for free, so set up your account to find your forever match.
---
2. CatholicMatch — Best for Balancing Love and Faith
Who Will Love CatholicMatch: Devoted Catholics interested in committed relationships
Who Might Not Enjoy CatholicMatch: Secular singles and casual daters
Biggest Pro: Match with people based on religious beliefs, personality, and interests
Biggest Con: Singles in rural areas might have to expand the distance radius to find matches
Starting Price: Premium memberships start at $9.99 a month
Religion might not be the first thing that comes to mind when thinking about Alaska, but the state is filled with believers. More than 60 percent of Alaskans are Christians, and 16 percent of those are Catholic.
The state's ties to Catholicism go back to the late 1700s when Alaskan explorers celebrated the state's first mass. That set the tone and, these days, many residents attend mass weekly.
You're most likely to encounter Catholics in Anchorage, Juneau, or Fairbanks, where faithful parents send their kids to Catholic school and attend mass on Sundays. But don't worry if you live outside of one of these big cities. You can find a single man or woman that shares your faith on CatholicMatch.
There's a lot to love about this Alaskan dating site, starting with the quality of the members.
Most of them want serious relationships that lead to marriage. And you're not likely to run into catfish because CatholicMatch works hard to get rid of fake profiles and scammers. They have been known to shut down accounts within an hour of registration if something seems off.
And even better, the site has more than a million members around the world so you can find someone in Alaska or elsewhere. Plus, it considers people's religious beliefs and personalities when matching them, meaning you can find your life partner here.
If you want a faith-filled relationship, create your free profile on CatholicMatch today.
---
3. EliteSingles — Best for Go-Getters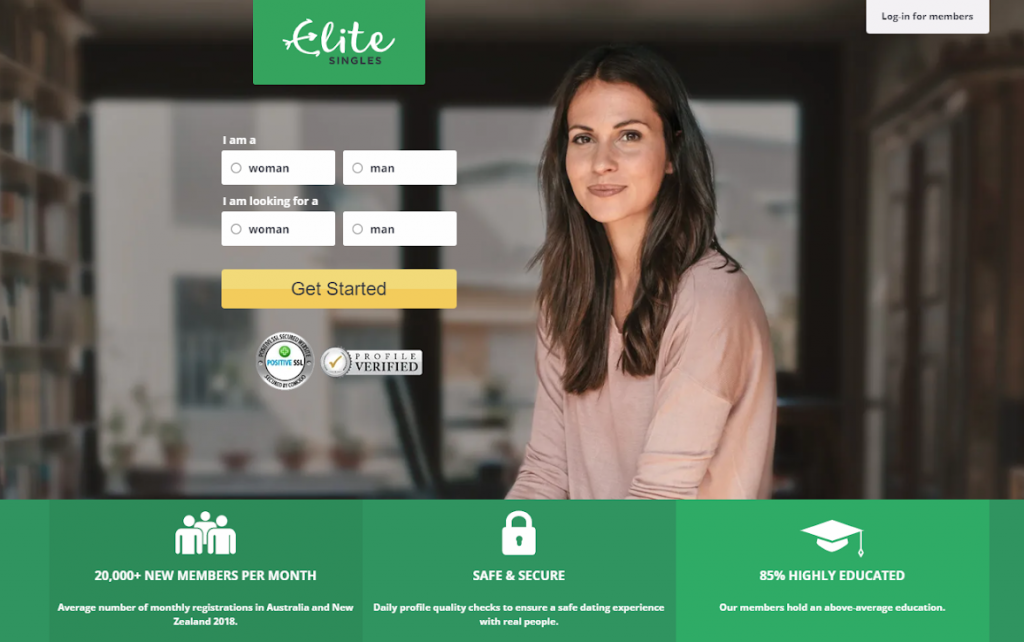 Who Will Love EliteSingles: Educated, driven professionals
Who Might Not Enjoy EliteSingles: Casual daters and people that don't have career ambitions
Biggest Pro: Members can search for matches based on income level
Biggest Con: People without high-profile careers have trouble finding matches
Starting Price: Premium memberships start at $14.95 a month
Alaska is making a big push to increase the skilled workforce in the state. Right now, a little less than 30 percent of the adults have bachelor's degrees or higher, but the state hopes to increase that to over 50 percent in the coming years.
And this push has led to lots of high-paying jobs. From healthcare to oil, this is the land of opportunity, and driven residents are cashing in. No wonder the median income in Alaska is higher than the national level.
While each high-achiever is unique, we know that most have something in common. They want a partner that's just as driven and ambitious. Otherwise, they'll end up with dead weight they have to support. Plus, unambitious people don't understand why high achievers spend so much time at work.
Fortunately, you won't have to settle or justify your ambition if you use EliteSingles.
The site was designed for ambitious, elite men and women that take their careers as seriously as their love lives. Because nearly all the members are professionals, you won't have any problem making a love connection. Plus, most of them want serious relationships, so you can find your match and leave the dating game behind.
If you're elite, find a like-minded match by creating your free account today.
---
4. SilverSingles — Best for Getting Another Chance at Love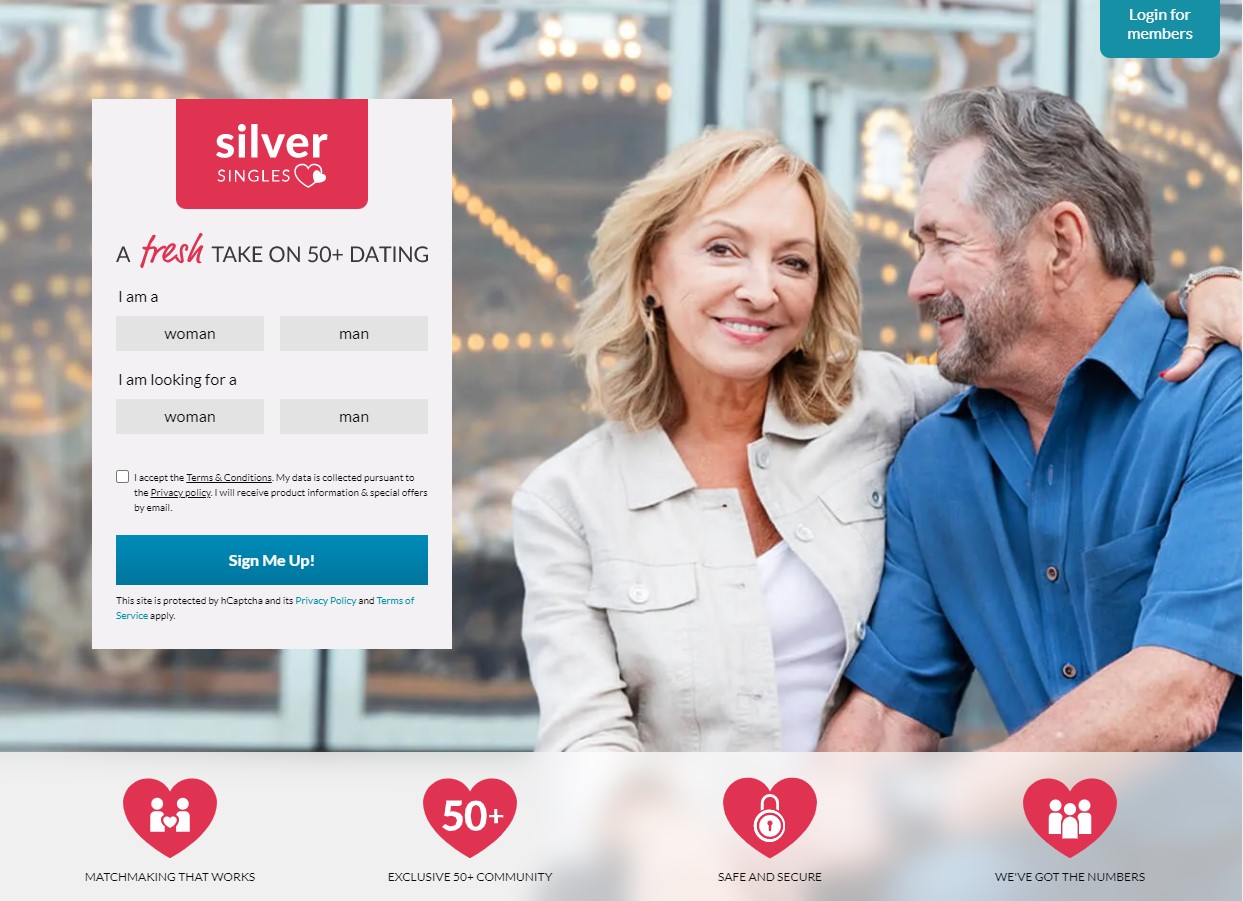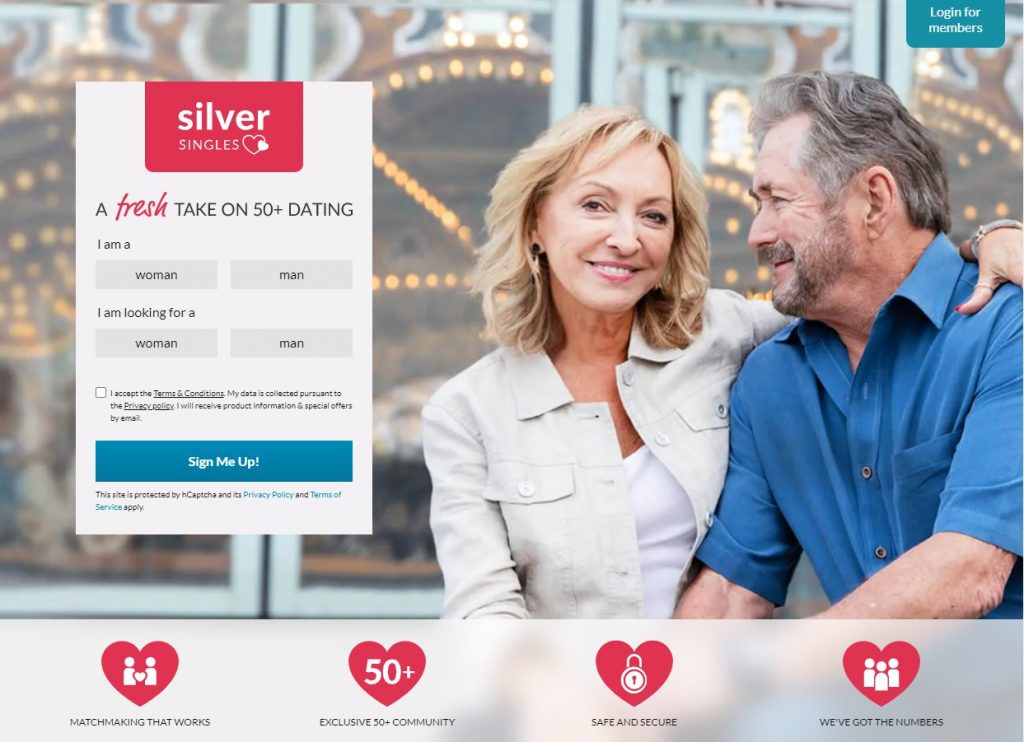 Who Will Love SilverSingles: Alaskans ages 50 and up looking for companionship and serious relationships
Who Might Not Enjoy SilverSingles: Young people looking for singles around the same age
Biggest Pro: Compatibility-based matching for seniors
Biggest Con: Some younger people join, but you can weed them out by setting the match criteria
Starting Price: Premium memberships start at $14.95 a month
People picture young guys in mountaineering gear when thinking about Alaska, but there's another side to the state. The aging population is on the rise, and around 20 percent of residents are 60 and older. It's growing so fast that experts think it'll double by 2042.
Many of the seniors moved to Alaska when they were still of working age, and the population was pretty youthful back then. But now that the demographics are changing, seniors are able to get a second or third chance at love, no matter their age.
But you probably won't find a mate in a local watering hole or a community event. If you're serious about finding a special someone, SilverSingles is the site for you.
With a membership base of men and women ages 50 and up, you won't have any problem finding an age-appropriate match. And we really mean it when we say "match," thanks to the advanced algorithm that considers personality traits and interests.
You'll want to pay for a membership to get the most out of SilverSingles, but you can start for free. Begin the process by setting up a profile.
---
5. Zoosk — Best for Singles that Want More Choices.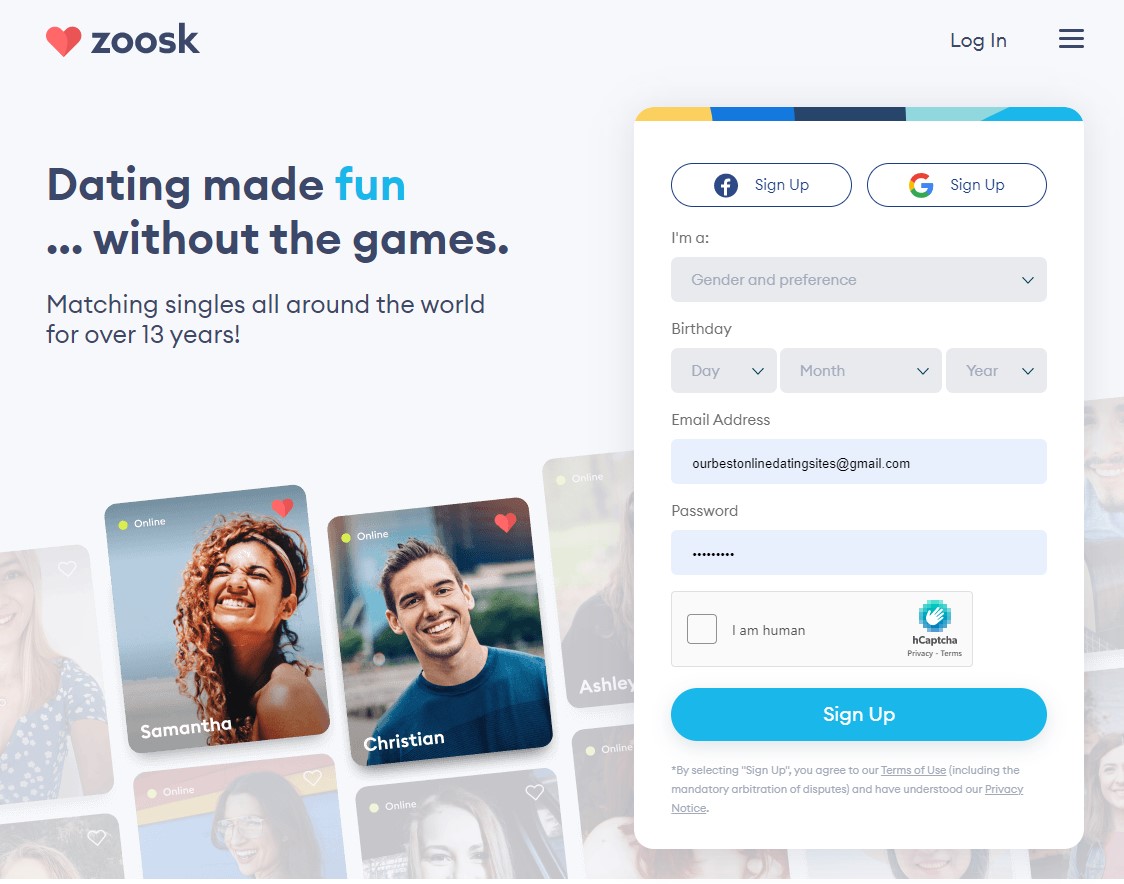 Who Will Love Zoosk: Casual daters that want as many options as possible
Who Might Not Enjoy Zoosk: Singles pursuing long-term relationships
Biggest Pro: More than 40 million members around the globe
Biggest Con: Only a small portion of members want serious relationships
Starting Price: Premium memberships start at $11 a month
With a mere 1.3 people per square mile, the population is sparse in Alaska. And that can make dating challenging. You can't just look around your neighborhood for new people. No, you have to expand your reach a bit, and that's why Zoosk is ideal for Alaskans.
Over 40 million people use this site, including singles in Alaska, so you won't have problems finding interesting folks. Most of those members want something short-term or casual, but you can find some serious daters among the millions, too.
And here's something else that makes this one of the best dating apps for Alaskan singles — travelers use the location-based app to find people when they're on the road. Since Alaska is such a popular tourist destination, you can hook up with some tourists too. That's a great way to have a little fun without worrying about a commitment.
Create your free account to try it for yourself. Before long, you'll know why it's one of the hottest dating apps out there.

What is the Dating Scene in Alabama Really Like?
More Men than Women — If you're a single woman, you're in luck. There are 108 men for every 100 women, so you'll have your pick. Now, if you're a man, you might have to go beyond your current location to find women you want to date. Fortunately, our favorite Alaska dating apps let you change the search radius and location so you can find your match.
Most People are Connected — Don't be surprised if there isn't much separation between your new partner and your exes in Alaska. Even the big cities feel small, with lots of people knowing each other. Because of that, it's normal for your new match to know your ex, so get ready to navigate the small-town dating scene.
Women are Often Guarded — Maybe it's because there are so many more men than women, but Alaskan ladies tend to be a little guarded. They generally feel more comfortable getting to know single guys that have female friends, so consider expanding your friend base if you're on the prowl.
Alaskans Value Independence — Alaskans fiercely guard their independence, even when in relationships. Don't be surprised if your new partner wants to head to the mountains for a week or go on a trip with friends. You might not get to spend every minute with your match, but respecting independence will help it last for the long run.
Seasonal Work Shakes up the Dating Scene — Irregular schedules are also the norm in Alaska. Lots of men and women take on seasonal work, so you might not get to spend much time together during their work season. But that means that you'll find more people ready to mingle during the off-season.
Approaching People in Public is Hard — Alaskans have a reclusive, private nature, so finding dates in public is hard. Most Alaskans are willing to say hello or talk for a bit if you approach them in public, but exchanging numbers or setting up dates is unlikely. Fortunately, dating apps are becoming increasingly popular throughout the state so you can meet people online.
Outdoor Adventures are Big with Singles — Due to their adventurous nature, Alaskans often like going on outdoor excursions when dating. If you're into rock climbing or own a snowmobile, be sure to let others know. Your adventurous spirit can help you land dates.
The Dating Pool is Ever-Changing — Around 40,000 to 50,000 people move away from and into the state each year. Since the dating pool constantly changes, you never know when you'll find the perfect person to ask out.
Alaskans Value Personalities and Interests Over Looks — We're not saying that all Alaskans only pay attention to personalities and interests when pairing up, but it's the common theme here. Most Alaskan singles want someone they can have fun with, regardless of looks. That's why it's so important to show your personality and fun side when setting up your online dating profile.
Tourists are Up for Fun —– You can enjoy some casual dating during tourist season. The big cities and ports fill up with men and women wanting to match up for the night. If you're into casual dating, this will be your time to shine.

Dating in Fairbanks
Best Fairbanks Dating App Recommendation: Zoosk
With its remote location, you might think that Fairbanks residents keep to themselves, but this city is all about community. But even though it's tightknit, dating is far from easy. Lots of people are down for making friends, but many of them aren't ready to make the leap into a relationship.
Maybe that's because the population is ever-changing. Home to a college and military base, lots of guys and gals stay for a bit, only to leave. And then, the new batch comes in before you've even had time to process the departures.
Because of the challenges, Fairbanks singles have some unique ways to meet dates.
For starters, a lot of them scope out the non-profits in the area. Once they find one they like, they join the board and try to meet other singles. But as you can imagine, that's a lot of work for the chance to land a date. It also has a pretty low success rate, so we can't recommend this method.
Singles also scour the internet for social media meetups that are full of eligible guys and gals. Plus, they tackle outdoor adventures, hoping to meet people. And while there are a few success stories, happy pairings are few and far between.
Instead of trying these outdated dating options, it's time to go modern with a dating app. But which one is the best choice for Fairbanks singles?
Because of the ever-changing population and large college crowd, it's best to choose a flexible dating app like Zoosk. It'll give you access to more people so you can expand your reach. And most importantly, you can find people when you're on the move too. That way, you can land dates while at college and find someone new when you go home.
Population: 31,427
Men: 53.08%
Women: 43.92%
Unmarried: 47.20%
Median Age: 27.9
Bachelor's Degree Or Higher: 21.88%
Number of Students at University of Alaska Fairbanks: 9,330
Number of Soldiers at Fort Wainwright: Approximately 7,200
---
Dating in Anchorage
Best Anchorage Dating App Recommendation: SilverSingles and Zoosk
Anchorage provides Alaskans with the best of both worlds. It's still the outdoor paradise that Alaska's known to be, but it manages to have big-city amenities too. And while that should make dating easier, Anchorage residents will be quick to tell you that's not the case.
Now, some men and women have managed to pair up at local bars or during outdoor excursions, and we've heard of a few love connections that started at the University of Alaska Anchorage. But more times than not, people don't find success until hitting up dating apps. It's just too hard to approach people in public, so online daters have a serious edge.
We put a lot of thought into which dating app to choose for Anchorage singles and realized that one isn't enough. Instead, we are going to recommend two to help you find your next match.
First, we needed an app for older singles in Anchorage. While the entire state is seeing an increase in seniors, the biggest growth is here. Plus, Wasilla and other nearby cities have large senior communities, so we didn't want to leave the 50-and-over crowd out.
But then, Anchorage also has a thriving younger population, plus a healthy influx of college students each year. While some of them are ready to settle down and get married, a large portion prefers keeping it casual.
So, SilverSingles is first on our list. It's ideal for seniors 50 and over, and since it's easy to use, you can get started right away.
And for the younger crowd? Zoosk is the winner, hands down. Whether you're in college or looking for some fun in your 20s, 30s, or 40s, you'll have success with it.
Population: 292,090
Men: 51%
Women: 49%
Unmarried: 48.82%
Median Age: 33.9
Bachelor's Degree Or Higher: 32.75%
Number of Students at the University of Alaska Anchorage: Around 15,000
---
Dating in Juneau
Best Juneau Dating App Recommendation: EliteSingles
Juneau is one of our favorite cities in Alaska. We love the sense of community and all the familiar faces at festivals and events. And hey, you can make a lot of friends when participating in outdoor adventures in this city.
But while making friends is a breeze, it's harder to find love or even score a date. It's normal to interact with the same people each day so you might be surrounded by exes. Possibly worse, you might not even have any exes to run into because no one's caught your eye.
But it's not just about the size of the dating pool in Juneau. Many of the residents work in the mining, quarrying, oil, and gas extraction industries, so they're earning bank. And that makes it harder to find someone that wants them instead of their money.
Since Juneau is full of ambitious, well-paid men and women, we think EliteSingles is the right choice here. You can find others in your league, so you'll be on the same page right at the start.
Population: 29,839
Men: 51.49%
Women: 48.51%
Unmarried: 48.9%
Median Age: 38.5
Bachelor's Degree Or Higher: 35.25%
Average Income: $105,707.00

FAQ – Alaska Dating Sites
Can I Browse a Dating App without Signing Up?
While some dating sites let people look before signing up, that's a privacy concern. We don't want the world to see your profile without the intention of reaching out for a date, so we selected sites that require registration before browsing.
What's the Best App for Serious Dating?
eHarmony is the gold standard for serious dating that leads to marriage. You can also find lots of serious singles on EliteSingles, SilverSingles, and CatholicMatch.
What App Should I Use for Something Casual?
If you're into casual dating, Zoosk is the right choice. You'll find millions of people looking for short-term partners and casual flings. Some even want hookups.
Are Any Dating Sites Free?
We chose Alaskan dating sites that let members sign up for free. You'll need to pay for advanced features, but you can test them out before committing.