Is your dating life as dry as the Sonoran Desert? You want to meet someone, but you need to find fertile ground first. And that won't be a problem if you use one of the best Arizona dating apps. Unlike those dry deserts, these sites are swimming with singles.
We can practically hear you thinking, "But I've tried dating sites in the past and didn't find my perfect match."
But see, the problem isn't with online dating. Instead, it comes down to the sites you use. That's why we evaluated dozens of apps to find the best ones for Arizona singles. And by the time we reached the end, five were left standing.
Take a sneak peek at our favorite dating sites for Arizona singles.
Top Dating Apps for Arizona Singles
---
These Arizona dating apps will help you get started, but we aren't going to stop there. We're also going to help you pick from the five apps so you can choose a site based on your dating style and situation. And on top of that, we have some info about the state's dating scene we'd like to share with you.  
Are you tired of your relationships turning into horror stories and want your happily ever after? Let's dig in so you can create a profile and click your way to love or find the perfect casual fling.
Contents of Our Arizona Dating Guide – Jump Ahead to:
---
1. Zoosk – Best for Casual Dating that's More than a Hookup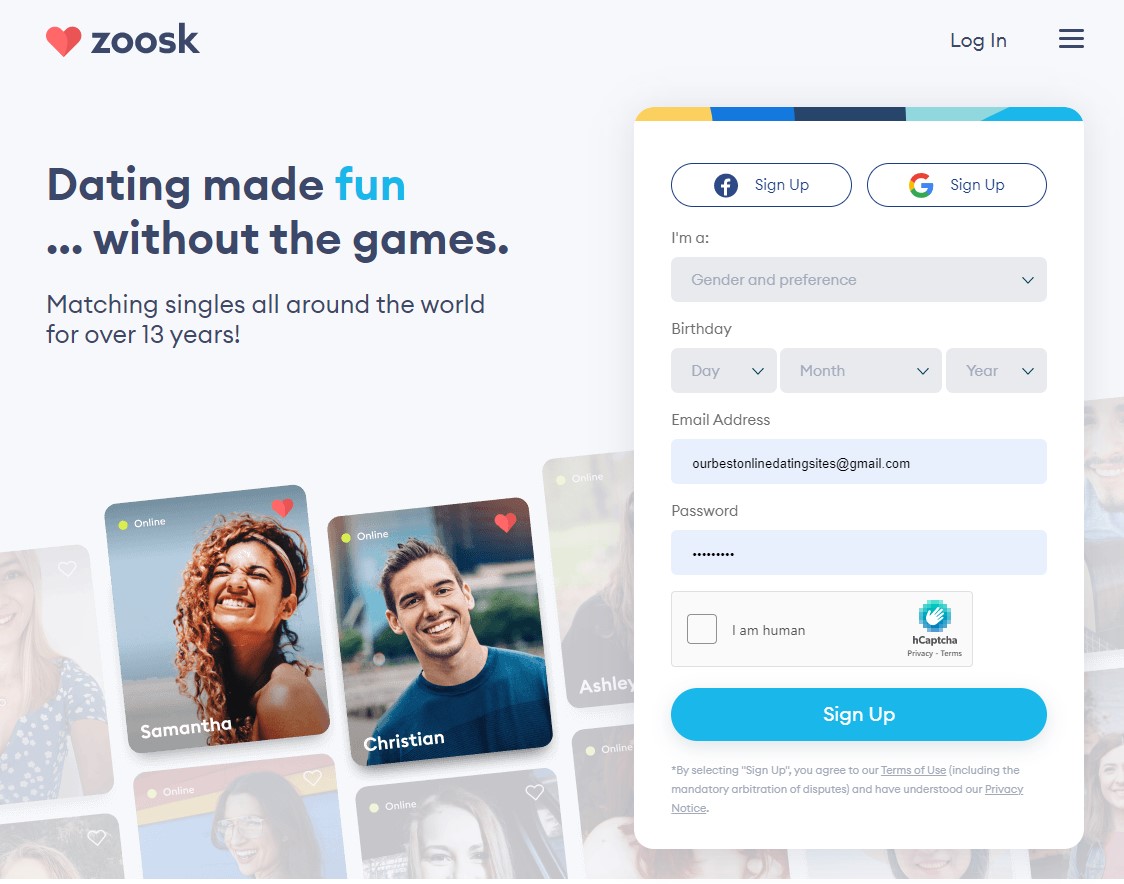 Who Will Love Zoosk: Singles that want millions of dating options
Who Might Not Enjoy Zoosk: People pursuing serious relationships or marriage
Biggest Pro: Diverse userbase
Biggest Con: It takes some time for the SmartPick Technology to figure out what you want
Starting Price: Premium memberships start at $10 a month
The casual dating scene is alive and well in Arizona, and it's not unusual to see guys and gals picking each other up in bars. But if you followed those lucky singles (not that we recommend it), you'd realize that those pickups rarely lead to more than one-night-stands. They're one and done, meaning they have to go back on the prowl the next day.
That's fine if you're into fast hookups, but from our experience, most casual daters prefer something more than a fun night. And that's what makes Zoosk such a great choice for the Arizona dating scene.
See, most of the 40 million-plus members are into short-term, casual relationships. That means you won't have to move in together, but you also won't get ghosted after a wild night. Now, that'll take the stress out of casual dating.
Here's something else that we love about Zoosk. A ton of Arizona singles complain about getting catfished or going on dates with people that use fake pictures. But that won't be an issue if you use this Arizona dating site.
First, you can search for people with verified profiles to weed out the catfish. And second? Use the Great Dates or Live feature to make sure your match is the real deal before going public.
Zoosk has a ton of features for a casual Arizona dating app, and you can get started for free. Get started by signing up today.
---
2. SilverSingles – Best for Love Later in Life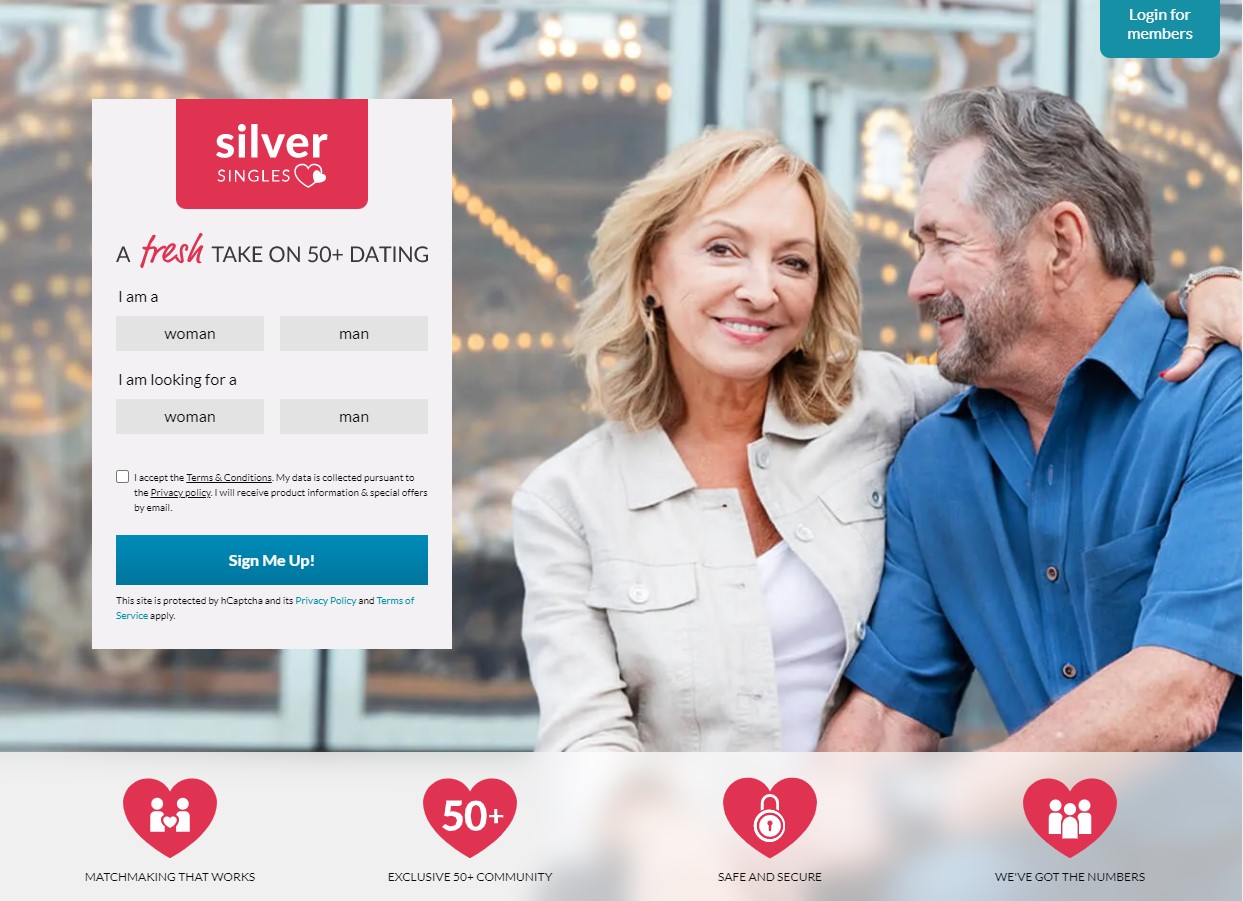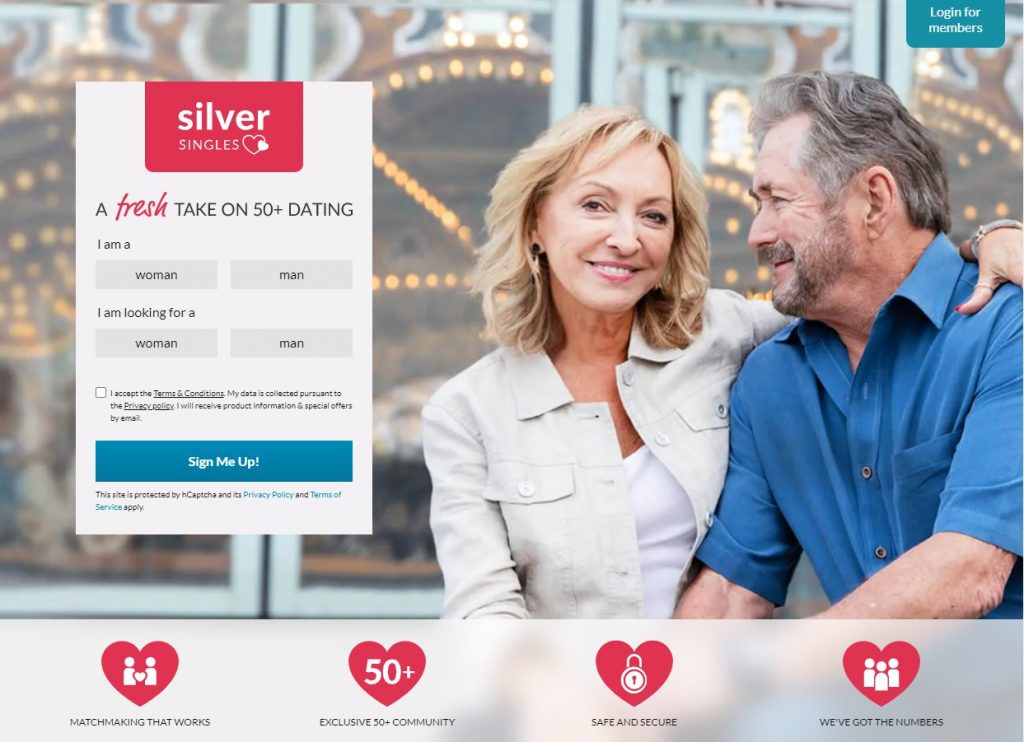 Who Will Love SilverSingles: Serious singles 50 and up
Who Might Not Enjoy SilverSingles: Singles under 50 that want to date someone around their own age
Biggest Pro: Safe and accepting online environment for the 50 and over crowd
Biggest Con: Few options for older singles wanting to meet someone younger
Starting Price: Premium memberships start at $14.95 a month
More than 35 percent of Arizonians are 50 or older, and that's not even counting the snowbirds that visit every year. We also discovered that a huge chunk of the aging population is single and interested in finding someone special.
And that made us think of SilverSingles.
Unlike dating sites that welcome members as young as 18, SilverSingles is meant for men and women 50 and older. And while most of the members are located in Phoenix and Tucson, there's a fair share of members in smaller cities, too.
But the large userbase is just one of the reasons we love this dating site for Arizona seniors. See, this Arizona dating app was designed with the older crowd in mind. It's easy and straightforward to use, and it provides a safe space for online dating. Oh, and it even offers a profile makeover for singles that need help standing out.
Speaking of ease of use, we really love the matching scores that appear on profiles. With a quick glance, you can tell how compatible you are with other singles. That way, you won't waste your time reaching out to people that don't share your interests and complement your personality.
It's also worth mentioning that it's full of high-quality profiles, and most of the members want serious relationships. And finally, you can get started for free, so there's no reason to wait another minute. Create your free profile so you can find a special someone during this stage of life.
---
3. CatholicMatch – Best for Catholics Looking for Long-Term Love
Who Will Love CatholicMatch: Catholic singles pursuing serious relationships
Who Might Not Enjoy CatholicMatch: Secular singles and those with other religious beliefs
Biggest Pro: Reviews profile pics to maintain a wholesome environment
Biggest Con: Few members in rural parts of Arizona, but you can expand the search radius
Starting Price: Premium memberships start at $9.99 a month
It's hard to imagine, but there was a time when there weren't many Catholics in Arizona. These days, Catholics make up more than 20 percent of the population, and some people think that number will keep growing.
Because around 60 percent of the state's Catholic population is Hispanic, you can find lots of singles in Phoenix's western suburbs and other Hispanic communities. But that doesn't mean you have to relocate to find a faith-filled match. Instead, you can find your partner on CatholicMatch.
It uses temperament profiling and the proprietary Match Portrait to help people find a special someone. And these matches are special indeed, with thousands of pairings leading to marriage.
If you're as serious about love as you are about your faith, head to CatholicMatch to create a free profile.

---
4. Christian Mingle – Best for Christians that Prioritize Faith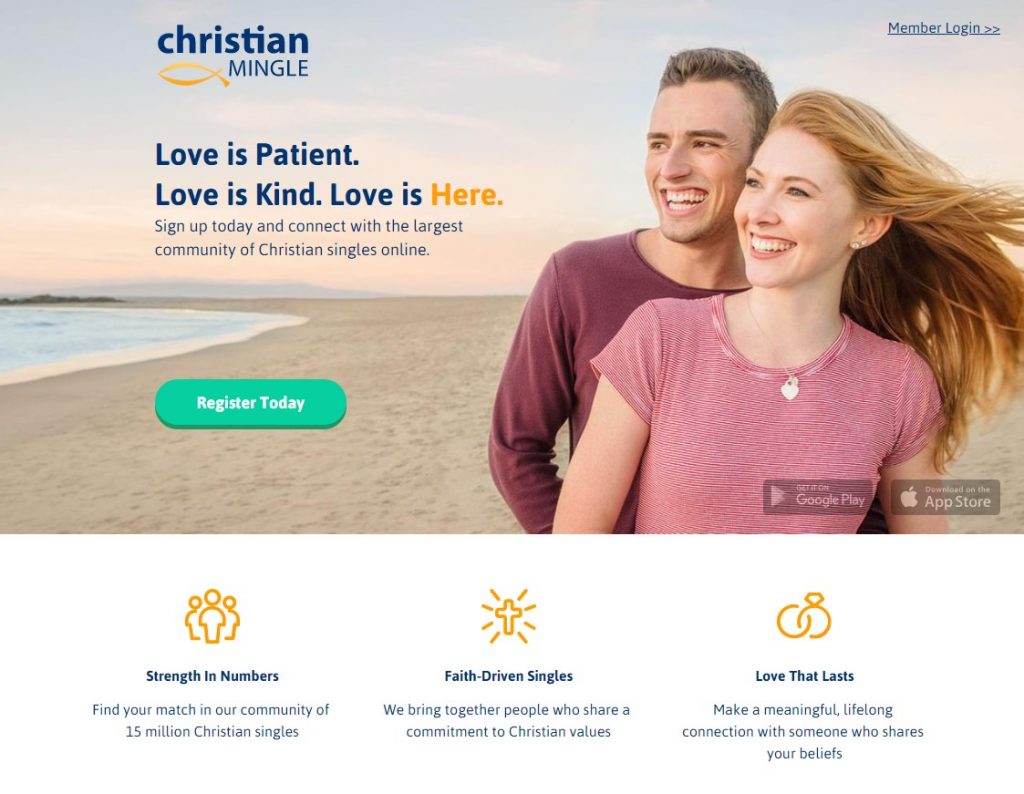 Who Will Love Christian Mingle: Christians that want to pursue faith-filled long-term relationships
Who Might Not Enjoy Christian Mingle: Singles that aren't interested in or don't practice religion
Biggest Pro: Screens profiles, so the 15 million-plus members are the real deal
Biggest Con: Few members are into casual or short-term relationships
Starting Price: Premium memberships start at $24.99 a month
Now, we realize that Christianity is waning a bit in Arizona, but it's still the dominant religion here. Christians make up over 65 percent of the population, so they're hardly in the minority.
And while some are just dabblers or Christians in name only, others take their religion seriously. Over sixty percent of Arizona adults believe in God with absolute certainty, and more than half say religion is very important in their lives. And when that's the case, it's hard to date outside of your faith.
At the same time, you want to stick to your morals when dating. That means you don't want to look for Christians on a mainstream dating app filled with shirtless selfies and obscene pickup lines. It's not even about the temptation. You just don't want to be around that.
Fortunately, you won't have to compromise your morals when looking for love with Christian Mingle.
This Arizona dating app has more than 15 million Christian members that represent all denominations. Almost all the members want long-term relationships that lead to marriage, and the site keeps things wholesome and clean.
On top of that, it does a fantastic job of matching people based on personality, interests, and traits. That way, you can find someone that you love being around and want to stick with for the long haul. Let's just say you can find the perfect blend of love and faith on here.
If you want to find a Christian man or woman as your life-long partner, check out Christian Mingle today. You can set up a free profile and start browsing.
---
5. eHarmony – Best for Getting Serious Right Away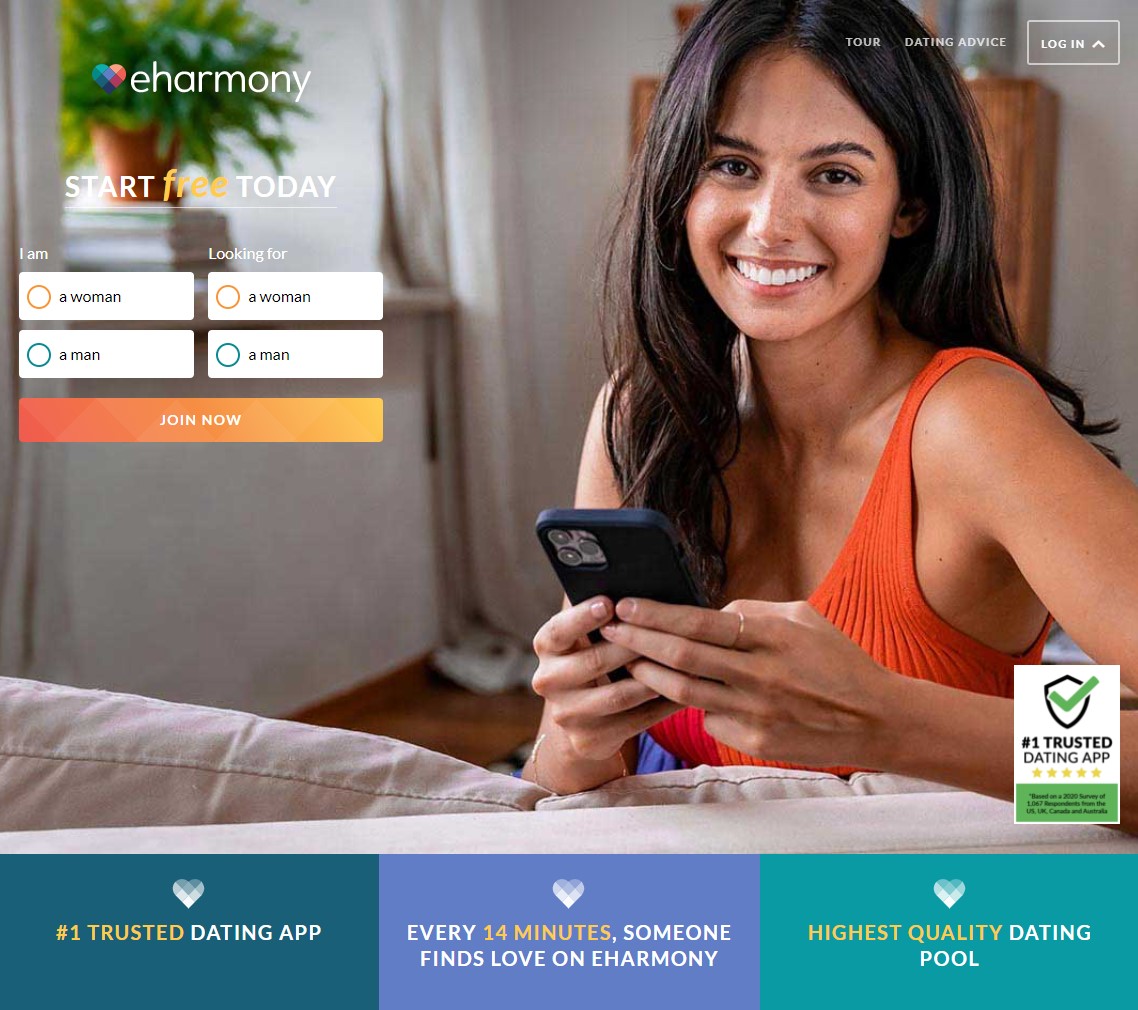 Who Will Love eHarmony: Arizona singles looking for marriage material
Who Might Not Enjoy eHarmony: Guys and gals interested in casual dating
Biggest Pro: High success rate due to the science-based questionnaire and matching algorithm
Biggest Con: It takes about 20 minutes to get started, but the long sign-up process leads to excellent results
Starting Price: Premium memberships start at $21.54 a month
Arizona's dating scene is pretty laid back, and there's a lot to love about that. But it's not all positive if you're into serious dating. It's so laid back and casual that it can take months to find out if someone has the potential to be your forever partner.
And if it's a miss? Then, you have to turn around and do it all again. After a few times around the merry-go-round, you'll be exhausted and ready to take a break from the dating scene.
But what if you could skip all those "not good enough" dates and head straight toward your perfect match? You can do just that by signing up for eHarmony.
This Arizona dating app was founded by a clinical psychologist, and it takes a scientific approach to dating. The founder identified the key traits needed for a successful paring and uses that info to help people connect with compatible mates.
Are you sick of the ups and downs of dating and ready to find your forever partner? Start by creating your free account on eHarmony today.


What is the Dating Scene in Arizona Really Like?
The Gender Ratio is Ideal for Dating – Some states have a lot more women than men, but the gender gap is much tighter in Arizona. Women make up just over half the population, so there's practically a match for every resident.
Politics Change with Age – Arizona has gone from red to purple, and it's
continuing to trend to the liberal side, thanks to the younger generation. If you're looking for someone under 50, there's a good chance you'll find liberal singles. That gets harder for the 50 and over crowd, but you can still find people that sit on both sides of the aisle.
Dating is Pretty Affordable – According to 24/7 Wall Street, Arizona is the 25th most expensive state for daters. The average date costs $106.36, which is cheaper than 24 other states. And that's a great reason to find someone to take out tonight.
The Population is Diverse – Arizona has a large Hispanic population, along with numerous Black and Native American residents. With so much diversity, you'll have the freedom to find your true love in this state.
Interracial Dating Isn't an Issue – While Arizona isn't as diverse as some states, you'll still encounter a fair share of interracial couples. And unlike some other states, most people don't give these couples a second look. But unfortunately, there is some discrimination against Hispanic people, especially in the less populated areas.
Some Travelers are Open to Dating – Millions of people come to Arizona for vacation each year, and the state also attracts snowbirds. While some travel with families, others want to enjoy hookups or casual dating while in the state.
Dating Culture is Relaxed – Arizonians tend to have an easy-going and relaxed nature, and that comes through when dating. Striking up a conversation and making friends isn't an issue here, but it's so laid back that finding dates can be challenging.
Singles Bond Over Outdoor Activities – From 5ks to mountain biking and hiking, Arizona singles are an active bunch. If you're into outdoor adventures, include that in your dating profile for the best results. And go beyond words by adding some pictures that showcase your adventurous style.
Interactive Online Dating is Popular – Text-based dating used to be the norm in Arizona, but these days, singles like using video features to vet matches before meeting in person. Considering how large the dating pool is, this makes perfect sense. While some people use Zoom or FaceTime, many like embarking on Video Dates on eHarmony or firing up Great Dates on Zoosk.
Singles are Willing to Travel – People that live in the big cities can find dates nearby, but those in remote areas often have to travel. But that's not an issue since most are willing to drive close to two hours to go on dates. That means you don't have to worry if you need to expand your search radius a bit.

Dating in Phoenix
The Best Phoenix Dating App Recommendation: Christian Mingle and Zoosk
There's no shortage of single guys and gals in Phoenix, and the gender balance is spot on. But as the dating experts will tell you, finding your match isn't as easy as approaching someone on the street. At the same time, it's not like people don't try.
When it comes to looking for dates, lots of singles try festivals, street fairs, and bars. But the problem is, people tend to bring their friends along to these places, so it's hard to make a love connection. At the most, you might get to share a drink or two before calling it a night and going home alone.
And speaking of drinking, hashing is a big deal for couples and singles in Phoenix. It's the ideal blend of two local favorites – running and boozing. But between the physical activity and drinks, real connections are few and far between. In fact, we recommend bringing your buds with you instead of trying to find a plus one.
And then, of course, some Phoenix singles hit the road to Scottsdale to tackle some outdoor activities in the hopes of partnering up. But again, the success stories are few and far between.
While you might not be able to find a connection in these spots, Arizona dating apps have you covered. But here's the thing about Phoenix – it has such a diverse mix of people that one app won't do the trick.
Zoosk is first on our list for Phoenix singles. From college students to casual daters, it has most of the population covered.
But not everyone is down for the casual, secular dating scene. See, over 65 percent of people in the Phoenix metro area identify as Christian, and almost half say religion is very important in their lives. And that's why Christian Mingle is a great fit for a lot of singles here.
Population: 1,658,422
Men: 49.93%
Women: 50.07%
Unmarried: 55.57%
Median Age: 33.9
65 and Over: 11%
White-Collar Workers: 78.09%
Blue-Collar Workers: 21.91%
---
Dating in Tucson
The Best Tucson Dating App Recommendation: Zoosk and SilverSingles
Have you ever noticed how Tucson feels like two cities rolled into one? On the one hand, the city's home to The University of Arizona, Pima Medical Institute – Tucson, and other colleges, so there's a thriving younger crowd.
But then, on the other hand, it's one of the best cities for retirees, so there's a large aging population. As you can imagine, the diverging populations make dating a little hard to navigate here.
Let's start with the seniors living in Tucson.
Many of them join one of the city's senior programs to meet people, and many walk away with handfuls of friends. Plus, seniors are into volunteering in Tucson, and some bond while walking dogs at the humane society or helping out in other ways.
Again, this leads to friendship, but not much more. Now, we're not saying no one ever gets a date, but there are enough misses to fill the Hoover Dam.
And we can't say that it's much easier for the younger crowd. If you're under 50, you've probably tried meeting people while enjoying outdoor activities or when you're working out at the gym. Plus, you can hit the hiking trails solo to see if you partner up while stretching your legs.
If you prefer sitting while looking for love, the breweries here are always a big draw, or you can sit in the stands at a sporting event and hope someone comes your way. But to be honest, you're more likely to have your significant other propose to you via the jumbotron at The University of Arizona than meet someone for the first time when out in the wild.
But don't pack it in quite yet since we have two Arizona dating apps that will help you meet that special someone.
If you're part of the senior crowd, SilverSingles is the way to go. And then we recommend Zoosk for everyone else. It'll give you access to adults in Tuscon and the surrounding areas, so you can turn your dating pool into an ocean.
Population: 545,340
Men: 49.53%
Women: 50.47%
Unmarried: 62%
Median Age: 34
65 and Over – 14.8%
White-Collar Workers: 80.98%
Blue-Collar Workers: 19.02%

Arizona Dating Sites FAQ
What is the Best Dating App in Arizona?
If you're under 50 and looking for a long-term relationship, check out eHarmony, CatholicMatch, or Christian Mingle. However, if you want something serious later in life, SilverSingles is the site for you. Then, Zoosk is the best Arizona dating site for casual relationships.
Are There Free Arizona Dating Sites?
You can sign up for free when using any of our recommended dating sites. However, you'll need to pay to unlock premium features. While there are free dating options, they're full of fake profiles and scammers.
Can I Match with People Throughout the State?
Yes. These dating apps allow users to change their location when searching for love. You can search throughout the state, country, and world.
How Can I Vet Matches Before Meeting in Person?
We recommend video chatting before meeting in person. You can use Great Dates on Zoosk or Video Date on eHarmony. Additionally, CatholicMatch offers video calls.
How Long Does It Take to Sign up for a Dating App?
It only takes a couple of minutes to sign up for Zoosk, and you can be up and running on Christian Mingle, CatholicMatch, and SilverSingles within five minutes. You'll need around 20 minutes to sign up for eHarmony so you can complete the science-based personality test.