Alone time is a big part of working as an artist. You need that time to unleash your inspiration, so you might have a closed-door policy at the studio. But when it comes to your love life, you're ready to open that door and let the singles inside.
Dating as an artist can be hard, though. It's important to find someone that embraces your creative side and propels you forward. At the same time, you don't have enough minutes in your schedule to find out where to look.
That's why we did the research for you. We found the best artist dating apps, plus some niche apps open to artists. Check them out so you can add a splash of excitement to your dating life.
3 Best Artist Dating Apps
---
Zoosk – Best for Nomadic Artists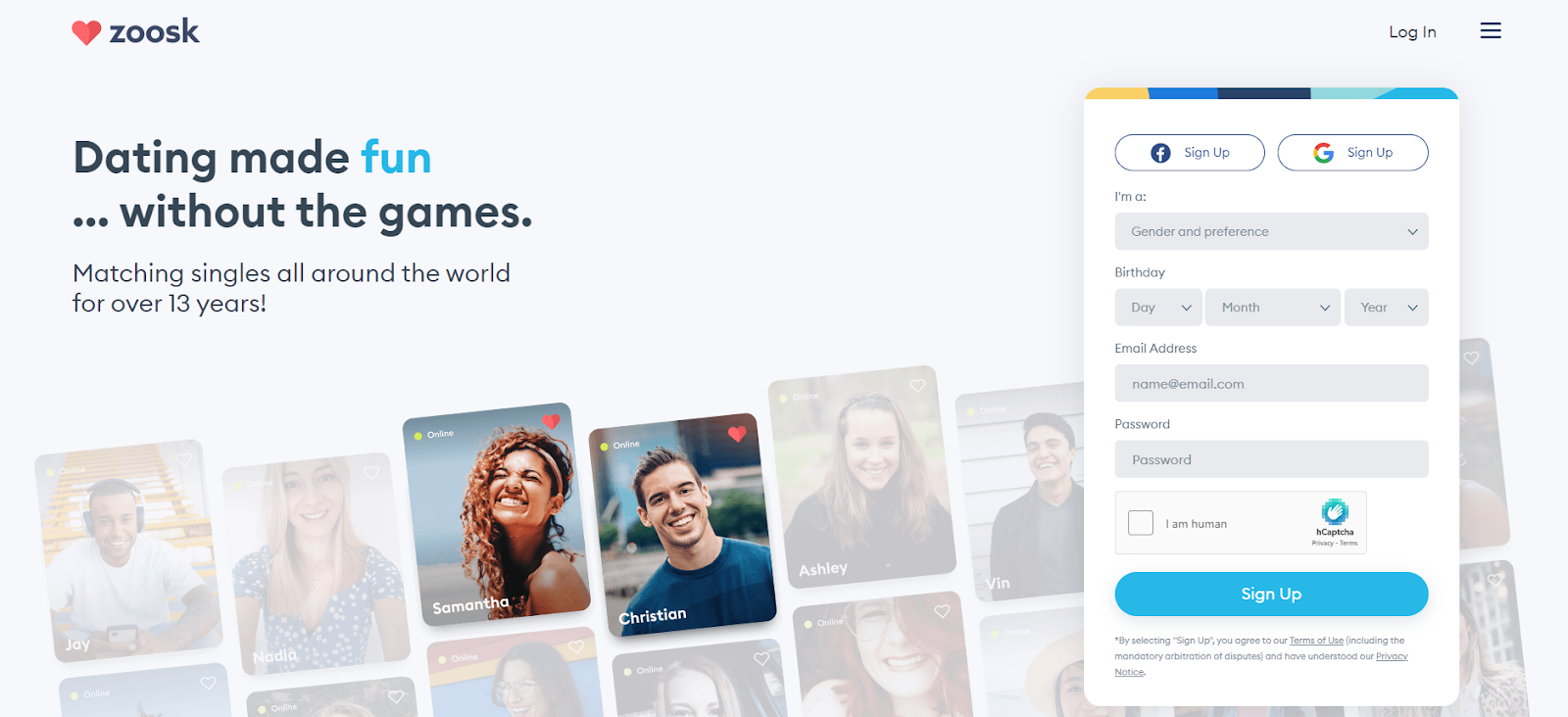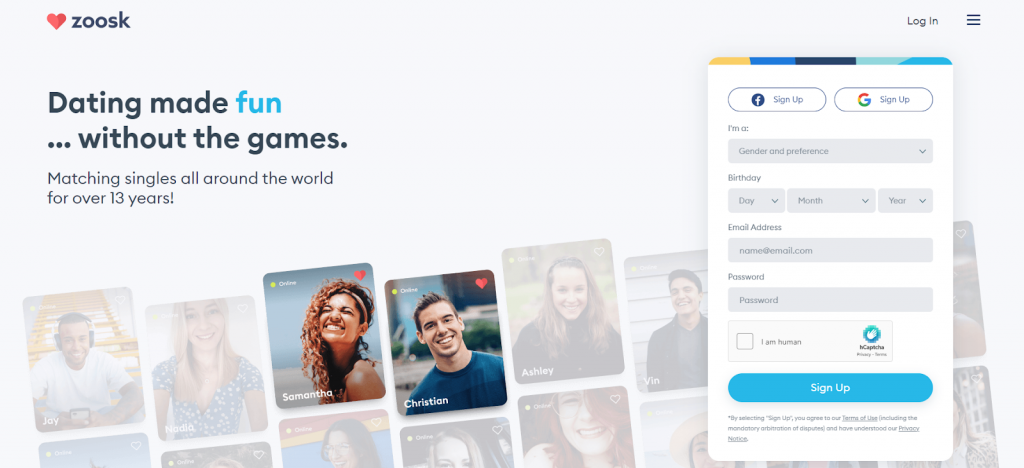 Travel is a big part of the artist's lifestyle. It allows you to meet people, try new experiences, and uncover inspiration. In fact, some artists say the world is their muse instead of a specific person.
It's important to find someone that shares your awe for magnificent places, which is why we recommend Zoosk.
No, you won't get a first-class ticket to Paris when you sign up, but you'll get the next best thing…
Great Dates.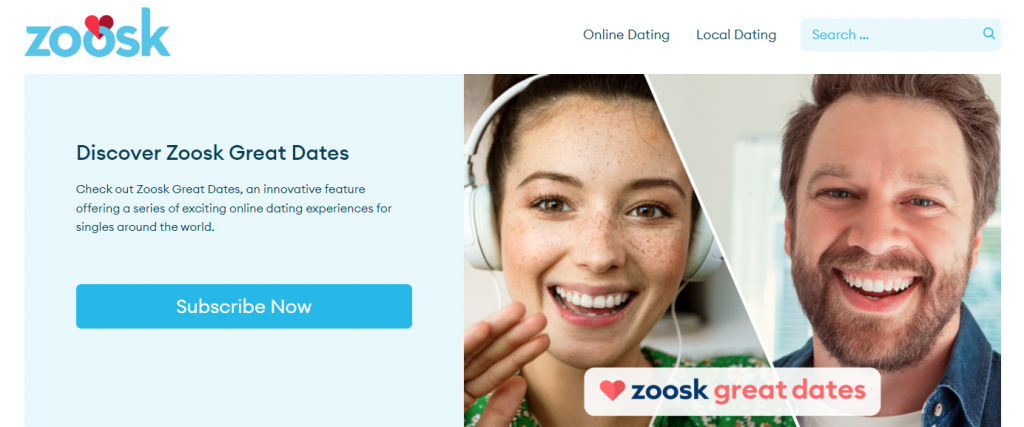 So, once you match with someone, you can use Great Dates to explore another place virtually. You and your special someone can go to Athens, Paris, or another bucket-list-worthy destination.
During your virtual tour, you can gauge your partner's travel style and sense of wonderment to know if you have a real match.
And don't worry if your first Great Date is a miss. With more than 40 million members, your ideal artistic travel companion is just a match away.
Sign up for a free account to find your travel companion today.
---
EliteSingles – Best for Educated Artists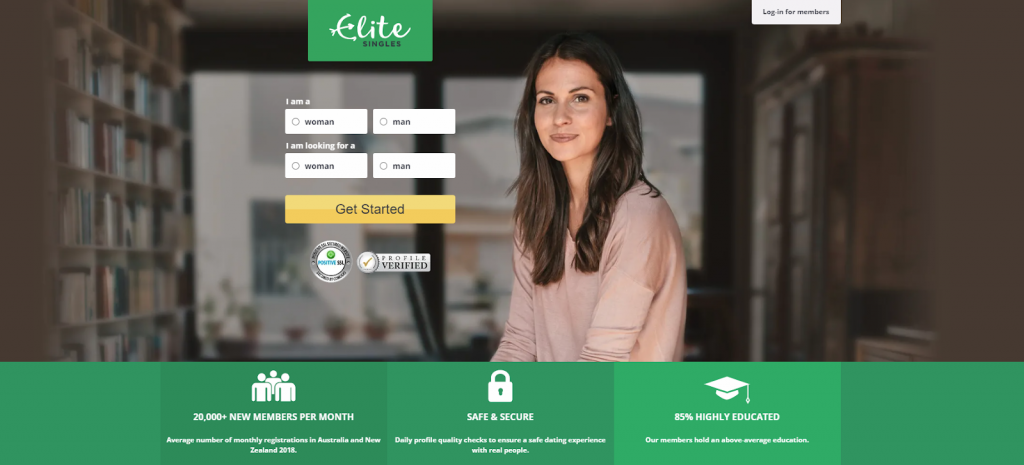 Some people think that anyone can pick up a paintbrush and create, but even Picasso attended a school of fine arts. If Picasso needed special training, it's no wonder that 60 percent of artists over the age of 25 have bachelor's degrees.
But on the other end of the spectrum, only 36 percent of Americans over the age of 25 also have degrees.
The education gap is real for artists, but you can close it with EliteSingles. Since 85 percent of its members have above-average education, you can connect with people on your level.
Find your match for free by signing up for a basic account today.
---
The League – Best for Squeezing Dates Between Projects

Fitting dating into your schedule is hard as an artist. You never know when inspiration might strike, and when it does, you'll be in the studio instead of on dinner dates.
But it's not all doom and gloom. You can brighten up your dating life by looking for matches on The League.
So, there are a few things we love about this app as far as artists are concerned.
First, it offers video speed dating, and it's as much fun as it sounds.
After matching with someone, you can go on a three-minute video date to see if sparks fly. If they do, you'll be more motivated to set aside some time to meet IRL.
But what if you're more of an in-person dater? Well, it's hard to squeeze in time to pick the right location and set the date, which is why we love the Party Scout feature.
So, here's how it works…
If any of your matches are hanging out nearby, the app will let you know. That means you can stop racking your brain for date ideas and message a nearby single to meet up at his or her location. With such easy access, you can hop out for a quick date before getting back to work.
There's one thing to keep in mind about The League, though…
It's pretty exclusive, and it's only open to real people. When you sign up, you'll go on a waitlist so The League can review your profile. That'll give you time to finish your last piece before breaking out on the dating scene.
Are you still torn? Here's another reason to love The League. The userbase is highly educated, so you can connect on a meaningful level.
Sign up to get on the waiting list today. It's free to use as a guest, or you can get a membership to unlock additional features.
---
4 Reasons These Apps are Perfect for Artists
Express Yourself with Your Creative Personality – Personality is a big deal on these apps, and you'll answer questions and fill out your profile to showcase yours. And since you'll also get to sneak a peek at other people's personalities, you'll find someone that jives with your creative style.
Creative Flings and Serious Partnerships – Some artists seek inspiration from casual flings and hookups, while others want to settle down with a partner. These dating apps are full of people with various dating styles, so you can seek out someone that's compatible with yours.
Real Singles – Forgeries and fakes are a real problem in the artistic and dating world. You see enough professionally, so you want safe artist dating apps with authentic people. These apps have various options for weeding out the fakes so you can avoid imposters.   
Fit Dating into Your Schedule – Artists tend to have demanding schedules that change by the day, so you need the singles to come to you. The best dating apps for artists provide tools for connecting at home. Some even have virtual dates.

Artist-Only Dating Apps
Look, we love mainstream apps for single artists. They have a larger, more active user base and fewer fake profiles. Plus, they have features that you simply can't get with niche apps. Still, we know that some people prefer artist-only dating apps, so we've rounded up the most popular.  
ArtistFriendsDate.com – As one of the few niche dating sites geared toward single artists, we had a lot of hope for ArtistFriendsDate.com. While we love the concept, it seems to be more of a passion project than a legitimate dating site. The administrators don't verify profiles or photos, so scams run rampant here.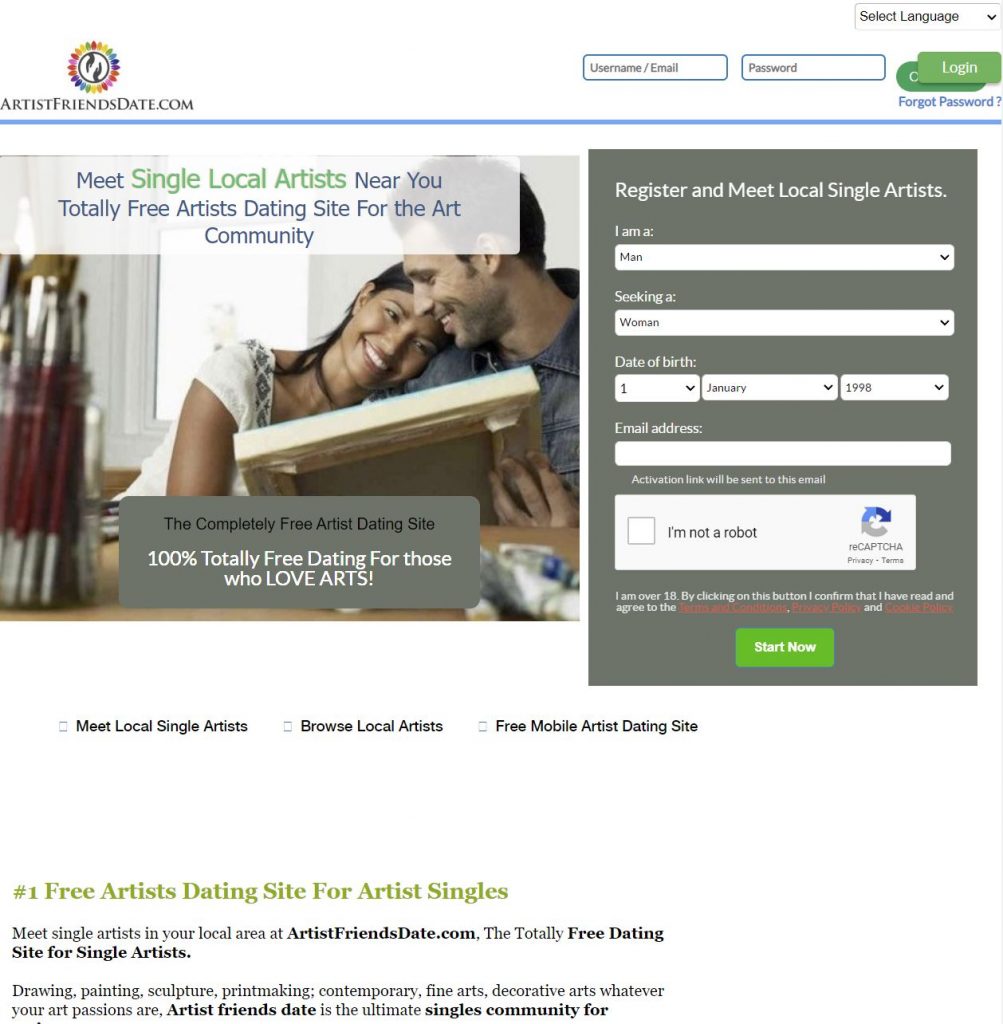 Artist Passions: You can connect with other singles for free on Artist Passions. The web-based dating site is pretty basic, but it's free, so that's a bonus. Still, you'll have to fend off spammers, and the userbase isn't overly active.
Artist Date: As the name of the site implies, this is a site for artists to connect with other artists. Unfortunately, you might have a hard time finding a connection. There are usually only a handful of singles on the site at any given time, even if you set the location to worldwide. Maybe everyone is too busy creating art to make time for the site.
Love Arts – At first glance, this is clearly the most professional of the niche artist dating apps. But as your eye for art has told you, first impressions can be deceiving, and that's the case here. The site is all looks without the substance due to the low number of active users.

Tips for Dating Non-Creative Types
From Pablo Picasso and Francoise Gilot to Diego Rivera and Frida Kahlo, there's a long history of artists partnering with artists. Even so, there's no rule that says you have to date other artists to find happiness. You can find love with a non-creative, but it's important to keep some things in mind.
First, you explore deep emotions through art and need someone that's just as comfortable with the emotional side of life. If the other person is an emotional void, your date will be a drain instead of an inspiration.
You also need someone who can handle alone time from time to time. In other words, you don't want a date that'll have a fit when inspiration strikes at midnight and you leave the bed. On top of that, you don't want to get pulled into a codependent direction if you decide to hole up for a week to work on a piece.
Sticking with codependence, you also need to be free to work the room at art exhibits and other events. Sure, that special someone can stick by your side, but you're going to be the center of the universe that night. Can your date handle that?

Best Places to Find Other Artists
If you want to date a like-minded creative, you'll find lots of options online. While you can stick to your local area, you can expand to reach more singles. In fact, you can expect the most success if you look for singles in an area with a high concentration of artists.
And just where will you find those singles?
Major cities tend to attract more artists, so consider expanding the search location if you live in a rural area. You'll find the most singles in cities like New York, Los Angeles, San Francisco, Portland, and Seattle. Oh, and don't worry if you're living in the south. Nashville also has a nice assortment of artists ready to date.
Do you want to take your dating life global? You can find artistic singles in Paris, London, Barcelona, Melbourne, Montreal, and Berlin.
But don't worry if you prefer sticking to your area. Creatives are everywhere, meaning you can find your match, no matter where you look.

How to Balance Creating and Dating
You probably work weird hours as an artist. You might stick to the studio for weeks at a time and then take a few days off to recoup. Plus, artists often carve out a longer block of time to travel, decompress, and look for inspiration.
Because your schedule is so tricky, you need to put some extra effort into finding time to date. The best dating apps for artists have some cool features to make it easier, such as video chatting and virtual dates.
But you can't let the apps do all the work. You'll need to get a little creative with your time to fit dating into your life.
First, find a partner that's flexible and understanding, so you can work together. Then, consider squeezing in lunch or coffee dates so you can get to know each other.
Soon, it'll be time for longer dates. While you can't set a specific schedule, try to clear a day or even an evening a week if you can. However, let your date know that if inspiration strikes, you'll need a raincheck on that meal.
You can make things a little less stressful by sharing an online calendar with your special someone. The two of you can work together to find time to spend together. If there's a spark, you'll find a way to make it work.,

First Date Ideas for Artists
You funnel a lot of creative energy into your work, so you might not have much left when it's time to plan a date. No worries, because we've come up with first-date ideas that artists are sure to love. You can borrow some of these ideas when going out on the town with your date.
Consider a creative date to see how your match acts in that environment. You can go to a museum, take a pottery class, or even hit an open mic night. Oh, and improv classes are so much fun for artists and their dates.
You can also funnel your creativity into food by taking a cooking class. Be sure to choose one where you can eat the food after preparing it.
Live music is also a fun first-date option for artists. Just make sure you grab a drink or meal before or after so you'll have a chance to talk.