Does this sound familiar? You meet someone while you're out and give them a fair go, but they don't cut it. After giving them the flick, you move on to the next one, only to get the same results. It's as if you've been staring at the same movie your entire life, and it's time to change the script.
Well, we have your new script here, and it'll give you access to so many blokes and sheilas that you're sure to have success. Check out the best Australian dating apps so you can turn your love life around.
Recommended Aussie Dating Sites:
---
eHarmony — Best for Aussies Interested in Marriage

Group dates are the norm in Australia, and all those extra bodies make it hard to decide if you have a love connection. So, even if you're interested in something serious, it might take years to find out if your date is the one.
And if it's a miss? Well, you'll have to start over from scratch.
If you don't want to make a bunch of false starts, check out eHarmony. It's responsible for 200.000 relationships and 25.000 marriages in Australia alone. And that was at last count, so there's no telling how high those numbers are now.
So, how do they do it? Well, eHarmony's questionnaire is based on psychology, allowing it to gauge members' personalities and traits. Basically, it finds out the things that usually take years to uncover in relationships. Then, it pairs people up based on the likelihood of their long-term compatibility.
If you want something serious that'll last for the long term, check out eHarmony. You can set up a free profile and start matching today.
---
EliteSingles — Best for Avoiding Bludgers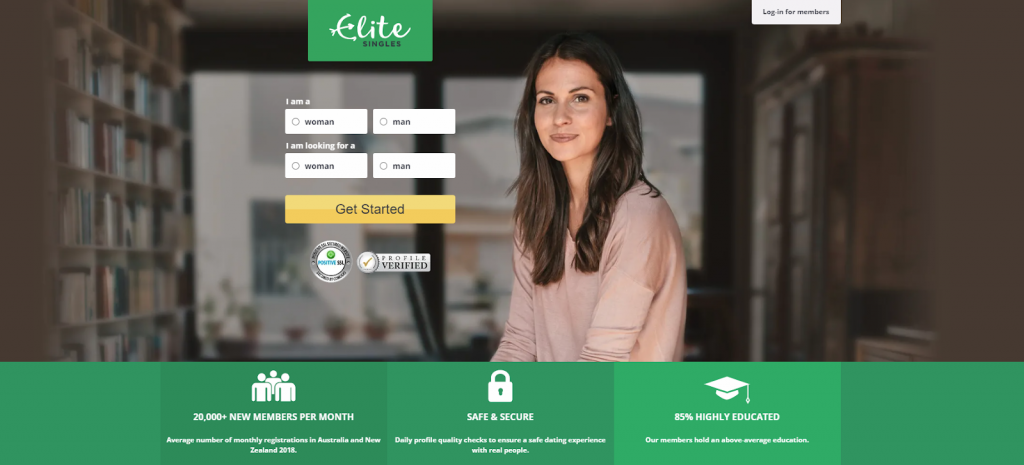 Australians might have a laid-back dating style, but they're serious about work. Over 30 percent of employed Aussies hold managerial or professional positions, and many underwent a lot of education to get where they are.
If you're at the top of your career game, you want someone that's just as ambitious as you are. And that's why EliteSingles is the best choice for career-minded folks.
Almost all the members are professionals, and many bring home the money. Let's just say that tall poppy syndrome hasn't made its way to EliteSingles, so people will build you up instead of tearing you down.
No matter where you live in Australia, you can find your match on EliteSingles. Head over today to create a free account so you can start looking.
---
Zoosk — Best for Staying Laid Back while Figuring it Out

So, here's the thing about Australia's laid-back dating culture. You can become so laid back that you don't bother to figure out what you want. And that makes it hard to have a happily ever after — or even some fun nights.
If you're still trying to decide what you want, Zoosk is here to help.
After paying for a membership, you'll unlock their SmartPick™ technology. Then, you'll feed the algorithm info every time you do something on the app. This tech will help you by learning what you want out of a relationship, and it will match you with people interested in the same things.
And here's where it gets really cool. Zoosk has over 40 million members in Australia and around the globe, so you won't have any trouble getting lucky in love here.
Create your free profile today so you can test it out.
---
Christian Mingle — Best for Religious Aussies


Australia might be a secular country, but over 60 percent of Aussies are religious. And that includes 12 million Christians. That's a huge number of Christians, but it's actually fewer than it was a decade ago.
Because the number of religious singles is dwindling, finding someone that shares your faith is harder now than it used to be. And while men face some challenges, it can seem impossible for female Christians.
There's already a gender gap, with more women than men in the country. That gap widens when looking at religious affiliation, with quite a few more female Christians than male Christians.
But all hope isn't lost. We checked out the best religious dating sites for Christian Aussies and landed on Christian Mingle. With more than 15 million members, you won't have any trouble finding someone that shares your religious beliefs.
Whether you're into local or international dating, your faith-filled love match is on Christian Mingle. Head over to set up a free account so you can check out your matches.
---
SilverSingles — Best for the Aging Population
Did you know that more than 30 percent of Australians are 50 years old and over? The older crowd is spread out around the country, with around 32 percent living in capital cities. And while some are married, a lot of older singles are looking for partners.
Most dating sites cater to the younger crowd, but SilverSingles is different. The member base is 50 and up, and the site is so easy to use that you can dive in, even if you missed the tech revolution.
You might be over 50, but that doesn't mean you have to give up on love. Create a free account on SilverSingles to find your match.
---
Why We Love These Dating Apps for Aussies
They Do the Hard Work — With such a laid-back dating culture, finding the right match in the real world is close to impossible. Fortunately, these Aussie dating sites do the hard work, so you can sit back and wait for your matches.
Few Fake Profiles — Don't worry about investing your time in scammers on these apps. We selected sites that have proven track records of deleting fake profiles and protecting users.
Diverse Membership Bases — Australia is known for its diversity, and so are our favorite dating apps.

Sites Specifically Designed for Meeting Australian Singles
RSVP — While its concept is on point, this app misses the mark. Members complain about fake accounts, glitchy interfaces, and low-quality profiles.
Aussie Social — You won't have to be on this app for long before you run into a scammer or two. Plus, lots of the users claim to be in Australia but appear to live in other countries. While you might find someone here, it's not very likely, so we recommend avoiding it.
Australia-Chat — You'll feel like you've stepped out of the Wayback Machine after logging into this site. It's low on features and doesn't have many members, so it's not worth your time.
Aussie Mingle — It doesn't have many features, so searching for people is a challenge. And if you finally find someone that grabs your interest, there's a good chance the profile is fake.

Dating in Sydney
Total Population: 4,823,991
Number of Singles: 2,445,763
Percentage of Men: 49.30
Percentage of Women: 50.70
Percentage with Internet Access at Home: 85.60
A lot of Sydney's residents rely on friends to set them up on dates, but since more than half the population is single, that doesn't work very well. And if you're one of the single folks, it's a bitter pill to swallow.
See, the city has so much to do once you're coupled up. It's hard to watch all those couples taking harbor cruises, picnicking at Balmoral Beach, and enjoying shows at the Sydney Opera House.
And hey, we aren't even going to talk about all the canoodling happening at private beaches. You're already down enough, and that would be cruel. Nope, instead of kicking you while you're down, we're going to help you find your canoodling partner.
We reviewed our favorite dating apps for Australians and settled on Zoosk for Sydney singles. As the largest city in Australia, it is home to Aussies with various dating styles, making this app a great fit.
Insider Tip — You can increase the odds of finding a connection by leaving the city behind and hitting the suburbs. Tons of singles reside in North Sydney, Darlinghurst, Vaucluse, Double By, and Crows Nest. And while lots of them are men, you'll find single women in these suburbs, too.

Dating in Melbourne
Total Population: 4,485,211
Number of Singles: 2,314,368
Percentage of Men: 49.00
Percentage of Women: 51.00
Percentage with Internet Access at Home: 86.60
As the country's cultural capital, there's no shortage of things to do here. Couples and singles hang out at bars, clubs, and museums, and we've even heard about more than a few happy relationships starting at the gym.
But it's not all play and no work in this capital city. With close to 500 000 jobs in the municipality, it attracts career-minded Aussies. Many of them work in professional, scientific, and technological services, and the financial industry is huge here, too.
Since professionals make up such a large portion of the workforce, EliteSingles is our favorite app for Melbourne. It'll match you with people just as driven as you are so you won't have to dampen your ambitions to find love.
Insider Tip — If you're looking for men to date, use your app to browse singles north of the city. Our favorite spots include Collingwood, Richmond, Cremorne, Fitzroy, and Carlton. You'll find so many blokes here that it won't be long before you're social media official.

Dating in Brisbane
Total Population: 2,270,800
Number of Singles: 1,212,607
Percentage of Men: 49.20
Percentage of Women: 50.80
Percentage with Internet Access at Home: 86.40
Ah, Brisvegas. It's hard to believe there was a time when there wasn't anything to do here. These days, the city is bustling with casinos, restaurants, bars, and so much more.
But while the city can get wild, it's religious at heart. You don't have to walk far to stumble on a church, and more than half the population is Christian. And that's why we think Christian Mingle is your key to finding life-long love.
Bonus Pick — Money flows along the Brisbane River, creating the wealth belt. If you're one of the high-earners, check out The League. It's like EliteSingles, only a bit more elite. You even have to go on a waiting list so the staff can find out if you're The League material.