Black people make up less than 13% of the population in the United States, explaining why it's so hard to land dates in person. As they say, dating's a number game, and you need some options to score dates. Fortunately, you'll find options galore when using the right dating app.
We researched the Black dating scene and identified the five best apps for everything from casual to serious relationships. Plus, we have some additional info to share, including our take on niche Black dating apps and the interracial dating scene.
Are you ready to expand your options and find your next date? Let's dive in by looking at our favorite dating sites for Black singles.
5 Best Dating Apps for Black Singles:
---
Jump to:
---
1. eHarmony – Best for Finding What You Want and Need in a Relationship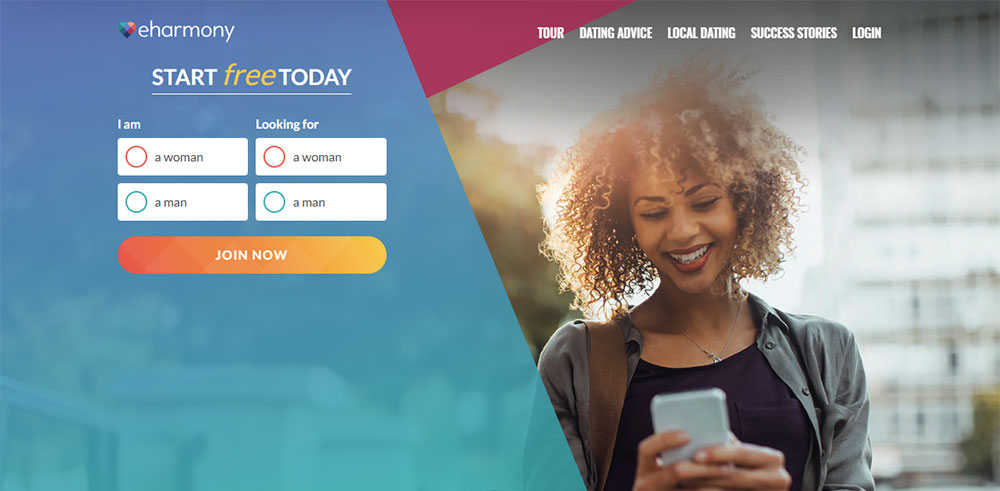 Lots of single Black men and women pursue long-term relationships, only to come up short. While it affects both men and women, we've noticed that Black women have more trouble finding long-term mates.
We set out to find the "why" behind this issue, and that led us to professional matchmaker Kelli Fisher's interview with Essence. She pointed out that women use one of two methods when selecting partners: going by looks or learning about the man before committing.
Based on her experience, Black women who take the looks-first approach end up with incompatible partners – and failed relationships.
Now, we know it's hard to take looks out of the equation entirely, especially when you see a man who has rock-hard abs and a killer smile. And that's why we love eHarmony. You can focus on looks while the algorithm considers everything else needed for a compatible partnership.
eHarmony's matching algorithm is so powerful that the site's divorce rate is lower than the national average. Considering that the Black population's divorce rate sits on the high end, we're confident this is the right dating app for you.
Oh, and if you're looking for Black singles, you can upgrade your membership and change your match preferences. Then, it'll match you with Black people, so you can dive right in and start connecting.
First, though, you need to set up an account. Head over to create a free profile today. It won't be long before you see why this is one of the best Black dating sites around.
---
2. Higher Bond – Best for Adding Love While Keeping the Faith
Religion is a big part of the culture in the United States, especially among Black Americans. According to the Pew Research Center, 97% of Black adults believe in a higher power – and nearly 80% are Christian. That's more than any other group in the U.S.
Those stats showed us that we needed to add a Christian dating site to our list. And after a little discussion, we all agreed that Higher Bond is the right recommendation.
See, Black Americans are one of the most religiously devout groups, and this is the most serious Christian dating site. It's designed for folks who identify closely with their religious beliefs, and lots of Black singles fit that bill!
It's also worth noting that most Black Americans are protestant, and you can select that denomination when choosing your match preferences. Then, just sit back and let the app send matches your way.
You can try Higher Bond for 3 months absolutely free, so set up your profile and start matching. While it's not a Black-only dating site, we're confident that you can find the perfect Christian match here.
---
3. EliteSingles – Best for Successful Black Professionals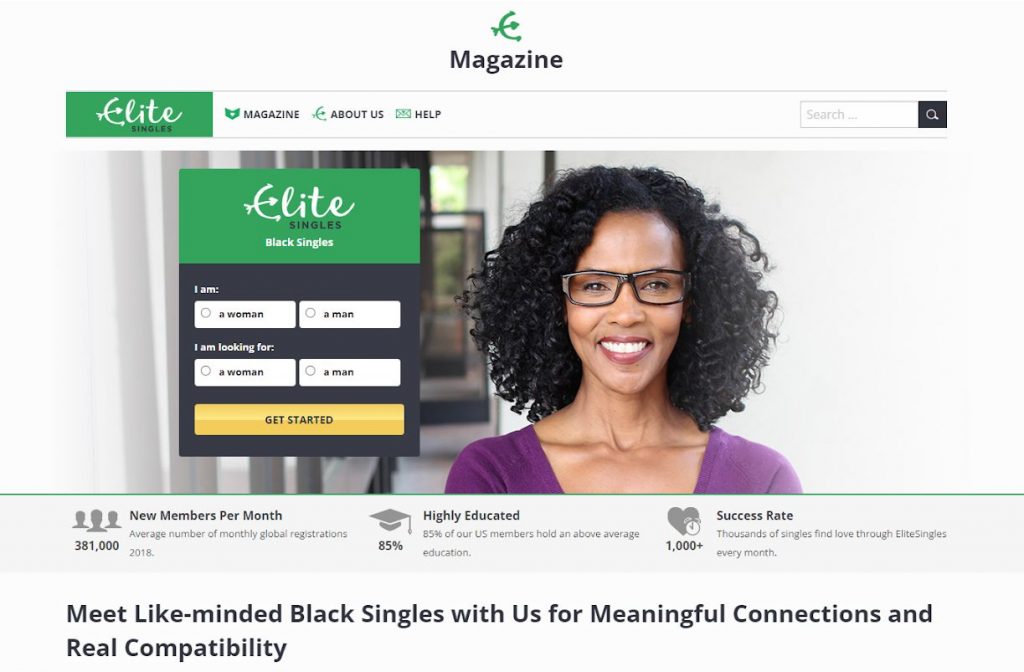 According to the U.S. Census Bureau, the number of Black-owned businesses has surged in recent years. When you consider both employer businesses and solo endeavors, there are 3.2 million Black-owned businesses in the United States alone.
And it's not just Black business owners who are doing well. You can find stories of Black success around the country and the world.
Unfortunately, a lot of Black professionals have trouble when it comes to the dating game. And while this problem affects both genders, it's even harder for Black women. In fact, research shows that highly educated black women are less likely to be married than other Black women and Black men.
Sometimes, it can get lonely at the top, but you can find your special someone on EliteSingles. This site is full of ambitious Black professionals who are looking for love.
While it's not a black-only dating site, it lets you set your preferences by ethnicity and race. Then, the matching algorithm will get to work to find Black professionals for you to connect with on a deeper level. And just like that, the loneliness that comes with success will be a distant memory.
Check it out by setting up a free account on EliteSingles today.
---
4. Zoosk – Best for Hitting the Casual Dating Scene in College
So, nearly 19 million people attend college each year in the United States, but just around two to three million of them are Black. Now, college is known for casual dating, but it can be hard for Black students who want to date other Black people. The numbers just aren't there, so you can find yourself cycling through the same options over and over or just giving up.
But what about HBCUs?
If you attend one, you're surrounded by black students – but not enough to feed a solid casual dating scene. Over half of HBCUs have 2,500 or fewer students, so you can end up seeing the same faces day in and day out.
But there's no reason to give up because we've found the solution. You can put the entire casual dating scene at your fingertips by using Zoosk.
This is a mainstream dating app, but there are lots of Black people among its 40 million plus members. And if you want to stick to dating Black people, you can add that to your search preferences.
College goes by fast, so don't wait to get into the dating game. Head to Zoosk and set up a free account today.
---
5. SilverSingles – Best for Finding a Partner Later in Life
Most Black Americans are under the age of 40, but the aging population is growing. There are millions of Black Americans 50 and over, including 8.3 million Baby Boomers.
Unfortunately, Black seniors are more likely to be single than white seniors. And as hard as it is to be single when you're younger, the loneliness is worse when you're a senior.
If you're in this situation, you can find a partner on SilverSingles.
This site is just for people 50 and up, and it has lots of Black members. And like the other sites, you can set your preferences to match with other Black people if you'd like.
If you're 50 or older, you're sure to love this site. Start the process of finding love by creating a free profile on SilverSingles today.

Reasons These are Our Favorite Black Dating Sites
Millions of Choices – Unlike niche Black dating apps that only have a handful of users, these sites have millions of people from around the world. Higher Bond is the exception to that since it's still new. However, we expect it to have a large membership base in the coming months. Read our Higher Bond review to find out why we're sold on the site, even though it's new.
Filter by Race and Ethnicity – You can set your preferences to match with people of all races and ethnicities or choose to only match with Black people. You're able to do this for free on all of the dating sites except eHarmony. If you use that dating site, you'll need to upgrade your membership first.
Advanced Matching Algorithms – Instead of just matching by looks and location, each of these sites takes personality, interests, and other factors into consideration when pairing people up. eHarmony has the best matching algorithm, but you can find true love on all of the sites.
Harassment-Free Dating – Black people have reported racism on some apps, so we set out to find options that provide safe dating environments. These sites also have responsive customer service teams, so you can reach out if anything happens.

Niche Black Dating Apps
AfroIntroductions – As part of Cupid Media's network of dating sites, AfroIntroductions is the most trusted niche Black dating site on the market. It has 4.5 million members around the world, including people who hope to relocate to Western countries. Most of the people here are looking for serious relationships, and you can increase your odds of finding "the one" by filling out your profile completely. Check out our guide on writing a dating profile if you need some help.
BlackCupid – This site is also part of Cupid Media, but it's more focused on local dating throughout the U.S. instead of international dating. However, there are also members from other countries on Black Cupid.
BLK – This dating app is kind of like Tinder for Black people. If both people swipe in the same direction, the app sends a match. Unfortunately, it only matches based on location, and most profiles aren't filled out completely. Due to the lack of features, we don't recommend BLK.
BlackPeopleMeet – We've heard too many complaints about people getting matches outside of their preferences to recommend BlackPeopleMeet. Also, the app is bad about sending the same matches over and over again, so you won't see many fresh faces here.

Countries and Cities with the Most Black Singles
While most people use Black dating sites to browse for singles nearby, some folks prefer to look for matches elsewhere. Maybe they can't find the right person nearby, or they enjoy the adventure of a long-distance romance. They might even be considering moving and want to find a match in another state or country, so they'll have a friendly face waiting for their arrival.
We checked the Black populations around the world and found the countries with the most options. If you're looking for Black singles outside of United States, we recommend checking the following:
Brazil
Haiti
Africa
Columbia
France
If you're in the United States, you can narrow down your search by setting your dating app to browse profiles in a metro area with a large Black population. According to the Pew Research Center, the following areas have the highest Black populations:
New York-Newark City-Jersey City, NY-NJ-PA
Atlanta-Sandy Springs, Roswell, GA
Washington-Arlington, Alexandria, DC-VA-MD-WV
Chicago-Naperville-Elgin, IL-IN-WI
Philadelphia-Camden-Wilmington, PA-NJ-DE
You can also search by geographic region. Over half of the Black population lives in the South, while you'll find 17% in the Midwest and Northwest. That leaves 10% in the West.

Interracial Online Dating
If you use one of our recommended dating apps, you'll find people of all races and backgrounds. That's likely the reason behind the spike in interracial relationships, according to researchers. By having access to people of all races, people are more likely to partner up with someone of a different race.
Are you interested in opening yourself up to dating someone of another race, but you aren't sure how to navigate it? We've created some tips to help you have a long-lasting romance.
Have Open Communication – While communication is important in any relationship, it's vital that interracial couples share their experiences with each other. Even loving partners can be blind to issues their mates face, so talk through each situation. That'll help you understand each other – and bring you closer together.
Be Willing to Teach and Learn – When you date another Black person, your partner understands certain things about your experiences. However, interracial couples need to teach each other about their personal experiences and be open to learning. While it takes some time and patience, you can both get on the same page by doing this.
Have Solid Boundaries in Place – Sometimes, friends and family members cross the line when interacting with an interracial couple, so it's important to have boundaries in place. Discuss the boundaries with your partner and enforce them together. Remember, there are two people in the relationship. Everything else is just noise, so protect what you have together.