With nearly 40 million people and over half the adult population unmarried, California isn't just the land of opportunity for those looking to make a name for themselves—it's the land of opportunity for finding love (or at least someone to share quality time with).
But with such an eclectic mix of cultures, people, and dating habits, dating in California can manifest as a bit more challenging that it feels like it should be. But that is exactly where online dating steps in to save the day. The best California dating apps help you to cut through the noise, connect with quality singles, and actually find someone awesome to spend some time with.
Don't know where or how to get started? This guide is here to help.
Top 7 Dating Apps in California in 2023
---
---
1. Zoosk – Best Overall Option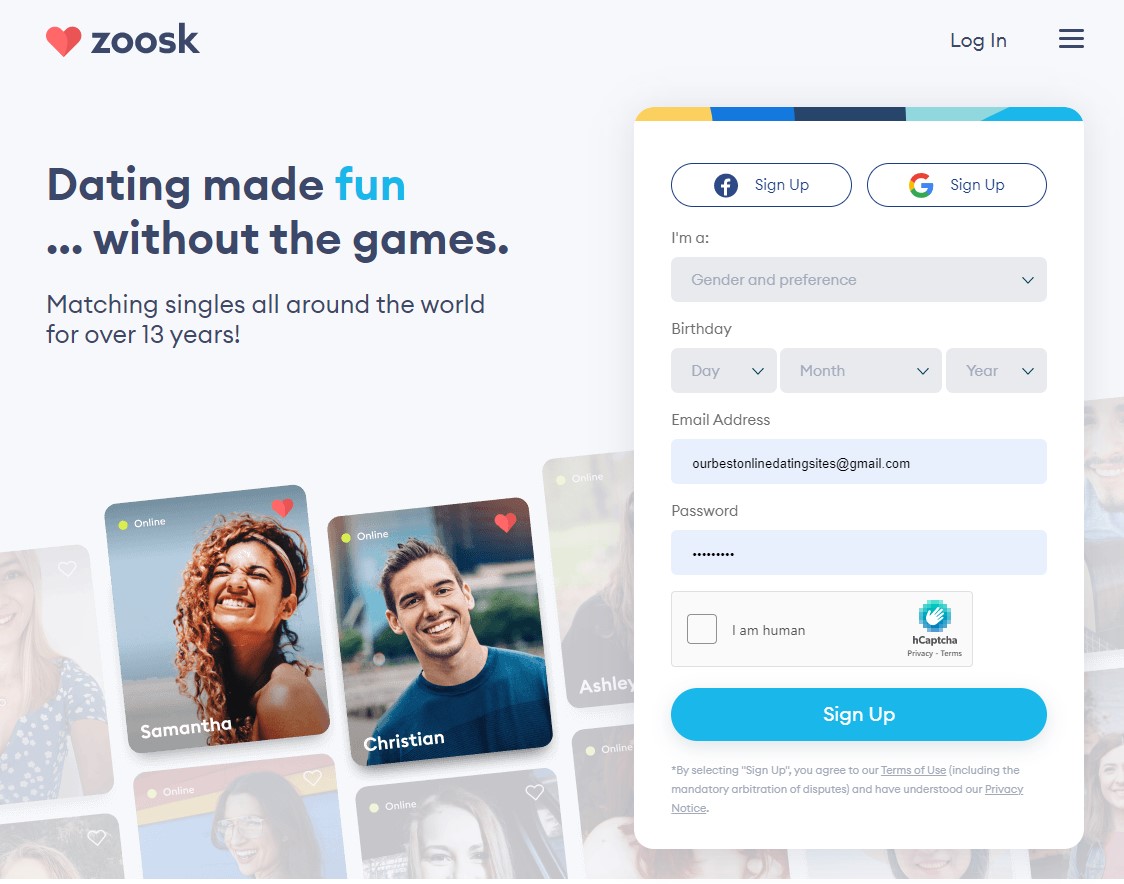 Who Will Love Zoosk: Pretty much all singles in California
Who Might Not Enjoy Zoosk: People who like fewer options
Biggest Pro: Over 35 million members
Biggest Con: Not solely for casual or serious dating
Starting Price: Premium memberships start at $12.49 monthly
The population of California is massive at 39.3 million. What's crazy is that Zoosk has nearly that many members at 35 million+! If you're a Cali single who loves options and the ability to meet interesting people to date, you're going to love Zoosk.
Something else to point out is that many cities in California are quite transient with people coming and going quite often, while other cities have residents who tend to stay for a long time. Because of this, singles in California are quite split between looking for casual dating and looking for real and lasting relationships. Zoosk is one of the few dating apps out there that caters to both of these needs by letting you pick the exact type of relationship you want (from six different options).
All in all, Zoosk is easily our top pick for the best California dating app.
---
2. Elite Singles – Best for Professionals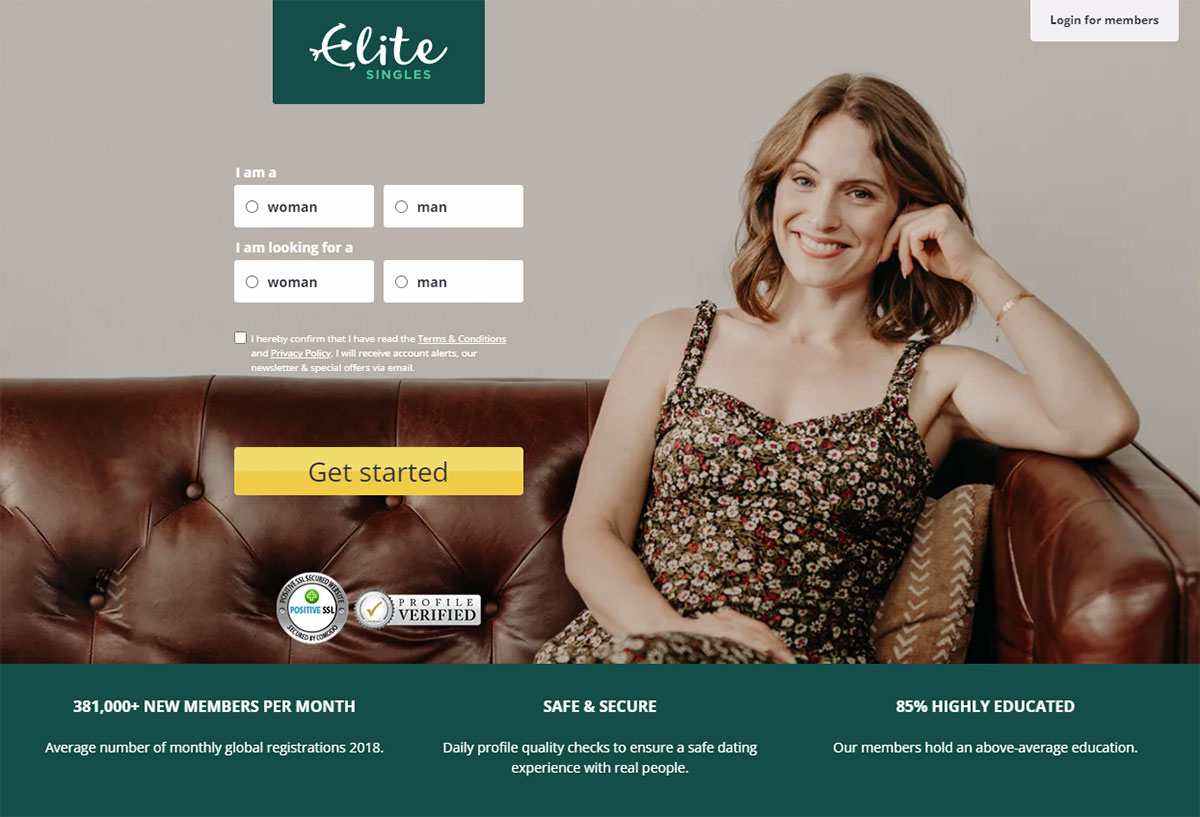 Who Will Love Elite Singles: Singles who find education or success attractive
Who Might Not Enjoy Elite Singles: People who aren't career-oriented
Biggest Pro: Over 85% of the userbase holds an above-average education
Biggest Con: Not great for casual dating
Starting Price: Premium memberships start at $44.95 monthly
People who don't live in California think that the state is 100% filled with only actors and actresses. What they don't realize is that the state also has a ton of successful and educated singles in a wide array of major industries. Some of the biggest industries in California include finance, insurance, real estate, and tech. And that means you'll find a ton of tech-savvy singles who identify as entrepreneurs, young professionals, seasoned businessmen and women, and people making an impact.
If that sounds like the kind of singles you're looking for when you're California Dreamin', then you have got to check out Elite Singles. The primary user base is from late 20s up into early 50s with a large concentration in the 30s and early 40s. And over 85% of the singles on the app have an above-average education!
---
3. eHarmony – Best for Real Relationships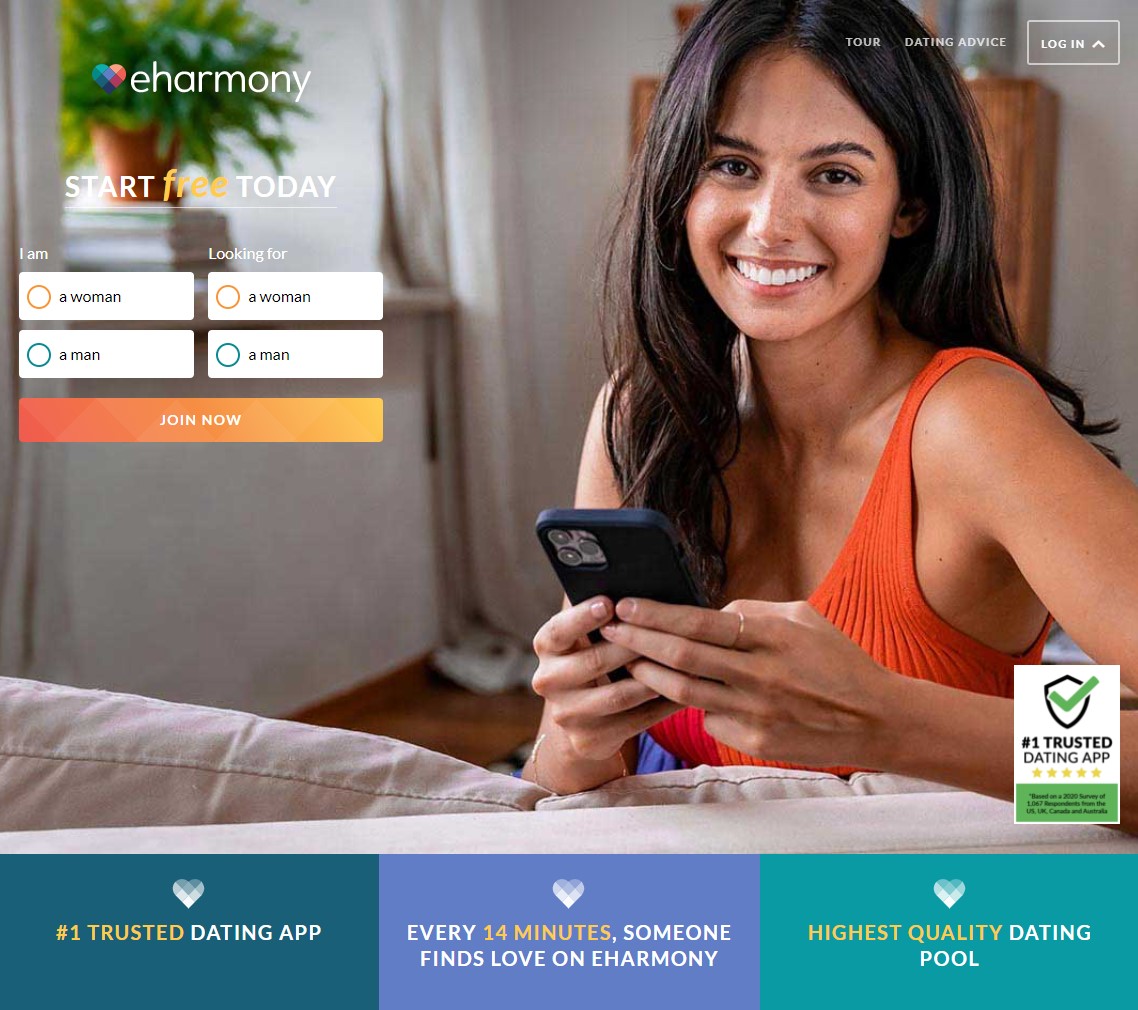 Who Will Love eHarmony: Singles looking for real committed relationships
Who Might Not Enjoy eHarmony: Anyone looking for a fling, hookup, or casual dating
Biggest Pro: Strongest track record of connecting people for real relationships
Biggest Con: Requires you to put in some effort
Starting Price: Premium memberships start at $35.90 monthly
We probably don't have to tell you this, but not everyone in California is looking for a fly-by-night fling or casual dating. There are genuine people looking for real relationships, and that's where eHarmony shines. Unlike a site like Zoosk that caters to all relationship wants and needs, eHarmony dials in on helping people find committed relationships.
And with over 2 million + success stories and a two-decade track record of providing meaningful results, it's no wonder eHarmony finds its way on our list of the best California dating apps. Singles who are tired of games and looking for something real need not look any further.
---
4. SilverSingles – Best for Over 50 Dating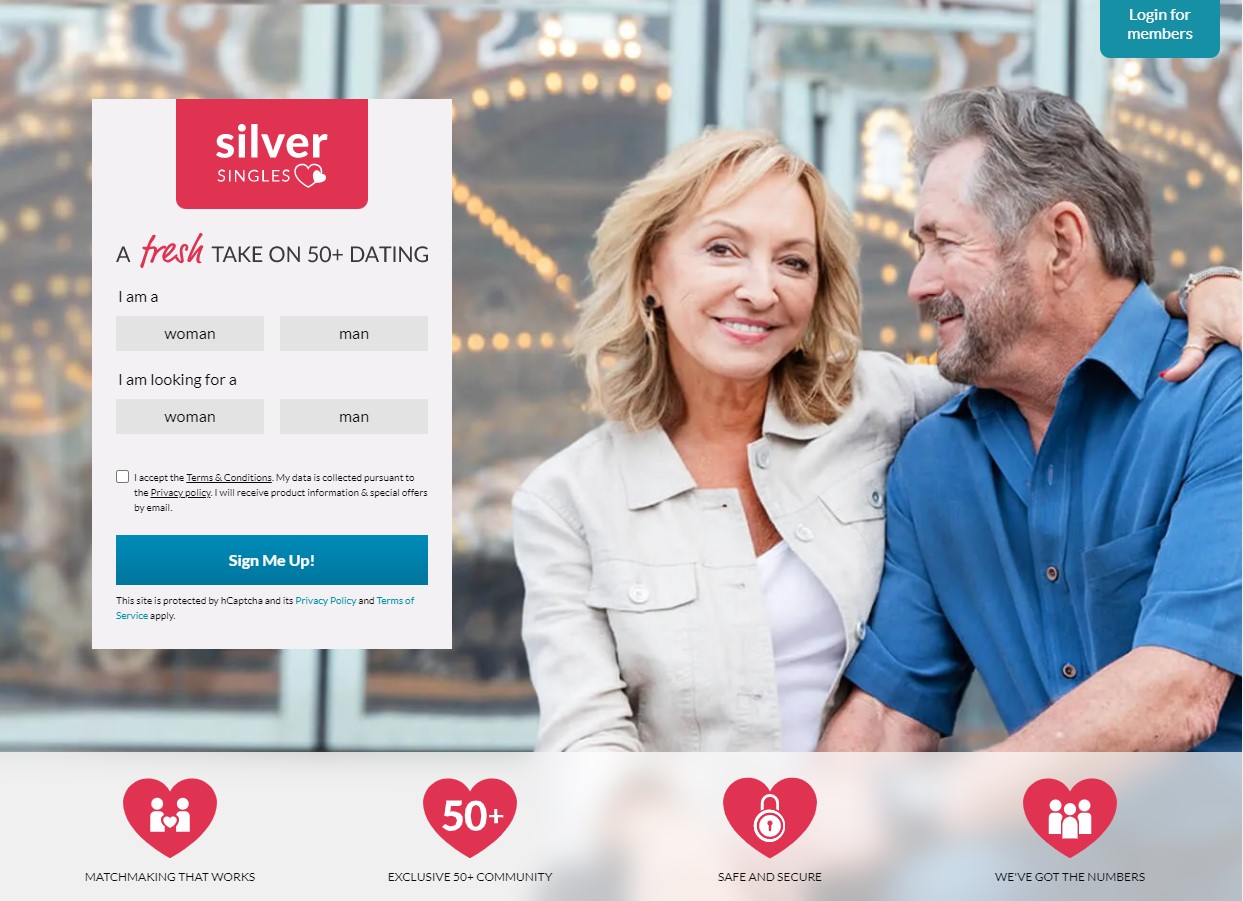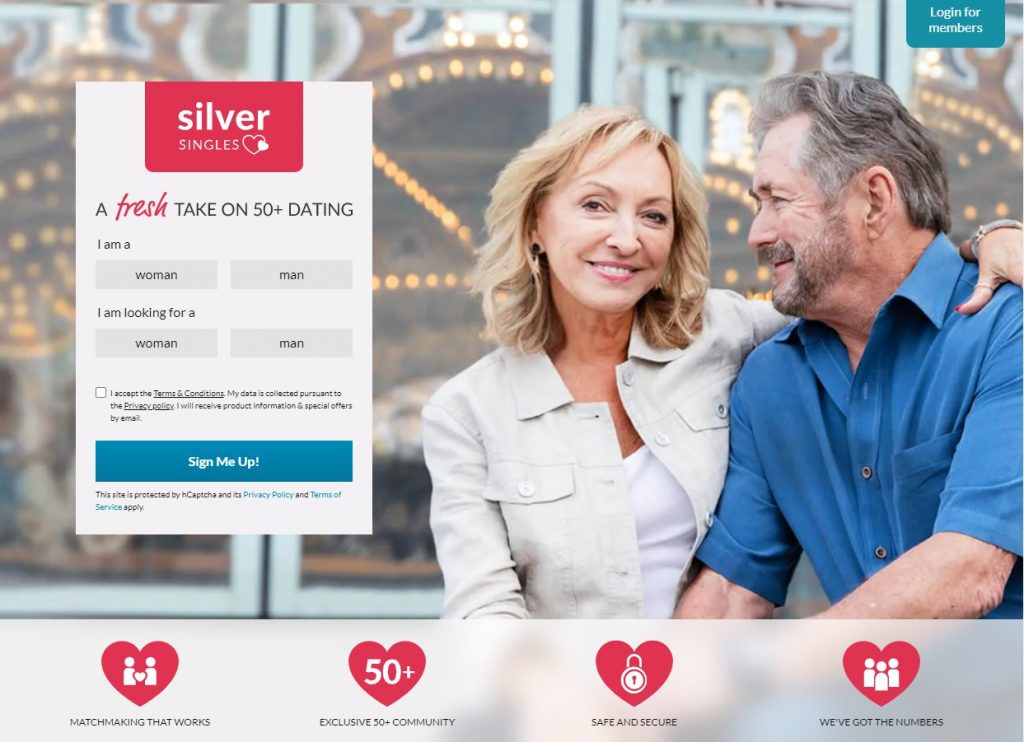 Who Will Love SilverSingles: CA seniors looking for love
Who Might Not Enjoy SilverSingles: Anyone under the age of 50
Biggest Pro: Senior-only community with no youngsters to weed through
Biggest Con: Not great to meet people in their late 40s
Starting Price: Premium memberships start at $19.95 monthly
Over 33% of the population of California is 50 or older. At one-third of the population, you better believe that the senior dating community in the state is rocking and rolling! And just because stigmas and stereotypes say that older folks aren't great with technology doesn't mean you can't use it to find that special someone.
When it comes to the best dating apps for seniors in California, the only name you need to know is SilverSingles. As a 50+ only community loaded with features to make things easy, SilverSingles is the one and only, must-try option for anyone older looking to date in the state. The one drawback is that with a hard floor of 50 years old, if you're newly turned 50 and still interested in people in their late 40s, you will have to go somewhere else to find them.
---
5. The League – Best for Movers and Shakers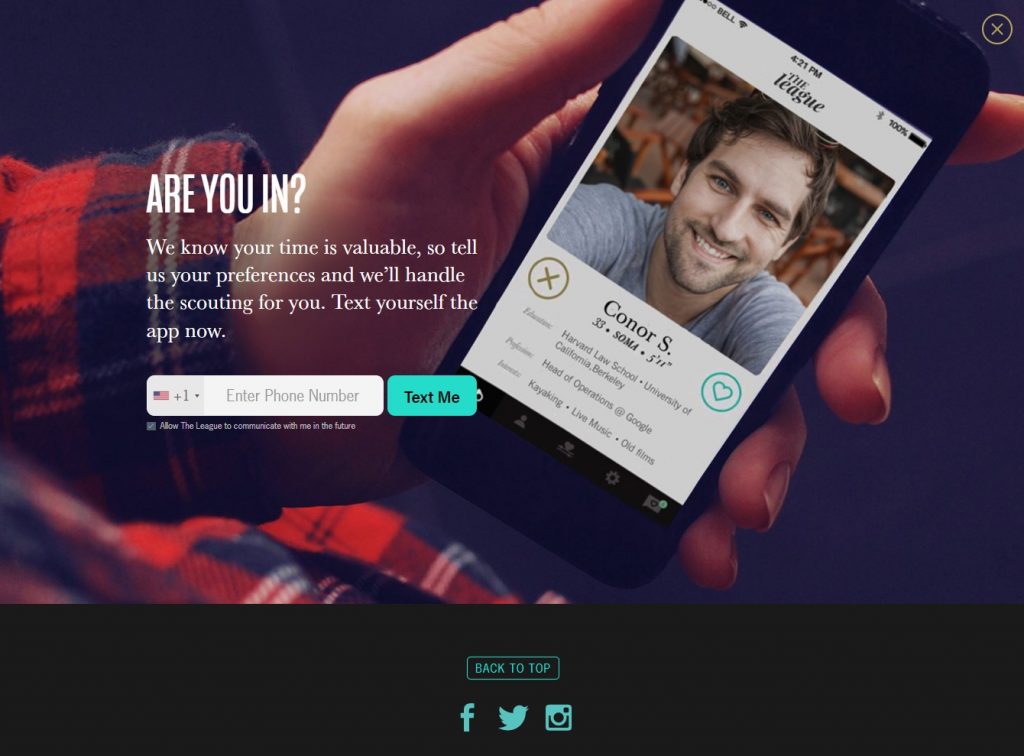 Who Will Love The League: CA singles looking for the highest caliber singles
Who Might Not Enjoy The League: People who want to get started dating right now
Biggest Pro: Truly elite group of highly-vetted singles
Biggest Con: Requires waiting on a waitlist to maybe get accepted
Starting Price: Premium memberships start at $67 monthly
As Miley Cyrus said in her song Party in the USA about landing in California (LA), "Welcome to the land of fame excess," Cali is a state filled with glitz, glamour, and all things great. And if you're a single in the Golden State looking to meet the highest echelon of singles, then you'll probably want to check out The League dating app.
The app requires all users to get on a waitlist to get accepted. And then it requires users to undergo a vetting process, usually based on connecting their LinkedIn profiles, so that an internal team can review and choose who to grant access to. It seems like a lot, but it reminds us of the lines outside some of the clubs on Hollywood Boulevard. Sure it can feel annoying, but when you get inside—it's all worth it.
---
6. Catholic Match – Best for California Catholics
Who Will Love Catholic Match: Catholic singles in the state of California
Who Might Not Enjoy Catholic Match: Anyone not Catholic or whose faith isn't important in a partner
Biggest Pro: Backed by prominent Catholic leaders
Biggest Con: Smaller userbase than other dating apps
Starting Price: Premium memberships start at $9.99 monthly
As the 35th most religious state in the nation, California certainly has a great faith-based dating scene. And according to recent research, nearly one-third of the state's adult population identify as Catholic, which is nearly 10 million people! With these facts in mind, it should come as no surprise that we have a Catholic dating app on our list of the best dating apps for California singles.
Now, if you're not Catholic, Catholic Match is not going to be great for you. But if you are one of those 10 million people and your faith is important to you—Catholic Match is an easy pick for you. The only other option we might recommend is a site like eHarmony that has a larger userbase but allows you to select your faith and how important it is to you. Ideally, you can turn a mainstream app into a niche faith app with just a few clicks.
---
7. Match.com – Best Second Option
Who Will Love Match.com: Singles looking for a second dating app to use
Who Might Not Enjoy Match.com: Singles solely looking for a committed relationship
Biggest Pro: Been around for a long time
Biggest Con: Lags behind the other established brands in features and upgrades
Starting Price: Premium memberships start at $18.99 monthly
Sometimes you want to turbo charge your dating results by getting access to more singles and hopefully more messages. For that reason, we recommend Match.com as a great secondary option if you're looking to enhance one of the earlier options. In reality, you'll probably get more action than you can handle with the earlier choices, but if your really want to add a few more chances with a site that doesn't require as much effort from you, Match could be a good choice.
---
What Dating App is Most Popular in California?
Answering the question of what dating app is the most popular is a challenging one. Why? Well, it all depends on who you ask, and the data sources needed for a conclusive answer are few and far between. That being said, we thought we would turn to our trusty friends at Google and check out some internet search traffic and trend comparisons.
What we did was compare the search traffic for the top five California dating apps from our list that are geared more towards real relationships. When you throw in the casual hookup apps, sites like Tinder tend to be more popular in most states. But, what we wanted to figure out was which of the top five options that we recommend is the most popular.


Zoosk- Try Zoosk Free!
eHarmony
SilverSingles
Elite Singles
The League
As we see in a lot of states, Zoosk tends to rise to the top. This could be a result of the fact it serves both singles looking for serious relationships and those looking for casual, or people in California may just be big fans. Either way, in our mini study, Zoosk is the most popular dating app in California.

What is the Dating Scene in California Really Like?
Picking out the best California dating app is a great step in the right direction to finding someone special. But what also helps is knowing what you're walking into. What is dating in California like? Is it hard? Is it like other states? In the next section, we're going to get into all of that to give you the best lay of the land and a leg up on the rest of the scene.
Dating in California is harder than in other states. – Yes, we're going to say it and no, we don't say this for every state. Dating in California is harder (not impossible) than it is elsewhere, mainly because of how different it is from city to city, how many people are focused on their own goals, and how many people move in and out of state all the time. The good news, though, is that we aren't kidding when we say it's not impossible. With the right guidance, you can have amazing success dating in California.
The dating scene is going to differ greatly by city. – You probably already know just how different every city in the state is. LA is wildly different than Sacramento, which is wildly different than San Fran, and so on. Don't expect the dating scene to be identical anywhere you are in the state. It will change by city or possibly even by neighborhood.
Dating in California is a lot more LGBTQ+ supportive than in other states. – If you're in the LGBTQ+ community and looking to date in California, you'll be happy to know that the state (for the most part) is quite accepting of the community. Expect to see this more in the bigger cities and somewhat less in the more rural and conservative areas.
Politics may play a larger role than in other states. – Californians are pretty excited when it comes to politics, on both sides of the aisle. What does this have to do with dating? Well, expect it to come up earlier and carry more weight when going on dates. It's not always the case, but certainly more than many other states in the US.
Expect to meet a lot of dreamers. – A lot of people move to California with dreams of making it big in something (not just acting). Because of this, expect to meet a lot of single men and single women who are dreamers. They may be working a random job to make ends meet while they chase their dreams. We're not saying this is a pro or a con; we're just saying it's something to expect to see on the Cali dating scene.
Finding unique first dates is a breeze in most Cali cities. – One of the coolest things about dating in California is how easy it is to come up with awesome date ideas. If you live by the coast, the beach is always full of great things to do. If you live literally anywhere, you'll have access to hikes, nature attractions, and parks. And if you like food, music, or culture, every city is packed with exciting (and affordable) options.
As we mentioned, your experience dating in California is going to vary wildly by what city you're in. In the coming sections, we wanted to dive into that a bit. Our team takes a look at three of the biggest cities in CA, and breaks down what to expect on the dating scene and which of our picks for the best California dating apps is best in each area.

Dating in Los Angeles
Best Los Angeles Dating App Recommendation: eHarmony
Finding someone to date casually in LA is not hard, especially with how many singles are moving in and out of the city at any given time. Finding something meaningful, though, is where it gets tough. This is especially true when you run into a lot of people who are "trying to make it" as an actor or actress or something of the sorts and seems to be incorrectly confusing dating and networking.
For the best dating app in Los Angeles, we selected eHarmony. You might think that Elite Singles is a better fit for the types of people dating in LA (and you very well may be right), but we thought an app catering more towards the serious side of things would be better in the city. The reason being is that there are a lot of reports of people using dating apps to network more than date, and that's probably least likely on a site like eHarmony.
Most Popular Los AngelesDating Apps

Traditional Style: Zoosk
Swipe Style: Tinder

% of Population Unmarried: 58%
Number of Men in Los Angeles: 1,966,568 (49.5%)
Number of Women Los Angeles: 2,006,710 (50.5%)

Dating in San Diego
Best San Diego Dating App Recommendation: Zoosk
San Diego is one of the coolest cities on the planet, and it also has some of the greatest diversity (42% white, 30% Hispanic, 17% Asian, 6% Black, and 4% mixed race). Known for it's beautiful beaches, rich culture, and yes—amazing zoo, it's no wonder the city is often referred to as "America's Finest City."
When it comes to dating in San Diego, expect a bit more of a relaxed vibe and speed. Call it beach time or call it trying to not be LA or call it something else, the fact remains that singles tend to be at a much more manageable speed when it comes to dating. And it probably goes with out saying that your options for unique dates are pretty endless, so definitely plan to take full advantage of that. Dinner and a movie should be a thing of the past everywhere, but especially in a city as cool as San Diego.
Because of the diversity in the city, we feel that the best dating app for San Diego singles is Zoosk. With its massive member base and ability to sort by exactly what you're looking for, it's ideal for a city like this. And with how beautiful the weather in the city is, the ability to date on the go is a must that Zoosk delivers on with great apps and a mobile friendly website.
Most Popular San DiegoDating Apps

Traditional Style: Zoosk
Swipe Style: Tinder

% of Population Unmarried: 54%
Number of Men in San Diego: 714,965 (50.5%)
Number of Women San Diego: 699,580 (49.5%)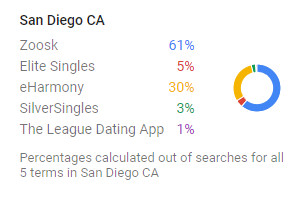 Dating in San Francisco
Best San Francisco Dating App Recommendation: Elite Singles
Much like the rest of California, San Francisco is an eclectic city of unique individuals. With nearly 60% of the city unmarried, you should expect a fairly vibrant singles scene no matter where in the Bay Area you are. When looking at demographics, there are slightly more men than women and the average age is 38.3, which is slightly higher than the average in the entire state of CA. The predominant ethnic groups in San Fran are White at 40%, Asian at 34%, and Hispanic at 15%.
When it comes to dating, there are a few things that stand out. First, people tend to date closer to home and within their neighborhood. Anything over about 15-20 miles isn't off limits, but you'll have better results staying in close. Second, the city can be quite expensive, which means many people may be looking for ways to cut costs and date on the cheap (which is totally okay). We'd recommend offering to go Dutch (split costs) or at least recommend some less expensive ideas until you know you're into each other.
For the best dating app in San Francisco, we elected to choose Elite Singles. With a big professional and tech population in the city, it seems like a popular fit. As you'll see, though, it is less popular in search traffic (outlined below), but we still think there will be plenty of quality singles to make it more than worth your while.
Most Popular San FranciscoDating Apps

Traditional Style: Zoosk
Swipe Style: Tinder

% of Population Unmarried: 59%
Number of Men in San Francisco: 446,246 (51.0%)
Number of Women San Francisco: 428,538 (49.0%)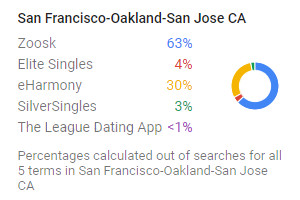 California Dating Sites FAQ
What is the best dating app in California?
The best dating app in the state of California is Zoosk because it has over 35 million members, caters to multiple different relationship needs, and is one of the most popular and reputable options in the state.
Are dating apps in California expensive?
In general, the pricing of dating apps in California is the same that you'll see anywhere else in the US. App prices range from about $10 per month up to $100 monthly, depending on the provider, the membership type, and the membership length. There are a few outlier dating apps in CA that can cost up to several hundred dollars per month.
What is dating like in Silicon Valley?
Dating in Silicon Valley does happen way more online than you'll see in other areas. And while we can't say the exact reason backed by data, we can speculate as to why. It may have something to do with a tech-heavy and tech-savvy area wanting to date more where they're comfortable. Additionally, many singles in the tech industry may be introverts which online dating apps do wonders for. Outside of that, though, expect people to lean more towards finding people who aren't interested in playing games or wasting their time due to their demanding work schedules.
How do I meet singles in California?
Meeting singles in California can be done through a whole host of ways including online dating apps, speed dating, or many of the more traditional methods that work anywhere else in the country. This includes getting introduced by friends or family, meeting people at work or out at bars, or through any other social channels available in the area.