Are you having trouble balancing religion and dating? If you're searching for a Catholic partner, the standard hookup sites aren't going to work for you. No, you need a wholesome dating app that focuses on love and values, and that can be hard to find among the sea of options.
Well, we waded into that sea and checked app after app, looking for the best ones for religious singles. After reviewing the most popular choices, we whittled the list down to five. Now, we're ready to share the best Catholic dating apps, so you find a real connection online.
6 Best Catholic Dating Sites for 2023
---
1. Catholic Match – Best App for Finding Catholic Singles that Put Religion First

Do you hope that online dating leads to sacramental marriage? Finding another Catholic is necessary for that, which is why we love Catholic Match. It's open to Catholics that are interested in taking a faith-first approach to love.
But it's not just about finding people that share your faith. This is one of the best Catholic dating apps because it balances faith with beliefs and personality. In order to do this, it asks some questions to find out where members stand and who they are. That includes questions related to your:
Political views
Preferred liturgical style
Mass attendance
Views on birth control
Feelings about abortion
Personality
While you can start looking for singles after filling out your profile, we recommend heading to the "Match Portrait" section of the site. Then, you can add even more info, allowing the algorithm to improve the match quality.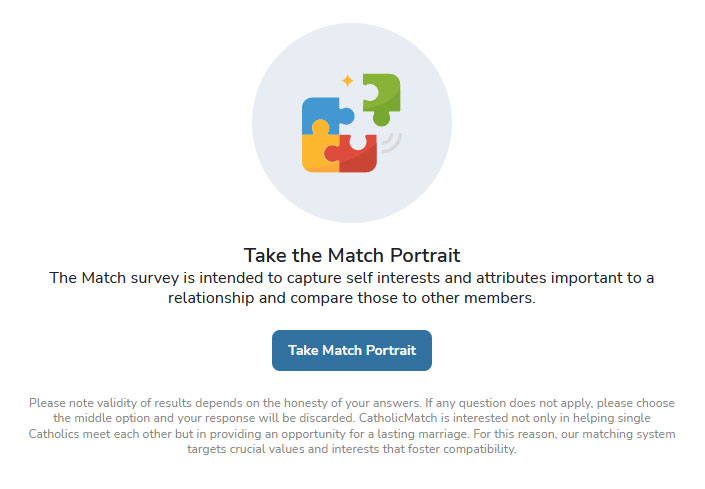 Oh, and we also want to mention the articles and training courses available. The resources help Catholic singles navigate the online dating world and find true love. And while you have to pay for some courses, others are free for members.
Are you ready to find a partner that shares your religion, views, and values? Head to Catholic Match to set up a free profile today.
---
2. eHarmony – Best Catholic Dating Site for Sharing Love and Values

As a Catholic, you're guided by core values that are part of your daily life, not just on Sundays. Finding someone that shares those values is critical, even if that person isn't Catholic. And that's why eHarmony is such a fantastic fit.
Now, full disclosure here…
While you'll choose your religion when creating your profile, you'll have to select "Christian" since "Catholic" isn't an option. Also, you can only search for matches by religion after paying for a membership, so it might take a little bit of time to find Catholic matches.
Even so, we think this is one of the best Catholic dating apps because of its compatibly scoring. See, you'll take a lengthy personality test when signing up that covers everything from how you see the world and treat others to your relationship style. Then, eHarmony compares your answers to others and lets you browse through matches based on the compatibility score.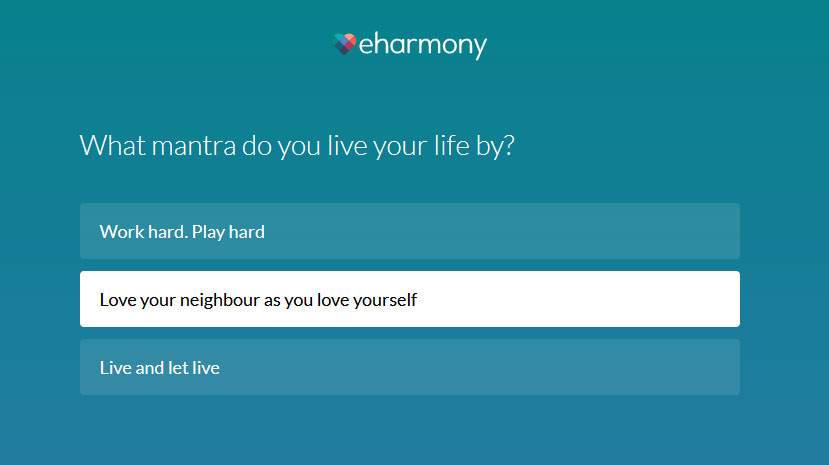 You can click on profiles to see how the person's personality matches yours. With scores for empathy, positivity, communication, and more, it's easy to find someone that shares your values. If that person's also Catholic, that's just icing on the cake. But even without the icing, you can find long-lasting love with someone just as kind, compassionate, and emphatic as you are.
While we recommend upgrading to the paid membership to browse by religion, you can get started with a free profile. And even without the upgrade, you can expect to match with some Catholics due to the large userbase.
---
3. Higher Bond – An Exciting New Dating App for Catholics

We'll be honest there are a lot of options out there for Catholic dating online and the people at Higher Bond are well aware of that. This new dating app launched in 2022 and we're impressed with what we've seen so far.
On top of having one of the most thorough matchmaking questionnaires, we've seen Higher Bond's mission statement is to change the way Christians and Catholics meet online. Instead of endlessly swiping and hoping to find Mr. or Mrs. right the app will use the info from your profile to bring you a new batch of potential candidates each day.
This quality-over-quantity approach is supposed to reduce the stress of the over all experience and lead to real results while leaving room for God to work. But there's one more thing we really think you should know…
anyone who signs upwill get 3 months of premium membership completely free.
Simply put, no one else in the industry is offering anything like that. And at the low low price of free we think it's worth Signing up if you think you might even be remotely interested.
---
4. Christian Mingle – Best for Bypassing Scams and Going Straight to Love


As a Catholic, you look for the best in everyone, and some people take advantage of that. With that in mind, you're probably a little concerned about someone using a fake profile to get something from you. Well, you can let your kind nature shine without fear on Christian Mingle.
This site does one of the best jobs when it comes to profile verification. It reviews profiles right away and takes down photos that aren't authentic. That reduces the risk of scams while increasing the chance of real love.
As a bonus, the dating app lets you search by religion, so you can find Catholics that are ready to mingle. Considering the site has more than 15 million members, your search will be quite fruitful.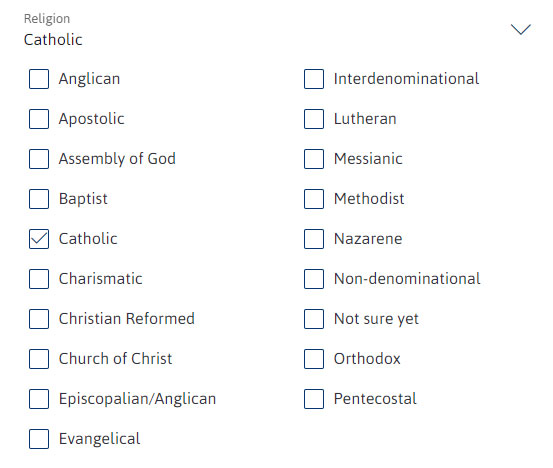 Ready to find the real deal online? Head over to Christian Mingle to make a profile today.
---
5. Elite Singles – Best Dating App for Ambitious Catholic Singles

As a Catholic, you've been taught the value of hard work and personal responsibility, meaning you're probably more ambitious than a lot of your peers. Reaching your career goals didn't happen overnight, though, so you might have put your dating life on the backburner while building your professional profile.
Now that you have your career in order, you're ready to find a partner that's just as professional and ambitious as you. Plus, you want someone with your strong Catholic values so you can form a real connection. While that sounds like a tall order, you can find what you're looking for on Elite Singles.
See, Elite Singles is like nothing else out there. It's designed specifically for high-achievers and successful singles that are on the hunt for love. And since it can take a little bit longer to reach that pillar of success, more than 90 percent of the members are over 30.
It's also worth noting that you can include your religion when creating your profile and decide how important it is to match with other Catholics. If it's highly important, the algorithm will go out and find Catholics that mesh with your personality.
With lots of Catholic and non-Catholic members, finding love is as easy as creating a profile here. With that in mind, sign up with Elite Singles today.
---
6. Zoosk – Best Site for Catholic Singles That Are New to Online Dating

If you're new to the world of online dating it can be an intimidating and often overwhelming experience. Too many apps distract you with bells and whistles but ultimately leave you stranded in a sea of endless swiping.
With an incredibly simple and user friendly interface, Zoosk is designed to get results by simplifying the this process. On top that Zoosk's software is constantly analyzing how you engage with the app to make recommendations better suited to your style and relationship goals.
And with over 40 million members it's easy to see why this is a great dating site for beginners. But what makes it good for Catholic singles? We're glad you asked!
With just a few clicks this dating app lets you filter potential matches by religion. This means you'll have the option to only stick within a dating pool of only singles that share your faith if that's what you prefer.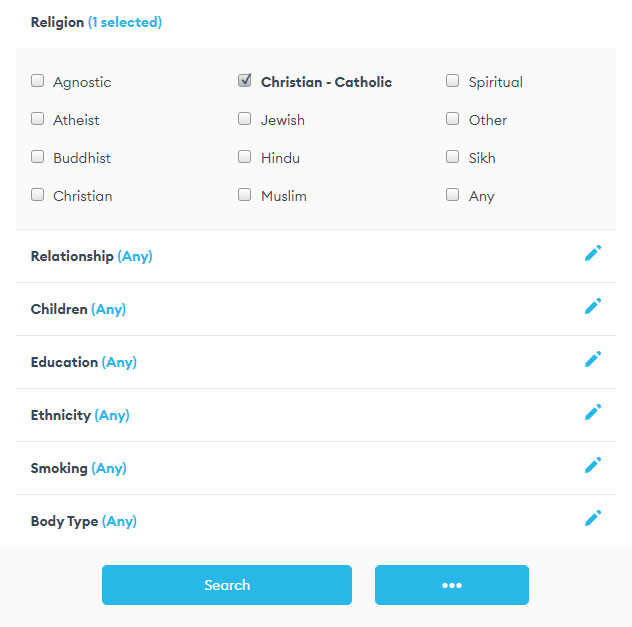 If you are new to the online dating scene or just want to simplify the process we recommend giving the Zoosk free trial a look. From casual to serious we honestly believe it's one of the best ways to start finding Catholic singles who share your relationship goals online.
---
Why Are These Dating Apps Great for Catholic Singles?
Go Beyond Religion: The best Catholic dating apps look beyond religion when matching singles. These sites do a fantastic job of pairing people up based on their personalities and interests, along with their religious beliefs.
Singles with Various Religious Views: You can find liberal all the way to conservative Catholics on these apps. With so many choices, you can meet singles that share your specific religious beliefs.
Wholesome Dating Environments: Because of your strong Catholic faith, you don't want to go to dating sites that are full of nude photos and people looking for hookups. These dating apps maintain wholesome environments that are full of people looking for real connections.
Safe Spaces for Catholics: According to a recent study, over 40% of adults in the U.S. state that they've experienced online harassment due to their religion. Since 15 percent of those were Catholics, we found dating apps that create safe spaces for people of all backgrounds. They have fast-acting customer support teams that keep the community safe.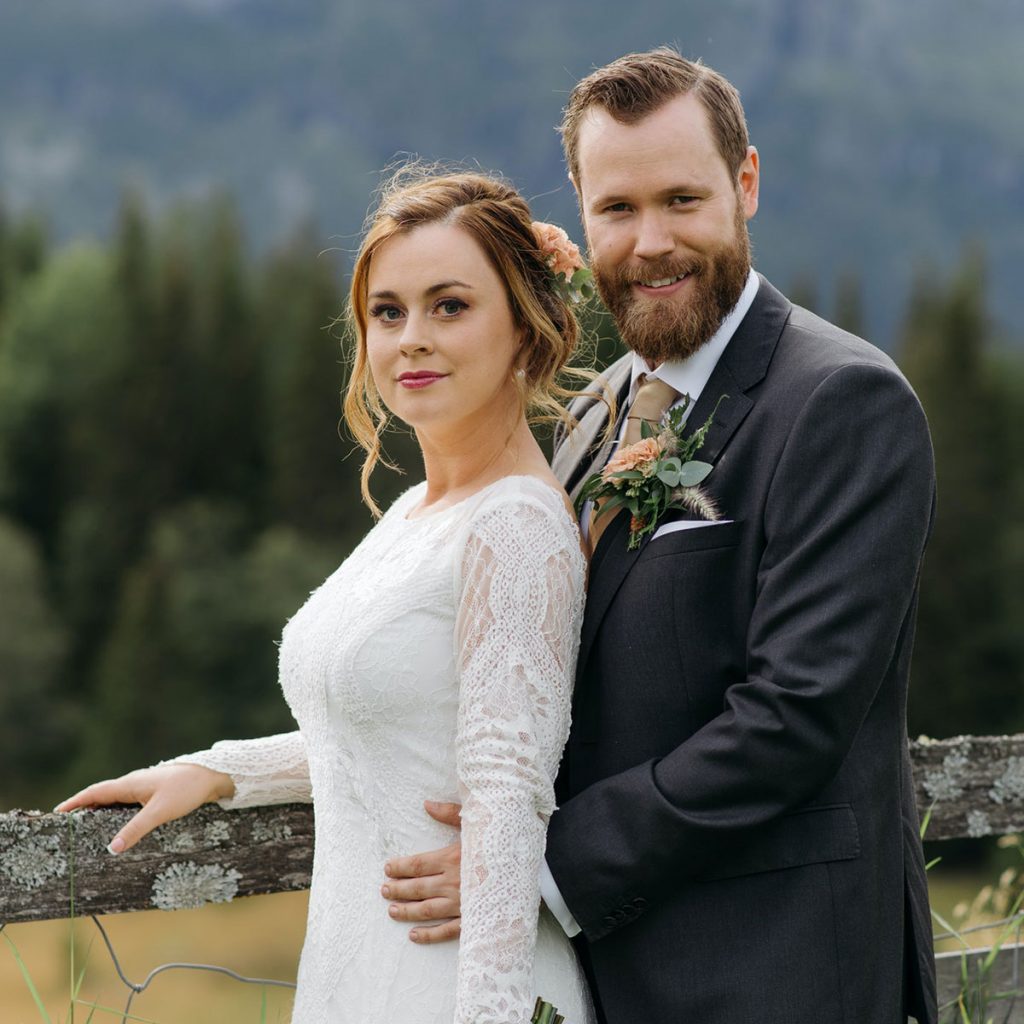 Niche Catholic Dating Apps
Except for Catholic Match and Christian Mingle, we prefer mainstream to niche Catholic dating apps. With more members and features, mainstream apps make it easier to find what you want in a match. Still, we know some people prefer Catholic-only dating sites, so we rounded up the most popular choices.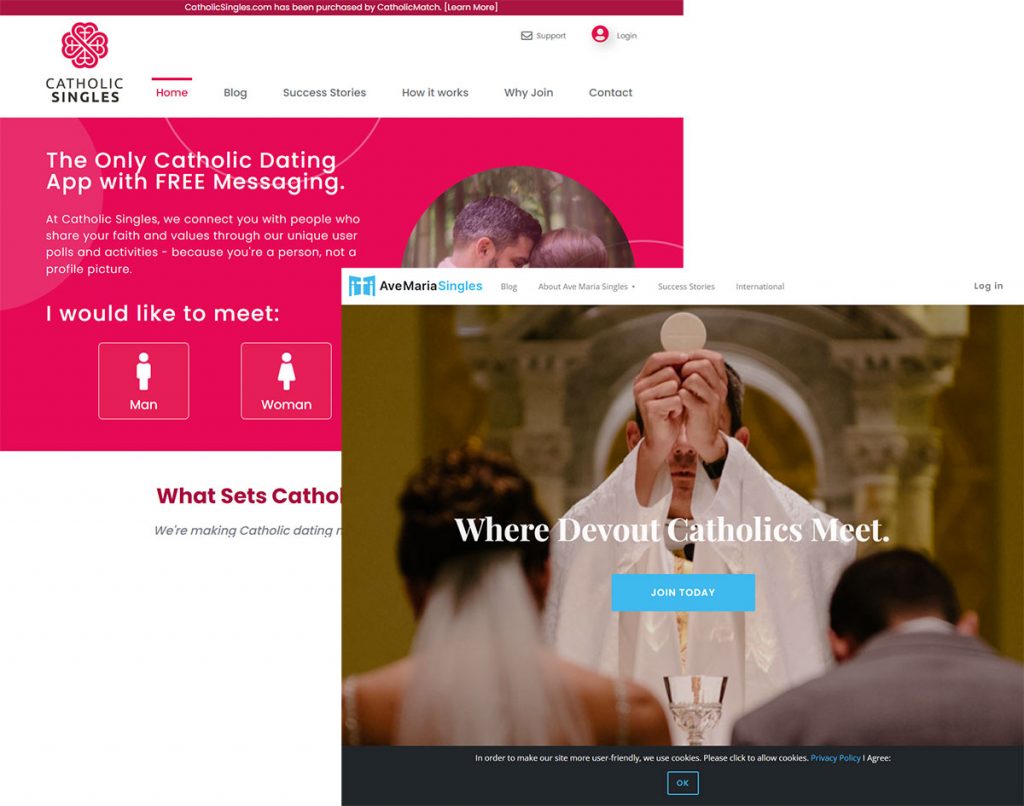 Catholic Singles: Even though we like the free messaging, we can't recommend Catholic Singles. The dating app has far too many fake profiles and scammers, making it hard to find a true connection.
Ave Maria Singles: This dating app has promise, but there aren't enough members to take it too seriously. After signing up, you might discover that there are only a handful of singles in your entire state.
---
Catholic Mates: We were put off by this dating site as soon as the homepage loaded. First, we could see members' photos and info without creating an account, which is a privacy concern. Plus, the site looks like it came out of the 1990s and not in a fun way. The dated look and features aren't ideal if you're looking for a partner.
CatholicPeopleMeet: This dating app is low on features and users. And while it has "Catholic" in the name, faith isn't a big topic here.

Tips for Talking to Multiple Singles at Once
Your faith is important to you, meaning you value honesty and integrity. At the same time, you want to get the most out of online dating apps. That means you'll probably need to talk to multiple singles at once to find your true match.
While that might seem like it's against your faith, we've come up with ways you can maintain your honesty and integrity while looking for a connection.
First, we recommend giving all your potential matches a chance. You might not be wowed by their profiles, but the dating app matched you for a reason. Thus, spend some time chatting with each person online to find out why they were selected.
Second, be intentional about getting to know the matches without becoming too attached right out the gate. You'll have a hard time getting to know everyone if you catch feelings right after striking up a conversation. Thus, sit back and learn more before connecting emotionally.
Eventually, someone will stand out among the others. When that happens, let your other matches know that you're exploring something with another single. By being upfront, those singles can look for love elsewhere instead of wasting their time on someone that isn't interested. Also, you won't be guilty of stringing people along when there's nothing there.

Where Can You Find Catholics Looking for Love?
You can use Catholic dating apps to find singles around the world. While some people stick to their location, others branch out.
If you're in the United States, you'll discover that the country has a nice assortment of Catholics throughout. You can find singles in the North, South, East, West, and Midwest, so your match is nearby.
While the United States is full of Catholics, other countries have even more. Brazil, Mexico, and the Philippines have the largest Catholic populations, followed by the United States. Plus, you can find tons of Catholic singles in Italy, Columbia, France, Poland, and Spain.
With so many options, it's a great time to get out there and start looking for love!

Tips for Creating Your Catholic Dating Profile
Our favorite Catholic dating apps make it easy to create a profile. They'll ask you some questions and use that info to let other singles know who you are. Still, you'll be in control of certain parts of your profile, and we're here to help you get it right.
First, honesty and authenticity are important parts of your Catholic faith, so let those shine through when creating your dating profile. You can start by choosing unedited, unfiltered photos that represent who you are.
Also, be honest and authentic when writing your profile. That includes letting readers know if you're only interested in dating other Catholics. On the other hand, you can let other singles know that you're down with dating people of all religious backgrounds if you want to expand your options.
Your dating profile is also a good place to share your faith. Talk about why it's important to you and the role it plays in your life. This will help to connect with others that feel the same way.
Also, let people into other parts of your personality and lifestyle. While your faith is important, that's just part of who you are. Thus, use the space to talk about other interests, so you'll attract like-minded singles.