Have you been wondering where all the single folks in Connecticut have gone? Considering that more than half the adults in CT aren't married, you know they're out there – but where?
We did some digging and discovered they've ditched the in-person dating scene and have moved things online. And they're making the switch at a rapid pace. Seriously, Google reports that interest in the phrase "best dating apps 2022" grew by over 5,000% in Connecticut alone.
It's clear that the singles here want to score some dates online.
Sadly, though, a lot of those Googlers discovered that a quick internet search isn't enough to point them in the right direction. See, Connecticut singles want more out of online dating than half-filled profiles and constant swiping. They're seeking real connections, and they can't find those just anywhere.
That's just part of what we discovered when researching the state's dating scene. We took everything we learned and used it to find the best Connecticut dating apps. Check out our top picks:
Top Dating Apps for Singles in Connecticut
---
Fortunately, you don't have to juggle all five apps to strike up a relationship. Instead, stick around to find out which of these apps is right for your dating goals. Oh, and we're going to share some important info on CT's dating scene, including how it changes by city.
Are you tired of coming up short when looking for love? Let's turn things around, starting with choosing a dating app.
Jump to:
---
1. eHarmony – Best for Getting Serious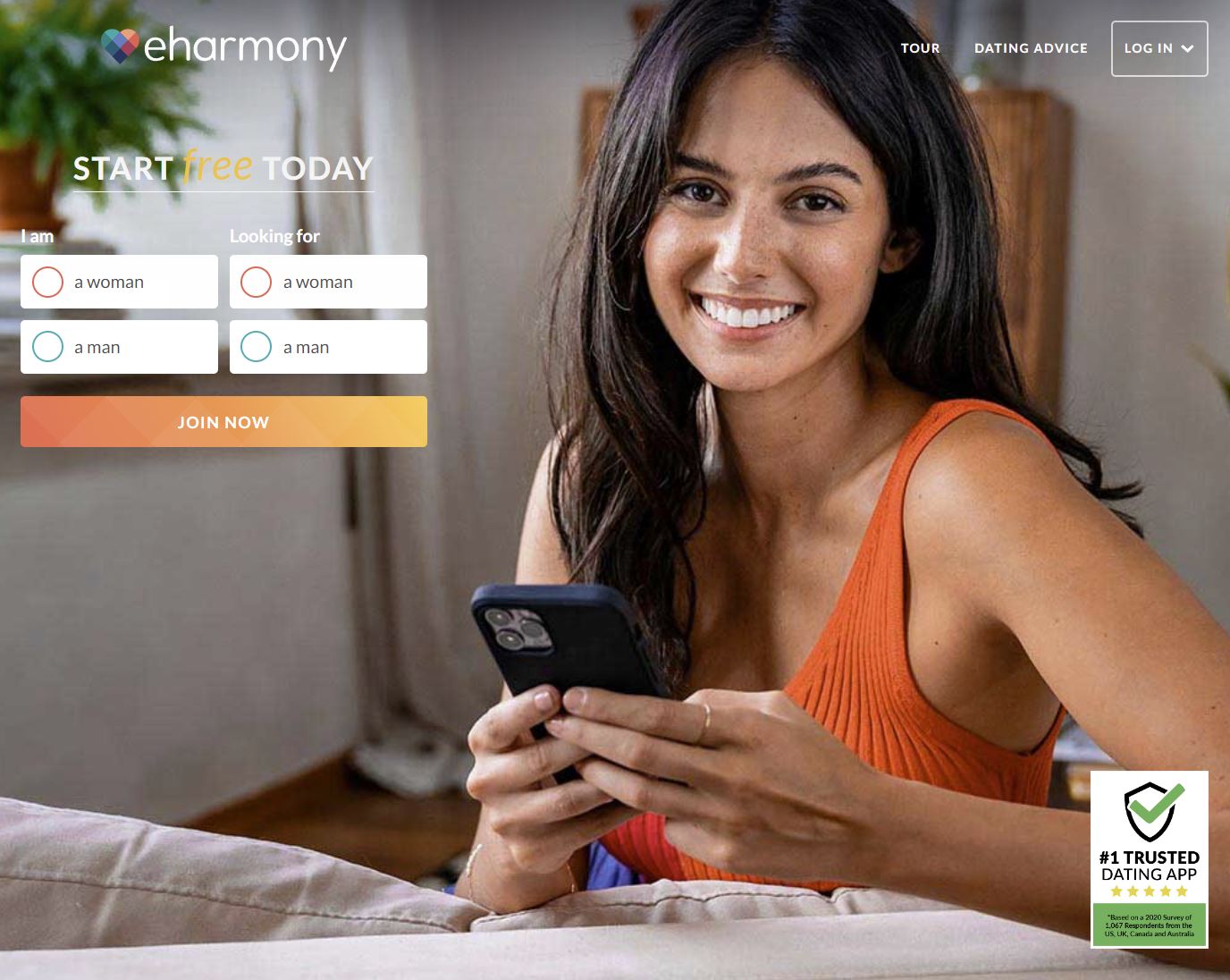 Who Will Love eHarmony: CT singles interested in serious relationships with compatible matches
Who Might Not Enjoy eHarmony: College students and other singles searching for short-term dating opportunities
Biggest Pro: Matching algorithm pairs people based on the key factors needed for successful long-term relationships
Biggest Con: Sign-up questionnaire contains 80 questions, but that's necessary to find out what makes members tick
Starting Price: Premium memberships start at $21.54 a month
We spent a lot of time learning what Connecticut singles want when hitting the dating scene, and one thing kept coming up over and over again. Most singles here want serious relationships, and they aren't into wasting their time on casual encounters.
That's why eHarmony is the best dating site in Connecticut.
Now, eHarmony's sign-up questionnaire is longer than most Connecticut dating apps, but that's its secret ingredient. A clinical psychologist helped develop the questionnaire, and it digs into everything from personality traits to relationship and communication styles. Then, it matches people who bring the right balance of traits to relationships.
And that results in compatible couples who go the distance.
At last check, someone finds love on eHarmony every 14 minutes. Also, couples who meet on this Connecticut dating app are more likely to stay together than those who connect on other sites.
If you're part of Connecticut's robust serious dating scene, it's time to give eHarmony a try. Head over to set up a free account today.
---
2. EliteSingles – Best for Professionals 30 and Up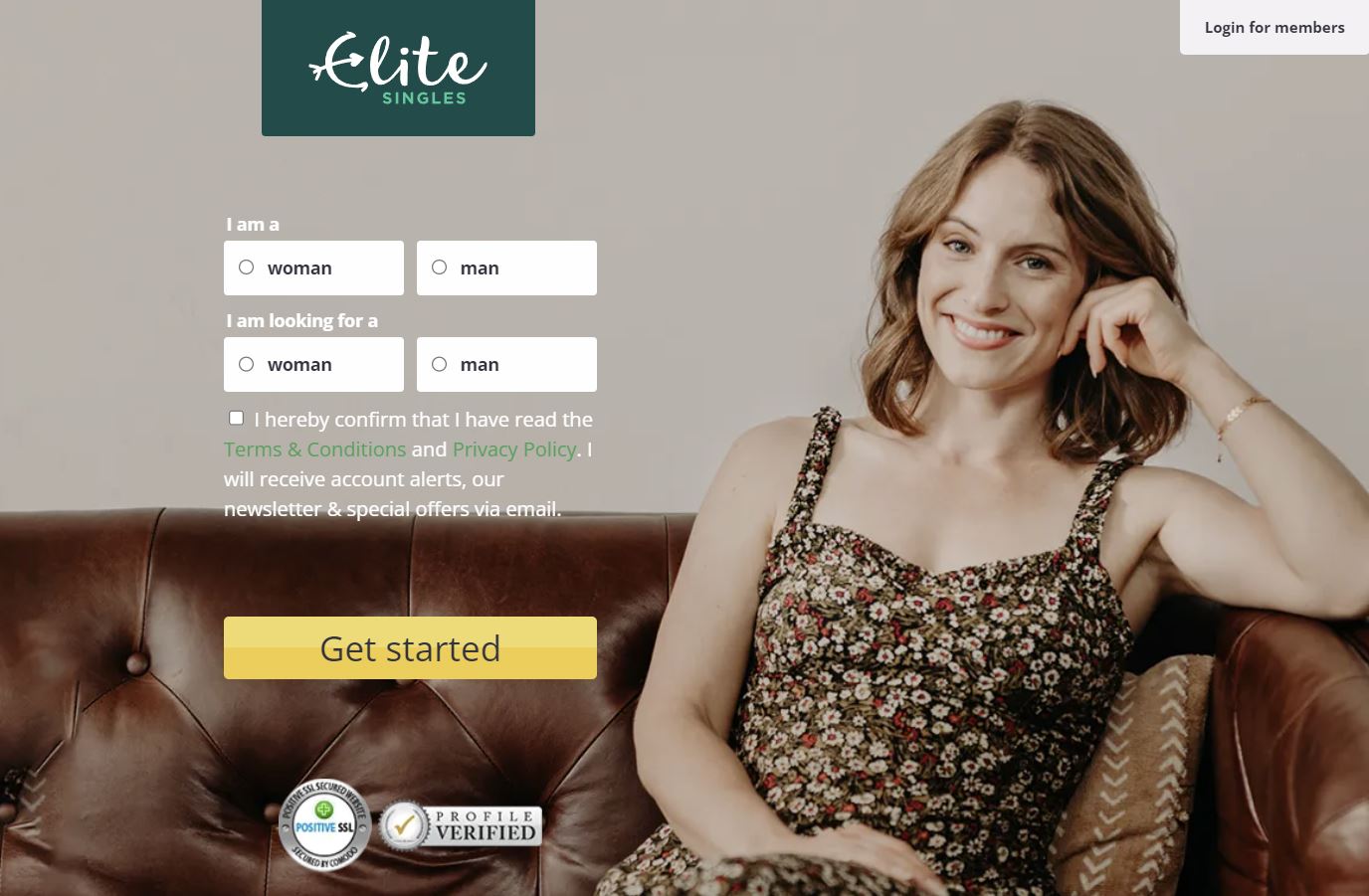 Who Will Love EliteSingles: Connecticut singles who value their education and careers
Who Might Not Enjoy EliteSingles: Non-professionals and casual daters
Biggest Pro: Full of executives, lawyers, and other professionals
Biggest Con: Free accounts only include limited features, so you'll need to upgrade after testing it out
Starting Price: Premium memberships start at $27.95 a month
Folks from other states tend to associate Connecticut with education and wealth, and that's spot on. As one of the most educated states, nearly half of the residents have at least an associate's degree, and 40% have a bachelor's degree or higher.
As for wealth, Connecticut's median household income sits at $83,771, making it one of the most well-off states in the country. Professionals throughout the state make bank in pharmaceuticals, aerospace manufacturing, and other key industries, and those paychecks just keep going up.
Successful guys and gals live throughout the state, and most have large professional networks. Even so, many have a hard time finding love.
See, professionals have the same high standards for their personal lives as their work lives. And those standards make it hard to pick up singles at local bars and events. Even most Connecticut dating apps are a swing and a miss.
Fortunately, EliteSingles is different.
Since it's geared toward highly educated professionals, you'll find executives, lawyers, and other successful singles on the app. Oh, and you can set your preferences to match with folks that are just as educated and make around the same amount of money as you. Now, that's something you can't do at a bar.
EliteSingles is like a powerful networking event, but it'll boost your personal life instead of your professional life. Check it out by creating a free account today.
---
3. The League – Best for Professionals Aged 25-35
Who Will Love The League: Connecticut elites looking for a high-class relationship
Who Might Not Enjoy The League: Singles looking for a quick-and-casual relationship
Biggest Pro: exclusive dating for the elite
Biggest Con: made for younger people
Starting Price: Premium memberships start at $99 a week
"I can't find anyone in my league." We heard a variation of that over and over while researching the Connecticut dating scene. That's especially true for younger achievers. The younger you are, the less likely others around you will be successful, so you need a special dating app.
And The League is that app. While some older members apply, it's most popular with singles between 25-35. And let us tell you, it attracts some of the highest-quality singles in the entire state.
So, just how prestigious are the members?
Almost a quarter of them are executives and directors. Then, ten percent are lawyers, and half attended a Top 40 college. Oh, and 30% of the members have advanced degrees.
When you look at those stats, it's easy to see why some people call The League the Ivy League of Connecticut dating apps. And just like the Ivy League, you have to apply to get in, and not everyone is accepted.
The staff will review your LinkedIn profile to make sure you're League material. If you are, you'll go off the waiting list and get to interact with singles.
But don't worry about interacting with your professional contacts. The League knows that it has a pretty impressive membership base, and a lot of those folks aren't into mixing business with pleasure. You can block your business contacts, so you won't have to worry about running into them on the Connecticut dating site.
There's just one drawback. You have to live in New Haven or one of the surrounding areas to use The League in Connecticut. Still, it's continuing to add cities around the world, so keep your eyes peeled. You never know when it'll launch in another Connecticut city.
If you're in New Haven and consider yourself Ivy League dating material, sign up for The League today.
---
4. Zoosk – Best for College Students Down for Short-Term Dating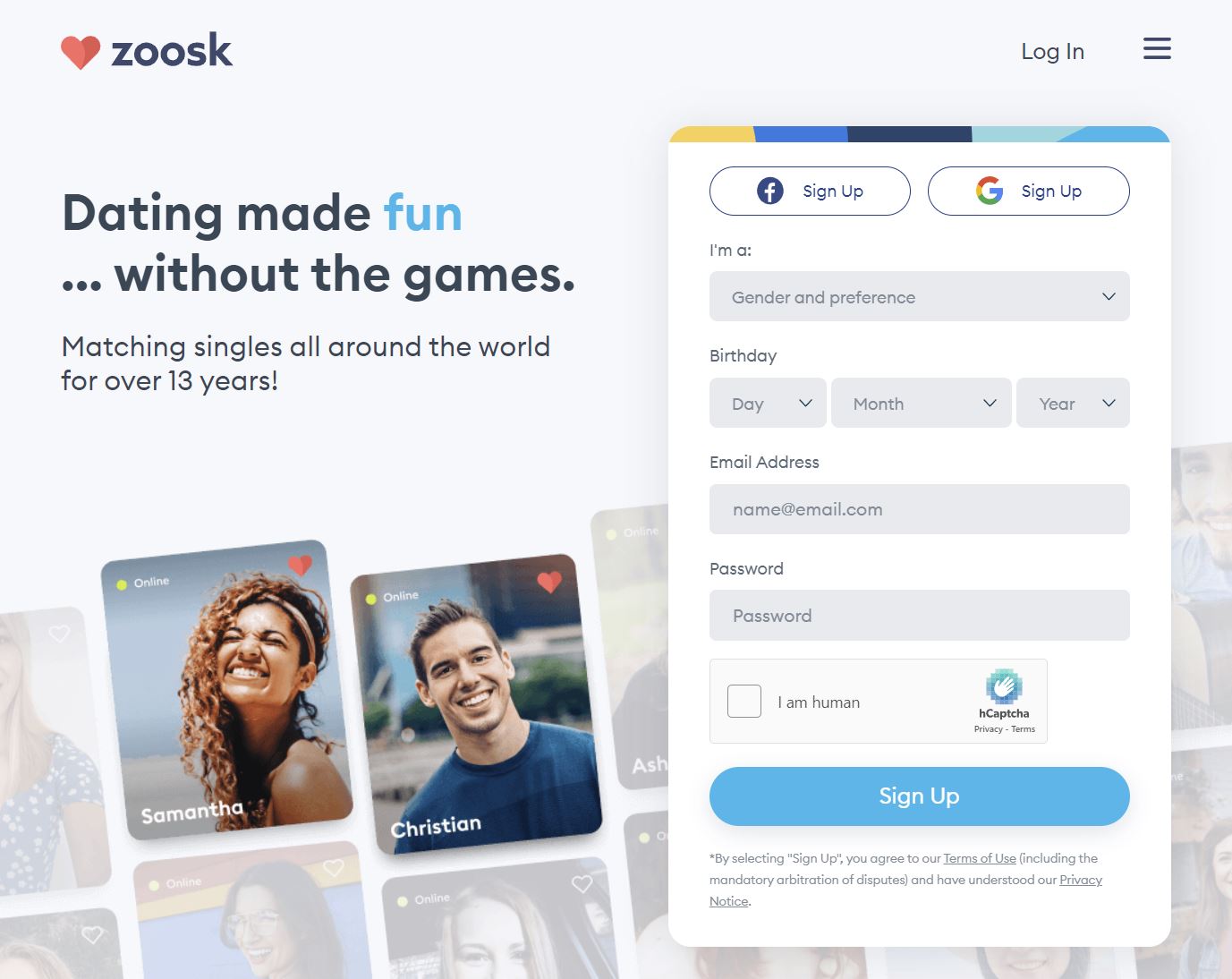 Who Will Love Zoosk: College students interested in hookups and short-term dating
Who Might Not Enjoy Zoosk: Serious daters
Biggest Pro: More than 40 million members, so the options feel limitless
Biggest Con: Some members don't complete their profiles
Starting Price: Premium memberships start at $10 a month
Connecticut didn't earn the distinction as one of the most educated states by accident. It's home to Yale, UConn, and dozens of other colleges and universities. And while each school and student body are unique, the dating scene is pretty similar from one institution to the next.
Regardless of the school, most Connecticut students prioritize three things above all else when dating.
First, college students generally want to stick to casual dating, although that means different things to different students. Some want to hook up with someone, never to see that person again, while others want short-term relationships. And then, of course, some are looking for something in between the two.
Second, singles want lots of options. After all, casual dating isn't fun if you keep seeing the same two or three folks, is it?
And finally, they want an easy way to score dates. School takes up a lot of their time, so they can't devote entire evenings to finding someone to date. Nope, they want to grab an app, set up a date, and get back to the books.
Zoosk easily meets those criteria, explaining why it's one of the best dating sites in Connecticut.
So, let's start with options. It has more than 40 million of them in CT and around the world. With so many members, college students can date on campus, at home, and when traveling.
But are those members into casual dating? That's a big "Yes."
While some dating sites are all about getting serious fast, most of the folks here want to keep things casual. Some of the people behind the profiles want one-night stands, while others hope to connect with the same date for a few weeks or months.
And finally, let's look at the ease of use.
It doesn't get much easier than Zoosk. See, the app uses a behavioral matching algorithm, so you don't have to provide much info when signing up. Instead, just add a few basic details and start using the app. It'll learn what you want based on your actions, so your matches will improve with time.
Whether you're a college student or another CT adult who prefers casual over serious dating, Zoosk is the app for you. Head over to set up a free account today.
---
5. SilverSingles – Best for Modern Dating at 50 and Up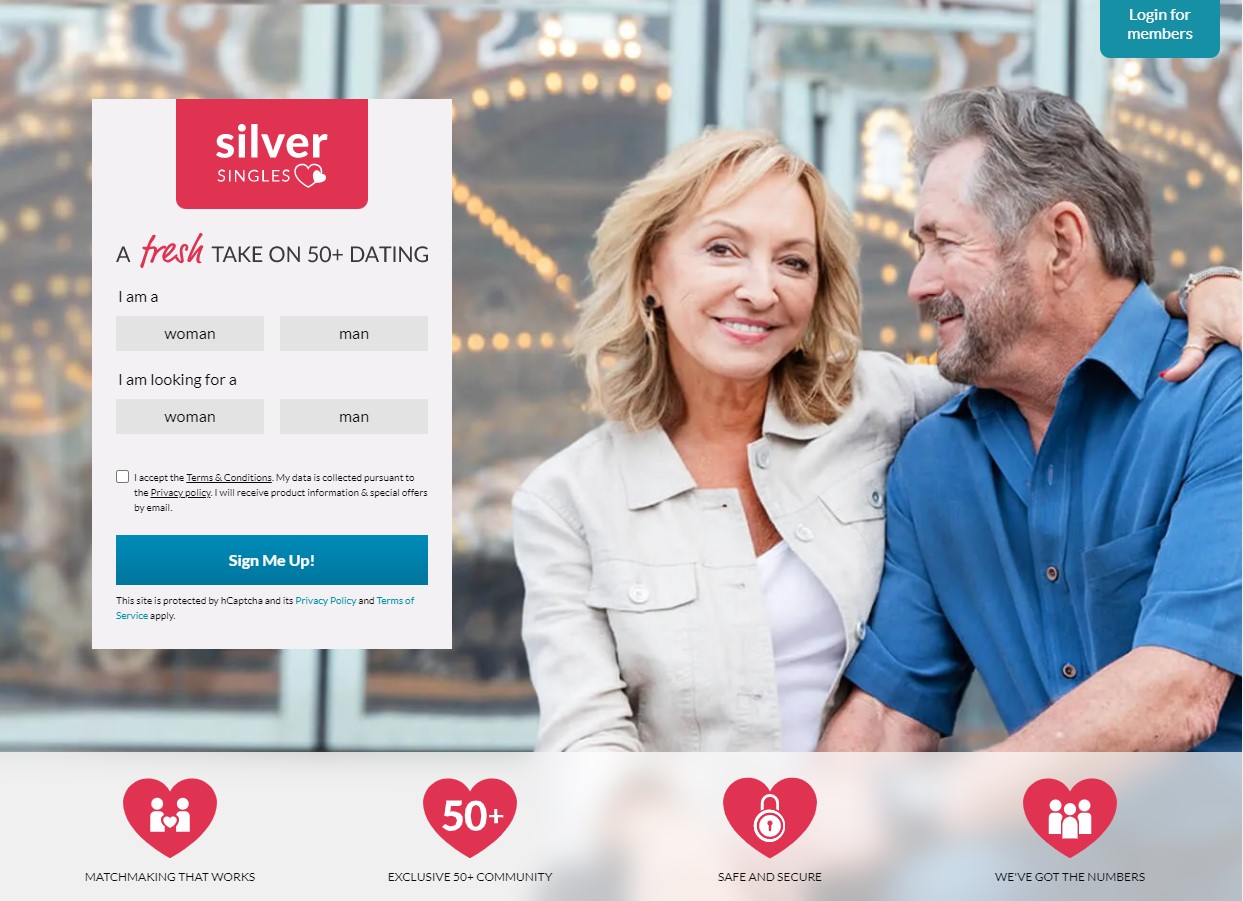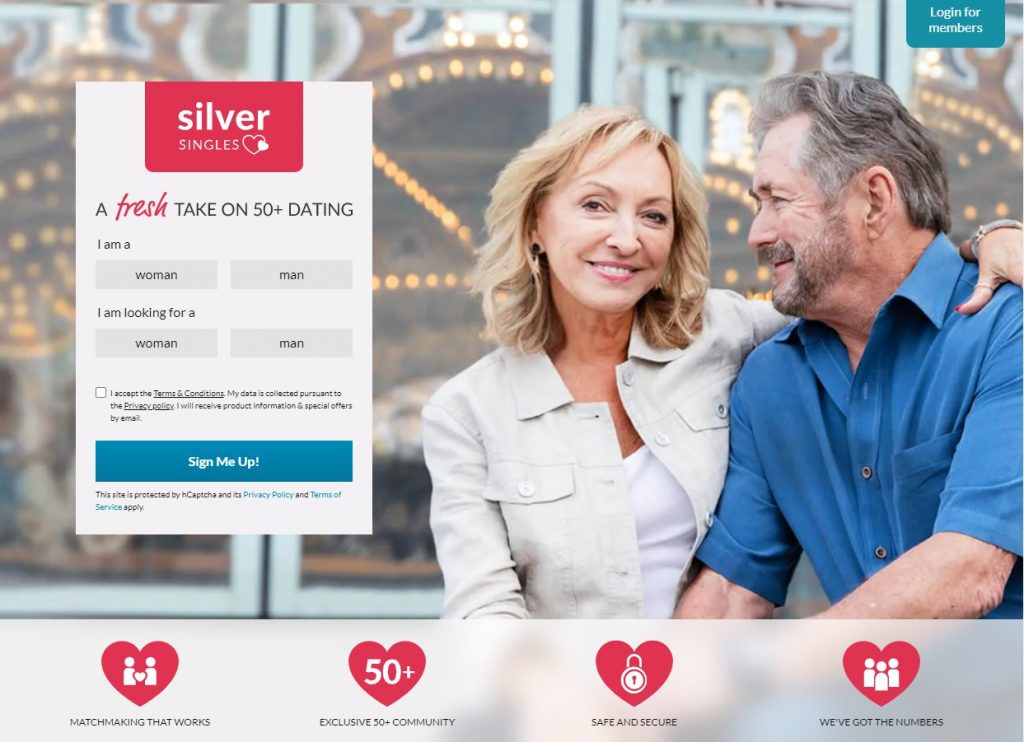 Who Will Love Silver Singles: Men and women 50 and older looking for an easy-to-use online dating app
Who Might Not Enjoy Silver Singles: Seniors who prefer dating younger guys and gals
Biggest Pro: Easy to set up and use, so seniors don't have to be techies to start dating online
Biggest Con: Free members can only access limited features
Starting Price: Premium memberships start at $27.95 a month
Did you know that over a third of Connecticut's population is 50 or older? That means you're in great company if you're a senior. But while you're surrounded by fellow seniors, you might be all alone when it comes to your dating life.
But even if you're technically alone, you're in good company once again. Around 13% of seniors here are single, and many hope to change that. And some have turned that hope into reality. Over the last several years, the number of available seniors has gone down, and you can be the next success story.
It probably doesn't feel like that, though, does it? The dating scene has changed so much since your younger days, and your old methods aren't working.
That means it's time to embrace modern dating with a senior twist. In other words, it's time to use our favorite CT dating app for seniors – SilverSingles.
While most dating sites are open to people of all ages, SilverSingles is designed for members 50 years of age and older. That means you can meet people around your age and won't have to compete with young folks.
You also won't need to get help from any young, tech-savvy folks when setting up your account. SilverSingles is a breeze to use, so you'll feel like a pro, even if this is your first time on a dating app.
See how easy it is by setting up a free account on SilverSingles today. We bet you'll be chatting it up with another senior in no time.

What is the Dating Scene in Connecticut Really Like?
Most Singles Want to Get Serious – Connecticut sure isn't Vegas. Most singles want serious relationships, but don't worry if you don't like to be tied down. You can find casual dating options in casual towns and tourist areas.
Singles Want Real Connections on Dating Apps – Connecticut singles tend to ignore messages that aren't very thought out. Just messaging "what's up" or "hey" won't get you very far. Check out our guide on sending the perfect online dating first message for help.
Ghosting Isn't Common – Singles in some states don't have a problem ghosting folks they meet on dating apps or in person, but we're happy to report it's pretty unusual in Connecticut. Now, acting rude or creepy can get you ghosted, but otherwise, your dates aren't likely to disappear into thin air.
In-Person Dating is a Bust – Singles in Connecticut complain a lot about how the in-person dating scene is dead here. Connecticut folks tend to be a private bunch, so striking up convos with strangers is a rarity. Fortunately, singles are a lot more open and direct on Connecticut dating sites.
Phoning in Your Profile Won't Work – Incomplete profiles on dating sites won't help you land many dates in Connecticut. Singles tend to ignore those profiles, even if the pictures are amazing. Read our guide on how to write a dating profile if you need help.
Blind Swiping is a Miss – With the focus on serious connections, CT singles aren't down with apps that focus on blind swiping. They prefer dating sites with advanced matching algorithms so they can go off more than looks when choosing who to contact.
Commuting is Sometimes Necessary – Some singles have trouble finding dates in their towns and cities. However, we've discovered that CT singles are open to expanding the distance radius on dating apps to meet people in nearby spots. That opens up their options so they can be more selective when choosing someone to ask out.
Dating is Safe – Connecticut has a low crime rate, and it's also one of the safest states for online dating. Even scammers and catfish tend to steer clear of Connecticut.

Dating in Hartford
Best Hartford Dating App Recommendation: EliteSingles and SilverSingles
As one of the best places to live, work, and retire, Hartford attracts an assortment of folks. You'll find everyone from young professionals to seniors on the dating scene, making it a little hard to navigate. Learn more about dating in Hartford and stick around to see which app we recommend.
Seniors Get Social – The area's senior centers attract lots of folks who want to build their friend groups, and some hope to find dates. But while the activities are fun and the friends are plentiful, few seniors have success in the romance department.
Young Professionals are Active – A lot of Hartford's young professionals are single, but it's not because they're hiding out in their houses. Many of them visit the bars in West Hartford, and rec leagues like CLUBWAKA are popular. Unfortunately, the in-person dating scene is pretty dead, so it's hard to score dates, even when hanging out with single men and women.
Settling Down is the Goal: You won't see much dating around in Hartford. Many of the younger singles settle down early, so you have to act fast before someone snatches them up. Then, many of the seniors are widowed or divorced and looking for a second shot at love.
Because Hartford has a mix of younger and older singles, we decided to recommend two Connecticut dating apps instead of one. First, we're going with SilverSingles for Hartford residents 50 and older. Then, EliteSingles is our pick for the younger crowd. Hartford is one of CT's best cities for young professionals, making EliteSingles the perfect choice.
Population: 135,081
Men: 46.6%
Women: 53.4%
White-Collar: 75.8%
Blue-Collar: 24.2%
Never Married: 56.78%
Widowed or Divorced: 16.72%
Total Unmarried Population: 73.5%
Number of College Students: Over 6,600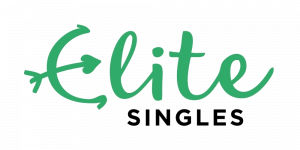 ---
Dating in New Haven
Best New Haven Dating App Recommendation: The League and Zoosk
New Haven might not be the biggest city in America, but most people have heard of it thanks to Yale University. But outsiders don't realize this city offers more than an Ivy League school. It's also a great place to work and raise a family, especially for those who have large bank accounts.
Whether you're a college student or a permanent resident, the dating scene can be a bit of a mystery. Get some insights and find out which app to use to solve the mystery for good.
College Students Tend to Keep Things Short-term – Students at the local colleges have to find time to balance dating with their schoolwork. Many aren't able to make room for long-term relationships, so they stick with casual dating. This often means seeing the same person several times, although hookups are common, too.
It Feels Like a Small Town, Even Though the Population Changes – Between the young professionals moving here for work and the college students, the dating pool changes a lot. Still, many singles say it doesn't take long to run out of fresh faces. That's why many use a CT dating site to browse singles in nearby cities.
Online Dating is Active – Most of the singles here use online dating to meet people instead of trying to land dates in person. Asking people out in person isn't very common, so online dating is the norm.
Since college students generally want something short-term, Zoosk is the best dating app for them. Students can find everything from hookups to short flings here.
But while we love Zoosk for college students, we don't think it's the right fit for the rest of the singles in New Haven. That's why we're also recommending The League for single men and women here. New Haven attracts such a high caliber of folks, and this is the best CT dating app for meeting people at the same level.
Population: 122,549
Men: 46.46%
Women: 53.4%
White-Collar: 81.26%
Blue-Collar: 18.74%
Never Married: 58.79%
Widowed or Divorced: 13.35%
Total Unmarried Population: 72.14%
Number of College Students: Over 28,000

Connecticut Dating Sites FAQ
Which Dating App is the Best for Serious Relationships?
eHarmony is the gold standard for starting serious relationships. According to reports, it leads to more marriages than any other dating site. Also, couples who meet on eHarmony are less likely to split up.
You can also meet people interested in serious relationships on EliteSingles, The League, and SilverSingles. Finally, some serious daters use Zoosk, but it's more of a casual dating app.
How Many Photos Should I Add to My Profile?
Connecticut singles skip past incomplete profiles, including those that lack enough photos. As a general rule, you should add 3-5 pics to your dating profile. Learn more about what pictures to choose by reading our guide on adding photos to your dating profile.
Is Connecticut Good for Dating?
WalletHub ranked Connecticut at number 15 on its list of the Best and Worst States for Singles. The state earns high marks for dating opportunities. That includes the number of singles, gender balance, and online dating options. Singles interested in accessing the most options can download a CT dating app.