Delaware's home to around 800,000 adults, but just over half of them are single. Since the dating pool here is much smaller than in most states, men and women are turning to the internet for help. Google has experienced a huge surge in dating-related topics out of Delaware, and singles are flocking to apps to find love.
But here's the thing…
Some sites have around the same number of options you'll find at your local watering hole, so you need to be choosy when selecting a dating app.
Fortunately, we've done all the hard work for you. After reviewing message boards, data, and trends, we've identified the best Delaware dating apps. They're full of high-quality profiles, so finding your next date will be a breeze. Take a look at our selections:
Top 5 Dating Apps in Delaware in 2022
You might have some success if you download one of these Delaware dating sites and start connecting, but we recommend holding up for a minute. We've broken down the apps into categories so you can choose the right one for you.
And that's not all. We've also dug into the state's unique dating scene and want to share our insights. Whether you live in Northern or Southern Delaware, we're here to help.
Let's not move too fast, though. Before learning about the dating scene, take a moment to see which Delaware dating app you should select to best fit your style and needs.
---
Jump to:
---
1. Zoosk – Best for Casual Dating and ENM Relationships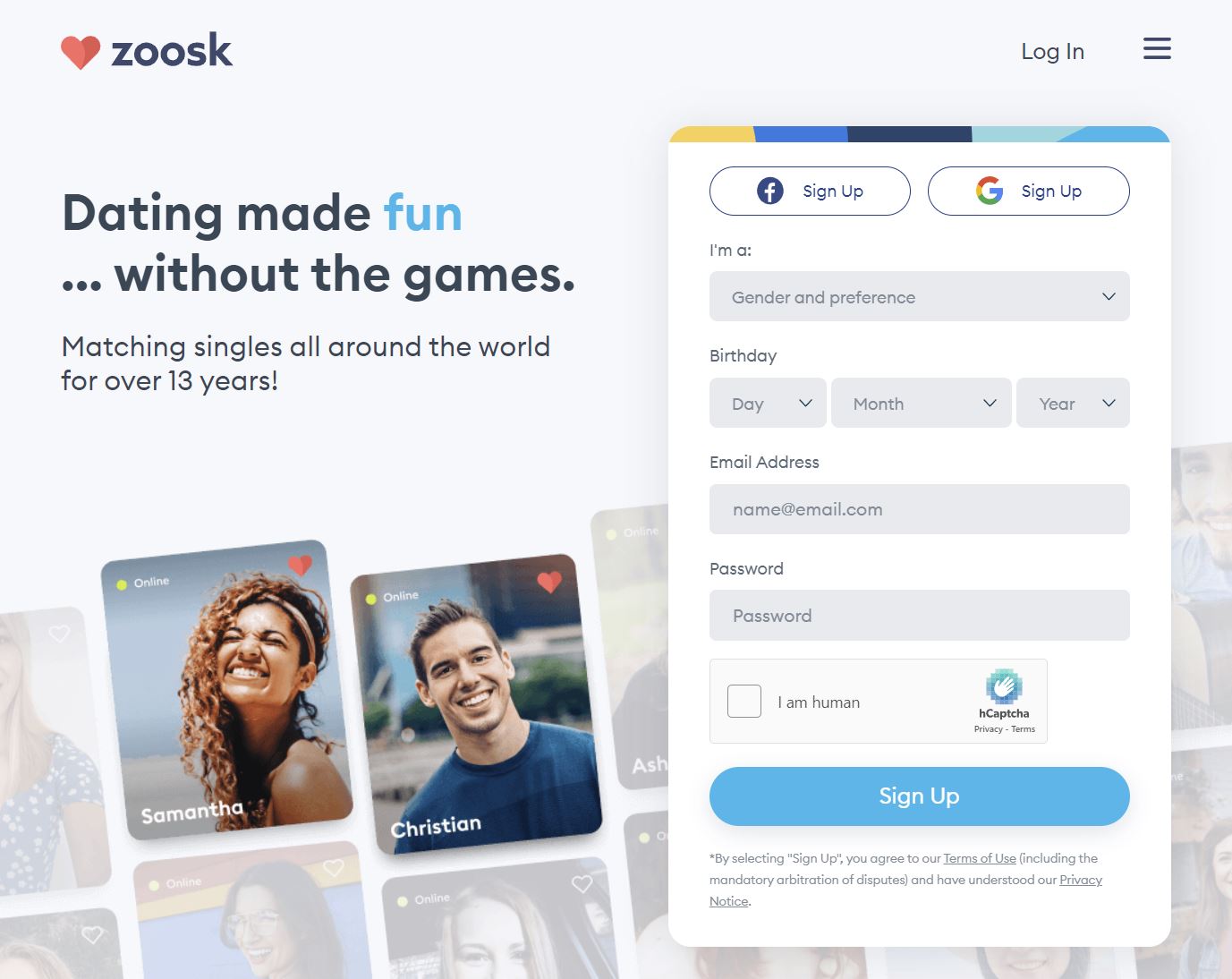 Who Will Love Zoosk: Delawareans interested in casual dating, including ENM relationships
Who Might Not Enjoy Zoosk: Serious daters interested in long-term commitments
Biggest Pro: More than 40 million members open to various types of casual relationships
Biggest Con: Takes some time for the behavioral-based matching algorithm to learn what you're looking for in a relationship
Starting Price: Premium memberships start at $10 a month
Delaware's casual dating scene is really active for such a small state, but it looks different here than in other places. While singles in some states are all about short-term flings, lots of Delawareans are interested in ethical non-monogamy (ENM).
At the same time, some singles are seeking a more traditional version of casual dating, where they see the same person for a few weeks or months. This is similar to what you'd find in most states.
So, we set out to find a Delaware dating app that can meet all the casual daters' needs. It might be a worldwide dating app, but it feels like it was made exclusively for Delaware's casual dating scene.
So, the majority of Zoosk's 40 million plus members are into some form of casual dating. You'll find your fair share of people seeking hookups, flings, and short-term romances. Oh, and there are plenty of folks who are down for open or ENM relationships.
And that's not the only reason this is our favorite Delaware dating app.
Delaware has over 3,800 active duty service members and more than 4,600 National Guard and reserve members. And you don't have to trust us when we say that service men and women get great results on Zoosk. Just look at these stats:

---
2. eHarmony – Best for Locating the Serious Singles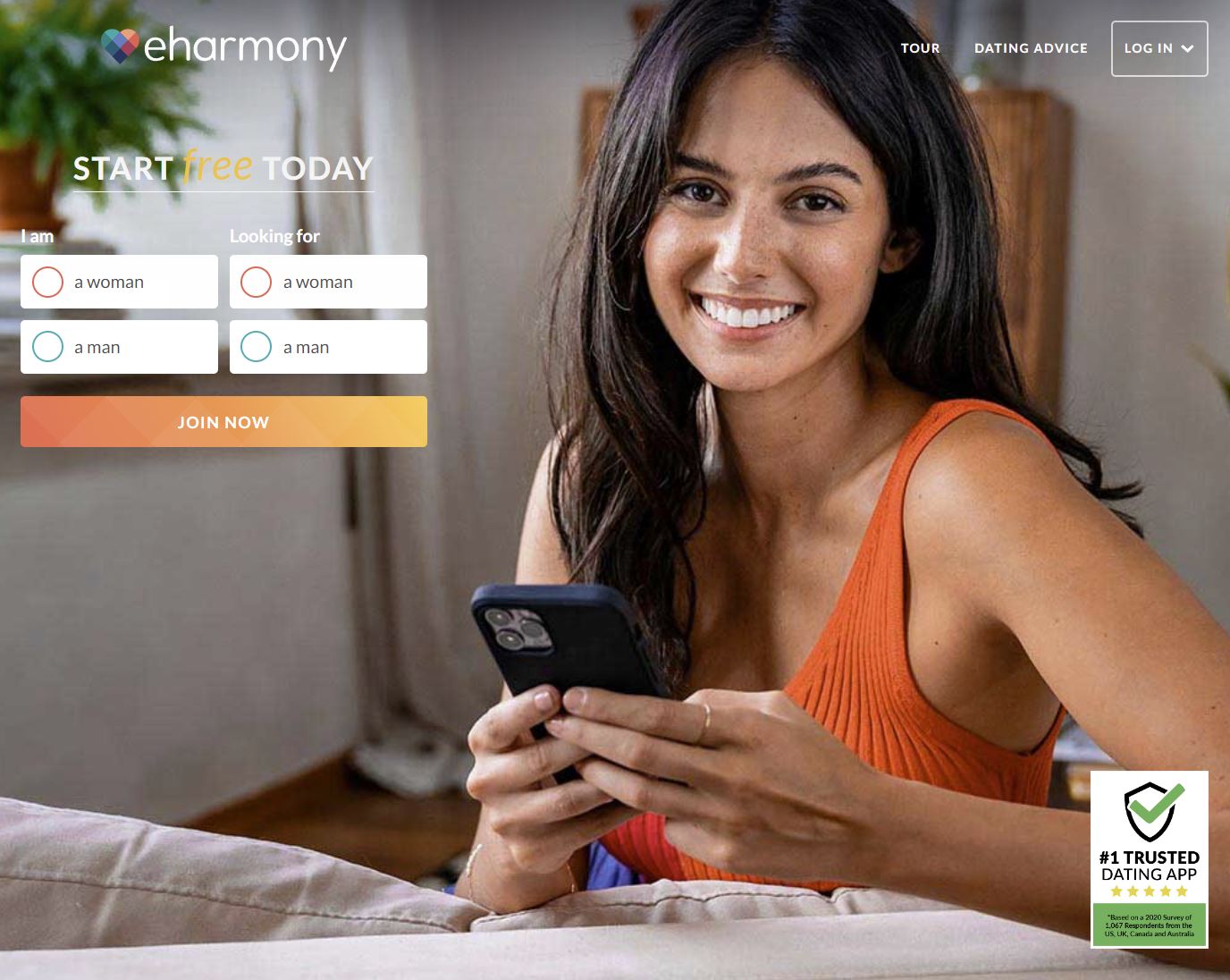 Who Will Love eHarmony: Serious daters who want to start long-term relationships with compatible singles
Who Might Not Enjoy eHarmony: Delawareans pursuing casual relationships
Biggest Pro: Clinical psychologist helped develop the compatibility-based matching algorithm
Biggest Con: The sign-up questionnaire is 80 questions long, but that ensures the site finds compatible matches for members
Starting Price: Premium memberships start at $21.54 a month
So, you know how Scooby-Doo and the gang always think they're on the hunt for ghosts? They finally nab the "ghosts," only to discover they're dealing with real people under the masks. Well, that's kind of like Delaware's serious dating scene.
The casual dating scene here is so big that it's hard to find people who are into long-term relationships. And when you finally find someone down for long-term romance, the mask comes off after a few dates – and you discover you're with another short-term dater.
Jinkies, indeed.
But here's what we've discovered. There are actually lots of folks looking for serious relationships, but you won't find them at bars and other places where singles hang out. Instead, you need to use a Delaware dating site to unmask all the serious daters.
And we have some good news for you. Most of the serious singles are hanging out in one place – eHarmony. That's a great choice since eHarmony is the best serious Delaware dating app on the market.
eHarmony's co-founder is a clinical psychologist, and he helped develop the matching algorithm that pairs people based on compatibility. The system considers each member's traits and finds matches that are most likely to work for the long term.
Oh, and there's another reason to use this dating site.
Delaware has one of the highest divorce rates in the country, and that's scared some people away from marriage. But you won't have to worry when using eHarmony. Couples who meet on this dating site are less likely to get divorced, so you can walk down the aisle with confidence after meeting someone on eHarmony.
Are you ready to find the love of your life? Start the process by setting up a free account on eHarmony today.
---
3. EliteSingles – Best for Rooting Out the Professionals to Date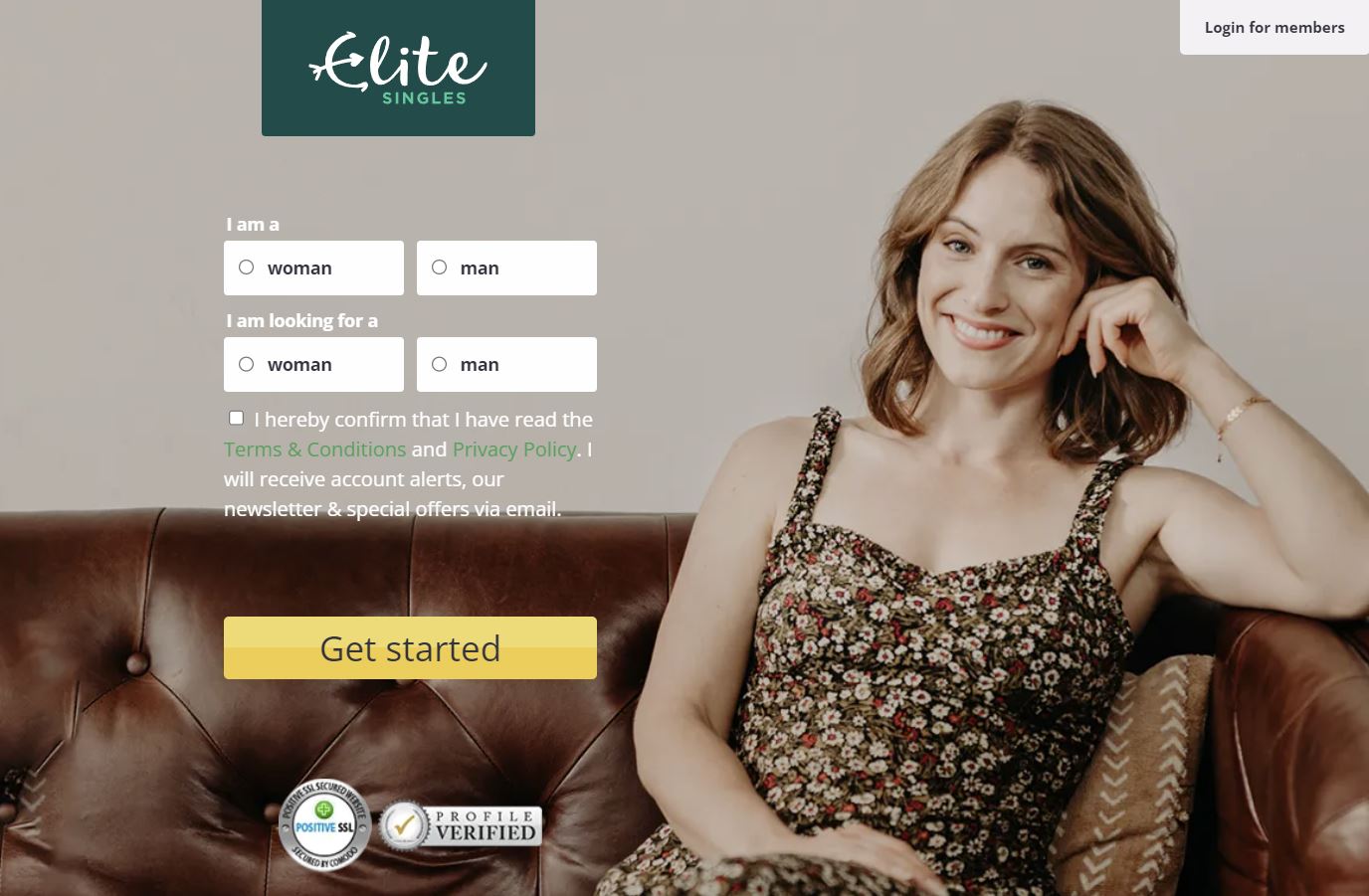 Who Will Love EliteSingles: Busy professionals who want to start serious relationships
Who Might Not Enjoy EliteSingles: Non-professionals and singles interested in casual relationships
Biggest Pro: Close to all the members have professional careers
Biggest Con: Sign-up process is longer than casual Delaware dating apps, but everything else is fast and streamlined
Starting Price: Premium memberships start at $27.95 a month
Delaware might be a small state, but business is big here. From its tech talent pipeline to its nationally acclaimed healthcare system, the state stands out in numerous categories. And you know what that means. Top talent from around the world heads to Delaware to find work.
Whether you're homegrown talent or just moved here for work, you might find yourself complaining about the professional dating pool. You want to avoid your colleagues, and that doesn't leave many people to date.
Actually, they're out there, but you have to change where you look.
And when it comes to finding professional singles to date, EliteSingles leads the pack. This dating site has executives, surgeons, doctors, lawyers, and others. While the professions differ, the members have one thing in common – they're looking for their other halves.
And since this site is designed for busy professionals, it does little things right that will save you time. For instance, it only sends up to seven matches a day, so you won't find yourself swiping the day away. Also, the matching algorithm is on point, so instead of second-guessing, you can go straight to talking to people.
It only takes around 15 minutes to sign up, so head over to EliteSingles to set up a free account today.
---
4. Higher Bond – Best for Highly Religious Christians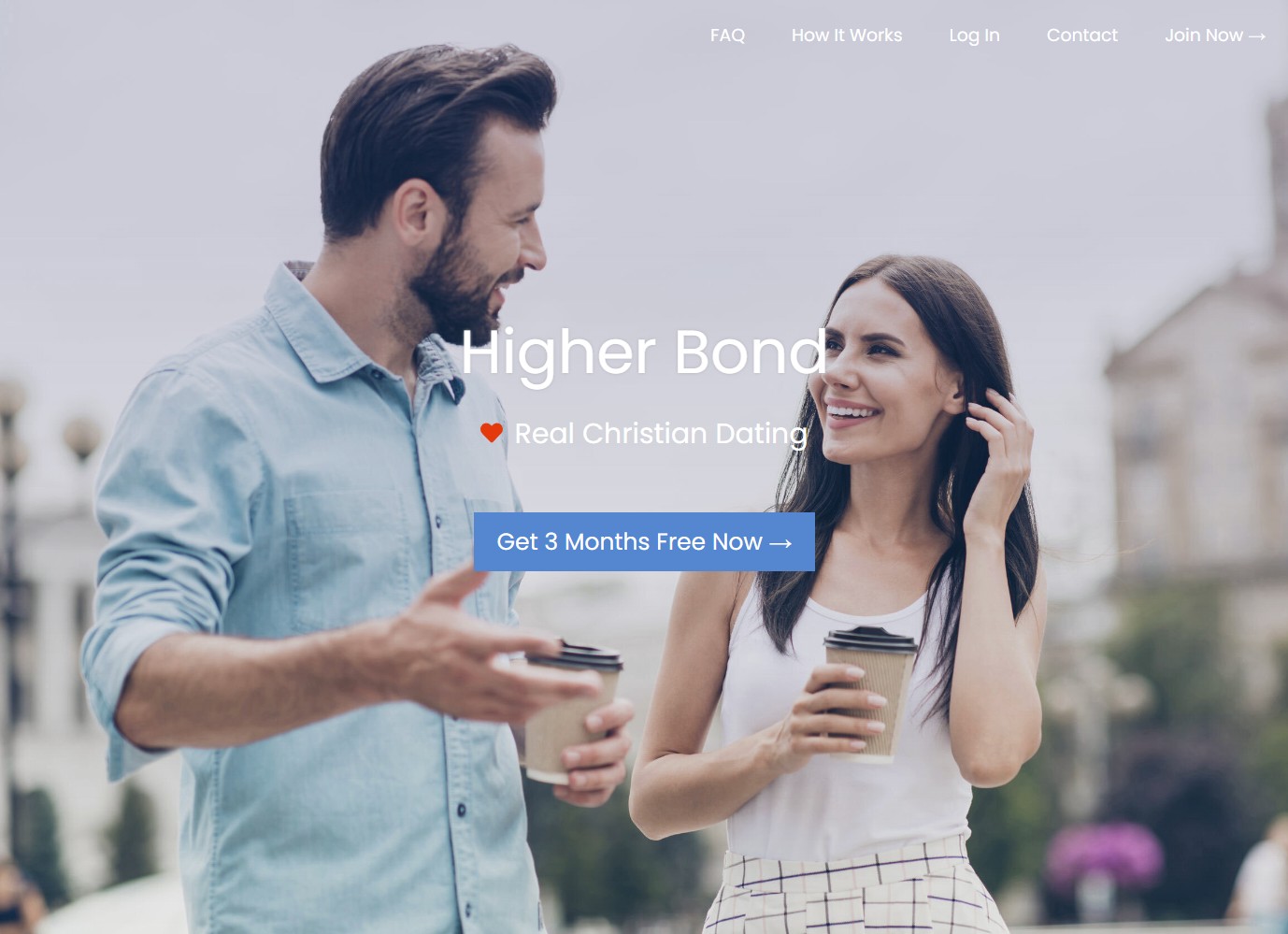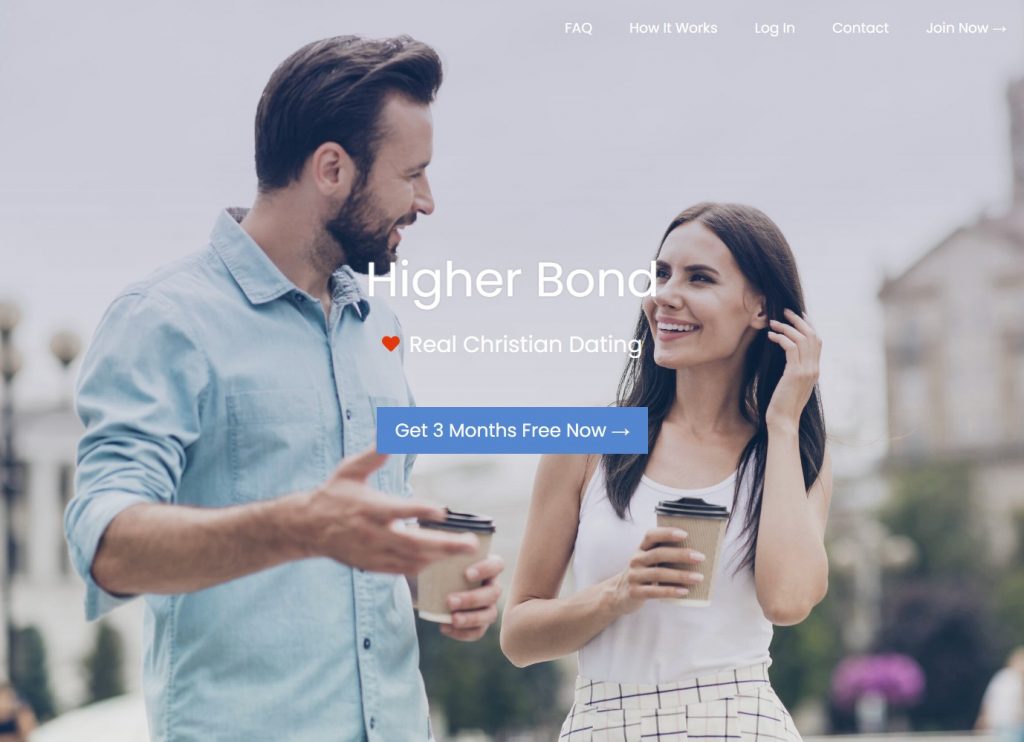 Who Will Love Higher Bond: Christian singles pursuing meaningful connections
Who Might Not Enjoy Higher Bond: Singles who aren't affiliated with a religion
Biggest Pro: Limits matches and new conversations so members can build real connections
Biggest Con: New site, so it's still building its membership base
Starting Price: First three months free
Did you know that almost 70% of Delaware's adults are Christian, and over half of the residents identify as "highly religious?" That's pretty surprising to outsiders since most folks don't associate Delaware (or anywhere in the Northeast) with religion.
But at the same time, almost a quarter of Delawareans are "religious nones."
From our experience, relationships between Christians and secular folks can work, but usually not when one person is highly religious, and the other doesn't believe in God. The two can end up clashing, so these pairings often end in breakups.
And that's why dating can be so hard for Christians in Delaware. The highly religious crowd generally wants to find someone who shares their faith, but they have almost a one-in-four chance of ending up with a partner who isn't affiliated with a religion.
That might be true when meeting singles in person, but you'll have a 100% chance of finding Christians on Higher Bond.
This Christian dating site is faith-based to its core, down to its emphasis on real connections. Higher Bond will send you up to five matches a day, and you can't browse additional profiles. Also, you'll only be able to start one conversation a day, so you'll be more likely to build a genuine connection.
It also does a phenomenal job of matching people based on how they practice their faith, along with their relationship style and interests. Give it a try by setting up a free account on Higher Bond today.
---
5. SilverSingles – Best for Finding a Partner in Your Golden Years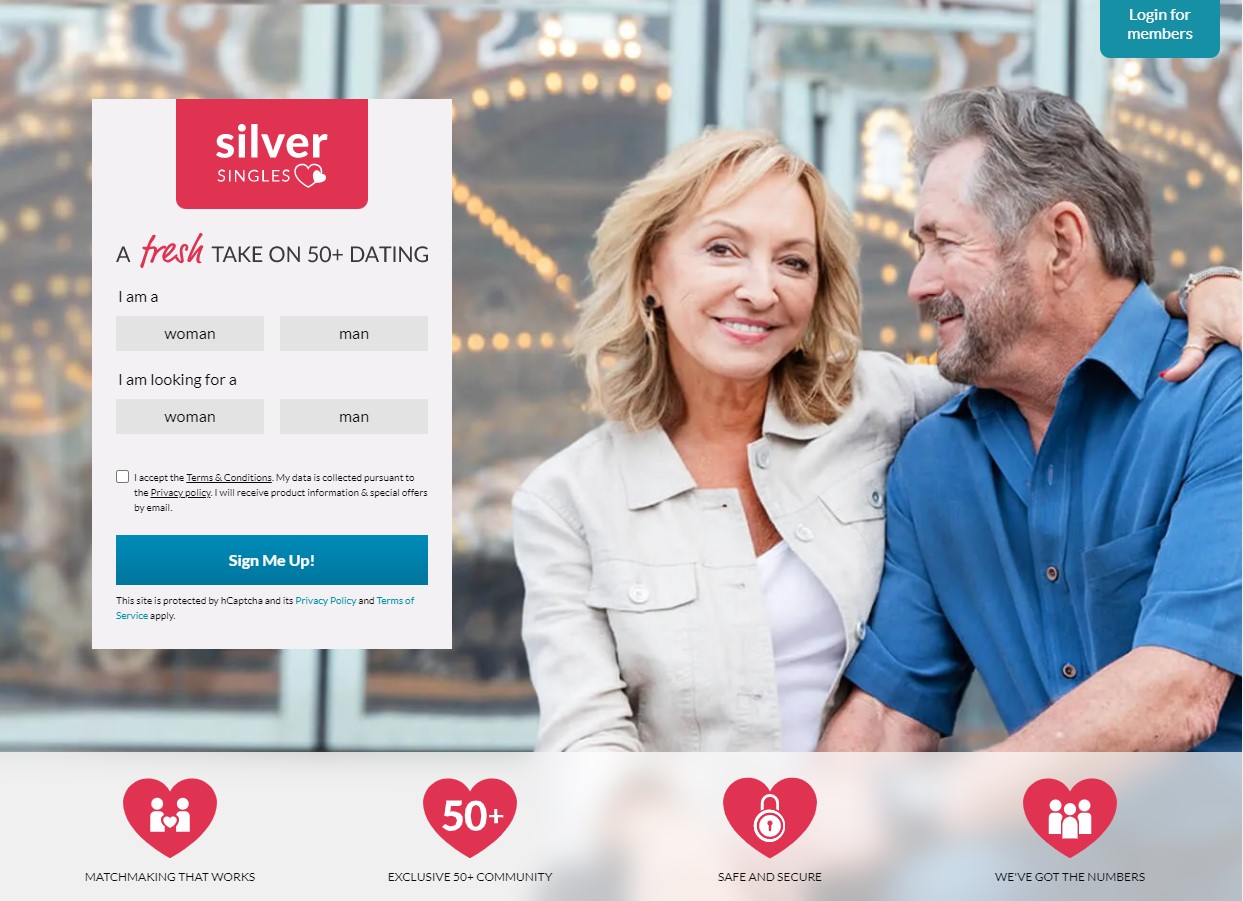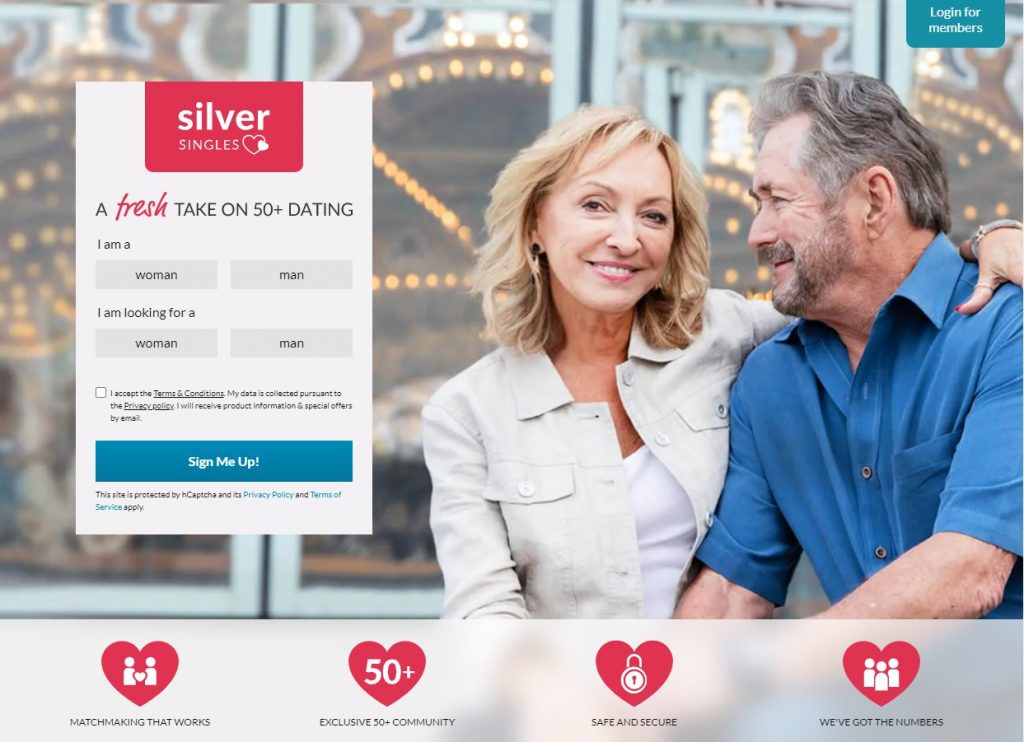 Who Will Love SilverSingles: Seniors who want access to singles in Delaware and around the world
Who Might Not Enjoy Silver Singles: Men and women interested in dating people under the age of 50
Biggest Pro: Easy to use, even for those who aren't techies
Biggest Con: Few features available for unpaid members
Starting Price: Premium memberships start at $27.95 a month
Delaware has one of the fastest-growing aging populations in the country. Over 166,000 residents are 65 or older, making up over 17% of the state's population. And get this – nearly 400,000 Delawareans are 50 or older. Only five states have higher percentages of seniors.
If you're a single senior, you've probably noticed that the dating scene has changed a lot in the last several decades.
The last time you were dating, you could pop into a bar or attend an event to find someone. You could even find your plus one at work. Basically, you had the chance to meet an available man or woman every time you left the house.
But now? Those in-person methods don't have the same results they used to, so it's time to change up your game. And that's just what you'll do by using SilverSingles.
This dating site is exclusively for singles who are 50 years of age or older, so you won't be competing with kids in their 20s or 30s. And you also won't have to worry about complicated tech slowing down your dating game. The senior dating site is easy to use, from the straightforward sign-up process to the matching system.
And get this – you can even pay for profile makeover coaching if you have trouble standing out on the Delaware dating site. First, read our free guide on writing a dating profile. You should get everything you need out of it without having to pay. If you're still having trouble, though, you can get some help from the SilverSingles team.
The dating game might have changed, but it's actually easier than ever when you use SilverSingles. Check it out by creating a free profile today.

What is the Dating Scene in Delaware Really Like?
Ladies First Takes on a New Meaning – Women in Delaware don't believe in the tradition of waiting for men to ask them out. The women here are much more likely to ask men for dates than in other states, and men here often respond to messages on Delaware dating apps. But are they interested when they respond? Read our data study to find out if singles respond to messages when they aren't interested.
Ethical Monogamy and Open Relationships are Trending Up – While some folks cycle through dates or casually date one person at a time, more and more Delawareans are embracing ethical monogamy and open relationships. Both allow people to stick to the same partners while opening their lives up to more options. People interested in one of these choices can find their partners on Zoosk.
The Northern and Southern Divide – Delaware is like two states (and dating scenes) in one. The Northern part of the state is fast-paced, full of college students, and has lots of casual dating options. People in the "slower lower" portion of the state are more interested in serious dating.
The Entire State is Available –You can get anywhere in Delaware within a couple of hours, so singles here are open to dating folks throughout the state. You can easily search for guys and gals throughout Delaware by changing the distance settings in your dating app.
Singles Are Open to Dating People in Other States – Lots of singles use dating apps to find available folks in Maryland, Pennsylvania, and New Jersey. This allows them to expand the dating pool, so they can be more selective when landing dates.
Age Doesn't Matter – Age is just a number on Delaware's dating scene. It's common to see couples with big age gaps out and about throughout the state, although it happens the most in Northern Delaware.
Singles Can Stand Out with the Right Dating Profile – Many Delaware singles show their outdoorsy nature on their dating profiles, causing the profiles to look similar. You can stand out by going a different route. We're not saying you need to ditch your outdoorsy persona, but we recommend showing another side of yourself on Delaware dating apps, so you'll receive more messages.
Serious Daters Prefer Paying for Apps – Serious daters in Delaware don't have much success using free apps. They report that people are more likely to flake on these apps, so they prefer paying for subscriptions to find true love. The best Delaware dating apps offer free trials, so you can try them out before making a purchase.

Dating in Northern Delaware
Best Northern Delaware Dating App Recommendation: Zoosk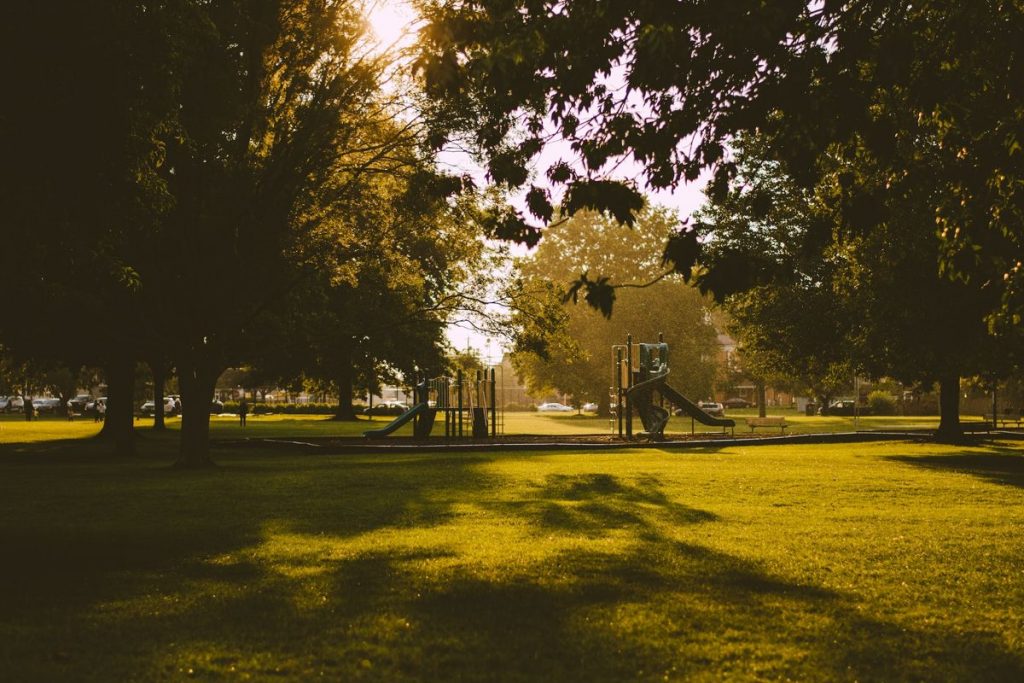 Northern Delaware has a reputation for being fast-paced. Whether folks are going to work or the bars, they tend to move quickly, and the same can be said about the dating scene. Check out some insight into dating in Wilmington, Newark, and the rest of Northern Delaware. Oh, and stay tuned to get the details on the best dating app in Northern Delaware.
Casual Dating is On – There are enough college students in Northern Delaware to keep the casual dating scene going, and they get some help. Active duty military personnel from Dover often visits the bars here, and many are looking for short-term relationships, as well.
Many Singles Stick Around Until Last Call – The bar scene is hopping all the way until last call, with many people sticking around to find someone to take home. Sadly, a lot of them leave by themselves, only to wake up the next day and try again. From what we've heard, it can be exhausting.
Singles Travel to Philly – Many singles use Delaware dating apps to check out the single scene in Philly. This opens them up to even more people than they'll find in Northern Delaware.
Because Northern Delaware's dating scene moves at an epic pace, singles need an app that can keep up. Also, they don't want to spend a ton of time setting up their profiles. They want to download an app, set it up quickly, and start dating.
With that in mind, Zoosk is our favorite Delaware dating app for singles in the northern portion of the state. Single men and women can easily find people down for casual dating, no matter how they define it.
New Castle County
Population: 587,664
Men: 48.39%
Women: 51.61%
Unmarried: 52.31%
College Students: Over 43,000
---
Dating in the Slower Lower
Best Southern Delaware Dating App Recommendation: eHarmony
The "slower lower" refers to all the cities and towns below the Chesapeake and Delaware Canal. Both Central and Southern Delaware are situated below the canal, and the two share a similar dating scene.
Singles Travel North – Central and Southern Delaware are too far from Philly for most singles, but many of them go to the Northern part of the state. Those in Central Delaware tend to check out Newark and Wilmington, while people in Sussex County hit up Dover for more options. Some southerners even go all the way to Northern Delaware since everything in the state is within a two-hour drive.
Serious Dating is the Goal – While you'll find some casual daters in the slower lower, most prefer serious relationships. Kent and Sussex Counties are great places to raise a family, and many singles have that on their minds when dating.
There's a Small Casual Dating Scene Around Campuses – The slower lower doesn't have as many college students, so the casual dating scene is present but not thriving. Because it's so much smaller in Kent and Sussex Counties, singles interested in casual dating often end up going to Newark or somewhere else up north.
A lot of single men and women in Kent and Sussex Counties complain that it's hard to find folks interested in serious relationships. That might be true in the real world, but you can change that in a big way by using eHarmony. This is by far our favorite dating app for singles in the slower lower, so hop on and check it out.
Kent County
Population: 184,149
Men: 48.3%
Women: 51.7%
Unmarried: 51%
College Students: Over 5,500
Sussex County
Population: 247,527
Men: 48.5%
Women: 51.5%
Unmarried: 42.97%
College Students: Over 4,200


Delaware Dating Sites FAQ
Why Isn't Anyone Noticing My Dating Profile?
A lot of the profiles on Delaware dating apps look similar, so yours might get lost in the shuffle. Additionally, you might have a cheesy headline, an incomplete profile, or another issue that's holding you back. Find out why no one is noticing your profile and learn how to fix it by reading our article on the topic.
Which Dating Sites Should I Avoid?
We've discovered that singles often run into scammers when using Plenty of Fish, Reddit, and Facebook Dating to find singles. Also, we've heard some horror stories from Delaware singles who met shady folks on Tinder. Instead of Tinder, we recommend Zoosk for casual dating.
Where Can I Find Delaware Singles?
Delaware's dating scene is the most active north of the Chesapeake and Delaware Canal. Some people travel to bars in the northern portion of the site to meet people, while others use dating apps to search for men and women. You can change the location on a dating app or expand the search radius to connect with more people. Additionally, many singles search in New Jersey, Maryland, and Pennsylvania.