You can find just about anything in Florida—Mickey Mouse, alligators, people who think they are race car drivers on I-4 and I-75, and mosquitos the size of your head. But finding love in the Sunshine State seems to be something that alludes a lot of people. In a state filled with beautiful, smart, and thoughtful people, it shouldn't be that hard, right?
It doesn't have to be thanks to technology. The best Florida dating apps offer a unique and efficient way to meet singles all across the state for casual dating, serious relationships, and even for marriage! In the early days of online dating, it was one of those things that "only the desperate" people used. Today, though, thousands of Florida singles have turned to their phones, tablets, and computers to find what they're romantically looking for.
Let's start with a sneak peak of the absolute best dating apps in the state of Florida!
Top 5 Dating Apps in Florida in 2023
In the remainder of this Florida dating guide, we're going to do quite a bit. We'll start by breaking down a little more about why these dating apps are great for Floridians. After that, we'll talk about which apps are the most popular in the state, what the dating scene looks like across the whole state and then in some of the bigger cities, and then we'll answer some of the most important questions about dating in Florida.
---
---
1. Elite Singles – Best for Professionals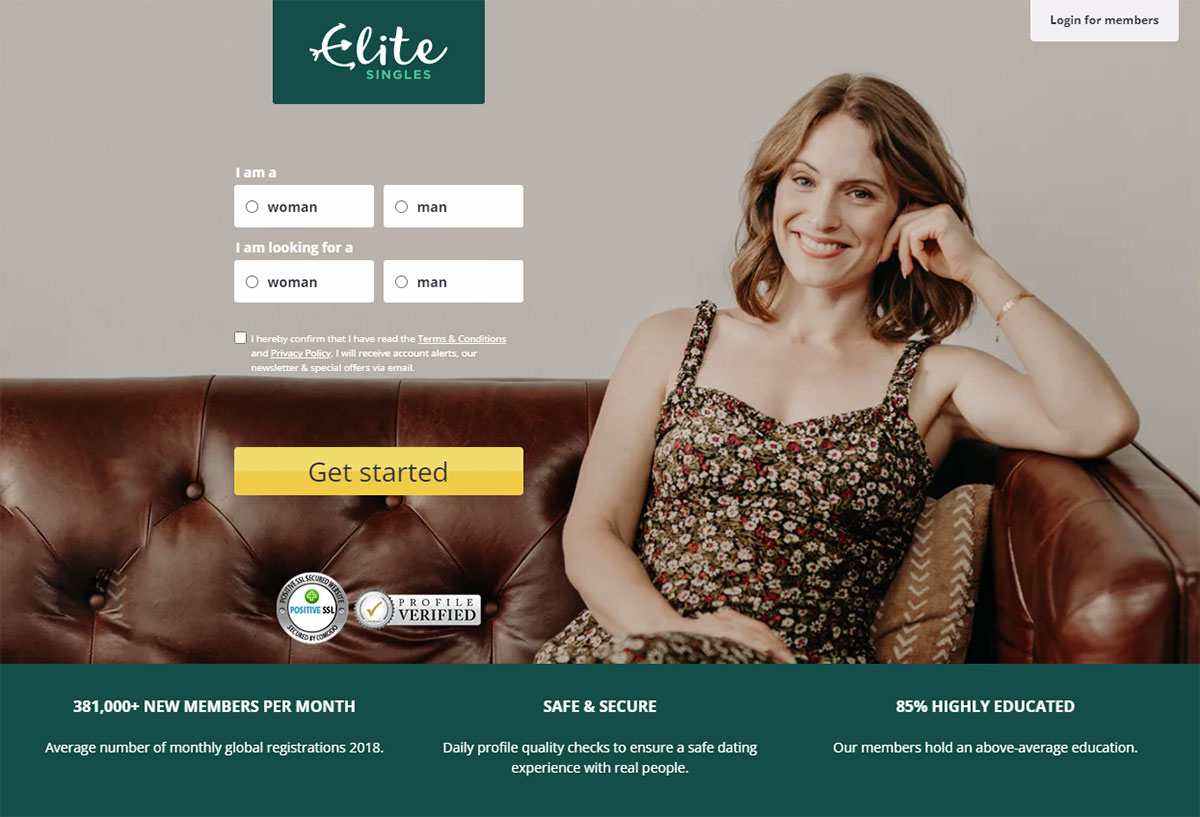 Who Will Love Elite Singles: Professional singles in or around bigger cities like Orlando, Miami, Tampa, St. Pete, West Palm Beach, and similar
Who Might Not Enjoy SITE: Singles in their early 20s (most members are early 30s or older)
Biggest Pro: A great community of educated and professional singles
Biggest Con: Not ideal for hookups or flings, but may be okay for a little more casual dating
Starting Price: Premium memberships start at $44.95 monthly
While tourism may seem like the biggest industry in Florida, the state is actually huge for a lot of other professional industries like aerospace, IT, logistics, manufacturing, and financial services. In fact, Florida has one of the top five largest economies in the nation. What this means is a singles population filled with young professionals and seasoned professionals looking for the same.
If you're someone who values education, Elite Singles might be the best Florida dating app for you. Over 85% of the people on the site have an above average education, which means smarty-pants galore! If you're in your early 20s and want to date in the same age bracket, it's probably not ideal for you, as most of the members are at least in their mid to later 20s, 30s, 40s, and 50s. But if you're in those age brackets and you're looking for high-quality singles, you've got to check out Elite Singles now.
---
2. eHarmony – Best for Relationships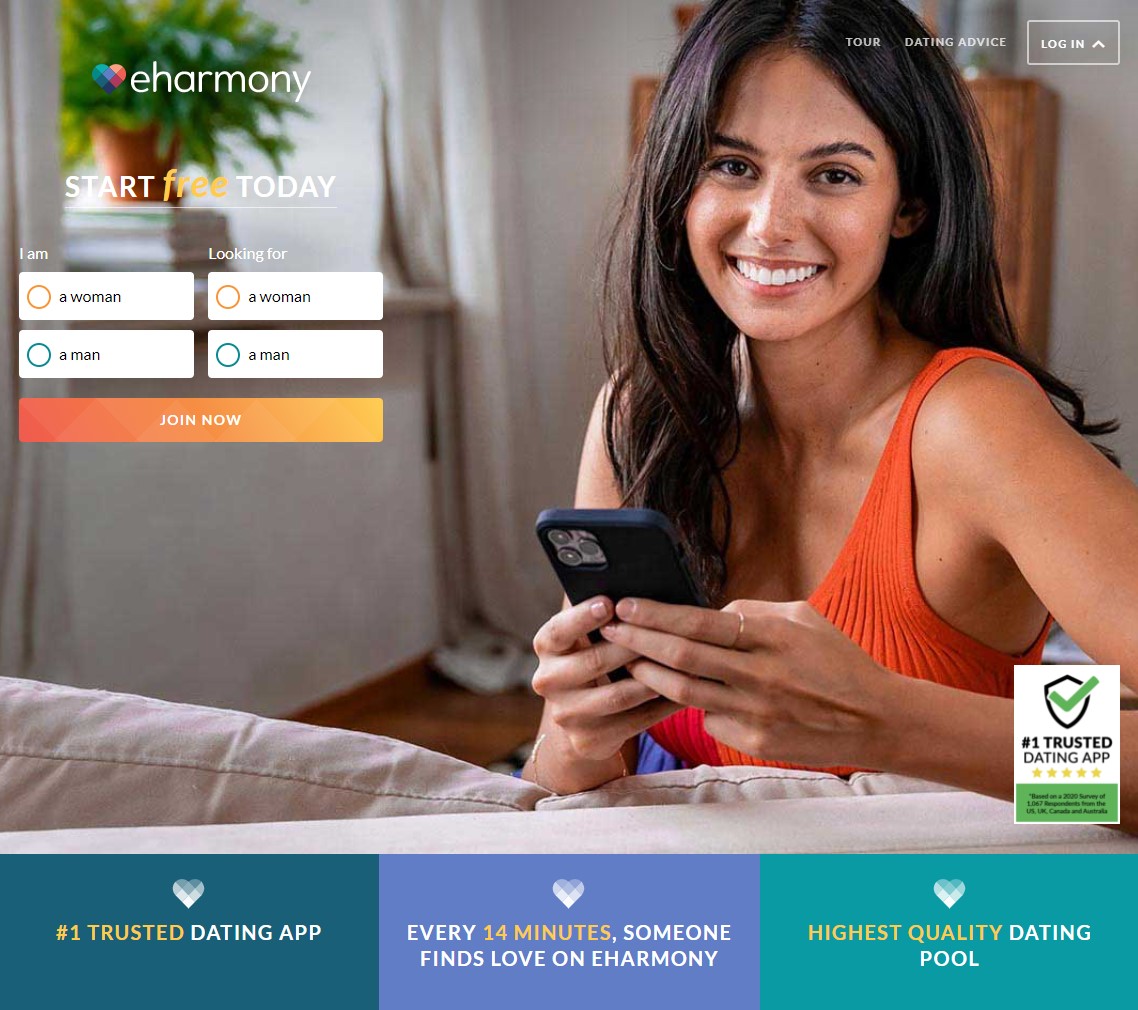 Who Will Love eHarmony: Anyone looking for something meaningful and more than just casual dating or a fling
Who Might Not Enjoy eHarmony: Like Elite Singles, not ideal for Florida singles who don't want a committed or serious relationship
Biggest Pro: One of the most popular dating apps in the state of Florida
Biggest Con: Requires a greater time commitment
Starting Price: Premium memberships start at $35.90 monthly
One of the biggest names in online dating is also one of the most popular dating apps in Florida (second only to Zoosk when it comes to profile-based dating). eHarmony is hands-down the top choice for Florida singles who want a committed and serious relationship.
Now, don't let all that serious talk scare you off. It's not an app filled with bridezillas and pushy men looking for commitment. It's just a space where the singles who join share the eventual common goal of a more serious relationship. While eHarmony is not technically a Christian dating site, a large percentage of the userbase is, which makes it a great option for Florida singles where 53% of the state's population say that religion is very important in their lives. And if you're not a Christian, it's still a great option because you have tons of singles from all faith and non-faith backgrounds.
If you want to date with the best and get a lot of help finding the right person, you've got to give eHarmony a try.
---
3. Zoosk – Best for Number of Singles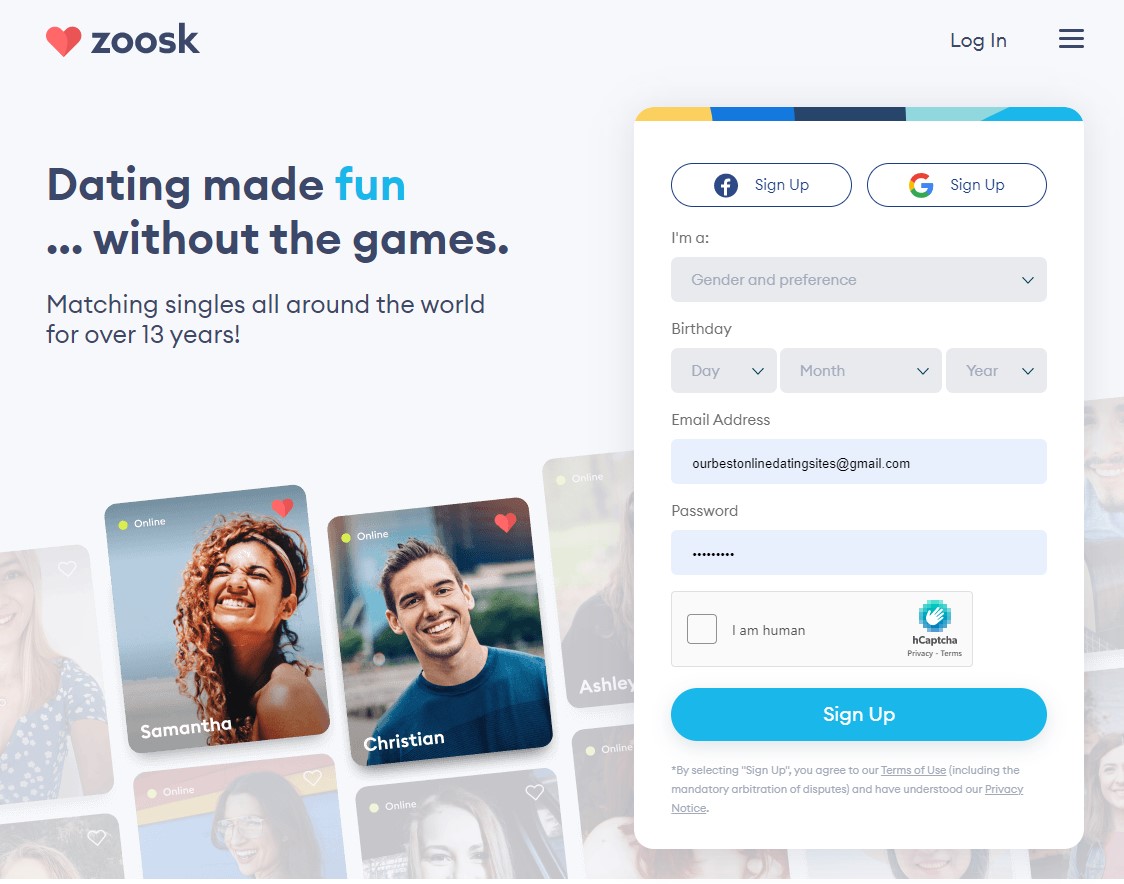 Who Will Love Zoosk: Singles who want a lot of options, including those looking for serious and casual dating
Who Might Not Enjoy Zoosk: Singles who want an in-depth matching algorithm to do the work for them
Biggest Pro: 35 million+ members
Biggest Con: Not a good way to filter singles who don't have the same relationship goals
Starting Price: Premium memberships start at $12.49 monthly
There are just over 21 million people in the state of Florida. Guess what? That is FEWER singles than there are on Zoosk. The dating app has over 35 million singles all over the country (and the world) just waiting to meet someone special.
What we really like about Zoosk and why it's on our list of the best Florida dating apps is that it caters to both casual daters and those looking for something a little more serious. Also, it's considerably less expensive than some of the other options on the list, which we can't complain about.
So, whether you're looking for someone to hit the beach bars with or just get to know at your own pace, or you're looking for Mr. or Ms. Right, Zoosk is 100% the option for you. At the very least, at least take advantage of the free trial below to search and see who might be available in your area. You may be pleasantly surprised.
---
4. Christian Mingle – Best for Faith Relationships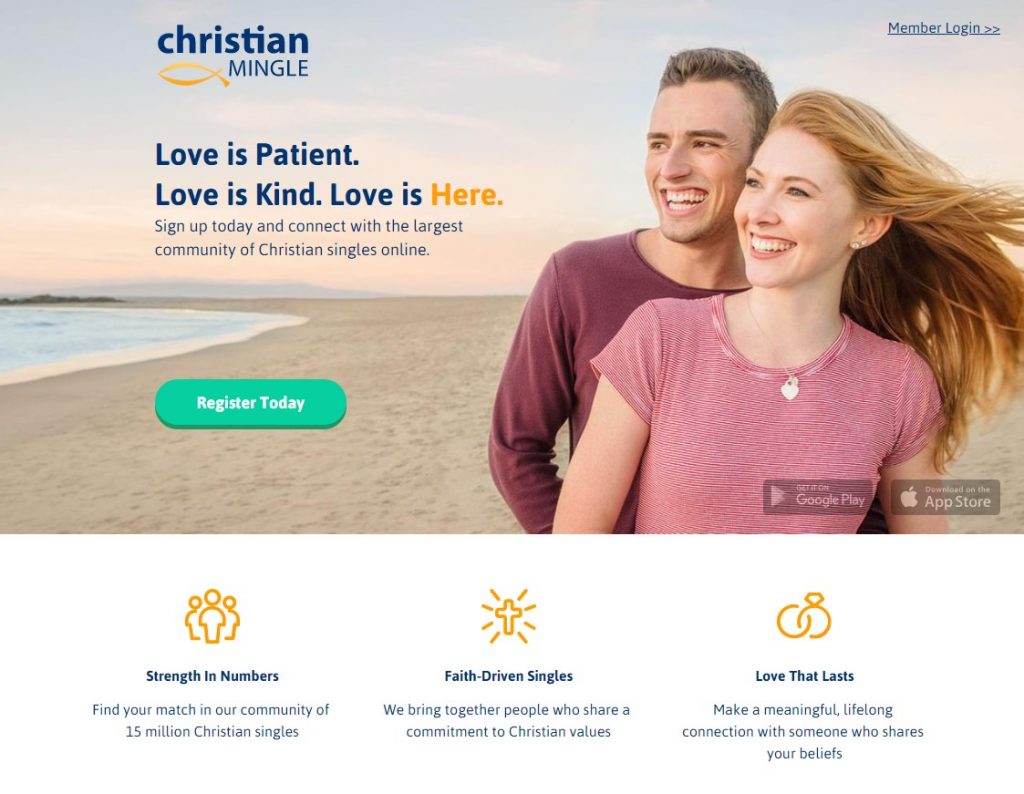 Who Will Love Christian Mingle: Singles looking for Christian dating in Florida
Who Might Not Enjoy Christian Mingle: Anyone who isn't a Christian or whose partner's faith isn't important to them
Biggest Pro: Leading dating app for Christian singles of all denominations
Biggest Con: Not a good fit for Florida singles who aren't looking for a Christian partner
Starting Price: Premium memberships start at $24.99 monthly
According to recent studies, Florida is the 22nd most religious state in the nation with over 64% of people saying they believe in God with absolute certainty. While this includes data from more religions that just Christianity, it does say a lot about how many singles in the state are probably looking for faith-based relationships.
And when it comes to the best dating apps in Florida for Christian singles, there's not many names you hear more than Christian Mingle. With over 15 million members on the site, it's a great place to find serious relationships with other singles of different Christian denominations within the state (or the country).
If you live in Florida and you know you want a relationship with another Christian single, this is your option.
---
5. SilverSingles – Best for Senior Dating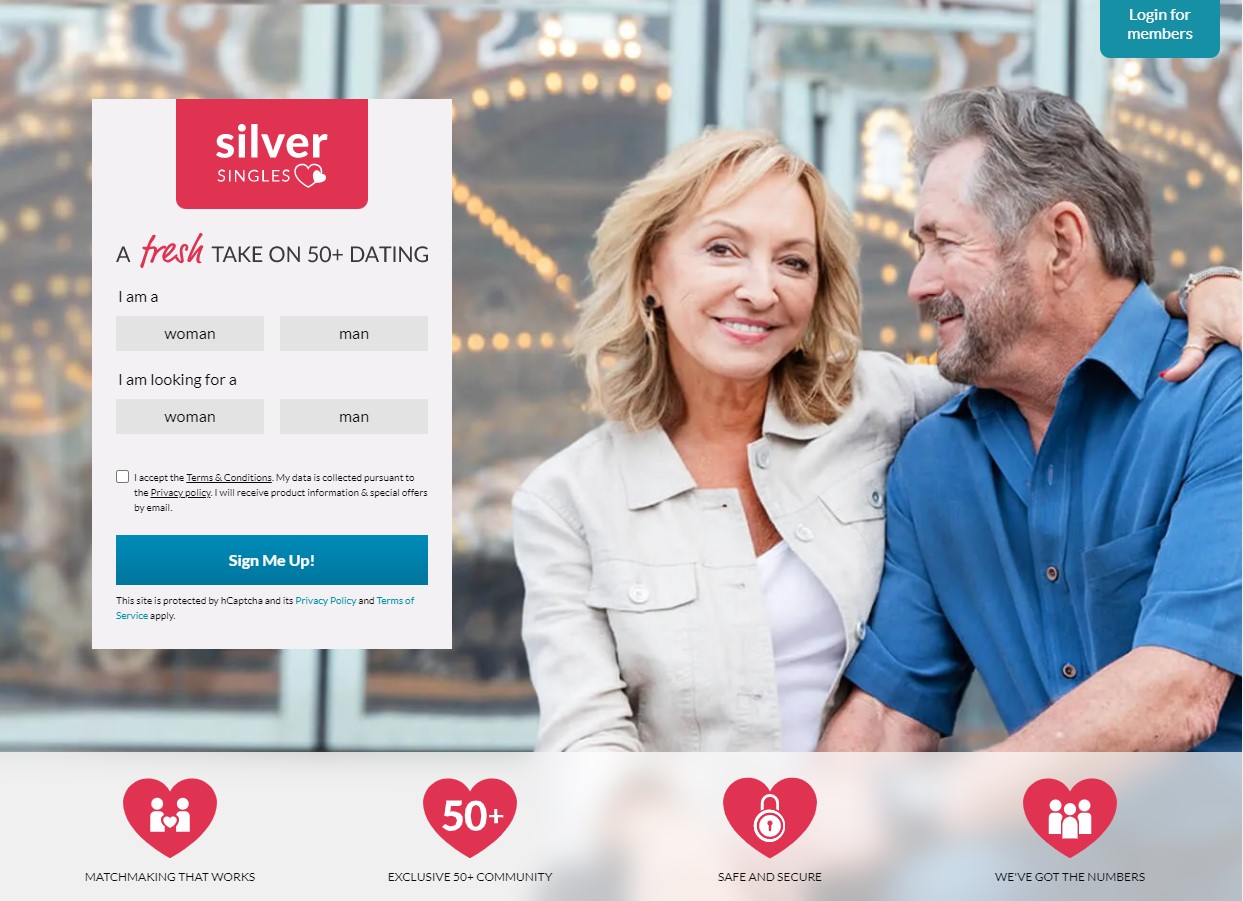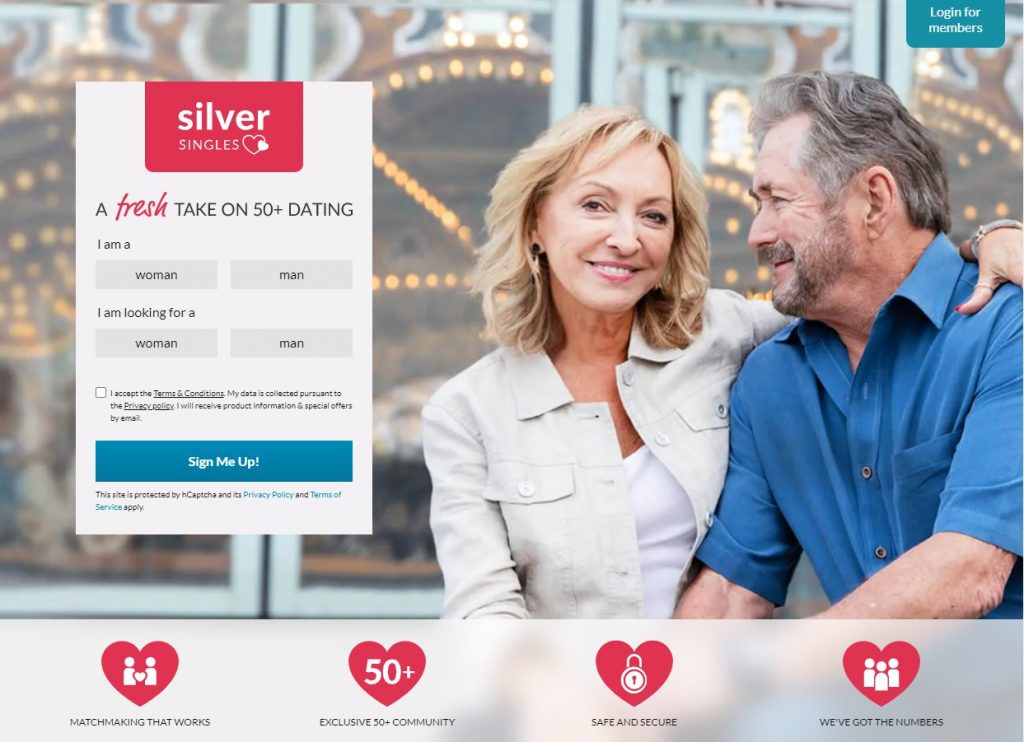 Who Will Love SilverSingles: Anyone in Florida 50 years of age or older
Who Might Not Enjoy SilverSingles: Anyone under the age of 50 (not allowed to join)
Biggest Pro: Has the resources and support to help older singles who might not be the best with technology
Biggest Con: Not great if you're just getting into your 50s and want to date someone younger
Starting Price: Premium memberships start at $19.95 monthly
The median age in the state of Florida is 42.2 (national average is 38.2), with over 41% of the state being 50 years of age or older! What this means is that Florida is an awesome place for senior dating. Thanks to a lot of people choosing to enjoy the beautiful state for retirement, the senior singles community is rich, alive, and ready for you to join!
If you're 50 years of age or older, live in Florida, and are looking for a dating app to try, we highly recommend checking out SilverSingles. Available exclusively to the 50+ community, this dating website is the premier choice for singles looking to date in their later years.
---
What Dating App is Most Popular in Florida?
While popular doesn't always mean the best, it sure is a fun metric to look at. And for many, it can be the key to deciding with Florida dating site is the right fit for them. And while there are probably a million different ways to gauge popularity on the internet, we turned to the experts to answer this question—Google.
By studying Google Trends data, we were able to determine which of the top dating apps in the state are the most popular. Below, you'll see a chart and breakdown of the results.

Zoosk – Try Zoosk Free!
eHarmony
Elite Singles
SilverSingles
Christian Mingle
As we see in most states, Zoosk is the most popular dating app (traditional style) by a long shot. With over 35 million members, this makes sense as to why. When we look to second place, it's eHarmony. When compared to other states, though, eHarmony is far more popular and a much closer 2nd place than we see in other states. This is another reason that we ranked the site so high on our list of best Florida dating apps.
One last thing to point out before we move on from the data is that this search didn't include swipe-style dating apps. When you include those options, you see the likes of Tinder, Bumble, and Hinge rise to the top and either overtake Zoosk or stand at the same level. Again, though, that's probably to be expected with more casual dating apps that tend to lend themselves more to the younger crowd.

What is the Dating Scene in Florida Really Like?
For the people who don't live in Florida, they probably imagine the dating scene in the state is nothing but a bunch of crazy "Florida Man" guys running around trying to get married to alligators while drinking Natty Lite and watching a NASCAR race. And while in some cities in the state they might be close to right, dating in Florida is far more similar to dating anywhere in the US than people might think.
But what is dating in Florida actually like? Well, we wanted to share. Here are a few things you can expect across the state. We've also broken things down for some of the bigger cities in the next section if you're looking for somewhere in particular.
The state is incredibly polarized. – One of the coolest things about the culture in Florida is that you can be in one city, drive 15 miles away, and be in a totally different city with a wildly different culture. Some states are homogenous all the way through. Florida, on the other hand, is a mish-mosh melting pot of awesomeness. And what this means for Florida singles is that you may want to look a little outside of your town's city limits to find what you're looking for.
Expect to run into a lot of tourists looking for casual flings in some cities. – If you live somewhere like Orlando or Miami, expect to see a lot of tourists. Additionally, expect them to infiltrate your dating apps, especially the casual dating apps. Depending on what you're looking for, this may be awesome or annoying.
People are willing to travel around the state to date. – In some states, people stick within their city limits like it's the law when it comes to dating. This is not the case in Florida. People are willing to date outside their city and travel several hours to find the right person. For example, singles in Miami don't just date people in Miami. They'll date people in Ft. Lauderdale, West Palm Beach, Boca, and even up into Orlando (especially if they travel a lot for work).
There are some major college areas where younger singles can flourish. – If you're younger and looking for younger singles, the college areas in the state are huge for dating (online and in-person). Areas like Orlando with UCF, Gainesville with UF, Tallahassee with FSU, Tampa with USF, Miami with UM, and then A TON of other smaller schools all across the state. Great spots for younger dating; more of a reason to get into online dating if you live in these areas and are a little older.
Not everyone in Florida is a gun-toting redneck. – For the record, we have absolutely no issues with gun-toting rednecks. That being said, the Florida dating scene gets a weird reputation from the media that simply isn't true. Are there areas of the state where they have fish fries, go mudding, and hunt or fish every weekend? Absolutely. But there are also areas where they do other things. You'll be able to find exactly the type of singles you're looking for in Florida, boots or no boots.
The amenities are incredible. – In some states in the US, finding somewhere to take a date is impossible. There are only so many times you can go bowling or to the movies until you start to lose your mind. In Florida, the list is endless. You have outdoor amenities (beach, lake, woods), tourist attractions, great food, awesome bars, neat coffee shops, and endless historical culture. While you still have to find someone to go with you, this makes planning dates way easier and way more fun.

Dating in Miami
Best Miami Dating App Recommendation: Elite Singles
Party in the city where the heat is on, all night on the beach till the break of dawn…I'm going to Miami! If you've been around for a while, you probably remember this Will Smith song about the beautiful 305. Miami is a bustling city with a lot of nightlife, a booming tourism industry, and beautiful beaches and people for days.
Dating in the city? It can be challenging. The problem a lot of people run into is that a lot of the girls in the city want to be Instagram models and a lot of the guys in the city think they're Jay-Z. It's a hot bed for casual dating and flings, but when it comes time to find something serious, Miami can be tough.
Here's the good news. Tough doesn't mean impossible. If you're looking for casual, just hit up a beach bar, night club, or happy hour and you'll do just fine. If you're looking for something with a little more meaning, online dating in Miami may be the key for you. Because we the city does prioritize success, we selected Elite Singles as the top Miami dating app. It's a great place to meet professionals, artists, and movers and shakers who are looking for a little more than just a one-night fling.
If you are still somewhere between casual and serious, Zoosk is an extremely popular option in the city that we recommend checking out as well. With the Zoosk free trial (linked at the top of this guide), you can search to see what all there is within the 305 and the surrounding areas.
Most Popular MiamiDating Apps

Traditional Style: Zoosk
Swipe Style: Tinder

% of Population Unmarried: 59.7%
Number of Men in Miami: 229,929 (49.9%)
Number of Women Miami: 231,151 (50.1%)
Traditional Dating Site Popularity in Miami, FL

Dating in Orlando
Best Orlando Dating App Recommendation: eHarmony
Orlando has some of the most "things to do" of anywhere in the state of Florida, let alone the entire company (and we're not just talking about the Disney corridor). Couple that with the slightly higher singles (unmarried) percentage, and you have a recipe for a great singles community. And as an added interesting note, as opposed to a lot of the other cities in the state, Orlando has several thousand more women than they do men. Depending on what you're looking for, this could mean more competition or welcomed news.
That being said, dating in Orlando can be hard because a lot of the apps get crowded with tourist in town for business or pleasure looking for something super casual for just a few days. While you could still create a long-distance relationship that's serious, it's not ideal if you're looking for something lasting from someone in your backyard.
That's the reason that we chose eHarmony as the best dating app for Orlando singles. Because it takes longer to sign up for and requires a bigger time commitment, you're going to have fewer singles that are just looking for something casual. Additionally, the site makes it challenging to change your location (like you can on an app like, say, Tinder) which, again, helps to cut down on these issues.
What's interesting about dating in Orlando is that even though the tourist spots like I-Drive and Downtown Disney attract a lot of tourists, they also attract a lot of locals. Not to mention, you can meet singles who work in these locales and might even be able to get on the free park pass perk train. This isn't something you're going to see in a lot of cities where tourism isn't one of their main industries.
For professional singles, the downtown area has a lot of great bars and events where you may be able to meet someone fun during happy hour. And when it comes to the suburbs, you have options, but they're going to be hit and miss. This is why we're big proponents of the online dating scene in the city.
Most Popular OrlandoDating Apps

Traditional Style: Zoosk
Swipe Style: Tinder

% of Population Unmarried: 60.1%
Number of Men in Orlando: 136,773 (48.0%)
Number of Women Orlando: 148,044 (52.0%)
Traditional Dating Site Popularity in Orlando, FL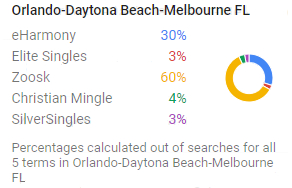 Dating in Tampa – St. Pete
Best Tampa Dating App Recommendation: Elite Singles
Tampa is a unique city that's really made up of a lot of smaller cities. When someone says they're from Tampa, they could really mean any one of a ton of cities along the Gulf coast. Why is that important? It's important because each of these cities that make up "Tampa" are going to have a slightly different dating culture and scene.
For the people that live in the beach areas, you have a lot of great beach bars and outdoors events you can use to meet singles if you want to meet them in person. Closer into the cities, you have a pretty bustling nightlife scene that's grown over the years to be a lot more like a Miami/Vegas-type feel than it was even a few years back.
Regarding dating apps that we recommend, it was nearly a tie between Elite Singles and eHarmony. Honestly, it comes down to what you're looking for. If you want something serious (and you're sure about that), go with eHarmony. If you're looking for something that could start out casual and maybe turn into something, go with Elite Singles.
Most Popular Tampa Dating Apps

Traditional Style: Zoosk
Swipe Style: Tinder

% of Population Unmarried: 59.1%
Number of Men in Tampa: 195,017 (49.3%)
Number of Women Tampa: 200,895 (50.7%)
Traditional Dating Site Popularity in Tampa, FL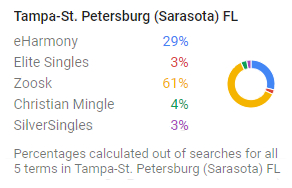 FAQ – Florida Dating Sites
What is the number one dating site in Florida?
The best dating site in Florida that currently ranks number one is Elite Singles. It's great for professionals and young professionals looking for relationships in the bigger cities. If you live in the more rural areas of Florida and are still looking for something serious, eHarmony may be the best option for you.
Are Florida dating apps full of tourists?
The casual dating apps in Florida are full of tourists, especially in the major tourists areas like Orlando, Miami, and the bigger beach towns. If you get onto a Florida dating site more focused on committed relationships, the percentage of tourists on there goes way down.
Is dating in Florida hard?
Dating anywhere in the country is hard, but it depends on what you're looking for in Florida. If you're looking for casual dating or flings, dating in Florida is a bit easier because of the constant influx of tourists and Spring breakers. If you're looking for a more serious relationship, it can be a bit harder for the same reasons. That all being said, online dating apps in FL go a long way to help people find exactly what they're looking for.