You might be a gaming pro, but your dating life keeps glitching out. Sure, you go on some dates, but no matter how hard you grind, you can't make a connection. It's like playing the same game over and over and getting stuck on the kill screen every time.
Being a dating noob is hard, but you can level up in an instant by changing where you look for singles. Get the scoop on the best dating apps for gamers so you can end your solo campaign and go co-op with a compatible partner.
5 Best Gamer Dating Apps
---
Zoosk – Best for Gamers Hooked on Live Streaming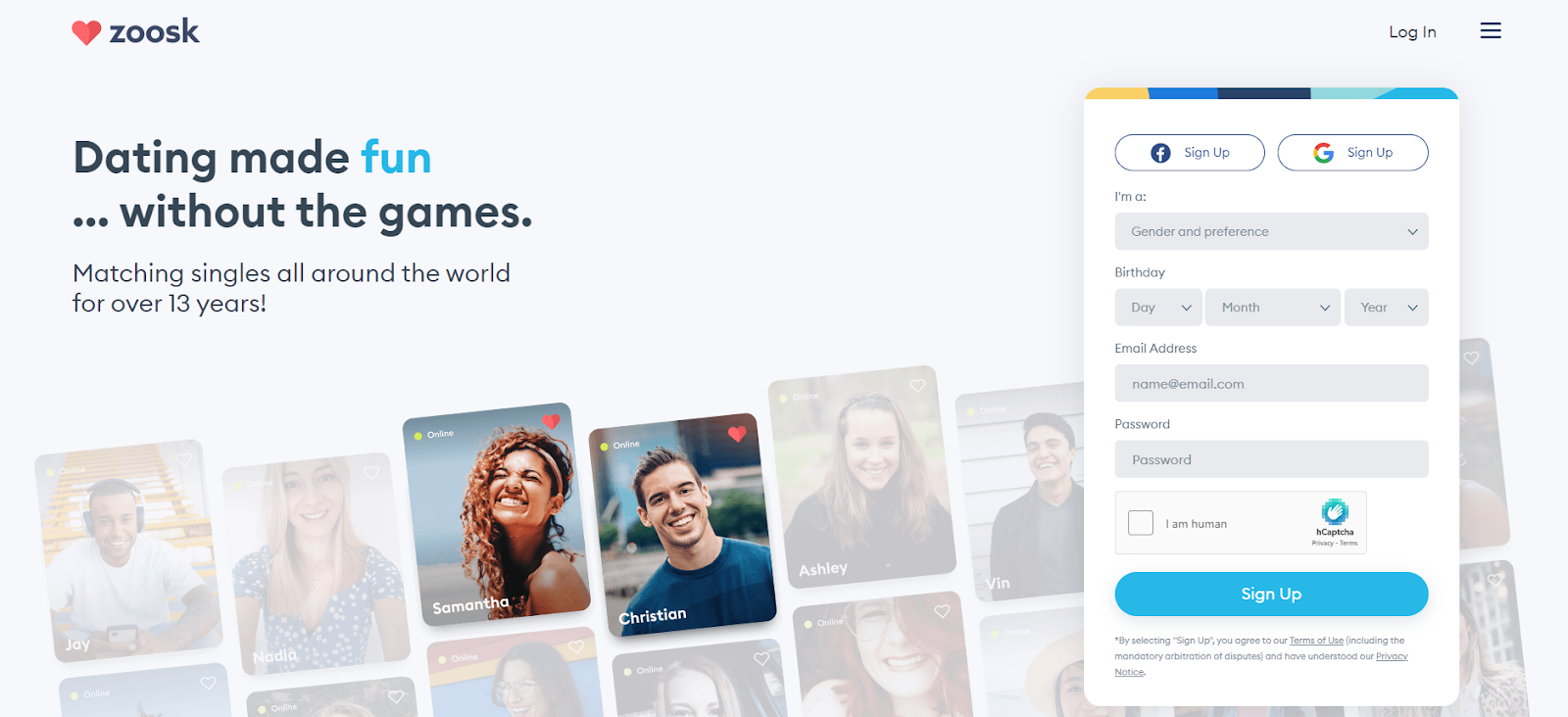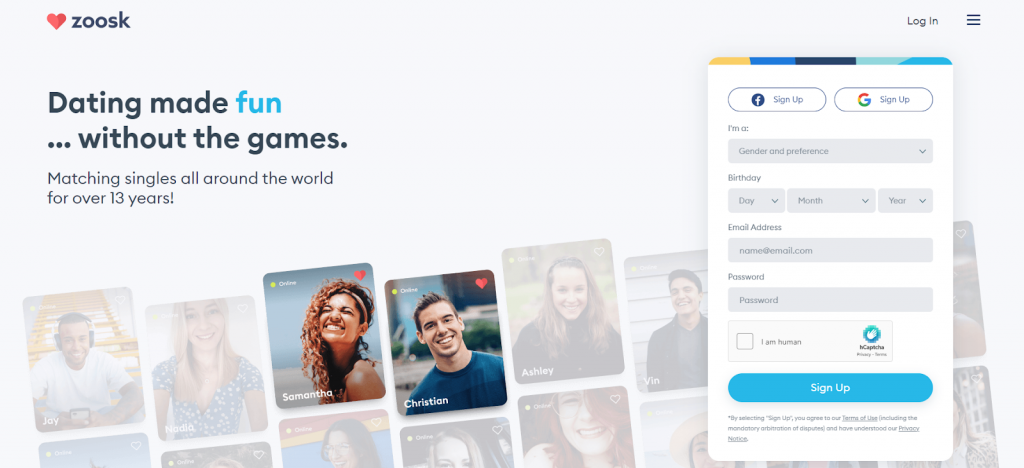 Live streaming and video games go together like Elden Ring and a high death count. While you probably won't land a date on Twitch, you can stream your way to love (or casual flings) on Zoosk.
The dating app recently launched Zoosk Live, which is sure to attract lots of gamers. As with other streaming platforms, you can use it to watch or participate in live videos. But unlike other services, Zoosk Live is focused on making love connections.
Watching the videos is fun, but we recommend taking control of your dating life by creating your own live stream. You have various options, but Live Battles is our favorite for gamers. You'll face off against another streamer, and if viewers like what they see, they'll send virtual gifts your way. And if you win the battle, you might also walk away with a new love interest.
Are you more of a co-op gamer? If so, you can't beat NextDate on Zoosk Live.
This is virtual speed dating with a twist. You'll fire off prompted questions and decide if you want to keep the convo going when the timer runs out. Instead of unlocking achievements, the viewers will rate your date, so you'll know if the chemistry is the real deal. And we have to admit that a good rating feels even better than unlocking the last achievement on a hard video game.
Zoosk Live might be our favorite feature for gamers, but there's something else we love about this dating app. There are billions of gamers worldwide, and you want the chance to connect with as many as possible. Well, Zoosk has over 40 million members, which is massive for a dating site.
Are you ready to battle it out and win someone's heart? Start by creating a free profile on Zoosk.
---
Elite Singles – Best for Affluent Gamers
Are you sick of hearing everything that's wrong with video games? Some people claim they cause violence, and others say they're nothing but time suckers. Well, let's move past the negative and onto something positive.
According to statistics, gamers in the United States tend to make more money than non-gamers. Yep, you're gaming your way to a high income, and you want a special someone that has the same drive.
If you're balancing gaming with a successful professional life, you can find your match on EliteSingles.
Most of the members are high-earning professionals, so you'll fit right in here. Plus, the dating site lets you search for matches that have comparable incomes, so you won't get stuck supporting your date's gaming habits.
But it's not just about money on EliteSingles. The matching algorithm also considers your personality and interests when matching you with people. That means you can find someone you enjoy spending time with, whether you're gaming or doing something else.
If your professional and gaming lives are important to you, check out EliteSingles. You can get started for free, but you'll need to level up the membership to unlock more features.
---
Kippo – Best for Virtual Gamer Dating
Ok, so we've seen a LOT of gamer dating apps in our time, but nothing quite like Kippo. The developers of this app have not only made a new way for gamers to meet online, but a whole new virtual world, "the Kippoverse".
Instead of scrolling endlessly through photos, bios, and profiles (like on many traditional dating apps) Kippo app allows you to create an avatar and start dating and making new friends in real time (think something like VR chat… but less cringe).
But what what do you do when you find a match? Well, sure you can message them or look at their profile photos like any other dating app, but what about….
Playing some volleyball,
or some go kart racing,
how about ice skating,
or solving a hedge maze,
maybe want to show them your home lounge?
These are just a few of the unique ways that Kippo allows you to interact with your friends or potential romantic interests. Want to learn more? There's no better way than visiting the Kippo website linked below:
---
eHarmony – Best for Finding Long-Lasting Love
Did you hear about that report released by Divorce Online back in 2018? The UK-based website reviewed thousands of divorce petitions, and five percent of the marriages ended because of Fortnite.
Weird, we know, but video games and marriage don't always mix. But it's not about the games themselves. No, it has to do with not having enough in common.
If you want to spend hours playing video games, but your spouse is addicted to the outdoors, it probably isn't going to work. Well, maybe you can set up your gaming system outside, but still, it's hardly a compatible match.
We don't think gamers should be excluded from marital bliss, so we're recommending eHarmony. While it's not a gamer-only dating app, it does a great job of matching people based on their personality traits and interests. The signup process is a bit longer than most, allowing it to get all the info needed to find compatible matches.
Your chance of divorce is much lower when you pair up with a compatible partner. It's no wonder that marriages that start on eHarmony have a lower divorce rate. That's true, even if you're a gamer that loves Fortnite.
Whether you want to walk down the aisle or form a long-term commitment, eHarmony is the place to go. Try it for free to see why this is one of the best dating apps for gamers.
---
SoulGeek – Completely Free Gamer Dating
Let's be upfront about something. We like SoulGeek for the same reason that we check what free games Epic is giving out each week (it's free…). They may not always be gems, but by golly they're free and we them in our game libraries.
On a more serious note, if you're a fan of anime, fantasy, comics, video games, cosplay, or really anything else that's "geeky", then this gamer dating site might be worth a look. Just make sure you go in with the right expectations.
Most major online dating brands are bringing in money, which allows them to invest in things like new features, better matchmaking, modern design, customer support, security, scammer prevention, etc… And while the good people at Soul Geek mean well they just can't keep up with the big names in those areas.
So, if you're looking for a free introduction to online dating and you'd like to message some "soulgeeks" then by all means go ahead! Just keep some safety tips in the back of your head. But, if you're looking for something more meaningful then we recommend checking out one of the mainstream dating options we've discussed (we promise you'll find gamers there too).
---
5 Reasons These are the Top Dating Apps for Gamers
Lots of Members – These apps all stand out for the large userbases. You can connect with people that love video games, as well as people with their own separate interests. With so many options, finding a match is a breeze.
Safe Spaces – It's estimated that almost half of gamers are women. We know that women are more likely than men to face harassment on dating websites. Fortunately, the best dating apps for gamers have anti-harassment policies and fast-acting customer support teams.
Focus on More than Games – Finding someone that shares your gaming passion isn't enough. You need a partner that shares other interests and meshes with your personality. The top apps match singles based on personality and interests.
Local and Global Gamer Dating – As a gamer, your world is much bigger than your zip code. You're used to connecting with people in other states and countries, and that's easy on these dating sites. But don't worry if you want to keep it close to home because you can also browse nearby singles.
Welcoming Environments – Because these are mainstream dating apps, the members include straight and LGBTQ+ singles. That makes it easy for all gamers to find their ideal matches.

Gamer-Only Dating Apps
With well over two billion gamers around the world, you don't have to go to a niche dating site to meet your match. In fact, we prefer mainstream dating apps for gamers because they have more members and better features. Still, we know that you might want to join a community full of gamers, so we decided to cover the most popular gamer-only dating sites.
Gamers Dating – The website is a little dated, and the features are sluggish, but Gamers Dating is the best niche option. We're impressed by the number of active users, and you can search for people nearby. But it has a lot of leveling up to do before going head-to-head with the mainstream apps.
LFGdating – This dating app has received some good press, but it doesn't live up to the hype. With few users in our area (and too many profiles without pics), we were ready to rage quit.
GamerDating – We also couldn't find any local users on this gamer dating site. It might have a cool concept, but it seems like most of the members live in other countries (outside the US), so in-person connections aren't likely.
Gaming Passions – Clunky and short on features, Gaming Passions has a lot of work to do to become a good option for gamers. While you can try it, you probably won't find any members in your area. And if you do, they'll be few and far between.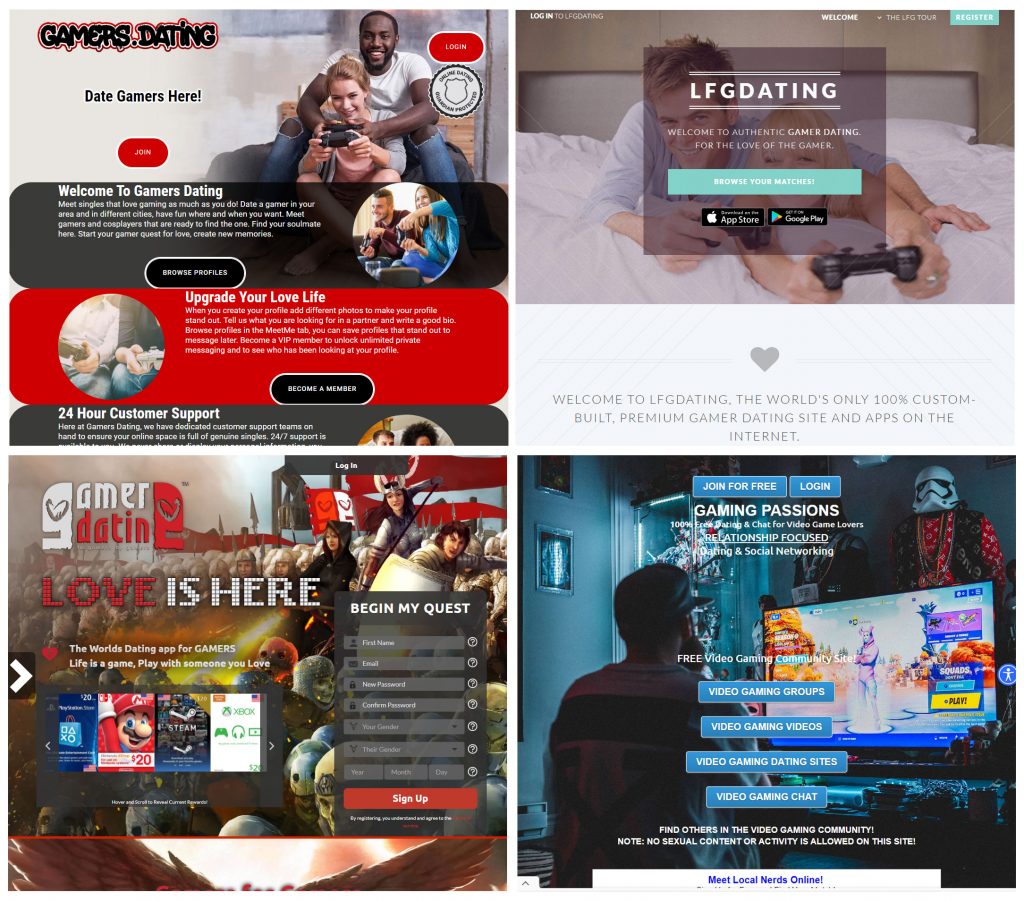 Gamer Dating Over 50 – SilverSingles
So, there's a myth that video games are just for the younger crowd, but we're ready to bust it up. See, the gaming landscape has changed a lot in recent years, and now, more and more older people are playing.
It's estimated that 44 percent of American seniors 50 and older play games. Some do it for fun, while others break out games to reduce stress and stay mentally sharp. And while most play mobile games, some can't go without their PlayStations or Xboxes.
And here's something interesting…
Most seniors play alone, but close to 40 percent say games are more fun when playing with someone else. Well, you can find your gaming partner on SilverSingles.
Because this site is for singles 50 and up, you won't have to wade through young people when looking for your match. But it's not just about accessing people your age. SilverSingles gauges your personality and checks your interests to help you find a genuine connection.
Do you want to find love on the best dating app for senior gamers? Head to SilverSingles and create your free profile today.
---
Who Can You Expect to Meet on Gamer Dating Apps?
While you might think that only young guys play video games, that's far from the truth. In reality, almost half of American women are casual or serious gamers. And while most of the male and female gamers are between 18-34, you'll find players of all ages. That includes seniors that love mobile and console games.
Oh, and it's worth noting that around ten percent of adult gamers identify as LGBTQ+. So, no matter what you're looking for, you can find your match online.

Should You Include Gaming in your Online Dating Profile?
If gaming is important to you, consider making it part of your dating profile!
First, add it to the text portion of our profile, and then include some pics. For instance, you can snap some pics at your favorite arcade or have someone take an action shot while you unlock another achievement.
That being said, don't dedicate your entire profile to gaming. Yes, you love video games, but that's just part of who you are. Add other interests and show off additional aspects of your personality. By showing that you're well-rounded, you'll attract more like-minded singles.

How to Deal with Flamers
We worked hard to select gamer dating apps that are safe and secure. But as you know from gaming, flamers can pop up and take over at any time. Fortunately, these apps are quick to kick off flamers.
If someone harasses you on a dating app, don't engage. Instead, report the flamer to the dating site's customer service team. If the harassment persists, take screenshots and contact the customer service team directly.