Does it seem like all the good ones are already taken? In reality, fewer than half the adults in Georgia are married, so you have millions of chances to find love. But that doesn't mean putting yourself out there is easy, especially if you're using the old rule book to find dates.
See, Georgia's dating scene isn't anything like it was in the old days. Years ago, singles could attend a college football game or hang out at a bar to find someone. These days, though, most people are more focused on their phones than meeting people in the wild.
But we have a solution.
We've identified the dating apps folks use when hanging out in public and relaxing at home, and we're ready to share them with you. Check out the five best Georgia dating apps for serious and casual relationships.
Top 5 Dating Apps in Georgia:
---
Knowing what app to use is step one, but you also need to learn about the state's dating scene. Plus, it's important to get some dating insights on starting relationships in various Georgia cities. We have all that info and more.
Contents of Our Georgia Dating Guide – Jump Ahead to: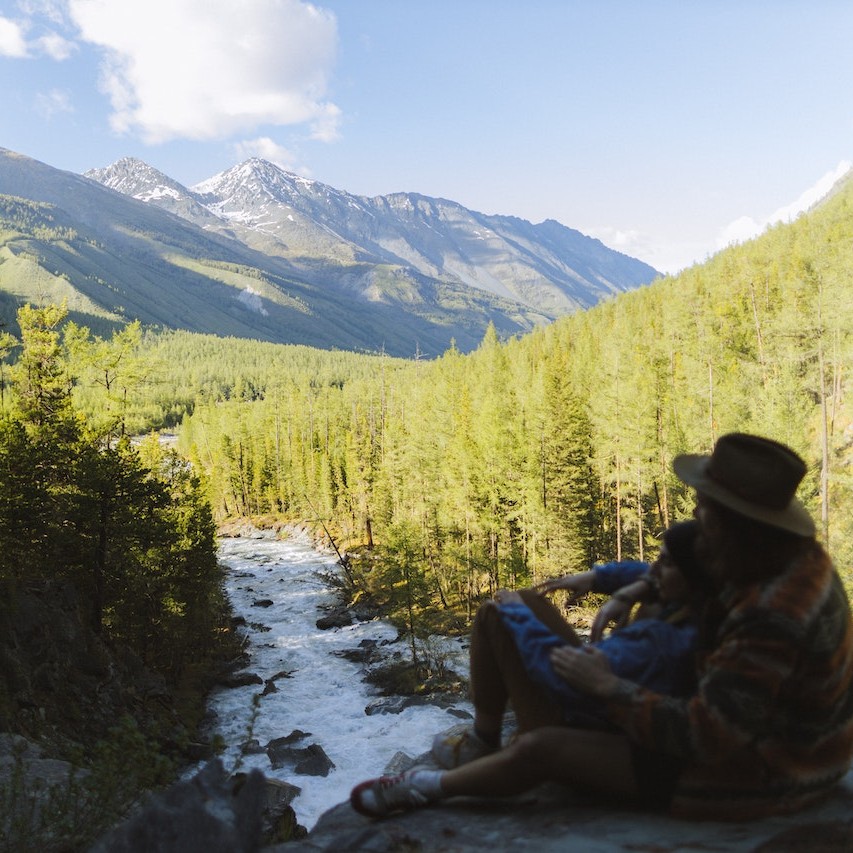 ---
1. eHarmony – Best for Finding Long-Lasting Love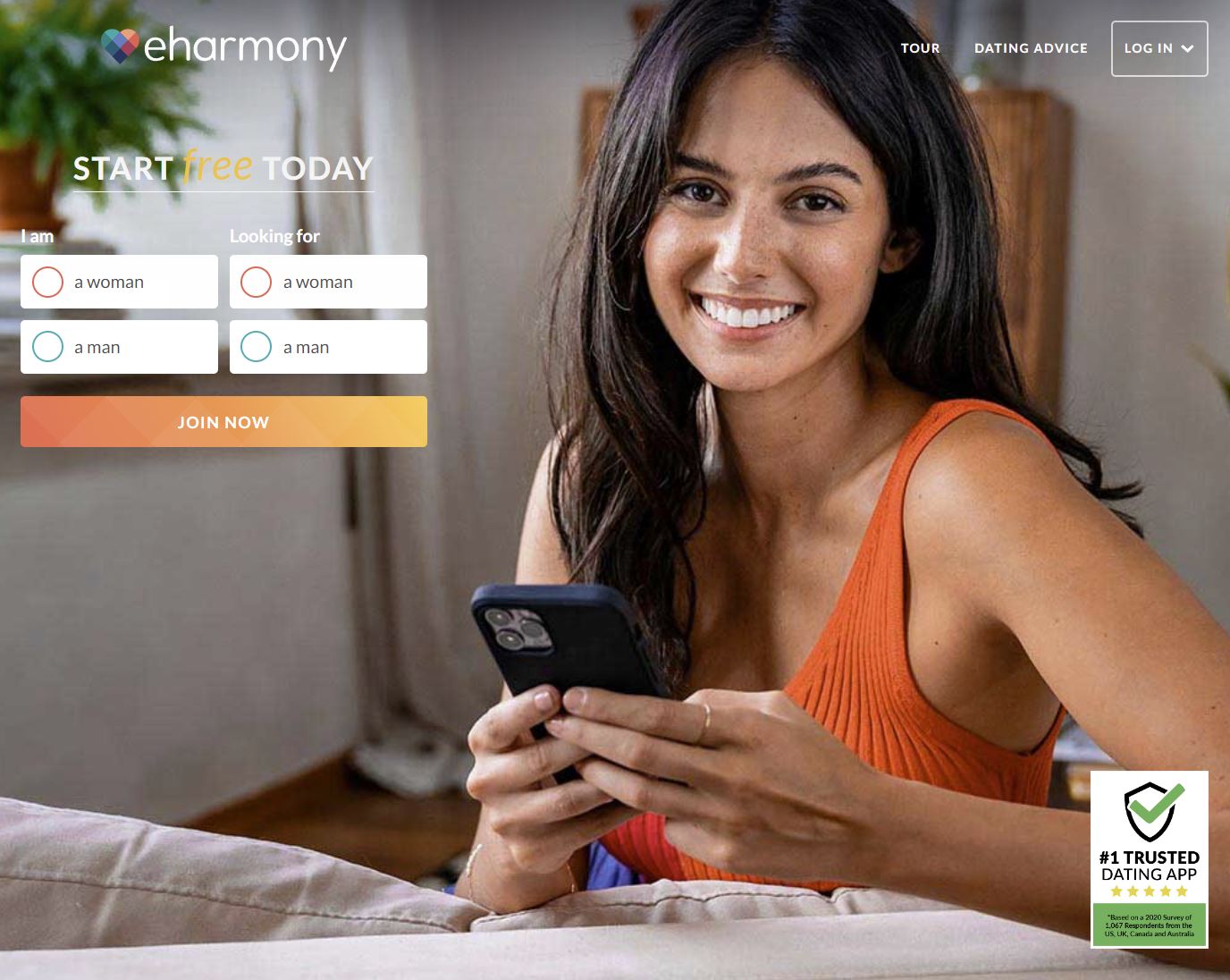 Who Will Love eHarmony: Georgians that want relationships that last
Who Might Not Enjoy eHarmony: Casual daters
Biggest Pro: Couples are matched based on their likelihood of long-term marital satisfaction
Starting Price: Premium memberships start at $17.95 a month
As a southern state, marriage is still a priority in Georgia. But as you know, "Til death do us part" isn't always taken literally. The state's divorce rate waxes and wanes, and sometimes, it's among the highest in the country.
And here's an interesting fact…
Windsor, Georgia, has one of the highest divorce rates among U.S. cities. Over 18% of the population is divorced, while fewer than 40% are married.
For a long time, experts thought people got divorced because of problems that popped up after tying the knot. A UGA study published in the Journal of Family Psychology has turned that idea on its head, though. According to the study, marital problems actually remain stable over the course of the union – but tolerance for them goes down.
In other words, a spouse's communication or fidelity issues might be tolerable at first but eventually become overwhelming.
And that's why eHarmony is our favorite Georgia dating app.
eHarmony's co-founder worked as a clinical psychologist for years, and that's a really big deal. See, he used his marital counseling experience to identify what's needed for a successful relationship. Then, he created a system that matches couples based on those key factors.
If you pair up with someone that's compatible, you're less likely to experience issues that become intolerable. And even more importantly, sparks fly when pairing up with someone that you mesh with, so you can find long-lasting love. See for yourself by creating a free account on eHarmony today.

---
2. EliteSingles – Best for Driven, Professional Georgians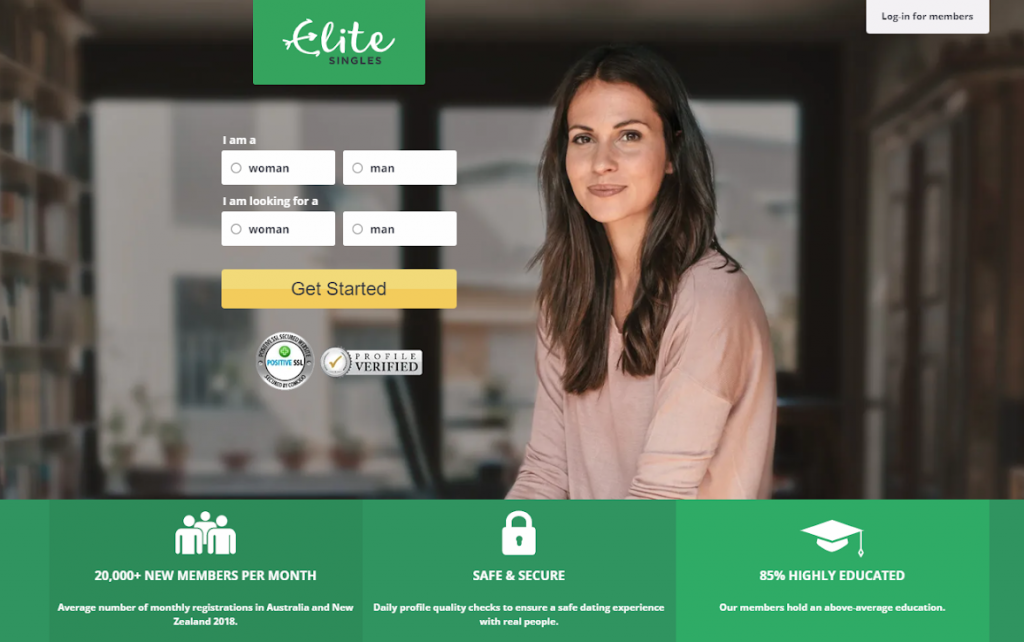 Who Will Love EliteSingles: Professionals who want to match with someone of their caliber
Who Might Not Enjoy EliteSingles: Casual daters and people who aren't career-oriented
Biggest Pro: Almost all the members are driven and ambitious
Biggest Con: Few features for unpaid members
Starting Price: Premium memberships start at $27.95 a month
Forget Silicon Valley. Georgia is the nation's current tech hub, especially Atlanta. Venture capitalists' money is flowing through Georgia, and entrepreneurs are showing that there's cash to be made in the Peach State.
And you don't have to know much about Georgia to realize tech is far from the only thriving industry here. Agribusiness, manufacturing, and other industries also boost the economy and help professionals make bank.
If you're making the big bucks, work takes up a lot of your time. And that means your dating life can suffer.
It's not just about finding the time to land a date, either. Your high standards can seep into your dating life, so you don't want to pair up with just anyone. Nope, you prefer to pursue folks that share your passion and drive.
And that's just what you'll find on EliteSingles.
This niche dating site, courtesy of Spark Networks SE, is populated with professional, career-driven singles that want serious relationships. You can even set your match preferences based on people's education level and income. That way, you won't match up with someone that's not on your level. No wonder this is considered the gold standard of professional dating sites.
Are you ready to add some pleasure to your business life? Check out EliteSingles by setting up your free account today.

---
3. Zoosk – Best for Dating Georgians and Tourists Casually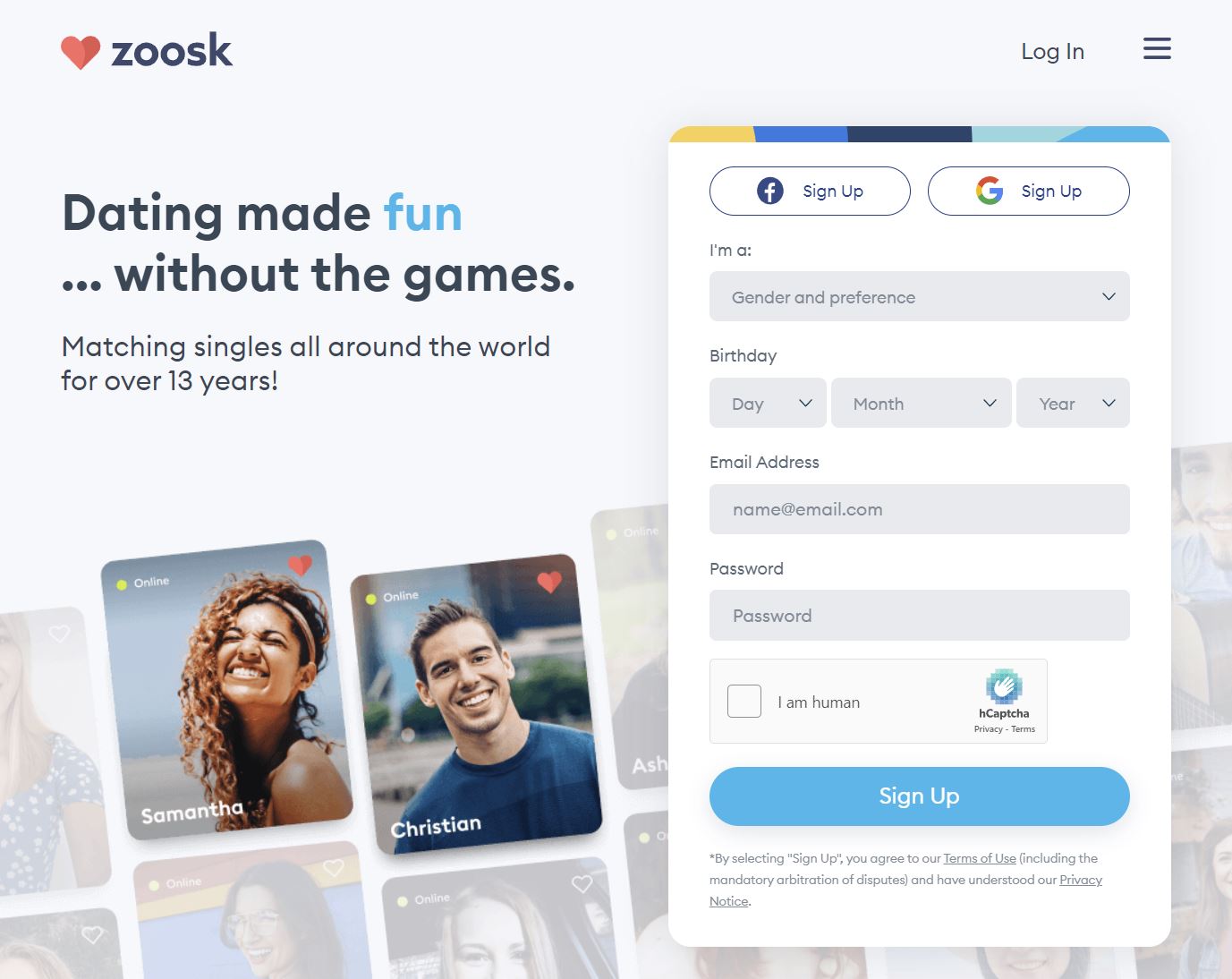 Who Will Love Zoosk: Casual daters interested in connecting with locals and tourists
Who Might Not Enjoy Zoosk: People looking for serious relationships
Biggest Pro: Location-based dating app allows people to find matches when traveling
Biggest Con: Need to subscribe to access most features
Starting Price: Premium memberships start at $8.33 a month
After analyzing user data, OkCupid discovered that nearly 30% of Georgians are open to casual relationships. Sometimes, that means casual relationships between two Georgians, but other times, Georgia singles hook up with tourists.
Casual dating between locals usually occurs in college towns. College students usually aren't ready to think about marriage, and they like going out with different people. That's why so much casual dating happens in Augusta, Macon, and other cities with colleges.
And there are also tons of options for causal dating between locals and tourists. It's not unusual for over 100 million folks to visit Georgia in a given year, providing lots of opportunities for some casual fun. Atlanta might be the most visited city in Georgia, but people also come to Savannah, Golden Aisles, Athens, and other cities.
So, there might be a couple of different casual dating scenes taking place in Georgia, but one app covers both. It's called Zoosk, and it's the best way to find someone for a little fun.
First, we love how easy the app is to use. You don't want to spend forever filling out a profile for casual dating, and you won't have to with Zoosk. It takes a couple of minutes to sign up, and then it learns more about what you want as you use the app. Easy, right?
Oh, and speaking of easy, finding someone to date is a breeze. More than 40 million people have profiles on Zoosk, so someone's sure to catch your eye. Check them out by setting up a free profile on Zoosk today.
---
4. Higher Bond – Best for Christians Craving Real Connections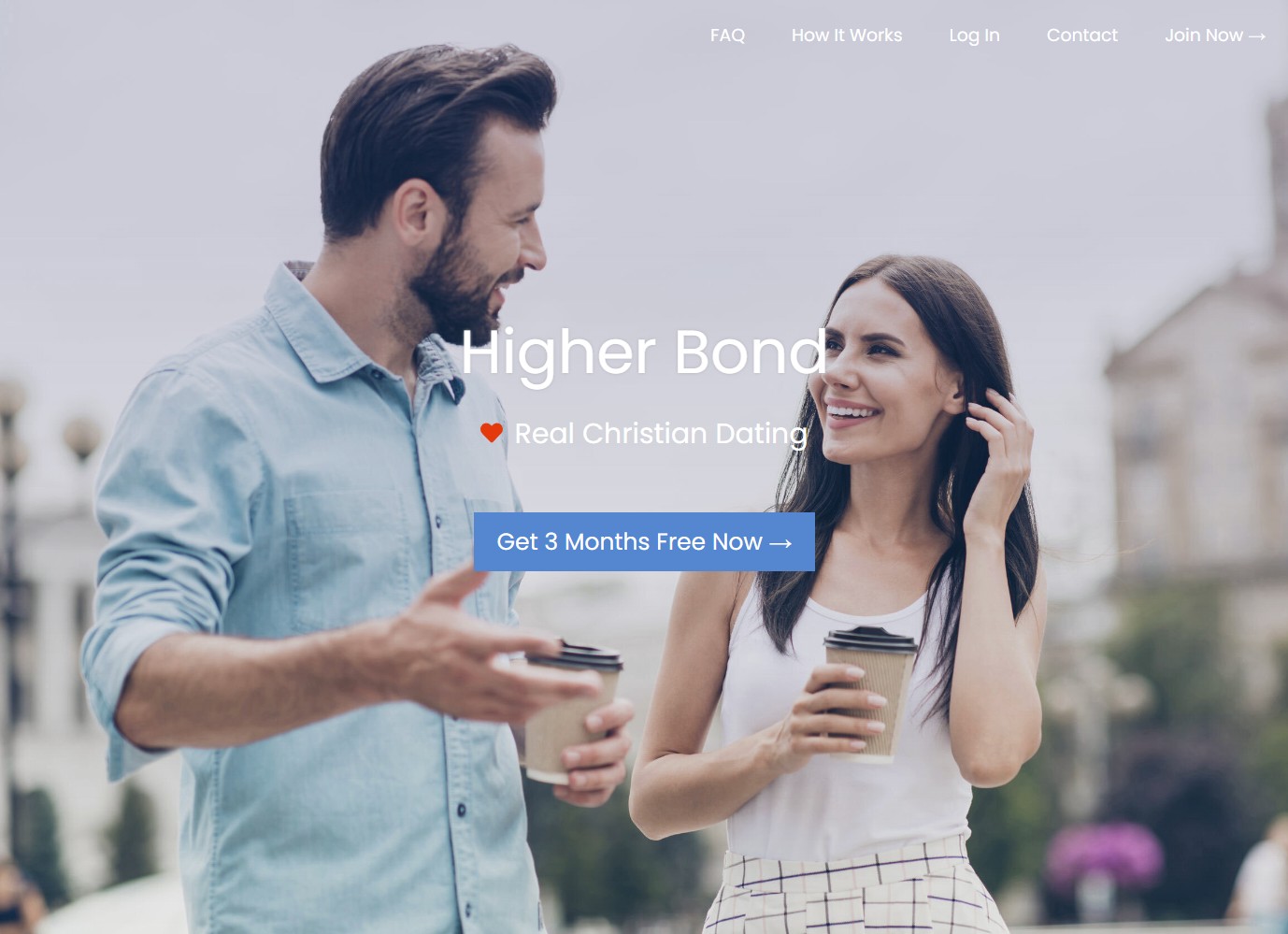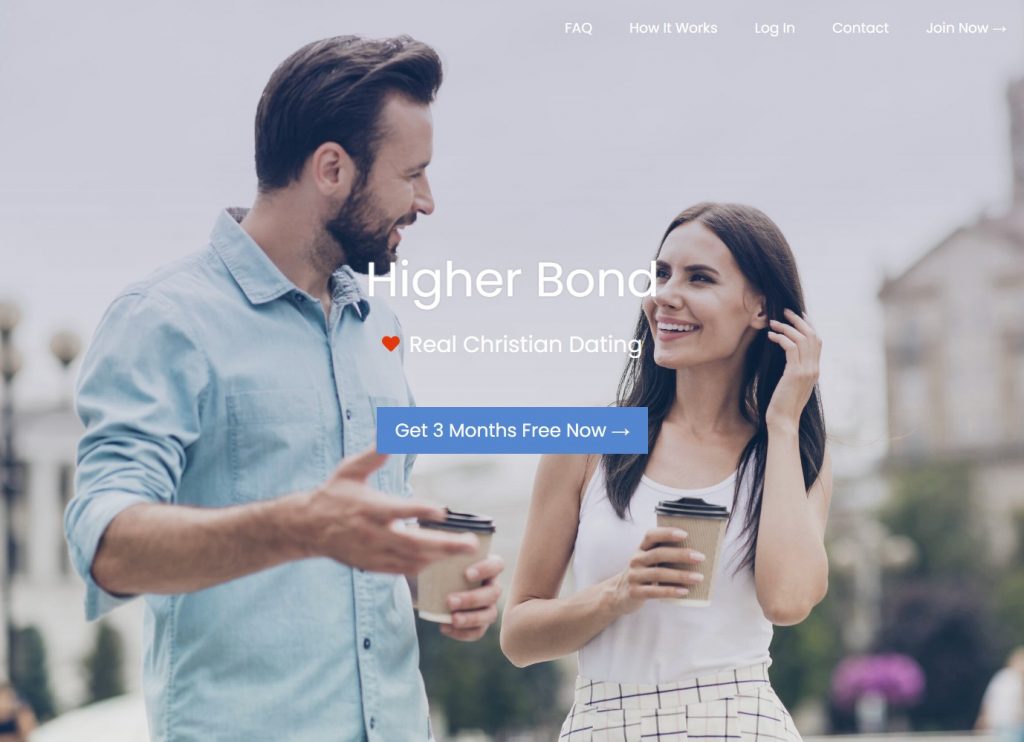 Who Will Love Higher Bond: Christians who want to find partners that share their faith
Who Might Not Enjoy Higher Bond: Non-believers and people interested in casual dating
Biggest Pro: Matches people based on religious beliefs and other factors
Biggest Con: Just launched, so the membership base is still building (but it's growing fast)
Starting Price: First three months free
Did you know that Christians make up nearly 80% of adults in Georgia – and more than 65% of them are "highly religious?" But just over 40% of adults attend church weekly, and almost a quarter never go.
Without church, you're left to your own devices when looking for a mate, and you have different standards than secular folks. You probably want to find someone that shares your faith, and you want a clean dating environment. Fortunately, Higher Bond checks those boxes and so many more.
The site matches members with others that share the same faith, values, and interests. Also, it's a clean environment, so you won't find scantily clad men and women here.
It also focuses on real connections instead of superficial attraction. Members have to fill out their profiles completely to be accepted. Plus, the site sends 3-5 matches a day instead of letting you browse thousands of profiles. And to drive the point of connection home, you can only initiate one conversation each day, although you can continue previous conversations.
Set up your free account on Higher Bond today, so you can strike up a serious relationship with a Georgian who shares your faith.

---
5. Christian Mingle – Best for Expanding the Religious Dating Pool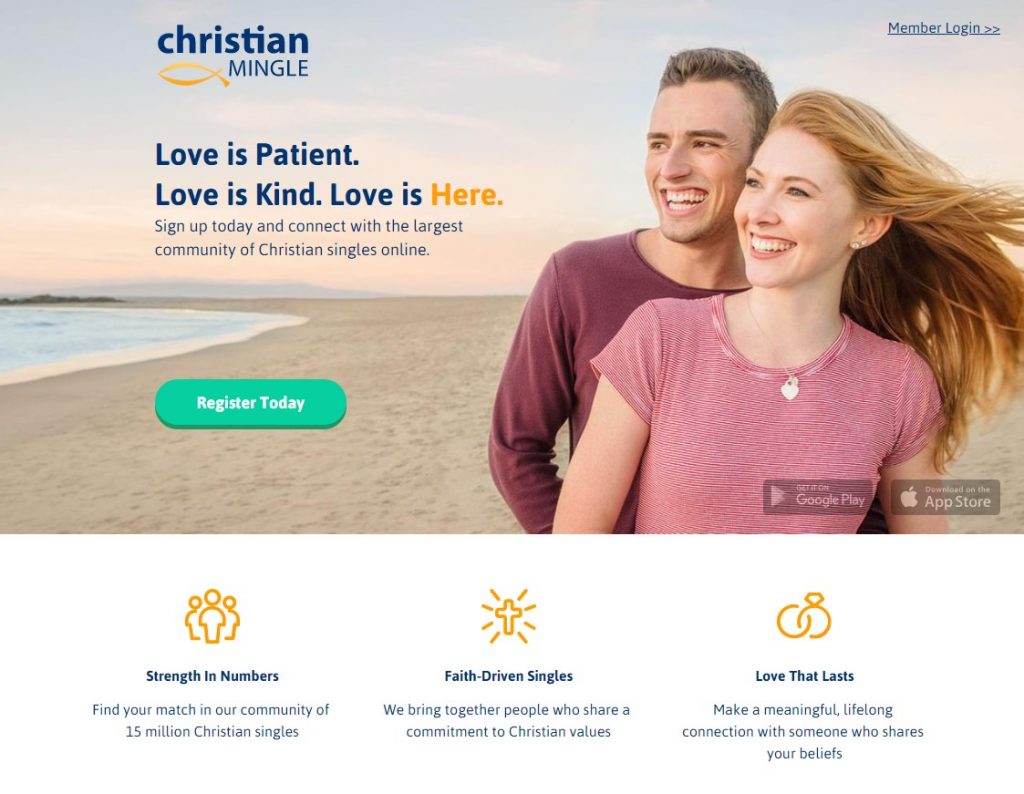 Who Will Love Christian Mingle: Christians who want millions of choices
Who Might Not Enjoy Christian Mingle: Secular singles and casual daters
Biggest Pro: Users can access their matches and other profiles
Biggest Con: Casual daters are few and far between
Starting Price: Premium memberships start at $24.99 a month
Because religion is such a big part of Georgian's lives, we didn't feel right recommending a single Christian dating app. We decided to double up by also naming Christian Mingle as one of the best Georgia dating sites.
At first glance, it's really similar to Higher Bond. It's full of Christian singles who want serious relationships, and it matches people based on faith and interests. Also, it maintains a clean online dating environment, so you won't have to worry about temptation getting the better of you.
But the two Christian dating sites also differ in a key area.
While Higher Bond is best for Christians who prioritize quality over quantity, Christian Mingle opens you up to thousands of possibilities. Actually, make that millions. There are millions of members around the world, and you can expand your search radius to check them out.
Are you ready to mix faith and love? Head to Christian Mingle to set up your free account today.

What is the Dating Scene in Georgia Really Like?
Men Can Be Choosy – More than 51% of people living in Georgia are women, giving men a slight upper hand when choosing mates. But don't worry if you're a woman. You will have access to more men than you can count when using one of our favorite Georgia dating sites.
Chivalry is Alive and Well – Men generally pay for dates, open doors, and pull-out chairs in Georgia. Some couples choose to split the bill, but that's not as common here as in many other states.
Manners are Critical – Georgians are polite by nature and believe in southern hospitality. Being rude to someone in the service industry or acting out in public makes it hard to secure a second date.
Dating is Pricey – According to 24/7 Wall St., Georgia is the 18th most expensive state for going on dates. On average, couples spend more than $120 for a night on the town. However, there are numerous affordable and free things to do throughout Georgia, so don't stay home just because you don't have much cash to burn.
Single Parent Dating is Common – Georgia has a high percentage of single parents, especially in Atlanta. If you're a single parent, you can disclose it on dating apps, allowing you to connect with others that are open to dating people with children.
Family is Important – Meeting the parents is the norm when dating someone in Georgia. You might not meet mom and dad before the first date but expect to get introduced if things progress. Oh, and you'll want to make a good impression since folks give their parents' opinions lots of weight.
Expect to Spend Time Outdoors – Georgians are known for their love of the outdoors, and that spills over into the dating scene. Your date might take you four-wheeling or on another outdoor adventure. But at the same time, your special someone will be more than happy to spring for a romantic dinner at a fancy restaurant.
Dating and Football Mix – College football is huge in Georgia, and your date will probably ask where your allegiance lies. Down here, it's pretty evenly split between Auburn and the University of Georgia. If you don't root for the same team, you might need to take a breather during gameday.
Cooking is the Way to a Date's Heart – Georgians are known for their culinary skills, and you can earn some serious points with your date by whipping up a meal. And if your date makes something for you? You know you've won that person's heart.
Fidelity is a Virtue – We aren't saying guys and gals never cheat, but the majority of Georgians take fidelity seriously. And there's a good reason for this. Adultery can be charged as a misdemeanor in Georgia, so being faithful isn't just a value – it's the law.

Dating in Augusta
Best Augusta Dating App Recommendation: Zoosk
Augusta might be associated with the Masters golf tournament, but there's a lot more to the city than putts and birdies. It's also considered one of the best places to live in Georgia and around the country, and it has a bustling social scene. But what's it like to date in Augusta? Let's find out.
Lots of Options for College Students – Augusta is home to Augusta University and Paine College. There are around 10,000 students between the two, so the college dating scene is hot.
Millennials are in Large Supply – There are more than 125,000 millennials (25-39) in Augusta-Richmond County, GA-SC. Since this is a prime age group for dating, you can expect lots of folks to be on the market in Augusta.
Most Residents are Available – Almost 60% of Augusta's residents aren't married, and the number goes up when you include the college students. You have thousands of opportunities to find the one when dating in Augusta – and you can unlock them all with dating apps.
People Focus on Friends Over Dating – Augusta residents are social, and many have large friend groups. They add to their friend groups by attending college events, playing sports, going to the Riverwalk, and hitting up local hangouts, and they hope to meet dates through their buddies. However, most find more success by using GA dating apps.
Because college students and millennials are front and center of the dating scene, we're recommending Zoosk.
Population: 204,158
Men: 48.2%
Women: 51.8%
Unmarried: 70.24%
Aged 20-29: 13.75%
Aged 30-39: 13.44%

Dating in Atlanta
Best Atlanta Dating App Recommendation: EliteSingles
Depending on who you ask, Atlanta is either the best or worst city for singles. And we have to admit that it has some qualities that fit into both categories. Get some details on Atlanta's often confusing dating scene and stick around to see what dating app we recommend.
It's Raining Women – Men, we've got some good news for you. Atlanta has around 80,000 more single women than men between the ages of 18-64. That breaks down to around 1.1 women for each guy, so men have their pick here. But don't worry, ladies, since you can view a fully stocked dating pool when using Georgia dating apps.
The Professional Dating Scene is Hot – Almost 90% of Atlanta residents hold down white-collar jobs, and many are young professionals. A lot of them join young professional clubs and organizations to network and meet others, but few make headway when trying to land dates this way.
There are Folks from All Over – Because so many people relocate to Atlanta, the dating scene is full of people from other cities and states. There are even thousands of people who have moved to Atlanta from abroad.
In-Person Pickups are Hit and Miss – Atlanta is a bustling city full of driven, motivated people who are constantly moving forward. Because of that, it can be hard to get someone's attention in public. That makes it hard to ask people out in person, but you can have success by hopping on a dating site.
Lots of Options for Date – When you decide to move things into the real world, you'll have lots of options for your first date. From coffee shops and galleries to sporting events and restaurants, there's always something going on. In fact, Atlanta is the best city in Georgia when it comes to fun and recreation, so you're sure to have a blast.
The city attracts career-driven people from around the world, making EliteSingles the best choice for dating in Atlanta. Hop on the app so you can meet your special someone.
Population: 497,642
Men: 48.69%
Women: 51.31%
Unmarried: 70.24%
Aged 20-29: 22%
Aged 30-39: 17%


Dating in Savannah
Best Savannah Dating App Recommendation: Zoosk
Savannah has long been one of the most popular Georgia cities for tourists to visit. People can't help but stop by to take in the rich history, and those open container laws make it a fun place to party. While people have a blast when they stop by, residents can be a little mystified by the dating scene. Get some insights so you can crack the code and find love.
It's a Big, Small Town – Savannah might have close to 150,000 residents, but it feels like a small town. Some singles choose to expand the distance radius when using dating apps so they can connect with people they don't run into when they're out.
Tourists are Into Casual Dating – If you're looking for a casual date, you can connect with the tourists who come to Savannah. While you can find them in the tourist traps, you'll have more success – and options – by using a casual dating app.
Women Drink for Free – Ladies can leave their purses in the car when going out in Savannah. Men often buy drinks for women, even if they don't have their digits yet. Keep in mind that accepting drinks from strangers can be dangerous, though, so you might want to vet folks through a dating app first.
The Young Crowd Dominates the Dating Scene – Around 20% of Savannah's population is between 20-29, and many of them are on the dating scene. Plus, local college students participate when school is in session. Still, the city has people of all ages, so don't sit on the sidelines just because you're a little bit older.
With a military base, college campus, and lots of young folks, Zoosk is the ideal dating app in Savannah. Check it out so you can connect with singles in Savannah and beyond.
Population: 145,492
Men: 47.92%
Women: 52.08%
Unmarried: 66.97%
Aged 20-29: 20%
Aged 30-39: 15%

Georgia Online Dating FAQ
Are There Free Dating Sites in Georgia?
Our favorite Georgia dating apps offer free accounts, so you can check them out without paying. Then, you have the option to upgrade your membership if you'd like to unlock additional features.
How Can I Video Chat Before Meeting Up?
Both eHarmony and Zoosk have video chat features for members. Additionally, you can use Skype, Zoom, or another service outside your Georgia dating app.