Idaho's dating scene is kind of like the weather here. Extreme highs and lows are the norm, so you can go from swimming in dates to dry spells in an instant. But it doesn't have to be that way. You'll enjoy a lifetime of sunny days if you use the right dating app.
Now, we know that everyone has different dating needs, so we didn't pick a single app. Instead, we found the five best Idaho dating apps. Here's a quick peek at our choices:
Top 5 Dating Apps in Idaho in 2023
But which Idaho dating app is right for casual dating, and what should you use to get serious? And what if you're religious and want the same in a partner? We'll break down everything for you and share some findings on the Gem State's dating scene.
Let's get things started by looking at the best dating sites in Idaho. Then, you'll be one step closer to finding the person of your dreams. Seriously, love (or fun) is in your forecast, and it all starts with one of these apps.
---
Jump to:
---
1. eHarmony – Best for Putting Compatibility Before Marriage
Who Will Love eHarmony: Idahoans who want relationships that go the distance
Who Might Not Enjoy eHarmony: Singles looking for short-term dates and casual flings
Biggest Pro: Matching system pairs couples with complementary communication styles and personality traits
Biggest Con: Personality test takes about 20 minutes to complete, but that's necessary for the compatibility-based matching system to work
Starting Price: Premium memberships start at $35.90 a month
Did you know that Idaho has some of the highest marriage and divorce rates in the country? So, that tells us two things. First, Idahoans value commitment and want to spend their lives with a special person. And second, those relationships often don't work.
But here's something that most people don't realize about marriage and divorce…
Most marriages don't break up because of something that happened in the relationship. Instead, the people were simply too incompatible for the relationships to work. In other words, those marriages never had a chance.
You can avoid "sure to fail" relationships and head straight toward everlasting love on eHarmony, though.
The dating site uses the 32 Dimensions of Compatibility system to match people who are similar in key areas. It works so well that eHarmony's divorce rate is well below what you'll find in Idaho and the rest of the United States.
If you want to start a relationship that will last forever we can't recommend this Idaho dating app enough! Create a free account on eHarmony today using the link below:
---
2. Zoosk – Best for Casual Dating without the Seediness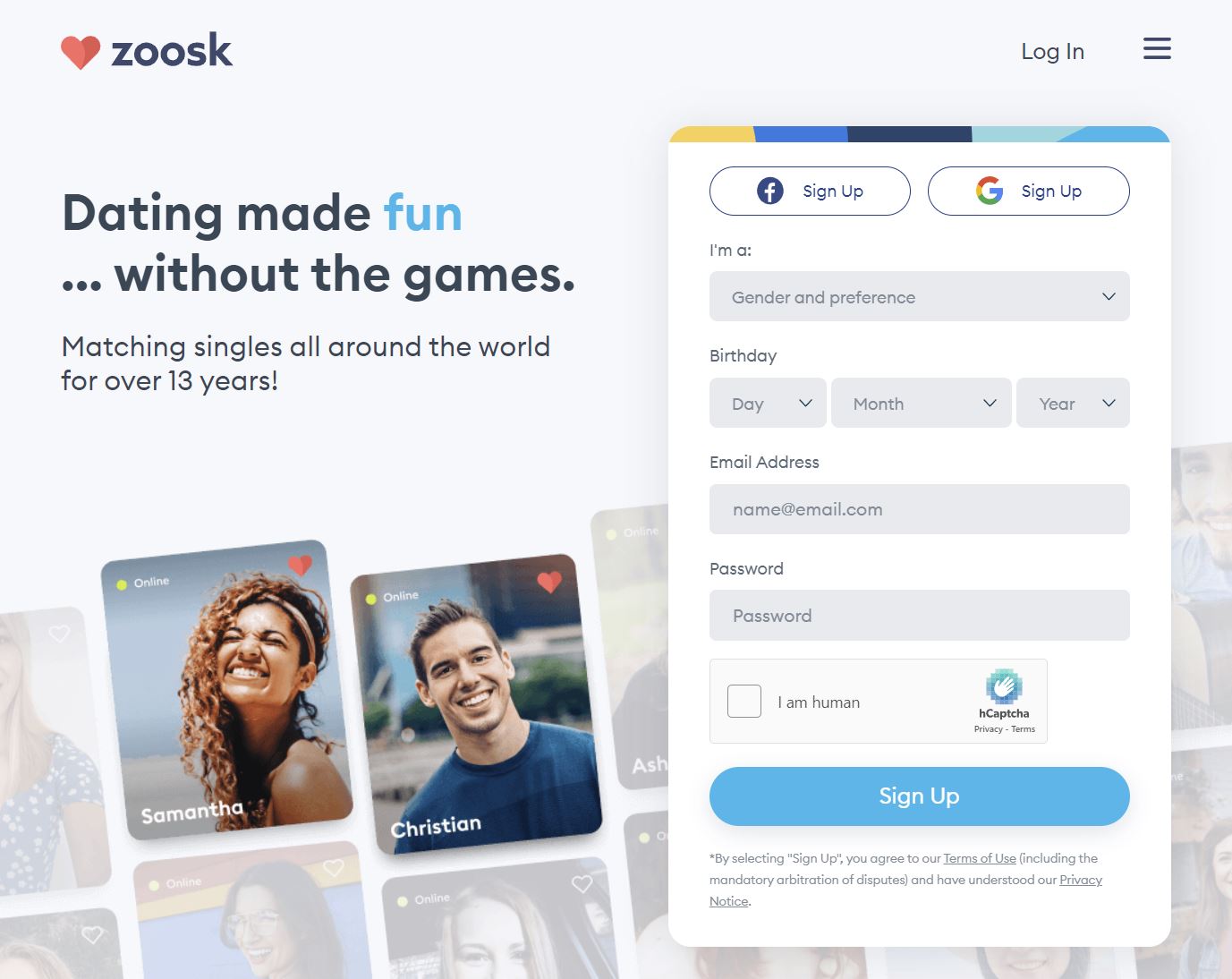 Who Will Love Zoosk: Idahoans looking for a safer way to land casual dates
Who Might Not Enjoy Zoosk: Singles interested in starting committed relationships
Biggest Pro: Verified profiles and Zoosk Live allow singles to vet their dates before meeting in person
Biggest Con: Free members can only respond to messages from Premium users
Starting Price: Premium memberships start at $6.65 a month
So, we have a secret to tell you. It turns out that a lot of Idaho singles are into casual dating, but many of them keep it under wraps. Maybe it's the state's conservative roots, but casual daters tend to go underground to find partners. Seriously, there are countless dating sites set up for Idaho men and women looking for one-night stands and open relationships.
We know you might not want to let your neighbors know about your desire for casual fun, but you don't have to go completely underground.
Instead, you can use Zoosk (the top casual dating app for Idaho singles)
While niche one-one-stand sites have a handful of users, Zoosk has more than 40 million members. And unlike those shady sites, you can stay safe by talking to people with verified profiles on Zoosk. You can even use Zooks Live to connect face-to-face before meeting in person.
You don't have to go to the dark, seedy side to strike up something casual. Instead, keep things safe and fun on Zoosk. Head over to set up your profile today.
---
3. The League – Best App for Prestigious Singles in Boise
Who Will Love The League: Ambitious Boise professionals
Who Might Not Enjoy The League: Non-professionals and singles outside of Boise
Biggest Pro: Vetting process ensures that all members are ambitious go-getters
Biggest Con: Boise is the only available Idaho city at the moment
Starting Price: Premium memberships start at $99 a week
Some folks move to Idaho because of the low cost of living and the high quality of life. But there's another reason talented people come here – work. Idaho has been on a mission to attract top talent for key industries like aerospace and tech, and the professionals are streaming in.
And let's not forget about the entrepreneurs. Boise is a hotbed for innovators, and many say it's going to be the next Silicon Valley. Yeah, it's impressive, to say the least.
We did some digging to find an Idaho dating app that's just as impressive as the state's movers and shakers, and only one was left standing at the end of our review. It's called The League, and this is easily the most prestigious of all dating apps. It's so prestigious that it's only available in select cities, including Boise.
Let's look at some numbers…
Half of The League's members graduated from a top college, 30% have advanced degrees, and almost a quarter of the members are executives or directors. Considering that there are nearly 1,100 chief executives in Boise alone, we think this is a great fit.
That leaves the question: "How does The League manage to have such a high balance of top-tier singles?"
The secret is putting all applicants on a waiting list and only approving the cream of the crop. And The League takes this job seriously, only approving around 20-30% of applications. Find out if you're The League material by submitting a free application today.
---
4. Higher Bond – Best for Highly Religious Idaho Singles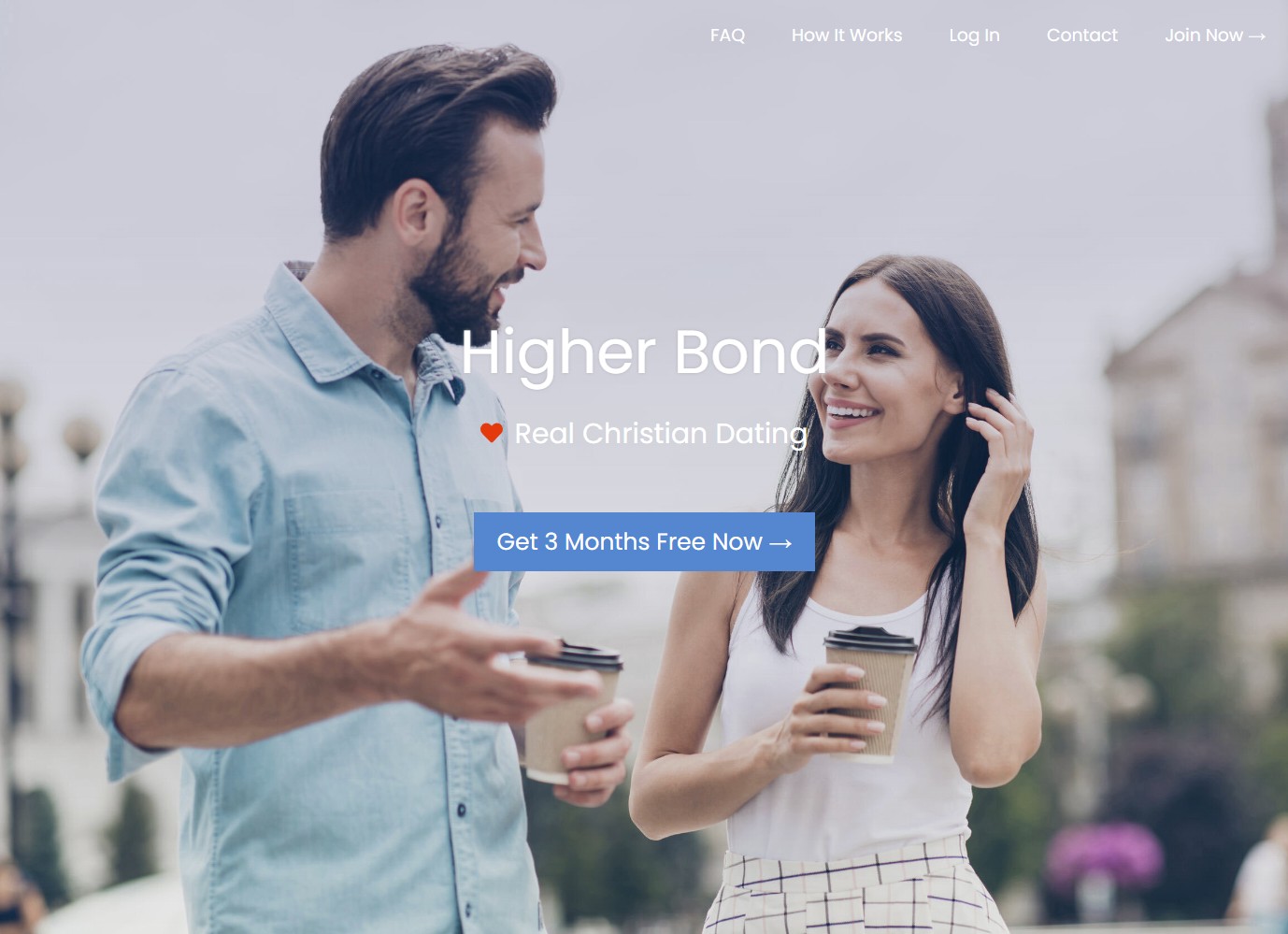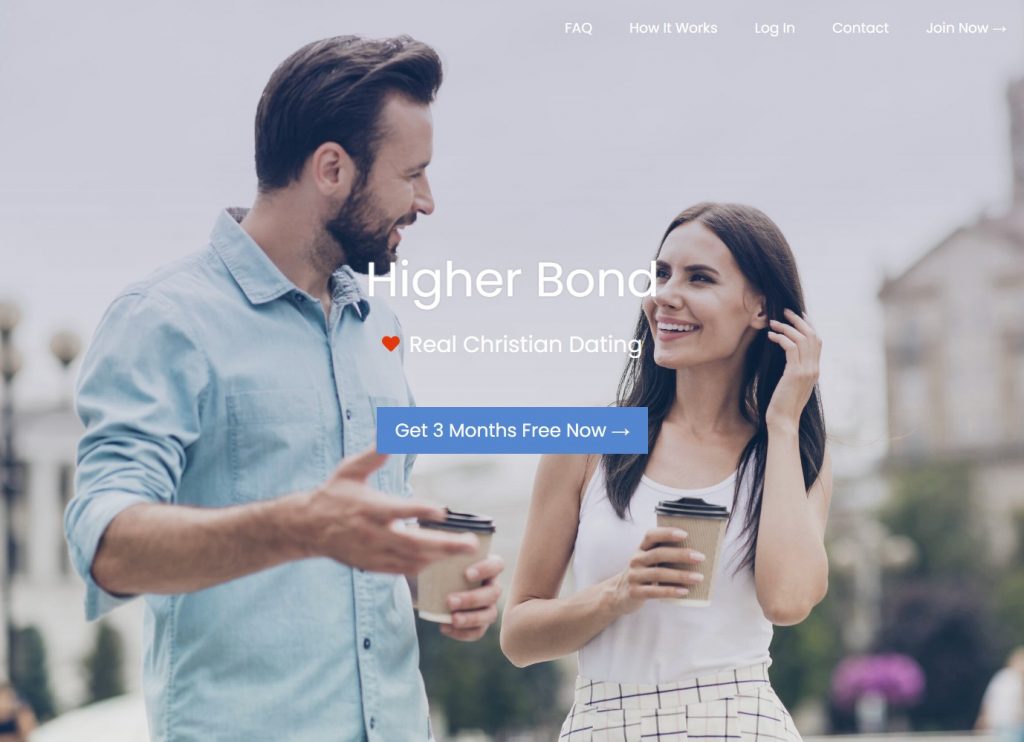 Who Will Love Higher Bond: Idaho Christians seeking deep romantic connections
Who Might Not Enjoy Higher Bond: Non-religious singles and causal daters who want to swipe through hundreds of profiles
Biggest Pro: Religious leaders and relationship counselors helped develop the Christian dating site
Biggest Con: Smaller userbase than other Idaho dating apps that have been around longer.
Starting Price: First three months free
It didn't take us long to discover that religion's a big part of Idaho's dating scene. Over half of the adults here are highly religious, and many put their beliefs front and center on their dating profiles. It's clear that a lot of Idahoans aren't willing to date someone outside of their religion, so we knew we needed to find the right Christian dating site for them.
After checking all the data, we agreed that Higher Bond is the best Christian dating site for Idaho singles.
The majority of Higher Bond's members are highly religious, just like the majority of Christians in Idaho. Plus, Higher Bond does a fantastic job of pairing people up based on the extent of their beliefs. It even finds out what members think of gender roles, bill paying, and tithing.
First, though, you need to claim your free trial. Head to Higher Bond to set up an account so you can get three months for free.
---
5. SilverSingles – Best for Seniors Looking for More Options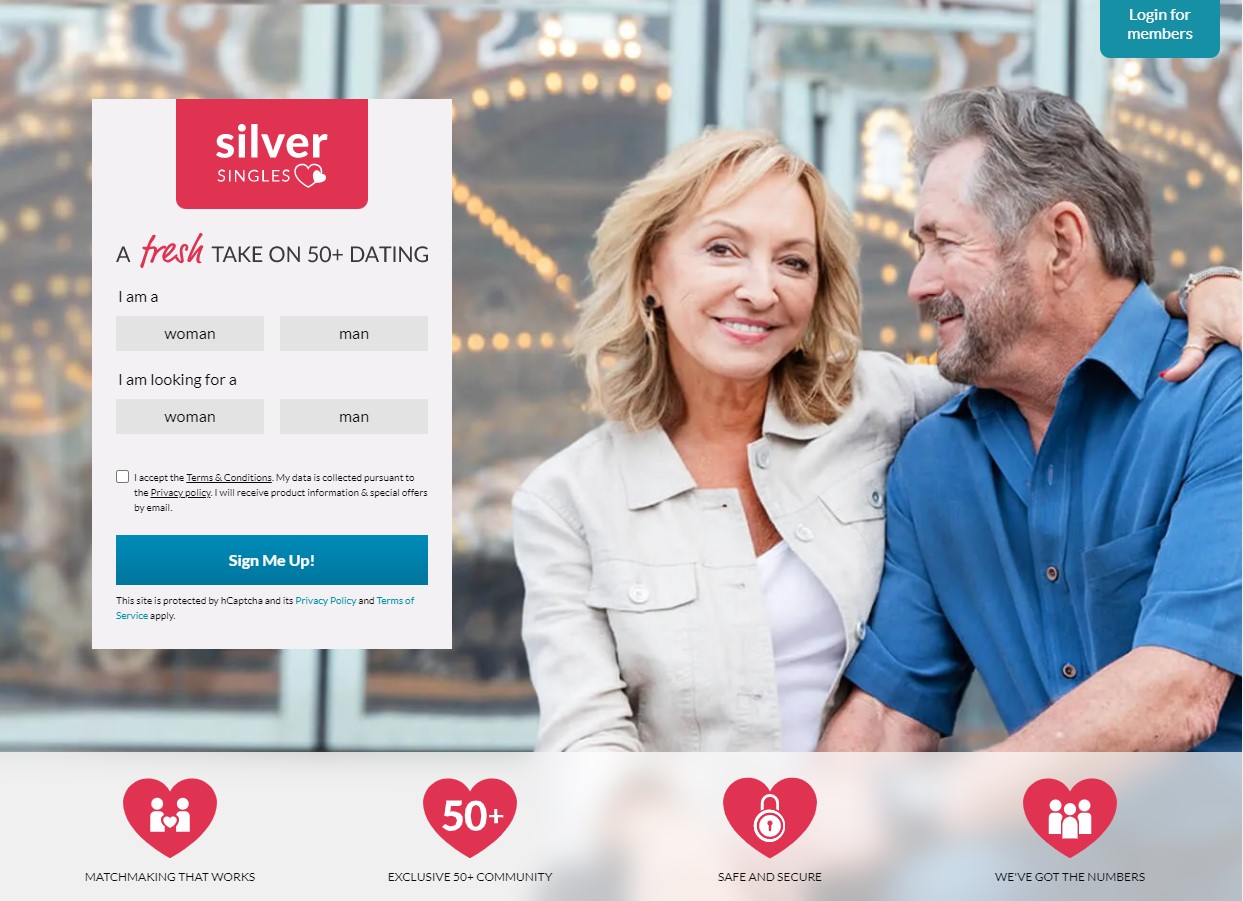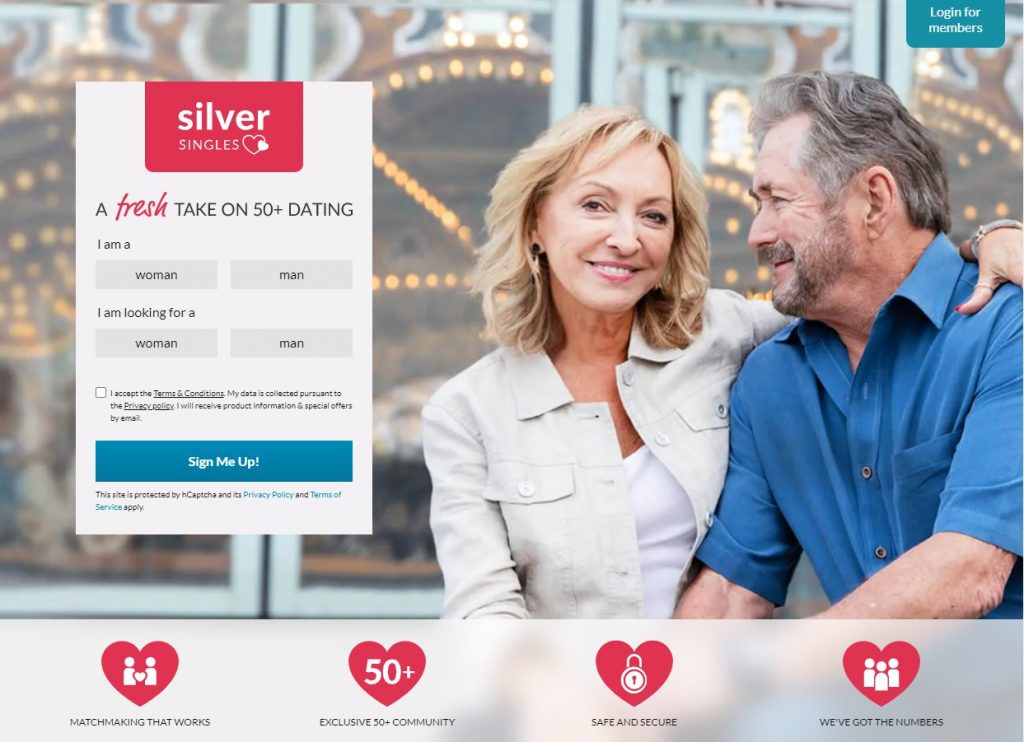 Who Will Love SilverSingles: Singles 50 and over seeking compatible partners
Who Might Not Enjoy Silver Singles: Younger Idahoans and people who want to date them
Biggest Pro: Exclusively open to singles 50 and over
Biggest Con: Free memberships have limited features, so members need to upgrade to connect
Starting Price: Premium memberships start at $14.95 a month
With a median age of 36.6, Idaho is one of the youngest states. Still, over 30% of the population is 50 or older, meaning there are almost 600,000 seniors across the state. The majority of them are taken, but there are still thousands of seniors looking for love.
Unfortunately, the senior population is spread throughout the state, so you probably won't come across too many options when you're out on the town. Even if you run into some seniors, you don't want to start a relationship with just anyone. You've been on this earth for too long to settle or change for anyone.
Fortunately, you can increase your access to single seniors and find a compatible partner on a dating site. And when it comes to senior dating, SilverSingles is the winner.
So, first off, SilverSingles works in Idaho and the rest of the country. You can even use it for international dating. It receives thousands of new members each month, too, so there's never a shortage of people to date.
And for the next issue…
SilverSingles uses the five-factor theory model to match people based on the following traits:
Openness
Conscientiousness
Extraversion
Agreeableness
Neuroticism
That means the site will find people who fit right into your life. You'll be so compatible that you won't need to change for anyone. Sounds good? Head to SilverSingles to create your free account today.

What is the Dating Scene in Idaho Really Like?
It Gets Serious Fast – Because so many Idahoans are religious, most singles are looking for "the one." People are quick to move toward marriage when dating, especially when using marriage-minded Idaho dating apps like Higher Bond and eHarmony.
But Casual Dating is on the Table – While the serious dating scene overshadows casual dating, short-term hookups are still a thing. Idaho is pretty much on par with the rest of the country regarding casual dating. According to OkCupid, close to 30% of the women here are open to casual relationships. And the men? Well, twice as many guys are more than happy to keep things casual.
Dates Get Active – Some folks prefer the traditional dinner and a movie, but most Idahoans like tackling outdoor activities when dating. Hiking, skating, and biking are all popular first-date ideas. You'll even encounter pairs walking around in nature while enjoying a deep conversation.
Churches are Social Hubs – Religious organizations often offer events, such as sports nights, for people to attend. Many people go to these events to make friends and find dates. However, those who aren't religious might get uncomfortable since an invite to church is the norm. Also, religious folks sometimes feel gross about prowling for dates while attending a religious event.
Age is Just a Number in Social Groups – A lot of activities in Idaho attract people of different ages, and some of the attendees become friends. But while age is just a number in social circles, people usually want to stick closer to their own age when dating. Fortunately, you can set your preferred age range when using Idaho dating apps.
Politics are at Play – Idaho has long been a conservative state, but it's moved to the right even more in recent years. Lots of people are fervent about their beliefs, and that can trickle into dating and relationships. If you're thinking about crossing political lines, check out our study about the importance of politics in partner selection first. We break down data by gender, age, and more, so you'll have a better idea of where you stand – and what to expect on the dating scene.
You Need to Put in Effort When Messaging People – Idahoans don't have much time for generic messages on dating apps. If you just send a "hi" or something else that doesn't take much thought, you might not get a reply back. But what if you craft a killer message and still don't hear back? Read our thoughts to find out if you should send a second message or just move on to someone else.

Dating in Boise
As one of the fastest-growing cities in the country, Boise seems to have new faces on the dating scene each day. And many of them want to stick around since it's one of the best places to live. Of course, Boise becomes even better when you have a special someone to enjoy it with, so get the details on the city's dating scene.
Lots of Single Parents – While Idaho has fewer single parents than most states, you'll encounter a lot of moms and dads on the dating scene in Boise. We've discovered that a lot of single parents aren't willing to invest their time or energy into casual dating. Instead, most of them want their next first date to be their last.
Politics and Religion Can Be Dealbreakers – A lot of singles put their political views and religious beliefs on their dating profiles and want to find like-minded partners. However, we've noticed that politics is a much bigger dealbreaker than religion, and some non-religious folks end up with Christians. Get our thoughts on dating someone who's religious when you're not so you'll know how to approach such a relationship.
Downtown Boise's Where It's At – There's always something going on in Downtown Boise, and you'll encounter people of all ages when hanging out here. You might think that means it's easy to land dates Downtown, but that's far from true. See, people tend to hang out in large groups, making it hard to approach individuals.
From Polyamory to Marriage, Everything's on the Table – Most of Boise's singles are interested in long-term, monogamous commitments, but that's not the case for everyone. There's a big polyamorous community in the city, too. Both monogamous and polyamorous singles use dating apps to find their mates.
As you can see, landing dates in person isn't easy in Boise. Fortunately, Idaho dating apps work really well here. It's all about selecting the right app for your needs.
Let's start with college students and polyamorous folks. If you're in one of these categories, Zoosk is the dating site for you. Whether you want a quick fling or a partner to make your existing relationship complete, you'll find what you're looking for among the site's 40 million plus members.
Now, let's talk about serious dating. Between the single parents and the religious singles, the serious dating scene is big here, making eHarmony the ideal pick. You can find your happily ever after on this Idaho dating site.
Population: 237,446
Men: 50.02
Women: 49.8
20-24: 6.2%
25-34: 13.8%
35-44: 13.5%
45-64: 24.2%
65+: 14.6%
Unmarried: 52.44%
Bachelor's Degree or Higher: 42.7%
Colleges: Boise State University, Boise Bible College, and Carrington College

---
Dating in Eastern Idaho
Best Eastern Idaho Dating App Recommendation: Higher Bond and Zoosk
With a low cost of living, gorgeous scenery, and ample things to do, many people consider Eastern Idaho a paradise on earth. Unfortunately, that doesn't mean finding dates in person is easy. Learn what dating's like in Idaho Falls, Rexburg, and the rest of Eastern Idaho. Then, get the scoop on the best Idaho dating apps for folks who live here.
Singles Stay Active – From attending clubs at the Idaho Falls Library to hanging out at farmers' markets, the folks here are active and open to making friends. But even so, we haven't heard many stories of people landing dates in person. If you want to expand your friend group, we recommend getting out and active. On the other hand, Idaho dating apps are the way to go if you want to make romantic connections.
Many Singles are Religious – Eastern Idaho has a large Christian population. The area's religious singles are on the hunt for true love and stable, long-term relationships.
Things Can Go (Seriously) Slow – Couples in the rest of Idaho aren't afraid to head right down the aisle. However, guys and gals in Eastern Idaho tend to take their time. They might date for years before marrying, but that doesn't mean they step out on their partners. Marriage is usually the goal, even if it takes a while to get there.
Casual Dating is Common in College, with a Twist – College students in Eastern Idaho are into casual dating until they find the right person. Then, many of them settle down. We think of this as intentional casual dating. There's a goal in mind, even when the guys and gals are having fun.
Casual dating might be different for college students in Eastern Idaho, but Zoosk is still the right choice. See, this casual dating app is also a bit different. You'll find a mix of folks interested in short-term dates that might lead to something more serious. Plus, you can set your religious preference when looking for your match.
But what if you've already graduated? Then you're looking for your life partner, so you'll want to check out Higher Bond. It's full of religious folks, making it easier than ever to find your significant other.
Idaho Falls
Population: 66,898
Men: 49.9%
Women: 50.1%
Unmarried: 37.64%
Bachelor's Degree or Higher: 43.4%
Colleges: College of Eastern Idaho and ISU – Idaho Falls
Rexburg
Population: 35,300
Men: 51.7%
Women: 49.3%
Unmarried: 46.52%
Bachelor's Degree or Higher: 30%
College: Brigham Young University – Idaho


Idaho Online Dating FAQ
Where Can I Find Local Singles Near Me?
Single men and women often meet each other through activities such as hiking, biking, and social events. Meeting people through work is also common, although going beyond friendships can get in the way of your job performance. If you want to access the most single men or women possible, try an Idaho dating app.
What's the Best Free Idaho Dating Site?
Since free Idaho dating apps are usually full of fake profiles, we can't recommend one. However, you can dip your toes into the dating pool by claiming a free trial for a mainstream dating site. Right now, Higher Bond is giving all new members three months for free. This is the best free trial around right now.
Is Idaho Online Dating Safe?
Idaho is considered one of the safest states for online dating. Also, we selected dating sites that have solid reputations for protecting members. You can take additional steps to protect yourself, such as reaching out to people with verified profiles and video chatting before meeting in person.