There are lots of reasons to love Illinois' dating scene. For instance, fewer than half the adults are married, so there are millions of options for landing dates. Plus, the state's gender ratio is pretty tight, so you don't have to worry about getting left out of the dating game. We could go on and on, but you get the idea.
But let's be honest for a second. Unless you know where to find the available singles, you're going to have trouble scoring dates.
These days, most Illinois singles use dating apps when looking for casual flings and long-term partners. And while there are thousands of options, five sites stand out due to their membership base, features, and success rates.
If you had to research the apps to find the best ones, it would take months or years to make your selection. But don't worry about that because we've identified the five best Illinois dating apps. Here they are:
Top 5 Dating Apps in Illinois in 2022
Each app was created for a specific demographic, so find out which one you should use. Also, we're going to let you in on our findings about the state's dating scene and talk about dating in different parts of the state. We know Illinois is about more than Chicago, and we cover it all.
Let's get started by going over the best dating sites for Illinois singles.
---
Jump to:
---
1. eHarmony – Best App for Saving Time when Getting Serious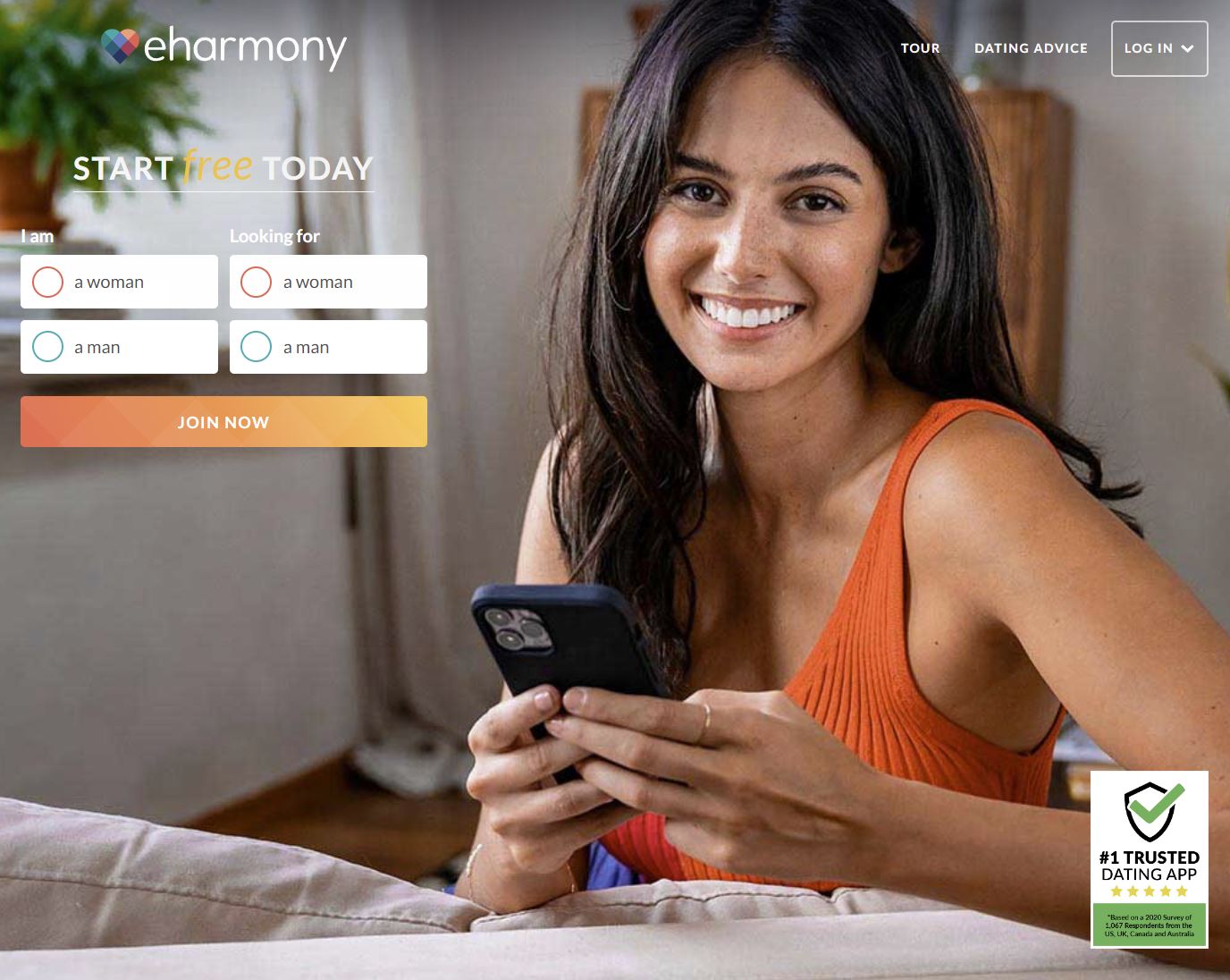 Who Will Love eHarmony: Illinois singles looking for a faster way to connect with compatible matches
Who Might Not Enjoy eHarmony: Singles who prefer casual dating without the strings
Biggest Pro: Has compatibility down to a science
Biggest Con: Sign-up questionnaire is longer than most dating sites, but that's why it's so effective
Starting Price: Premium memberships start at $21.54 a month
Some outsiders look at Illinois' low marriage rate and think it means that folks here don't want to get serious. However, we know it's just a matter of holding out for the right person. People here like to make sure someone's compatible before walking down the aisle, and they're willing to wait as long as it takes.
But what if you could have that compatibility that Illinoisans crave without the long wait? That might sound impossible, but it's happening every day on eHarmony.
Co-founder and clinical psychologist Dr. Neil Clark Warren relied on his experience working with married couples when creating the matchmaking system. The site digs into each member's core traits and suggests matches based on overall compatibility. This results in matches that are compatible on a deeper level than you'll find on most Illinois dating sites.
While it might take you years to know if someone's right for you when meeting in the real world, you can figure it out in minutes on eHarmony. Try it out by setting up your free account today.
---
2. Zoosk – Best Illinois Dating App for Casual Dates and Cuff-Mates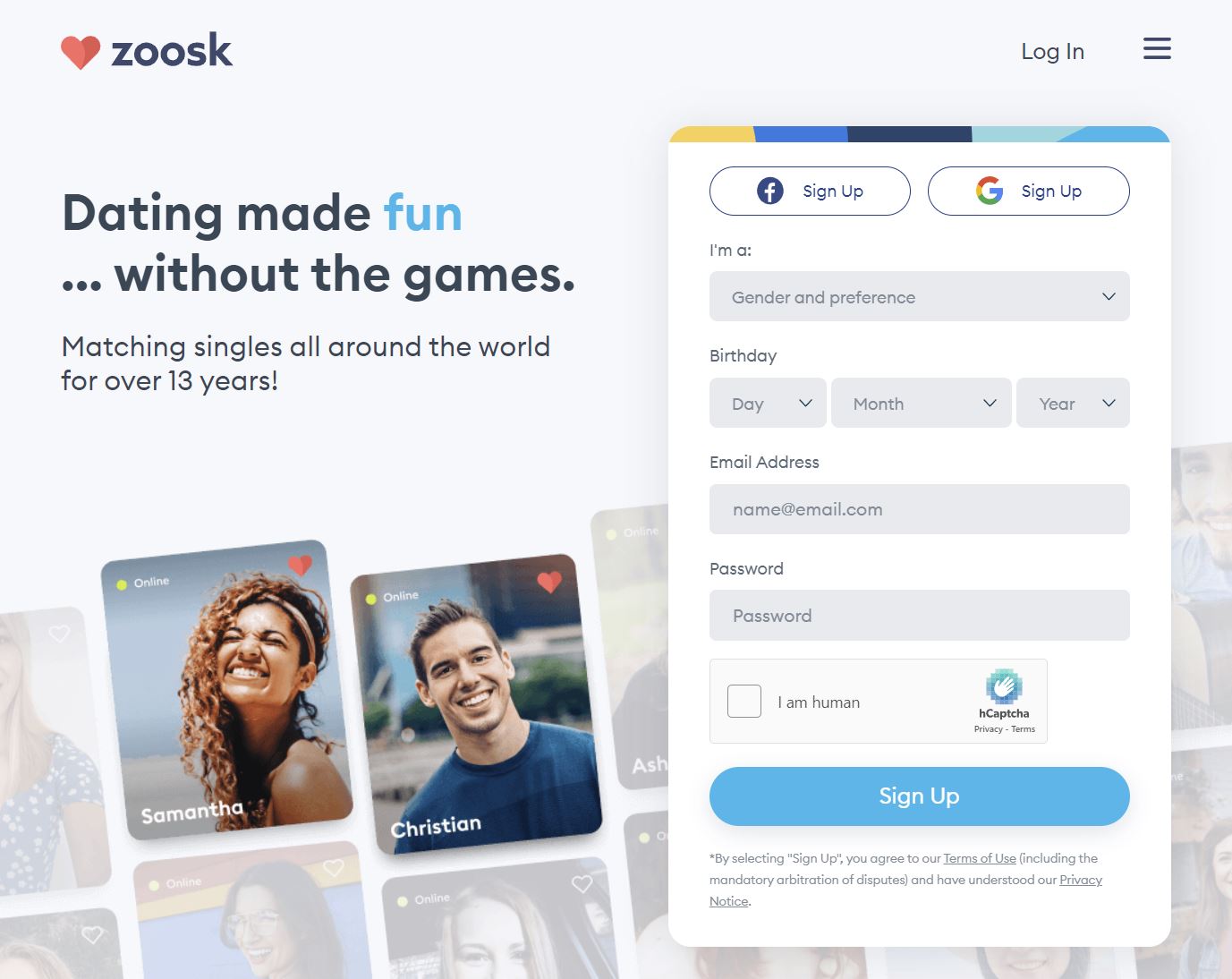 Who Will Love Zoosk: College students and adults looking for casual dates and cuffing-mates
Who Might Not Enjoy Zoosk: Singles who want to strike up serious relationships
Biggest Pro: Diverse membership base includes singles searching for various types of casual relationships
Biggest Con: Few singles interested in serious relationships
Starting Price: Premium memberships start at $6.65 a month
According to OkCupid, over 30% of the women and 55% of the men in Illinois are interested in casual relationships. Many people think that's just because of the massive number of college students, but we discovered that a lot of other folks are into casual dating, too.
And when it comes to casual dating in Illinois, a lot of it's based on the weather.
See, cuffing season is huge in Illinois. Once the weather cools down, a lot of Illinois singles start searching for someone to keep them warm in the winter. And when the weather heats up? Well, then, it's time to cycle through casual dates as fast as possible.
With that in mind, Illinois singles need a casual dating app that's ideal for one-night stands, short-term romances, and everything in between. And that's just what you'll get with Zoosk.
This Illinois dating app has more than 40 million members spread throughout the state and the rest of the world. You'll find a mix of singles interested in quick flings, short-term dating, and even longer romances that aren't overly serious. Basically, this is the state's casual dating hub, and you can find everything you want and need here.
Whether you're in college or just not ready to settle down, this is the Illinois dating app for you. Head to Zoosk to set up a free account today. We have a feeling that success will be in the forecast once you set up your free account.
---
3. EliteSingles – Best for Professionals Looking for True Love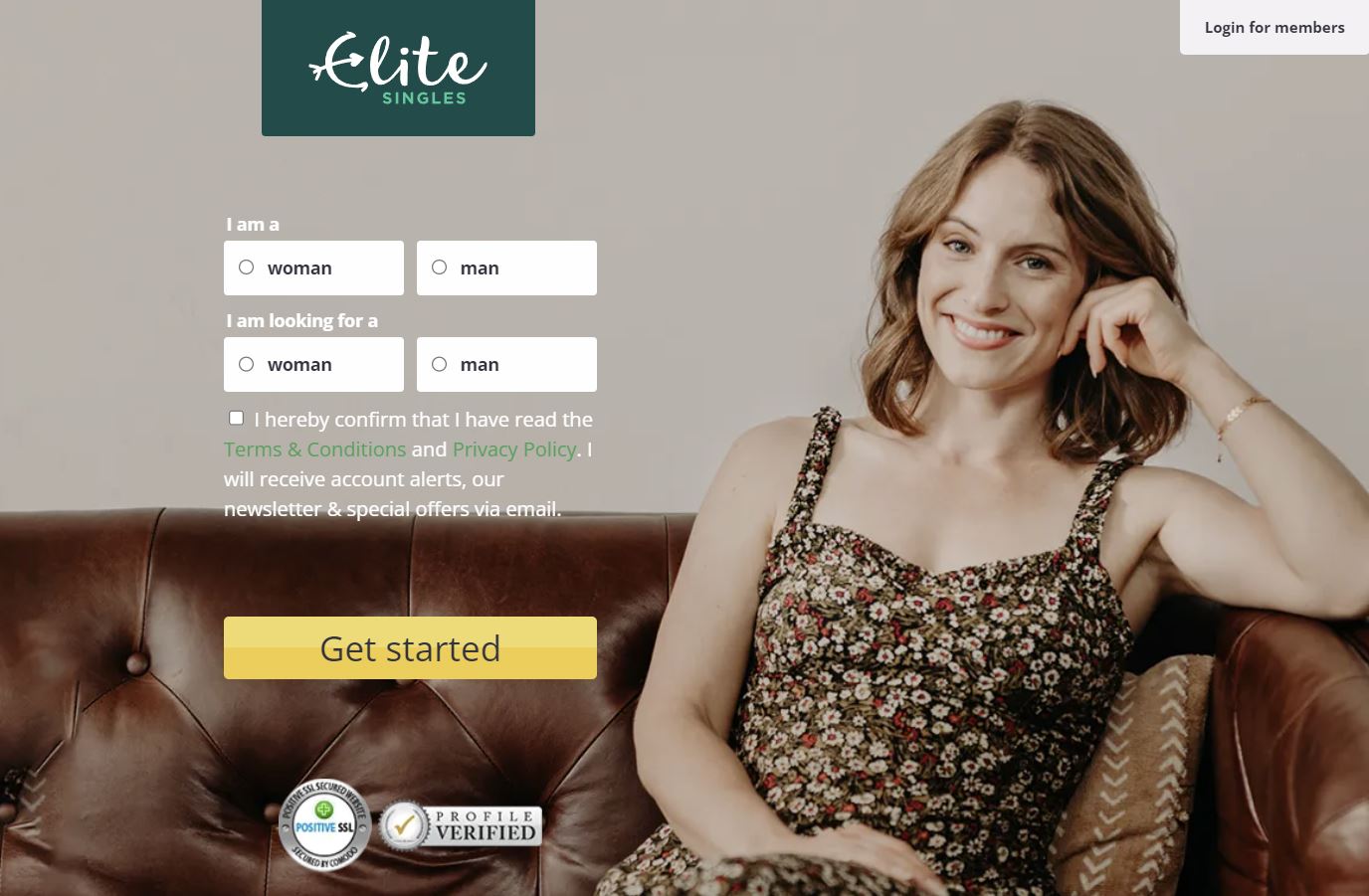 Who Will Love EliteSingles: Professional men and women who want to find partners who love them for who they are
Who Might Not Enjoy EliteSingles: Non-professionals and casual daters
Biggest Pro: Around 2,500 members start relationships with people they meet here each month
Biggest Con: Free membership doesn't include many features
Starting Price: Premium memberships start at $14.95 a month
Did you know that Illinois has the fifth-highest GDP in the country? You can find Fortune 500 companies from Chicago all the way downstate and cities and suburbs full of successful professionals.
Whether you have an office in Chicago's financial district or you're an accountant in Edwardsville, your professional status has an impact on your dating life. After speaking directly to some Illinois professionals, we discovered that the impact is often based on gender.
Let's start with the women.
So, several women said that a lot of the men they meet online aren't as successful as they are. That's fine at first, but over time, the guys became insecure about the financial imbalance in the relationship. As you probably guessed, these couples broke up.
And the men?
Well, we heard from numerous guys who felt like they were being used for their status. Some even said their dates were more interested in their bank account balances than their personalities. And again, those relationships didn't last.
We're going to tell you the same thing we told those folks – it's time to use EliteSingles.
Since this site was made for professionals, you don't have to worry about scaring people away or becoming a mark because of your position. Something else that won't be a concern? Finding the right person. The site uses the five-factor model to match folks, explaining why thousands of people find love here each month.
If you want to jump into the professional dating pool, head over to EliteSingles today.
---
4. SilverSingles – Best for Single Seniors Ready for Love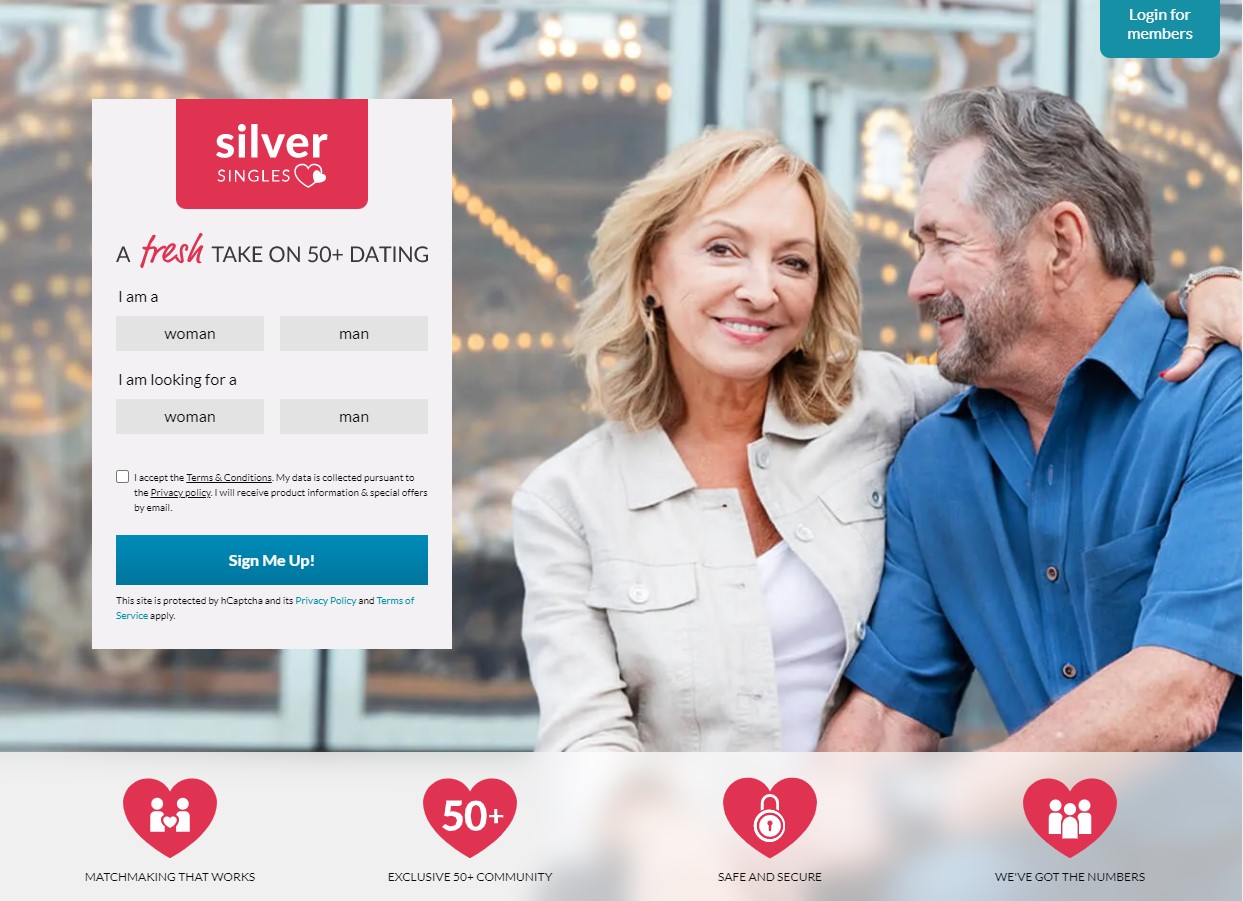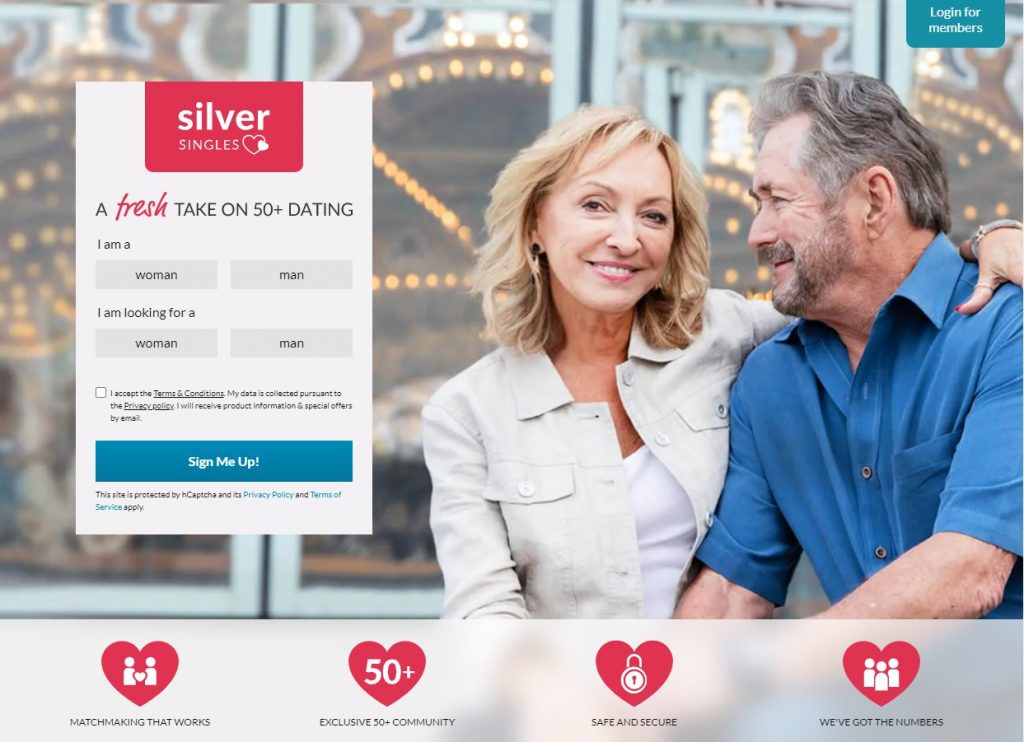 Who Will Love SilverSingles: Seniors who want to take a modern approach to dating
Who Might Not Enjoy Silver Singles: Older adults pursuing a May-December romance
Biggest Pro: Exclusively open to singles 50 and older
Biggest Con: Free membership is only meant to be used as a trial, so upgrading is necessary to unlock most features
Starting Price: Premium memberships start at $14.95 a month
Did you know that over 30% of Illinoisans are over the age of 50? The state's home to more than four million seniors and that's expected to increase soon. But while that's great news, there's something to consider…
Your dating options decrease as your age goes up. Basically, seniors have spent a lot of time on the dating scene, so you're more likely to encounter married folks. That's why it's so hard to find dates in person. But instead of giving up, you just need to modernize your approach by using an Illinois dating site.
We checked out various senior dating apps, and SilverSingles was by far our favorite.
Let's start with the numbers. An average of 381,000 new members sign up for the site each month, so you'll have tons of options. Put it this way. If you invited all those new members to a Cubs game, you'd need to buy ten days' worth of tickets to give everyone a seat at Wrigley Field.
And here's something that we love…
Back when you first hit the dating scene, it would take months or even years to find out everything about a person. SilverSingles takes time out of the equation by using the five-factor model to match people. That means you can find your ideal partner without putting in much work when using this Illinois dating app.
And it's easy to use. Check it out by creating a free account on SilverSingles today.
---
5. Higher Bond – Best for Meaningful Christian Connections
Who Will Love Higher Bond: Christians who want to avoid mindless swiping and form meaningful connections
Who Might Not Enjoy Higher Bond: Christians who prefer a more traditional style of online dating
Biggest Pro: Design promotes strong connections while reducing flaking and ghosting
Biggest Con: Launched in 2022, so the membership base is still small, but it's growing fast
Starting Price: First three months free
Illinois might be outside of the Bible belt, but religion is still a major part of lots of people's lives here. Over 70% of adults are Christian, and more than half say they're "highly religious." But even with those numbers, we found three major problems for Illinois Christians who are looking for love.
First, more than 20% of Illinois adults aren't affiliated with a religion. That's far fewer than the number of Christians, but it still hurts your chances of meeting someone who shares your faith.
Now, onto the second and third issues.
Fewer people are attending church, and churches are closing. When you reduce the number of churches and the amount of people in the congregations, those meet cutes among the pews go down.
But we've found a simple solution to these problems, and it's called Higher Bond. It's the closest thing you'll find to meeting singles in church, and it helps Christians form meaningful romantic connections.
Instead of mindless swiping, you're only able to see up to five profiles and start one new conversation a day. Your church leaders might have talked about the dangers of too many choices when dating online, but that's not an issue on this dating app. In fact, we're pretty sure that your pastor or priest would be impressed with this Christian dating site.
Real connections are a vital component of faith-filled relationships. Find someone to connect with today by setting up your free account on Higher Bond.

What is the Dating Scene in Illinois Really Like?
Folks are Friendly – It's normal to exchange hellos with people when walking down the street in Illinois. Heck, Illinoisans even wave to other drivers they don't know when passing them on the roads. But while friendly honks and hellos are common, Illinoisans are a little more guarded when people approach them for dates. We recommend using Illinois dating sites instead of trying to get numbers in public.
Eating Out is Popular – Only four states have more restaurants per capita than Illinois, according to WalletHub. That explains why dinner out is so popular for couples. There are restaurants at every price point, so you don't have to overspend to impress your date.
But Dates Can Get Creative – Singles here are willing to mix things up when it comes to date night. Outdoor activities such as stargazing are common, and people enjoy taking in museums and live productions. Oh, and live music is a great way for couples to bond.
The Location Sets the Pace – Chicago's dating scene is fast-paced, but things slow down in Central and Southern Illinois. Still, you can find casual and serious dating options throughout Illinois.
Politics and Dating Sometimes Mix – Illinois might be a blue state, but that's largely due to Chicago's voting power. You'll find lots of conservative folks in Illinois, especially in smaller towns and rural areas. Read our study on the importance of politics in partner selection so you'll be ready to tackle Illinois' dating scene.
Single Parents a Big Part of the Dating Scene – Over 40% of children in IL are born to unmarried parents, and many of them are back on the dating scene. Many single parents use dating sites to find partners who are ready to commit.
Singles Think Before Walking down the Aisle – Let's just say Illinois isn't Vegas. While a lot of singles are ready to get serious, most take their time before committing to marriage. Only 13 states have a lower marriage rate than Illinois – and just a single state has a lower divorce rate. It's clear that the slow and steady pace works in the Land of Lincoln.
Willingness to Travel is Based on Location – Most Chicago singles want to meet partners who live nearby. They might be willing to hop on the L train for a date, but they don't want to have to get their cars out or order a Lyft. However, singles in small towns and rural areas are generally more than willing to travel to meet up – even if they have to cross state lines.

Dating in Chicago
Best Chicago Dating App Recommendation: Zoosk and EliteSingles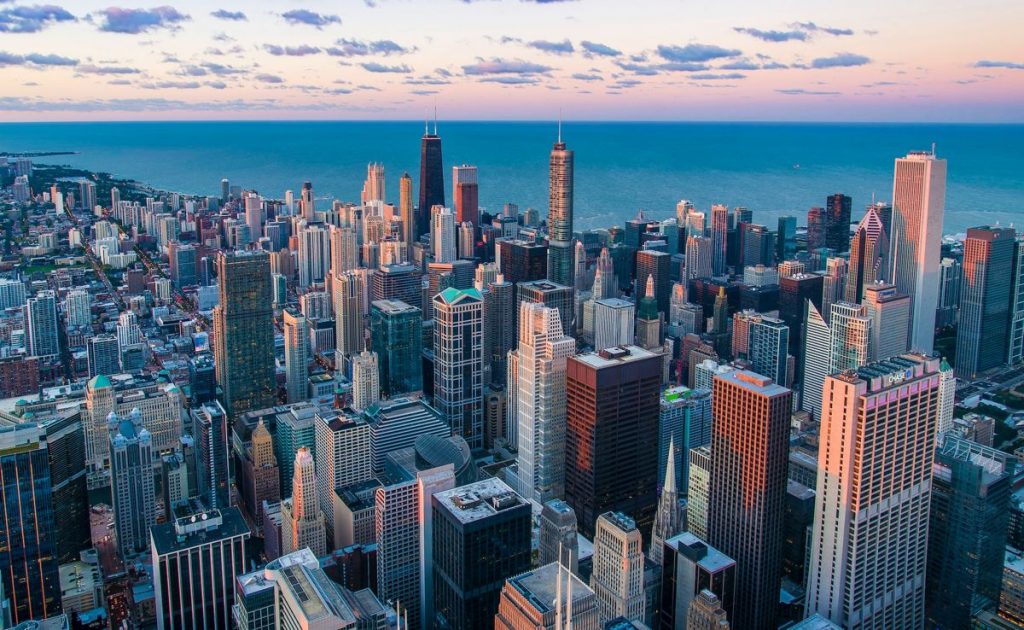 As the third largest city in the United States, Chicago has a diverse mix of single men and women. No matter what you want out of a relationship, you'll find it in Chicago – as long as you know how to look. Let's break down the city's dating scene so you'll be ready to hit the market.
The Scene Changes Based on Season – Cuffing season is popular throughout Illinois, but that's especially true in Chicago. Singles look for guys and gals to nest with during the winter and get back on the casual dating scene when it warms up.
Location Matters – Traveling isn't the easiest thing in Chicago, so singles want to stick to their neighborhoods when dating. Most prefer to make dates with people within walking distance, although a quick trip on the L train isn't out of the question.
Exchanging Info in Person Rarely Happens – You'll see some people trying to chat up singles in bars and even grocery stores, but they often strike out when it comes to getting a number. Maybe it's a safety thing, but Chicago singles prefer exchanging info after getting to know their matches online.
There's an Ever-Changing Dating Pool: With hundreds of thousands of college students and millions of tourists, Chicago's dating scene is full of fresh faces. Also, thousands of people relocate to and from the city each year, so you never know who you might encounter when using a dating site for Illinois singles.
Professionals Ready to Settle Down Flock to the Suburbs – Chicago's dating scene is fast-paced and ever-changing, but things slow down in the suburbs. A lot of professionals move to Naperville and other nearby suburbs and commute to the Windy City. These professionals are less interested in casual dating and more into settling down with life-long partners.
Casual, short-term relationships are the norm in Chicago, with a lot of folks wanting to cycle through options before settling down. That makes Zoosk the perfect fit for singles who live inside of the city limits.
Now, things change once you get to Chicago's suburbs. We recommend EliteSingles for guys and gals living in Naperville, Oak Park, Wheaton, and other suburbs. You'll find folks who are ready to commit to long-term relationships on this Illinois dating site.
Population: 2,696,555
Men: 48.6%
Women: 51.4%
Unmarried: 62%
Bachelor's Degree or Higher: 41.1%
White-Collar: 82.6%
Blue-Collar: 17.4%
Bachelor's Degree or Higher: 41.1%
Number of Tourists in 2021: 30.7 million
Number of College Students in Metro Area: Over 670,000
---
Dating in Central Illinois
Best Central Illinois Dating App Recommendation: eHarmony and Zoosk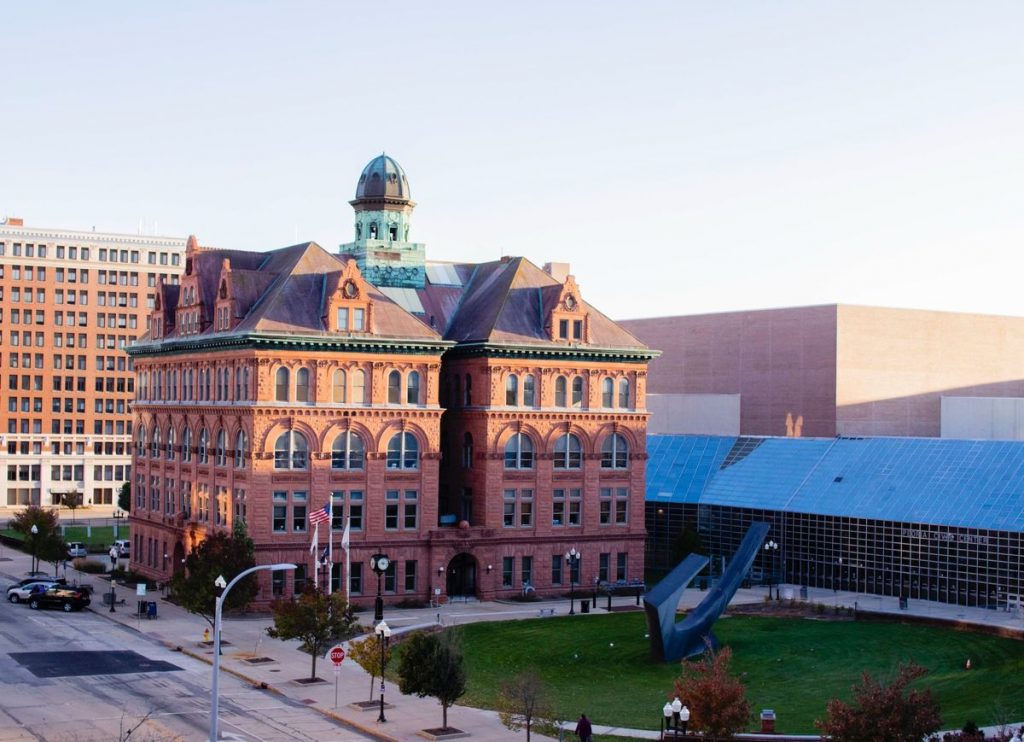 The first thing people notice about Central Illinois is that it's nothing like Chicago. The skyscrapers are replaced by farmland and small towns, with some mid-sized cities mixed in. While Springfield and Peoria have the most residents, you'll also find bustling college campuses throughout the region, including UIUC.
Online Dating is Becoming More Popular – Because much of Central Illinois is rural, meeting people in person isn't easy. Singles have embraced online dating, but many avoid hookup apps like Tinder. They prefer dating sites with advanced matching algorithms so they can find their ideal partners.
Serious Relationships are the Goal for Most Singles – College students embrace cuffing season and like to have fun during the summer. However, most of the men and women in Central Illinois are over casual dating and ready to settle down.
Some Traveling is a Must – Many Central Illinoisans live in rural areas, so they expand the distance radius when using dating apps. It's not unusual for people to travel 30 minutes to an hour to meet someone for a date. We've even heard of motivated singles going further when someone catches their eye.
If you're dating at UIUC or another college, we recommend Zoosk. However, eHarmony is our favorite Illinois dating app for the rest of the central portion of the state. You won't have any problem finding a forever partner when using this dating site.
Biggest Cities: Springfield, Peoria, Champaign, Bloomington, Decatur, and Normal
Springfield Population: 113,394
Peoria Population:
Champaign Population: 89,114
Bloomington Population: 78,283
Decatur Population: 69,646
Normal Population: 53,594
Biggest University: University of Illinois at Urbana Champaign (UIUC)
Number of Students at UIUC: 34,000 undergrad and 20,500 graduate students

---
Dating in Southern Illinois
Best Southern Illinois Dating App Recommendation: eHarmony and Zoosk
You know you've entered Southern Illinois when you see rolling hills instead of flat farmland. But don't let those hills fool you – this is still farm country, with some bigger cities and small towns mixed in. Between farmers, college students, blue-collar workers, and professionals, there's a lot going on in the dating scene, so let's break it down.
It's Open to Everyone – Social and dating scenes aren't segregated by occupation or financial status in Southern Illinois. Everyone rubs elbows with each other, so you'll see people making $20,000 hanging out with folks raking in six figures. This starts when people are still in school and continues well into adulthood.
The College Dating Scene Doesn't Stay on Campus – Colleges are part of entire communities here, so you'll see college students dating both on and off campus. Those who want to keep things casual typically stick to on campus, while students interested in serious relationships venture into cities and towns.
Singles and Couples are Laid Back – There's no room for pretentiousness on Southern Illinois's dating scene. Singles and couples are happy to hit up one of the small bars for some beer, billiards, and small talk. At the same time, they're more than happy to make a trip to St. Louis to take in museums and live performances.
Singles are Used to Traveling for Love – Since most of the towns are small, you'll find a lot of couples who live in different cities. That includes people from Southern Illinois dating folks in Kentucky and Missouri.
Most Southern Illinois singles are seeking long-term commitment, making eHarmony the best option for men and women. Now, if you're in college, you might want something geared toward casual dating. And that's why Zoosk is our pick for college students in Southern Illinois.
Biggest Cities: Belleville, O'Fallon, Granite City, Edwardsville, Alton, and Collinsville
Belleville Population: 41,751
O'Fallon Population: 32,292
Granite City Population: 27,484
Edwardsville Population: 26,808
Alton Population: 25,422
Collinsville Population: 24,561
Biggest University: Southern Illinois University – Edwardsville (SIUE)
Number of Students at SIUE: Over 13,000


Illinois Online Dating FAQ
What is the Most Successful Dating App?
eHarmony is widely recognized as the most successful dating app. Someone finds love on this dating site every 14 minutes, adding up to over two million people since it launched. Also, couples who get married after meeting on eHarmony are likely to stay together forever.
Regardless of the app, your actions impact your success rate. Check out our article on getting the most out of dating apps so you can reach your relationship goal.
What is the Best Illinois Hookup App Right Now?
While Tinder is the most popular hookup app, we don't recommend it. Its matchmaking system is weak, so you'll have a hard time meeting people you'll have fun with for the night. Instead, check out Zoosk if you're into casual dating. With more than 40 million members, you'll find lots of people who are down for hookups.
Are There Free Illinois Dating Apps?
Some dating sites are completely free, but as the saying goes, you get what you pay for. Free dating apps attract scammers and are often full of bots. Plus, they don't have many features, so they're a waste of time. Instead of using a free app, check out some free trials so you can test drive the sites without paying.