It's a good time to be looking for love in Indiana. The state's attracted a massive influx of new residents from other states, restocking the dating pool. Plus, more people have internet access here than ever before, so those new options are just a couple of clicks away. No wonder in-person pickups are out, and online dating is in.
But Hoosiers don't just use any old app they come across. See, hookup culture isn't as big here as in some states, so most singles use dating apps geared toward finding long-term relationships.
Notice that we said "apps" and not "app." Even though a lot of daters want something serious, that's just part of what they're after. Everyone has their own dating style, so they choose apps based on what they're seeking. And if you choose the right app, you can also find your ideal match.
Does that sound a little overwhelming? We get it. It took us hours of research to find where most Indiana singles go to find love. And instead of just sharing the details with our friends, we want to help you find that special someone, too.
Take a look at the five best Indiana dating apps.
Top Dating Apps in Indiana in 2022:
---
Contents of Our Indiana Dating Guide – Jump Ahead to:
---
1. eHarmony – Best for Turning a Match into a Successful Marriage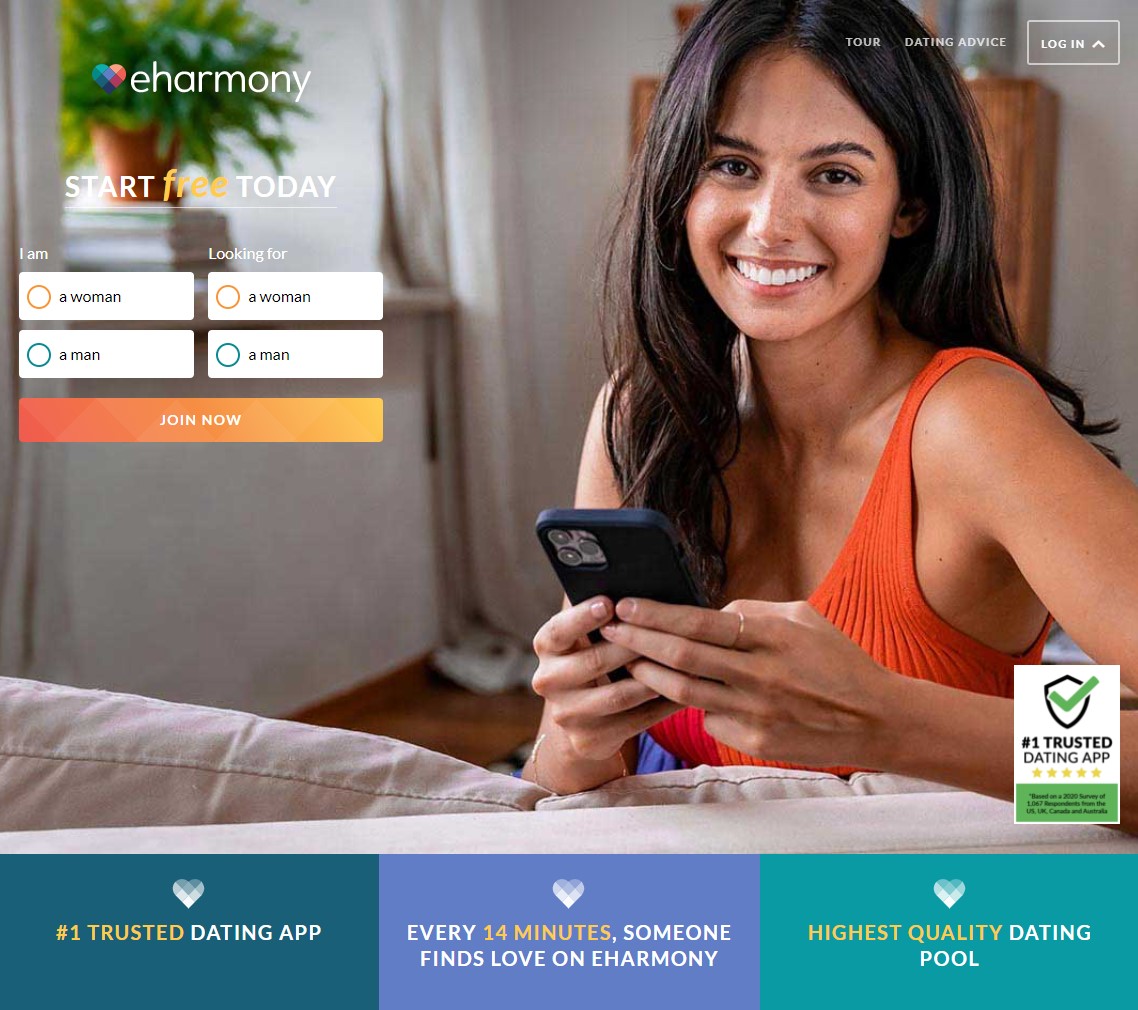 Who Will Love eHarmony: Hoosiers interested in committed relationships
Who Might Not Enjoy eHarmony: Casual daters looking for short-term romance
Biggest Pro: Matches people that are likely to have happy marriages
Biggest Con: It takes around 20 minutes to sign up, so you need to set aside some time
Starting Price: Premium memberships start at $21.54 a month
Have you noticed that a lot of Hoosiers walk down the aisle, only to split a few years later? While it seems like your pals are just unlucky in love, this is a common problem here. See, Indiana has one of the highest divorce rates in the nation, so it can feel like a gamble anytime people say, "I do."
It kind of makes you a little bitter about all those expensive wedding gifts, doesn't it? If only there was a way to get your money back when a marriage doesn't last.
So, bad news first. We can't hook you up with any refunds on those wedding gifts. But we also have some good news. You can become a relationship success story by finding love on eHarmony.
eHarmony's founder pored over a decade's worth of data to gauge the site's success. Thousands of couples that met on the site got married during that time, and only 3.86 percent of those marriages ended in divorce. That's lower than the divorce rate in Indiana and the entire country.
So, how does it do it?
The site has each new member take a science-based personality and compatibility test. Instead of random questions, each one assesses the traits people bring to and need in relationships. Then, it matches people that are likely to have happy marriages without any talk of divorce.
Whether you want a long-term relationship or marriage, eHarmony is the place to go. Sign up today, and you'll see why this is one of the best Indiana dating apps.

---
2. EliteSingles – Best for Balancing Love and Success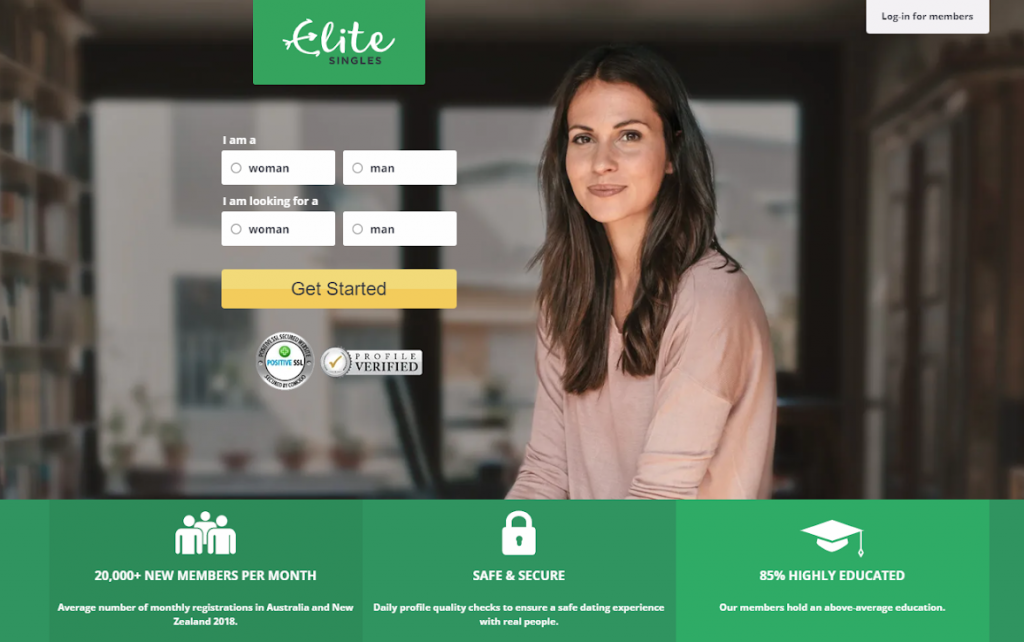 Who Will Love EliteSingles: Driven singles looking for love after 30
Who Might Not Enjoy EliteSingles: Singles that aren't focused on their careers
Biggest Pro: Filters out members that aren't active, so you won't waste time messaging people that aren't around
Biggest Con: Can't search beyond matches
Starting Price: Premium memberships start at $27.95 a month
Indiana has some of the best colleges in the country, and we aren't just talking about sports. Sure, the sports scene is impressive, but colleges like Notre Dame and Purdue also churn out people who go on to become some of the top minds in the country.
And that's a good thing considering the state has some high-level jobs to fill. Upon graduation, many men and women go to work in advanced manufacturing, technology, life sciences, agrisciences, and other leading industries. Then, they use their ambition, drive, and brains to earn enviable paychecks and change the world.
That sounds like an overstatement, but it's a reality in Indiana. Hoosiers and success go hand in hand.
If you're one of the state's movers and shakers, you probably focused solely on your career at first. Now that you're where you want to be, you're a little bummed that you don't have anyone to enjoy it with. After all, what fun is a business function without a plus one on your arm?
But finding a date isn't nearly enough. No, you want someone that has the same drive and mingles in similar circles. Otherwise, you won't get the support you need.
If you want to find someone of your caliber, EliteSingles is the way to go.
Most of its members are driven professionals over the age of 30, and they're ready to get serious. The app assists with that by matching members based on personality traits and interests, and you can set your preferences to narrow it down more.
Are you ready to start something serious? Go to EliteSingles to set up a free account.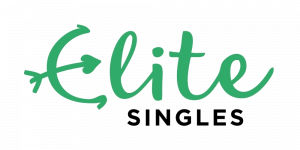 ---
3. Christian Mingle – Best for Finding a Christ-Centered Relationship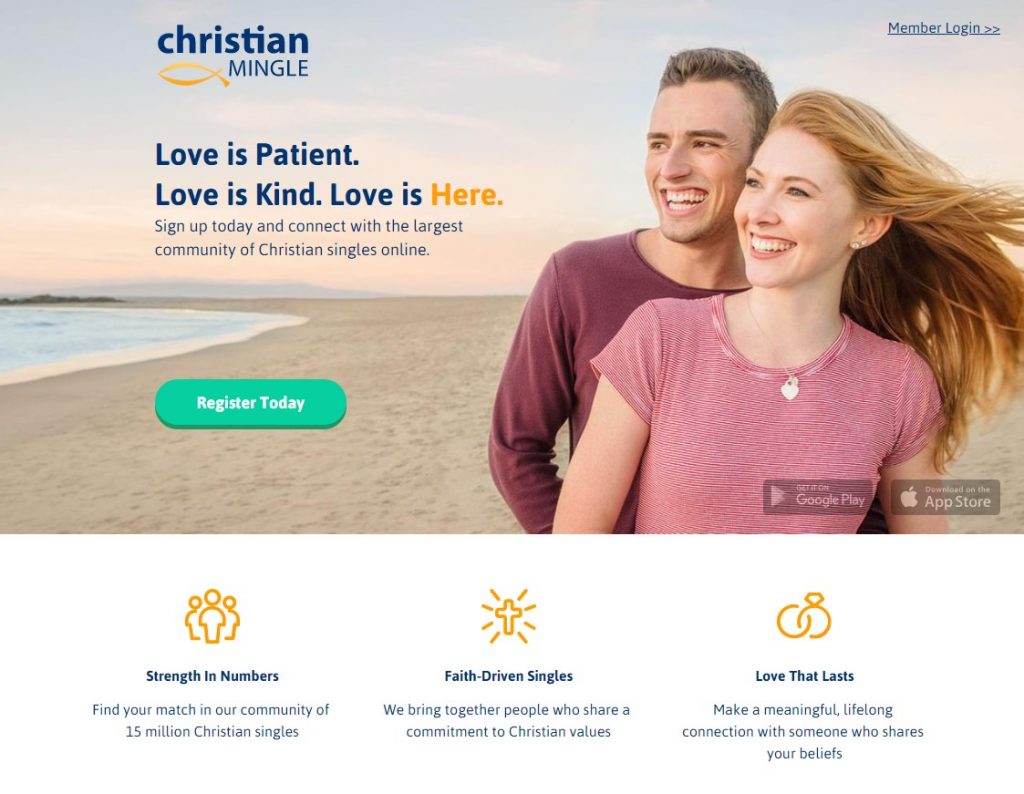 Who Will Love Christian Mingle: Christian singles pursuing serious relationships
Who Might Not Enjoy Christian Mingle: Singles that aren't interested in mingling faith and love
Biggest Pro: Over 15 million members from various Christian denominations
Biggest Con: Have to upload a photo before accessing profiles, but that allows the site to remain catfish-free
Starting Price: Premium memberships start at $24.99 a month
Hoosiers might not be nearly as religious as they were a decade or so ago, but Christians are still in the majority. Over 70 percent of adults are Christian, and around 35 percent of Hoosiers believe in a literal interpretation of the Bible.
So yeah, you can say that this is still a pretty religious state.
You can find Christians throughout Indiana, but Benton County has the highest concentration of believers. While less than half the state goes to church, close to 80 percent of Benton County residents do. And they don't have any trouble finding a church since there are 14 congregations for every 10,000 people in the county.
But whether you live in Benton County or elsewhere, it can feel like the state's dating scene works against you. You hardly want to slide into a booth next to a single at a bar, and bonding over brews at a sporting event doesn't align with your faith either.
Fortunately, you can put the odds back in your favor by looking for love on Christian Mingle. It's wholesome (say goodbye to shirtless selfies!) and matches believers based on values, personalities, and interests, so couples can go the distance.
Head over to Christian Mingle to set up your free profile today.
---
4. The League – Best for Cool Resume Builders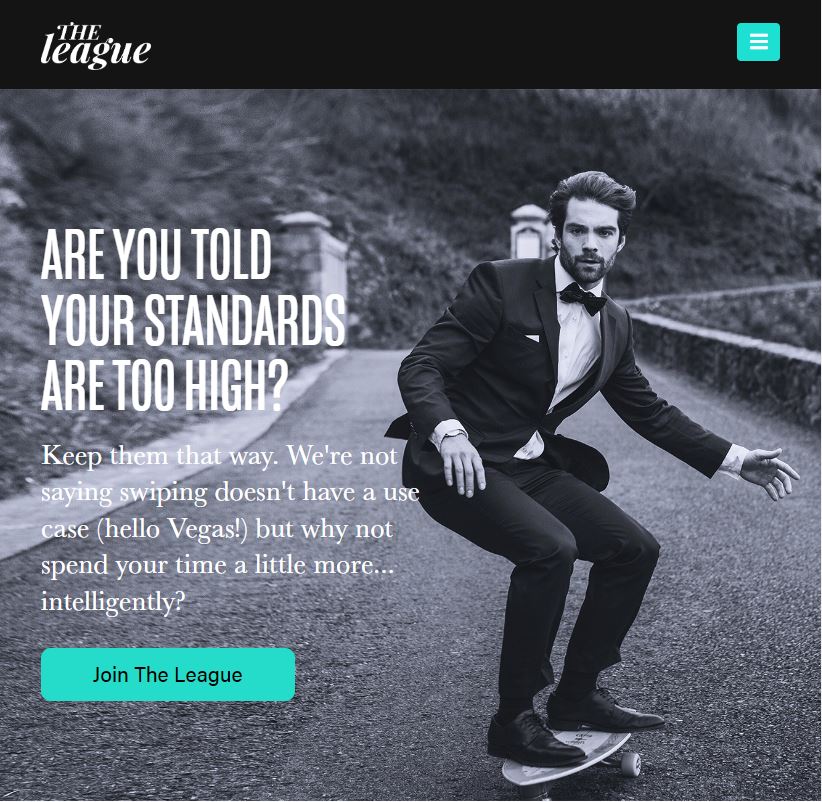 Who Will Love The League: Go-getters in their 20s and 30s
Who Might Not Enjoy The League: Singles not into resume building
Biggest Pro: Exclusive dating site only accepts ambitious, driven singles
Biggest Con: Few options for people in their 40s and up
Starting Price: Premium memberships start at $99 a week
Silicon Valley gets a lot of credit as a youth magnet, but let's not forget about Indiana. It excels at attracting young, educated professionals to fill roles in tech and other industries. In fact, Indianapolis and other Indiana cities have made it their mission to find and cultivate the next generation of talent.
No wonder so many professionals in this state start building impressive resumes while still in their 20s.
If you're one of them, you probably have two priorities: working and dating. But you don't want to date just anyone that walks up to you. You're on an elite level and want the same out of a partner.
Pairing up with an exceptional single won't be a problem if you use The League.
Think of this as a members-only club, where only the top people are admitted. After you apply, you'll go on a waiting list while the gatekeepers review your LinkedIn and social media profiles to see if you have the ambition necessary to become a member.
And let's just say it's as picky as you are when it comes to dating.
If you're approved, the app will do everything it can to make dating easy. You can save time with speed dating, find singles out in the wild with Party Scout, and interact with your matches on the app.
Find out if you make the cut by signing up for The League today.
---
5. Catholic Match – Best for Finding Compatible Catholics to Marry
Who Will Love Catholic Match: Catholics looking for serious relationships with people that share their faith
Who Might Not Enjoy Catholic Match: Non-Catholics and secular singles
Biggest Pro: Goes beyond faith to help people find compatible partners
Biggest Con: You might have to expand the search radius if you don't live by many Catholics
Starting Price: Premium memberships start at $9.99 a month
In the past, most of the state's Catholics were located in Indianapolis and border towns close to Ohio and Kentucky. Fortunately, they're more spread out now, so you can find people that share your religion around the state. And you have lots of options, considering Catholics make up 18 percent of Indiana's population.
While making Catholic friends is easy, finding love is a challenge. First, you need to connect on religion, and then you have to make sure your personalities and interests mesh.
It almost makes you want to take a vow of celibacy, right?
Fortunately, it's a lot easier when you search for your soulmate on Catholic Match. Like eHarmony, Catholic Match has users take a test so it can evaluate the key areas necessary for compatibility. These categories range from sexuality to core values and help the Indiana dating app pair people who are likely to stay together for the rest of their lives.
Do you want to find someone that you gel with on every level? Get the process started by creating your free profile on CatholicMatch today.

What is the Dating Scene in Indiana Really Like?
Dating is Affordable – On average, Indiana couples spend less than $97 for dinner, wine, and a movie for two. Now, if you need more than a bottle for the night, the price will go up, but the dating scene is cheaper here than it is in lots of other states.
Most Singles Have Moderate Political Views – People think that Indiana is all-conservative all the time, but the state is much more moderate than its reputation. You're more likely to find singles that are in the middle of the road than devoted to one side or the other. Now, if politics are important to you, younger people tend to be more liberal, while older singles are more conservative.
Lots of Singles Are Religious – Indiana has long been known as a religious state, and more than 70 percent of adults are Christian. Plus, 35 percent of adults read scripture at least once a week, meaning faith is at the center of lots of people's lives. But don't worry if you're not religious. Over a quarter of adults are unaffiliated, atheist, or agnostic, so you can find your perfect match.
People are Honest – Of course, some people lie on dates, but Indiana singles tend to be an honest bunch. That doesn't mean they don't have tact, though. They aren't brutal with their honesty, but they also aren't afraid of the truth.
Singles Like Getting Serious – Researchers discovered that most Indiana singles want serious relationships. Still, the casual dating scene is alive and well on college campuses and in bars. Plus, you can start a short-term fling on an Indiana dating site.
Distance Isn't a Problem – Since most of the state is rural, singles are willing to drive for dates. Also, lots of people expand their search radius when using a dating app. That way, they can go beyond their neighbors when looking for love.
Access to the Internet is Increasing – These days, almost 85 percent of households in Indiana have broadband internet, and the state hopes to push it even higher in the coming years. The increase in internet access has led to a surge in online dating.
An Interest in Sports Can Score Some Points – Sports are popular in Indiana, and you can woo some singles if you're interested in one of the local teams. And if you really want to stand out, give the Hoosiers a lot of love when creating your March Madness bracket.

Dating in Indianapolis
Best Indianapolis Dating App Recommendation: The League or EliteSingles
Indy might be in the Midwest, but it attracts enough young professionals to compete with big coastal cities. People from around the country head to Indy to work in IT, advanced manufacturing, and other industries. Plus, there's a lot of homegrown talent coming out of the local universities.
These young folks might be working and studying hard, but they still want to find someone to date. Sadly, though, they aren't all that lucky, considering around 70 percent of residents between 18-35 are still single.
Of course, being single doesn't mean they're sitting on the sidelines.
Singles here take an active approach to finding love. They take up hobbies, hoping to meet someone, and scan the stands for singles at Colts and Pacers games. And then the really active ones participate in CCA Sports. These are all great ideas, but unfortunately, they don't lead to much success.
And then, of course, some try landing dates at bars and restaurants, but this is even more challenging. While the nightlife scene is heating up, it's not set up for mingling with new people. That's why you keep going home solo when trying to meet someone. You can update your relationship status quickly by hopping on the best dating app for Indianapolis singles. And since the men and women here tend to be an elite bunch, The League is the way to go. Now, if you're over 30, check out EliteSingles instead.
Population: 869,387
Men: 48.16%
Women: 51.84%
Single: 49.8%
Average Household Income: $71,733
White-Collar: 75.38
Blue-Collar: 26.62%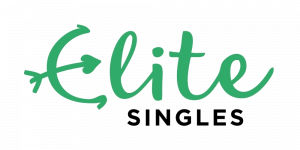 ---
Dating in Fort Wayne
Best Fort Wayne Dating App Recommendation: eHarmony
The population is growing in Fort Wayne, and it's no wonder. When you combine the low cost of living, commitment to creating jobs, and family-friendly atmosphere, it's easy to understand the draw. But once you're here, you have a big question to figure out.
How are you going to meet someone?
If you ask some people that live here, they'll tell you the dating scene is nonexistent. That sounds harsh but considering that more than half the population's yet to find their plus one, we get the frustration.
So, one thing we noticed is that Fort Wayne singles try hard to find dates. A lot of them join singles groups that host activities on the weekends. Unfortunately, though, most of the singles go in hoping to find dates but are still solo when they go home.
Since the singles groups don't get the results they want, a lot of guys and gals hit the bar scene. You'll find lots of singles at the bars, especially the sports bars on game day. But while there are lots of people, they're more interested in watching sports and talking to friends than meeting new people.
To put it in sports terms, you can expect to strike out if you go this route.
We could go on and on about the things to do if you want to meet people in Fort Wayne, but if we're honest, there aren't any tried-and-true methods for landing dates in person. You can make many friends in the city, but you're probably not going to find a date out in the wild.
But you can change your luck in a big way by using eHarmony. Fort Wayne is a family-friendly city, so you probably want something serious. And that's what you'll find on this Indiana dating app.
Population: 268,378
Men: 48.44%
Women: 51.56%
Single: 54.38%
Average Household Income: $66,777
Blue-Collar: 27.29%

---
Farmer Dating in Indiana
Best Indiana Dating App Recommendation: Christian Mingle
We came across an interesting statistic when researching the best dating sites in Indiana. Farmland makes up over 80 percent of the state, and it's home to more than 94,000 farmers.
That made us think about what farmers want out of a dating app. There's a big tie between farming and religion, and most of Indiana's farmers are Christian. That explains why Benton County is the most religious spot in the state. Almost the entire county consists of farmland, and many of the men and women that work here have a strong belief in God.
With that in mind, Christian Mingle is the best dating app for Indiana farmers. No matter where you live in the state, you can find a faith-filled match on the site.
Number of Farmers: More than 94,000
Counties with Most Farmland: Adams, Benton, Carroll, Clinton, and Tipton
Average Age: 55.5

FAQ – Indiana Dating Sites
Which Dating App is the Most Popular in Indiana?
We checked Google search trends for each of the best Indiana dating sites and found that eHarmony gets the most traffic. That checks out since Indiana singles tend to pursue serious relationships.
Are There Free Dating Sites in Indiana?
You can sign up and use some features for free when using any of the dating apps from our list. However, you have to pay to access premium features. While there are some free dating sites out there, we don't recommend them because they have lots of scammers and few features.
Where Can I Find Casual Dates?
While these dating sites have more serious daters, you can also find people looking for something casual. Be sure to include your dating style and goals in your profile to attract like-minded singles.