The in-person dating scene isn't known for its diversity, explaining why so many people have turned to dating apps. Once you download an app, you can flip through thousands of profiles and find your ideal match. But while lots of apps promise to be the answer to your interracial dating problems, only some actually get the job done.
After reviewing the data, we discovered the four best interracial dating apps. Plus, we have some niche interracial dating sites to share, along with info and advice about the dating scene.
Are you tired of being single and ready to strike up a relationship? Let's get started by looking at our favorite dating sites.
Top 4 Dating Apps for Interracial dating in 2023
---
Jump to:
---
1. eHarmony – Best for Forming a Strong Team

Interracial couples face some challenges that aren't present in other relationships. For instance, toxic family members and friends might try to break you up, no matter how tight you and your partner are. You'll need to be a united team, and that's only possible if you're compatible.
Fortunately, that won't be an issue if you find your match on eHarmony. This interracial dating site is the best of the best when it comes to compatibility-based matching.
eHarmony analyzes 32 Dimensions of Compatibility and assigns Compatibility Scores to matches. If you choose someone with a Compatibility Score of 110 or higher, you won't have any problem forming a united front. You'll be so compatible that no one will be able to get in between you and your mate.
Strong partnerships are essential for interracial couples. Strike up a strong, solid partnership by looking for a match on eHarmony today.
---
2. Zoosk – Best for Casual Dating without Fetishizing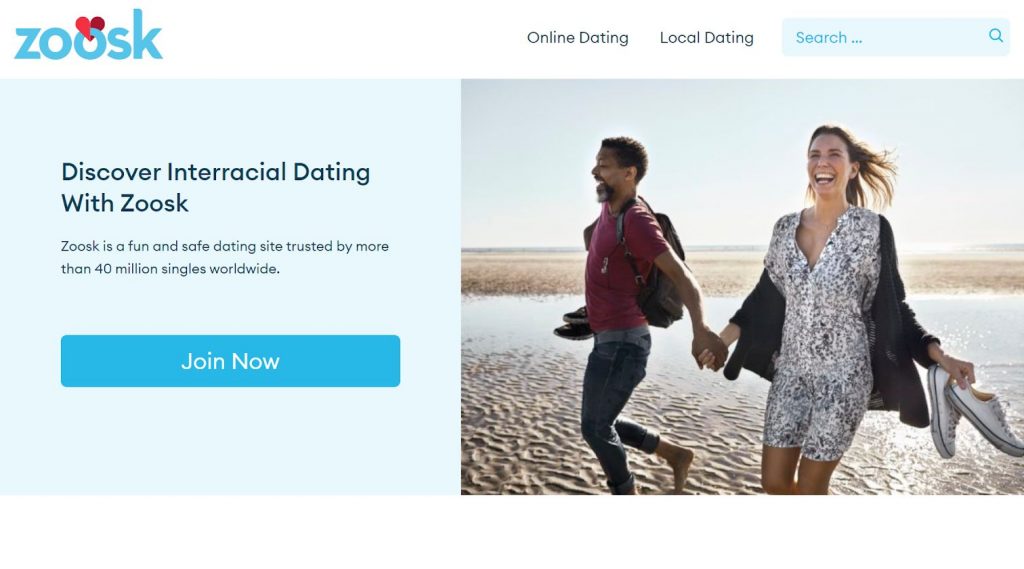 You only have to spend a few minutes on the internet to see how big a problem fetishism is in casual interracial dating. Some people want to hook up with folks of a different race for kicks, and it's demeaning – not to mention emotionally devastating.
We're all for casual dating but wanted to find a safe space without the fetishizing. And that's why Zoosk is one of the top interracial dating apps. While Tinder and other casual dating sites just match people based on location and looks, Zoosk considers personality traits and other factors, too.
Head over to Zoosk to set up your free account so you can start dating today.
---
3. EliteSingles – Best for Creating an Interracial Power Couple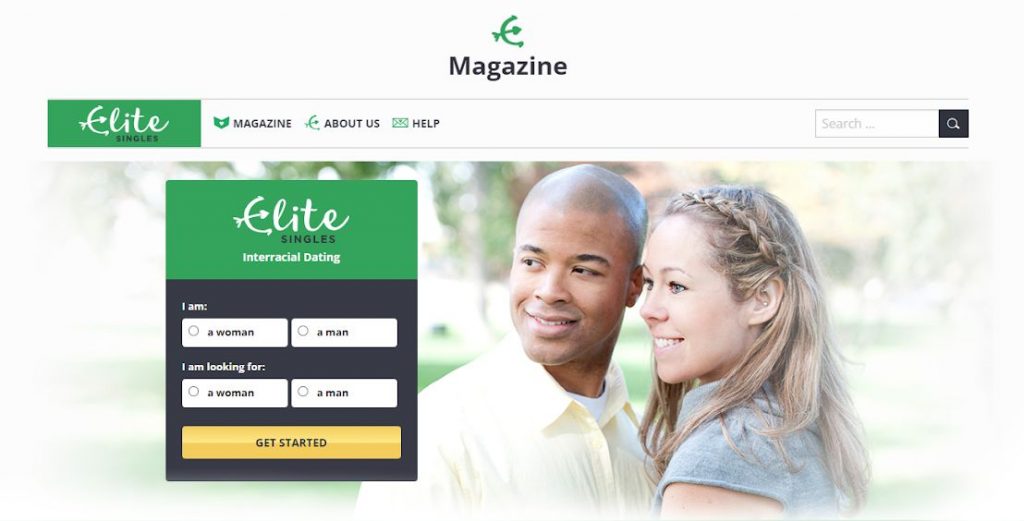 There's an education gap between same-race and interracial couples, according to the Pew Research Center. Basically, the more educated you are, the more likely you'll marry someone of a different race. And that's why we're recommending EliteSingles.
You can browse a dating pool of highly educated professionals, many of whom are open to interracial dating. Plus, you can search for people based on race, making it easy to connect with the singles you're most interested in dating.
If you want to become part of an interracial power couple, create your free account on EliteSingles today.
---
4. SilverSingles – Best for Intermarriage Later in Life
The Pew Research Center analyzed intermarriage rates by age for all newlyweds in 2015. It found that 13% of new couples over the age of 50 were mixed-race. We think that number would be higher if older folks knew where to look for partners. And when it comes to interracial dating after 50, SilverSingles is the way to go.
You can use this exclusively 50-and-over dating site to search for people by race and ethnicity. Create your free account today so you can strike up an interracial relationship.

6 Reasons These are the Best Apps for Interracial Dating
Diverse Membership Bases – These dating apps have people of all races, ethnicities, and backgrounds. You can find singles that are Black, Asian, White, and so much more on the top sites.
Search by Race and Ethnicity – You can set your preferences to match all races and ethnicities or search for one in particular. Then, you can get back matches that fit your criteria.
Inclusive Dating Environments – These dating sites are safe and welcoming, so you won't have to worry about members harassing you. And on the off chance that someone steps over the line, you'll benefit from the responsive customer service teams.
Works Throughout the U.S. and Other Countries – Interracial dating is becoming increasingly popular throughout the United States and the world, so we chose apps with a big reach. You can look for local singles or branch out to other states or countries.
Free Trials – "Free interracial dating apps" is trending on Google, so we chose sites that offer free trials. This is a much better option than going with a completely free dating site. Free sites are low on features and full of fake profiles, making it hard to find "the one." However, using a free trial lets you test the waters before committing to paying for a dating app.

Sites Specifically Designed for Interracial Relationships
InterracialCupid – As part of Cupid Media, this is the most trusted niche interracial dating site. You can use it for local or international dating, and it has a pretty robust search feature. Unfortunately, some members don't take the time to fill out their profiles, and the free membership only offers basic matchmaking. If you use this site, we recommend filling out your profile completely and paying for a membership to unlock the advanced matching algorithm.
Mixed – Unfortunately, this interracial dating app is all about connecting people based on looks and nothing else. That's fine for one-night stands, but it's hard to form meaningful connections here. Also, many members complain that the app favors White people, which goes against the nature of interracial dating.
InterracialMatch.com – This bills itself as the "original interracial dating site since 2001." Even though it's been around for a while, it isn't close to having the kinks worked out. The biggest problem has to do with fake profiles. You can expect to get lots of "likes" from scammers, and we suspect that there are bots on here, too.
InterracialRomance – This interracial dating site looks like it was built around 2000 and never embraced modern tech. It's outdated, and so is the matching system. Also, it usually has hundreds instead of thousands of users online, so it's slim pickings here.
InterracialPeopleMeet.com – Owned by People Media, this is one of the more trusted interracial dating sites. Still, it hasn't taken off like some of People Media's other sites, so the membership base is small. We've also heard lots of reports of fake profiles and scammers on here, so we recommend skipping it.
Interracial Dating Central – This site has few active members and a lot of half-filled-out profiles. Plus, the matching algorithm basically just connects people by location and preferred race. It's hard to find a real connection with a dating app that doesn't dig below the surface, so Interracial Dating Center is a hard pass for us.

Where is Interracial Dating the Most and Least Common?
Mainstream dating sites have diverse membership bases, leading to an increase in interracial dating and marriage. In 2015 alone, 17% of marriages were to interracial couples, and many of those relationships started online.
While interracial dating and marriage rates are increasing around the United States, it's more common in some metro areas.
Interracial marriage is most common in the following metros:
Honolulu, HI
Las Vegas-Henderson-Paradise, NV
Santa Maria-Santa Barbara, CA
Fayetteville, NC
Palm Bay-Melbourne-Titusville, FL
Albuquerque, NM
Stockton-Lodi, CA
Anchorage, AK
Ogden-Clearfield, UT
San Diego-Carlsbad, CA
We also dug into data to identify the cities and metro areas with the fewest interracial marriages. Jackson, MS, and Ashville, NC, share the bottom spot. You also won't find many interracial couples in Youngstown-Warren-Boardman, OH-PA, and Chattanooga, TN.
If you can't find someone in your region, consider searching in a city where interracial dating is common. You'll find lots of men and women who are open to interracial dating.

Red Flags for Online Interracial Dating
Interracial dating apps give you a chance to meet and vet people before taking a relationship into the real world. We recommend keeping your eyes peeled for red flags before setting up your first in-person date. Knowing the warning signs – and taking action – can protect you from getting your heart broken or dealing with endless drama.
Objectification – Unfortunately, some people fetishize guys and gals of particular races. This comes through by objectifying people, and that's a blazing red flag. If your partner likes you for your race instead of your personality, it's time to move on to someone else.
Lack of Interest in Your Culture – People in interracial relationships should show an interest and a willingness to learn about their partners' culture. Dismissing your culture is basically saying, "I don't care about you." Feel your matches out when still online so you'll know if it's worth moving things into the real world.
Wanting to Keep the Relationship Secret – Some people have toxic friends and family members, and that's fine if you can deal with the problem together. However, if your match says things like, "We'll need to keep things on the DL," move on to someone else. You shouldn't be a secret, and you can find lots of men or women who will be proud of you and the relationship.
Invalidating Your Experiences – We all want and need validation from our partners, especially in interracial relationships. Your partner should listen to and believe your experiences. If you feel like you're constantly justifying why you think or feel a certain way, it's time to bring that up with your partner. And if that convo doesn't go anywhere, you might need to move on to someone who understands you.

Online Interracial Dating FAQ
How Much Does Interracial Dating Cost??
Interracial dating apps cost from $6.65-$65.90 a month. Also, you can try these interracial dating apps for free, so you don't have to commit to paying at first. Check out our dating app free trials page to see all the apps you can try out completely free!
Are There Free Interracial Dating Sites?
Yes, some dating sites are free, but they're normally a waste of time. Free dating sites don't have the funds necessary to weed out fake profiles and bots. Also, they rarely have matching algorithms, so you'll spend a lot of time looking for compatible singles. Instead of going with a free site, we recommend grabbing a free trial for an interracial dating app.
Why are Mainstream Apps Better for Interracial Dating?
Niche dating sites have small budgets, meaning they aren't able to offer the features you'll find on mainstream apps. Also, niche sites tend to have low membership bases, making it harder to find "the one." Mainstream apps have advanced matching algorithms, lots of features, and large membership bases. If you want to find a real connection, mainstream interracial dating sites are the way to go.
Should I Add Something About Interracial Dating to My Online Profile?
You can let other singles know that you're interested in pursuing an interracial relationship. We recommend talking about the type of partner you're interested in dating. For instance, you can say, "My normal type is X."
How Can I Start an Interracial Relationship with Someone in Another Country?
eHarmony, Zoosk, EliteSingles, and SilverSingles offer local and international dating. Also, InterracialCupid is set up for international dating.
Why Should I Use Dating Apps for Interracial Dating?
Residential segregation is growing in the United States, so lots of folks live in single-race neighborhoods. This can spill over into schools and workplaces, so people don't have a lot of diversity in their daily lives. However, dating apps have a diverse mix of singles, making it easier to find interracial partners.