Dating is kind of like harvesting corn. You have to make your move when people are ripe for the picking, or it'll be a bust. But while the stalks and ears let you know if the corn's ready, potential dates aren't quite as helpful.
It's not like people walk around with signs that say, "I'm single" or "I'm partnered up," so it's a gamble every time you ask for a date. And while you might simply get shut down, you could also find yourself dealing with angry boyfriends or girlfriends.
That's why dating apps are the best choice when looking for flings or relationships. Unlike the real world, all the people on apps want to be approached. So, instead of deciding if the time is right, you can dive right in and strike up conversations.
But just like some soil isn't right for corn, certain dating apps aren't ideal for Iowa singles. Some have more scammers than real members, so you'll waste your time. You don't have to worry, though, because we've found the best Iowa dating apps.
Check out the best dating sites for singles in The Hawkeye State.
Top 4 Dating Apps in Iowa in 2022:
---
---
1. Zoosk – Best for College Students and Casual Daters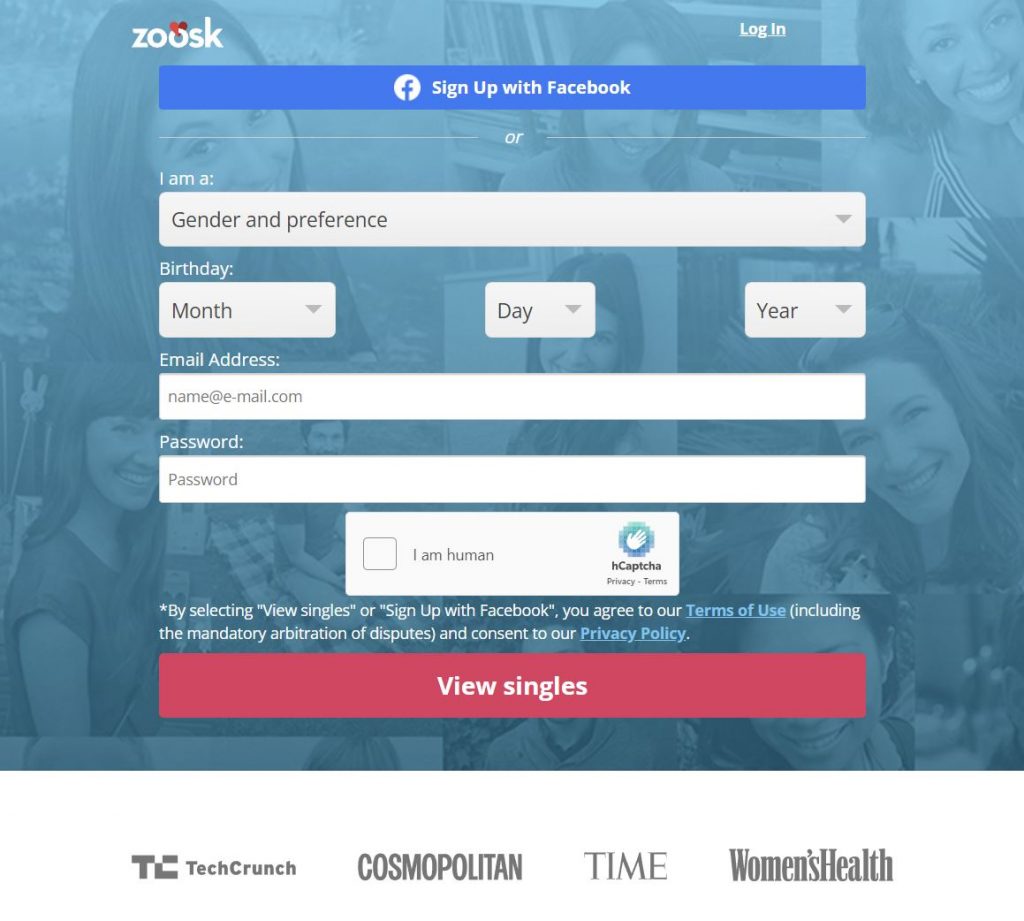 Who Will Love Zoosk: Casual and rural daters that want lots of options
Who Might Not Enjoy Zoosk: Hawkeyes pursuing marriage
Biggest Pro: The algorithm learns as you go
Biggest Con: The Carousel feature sometimes shows profiles outside of the user's parameters
Starting Price: Premium memberships start at $10 a month
Two things kept coming up when researching Iowa's dating scene. First, the state has dozens of colleges, so young guys and gals move around a lot during the year. These students tend to want something casual and often pursue short-term relationships close to home and campus.
And second, more than 40 percent of the state is rural, meaning some people have limited dating options in their area. They already know all the singles around them, so they have to find a way to open themselves up to more options.
Those two situations might be different, but Zoosk is ideal for both.
First, this location-based dating app attracts lots of casual daters, so college students can find dates at home and near campus. If you're a student, Zoosk will help you fill your social calendar in no time, even if you're on the move.
Second, it has more than 40 million members, meaning people in rural communities can be as picky as singles living in big cities. That's another win, making it a clear choice for Iowa singles.
Are you ready to open yourself up to lots of men and women ready to date? Head to Zoosk to set up your free profile.
---
2. EliteSingles – Best for Educated Professionals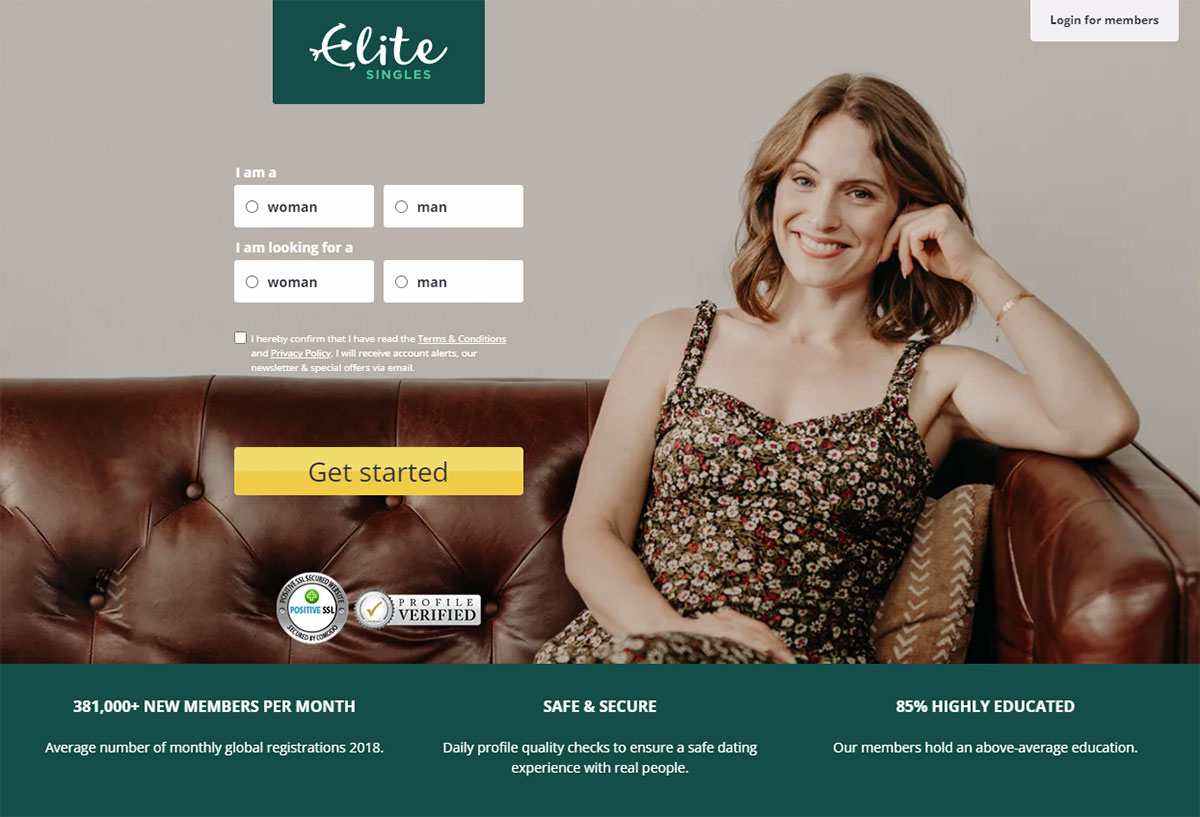 Who Will Love EliteSingles: Established professionals pursuing serious relationships
Who Might Not Enjoy EliteSingles: Singles that forget about work after clocking out
Biggest Pro: Matching is based on the Five Factor Model
Biggest Con: Free account has limited features
Starting Price: Premium memberships start at $27.95 a month
Iowa is home to some of the best universities in the country, and many of the graduates go on to do amazing things. And they don't have to leave the state to build their careers. See, Iowa is full of top-paying industries, so you can fly up the career ladder in The Hawkeye State.
Actually, it has so many opportunities that lots of professionals relocate here as well. After crossing state lines, they land jobs in renewable energy, manufacturing, agriculture, tech, and other industries.
If you're among the best and the brightest, it probably didn't take long for you to start building your career. But if you're like most professionals, dating is another story.
Previous partners might have expected you to dedicate less time to work. Well, you didn't get to where you are by slacking, so that's a no-go. And then, you probably dated a few folks that try to hand off their bills because you make so much money. Again, that's not what you want out of a partner.
The key is to find someone just as driven as you, so we recommend heading to EliteSingles. It's a magnet for well-educated professionals, so you can find someone that views work the same way you do. That'll make for the ideal match.
Find out for yourself by setting up a profile on EliteSingles today.
---
3. SilverSingles – Best for Single Seniors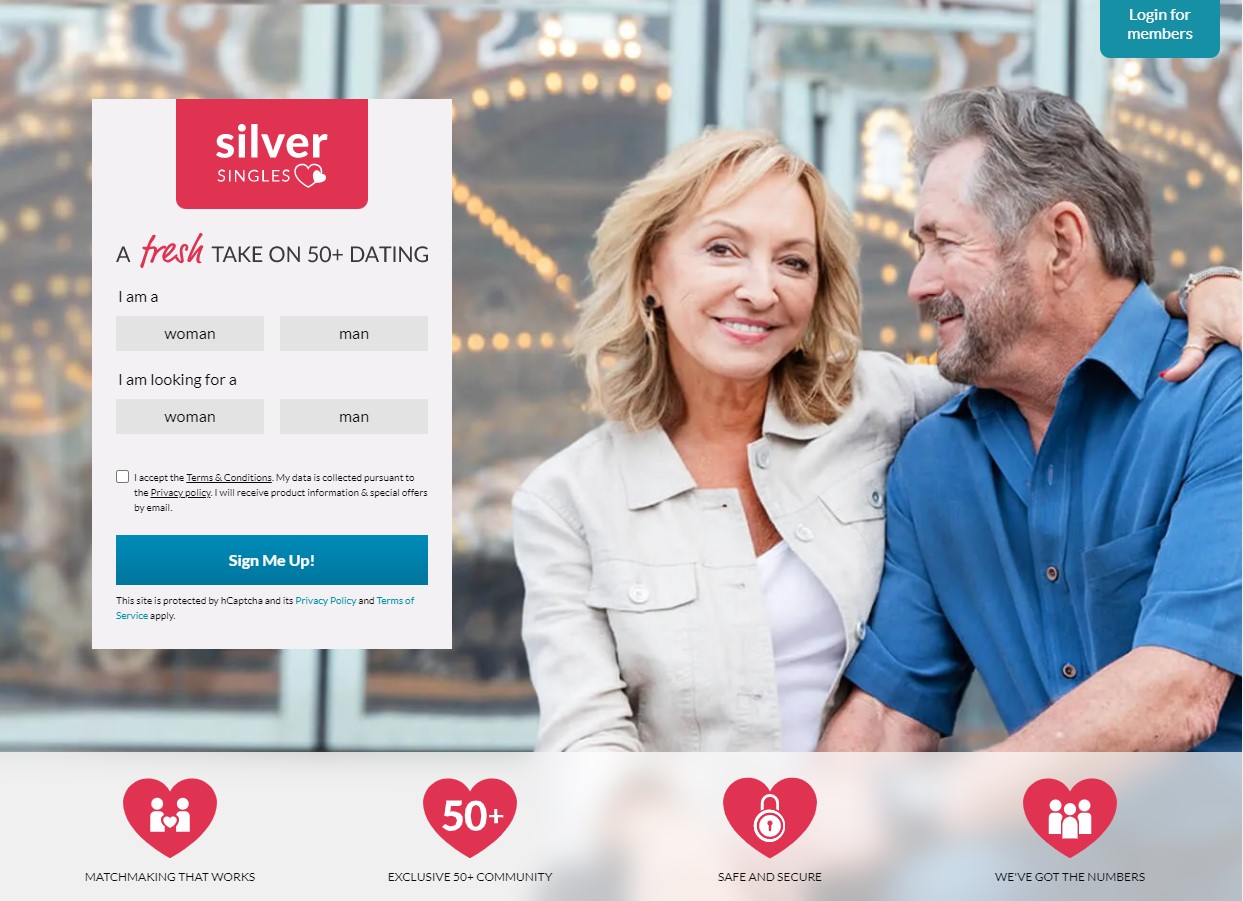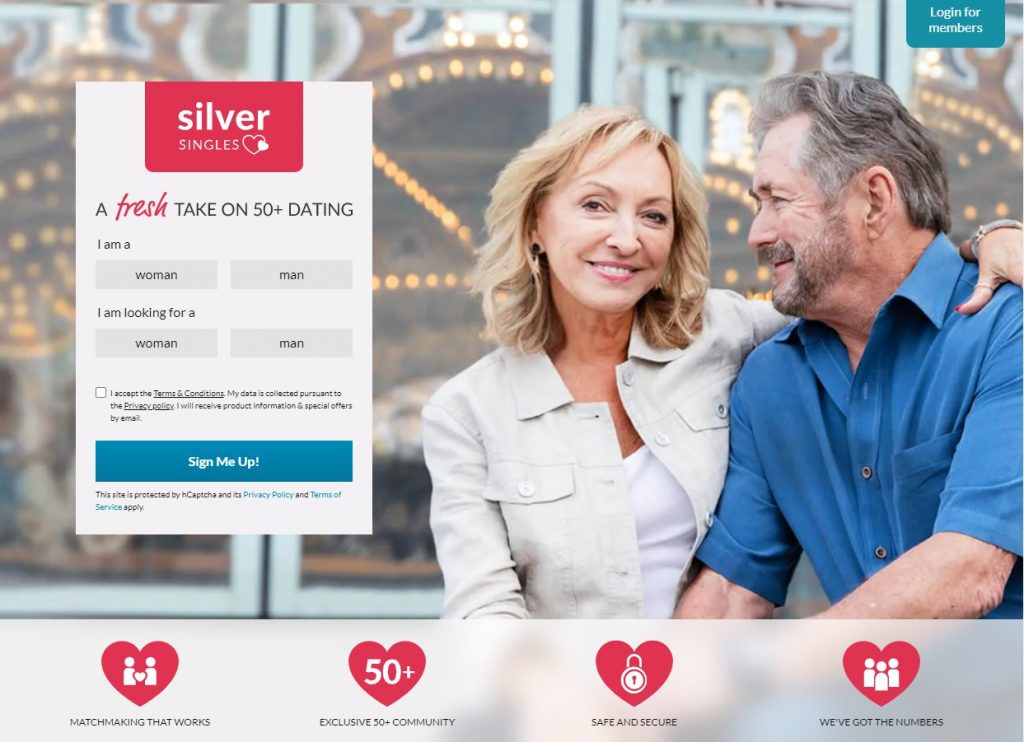 Who Will Love SilverSingles: Iowa seniors looking for love and companionship
Who Might Not Enjoy SilverSingles: Singles under 50
Biggest Pro: Full of members interested in serious relationships
Biggest Con: Free members can't access many of the features
Starting Price:Premium memberships start at $27.95 a month
Iowa's soybean crops aren't the only thing around here that's been growing. If you look around, you'll notice that the aging population is increasing rapidly, too. Close to 35 percent of residents are 50 and over, and that number's expected to go up soon.
After doing some research, we discovered that a lot of Iowa seniors are single. If you're older and alone, you have an increased risk of loneliness and depression. Plus, life just isn't as fun without someone by your side. At the same time, you aren't sure how to meet other singles over 50, so you feel stuck.
Fortunately, you can find your plus one on SilverSingles. It has more than 50,000 paying members a month, and almost all of them are 50 and up.
This site has a nice mix of seniors, including people with and without children. You'll also find older men and women that are widowed, divorced, and never married. That makes it easy to connect with folks that understand your life.
You won't have to talk to all the members to find a connection that clicks, though. You'll start by taking a personality test, and then it'll match you with people that check all your boxes.
Are you tired of being single and want to find that special someone? You can start the process by creating a free account on SilverSingles.
---
4. eHarmony – Best for Long-Term Love without the Stress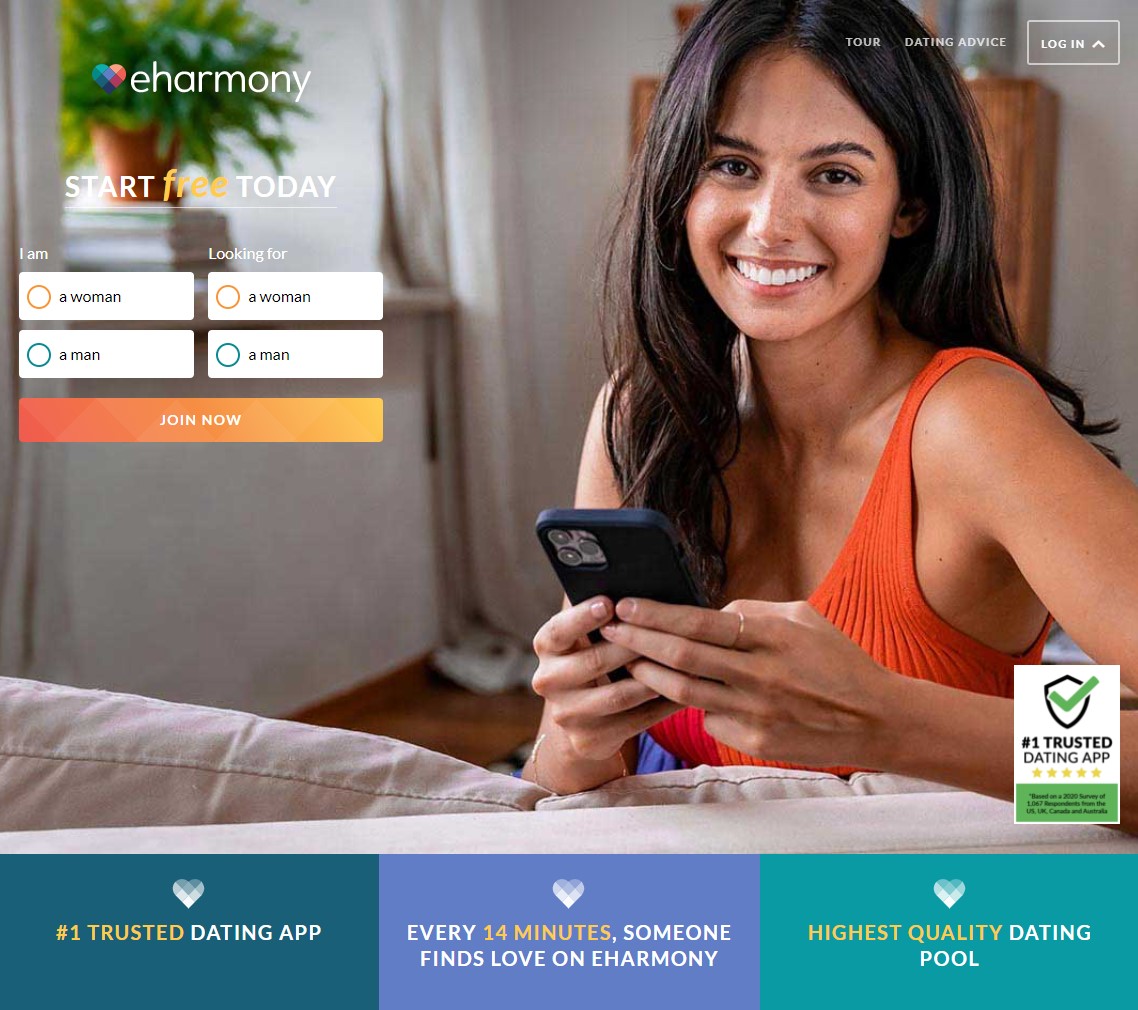 Who Will Love eHarmony: Men and women interested in long-term love and marriage
Who Might Not Enjoy eHarmony: Guys and gals pursuing casual flings
Biggest Pro: Science-based approach to matchmaking
Biggest Con: Profile pics are blurred for free users
Starting Price: Premium memberships start at $21.54 a month
Iowa is usually known for having one of the lowest divorce rates in the country, but the tides are turning. These days, marriage is on the decline, and divorces are going up.
Well, at least that's true for couples that meet in person. Iowa couples that meet on eHarmony have a much lower chance of getting divorced. With that in mind, this is our favorite dating site for Iowa singles looking for something serious.
According to eHarmony's founder, the site is responsible for thousands of marriages and few divorces. But he didn't just say that without giving proof. After looking at ten years of data, he discovered that only 3.86 percent of the couples that married after meeting on the site got divorced.
Iowa's divorce rate is almost double that for a single year.
A clinical psychologist, eHarmony's founder, identified the key traits for compatibility and marital satisfaction and designed the personality test to evaluate those areas. That explains why couples have such high satisfaction rates when meeting on eHarmony.
Are you ready to find true love that will last forever? Start by setting up a free account on eHarmony.

What is the Dating Scene in Iowa Really Like?
Singles are Open to Traveling – Over 40 percent of Iowa is rural, meaning some people have limited options when dating. But that's not a problem since lots of men and women are willing to travel to meet in person. We've heard of people traveling hours after finding the perfect match, but you shouldn't have to go that far. The best Iowa dating apps provide access to people closer to home, even if you have to drive a bit.
Hawkeyes are Open to Love – "When to say I love you" was Iowa's most Googled relationship question in 2021. That shows us that Hawkeyes are ready to take the plunge into serious relationships.
Impressive Profiles Get the Best Results – Iowans want to browse through impressive profiles when using dating apps. Take the time to make your profile stand out. Add a few pictures and describe your interests to get the best results.
Politics are Diverse – There's a myth that all Iowans are Republicans. While the state leans red, there's a nice balance of liberals, conservatives, and people that aren't into politics. That means the dating scene is politically diverse.
It's Not as Religious as You Might Think – Just over half the population identifies as "highly religious," which is much less than a lot of people think. Because of that, religion doesn't play a big role in dating here. You can find a religious single if you want, but it's just as easy to find someone that doesn't attend church or pray regularly.
Hobbies are a Good Way to Meet People – People often expand their friend groups as a way to find someone to date. Engaging in hobbies is the easiest way to make more friends, but it rarely leads to love. Our research shows that singles that use Iowa dating apps are much more successful.
A Night Out is Cheap – Don't worry if you don't have a ton of money to spend on a date. On average, Iowa singles pay less than $51 on dinner, wine, and a movie for two. Only three states are cheaper, so you can date around without going over your budget.
There's Around the Same Number of Men and Women: You shouldn't have any trouble finding a single man or woman in Iowa. Women make up 49.8 percent of the population, so the gender ratio is close to even.
Online Dating is Popular Across Age Groups – People of all ages are into online dating in The Hawkeye State. Whether you just became an adult or you're a senior, you can find someone when using a dating app.

Dating in Des Moines
Best Des Moine Dating App Recommendation: EliteSingles or Silver Singles
Have you noticed a lot of new faces out and about in Des Moines? Don't worry – you're not losing your mind or developing a case of face blindness. As one of the fastest-growing cities in the Midwest, fresh faces are the norm.
So, why all the love for the capital city?
Des Moines has transformed into an economic epicenter, and professionals cross city limits to snatch up jobs in tech, advanced manufacturing, and other industries. And while many of the new faces are part of the younger crowd, this city is home to career-oriented singles of all ages.
But then there's the other side of Des Moines.
Over 25,000 people in Des Moines are 65 and up, which is more than any other city in the state. A lot of the older crowd stuck it out through the city's resurgence, and now, they'd like to find someone to make their golden years more enjoyable.
With such vastly different age groups, you probably aren't surprised to hear there are two sides to the dating scene here. On one end, working professionals try their hand at dating while networking or enjoying a night on the town. The city is full of professional organizations that include singles and coupled-up folks, while downtown is always a hotbed of activity.
The older crowd might not frequent the bars as much, but they stay busy with senior programs and events. Sadly, though, many of them think that there's no such thing as finding love later in life. But while they think age is their problem, the younger crowd tends to go home alone, too.
Yikes, right?
So, we have two solutions for singles in Des Moines. With so many young professionals, EliteSingles is ideal for the under-50 crowd. But if you're part of the older population, you can't beat SilverSingles.
Population: 215,408
Men: 49.13%
Women: 50.87%
Unmarried: 59.47%
Median Age: 34
Bachelor's Degree or Higher: 26.06%
Average Household Income: $70,393
Key Industries: Advanced manufacturing, agriculture and biotech, logistics, financial services, and technology
Top Colleges: Drake University, Grand View University, and Mercy College of Health and Sciences
---
Dating in Dubuque
Best Dubuque Dating App Recommendation: eHarmony
Dubuque is one of our favorite cities in Iowa. As the oldest city in the state, it has tons of history and charm, but that's not all. The city also has a bustling nightlife, more activities than you can count, and booming industries that help you pay the bills.
And speaking of those bills, the cost of living here is a little cheaper than many other Iowa cities, so you can get more bang for your buck.
When you add it all together, it's easy to understand why Dubuque is considered one of the best cities to raise a family. No wonder you see so many kids walking to school and all those families barbecuing outside.
Dubuque might stand out when it comes to family living, but it's much of the same as far as the dating scene goes. Live music and bars are the go-to places for landing dates, but as you know, that's not the way to meet a long-term partner. After all, you can't really talk to someone new while the music's blaring and brews are flowing.
The city also hosts lots of festivals during the summer, so men and women try their luck there. But again, the festivals don't make it easy to get to know people. Sure, you might grab a date for the night, but turning that into a long-term romance isn't very likely.
So, we dug in to find out what works when dating in Dubuque and got the same answer time and time again. It's all about online dating here. And since love and commitment are in the air, eHarmony is the way to go.
Population: 58,052
Men: 48.52%
Women: 51.48%
Unmarried: 51.76%
Median Age: 37.5
Bachelor's Degree or Higher: 29.09%
Average Household Income: $72,227
Key Industries: Manufacturing, medical, and retail
Top Colleges: University of Dubuque, Loras College, and Clarke University
---
Dating in Cedar Rapids
Best Cedar Rapids Dating App Recommendation: Zoosk
Cedar Rapids sure has changed over the years. While you can still feel its blue-collar roots, the tech industry's booming, attracting young professionals. In fact, a lot of people move here to raise families. The jobs draw them in, and the low cost of living and friendly atmosphere make them stay.
Since it's so friendly here, outsiders think dating's as easy as approaching someone in the neighborhood, but that's not the case. We've heard of singles trying to meet people through hobbies and social media meetups without any luck. The nightlife is also a bust when it comes to dating.
That explains why Iowa dating apps are so popular here. People use them to find singles in Cedar Rapids and nearby cities. For instance, lots of people expand their search radius to look for love in Iowa City. That opens them up to more potential dates and increases their success rate.
We spent a lot of time considering which dating app would be best for Cedar Rapids and decided on Zoosk. A lot of younger folks live here, and we've discovered that many are interested in finding dates in Iowa City. Since Zoosk provides the most options, it's the clear winner.
Population: 133,125
Men: 49.43%
Women: 50.57%
Unmarried: 52.63%
Median Age: 36.5
Bachelor's Degree or Higher: 30.29%
Average Household Income: $79,677
Key Industries: Aerospace, biosciences, renewable energy, information technology, defense, and equipment design
Top Colleges: Coe College and Mount Mercy University
---
Dating in Davenport
Best Davenport Dating App Recommendation: Zoosk
Davenport might get more than 200 days of sunshine every year, but the dating scene's a little dim. There's no shortage of singles, including young folks that came here for the low cost of living and jobs. But even with so many available men and women, dating is tough.
Like most Iowa cities, Davenport residents tend to take a friends-first approach to dating. They check out live music in the Quad Cities, hoping to find a spark. Also, active singles join adult sports leagues and hit the hiking and biking trails in pursuit of a special someone.
That's a great way to have some fun, but it's not a good dating strategy. Sure, you might find someone for the night, but you'll be back on the market the next morning.
That's exhausting.
If you want to get off the dating merry-go-round, check out Zoosk. With over 40 million members, you can find your plus one, two, or three on this Iowa dating site.
Population: 102,199
Men: 49.32%
Women: 50.68/%
Unmarried: 54.86%
Median Age: 37
Bachelor's Degree or Higher: 24.78%
Average Household Income: $70,917
Key Industries: manufacturing, healthcare, and agricultural innovation
Top Colleges: St. Ambrose University and Eastern Iowa Community College

FAQ – Iowa Dating Sites
Are There Free Iowa Dating Apps?
You can use the top Iowa dating sites for free, although you'll unlock more features with a paid account. Some dating apps are free but don't have as many features and are full of catfish.
What's the Best App for Casual Dating?
Zoosk is the top choice if you want to start a casual or short-term relationship. While some members want something serious, most are into casual dating.
What's the Best Dating Site for Serious Relationships? eHarmony is the gold standard for singles looking for serious relationships. However, professionals interested in something serious can use EliteSingles, while seniors have the most success with SilverSingles.
Can I Look for Dates in Other Cities?
Yes. You can change the search radius or location when using these dating sites.