Are you looking for your soulmate, but keep attracting putzes? Your dates never seem to make it past the first round, and you wonder if you're destined to live alone forever.
It's easy to expect the worst when your dating life isn't going as planned, but you can turn things around in a big way with help from the best Jewish dating apps. They provide high-quality matches, so you'll be off the market in no time.
But what apps make the cut? After poring over the most popular dating sites, we've narrowed the list down to five. Get the details so you'll be a step closer to finding love.
5 Top Dating Sites for Jewish Singles
---
eHarmony – Best App for Traditional Jewish Matchmaking with a Twist
Arranged marriages are a big part of Jewish tradition, especially for those in Orthodox Jewish families. These families often use the Shidduch matchmaking system, and while there's a lot to love about it, there are downsides as well.
Your family might say it's the way to go since they'll find out everything possible about your prospective bride or groom before you commit. For instance, they'll dig deep into the person's financial status, intellectual abilities, and personality traits to ensure you have a match.
As nice as that sounds, you're living in the modern world and want to have a say in who you marry.
If you're trying to balance Jewish customs and traditions with the modern world, eHarmony is the dating app for you. It'll take over as your personal matchmaker, so your family can sit this one out.
Each member takes a detailed Compatibility Quiz when signing up, and the questions are much like what your family would ask when choosing a bride or groom for you. However, instead of talking it out among family members, eHarmony uses an unbiased algorithm to assign compatibility scores and find matches.
You can also put your faith and culture on full display when using the dating app. Simply add your religion to your profile to match with other Jewish singles. But you don't have to stop there. This dating app can also help you connect with singles of other faiths if you want.
eHarmony has love down to a science and provides the perfect blend of tradition and modern dating. Create your free account so you can find the love of your life without your family's help.
---
Jdate – Best Exclusively Jewish Dating Site
Do you want an inbox full of Jewish singles that are ready to mingle? If so, going with a niche dating app might be the right choice for you. You need to be careful, though, since a lot of niche apps have more scammers than legit users.
Fortunately, Jdate is a cut above the rest. It's been in business since 1997 and has helped hundreds of thousands of Jewish people find love. Those happy couples might have left the app behind, but it still has tons of active users from around the globe.
And while religion is a big deal on Jdate, it's just part of the matchmaking process.
As part of Spark Networks SE, Jdate understands the dating scene better than most. It knows that compatibility comes down to personality and interests, so it evaluates members to find like-minded matches. The system works so well that many of the members end up marrying their matches.
Do you want to find Jewish singles that are husband or wife material? Create your free account to start looking today. It won't take long before you understand why this is one of our favorite Jewish dating apps.
---
Elite Singles – Best Dating App for Career-Driven Jewish Singles
It's no secret that Jewish people tend to be high achievers. It's also not a secret that it takes some time to reach that level of success. Once you get everything in order and start looking for love, you might be 30 years of age or older and worry that you've missed your chance.
While you might have trouble on some apps, a connection is just a few clicks away on Elite Singles. The majority of the user base is driven and highly educated. On top of that about 90 percent of the members are 30 and older. That makes it a fantastic option for finding a successful partner after you've established a career..
Are you a little concerned because it isn't exclusively a Jewish dating site? No worries there because you can add religion as one of your preferences. Then, let the site know that finding a Jewish partner is very important, and it'll help you find your match.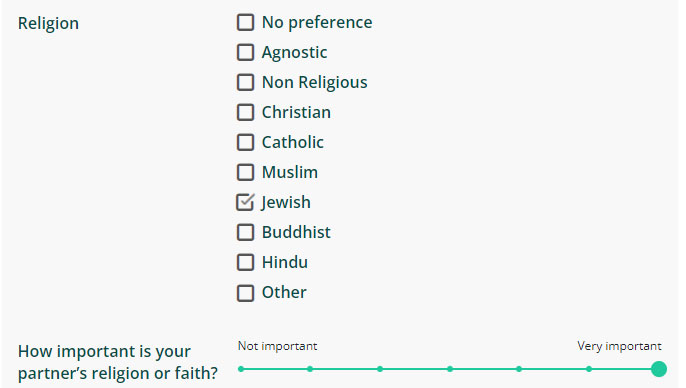 Oh, and you can try it for free! Set up your Elite Singles account today to connect with ambitious Jewish singles online.
---
SilverSingles – Best Dating Site for Jewish Singles over 50
Did you know that 25 percent of Jewish Americans aged 50 and over are single? Some are divorced or widowed, while others have yet to walk down the aisle. Even though there are so many single seniors, you might think that you've missed your shot at love.
Fortunately, it's never too late for love on SilverSingles. While it's not exclusively for Jewish people, it's the best dating site for singles 50 and over. That includes older Jewish men and women who want to find that special someone.
You can find singles based on religion and other preferences when using the app. Once you set your search preferences, you'll be ready to browse profiles and look at match scores. The higher the score, the better chance for true love.
You'll need to pay to unlock premium features, but you can start on meeting Jewish seniors on SilverSingles for free! Considering the quality of the matches, you can find your next and last partner here.
---
Zoosk – Best for Jewish Singles that Don't Fit into Boxes

So, have people told you that it's time to settle down and have kids? As a Jewish single, some people expect you to bypass dating and head straight down the aisle. In their minds, it's part of the Jewish tradition, and you have no choice but to go along with it.
But maybe you're not ready for that or don't even know exactly what you want? If that sounds like you then we would encourage you to give Zoosk a try! More than 40 million members use this dating app, including more Jewish singles than you can count.
But what makes Zoosk unique is that it's not overly casual or aggressively marriage focused.
Instead it uses "SmartPick" technology to try and figure out exactly what you're looking for in a relationship and then bring back matches with similar goals, lifestyles, and interests. Depending on how you interact with the app that may include people looking for something short and casual, as well as those looking for marriage.
If you're a Jewish single still trying to find your place in the world of online dating this dating app is user friendly and has been proven to yield positive results—even for beginners!
---
Reasons These are the Best Jewish Dating Sites
Find Compatible Matches Beyond Religion: You're probably around lots of Jewish people each day, but you don't want to date them. See, religion is just part of the equation, and that's why we think these are the best Jewish dating apps. You can search for Jewish people that have the attributes and traits you want in a partner, making it easier to find a compatible mate.
Match with Jewish and Non-Jewish Singles: You can stick to dating other Jewish people or match with people of other faiths with these dating apps. That's even true on Jdate. It might be designed for Jewish singles, but non-Jewish people can sign up, too.
Stay Local or Search Around the Globe – With close to 15 million Jewish people in the world, there's not a shortage of singles looking for love. Still, you might have trouble finding local options if you live off the beaten path. We selected dating apps that can help you find people nearby, in another state, or even overseas.
Classy Dating Environments – Don't worry about NSFW content on these Jewish dating sites. They provide wholesome environments for Jewish singles and others.
No-Harassment Zones – Unfortunately, some people harass others based on religion. You won't have to worry about that on these dating apps, though. The customer support teams take harassment seriously and jump into action if anyone steps over the line.

Niche Jewish Dating Apps
Silver Jewish Singles – Like SilverSingles, Silver Jewish Singles is open to people 50 and over. But that's where the similarities end. The Jewish dating site has few members, and we're concerned about privacy since you can see profile info before creating an account.
JSwipe – This is kind of like Tinder for Jewish singles. While the developers state the dating app has over a million users, it's hard to find nearby singles. Expect to branch out well beyond your current location when using it.
Lox Club – This app is dubbed "The Jewish Raya" because it's so exclusive. But exclusivity has its drawbacks. Most of the members are in large cities, so you'll have trouble connecting if you live elsewhere.
JWed – This dating site promises to match marriage-minded Jewish singles. It's a great idea, but it's far too glitchy, making it more frustrating than fun to use.

How to Avoid Scams on Jewish Dating Apps
Do you feel a deep connection when talking to people that share your faith? Because it's so powerful, some scammers try to exploit it. See, they pretend to be Jewish to build trust quickly. Then, after sinking their hooks in, they try to get money from their matches.
The best Jewish dating apps do a fantastic job of fighting scammers and keeping the platforms safe. Still, fraudsters never seem to give up, so you might encounter one or two when looking for love online. Fortunately, you can protect yourself by following a few tips.
First, be careful when creating your online dating profile. Don't share your full name or any other info that people can use to find you off the platform. Otherwise, a scammer might follow you into the real world when seeking money.
Speaking about the platform, keep your communications there when getting to know your match. Scammers often want to get their victims to chat on Telegram or another third-party app instead of staying on the dating site. That way, they're less likely to be flagged if they step out of line. By staying on the app, you'll have an extra layer of protection.
Next, don't give money to any singles you meet online, even a few bucks. Scammers often start small and then increase the amount each time they ask. Before long, you might be out thousands of dollars and nursing a broken heart.
Finally, make sure the person is the real deal by video chatting before getting too attached. People running scams usually don't want to jump on a video call, so you can weed out the fakers before getting hurt.

Should You Only Look for Jewish Singles?
Once you set up your dating site profile, you'll be ready to mingle. But the question is, should you stick to meeting other Jewish singles or open yourself up to others as well? You can do both on our favorite Jewish dating apps, so it's up to you.
You might think that going outside of your religion is taboo, but it's becoming increasingly common. In fact, researchers have discovered that Jewish Americans are now more likely to marry someone of another religion. That's a departure from how things were a few decades ago.
And here's the thing….
These interfaith marriages are largely credited with creating a more tolerant society. Also, some experts believe that interfaith couples are better communicators. By talking about their differences and similarities, they get used to sharing their feelings.
Weigh the benefits and drawbacks and decide what makes the most sense for you. And whether you decide to go after a Jewish partner or prefer an interfaith relationship, the top Jewish dating apps have you covered.