Between the straight guys pretending to be women to the lack of available singles, dating online can be challenging for lesbians. It can seem like the dating gods are against you, but the best lesbian dating apps will stack the odds back in your favor.
This might come as a surprise, but many of the best options are part of the mainstream, meaning they're open to anyone of legal age and an internet connection. As strange as that sounds, the mainstream apps have more active users, better matching algorithms, and extra features that you won't elsewhere. All you have to do is create a profile, and the matches will come at warp speed.
Is the wait killing you? Let's start evaluating these apps so you can level up your dating game, one match at a time.
4 Best Lesbian Dating Apps of 2023:
---
eHarmony – Mingle with Lesbian Singles in a Safe Space
Do you have more online dating horror stories than your straight friends? Your pals might think you're nitpicking every detail, but the facts are on your side. According to the Pew Research Center, gay, lesbian, and bisexual singles experience more harassment than their straight counterparts, so it makes sense that you have enough horror stories to fill a library.
Knowing that you're not a complainer is nice, but still, that's a pretty frightening fact.
Well, you can put your fear in the rearview and focus on dating when using eHarmony. This app is the best of the best when it comes to creating a safe space for lesbians. First, it conducts regular profile audits to eliminate fake accounts and sneaky catfish. These adults are incredibly effective, so scammers have their work cut out for them on the app.
But what if a jerk manages to slip through the cracks? eHarmony also has a responsive customer service support team that you can contact at any time. The team takes all reports of harassment and hate speech seriously and will do what's necessary to protect you. As you can imagine, it's a lot easier to find love when you aren't stuck fending off hate speech and fraudulent behavior.
eHarmony's safe environment might be your ticket to the match of your lifetime, and you don't even have to pay anything to get started. Sign up for a free account to start browsing matches, and then upgrade when you're ready to reach out.
---
EliteSingles – Find True Love with Personality-Based Matches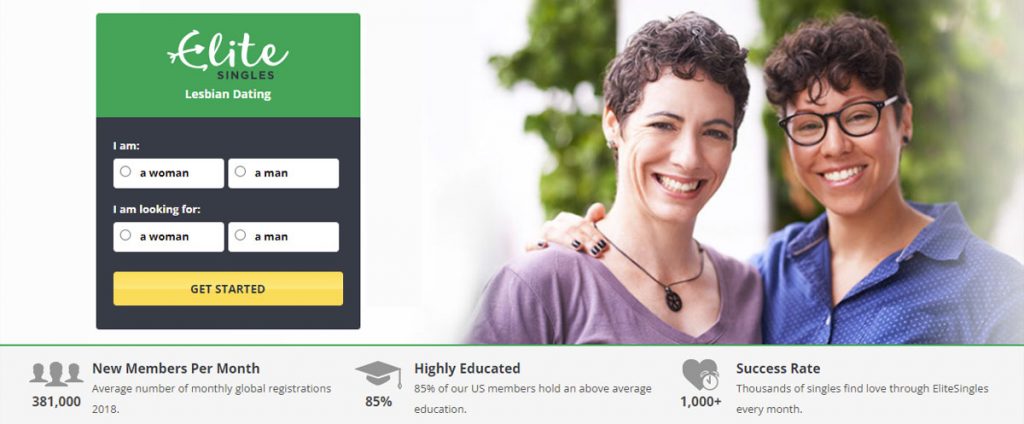 Here's a fun fact. Women are biologically predisposed to value personality over looks. In fact, a good personality can turn a five into a seven just like that. Heck, that number can go all the way up to ten if the woman has a killer personality.
So, what happens when two women are in a relationship? That doubles the importance of personality, making EliteSingles a necessary stop on the dating train. By matching people based on personality test results, EliteSingles helps women make real connections. And it must work well, considering that more than 2,000 couples pair up each month.
Do you want to add one more pairing to the list? Head over to set up a free account so you can start mingling.
---
Zoosk – Expand Your Options with Local and International Chat and Dating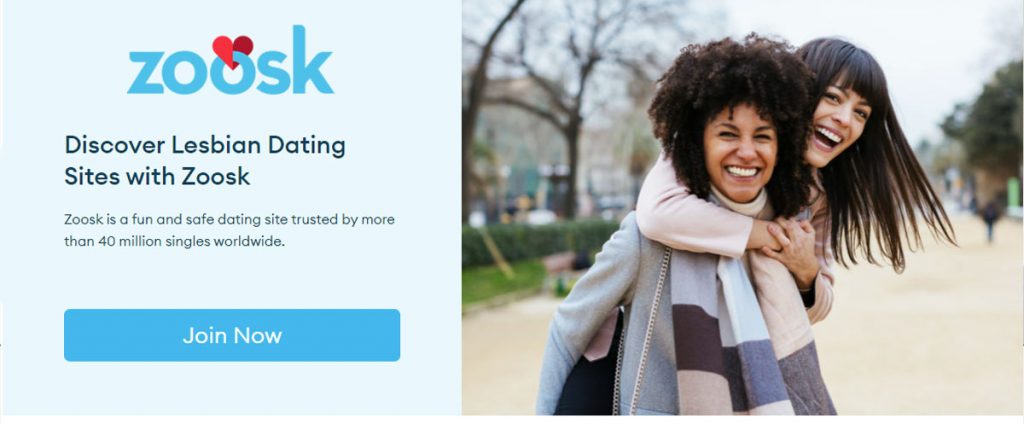 Have you been looking in all the usual places and wondering where all the eligible lesbians have gone? Well, don't pass out those missing person fliers quite yet. Instead, head to Zoosk to find more lesbians than you'd ever expect to see on a mainstream dating app.
So, why are lesbians sending Zoosk so much love?
First, there's the safety component. With profile verification, you know the person you're talking to is the real deal instead of some guy typing away in his mom's basement. Plus, it has singles from 80 countries, so there are numerous bachelorettes in the dating pool. Since lesbian makes up such a small percentage of the general population, this can help you find real connections and lifelong love.
It's so easy to find love on here that you might end up with a connection before your free trial runs out. Want to take that challenge? Grab your free trial and work some matching magic.
---
PinkCupid – Join a Community of Lesbians Looking for Love
Now, you can't have a list of the best lesbian dating apps without giving a shoutout to PinkCupid. Unlike the rest of the best, this niche dating app is just for lesbians, bisexuals, and bi-curious women.
Now, you might be thinking, "I thought you said that the mainstream dating apps are better." There's always an exception to the rule, and in this case, that's PinkCupid. You'll find singles from all walks of life with various relationship styles and goals here. Want a quick fling? Head to PinkCupid.
Looking for the love of your life? Again, PinkCupid has you covered. Plus, it has optional profile verification, message translation for international dating, and the advanced "Cupid Matching" algorithm that crunches data to create matches for the million-plus users. It sounds like fun, doesn't it?
Give it a go by setting up a free account. After trying it for free, you can upgrade to unlock the premium features.
---
Reasons These Are the Best Lesbian Dating Apps
Safe Spaces for Lesbian Singles – While some dating apps operate like the Wild West, the best ones protect members from homophobic harassment and men posing as women. These apps manage this feat with profile verification and responsive customer service teams that put homophobes in their place – off the app.
Personality Takes Center Stage – Are you among the long list of lesbians who value personality above all else? With personality tests and other features, these apps know how to look under the surface and find out what makes people tick. Straight people might prefer swiping left or right based on looks, but countless lesbians value personality, so this is critical.
Large Databases of Active Users – Lesbian bars used to be the go-to place for finding dates, but they've practically been replaced by these dating apps. If you want to find eligible singles ready for a casual fling or long-term love, these apps have you covered.
Local and International Dating: Straight people can walk outside and find eligible heteros every which way they turn. Lesbians aren't nearly as fortunate, so these dating apps offer local and international dating options so women can expand their reach.

Popular Lesbian Apps Outside of the Mainstream
Except for PinkCupid, the previously mentioned apps are mainstream, so they're open to everyone. Because mainstream apps have more users, it's normally easier to find dates when using them. Still, you might want to check out some lesbian dating apps so you can immerse yourself in the community. Check out some niche apps you can add to your date-finding arsenal.

HER – HER is considered one of the best dating apps for lesbians and queer-identifying singles. If you're looking for an app that focuses on community building and strong relationships, create an account to meet singles and check out events that could help you find your match.
Taimi – Set up as a hybrid social network and dating app, Taimi is like a niche within a niche. The social feeds and live streams make connecting as easy as it is fun, and you can access many of the top features for free.
Zoe: Zoe might be a bit newer to the lesbian dating scene, but it's already built a userbase of 3.9 million lesbians and counting. You can swipe and chat for free, so it's all about the reward without the risk.
Lesly: Do you get a little envious when you see your friends playing around on Tinder? You'd rather pass since it's full of men, but still, swiping and judging is super satisfying. You can get your fix on Lesly, a Tinder-like lesbian dating app. And while that's the main draw, the staff also works hard to keep the site scammer-free, so you can let your guard down and have some fun.

Location-Based Dating Apps: Not for All Lesbians
Do you feel a little shot of adrenaline when you open a dating app and see one cutie after the next online? While that's a great feeling, location-based dating apps aren't safe for all lesbians.
If you live in an area that criminalizes homosexuality, law enforcement could use a location-based dating app to track and entrap you. Reports of this have come out of Egypt, and it likely happens in other countries as well.
Unfortunately, location is a big part of online dating, but that doesn't mean you have to skip the fun.
Instead, consider a dating app that lets you hide your location or even your presence.
For instance, you can go incognito on PinkCupid. You'll still be able to browse, but others won't see you. You'll need a paid membership for this, but it's worth the upgrade if you have security concerns. Plus, there's something liberating and exciting about browsing in secret and making the first move.

How Can You Stay Safe on Lesbian Dating Apps?
Unfortunately, harassment is all too common for lesbians looking for love online. From sexually explicit messages to men trying to talk lesbians into switching teams, it can be overwhelming. And that's not even mentioning the way that some guys pose as women to trick lesbians.
So, that's the bad news, but it's not all doom and gloom. You can protect yourself by choosing the right app and following some tips.
First, apps with profile verification can help you out quite a bit. It's a lot harder for men to hide in the shadows when using a dating app with this feature. Also, choosing a lesbian dating app with a strong customer service team is critical. Then, you can report abuse and get users banned or silenced.
Finally, always go with your gut when matching, chatting, and meeting singles. If something seems off, it probably is, so give that match a pass and move on to the next one. The dating pool might not be as big as the one for heterosexuals, but there are tons of eligible singles out there, and it only takes one for a perfect match.

Lesbian Dating Apps to Avoid
Most dating apps have something to offer lesbians, but that doesn't mean you should try each one. Some apps create such a headache that your dating life will be better off without them.
Tinder and Bumble lead the list of apps lesbians should avoid. Sure, both are full of active lesbians ready to mingle, but you'll have to do some navigating to reach them. Basically, the apps are loaded with straight guys that somehow manage to slip through and turn into matches.
If you don't want to spend your time weeding out the male invaders, choose one of the best lesbian dating apps instead. Then, you can position yourself for success.