Are you over the local dating scene and searching for a long-distance relationship (LDR)? Maybe you've run out of local options, or your job keeps you on the road. And hey, you might want some space so you can keep your independence during the relationship.
No matter the reason, we have you covered. First, we've selected the best long-distance relationship apps for finding casual or serious partners. And on top of that, we're going to share some of our favorite apps that you and your partner can use after starting the relationship.
Already have someone special? This first part is not for you. Click here to jump ahead to where we discuss 6 of the best LDR apps for existing couples.
5 Best Long-Distance Dating Apps:
---
Zoosk — Best for an LDR without the Strings
Do you want to start an LDR without any strings attached? That'll be a challenge if you use a long-distance relationship app full of serious singles. Your matches will try to tie you down, so you'll have to cut them off one by one.
But you won't need to snip any strings if you pair up with someone on Zoosk.

Most of the 40+ million members are into casual and short-term dating, so you won't have to worry about hearing, "When are you moving in with me?" And since it's open to people in 80 countries, you can find guys and gals no matter where you're heading.
That being said, you can pursue long-distance and long-term love here. But the next recommendation on our list is better for serious daters, so stay tuned.
Best Feature for LDRs: You might live far away, but you can travel the world with Zoosk's Great Dates. Choose a location, such as Athens or Naples, and explore with your partner.
How to Search by Location: Click on your profile to change your location. Then it will show you singles living in that area.
---
eHarmony — Best for Compatibility that Overcomes Distance
Look, long-distance relationships take work. You have to communicate and have the same relationship style, or it'll fizzle out. But that won't be an issue when you use our favorite LDR dating app for serious singles — eHarmony.

First, you'll take a personality assessment that covers the following:
Communication style
Relationship behaviors
Fundamentals of your personality
Aspects of your everyday life
After answering all the questions, go to your matches and look at the compatibility score. If you see a match with a score of 110 or higher, your LDR can go the distance.
Best Feature for LDRs: eHarmony's Video Date will help you and your match stay engaged. And since you can log in on your mobile device or desktop, you can connect on the go.
How to Search by Location: Click "Match Preferences" and scroll to "Where do I want to search?" You can change the search location without changing your address.
---
EliteSingles — Best for Business Travelers
Traveling for business can be lonely, especially if you're single. With no one by your side, it's just you, the road, and work, so LDRs are appealing.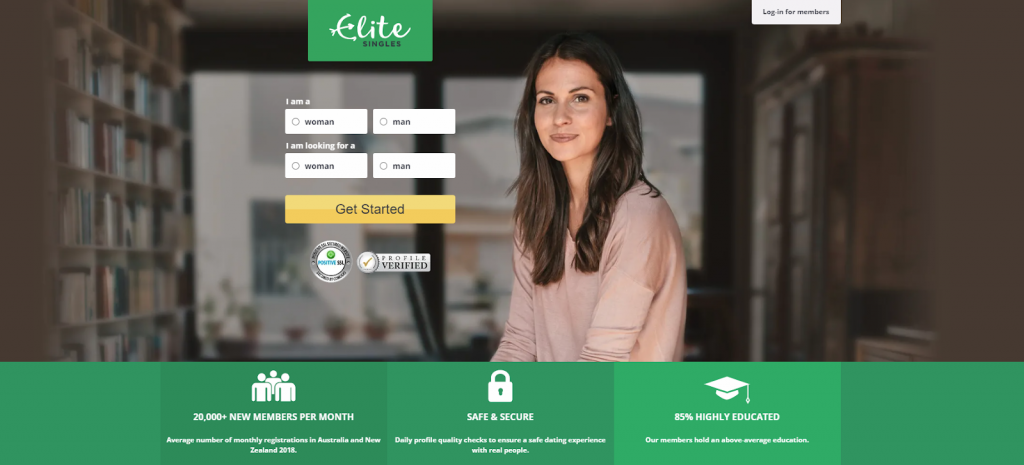 But the thing is, it takes a certain type of person to understand your professional demands, and that's why we recommend EliteSingles. Most of the members are career-oriented professionals, so you'll meet someone that fits into your busy lifestyle.
Best Feature for LDRs: The "Have You Met…" page on EliteSingles shows profiles for people that barely missed meeting your matching criteria. Pass or like the profiles to find someone down for an LDR.
How to Search by Location: Go to "Match Settings" and change the zip code under "Distance."
---
InternationalCupid — Best for Going Global
Some people define a long-distance relationship as dating someone in the next city or state. But others prefer meeting people overseas. If your ideal match is located across the globe, check out InternationalCupid.
It helps people from other countries connect, so pretty much everyone's down for an LDR. And most members also want something serious, so you can develop a strong connection.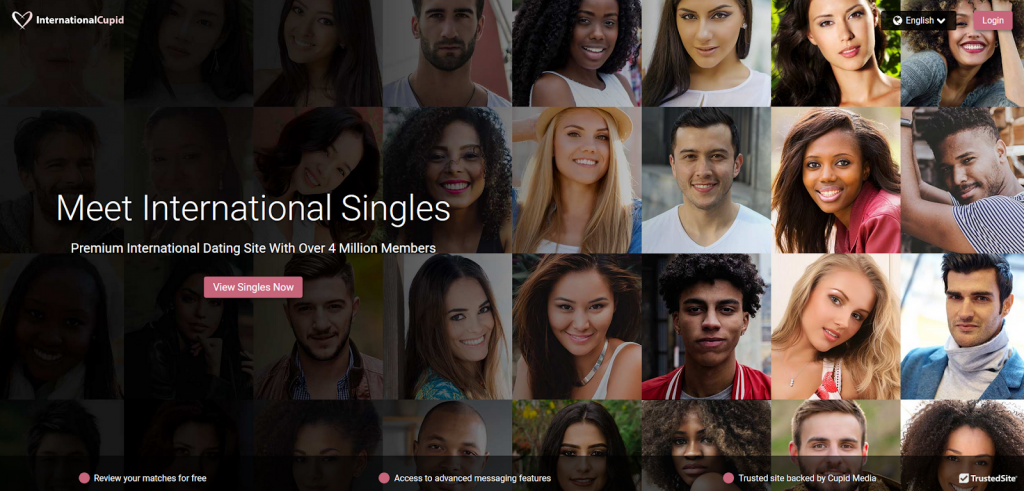 Oh, and you can even choose if you want to relocate, meaning you can consider taking it into the real world down the line. Of course, sticking to online dating is also an option, so feel free to go after what you want on this dating app for long-distance couples.
Best Feature for LDRs: If you upgrade to a Platinum or Diamond membership, InternationalCupid will translate your messages for you, allowing you to break down communication barriers.
How to Search by Location: Open the advanced search settings to choose a location. You can search for singles in one or multiple countries, making it easy to find the perfect partner.
---
Christian Mingle – Best for Love Minus the Temptation
Do you have trouble balancing your faith with your dating life? We totally get it. It's hard to stick to the rules when you're falling for someone.
For starters, you have to deal with a lot of sexual temptation when striking up a relationship. Saving yourself for marriage isn't easy when you see your partner day in and day out.
And on top of that, you might put all of your time and energy into the relationship instead of your faith. It's hard to throw yourself into church when your partner is always around, so you might experience a spiritual crisis.


If you want a relationship without all the temptation, consider searching for a long-distance match on Christian Mingle.
Now, it's also a local dating app, but you can set your location based on where you want to find dates. Then you'll be ready to access religious singles looking for love. And while the members tend to want to get serious, you can nurture things at a distance before taking the next step.
Best Feature for LDRs: Christian Mingle's LookBook feature is perfect for finding the right partner quickly. Flip through the profiles until someone catches your eye.
How to Search by Location: Open "I'm Seeking" to access your match preferences. Then click on the city to change the location.
---
Reasons These Are the Best LDR Apps
Easily Change the Search Location — You can change the search location with a few clicks, so you'll be checking out profiles in no time.
Browse Singles for Free — You can test these long-distance relationship apps for free, so go out and explore!
Lots of Members — Not everyone is into long-distance dating, but that's not a problem. These apps have so many users that you'll find loads of folks looking for the same thing.
Browse without Borders — You can look for singles in your country or overseas, so nothing will hold you back.

6 Awesome Apps for Long-Distance Couples
Now that you know where to look for singles, it's time to switch gears. But don't shut down your PC or mobile device just yet. Instead, keep it ready to go so you can download some apps to help you and your special someone connect despite the distance.
Here are 6 apps that will help to make your long distance relationship feel closer. Oh, and don't worry if you're in a mixed-technology relationship. We selected LDR apps that are available on iOS and Android:
Between — There might be some distance between you and your mate, but you'll close that gap with Between. You can use it to share your calendar and notes, count down to special days, and store photos. Oh, and keep the convo going with the chat feature.
Rave — This watch party app might be marketed to friends, but we think it's great for couples in LDRs. You and your match can use it for watching YouTube and Netflix or for jamming out to music. And with in-app text and voice messaging, it'll be like your partner is right next to you.
Tuned — You might not share a home, but you can have your own special place with Tuned. Open it up to listen to music together, exchange love notes, and ask and answer questions. Be sure to check out the prompts if you can't think of questions to ask.
We-Vibe — Distance doesn't just make the heart grow fonder. It can also make you more passionate, so we recommend We-Vibe. This is about as intimate as you can get at a distance.
iPassion — Since things are heating up over here, we might as well throw an adult game into the mix. This passionate quiz game is a ton of fun, and it'll help you get to know your partner better.
Wefeel — If you get tired of iPassion, check out Wefeel. It's the same concept but with different games, so switch between them to stay engaged.

Benefits of Striking Up a Long-Distance Relationship Online
Have your friends looked at you like you're crazy for wanting to start a long-distance relationship? They might not get it, but we do. See, there are so many benefits that come with LDRs that we get the appeal.
First, when you don't live nearby, you won't have to worry about only having a physical connection. Since you can't just head over for a hookup, you'll have to find other ways to connect. That means you'll get to know each other much better than you would if you spent all your time together.
And that can help you strengthen your communication skills and build trust. At the same time, you'll have the space to figure out if you want this to be long-lasting or prefer to cut ties.
Finally, and maybe most importantly, nothing is as sweet as finally connecting in person after spending time apart. That'll help you maintain the intensity of a new relationship for the long-term.

Creating a Profile for Long Distance Dating
We think it's a good idea to be upfront about what you want out of a relationship. And that includes letting people know when you're seeking someone in another city, state, or country.
You don't want to put time into someone that wants a partner in the same neighborhood. It'll be a waste, and some hurt feelings might come up.
With the exception of InternationalCupid, you can't check a box to let people know your intentions on these apps for long-distance relationships. Instead, add some text in your profile to tell them what you're looking for on the app. Also, mention it again when chatting for the first time.