When WalletHub created its list of the best and worst states for singles, it put Maine near the middle of the pack. Ranked at number 26 on the list, WalletHub makes you think there isn't anything special about dating in Maine, but we know that isn't true.
In reality, online dating has spiked in The Pine Tree State, creating more happy couples than we can count. And we want to add to those couples by sharing the best Maine dating apps.
Top 5 Dating Apps in Maine in 2023
---
Whether you want a serious, casual, or faith-filled relationship, these dating sites have you covered. We even have a special suggestion to help the 50-and-over crowd find singles in Maine!
But let's not get ahead of ourselves. First, we would encourage you to read more about these apps to see which is right for your dating life. Plus, stick around to get some tips about navigating Maine's dating scene. We break it down based on location and even jobs, so you won't have any trouble turning your love life around.
Are you ready to change your social media status to "In a relationship?" Let's get started with the best dating sites in Maine.
---
Jump Ahead – Contents of our Maine Online Dating Guide:
---
1. eHarmony – Best for Finding True Love
Who Will Love eHarmony: Singles ready to start serious relationships with compatible matches
Who Might Not Enjoy eHarmony: Casual daters who want relationships or flings without strings
Biggest Pro: Matches people based on the 32 Dimensions of Compatibility
Biggest Con: More expensive than other Maine dating sites, but it gets results
Starting Price: Premium memberships start at $35.90 a month
Did you know that couples in Maine and West Virginia stay married longer than in any other state? The median length of marriage in both states is 22.3 years, so people here take commitment seriously.
But things are never as straightforward and easy as they look, right? That's certainly the truth when it comes to starting a serious relationship here. Basically, there aren't that many options.
Fewer than 28% of Mainers haven't been married, while under 20% are widowed or divorced. As you can see, it's getting to be slim pickings around here, so you might run into some trouble when pursuing a serious relationship.
Even more challenging? You might not find marriage material in your nearby area, meaning you'll have to travel for love. It's harder to get to know someone when you're separated by a massive stretch of I-95. You could easily end up investing months or years into your partner, only to realize they don't mesh with you.
Fortunately, options and distance aren't a problem when using our favorite Maine dating app: eHarmony.
First, the site's full of people who want serious relationships, so you won't have to settle due to a lack of options. And second? eHarmony turns matchmaking into a science with the 32 Dimensions of Compatibility. Basically, it learns everything about its members off the bat, so you won't have to worry about finding out you're incompatible in a few months or years.
If you want to start a relationship with a compatible partner, eHarmony is the Maine dating site for you. Get things started by grabbing a free trial for eHarmony today.
---
2. Zoosk – Best App for Classy, Casual Online Dating
Who Will Love Zoosk: Mainers who want a safe and effective casual dating environment
Who Might Not Enjoy Zoosk: Singles who are ready to get serious right away
Biggest Pro: Verified profiles and video streaming makes it easy to avoid creeps
Biggest Con: Few choices for people into serious dating
Starting Price: Premium memberships start at $10 a month
We know, we know. Casual dating is rough in Maine – but probably not for the reason you think. The casual dating scene here is as prominent as it is in most states, with a big caveat – Tinder isn't happening in Maine.
Sure, some singles try to find matches on Tinder, but it's pretty weird and frustrating in The Pine Tree State. There are a lot of creepy profiles on there, and singles can't swipe left fast enough. The low quality might make you think casual dating is off-limits, but you just need to switch things up.
In other words, you just need to use Zoosk for casual online dating in Maine.
Most members take their time creating profiles on Zoosk, so you can get a lot of important info before reaching out. Plus, Zoosk's behavioral matchmaking system learns as you go, meaning you can expect high-quality matches after spending some time on the site.
Zoosk also has some cool features to help you weed out any creeps before meeting in person. For example, you can use Great Dates to travel the world before setting up a date IRL. It also has other live video features, including Battles.
Zoosk might be as easy to use as Tinder, but everything is of higher quality using this Maine dating app. Check it out by setting up your free account on Zoosk today.
---
3. EliteSingles – Best for Hitting the Professional Dating Pool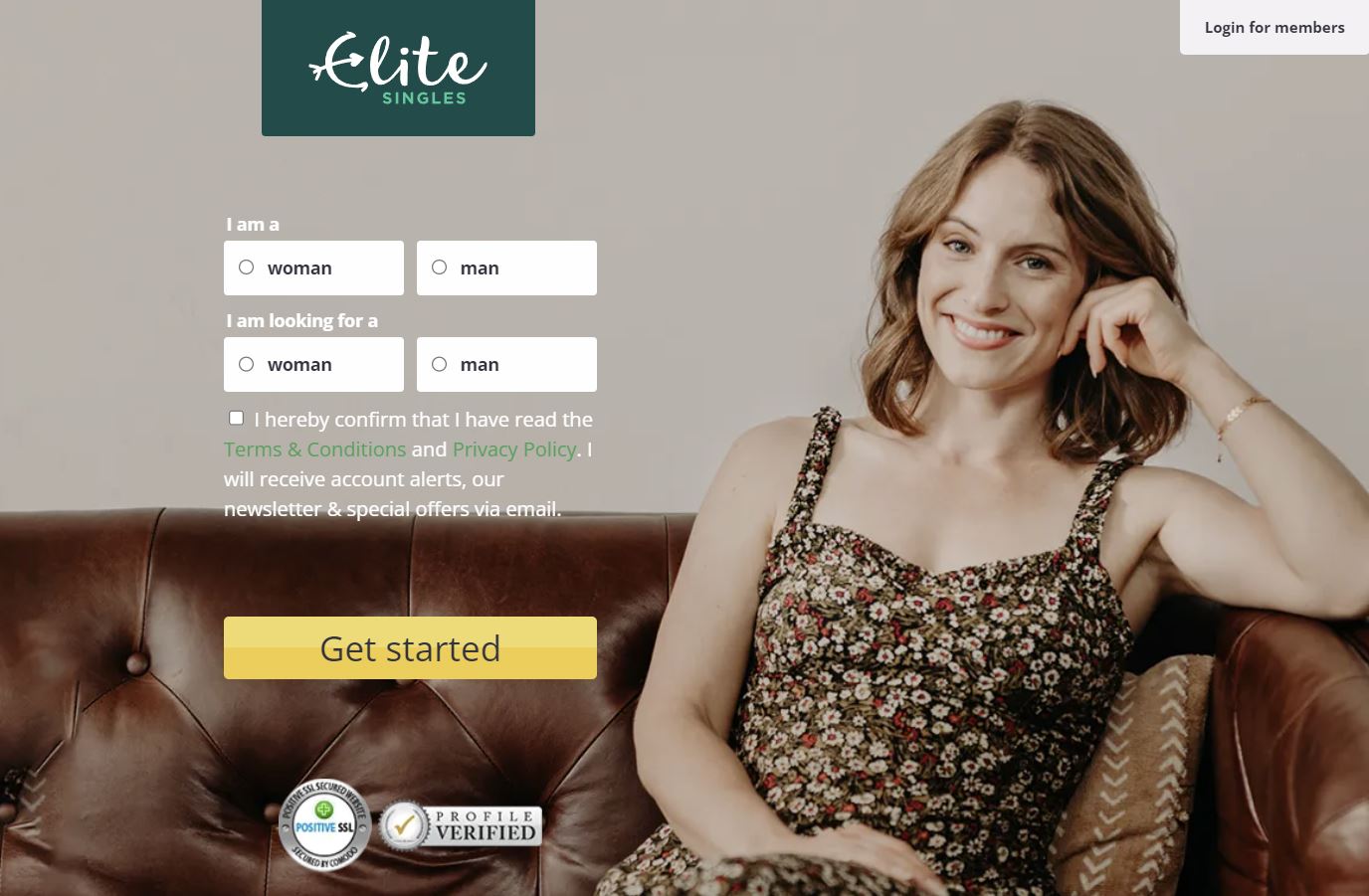 Who Will Love EliteSingles: Professionals interested in dating career-oriented folks
Who Might Not Enjoy EliteSingles: Singles who leave work behind after clocking out
Biggest Pro: Most members have impressive resumes
Biggest Con: Can be intimidating for people who aren't professionals
Starting Price: Premium memberships start at $27.95 a month
If you live in Maine, you know the state's home to a bustling professional workforce. From government and healthcare jobs all the way to business and financial service roles, professionals have lots of opportunities in this state.
In fact, the demand for professionals is so great that Maine has doubled down on attracting talent from other states to fill some roles, and not just in Portland. The entire state offers top-tier employment options, and people can't move here fast enough.
The tech revolution hasn't missed Maine, either. Tech startups are the most common, although you'll find a variety of small businesses throughout the state.
A lot of Maine's most successful professionals have spent years pouring everything into work. Now, they're ready to settle down with someone but don't know where to look.
As you probably know, meeting people in person is always a risk. You never know if they like you for who you are or your status – and you can't help but worry dating the wrong person will hurt your reputation at work.
And second? Dating someone at work is an even bigger risk. You worked too hard to move up the career ladder to get accused of playing favorites or trying to date your way into a promotion. That's not a good look, and you want to avoid it.
Fortunately, you can hold onto your money, reputation, and job by finding a partner on EliteSingles.
This dating site attracts professionals in over 25 countries, with the United States being the most popular. And we can assure you that you'll find plenty of professional singles from Maine when you create an account with this high end dating app. Check it out by setting up your free profile today.
---
4. SilverSingles – Best for Singles 50 and Over Looking for Love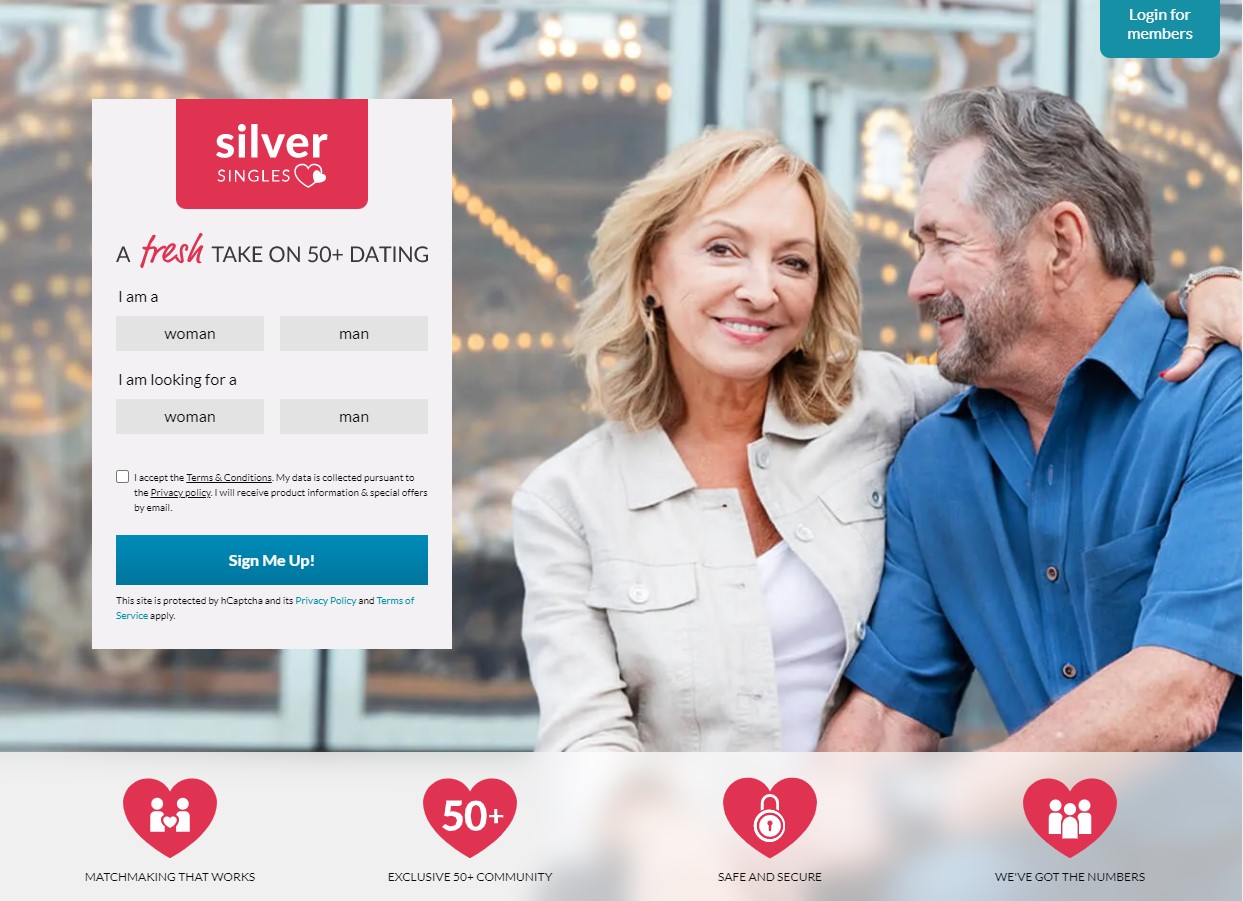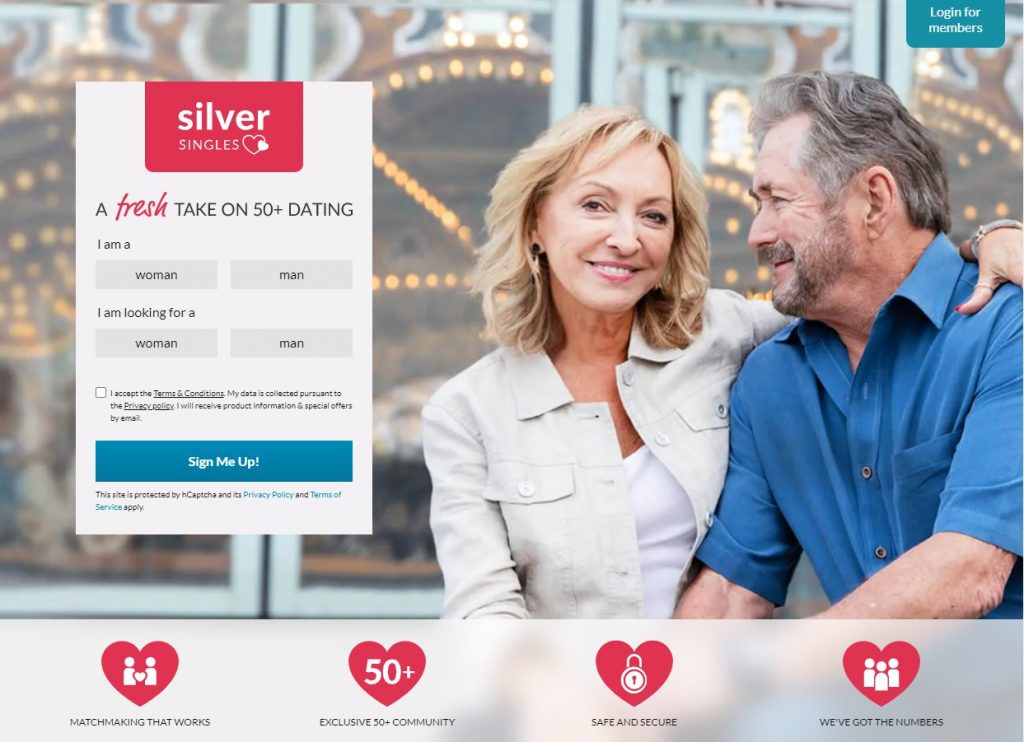 Who Will Love SilverSingles: Singles 50 and over who are ready to embrace Maine's online dating scene
Who Might Not Enjoy SilverSingles: Older singles who prefer dating younger folks
Biggest Pro: Exclusively open to people 50 and older
Biggest Con: Need to pay for a membership to unlock useful features
Starting Price: Premium memberships start at $27.95 a month
Maine's population sits at around 1.3 million people, and almost 40% of residents are over 50. While some people are growing old with their spouses, the state's experiencing a startling trend that's leading to lots of single seniors.
More and more Mainers are getting divorced later in life here. This tends to happen when people marry young, only to realize they aren't compatible. They ride it out while the kids are at home and divorce after becoming empty nesters.
While it's hard to go through a gray divorce, this is good news for the state's senior dating scene. According to The Senior List, Maine is one of the best states for single men and women between 55-64. Over 12% of men and more than 13% of women in this age group are single.
But where are they?
We did some digging and discovered that many of them are hanging out on SilverSingles. And it's easy to see why. The dating site is easy to use, has high-quality profiles, and an effective matchmaking system based on the five-factor model of personality.
It might be hard to find seniors out and about, but it's a breeze on this Maine dating app! See for yourself by setting up a free SilverSingles account today.
---
5. Higher Bond – Best for Finding Christian Singles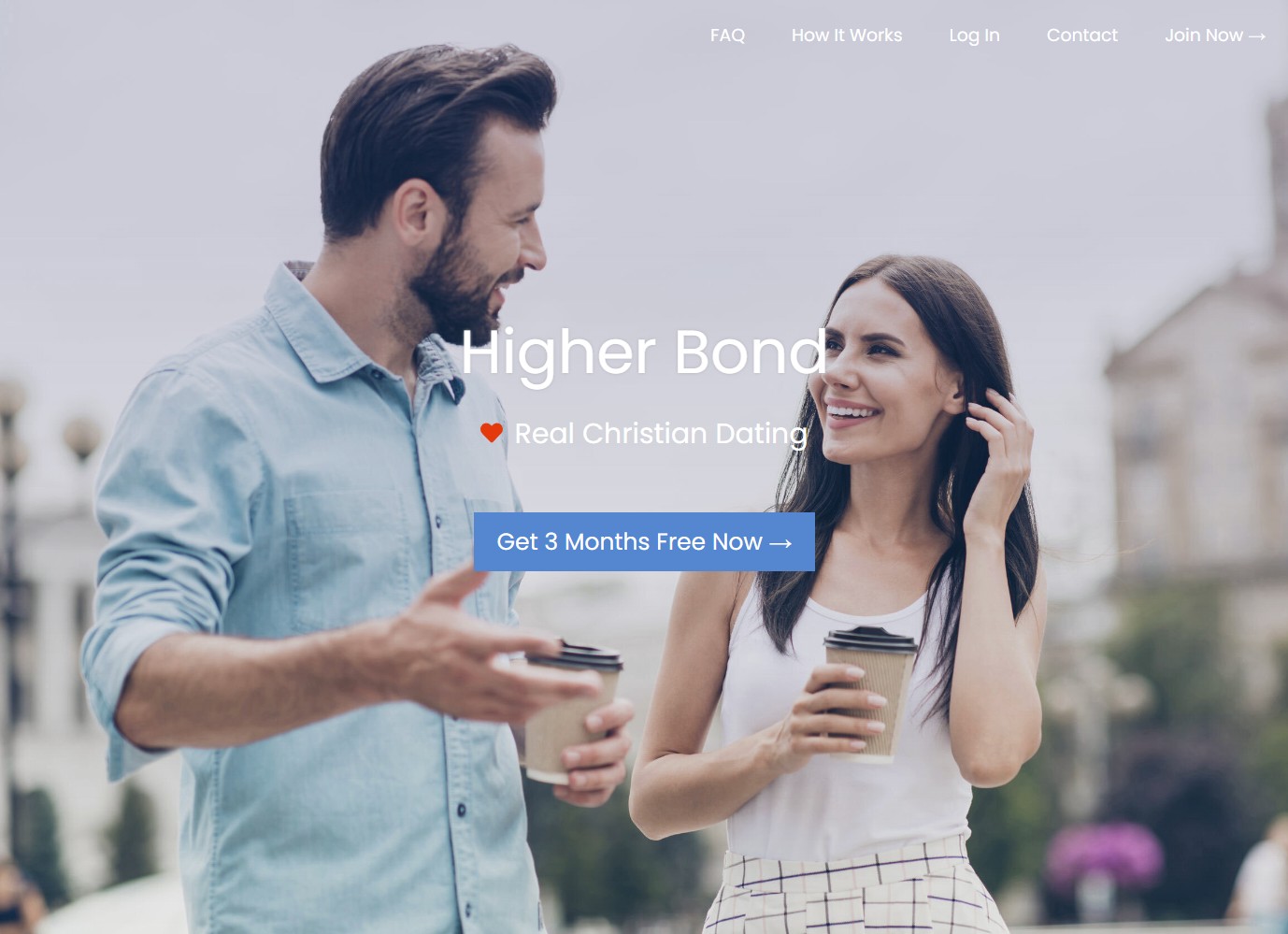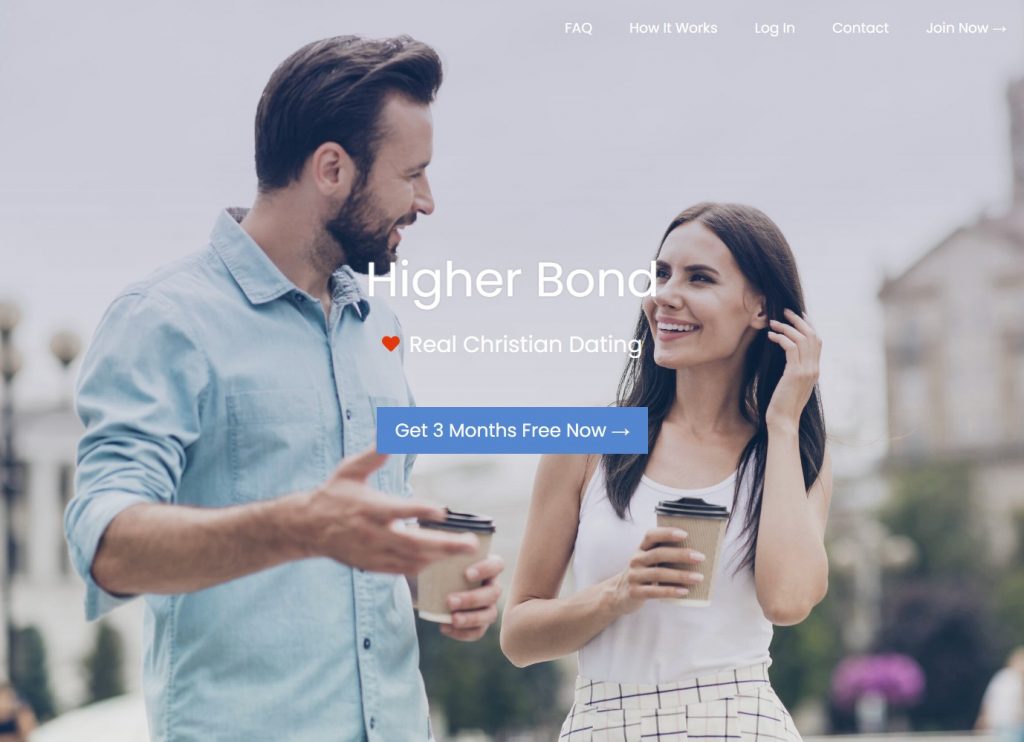 Who Will Love Higher Bond: Faithful singles who take their religion as seriously as their love lives
Who Might Not Enjoy Higher Bond: Non-believers and casual Christians
Biggest Pro: Religious leaders and relationship counselors helped create the site
Biggest Con: Only web-based, so you can't download an app (but you can access the site on your phone)
Starting Price: Premium memberships start at $14.95 a month (the first three months are free)
With only 34% of adults identifying as "highly religious," Maine is one of the least religious states in the union. In fact, only Massachusetts and New Hampshire have fewer devout folks. Because Christianity isn't as common here, religious dating is more of a challenge than in some states. You're more likely to encounter non-religious than religious people, so dating might seem off the table.
You can put it back on the table with help from Higher Bond.
This Christian dating site is designed for the most devout followers out there. It launched in 2022 and is already generating buzz for its high-quality profiles and matching system that was made with input from religious leaders and relationship counselors.
We also love that this is one of the cleanest dating environments around, down to the profile photos. Oh, and you don't have to worry about catfish on here. Each profile is verified before going live, so you know the people you interact with are who they say they are.
It might feel impossible to find a Christian mate in Maine, but it won't be an issue on Higher Bond. Sign up today to get your first three months for free.

What is the Dating Scene in Maine Really Like?
Options for Men and Women – Maine has the best gender balance of singles across all states, according to WalletHub. You can find a nice balance across all age groups.
It's Safe – WalletHub also states that Maine has the lowest crime rate, making it an ideal state for dating. You can add to the safety by using one of the best Maine dating apps from our list.
Couples Stay Close to Home – Some people want to travel the world, but for the most part, Mainers want to live a simple life in their hometowns. If you like to travel, put that in your dating profile so you'll find a compatible match.
Driving is Usually a Must – If you live in Downtown Portland, you can find singles right around the corner. Otherwise, you'll probably have to drive to meet your matches. Most singles set their distance radius at least 30 miles or so away from home so they can meet more people.
Paying for Apps is a Must –We've heard that Mainers don't have success on free apps, only to turn things around after buying a monthly subscription. The apps on our list include free basic accounts, so you can try them first. Then, you'll want to upgrade to a paid subscription to get the most out of the Maine dating site.
Curviness is In – According to Zoosk, Mainers describe their bodies as "curvy" at a higher rate than any other state. Don't worry if you have a few extra pounds. Those curves are a hot commodity on Maine dating apps.
Date Night Can be Expensive – On average, date nights cost over $150 per couple in Maine. That price includes dinner, wine, and a movie, but you can go with something different to save money. For instance, kayaking and a picnic would make for an excellent (and cheap) date.
Tinder isn't What You'd Expect – Folks in other states use Tinder to hook up, but it's a little different in Maine. We've heard reports of tourists using the dating app to ask locals for travel tips instead of dates. That's not really what you want when trying to find a date, right? Fortunately, the best Maine dating apps are full of motivated singles who want to get romantic.
Bars are a Hotspot – Most singles hit up local bars in the hopes of finding someone special. This can help you make friends and might even lead to one-night stands. Unfortunately, though, it's hard to find your soulmate inside a bar.
Singles Stand Out with Detailed Profiles – While some Mainers phone it in when creating dating profiles, that's a surefire way to get passed over. If you want the best results, create a detailed profile that goes over what you're looking for in a match. You can also lure people in by crafting a good headline. Read our guide on how to write a good dating site profile headline for help.
It's Hard for Transplants – The majority of Maine's counties added residents in 2022 due to in-state and out-of-state migration. Lots of Mainers solidify friend groups early on, and it's hard for the out-of-towners to find an "in" when dating. Fortunately, Maine dating sites allow people to expand beyond the folks they know so they can land dates.
Couples Get Romantic – Outsiders might think that Mainers aren't all that romantic, but we've got news for all of them. Couples here have a romantic streak and even get sweet Valentine's Day gifts. In fact, "Couples Massage" was the most Googled Valentine's Day gift idea in Maine from 2004-2020.

Dating in Portland
Best Dating App for Portland, Maine: Zoosk
As the largest metro area in the state, Portland's home to a diverse mix of people, making it ideal for finding love. It's also one of the best and safest places to live in the country and provides an amazing quality of life.
Of course, that quality of life will increase if you find someone to spend it with, so it's important to understand Portland's dating scene. Check out some info, and get the details on the best Portland dating app.
Singles Like to Have Options – While some matchmaking services have tried to make it in Portland, they quickly run into a problem. People here like to have hundreds of options when deciding who to date, so Maine singles prefer dating apps.

Dating Apps Lead to Friendship and Romance – It's hard to grow your friend circle in Portland, so people use dating apps to find friends and romantic partners. That's why people don't count it as a failure when sparks don't fly. They can secure the friendship before hitting Maine's online dating scene again.

It's Diverse – Maine might not be known for its diversity, but Portland sure is. The city is home to a lot of diverse folks, plus immigrants from the Middle East, Africa, and elsewhere. It also has a fair share of college students, recent graduates, and professionals.

Dating Exes Happens – Does your best friend have an ex on the market? You might end up with that person at some point. It happens from time to time in Portland, but you can avoid it by using a dating site to search outside of your local area.

Sports, Bars, and Meetups Keep the Scene Going – Singles do their best to meet others, often hanging out at bars, playing rec sports, and attending Meetups. Unfortunately, you can't filter your options in these places, so it's hard to make love connections.

Neighborhoods Matter to a Degree – Portland has a ton of neighborhoods, and some of them blend together. Still, certain neighborhoods attract specific types of people, which can impact the dating scene. For instance, the West End is for the wealthy, while the Arts District attracts cultural junkies.
People in Portland tend to enjoy stress-free, low-key dating and prefer having lots of options at their fingertips. That's why Zoosk is our favorite dating app in Portland.
You can swipe your way through options in Portland and throughout Maine and even check in other states and countries if you'd like. With more than 40 million members, you won't run out of choices on this Maine dating app.
Population: 68,313
Men: 48.8%
Women: 51.2%
Unmarried: 62.3%
Bachelor's Degree or Higher: 53.7%
Number of College Students: Over 14,000

---
Dating in Bangor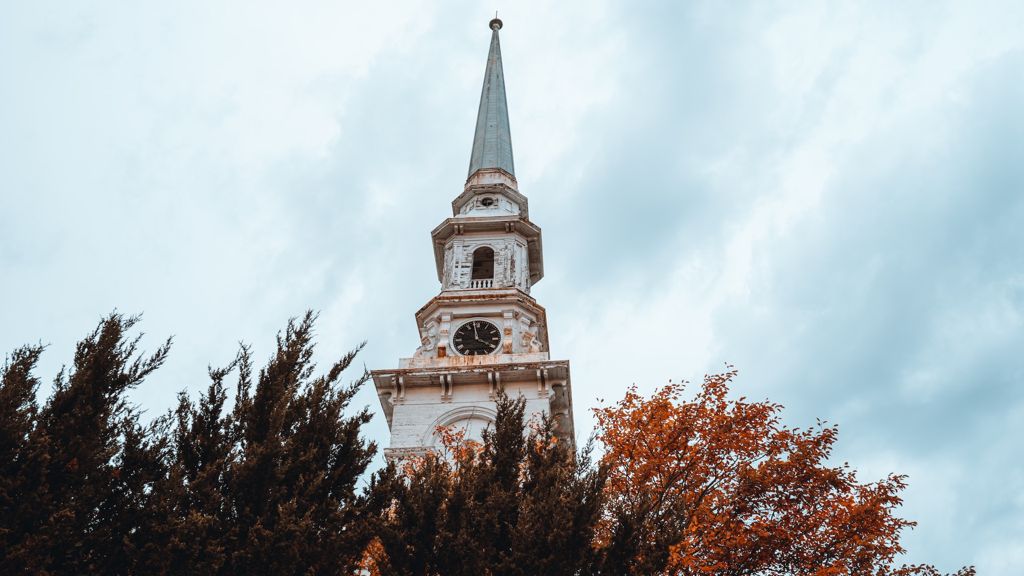 Bangor might be the third-largest city in Maine, but it manages to hold onto that small-town feel. There's a strong sense of community here, along with ample things to do. It's also a top spot for raising a family, so many singles hope to find someone they can get serious with fast.
But how can you make that happen? Get the details on Bangor's dating scene and stick around for our dating app recommendation.
Downtown Attracts the Younger Crowd – Most people think that Bangor is full of older residents, but there are actually a lot of young folks here looking for love. Most of the young singles head downtown when they're ready to mingle. Of course, many people already have friend groups, so it can be hard to make connections outside of Maine dating apps.

Marrying Young is Often the Goal – Outside of the college students, Bangor doesn't have much of a casual dating scene. Instead, most singles want to get married, and the younger they can settle down, the better.

It's Progressive – A lot of the singles on the dating scene have progressive values. However, that changes as you move outside of Bangor. If politics are important to you, you'll want to pay attention to the location of your search when using dating apps. Also, check out our study on politics and dating to see how important political beliefs are to other singles.
Serious dating and marriage are often the goals when meeting people in Bangor, making eHarmony the ideal dating app for these Maine singles. If you're in college, eHarmony may be a little too serious for you, though. If you end up feeling that way we would strongly recommend giving Zoosk a look.
Population: 31,921
Men: 47.4%
Women: 52.6%
Unmarried: 59.5%
Bachelor's Degree or Higher: 36.7%
Number of College Students: Over 4,800

---
Top Maine Dating App for Farmers and Fishermen
Our Recommendation is eHarmony
Farmers and commercial fishermen are plentiful in Maine. They work hard during the day and would love to have someone to share their time with at night. Sadly, the hard work has kept many of them off the dating scene, but we're here to change that.
First, let's look at the details on this Maine dating scene. Then we'll learn about the best dating site for Maine singles in this demographic.
Long Work Hours – Both fishermen and farmers work long hours that extend well past what most people put in each day. By the time they come in for the evening, they're way too tired to hit up the standard singles spots.

More Men than Women – Women are taking on more roles in farming and fishing these days. Still, you'll find a lot more men than women in these jobs, making Maine dating sites a must.

It Skews Older – there are some younger people in the fishing and farming industries. Generally, though, people in these roles are older and work longer than others. It's not unusual to find farmers and fishermen in their 70s.

Serious is a Must – While some of the younger crowd might still be into casual dating, most busy farmers and commercial fishermen don't have time for that. They want to start a relationship that lasts forever, so it's important to choose the right Maine dating app to avoid playing games.
If you're a farmer or fisherman, you don't have the time to waste on flakes and relationships that don't go anywhere. You also don't want to waste your time on incompatible partners and challenging relationships. Fortunately, you can avoid those problems and find true love on eHarmony.
You'll find all kinds of men and women who are ready to get serious on this Maine dating site. That includes some commercial fishermen and farmers who are looking for love.
Number of Farm Operators: 7,600
Number of Commercial Fishing Jobs: Approximately 26,000
Biggest Farming Counties: Aroostook, Penobscot, Somerset, and Washington
Cities with Major Commercial Fishing Ports: Portland, Beals Island, Port Clyde, Spruce Head, Stonington, Friendship, and Vinalhaven


Maine Online Dating FAQ
What's the Best Dating Site in Maine?
eHarmony is the gold standard when it comes to Maine dating apps. It's the best dating site for serious relationships thanks to its high marital satisfaction and low divorce rates.
What's the Best Free Maine Dating App?
As we mentioned earlier in this article completely free dating apps have lead to a lot of hurt for a lot of online daters in this state. That being said, you don't have to rake out the big bucks to give online dating a try. Many of the top Maine dating apps have free trials available. (Learn more about dating app free trials)
If you're tight for cash Zoosk is an especially good option to consider since it's free trial is unlimited and offers a lot of good features.
Is Maine Online Dating Safe?
It absolutely can be! As long as you're careful not to give out personal information, keep your eyes peeled for suspicious or overly eager users, and always video chat before meeting up in person then Maine dating apps can be a safe, fun, and easy way to find love.