Years ago, it was common for serious relationships to lead to marriage, but that's changing. Marriage rates are in freefall, so it's harder than ever to bring your wedding dream board to life. Fortunately, some dating sites have stepped in to help marriage-minded singles find husbands and wives.
We reviewed everything from membership bases to relationship stats to find the best dating apps for marriage. And that's not all. We also have some tips about creating the ideal dating profile, stats on online dating success rates, and so much more.
Let's start by looking at the best marriage-minded dating sites.
4 Best Dating Apps and Sites for Marriage
---
Jump to:
---
1. eHarmony – Best for Finding Compatible Marriage Material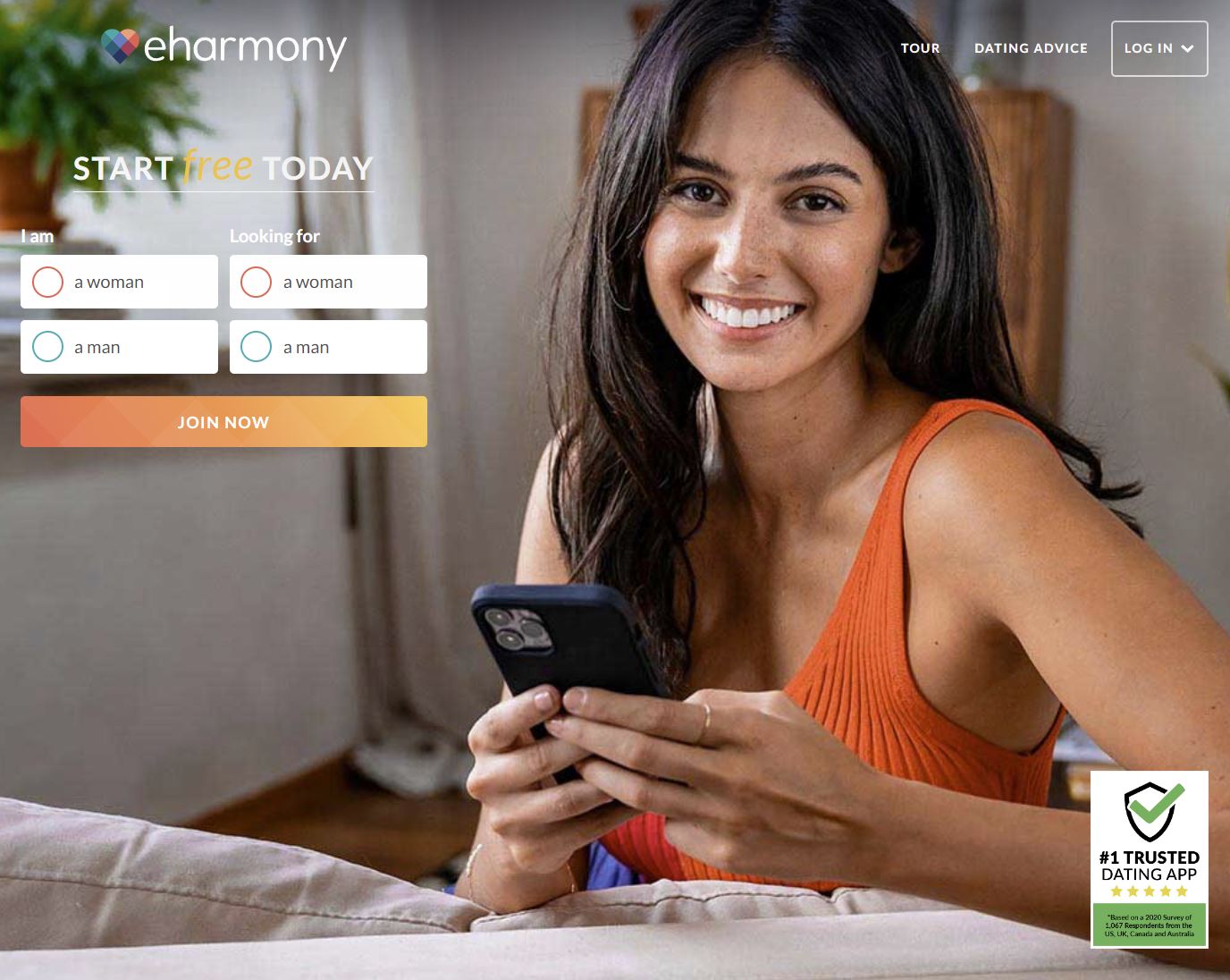 Clinical psychologist Dr. Neil Clark Warren co-founded eHarmony with one goal in mind. He wanted to help people find compatible marriage partners so the country's divorce rate would go down.
Based on eHarmony's marriage and divorce stats, he's reached his goal and then some.
Hundreds of couples who meet on eHarmony get married each day, making up close to 4% of marriages in the United States. Thus far, the site has been responsible for over 500,000 weddings, and the number keeps increasing. And it works fast, considering the majority of men and women find their forever partners within a year of signing up.
If you get married to someone you meet on eHarmony, you're also more likely to stay that way since its divorce rate is lower than the national average. Get more info by reading our eHarmony review. Then, head over to set up your free account today.
---
2. Higher Bond – Best for Intentional Dating that Leads to Marriage
According to the Pew Research Center, 71% of Christians who say religion is "very important" to them are married. That checks out since marriage and religion are intertwined. Many Christians date intentionally with the goal of getting married, but since so many of them have already said "I do," your options are dwindling.
Fortunately, a lot of those marriage-minded Christians have signed up for Higher Bond to find the one.
Higher Bond provides the type of intentional dating marriage-minded Christians want. The site will get your thoughts on marriage when you sign up, and then you can strike up a conversation with one member a day. That allows for one-on-one connections that lead to marriage.
Higher Bond might be a new site, but we think it's going to take off for marriage-minded singles. Get in on it early by setting up your free account today.
---
3. EliteSingles – Best App for Marriage-Minded Professionals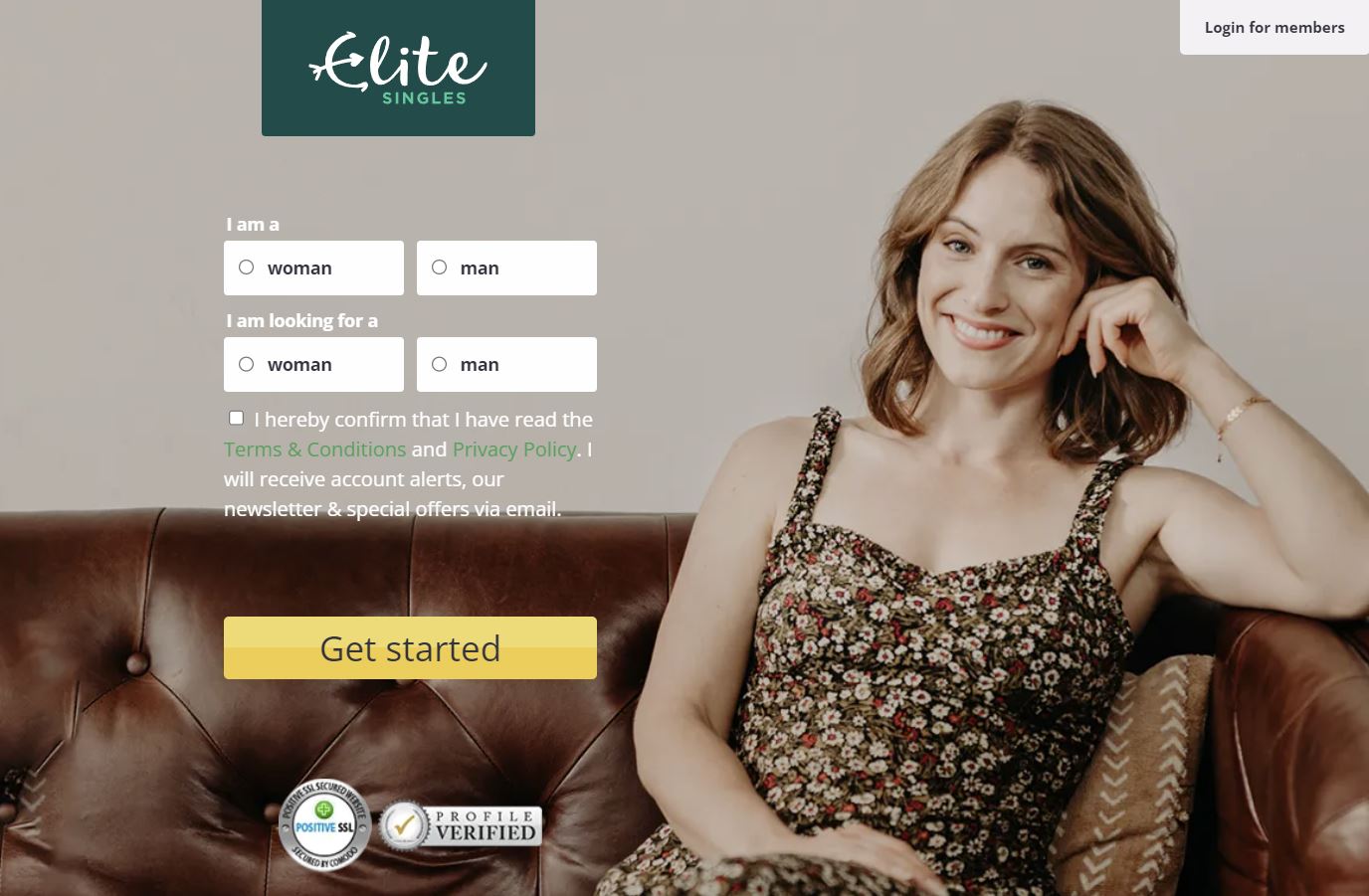 Did you know that adults with college educations are more likely to get married? That makes EliteSingles a good fit for finding your mate. Most of the members are well-educated professionals who have marriage on their minds.
The dating site even surveyed some of its members to find out where most of its marriage-minded professionals are.
Based on the survey results, you'll find the most Elite Singles users looking for Marriage in the following cities:
Johns Creek, GA
Ames, IA
Agawam, MA
Avenel, NJ
Baltimore, MD
Beverly Hills, CA
Edison, NJ
Austin, TX
Fremont, CA
You don't have to live in one of these cities to find someone ready for marriage on EliteSingles, but you do need to set up a profile. Head over to create your free account today.
---
4. InternationalCupid – Best for Finding Marriage Material Overseas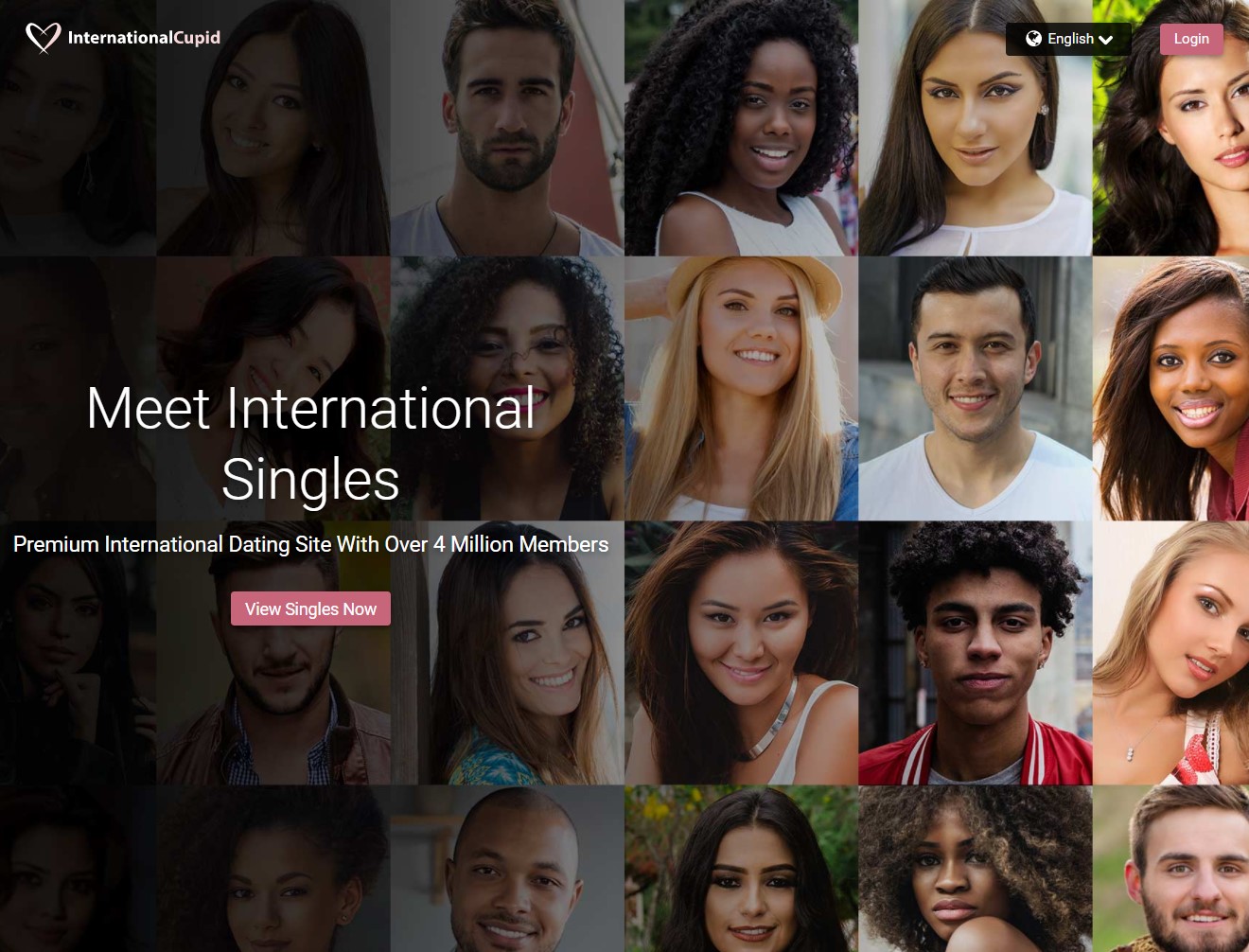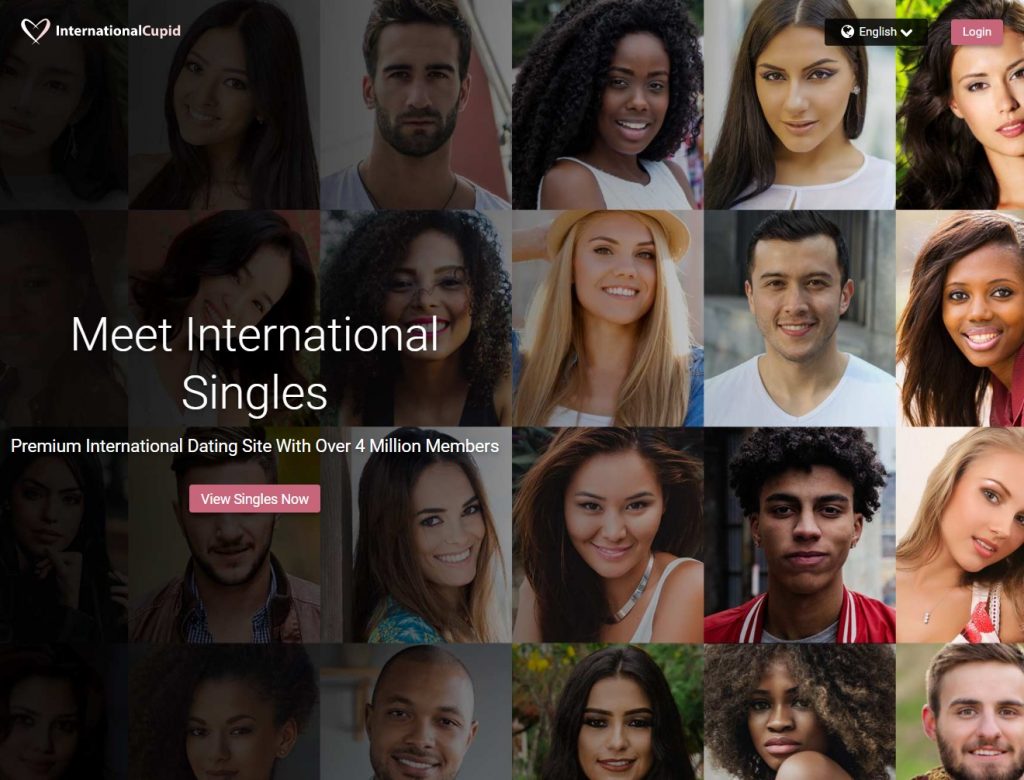 While some people like to get married to someone close by, others have dreams of meeting an international partner. If you're in that category, InternationalCupid is the site for you.
People from Latin America, Africa, Asia, Eastern Europe, and Russia use the site to find Western partners to marry. The members know that the only way they can live with their partners is through marriage, and most of them are excited about taking the next step.
You can find the most marriage-minded people on here by using the advanced search to find members who are interested in long-term relationships. Once you meet someone, fill out the International Marriage Broker Regulation Act form on the site to speed up the process.
First, sign up for your free account. Also, stick around to read our tips on international dating that leads to marriage.
---
4 Reasons These Are the Best Dating Apps for Marriage
Most Members are Seeking Serious Relationships – You won't have to worry about encountering folks cruising for one-night stands on these dating apps for marriage. Also, the membership base is free of flakes and full of people who are ready to commit.
Compatibility-Based Matching – Each of these marriage dating apps have advanced matching algorithms so you can find a compatible partner. They'll pair you with people you're likely to connect with on a deep level, so you won't just move toward marriage. You'll take the leap with someone you're likely to stay with forever.
Browse Around the Globe – What if your soulmate isn't in your neighborhood? That's not a concern when you let these dating apps find your match. You can change your settings to search for people in other states or countries. Then, you'll be ready to make an informed decision about who to choose when starting a serious relationship.
Get the Dealbreakers Out of the Way – Do you already have kids or want to start a family in the future? The desire to start a family can be a dealbreaker in some relationships. That's why we picked marriage dating sites that ask the big questions upfront and match people who have the same relationship goals.

Niche Dating Apps for Marriage
Marry Me – With features like the matching game and live radar, Marry Me has promise – but just for people who live in Germany. It hasn't really taken off outside of its native country, so we can't recommend it to people who live elsewhere. There's a good chance you won't find any members anywhere near your location, so marriage dating app is a hard pass.
Set for Marriage – This site might promise to connect people ready for marriage, but we couldn't get past the fake profiles. With so few real users, we don't feel comfortable recommending this dating app for marriage.
GoMarry – It's hard to get a feel for this app because it's too glitchy to really check it out. A lot of its members have the same problem, so we'd skip GoMarry.
Get Married – This dating site is also bogged down with tech problems, and it doesn't appear to have many legit users. Sadly, we don't think it'll help you make a trip down the aisle.
Marriage-Minded People Meet – This site matches people by location, and that's not a great way to find a spouse. Also, the membership base is small, making it hard to find a real connection.

Tips for Writing a Marriage-Minded Dating Profile
While a superficial dating profile might work for starting a casual relationship, you need to go deeper when looking for a spouse. We've created some tips to help you craft a marriage-minded dating profile so you can find the one. Use these tips as a blueprint and fine-tune them to fit your personality and needs.
Focus on Your Wants – We've noticed that some singles create a laundry list of what they don't want when looking for a spouse, leaving out all the things they do want. It's important to make a positive impression when seeking a long-term relationship, so include "do's" instead of "don'ts" in your profile. For instance, if you want to date someone in their 30s, say that instead of something like, "Don't message me if you're under 30."
Talk Values – You have certain values that you intend to keep when you're married. For example, maybe you value family togetherness or quality time with your significant other. Include info about your values in your dating profile so you'll attract your ideal match.
Be Honest – Some people like to embellish their dating profiles a bit. We never think that's a good idea, especially if you're looking for a forever partner. Height, weight, and status/income are the most common lies people tell, according to eHarmony, but folks can fib in other ways as well. Now, you don't have to let all your secrets fly in your profile, but make sure everything you say is honest.
Write Your Profile in Your Voice – Some singles seem to follow a generic script when writing dating profiles, so it's hard to know who they really are. Personality is so important when coupling up for marriage, so it's wise to let your personality come through in your writing. For instance, if you're known for your humor, add a dash of the funny stuff here and there to help you connect with someone who will appreciate your humorous side.
Be Upfront with Your Intentions – We don't recommend adding pictures of your wedding vision board but let singles know that you're looking for a long-term partner. You can also talk about your goal to get married, but don't come off too strong. Even though these are dating apps for marriage, you don't want someone to think you're a single message away from booking the wedding hall.

Online Dating and Marriage Statistics
Many people use marriage dating apps to find their special someone, but does it work? Check out some stats to see why this is a smart approach to finding a husband or wife.
Let's start by jumping in our time machine and traveling back to 2013. Back then, 11% of American adults told the Pew Research Center that they'd used dating sites and apps. Also, 3% of adults started a long-term relationship or got married to someone they met online.
Now, let's hop back in that time machine and fast-forward to 2020. That year, 30% of adults in America used dating apps, and 12% started a long-term relationship or got married to someone they met online.
Now, there are things you can do to increase your chances of finding love online. Check out our article that answers the burning question, "Do dating apps really work?" We also provide some tips to help you increase your chances of finding a mate.

Tips for Meeting Your Spouse Overseas
A lot of folks look overseas when searching for husbands and wives. While that's a fantastic way to increase your dating pool, you'll encounter some obstacles during your relationship. Don't worry, though. We have some tips to help you through common issues online daters face to help you get the most out of these marriage focused dating apps.
Navigate the Language Barrier with Ease
First, there's the language barrier. You might meet someone who doesn't speak English, but that doesn't have to hold you back. Instead of waiting until you're fluent in another language, you can use a translation service to connect.
InternationalCupid offers instant message translation for paid members. You can also use Skype Translator if you aren't on InternationalCupid. It can translate both voice and text in real-time, so you can get to know your match, regardless of the language barrier.
Learn Singles' Intentions Upfront
If you're dating internationally with the intention of marriage, you need to make sure that relocation is on the table. You can relocate to another country, but if you want to stay home, make sure your partner is open to moving to your country.
This is another reason we like InternationalCupid for overseas romances. Members can put their relocation wishes in their profiles, including where they'd like to move to after getting serious. You can use the advanced search feature to search by relocation so you can find all those singles who want to move to your country.
How to Handle the Time Change While Building Your Relationship
The time change will also impact you when dating someone overseas. You'll be awake when your loved one is asleep, and vice versa. We've heard from numerous couples who ended up breaking up over this, which is unfortunate. See, there's a simple solution.
We recommend coming up with a schedule to chat. Choose a time when you're both awake and not at work and put it on your calendar. Then, create boundaries around the time, so you don't wake each other up in the middle of the night. Trust us, that's the key to avoiding fights when dating internationally.