If you're riding solo in Massachusetts, we have great news. The Bay State has the 6th highest share of single adults in the country. Full disclosure – it shares sixth place with California and Florida, but still, you have a lot of choices at your fingertips if you're looking for Massachusetts dating apps.
"At your fingertips" is the key phrase since online dating is the most effective way to partner up in Massachusetts. See, most Bay Staters have smartphones, and the majority use those devices to find dates. And that's true whether the singles want something casual or serious.
We know you're ready to find your match, so we dug into the data to find apps that get results. Take a look at the five best Massachusetts dating apps.
Top 5 Dating Apps in Massachusetts:
---
Don't head to the App Store or Google Play to download one quite yet. First, find out which of these five Massachusetts dating sites fits your relationship goals. Also, we have some helpful info about the state's singles scene, including what dating's like in different locations.
Are you ready to meet "the one?" Let's get started by taking a closer look at the most effective dating sites.
Contents of our Massachusetts Online Dating Guide:
---
1. eHarmony – Best for Avoiding a Broken Heart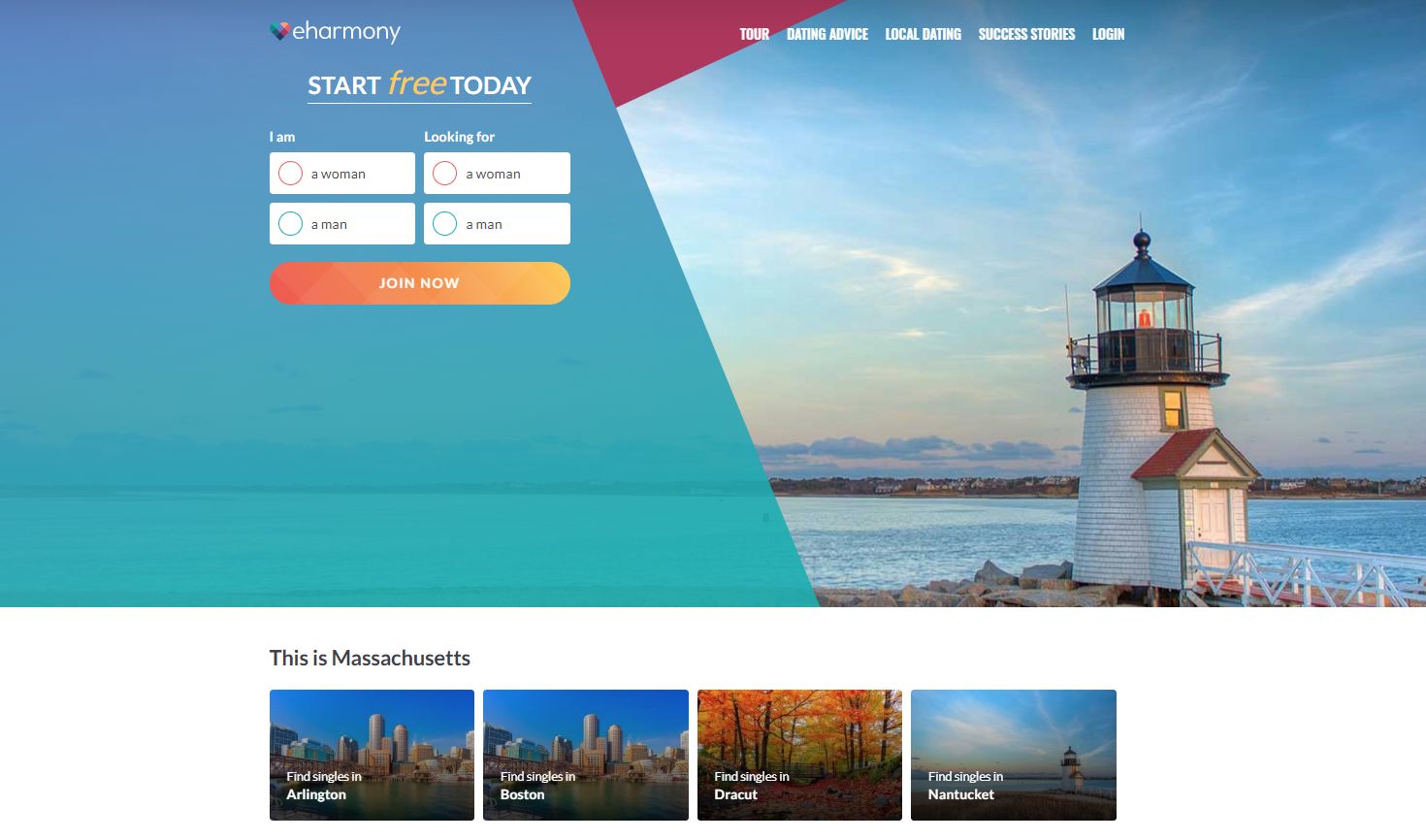 Who Will Love eHarmony: Bay Staters who want their happily ever after without any drama
Who Might Not Enjoy eHarmony: Casual daters who prefer playing the field
Biggest Pro: Couples who meet here report high relationship satisfaction rates
Biggest Con: Pricier than other Massachusetts dating apps, but most singles find love within a year
Starting Price: Premium memberships start at $35.90 a month
So, Massachusetts has pretty low marriage and divorce rates, but lots of people are in long-term relationships. And while you can't divorce your way out of a serious romance, you can break up. And from what we've seen, that happens a lot in Massachusetts, and it's never fun.
In fact, these breakups are so brutal that lots of "Massachusettsans" turn to Google for help.
"How to get over a breakup" was the most Googled relationship question out of Massachusetts in 2022.
And on the other side of the break, "How to break up" was the most Googled question in 2020. All that search traffic means that Massachusetts is home to a lot of broken hearts.
While Google has lots of excellent resources for initiating and recovering from breakups, we know most Bay Starters would rather avoid the pain altogether. If you want to use Google for fun things like date ideas instead of breakups, it's time to find love on eHarmony.
As the best dating app for serious relationships, eHarmony is responsible for more than 500 marriages a day. That's led to more than 500,000 weddings and counting.
But don't worry if you don't want to get married. It's also the go-to Massachusetts dating app for people seeking serious relationships without the goal of marriage. A review of the site's data shows that couples who meet here are more likely to stay together for the long run, whether they're officially married or just cohabitating.
So, how does eHarmony have the magic touch? It's all about compatibility. 32 Dimensions of Compatibility, in fact.
eHarmony analyzes 32 traits and characteristics across four categories and matches people who complement each other. If someone lands in your matches, you know that you and that person will click on various levels. Seriously, you'll even have communication down to a science, which can be a struggle for new couples.
Look, you don't want to hop on Google for help navigating another breakup. Breakups are never easy, even when you know you're not compatible. Make sure you partner with a compatible mate by creating an account on our top Massachusetts dating app; eHarmony.
---
2. EliteSingles – Best for Professionals Seeking Love with a Side of Ambition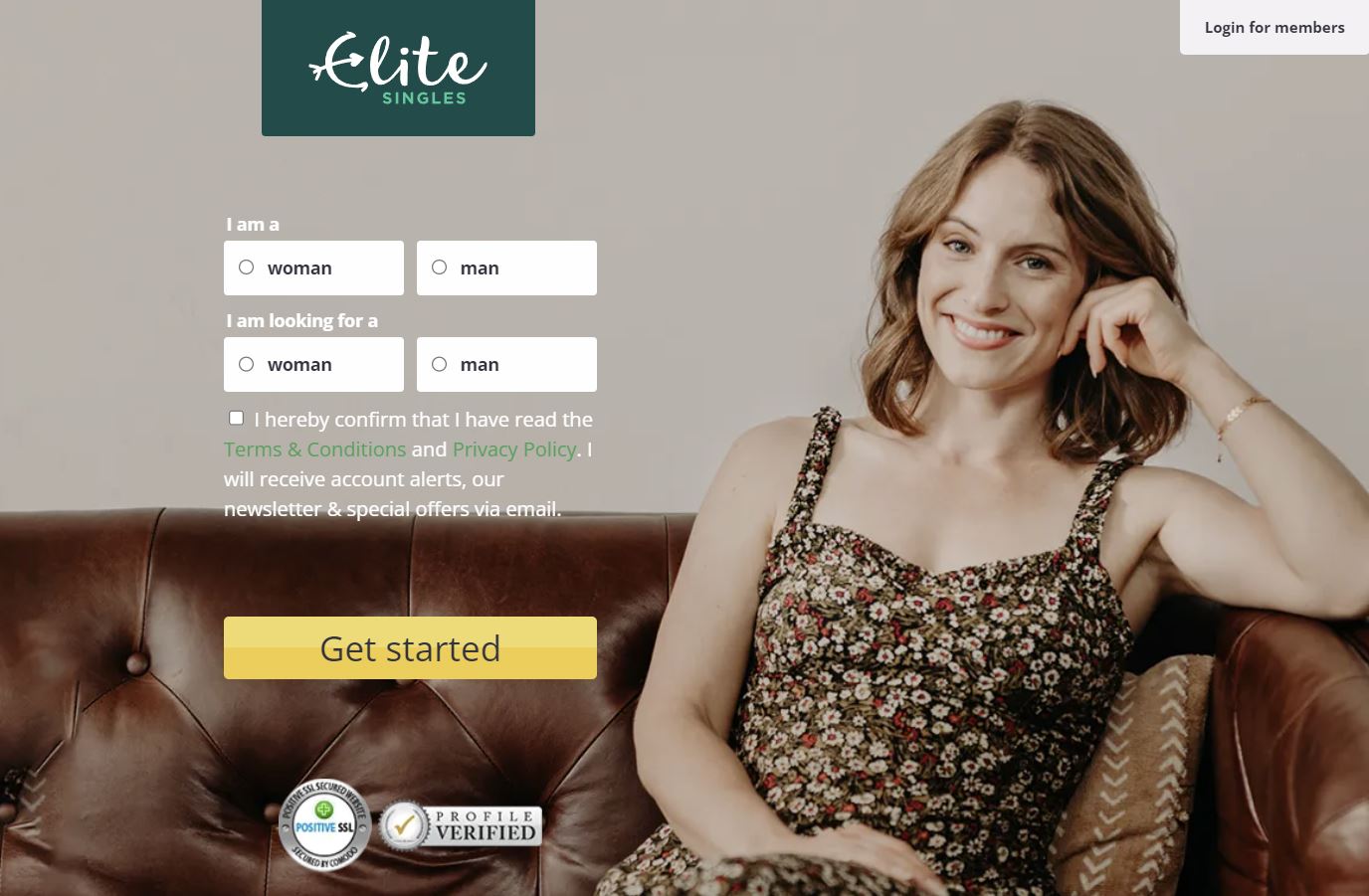 Who Will Love EliteSingles: Executives and other professionals who are ready for serious relationships
Who Might Not Enjoy EliteSingles: Casual daters and singles in non-professional careers
Biggest Pro: Most members are professionals who want serious relationships
Biggest Con: Few members younger than 30
Starting Price: Premium memberships start at $27.95 a month
Massachusetts is like a magnet for successful people. Seriously, it ranks near the top of all states when it comes to the number of CEOs and billionaires within its borders. Going off that alone, it's clear that success is built into Massachusetts's DNA.
The state has a lot of homegrown talent coming out of MIT, Harvard, and other top-tier institutions and attracts professionals far and wide. And it's no wonder considering that Massachusetts provides ample opportunities in IT, biotechnology, finance, engineering, and other industries.
As you can imagine, these professionals are hot commodities on Massachusetts dating apps. But there's a problem…
See, a lot of professionals want to date other ambitious singles. However, most aren't interested in mixing work with pleasure, so co-workers are off-limits. Given how busy these folks are with work, hitting the in-person dating scene is also a no-go.
Those issues might seem impossible to overcome, but EliteSingles is here to save the day.
Most of the members are highly educated professionals between the ages of 30-50. And speaking of members, there are lots of them. We're talking around four million in the United States and 13 million worldwide.
With all those members, you might think you'll have to spend hours a day on the site, ending up with a serious case of online dating fatigue. But no worries there since EliteSingles will send you 3-7 high-quality matches a day. These matches are so on-point that you'll establish a real connection in no time.
Are you tired of killing it at work, only to go home alone? It's time to give Massachusetts online dating a try! Find your special someone by creating your free account on EliteSingles today.
---
3. Zoosk – Best for Casual Dating in College (and Beyond)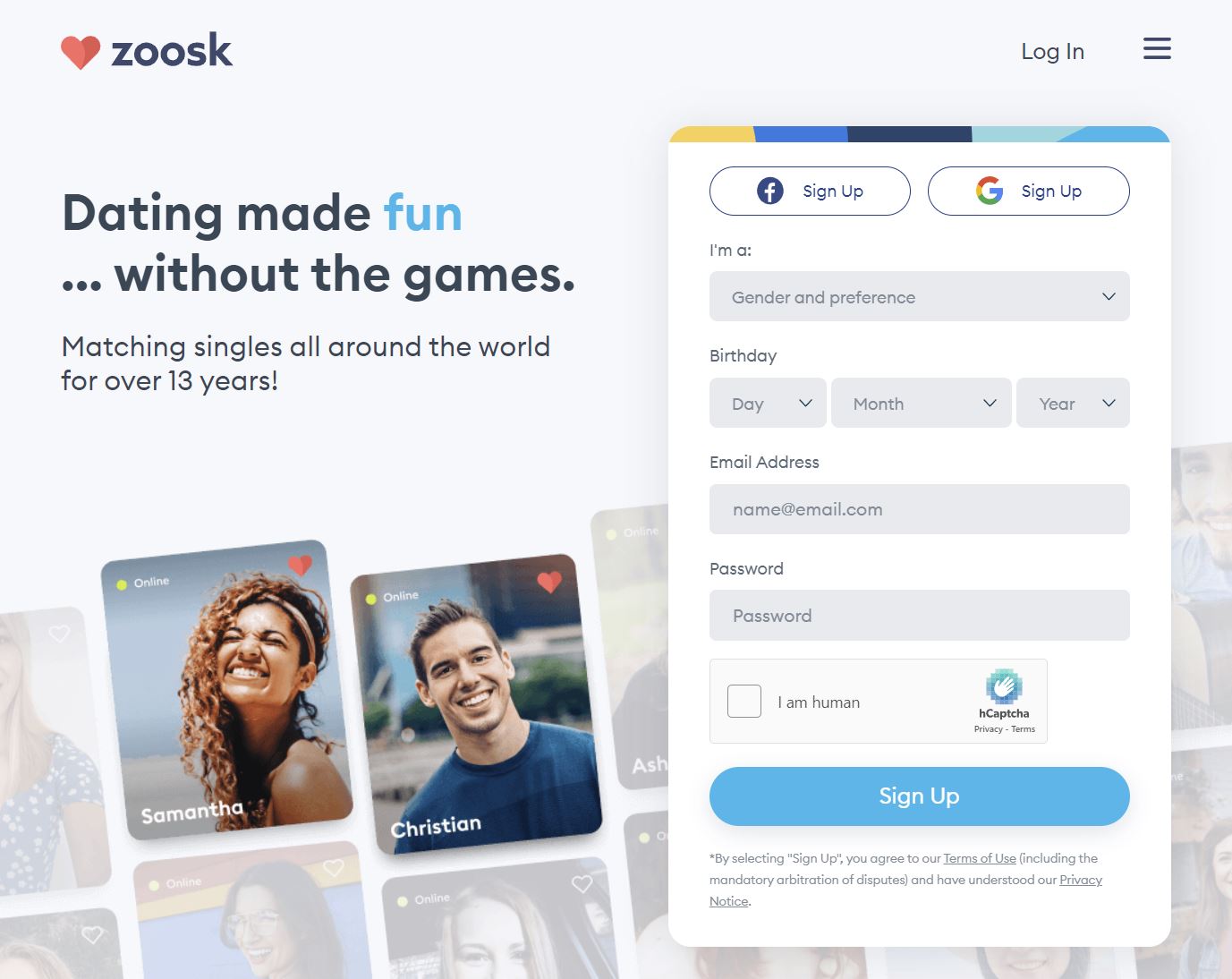 Who Will Love Zoosk: College students and other casual daters
Who Might Not Enjoy Zoosk: Massachusettsans pursuing serious relationships
Biggest Pro: Advanced matching algorithm goes beyond looks and location
Biggest Con: Because the algorithm is based on behaviors, members must use the Massachusetts dating site for a bit before receiving quality matches
Starting Price: Premium memberships start at $10 a month
More than 440,000 students attend college in Massachusetts each year, so the Bay State's no slouch when it comes to higher education. And from what we've seen, most of the students are all about keeping things casual when dating. That's true whether they're at a community college or Ivy League institution.
The Harvard Crimson got right to the heart of the matter with its 2015 senior class survey. Over three-fourths of the respondents had sex during their time at Harvard. Plus, 7% of the women and 19% of the men had been with at least ten partners.
While the desire for casual dating is there, finding dates on campus can be hard. We recommend expanding your reach – and improving the results – by using Zoosk.
Unlike Tinder, this casual Massachusetts dating app has a solid matching algorithm that helps people meet high-quality singles that they mesh with in person. At the same time, you can like and pass on profiles, much like Tinder. In other words, it's fast and easy, like Tinder (but the quality is so much better).
You don't even need any money to get started. Head to Zoosk to set up a free account today.
---
4. SilverSingles – Best for Modern Dating Later in Life
Who Will Love SilverSingles: Singles 50 and up who want lots of options
Who Might Not Enjoy SilverSingles: Older singles who prefer dating people younger than 50
Biggest Pro: More than one million members in Massachusetts and around the globe
Biggest Con: Need to upgrade to a paid membership to connect with members
Starting Price: Premium memberships start at $27.95 a month
Massachusetts is home to more than 2.2 million people aged 50 and over, so you might think the senior dating scene is easy to navigate. You just need to walk outside, find someone, and ride off into the sunset, right?
Well, not really…
There are a few problems that seniors encounter on Massachusetts's dating scene. First, a lot of people in this age demographic are already taken. For instance, half of the people who are 65 and over are married. That doesn't even include the folks who have significant others.
Second, the gender gap gets pretty wide as ages increase. You'll encounter more women and fewer men as you age, creating yet another barrier to dating.
Third, and maybe most importantly, dating has changed so much since you were last on the market. Back then, the adage was to do the things you like, and you'll find the right person. These days, you can connect while hiking or engaging in another hobby, only to walk away without any contact information.
We have some good news for you, though. SilverSingles solves all these problems.
The 50-and-over Massachusetts dating site welcomes new members each day and puts thousands of options at your fingertips. You'll have more choices than you can count, whether you're looking for a man or a woman.
Plus, this dating site lets you get into the Massachusetts online dating scene without problems. Don't worry if you've yet to fire up a computer or a smartphone. The straightforward site is simple to use, and it does the hard work by finding matches for you.
Dating might not be the same as it was years ago, but we think that's a good thing. You can find a partner in an instant by setting up a free profile on SilverSingles today.
---
5. CatholicMatch – Best for Sharing Faith and Love
Who Will Love CatholicMatch: Catholics interested in serious relationships with people who share their faith
Who Might Not Enjoy CatholicMatch: Casual daters and non-believers
Biggest Pro: Most members are in larger cities, such as Boston
Biggest Con: Only matches straight singles
Starting Price: Premium memberships start at $9.99 a month
Did you know that only three states have a higher percentage of Catholics than Massachusetts? While fewer than 60% of adults are Christians, almost 35% are Catholics.
There are Catholic Meetup and speed dating events throughout the state to help singles connect, but they rarely lead to the desired results. Sure, it's possible to walk away with some friends, and you might even find people to attend mass with on Sundays. As far as romance goes, though, these gatherings are usually a miss.
Fortunately, CatholicMatch makes it easy for Massachusetts singles to find relationship and marriage material.
The site is full of people who are interested in serious relationships that lead to sacramental marriage. And CatholicMatch does a fantastic job of matching the members based on faith, lifestyle, and so much more.
If you want to combine faith and love, set up a free account on CatholicMatch today.

What's the Dating Scene in Massachusetts Really Like?
Not Much of a Pickup Scene – Most people don't want to get asked out in person. Instead, they prefer meeting singles through hobbies, friends, and top-rated Massachusetts dating apps.

Most Singles Activities Involve Alcohol – From hanging out at bars to attending Red Sox games, alcohol seems to follow singles around Massachusetts. The same is true when going out on dates. Read our post that answers the burning question, "Should I drink on a first date," so you'll know how to proceed.

Lots of Singles Put Their Careers First – Balancing work and dating is hard for some Massachusetts singles. In fact, EliteSingles discovered that Boston has the most career-oriented people in the country. Fortunately, professionals can use Massachusetts dating apps to connect once they're off work. That's much easier than trying to find someone in person after a long day.

People are Upfront – Forget about playing games on the Massachusetts dating scene. People here are upfront and not afraid to tell you what they think. That includes their intentions when dating, so you'll have a clear picture from the jump.

Family is a Priority – You'll need to charm your mate's parents when things start getting serious. Many Massachusetts residents are close to their moms and dads, and we can't forget about the siblings. If things work out, you can expect to have a bonus family as part of the relationship.

It Takes a While to Warm Up – Massachusetts singles aren't the type to profess their love on the first date – and that's a good thing. They take their time, getting to know their matches before becoming emotionally intimate. By the time they take the leap, they're fully invested and ready to share their hearts.

All Kinds of Dates are On the Table – Guys and gals here can go from casual to high-end in an instant. Your date night might include trips to Fenway, along with elegant meals at Michelin-rated restaurants.

Singles Keep Their Smartphones Handy – According to WalletHub, Massachusetts is a mobile-friendly dating state. It checked the number of adults who own smartphones in each state, and only three states have a higher percentage than the Bay State. This might not come as a surprise, though, since people are often glued to their smartphones when out, explaining why it's so hard to pick people up in person (And why Massachusetts dating apps work so well!).

Dating in Boston, Massachusetts
Best Boston Dating Apps: EliteSingles and Zoosk
From the bustling banking industry to nearby Harvard and MIT, Boston truly feels like the Hub of the Universe. You can feel the state's pulse radiating through Boston's meandering streets, and that intensity is part of the dating scene as well.
Get the details on dating in Boston and stick around to see our favorite Massachusetts dating site.
Singles are Chatty on Dating Apps – According to OkCupid, Boston singles have the second-highest message reply rate. Do you want to reply but aren't sure how soon you should do it? Check out our thoughts on how soon you should reply to a message on a dating app.

Workplace Romances are Out – Most Bostonians aren't down with dating people at work. They would much rather meet through Massachusetts dating apps, social events, or friends.

Ghosting Happens – We hate to have to share this, but Boston singles are known for ghosting after meeting in person. You can reduce the risk of meeting flakes by changing the dating apps you use. Learn some other tips in our post about dealing with flaky people.

Casual and Open Relationships are Options – Boston is a great place to live if you want to play the field. While some people are focused on serious relationships, you'll encounter lots of folks who prefer short-term dating and open relationships.

Forget About Love at First Sight – Boston magazine asked its readers about their thoughts on love at first sight, and only 36% of the respondents think it's the real deal. You have to work a bit to win hearts here, but it makes love all the much sweeter.

Massachusetts Dating Apps are In – Ninety-five percent of readers who responded to Boston magazine's survey have used dating apps. If you want to meet singles, apps are the way to go.

The Competition is Fierce – Between MIT graduates and CEOs, there are a lot of successful people on the dating scene. Because folks here are so ambitious, you have to work hard to stand out. Check out some tips for writing a dating profile so you can turn heads in Boston.
Boston has a massive professional scene, so EliteSingles is our favorite dating app. You'll find bankers, lawyers, doctors, and other professionals on the site.
Of course, thousands of people in the Boston area are still in college, so a career-oriented dating site isn't right for them quite yet. If you're on your way toward earning your degree, have some casual fun on Zoosk.
Population: 654,776
Men: 48%
Women: 52%
Unmarried: 66.8%
Blue-Collar Workers: 10.2%
White-Collar Workers: 89.8%
Bachelor's Degree or Higher: 51.3%
Number of College Students: 150,415
---
Dating in Worcester, Massachusetts
Best Worcester Dating App: Zoosk
As the Heart of the Commonwealth, Worcester is an All-American city through and through. But that doesn't mean it's like all the other cities out there. It has its own personality and a unique dating scene. Check out our findings.
It's Laid Back – People in Worcester and the rest of Central Massachusetts tend to be pretty laid back. They usually don't add a long list of deal breakers to their dating profiles, making it easier to form connections. This doesn't mean you can phone it in and still get dates, but you don't have to be the hottest person with the best career to get attention.
Colleges are the Center of the Social Scene – Sure, people hang out at bars, but most of the activities occur around the colleges. People even join college gyms to meet others. Fortunately, the colleges attract young and old alike, so you can expand your social circle with this method. When it comes to dating, though, most people are on Massachusetts dating apps.
Open Relationships are a Thing – We've heard reports of married folks having some extracurricular fun in Worcester. Instead of keeping in on the DL, many of these folks are in open relationships. That might not be the norm throughout Massachusetts, but you can open things up in Worcester.
It Feels Young – With tons of college students, the dating scene here skews to the younger side. That doesn't mean that you can't find people in their 30s and up, but the dating pool is stocked with younger singles.
With its laid-back vibe and young dating pool, Zoosk is the ideal fit for Worcester singles. Whether you're in college or just looking for something low-key later in life, you'll find your match on Zoosk.
Population: 205,918
Men: 49.2%
Women: 50.8%
Unmarried: 64.5%
Blue-Collar Workers: 19.1%
White-Collar Workers: 80.9%
Bachelor's Degree or Higher: 31.2%
Number of College Students: More than 35,000

---
Massachusetts Dating for Commercial Fishermen
Best Massachusetts Dating App for Fishermen: eHarmony
As one of the main producers of seafood in the United States, commercial fishing is big business in Massachusetts. New Bedford has the top port in the state, bringing in 124 million pounds of seafood a year at a value of $322 million. Other top ports are located in Chatham, Gloucester, Boston, and Barnstable.
Fishing is hard work, but that doesn't mean you don't want to date, too. We're going to make it easier for you by providing some details on the dating scene for commercial fishermen.
Work Hours are Tough – Long work hours are par for the course in commercial fishing, whether folks take short or long trips. It's also pretty brutal out there, so most commercial fishermen don't feel like going out to meet people after docking. Fortunately, dating sites for Massachusetts singles let them connect on their own time.
More Men than Women – Since more men work in the commercial fishing industry, fishermen typically have to find people in other careers to date. Regardless of the career, they do best with partners who are independent and able to do things on their own.
Late Nights Out are Uncommon – Commercial fishermen tend to go to bed and get up early. If you partner with one, don't expect to go clubbing until the sun comes up. However, you can catch a romantic sunrise after waking up in the morning.
The majority of commercial fishermen are married, and those who aren't are often looking for their happily ever after. There's something nice about knowing someone is waiting for you at home when you return from a long trip. Plus, finding dates is exhausting, so a lot of fishermen would like to move past that and find the one.
Since marriage is the goal, eHarmony is our favorite Massachusetts dating app for fishermen. You can find people with various careers here and meet your long-term match.
Number of Jobs in the Commercial Fishing Industry: 83,000
Number of Commercial Fisherman: Approximately 7,000
Men: Approximately 90%
Women: Approximately 10%
Average Age: 46
Locations of Top Ports: New Bedford, Chatham, Gloucester, Boston, and Barnstable


Massachusetts Online Dating FAQ
Do People Reply on Dating Apps When They Aren't Interested?
In general, people in Massachusetts don't reply to messages unless they're interested. However, gender and age impact the response rate. Check out our data study on message response rates to learn more.
Does Tinder Work in Boston, Massachusetts?
Let's be honestly, Tinder works (at least to some degree) almost everywhere. But, only if you're looking for what Tinder is built to provide. If you want more that hookups and quick encounters we would encourage you to look at our list of top Massachusetts dating apps to find the right fit for your needs.
Where is Online Dating Most Popular in Massachusetts?
According to recent data trends from Google the most search volume for Massachusetts online dating is around Boston, Springfield, and New Bedford. That being said, there's a pretty big interest in dating apps statewide.