Are you tired of all the games on dating apps? From the flaky singles to the ghosting, you kind of feel like you're above it all. That's a big sign that you're ready for a dating site for mature singles.
We know that people define "mature" differently, so we've selected the best mature dating apps for specific needs. Whether you're a mature individual, a professional, or you're over the age of 50, we have you covered. Here are the top 4 Mature Dating Apps:
---
Jump to:
---
1. EliteSingles – Best for Mature Professional Dating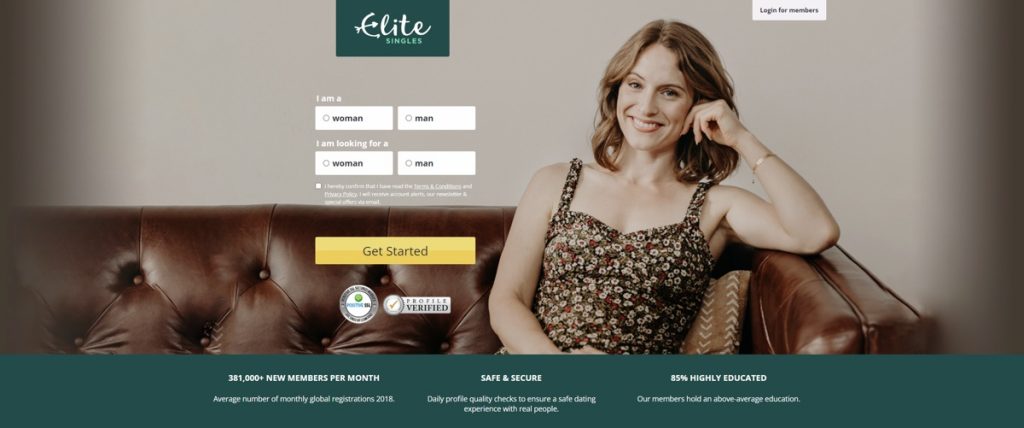 According to the Pew Research Center, a quarter of single adults have bachelor's degrees or higher. Many of the degree-holders spend their early 20s getting their careers together and start looking for love when they hit their 30s.
But here's the thing about stepping into the dating world as an older professional…
A lot of mainstream dating apps have frat house vibes that make it impossible to date maturely. Seriously, how are you going to find a mature mate when all the singles are talking about downing shots and hooking up for the night?
Fortunately, you can bypass the frat house and head straight to a mature relationship on EliteSingles. As the best mature dating site for professionals, you'll find what you're looking for here.
So, most dating apps are designed for anyone 18 and up. However, EliteSingles' core demographic consists of educated professionals 30 and older. They're over the games and looking for genuine connections here.
Get the scoop on how much EliteSingles costs. Then, you can pay for a membership or grab your free trial for this mature dating app.
---
2. SilverSingles – Best for Mature Dating for Singles Over 50
Dating is a whole different ballgame once you reach your 50s. At this point in life, you've dated around, suffered heartbreaks, and know what you want in a mate. In other words, you don't want to deal with flakes or waste your time on dead-end romances.
That's why SilverSingles is the perfect dating app for older singles. As an exclusive 50-and-over dating site, flakes are few and far between on SilverSingles. Instead, you'll enjoy a mature online dating environment full of people at the same stage of life as you.
You also won't have to worry about wasting time on dead-end romances since SilverSingles uses the five-factor model of personality to match people. That system leads to around 2,000 couples a month, making SilverSingles the best dating site for mature singles 50 and over.
Instead of trying to stand out among a bunch of younger singles, find your mature mate on SilverSingles. Start the process by claiming your SilverSingles free trial today.
---
3. eHarmony – Best for Mature Women Dating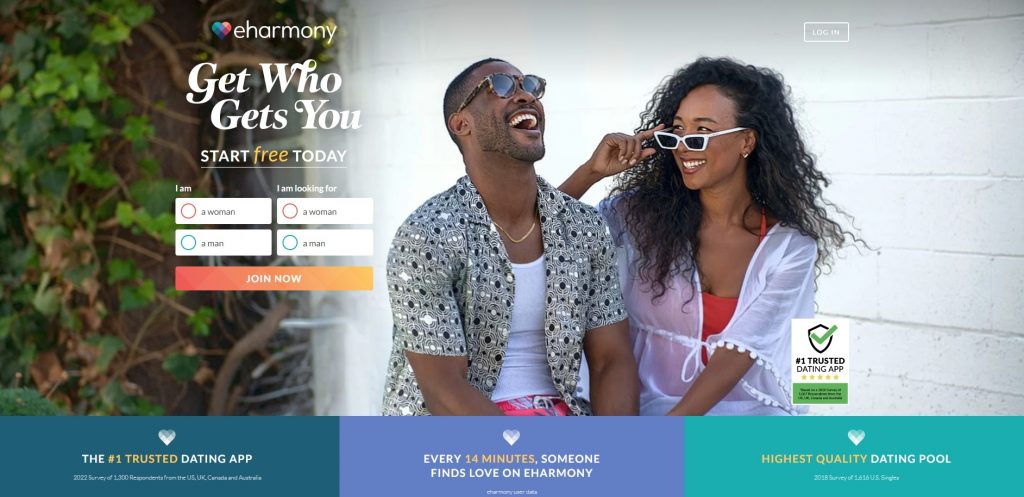 Around a quarter of women say the physical and emotional risk makes dating harder these days, according to the Pew Research Center. We've noticed that the risk increases as women age and start pursuing committed relationships. Since men generally want to get married later, women know their chance of a broken heart is high.
And here's something else…
Women can even end up with broken hearts when dating committed partners. Incompatibility can make a relationship fall apart months or years down the road, and you won't have anything to show for it. That's a pretty big problem, but you can avoid it by using eHarmony.
eHarmony's compatibility-based matching system makes it the best mature women dating site out there. It matches members who share up to 32 personality traits, so you'll form real connections that can last a lifetime. Now, that's a way to avoid the emotional risk of dating.
Plus, practically all the members want serious relationships, so eHarmony is the heart of the mature online dating scene. That explains why 71% of women on eHarmony meet their spouses within a year. Grab a free trial to eHarmony to check it out today.
---
4. Zoosk – Best for Mature Men Dating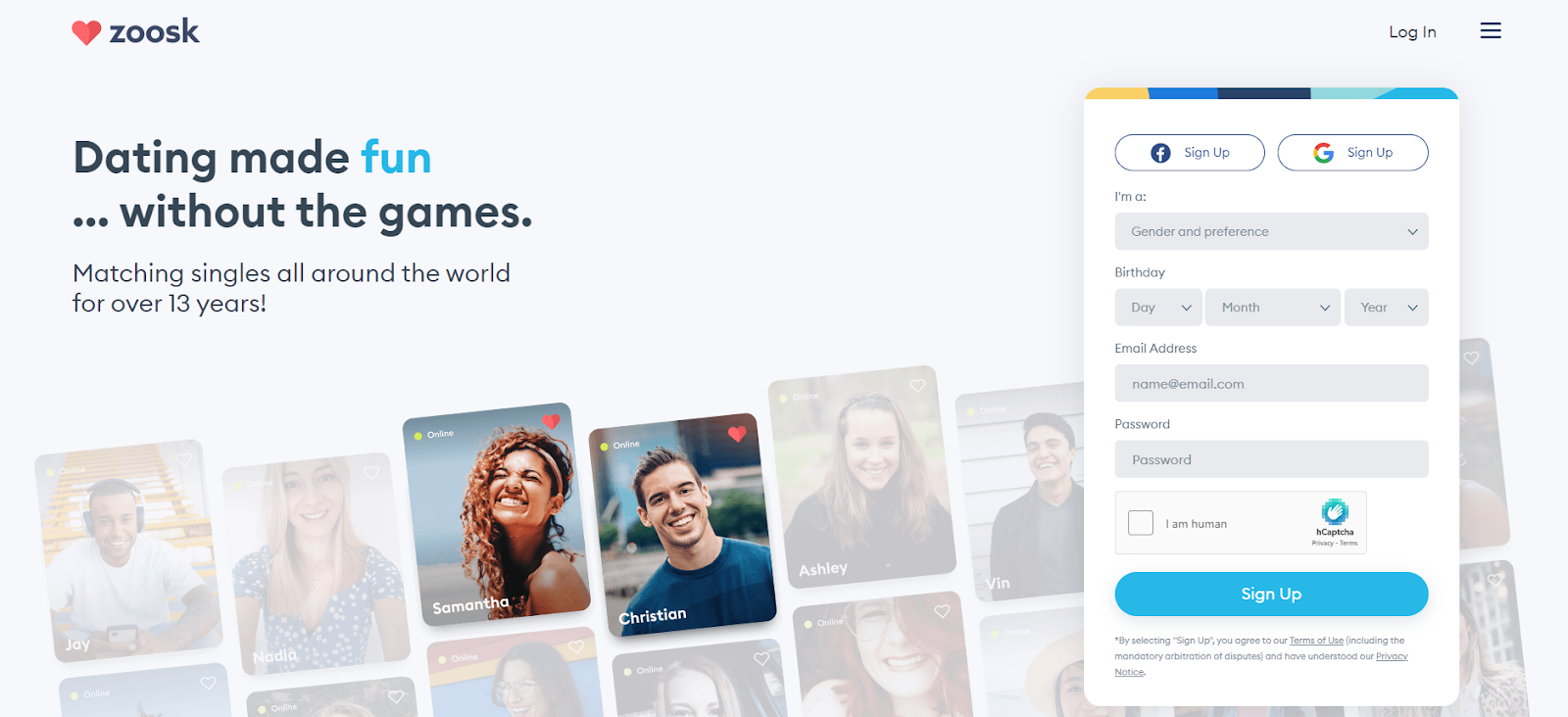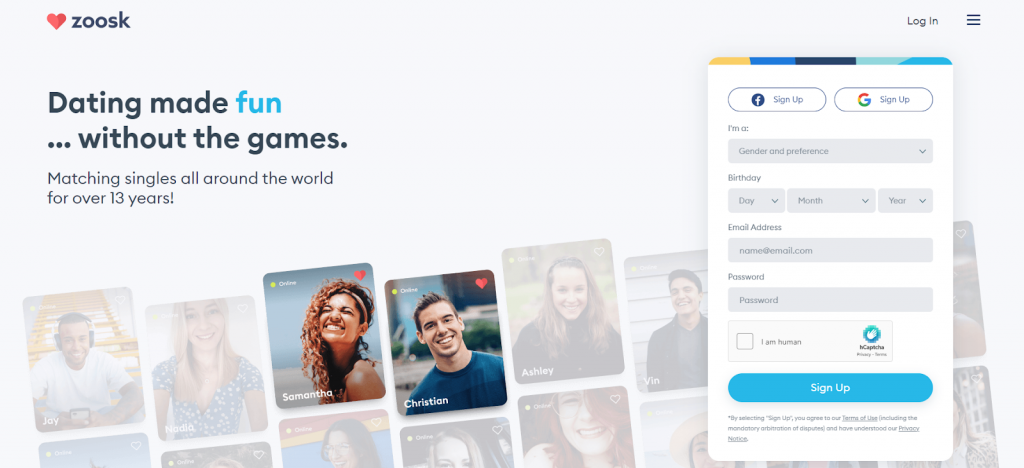 The Pew Research Center discovered that men are more open to pursuing both serious and casual relationships when on the dating scene. We did some digging and discovered this is true for both young and mature men. However, the way they go about casual dating is different.
Younger guys might like Tinder, but mature men need something classier. And that's why Zoosk is the best dating app for mature men.
This dating site hits all the right notes for mature male daters. For starters, it has a behavioral-based matching algorithm, so you'll get paired with compatible people. That way, you won't have to suffer fools when dating casually. Now, that's a lot better than Tinder already.
And then, there's the fact that Zoosk's members have the same casual dating style that mature men do. Just like the mature guys, the people here are often open to seeing where the relationship goes. They might start something casual, and if they connect, date seriously.
Oh, and you can also use Zoosk on the go, which is a must for mature men. We've noticed that a lot of mature guys travel for work and take some nice vacations. If you fit into that category, download the Zoosk app and look for dates when you're on the road.
Check out our Zoosk review to learn more about this mature dating site. Be sure to grab the free trial inside of the review so you can get started today.

Reasons We Love These Mature Dating Sites
Mature Membership Bases – The people on these sites are looking for quality, genuine connections. That's true, even on the casual dating app Zoosk.
Quality Customer Support – Some creeps can slip through, even when sites have mature membership bases. These dating apps are known for having stellar customer support, so you can report anyone who doesn't act maturely.
Match By Personality and Preferences – Finding a complementary partner is easy on these mature dating apps. While Tinder is all about location and looks, these sites have matching algorithms that pair people based on their personalities and preferences.
Easy to Use – Online dating can be intimidating if you're on the market for the first time in a while. We selected mature singles dating sites that are a breeze to use, so you can get started quickly, even if you've never used a dating app before.

Staying Safe on Mature Singles Dating Sites
As a mature single, you might be new to the online dating game. You've probably heard people talk about staying safe online and want to make sure you follow the best practices. Check out how to take a proactive approach to online dating safety.
Choose a Safe Dating App
It's much easier to protect yourself when you go with a safe dating app. We selected mature online dating sites that have active safety protocols in place, such as procedures to remove fake accounts. Also, these sites have excellent customer support teams that take fast action when a problem arises.
Add New Photos to Your Dating Profile
Let's say you use your Facebook picture for your dating profile. People on the dating site can perform a reverse image search to find your Facebook account. That's a safety issue, so upload new, never-used photos to your dating profile.
That tip will keep you safe, but will your profile get noticed? Get the scoop on how many dating app profile pictures you need to add so you can stand out.
Video Chat Before Meeting in Person
As a mature single, you might not have needed to video chat before connecting with previous dates. After all, you probably met them in person, so sending a Zoom invite would have been weird. Online dating is different, though, so you'll want to have a video chat before taking things into the real world.
You can connect via video on eHarmony and Zoosk. Don't worry if you don't use those mature online dating apps. You can also use a platform like Zoom or Skype to video chat.
Hold Off on Sharing Personal Info
Yes, you need to get to know each other, but don't divulge personal information to your match right off the bat. For instance, it's a good idea to keep your workplace and home address under wraps at first. Once you form a connection, you can start sharing some of the details, but don't go overboard until you know your match is the real deal.
Don't Send Money
Some scammers try to get people to send money. Sadly, many of them focus on the older crowd, so be mindful of this when using a dating app for mature singles. If someone asks you for money, decline and consider breaking off contact. Of course, you can blend finances after meeting in the real world and starting a relationship if you'd like.

Online Dating for Mature Singles – Who's Available?
There's a lot of talk about dating being a young person's game, but that's not really true. According to the Pew Research Center, there are lots of mature singles out there. Seriously, we mean a lot.
Check out the percentage of single adults by age and gender:
30-49

23% total
27% of men
19% of women
50-64

28% total
27% of men
29% of women
65+

36% total
21% of men
49% of women
As you can see, there's a pretty big difference between the number of mature single men and women. Fortunately, a mature singles dating app will allow you to bypass the gender gap and find lots of men or women.

Mature Dating FAQ
Are There Free Mature Dating Sites?
Some mature singles use Reddit and other free sites for dating, but we don't recommend it. Free sites don't have good customer support, advanced matching algorithms, or high-quality membership bases. Also, your safety is at risk when using a free dating site.
Should I Tell My Matches About My Exes?
It's hard to reach the mature adult stage without having a past. Most people on mature dating apps have exes, but it's not always important to disclose that information, especially early on. Still, each situation is different, so get our thoughts on talking to your new partner about your ex.
How Do I Get a Free Trial to a Mature Dating App?
We have free trials for the top mature singles dating sites. You can visit our dating app free trials page or click on a link in this post to claim your trial.
Can I Match by Age?
Yes, you can set your preferences to match with mature singles by age. If you do this, you can search for people who are your age, older, or younger. Keep in mind that SilverSingles is set up for people who are 50 and up, so you won't find many folks who are younger than 50.