Thanks to all that southern hospitality, there's no such thing as meeting a stranger in Mississippi. You can expect a friendly hello and a wave each time you run into someone, but that doesn't mean you have the upper hand when dating.
In reality, traditional dating is harder in Mississippi than in most states. First, a lot of the state is rural, so there aren't many options. And second, few people move to the state, so the faces never seem to change.
See, it's not your fault that you're single.
The state might be working against you, but we're in your corner. And we aren't just here to cheer you on while you look for love. We went a step further and found the five best Mississippi dating apps, and we're ready to share them with you.
5 Dating Apps in Mississippi
Is your swiping finger getting itchy? Before downloading the apps, take a moment to read the rest of the guide for more info about the state's dating scene. We even cover what to expect based on your location, so you'll be set up for success.
You've been single long enough, so let's not wait any longer. Check out our picks and get ready to match your way to happiness.
Christian Mingle – Best for Religious Mississippians
With close to 6,000 churches sprinkled across the state, religion is the main course on the menu in Mississippi. In fact, the Magnolia State is tied with Alabama as the most religious state in the U.S., and close to three-fourths of the residents say their faith is very important to them.
Because of this, it makes sense to use the best religious dating app out there, and that's Christian Mingle. While some religion-first dating apps don't go beyond the church, this one takes your interests into account, too, so you can find a genuine match.
Also, most of the members are seeking long-term connections, so you can meet your husband or wife on Christian Mingle.
Who Will Love ­Christian Mingle: Singles that want faith-focused relationships
Who might not enjoy ­Christian Mingle: Agnostic, atheist, and secular humanists
Biggest Pro: Helps singles connect with long-term partners that share their faith
Biggest Con: Few members are looking for casual relationships
Starting Price: Premium memberships start at $24.99 a month
---
eHarmony – Best for Finding Compatible Marriage Material

Many Mississippians enter the dating world with one goal in mind: marriage. And because it's so important, they don't want to wait. On average, Mississippians marry at 27, while the rest of the country waits until they're 34 to tie the knot.
It's easy to understand why marriage is a priority in the state. As we mentioned earlier, religion is the driving force in Mississippi. That means many people want to get married before having sex and living together. Plus, the idea of bringing children into the world without a marriage license is enough to make a huge segment of the population blush.
With this info in mind, we set out to find the best dating app for marriage-minded singles in Mississippi, and eHarmony won by a landslide.
A study from 2013 found that most online marriages started on this site. Also, these marriages are less likely to end in divorce, so you won't have to compromise your religion for your happiness.
While the study was back in 2013, this dating app has only gotten better. It's the gold standard of compatibility-based matching, so you can find someone you're ready to spend the rest of your life with here.
Who Will Love: People looking for long-term love and marriage
Who might not enjoy: Casual daters
Biggest Pro: Compatibility-based matching helps a member find love every 14 minutes
Biggest Con: Longer signup process than most apps, but that's a small price for high-quality matches
Starting Price: Premium memberships start at $17.95 a month
---
Zoosk – Best for Singles that Like Lots of Options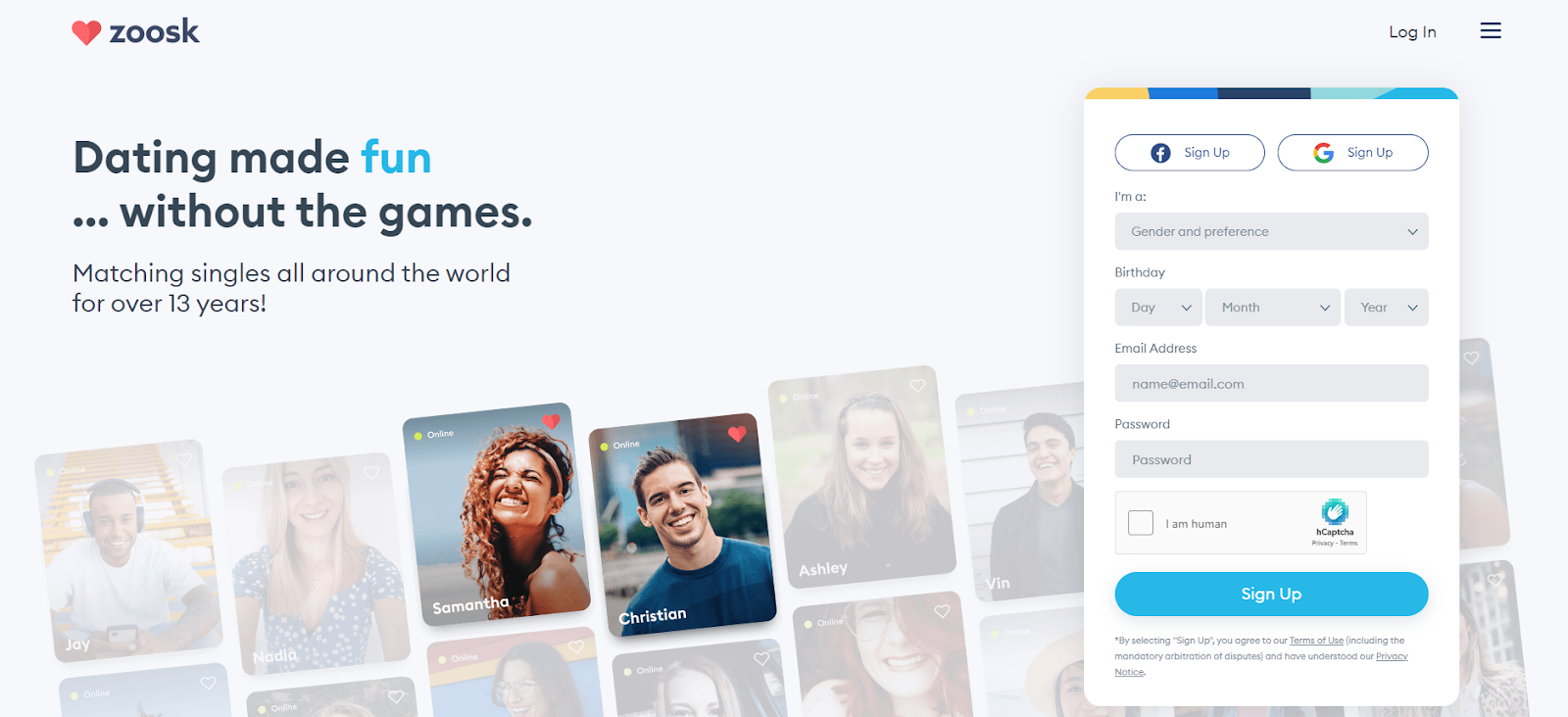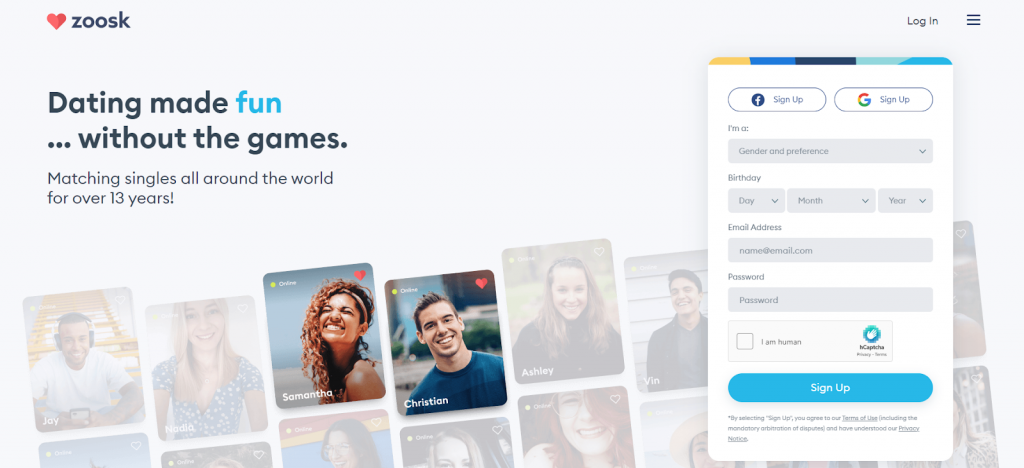 Over half of Mississippi's population is rural, meaning they don't have access to more than a handful of singles if that. And waiting it out for fresh blood isn't really an option since families tend to stay in the same spot for generations. In other words, you've been surrounded by familiar faces for a long time, so landing a date isn't likely.
Fortunately, you can increase your options (and the odds) by using Zoosk. It has over 40 million members, allowing you to experience big city dating right here in Mississippi.
With so many users, you can expect a lot of variety on here. And we don't just mean you'll find singles with different interests and personalities. The app is full of men and women looking for casual flings, short-term romances, and marriage.
All that variety means it's also a good fit for people that live in cities. Plus, we love Zoosk for college students.
Who Will Love: Singles that want the most choices for casual and long-term relationships
Who might not enjoy: Marriage-minded singles that don't want to get messages from casual daters
Biggest Pro: More than 40 million members
Biggest Con: Some matches might not want the same type of relationship
Starting Price: Premium memberships start at $10 a month
---
Catholic Match – Best for Combining Catholicism and Love

Doesn't it seem like southern Mississippi is an entirely different state? At first glance, you might think that's just because of the beaches and casinos, but it also differs when it comes to religion.
While most of the state is full of evangelical protestants, southern Mississippi is like a Catholic paradise. This isn't anything new, but the numbers are growing. Some are converting to get married, but many are turning to Catholicism on their own.
With that in mind, we feel confident that Catholic Match is the right choice for lots of single men and women in Mississippi. You can find a match that takes Catholicism as seriously as you do, even if you don't live in the southern portion of the state.
Because this app focuses on religion first and everything else later, you'll have to weed out the matches a bit to find the right fit. Still, the site is full of high-quality singles that you'd be proud to take home to mom and dad. Plus, the people in your parish are going to love your new mate.
Who Will Love: Catholics interested in long-term relationships
Who might not enjoy: People who aren't religious or practice other faiths
Biggest Pro: Match with singles that value Catholicism
Biggest Con: Few casual dating options
Starting Price: Premium memberships start at $9.99 a month
---
EliteSingles – Best for Professionals Seeking Ambitious Partners
Hollywood wants you to think that Mississippi is full of uneducated, simple people that are more than happy to make minimum wage. Well, Hollywood needs to take a trip to Mississippi to see it for what it really is: a state where industries and entrepreneurs thrive.
Some of the top industries include aerospace and defense, agriculture, advanced manufacturing, and distribution and logistics. Plus, the automotive industry has invested heavily in the Magnolia State, and you have access to top-rated medical facilities here.
It's clear that Mississippi is good for business, and professionals keep the wheels turning. You just need to drive past Jackson, Tupelo, or another city during working hours to see people dressed to the nines, heading to their jobs.
With so many successful professionals, EliteSingles is a fantastic choice for Mississippians. Most of the users are professionals, and you can find people with comparable salaries, along with personality traits that make them ideal partners.
Who Will Love: Professionals looking for long-term relationships
Who might not enjoy: Casual daters and singles that don't prioritize their careers
Biggest Pro: Find matches based on interests and success level
Biggest Con: Few casual dating options
Starting Price: Premium memberships start at $17.95 a month
---
What is the Dating Scene in Mississippi Really Like?
Social Circles are Small – People focus on quality over quantity when making friends in Mississippi. Because the social circles are on the smaller side, it's hard to get set up on dates. That's why so many Mississippians use dating apps to make connections beyond their friend groups.
Distance Isn't a Roadblock – With vast rural areas, it's not unusual for singles to expand the search radius when looking for dates online and in person. Some singles look in larger cities, including Jackson, Southaven, and Gulfport. Others don't go far out of their way but might set their distance radius to 50 or 100 miles from home.
Religion is a Big Deal – Since most Mississippians are Christians, dating can be challenging for agnostics and atheists. If you want to break out of the religious box, try dating in a big city like Jackson or a college town, such as Starkville or Oxford. Additionally, there are groups for agnostics and atheists that want to connect with like-minded people.
Making Friends is Easy – Many singles take a friends-first approach to dating, and that's not a problem in Mississippi. Southern hospitality is on display everywhere you go, so making friends is as simple as walking out your front door. While you might find a date in your friend group, you'll have more success with a dating app.
Chivalry is Alive and Well – Cotillion is still a thing in Mississippi, which speaks to the state's traditional beliefs. Many women expect men to open doors for them, pay for dates, and more. This is true, even in college towns. However, you can buck traditional gender roles in Jackson's Fondren District and other less conservative areas.
It's Easy to Date on a Budget – You can go all out and impress your date without going over your budget in this state. Since it has the lowest cost of living, everything's cheaper, from dinner and drinks to weekend getaways. Plus, local bands often put on shows for free, so you'll just need to foot the bill for food and drinks.
Most Singles are Conservative – Over 60% of Mississippians identify as conservative, so liberal people can feel like they're on an island. Fortunately, college towns and cities like Jackson add a blue tint to the red map, so you can meet your match, regardless of political affiliation.
It's Racially Diverse – Just over 59 percent of the population is white, while almost 38 percent is Black. You can also find Hispanic, Asian, and American Indian singles here.
Interracial Dating is Common – In the past, people discriminated against interracial couples. Fortunately, that's becoming less common, so you can pursue love without worrying about people standing in the way.

Dating in Jackson – EliteSingles
They say that dating is a numbers game, and you can increase your odds by checking out the singles in Jackson. It's the largest city in the state, with a population just a few ticks above 160,000. But don't stop counting there. See, Jackson is like a magnet, attracting guys and gals from Madison, Flowood, Brandon, and other surrounding areas.
Dating's a little bit more laidback in Jackson than in most other cities. Singles often start by making friends, so expect someone to get to know you before pursuing a relationship. Often, those friendships start after meeting in Fondren. And that's not a surprise, considering how much this area has to offer.
If you want to meet college students from Jackson State and Belhaven, head to Fondren to listen to live music or take in an event. But then, if you prefer to meet professionals, you can find them enjoying dinner and cocktails at The Manship or Parlor Market.
Do you want a little bit of both? If so, Fondren Live is the event for you. It always attracts a large number of college students and professionals. Plus, it's a ton of fun. Where else in Mississippi can you walk around the streets while sipping a drink?
If Fondren's a little too liberal and artistic for your liking, you can try to meet people at church. Even though Jackson's a little less religious than the other cities in Mississippi, the churches are still packed. Some have lots of young members, so you might need to do a little church-hopping to find a good fit.
Because of the high number of professionals in Jackson, we recommend EliteSingles. However, if you're still in college, you might prefer something casual. That's why Zoosk is the runner-up.
Population: 163,778
Men: 46%
Women: 54%
Unmarried: 66%
Median Age: 33.5

Dating in Gulfport – Catholic Match
As part of the Gulf Coast, Gulfport is one of the most popular places to live in Mississippi. And while most beach towns are known for partying, this is a family-first city. That explains why getting married and having kids are top priorities here.
Even though Gulfport is the second-largest city in Mississippi, it can feel small when it comes to dating. It seems like everyone is already married with kids, so you can't help but feel like you're behind the curve. Plus, no matter how hard you try, you're having trouble finding what you want.
Fortunately, the dating scene isn't nearly as challenging as it looks at first glance. Most people consider the entire Gulf Coast as one big city, so you can venture past the beach full of families to the bars in Ocean Springs or the casinos in Biloxi.
Keep in mind that if you do this, you might run into tourists instead of residents. That's great for a quick fling, but you'll come up short if looking for long-term love.
If commitment is high on your agenda, your faith could be the gateway to finding a husband or wife. Catholicism is on the rise here, so Catholic churches are one option for meeting singles. You'll come across a ton of Catholic churches when driving along the Gulf Coast, so take your pick and try to meet your match.
But dating in church isn't for everyone, and you might not be successful. After all, a lot of the people in your parish are probably already married. With that in mind, we think that Catholic Match is the best Mississippi dating app for singles in Gulfport.
Population: 71,660
Men: 48.1%
Women: 51.9%
Unmarried: 55.94%
Median Age: 35.2

Dating in Starkville – Zoosk
People might not recognize the name "Starkville," but they know all about Mississippi State. The college boasts famous alumni like John Grisham, and the football team has fans across the country.
Because it's a college town, Starkville offers some offline dating options. Football games and other campus events are always a good way to meet singles, and you can stay on top of what's coming next with Cowbell Connect. Use it to find an event, and then get ready to go on the prowl.
But the thing is, the student body pairs up fast, so you can end up in a dry spell. And it's even more challenging if you're not a student. You don't want to find your match on campus, and except for shops and bars, there aren't many ways to meet singles.
Don't worry, though, since you can expand your options with Zoosk. With over 40 million members, you can be as picky as you want when using this Mississippi dating app. Plus, it's fun to use, and it learns as you go. That's how it manages to improve the match quality the more you use it.
Population: 25, 495
Men: 49.7%
Women: 50.3%
Unmarried: 62.43%
Median Age: 28

Dating in Oxford – eHarmony
At one time, Oxford was nothing more than the home of Ole Miss. And while that's something to be proud of, it's really come into its own in the last decade. That explains why the population has increased by more than 30 percent in the last ten years or so.
It's easy to understand why people are moving here. The cost of living is lower, and it's safer than Memphis, Jackson, and other large cities. There's also a strong sense of community, making it ideal for raising a family.
Even with so much to offer, traditional dating is hard. Some people have success meeting singles at sporting events or while hanging out at parks and nature trails. And then, of course, religious singles often connect with others at church.
But it doesn't take long to realize that even though Oxford is growing, it has a small-town feel, so you'll know everyone before long. And to make matters worse, it's full of families that have already settled down, reducing the dating pool.
You can add a lot more water to that pool by using a dating app. When it comes to Oxford, eHarmony is our pick. As we mentioned, this is a fantastic spot for families, so you can find that special someone and start your own.
Population: 27, 662
Men: 49.6
Women: 50.4
Unmarried 64.62
Median Age: 27.7

Mississippi Online Dating FAQ
What's the Best Dating App in Mississippi?
It depends on what you want out of a relationship. If you're going for something serious, eHarmony, EliteSingles, Christian Mingle, and Catholic Match deliver. You can also find serious relationships on Zoosk, although this is our favorite Mississippi dating app for casual daters.
Is Online Dating Safe in Mississippi?
Online dating in Mississippi is like dating in other states. That means you can stay safe by watching out for red flags and vetting your matches. Use video chat to make sure your match is the real deal before meeting in person. Also, meet in a public place and let a friend know where you are.