Nebraska didn't get much love from WalletHub when it released its list of the best and worst states for singles. The Cornhusker State came in at number 31, mainly because of its lack of dating opportunities. And hey, we know Nebraska doesn't have as many single adults as some states, but we do have some info that WalletHub doesn't.
We know which dating apps Nebraskans use and are ready to share the details with you.
And we aren't just talking about the single guys and gals in Omaha, Lincoln, and other large cities. We dug deep to find the dating apps that men and women use in smaller cities and rural parts of the state, too. Take a quick look at the five best Nebraska dating apps.
Best Dating Apps in Nebraska (2023)
---
These dating sites will put you on the right track, but we aren't going to stop there. Stick around to learn some insights into Nebraska's dating scene, including how it looks in the big cities and farming communities.
Contents of our Nebraska Online Dating Guide (Jump Ahead):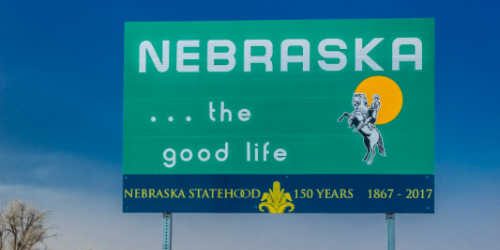 ---
1. eHarmony – Best for Increasing the Options for Getting Serious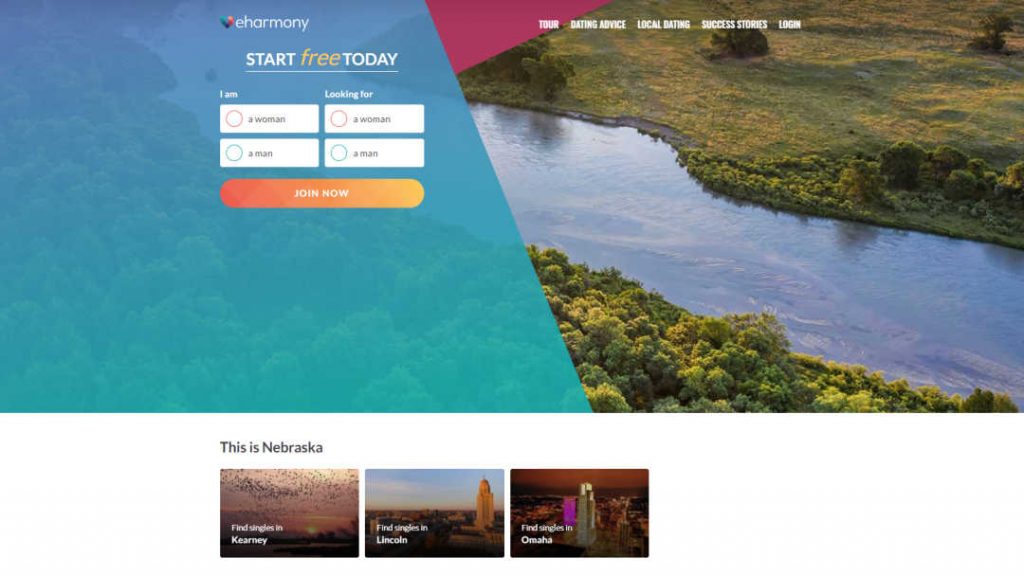 Who Will Love eHarmony: Nebraskans seeking serious relationships without settling
Who Might Not Enjoy eHarmony: Cornhuskers interested in casual flings
Biggest Pro: Matching system leads to long-term marital success
Biggest Con: Few options for singles interested in casual relationships
Starting Price: Premium memberships start at $35.90 a month
Nebraskans take dating pretty seriously, with most interested in marriage. But if we're being honest, finding marriage material is getting harder by the year. Over half of Nebraska's adults are already married, leaving people with few options. That's why some people end up settling when making long-term commitments.
And let's just say settling isn't a good thing. Sure, you might make it work for a while, but there's a good chance your relationship won't last. That might explain why Nebraska's divorce rate jumped from 2019 to 2020.
We want you to find real love without the headaches, so we're putting eHarmony at the top of our list of the best Nebraska dating apps. See, this dating site fixes two problems that you'll encounter when looking for a partner.
First, it has the numbers. Millions of people use the dating site, so you'll have many more options than in person. That includes people in Nebraska and around the world.
And second, settling is not an option on eHarmony. It uses the 32 Dimensions of Compatibility to match people. You can look at your Compatibility Score to see how in tune you are with your matches and reach out for a real connection. Your matches will have everything you want and need, so you'll just need to meet in person to make sure there's a spark.
And since someone finds love every 14 minutes on this Nebraska dating site, the sparks tend to fly when meeting here. If you want to find true love without settling, head to eHarmony to set up a free profile today.
---
2. Higher Bond – Best for Clean Christian Dating and Genuine Connections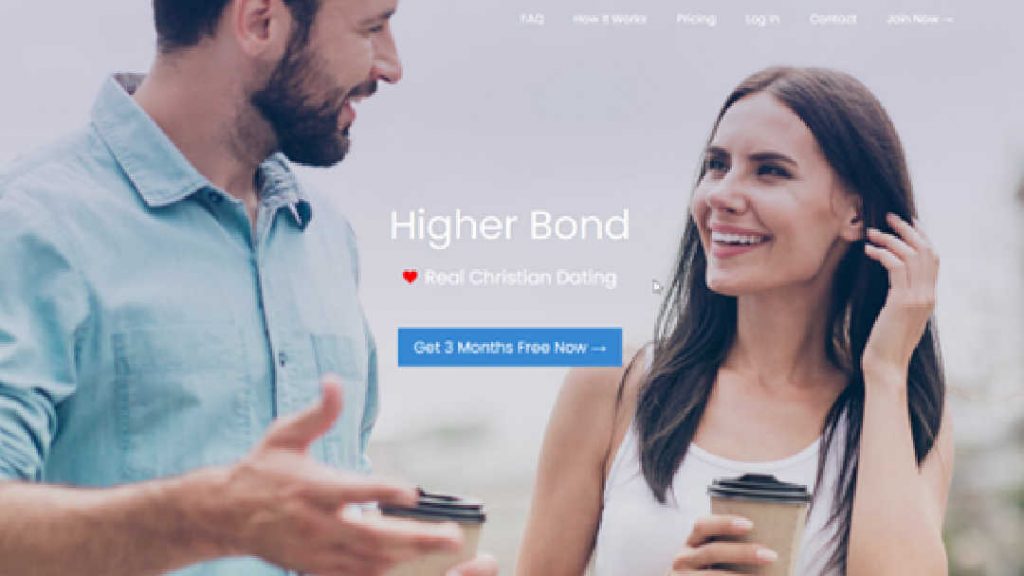 Who Will Love Higher Bond: Christians who want to form serious romantic connections in a clean environment
Who Might Not Enjoy Higher Bond: Casual Christians, non-believers, and people who want to date outside of their faith
Biggest Pro: Matching algorithm considers faith, personality, and other factors to create high-quality matches
Biggest Con: Launched in 2022, so the membership base is small but growing
Starting Price: First three months free
Three-fourths of Nebraska adults are Christians, and over half the folks 18 and over are highly religious. If you count yourself among them, you might be turned off by the state's dating scene. A lot of it goes down in places that serve alcohol, and drunken encounters can seem like the norm.
That doesn't really align with your faith, does it?
We set out to find a clean Christian dating site that creates real connections, and Higher Bond stands ahead of the pack. For starters, the team behind Higher Bond turned to faith leaders when developing the algorithm. With their input, they created a Christian dating site that eliminates swipe culture, meaningless encounters, and anything close to scandalous.
Oh, and here's something else we love. The members are among the most serious Christians around, so you can start a faith-filled relationship from the jump. You can check out this Nebraska dating app for free by clicking the link below:
---
3. EliteSingles – Best for Finding Love in the Silicon Prairie
Who Will Love EliteSingles: Entrepreneurs, physicians, lawyers, and other professionals
Who Might Not Enjoy EliteSingles: People who leave work behind at quitting time
Biggest Pro: Most members are career-oriented singles seeking serious relationships
Biggest Con: Website design is a little outdated, but it has advanced features
Starting Price: Premium memberships start at $27.95 a month
Have you noticed that people are calling Nebraska the new "Silicon Prairie" these days? Successful tech startups have been popping up, especially in Omaha and Lincoln, positioning the state as a leader in innovation.
And it's not just the men and women behind the tech startups making their mark on Nebraska. The state's also home to thousands of medical professionals, attorneys, and others who are leaders in their careers and communities.
Successful professionals are located throughout the state, so we knew we needed a dating site that works in big cities and rural areas. After reviewing countless data, EliteSingles is our top Nebraska dating app for professionals.
Professionals in Nebraska and around the world turn to this dating site to find love, to excellent results. EliteSingles helps around 500 couples start relationships each week, thanks to its matching algorithm based on the five-factor model of personality.
Oh, and it only sends 3-7 matches a day, so you won't have to ease off the gas at work to find a date. This system also eliminates dating fatigue. Check out our study on emotional fatigue and burnout in online dating to see why that's so important.
If you want someone as serious about work and love as you are, head to EliteSingles to set up your account.
---
4. Zoosk – Best for Casual Dating without the Headaches
Who Will Love Zoosk: College students and others who want a fun, safe, and effective casual dating app
Who Might Not Enjoy Zoosk: Serious daters interested in marriage
Biggest Pro: Verified profiles, video dates, and other features keep the site safe and clean
Biggest Con: Members need to use the site for a while for the matching algorithm to work
Starting Price: Premium memberships start at $10 a month
If you ask locals if Nebraska has a casual dating scene, most will probably say no. After all, the state's fairly religious, and most folks want serious commitments. Even so, we've identified two strong casual dating scenes here.
Let's start with college.
Over 130,000 students attend college in Nebraska each year, and most want the complete experience – including casual dating. A lot of those students use Tinder to hook up, only to end up embarrassed once they're coined "The Tinder Girl/Guy" or other things we won't mention here.
As for the second casual dating scene, we'll refer to this as the "dating underground."
These folks tend to gravitate to Reddit and other anonymous sites to meet people for quick flings. You never know what you're getting when using a hookup site or sub, so it can be really dangerous.
We considered both those issues when choosing a casual dating app for Nebraskans and landed on Zoosk
Zoosk has an actual matching algorithm, so you can meet people you'll enjoy being around, even if it's just for the night. And because the members want a mix of hookups, short-term flings, and longer romances, you won't get called the hookup king or queen. This Nebraska dating site also offers profile verification and video chatting, helping users stay safe.
Whether you need to avoid the casual dating underground or want to have some fun in college, you're going to love Zoosk. Head to the site to set up your free account today.
---
5. SilverSingles – Best for Seniors Seeking Genuine Connections
Who Will Love SilverSingles: Single seniors who want serious partners who fit into their lives
Who Might Not Enjoy Silver Singles: Manthers and cougars
Biggest Pro: Matches around 2,000 couples a month
Biggest Con: Basic memberships don't include many features
Starting Price: Premium memberships start at $27.95 a month
Did you know that around 590,000 Nebraskans are over the age of 50, making up more than 30% of the population? And the aging population isn't the only thing growing here. It turns out that gray divorces are on the rise, so a lot of seniors are finding themselves on the dating scene for the first time in years.
Whether you're newly divorced or have never found your special someone, dating as a senior doesn't look anything like it did in your younger days.
First, there aren't as many single men and women in your age range on the market. That's true, even though divorces between couples married 20 years or longer jumped from 13% in 1990 to 18% in 2016.
And second, the places you used to go to pick-up dates probably aren't around or cater to a younger demographic now. If you try those old spots, you probably won't walk away with anyone's digits.
But you'll access options galore on SilverSingles.
See, this Nebraska dating site was set up for people who are 50 and older, and you can use it to access singles in your local area, other states, and around the globe. You just need to answer some questions, and it'll use the five-factor theory of personality to find matches for you.
Don't ride out your golden years alone. Instead, visit the top dating app for Nebraska seniors using the link below:

What is the Dating Scene in Nebraska Really Like?
Options are Limited – According to WalletHub, only three states have a lower share of single adults than Nebraska. Considering that over 53% of adults are married, that checks out. Fortunately, the options are practically limitless on dating apps, so there's no reason you can't find a partner.
But Some Cities Have Tons of Choices – WalletHub named Omaha and Lincoln as two of the best cities for singles. You'll find lots of dating opportunities in these cities, but don't worry if you live far away. We're going to help you find love, no matter which part of Nebraska you call home.
It's Casual Fun – We don't mean all the relationships are casual, but the dating scene is low-key. Folks here aren't into putting on airs, and some of the best dates include chowing on runzas and gazing at the stars. Let's just say you don't have to buy expensive clothes and take out a small loan before going on a date.
Alcohol is a Big Part of the Scene – Single men and women tend to go country line dancing and hang out at bars to meet people. The alcohol is usually flowing, leading to some sloppy encounters. Sometimes, people manage to score dates, only to realize their beer goggles were in control at the time. You can avoid this by using Nebraska dating apps instead of landing dates between rounds.
First Impressions Matter – According to OkCupid, a higher-than-average percentage of Nebraskans ghost their dates after meeting in person. Still, almost 70% of men and over 35% of women say they would never do that. If you find yourself getting ghosted, check out our thoughts on dealing with flaky people.
There is a Mix of People – Nebraska's growing increasingly diverse and is also home to people of different beliefs. It's politically moderate, although some people are on the far right or left. Also, over half the adult population is highly religious, but 20% of residents are unaffiliated. As you can see, Nebraska has a bit of something for everyone.
Casual Dating is Popular, Especially Among Guys – People associate Nebraskans with committed relationships, and marriage is a common goal here. Still, a lot of folks are into casual dating, especially guys. Since the gender ratio is skewed, we recommend using a dating app like Zoosk if you want to date casually.
Stepping Out of Your Comfort Zone is Crucial – According to Zoosk, Nebraskans send fewer first messages than people in other states. We understand reaching out is a little nerve-wracking, but you can find your ideal match if you take the leap. Read our post on how to send the first message for some pointers.

Dating in Omaha
Best Omaha Dating App Recommendations: eHarmony and Zoosk
At first glance, Omaha has a family-centric feel, but if you look closer, you'll find an assortment of young professionals, students, and other folks ready to mingle. Also, the city's home to the religious and non-religious alike, including a robust Catholic population.
Anytime you combine a broad mix of people, you can expect a confusing dating scene. But no worries there since we've figured it out. Check out our findings.
People are Friendly – Omahans are a helpful bunch and will lend a hand to strangers in need without a second thought. That friendliness makes building a social circle easy, but a lot of people have trouble taking the next step toward romance.
People Have High Standards – Omaha singles typically follow personal lists of wants and dealbreakers when pursuing relationships. If someone doesn't meet their standards, they keep looking. That explains why Tinder's a dud in Omaha while high-quality Nebraska dating apps are a hit.
People Travel in Groups – You won't find many people hanging out solo in Omaha. People typically move in groups, whether they're on a Taco Ride or hanging at a bar. It's hard to penetrate the groups, explaining why asking people out in person is so challenging.
It's Serious – Casual dating is popular among some college students, but Omaha's dating scene skews to the serious side. Most folks want to settle down (much) sooner rather than later.
With such a serious dating scene, eHarmony is our top choice for Omaha singles. Now, we know Omaha also has a lot of religious folks. Still, you can find people of all religious beliefs on this marriage-minded dating site.
If you're in college, committing to a serious relationship might not be in the cards yet. Fortunately, Zoosk is available to all the students and other casual daters in Omaha.
Population: 487,300
Men:49.3%
Women: 50.7%
20-24: 6.3%
25-34: 14.4%
35-44: 13.3%
45-64: 24.2%
65+: 13.7%
Unmarried: 51.37%
Number of College Students: Over 47,000


Dating in Lincoln
Best Lincoln Dating App Recommendations: eHarmony and Zoosk
People outside of Nebraska might think of Lincoln as a college town, but there's a lot more to it. A lot of people relocate here to raise families or work at one of the thriving tech startups, creating a nice mixture of residents. Lincoln's also really tight nit, meaning there's a good chance you know most of the people around you if you live here.
While that makes it seem like you don't have many options for dating, you can find your plus one in Lincoln. Learn more about the city's single scene, and get the details on our favorite Lincoln dating app.
Lots of People are Already Settled Down – Lincoln's a great place to raise a family, and that's just what a lot of people here are already doing. It's not unusual for people to move away for a while, only to return after getting married. That cuts into the dating pool, but you can increase the number of available singles by using a Nebraska dating site.
Social Circles are Set – People in Lincoln are friendly, but they're also satisfied with their current social circles for the most part. Because of that, it's hard to find an "in" with strangers. Sure, you can chat a bit, but don't expect someone to give you their number of social handles after meeting for the first time.
Downtown, Hobbies, and Work are the Top In-Person Methods – Unfortunately, making a connection at work or through hobbies can take months or even years. Bar hopping downtown can lead to faster connections, but they typically fade once the alcohol wears off.
Lincoln has a family-first feel, with many residents hoping to start their own someday. You can get in on the action by using eHarmony. The dating site's compatibility-based matching system is so accurate that you can find marriage material in no time.
Now, we could never leave the college students out. They might not be ready for marriage, but they still want to date. Zoosk is the ideal casual and short-term dating app, making it perfect for Lincoln's college crowd.
Population: 292,657
Men: 50.2%
Women: 49.8%
20-24: 11.1%
25-34: 13.8%
35-44: 12.4%
45-64: 22%
65+: 14.1%
Unmarried: 53.28%
Number of College Students: Over 32,000


Farmer Dating in Nebraska
Best Farmer Dating App Recommendations: SilverSingles
Over 90% of Nebraska consists of farmland, and thousands of farmers and ranchers work that land. If you're making a living on the farm, learn more about Nebraska farmer dating.
The Scene Skews Older – While there are some young farmers here and there, most of the state's principal operators are on the older side. In fact, their average age is 56.4, and they're still hard at work.
Much More Men than Women – More women are getting into farming (and finally getting credit for it), but there's still a big gender gap. Right now, there are more than twice as many male producers in Nebraska. While that might make it harder for farmers to find other farmers, they can still use dating apps to meet single folks.
Little Time to Date – Farmers work long hours, with many getting little sleep during peak season. This makes it close to impossible to hit the in-person dating scene, but farmers are using dating apps to connect during their limited free time.
So, two things really stand out when looking at the dating scene for farmers: age and the lack of time. And that's why SilverSingles is our favorite farmer dating app for Nebraskan singles.
You can find others who are 50 or older on this dating site and won't have to spend much time looking for love. Instead, just look through your 3-7 matches each day, reach out, and see if you have a connection.
Total Number of Producers: 77,097
Male Producers: 52,367
Female Producers: 24,730
County with Most Farms: Lancaster

Nebraska Online Dating FAQ
Are Nebraska Dating Apps Safe?
Yes! According to research, Nebraska is one of the safest states for online dating. You can also increase your safety by choosing the right app. Check out our list of safe dating apps for some recommendations.
Higher Bond launched after we created our list of safe dating apps. It's also safe and even requires selfie verification before admitting members.
Are There Free Dating Apps for Nebraska Singles?
There are some free Nebraska dating sites, but they all have the same issues. Without a budget, they cannot verify profiles, stop bots, or take down scammers. Also, these sites don't have the funds to invest in matching algorithms.
While we don't recommend free dating sites, we can help you test-drive your options by claiming a free trial. Head to our dating app free trials page for more information.
What's the Best Rural Dating Site?
The top five Nebraska dating apps work in urban and rural areas. However, Higher Bond and SilverSingles are our favorites. Rural Nebraska has lots of Christians and older singles, and they can find love on these sites.