Does it seem like the odds are stacked against you when it comes to dating and relationships? You might even feel like you'd have a better chance of winning a jackpot at a casino than scoring a date. After all, state law requires that slot machines meet the minimum payback requirements – but no one is legally obligated to date you.
You don't need state laws and a dose of luck to land a date, though. Instead, just need to put yourself out there in front of single men and women. And that comes down to knowing where to look.
Sounds easy, right? Unfortunately, a lot of men and women search in all the wrong places.
So, some singles try to find dates the old-fashioned way. They hit up bars, go to touristy spots, and hang out at local events, only to come up empty. And then other guys and gals realize that online dating is the key to scoring dates – but they go to the wrong sites.
There are thousands of dating sites you can use in Nevada, and a lot of them are duds. From too few members to nonexistent matching algorithms, you'll hit a dead end if you hit them up. But you can avoid those duds and click your way into a relationship by using one of the best Nevada dating apps. Check them out.
Top 5 Dating Apps in Nevada in 2023
If you want to increase your odds, stick around to find out which of the five apps is right for your dating style. And don't miss our deep dive into Nevada's dating scene – including what to expect in Vegas and Reno.
---
Jump to:
---
1. Zoosk – Best for Compatible Casual Dating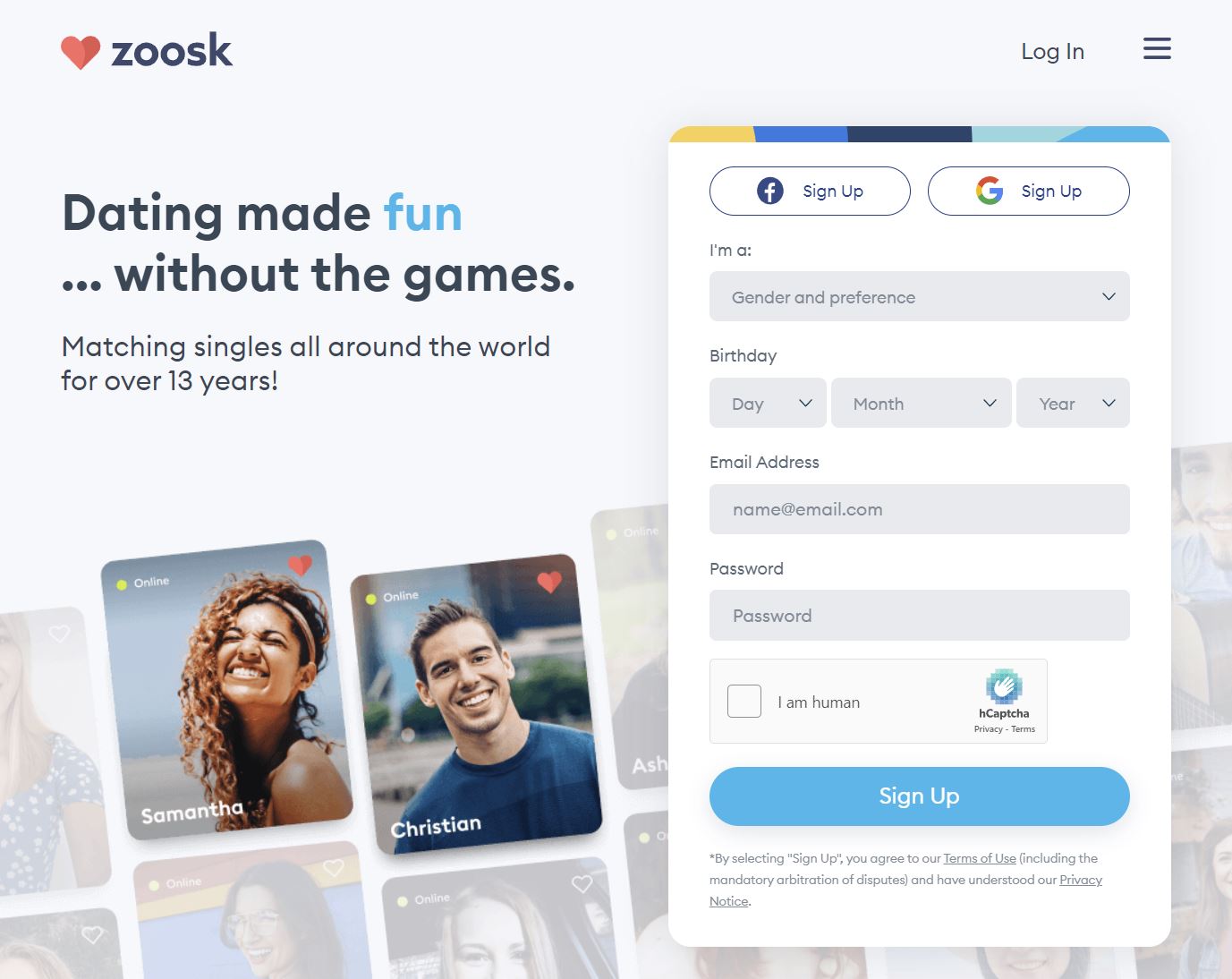 Who Will Love Zoosk: Singles looking for hookups and short-term relationships with locals or tourists
Who Might Not Enjoy Zoosk: Nevadans pursuing serious relationships
Biggest Pro: Large, diverse user base
Biggest Con: Some members don't put effort into their profiles
Starting Price: Premium memberships start at $8.33 a month
With a reputation for raging bachelor parties and all-night gambling excursions, everyone knows that Nevada scores high marks in the fun department. And you don't have to spend much time in Nevada to realize that the casual dating scene is a big part of the fun.
How big of a part? Check out some numbers.
Let's start with the number six. That's where Casualx ranked Las Vegas on its list of the best cities for singles looking for casual sex. If Vegas is number six, can you even imagine what the top city is like?
Next, we want to look at two numbers – 60% and 40%. That's how many men and women in Nevada are open to casual relationships, according to OkCupid. That's in line with Casualx's findings.
Those stats give an overview of the casual dating scene, but we didn't stop there.
We did some more digging and discovered there are two sides to Nevada's casual dating scene. Some locals hook up with tourists (and there are plenty of options there), while others stick with other locals. Those interested in one-night stands usually find tourists, while short-term daters search for locals.
No matter what camp you're in, Zoosk is the best Nevada dating app for casual connections.
It has more than 40 million members, allowing you to be selective when choosing a date. Plus, tourists tend to use this app when looking for flings on the road, so you're covered, no matter what you're after.
Are you ready to jump into Nevada's robust casual dating scene? Head to Zoosk to set up a free account today.
---
2. EliteSingles – Best for Busy Professionals Looking for Love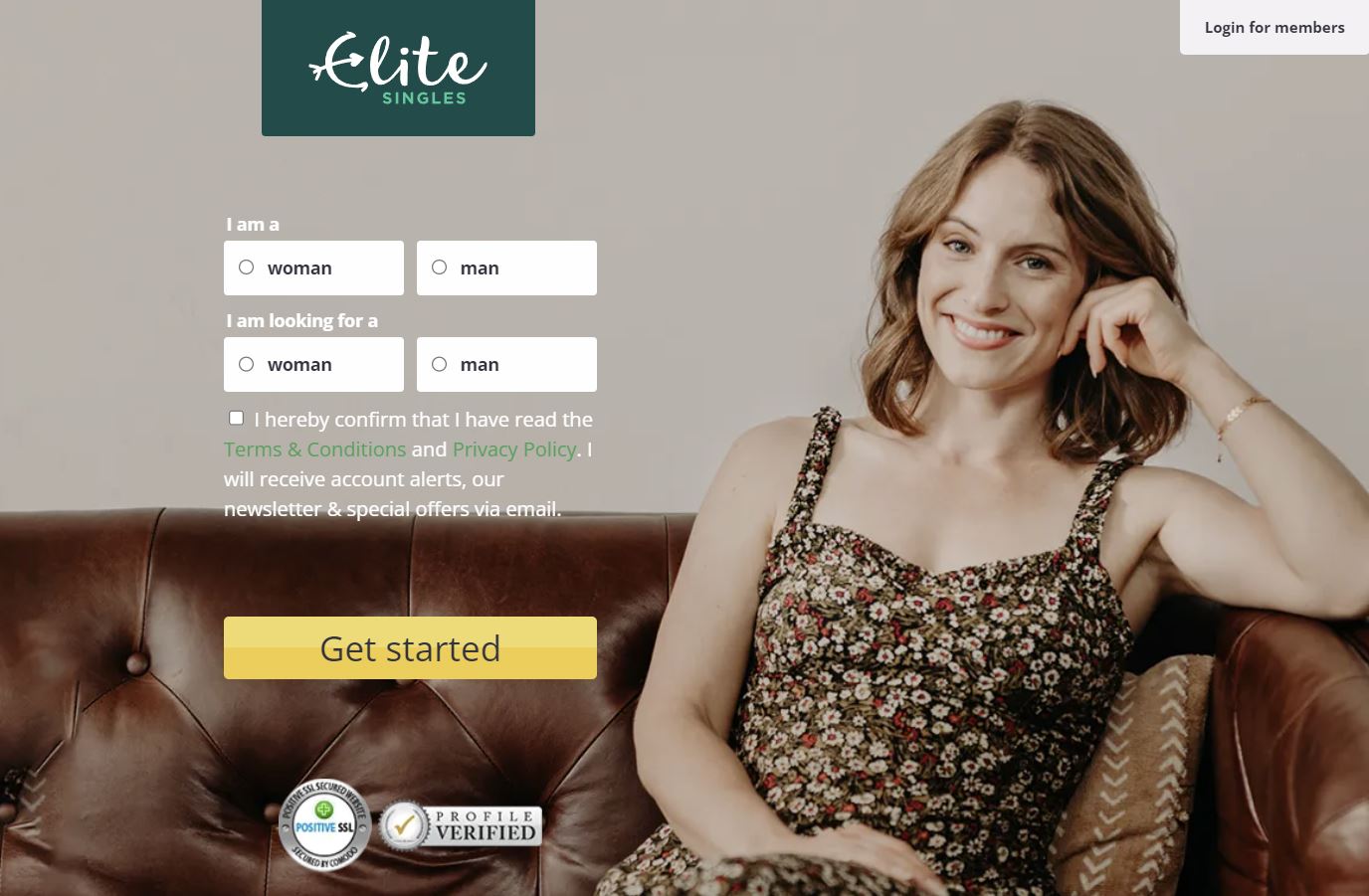 Who Will Love EliteSingles: Driven professionals ready to start serious relationships
Who Might Not Enjoy EliteSingles: Nevadans who aren't at the top of or climbing the career ladder
Biggest Pro: Matching algorithm is based on the Five Factor Model theory and members' personal preferences
Biggest Con: Have to purchase a membership to see member photos and unlock other features
Starting Price: Premium memberships start at $27.95 a month
From Billionaire's Row in Vegas to the luxurious real estate in Lake Tahoe, it's easy to associate Nevada with success. With a reputation like that, the state doesn't have any trouble attracting top talent. Some folks come here to launch startups, while others fill important roles in tourism, aerospace and defense, healthcare, and other key industries.
But if you're part of the successful crowd, you know it's about more than dollar signs, ski resorts, and impressive resumes.
See, making it big takes a lot of dedication, and many professionals work long hours. For instance, one report found that Nevada's physicians are among the most overworked in the country. And from what we hear, entrepreneurs, CEOs, and others also put in long hours.
With so much time at the office, how are you supposed to find time to date?
And it's not just about time. You might not want to advertise it, but the idea of dating someone who isn't successful isn't all that appealing. As an ambitious person, you're attracted to that same drive – and don't want to put in the work just to support someone else.
You might have trouble finding your equal at a Raiders game or in a bar, but it won't be an issue on EliteSingles.
So, this dating site is geared toward successful, ambitious, driven men and women. Most of the members are 30 and up and have resumes that would even impress the one-uppers on social media.
Are you ready to dominate the dating game, just like you've done with your career? You can get the ball rolling by creating a free account on EliteSingles today.
---
3. eHarmony – Best for Vetting Long-Term Partners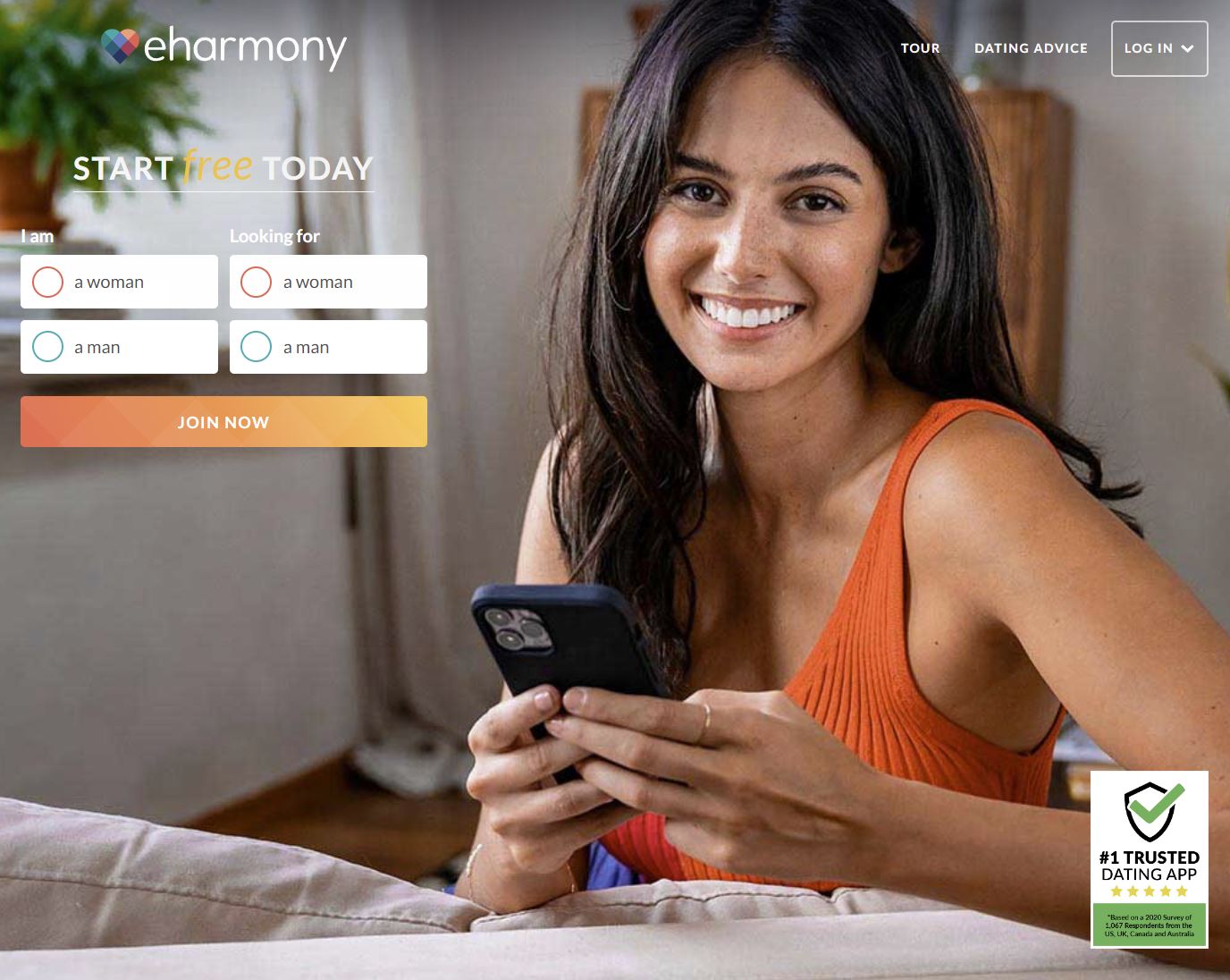 Who Will Love eHarmony: Nevadans who want a harmonious long-term relationship
Who Might Not Enjoy eHarmony: Singles who aren't ready to settle down
Biggest Pro: Matching algorithm is based on clinical psychology
Biggest Con: Paid subscribers have to sign up for at least three months
Starting Price: Premium memberships start at $17.95 a month
Vegas helped Nevada earn a reputation for impulsive weddings – often officiated by the King himself. If you live here, you know it's not just in Vegas, though. The state doesn't have a waiting period to get married, so couples throughout the state can get hitched without giving it much thought.
Those snap decisions rarely lead to marital bliss – explaining why the Silver State has one of the highest divorce rates in the country.
After some thought, we realized that barricading the wedding chapels isn't the way to lower the divorce rate. Instead, it's better to help compatible couples come together. That way, they'll stay together for the long term – even if Elvis officiates their wedding.
And that's one of the reasons that eHarmony is one of the best Nevada dating apps out there.
Before co-founding eHarmony, Dr. Neil Clark Warren provided marital counseling to distressed couples. His experience as a clinical psychologist provided the blueprint for eHarmony's questionnaire and matching algorithm.
The questionnaire evaluates traits needed for marital success. Then, the matching algorithm pairs people based on which traits they'll bring to the relationship. eHarmony's high marital satisfaction rate shows this system works.
If serious dating is on your agenda, eHarmony is the right choice. Beat the divorce odds by setting up your free account today.
---
4. The League – Best for Leveling up to a Power Couple
Who Will Love The League: Ambitious Vegas singles hoping to form power couples
Who Might Not Enjoy The League: Singles without impressive resumes and those ready to start dating immediately
Biggest Pro: Curated membership means everyone can find ideal matches
Biggest Con: Some applicants spend months on the waiting list, although you can shorten the time by paying for a membership
Starting Price: Premium memberships start at $99 a week
Some outsiders think that Vegas is just about partying, and sure, that's a popular pastime – for the tourists. Vegas residents are a lot less likely to get sucked into the partying lifestyle. Instead, this city is home to some of the country's most ambitious men and women.
From tech geniuses to CEOs (including some billionaires), this is a magnet for the country's elite. Seriously, the list of success stories could go on and on, but you get the idea.
If you're one of the success stories, you're already great on your own. Still, what if you could level up into someone even more powerful and successful? We aren't going to tell you to go back to school or start another company. Instead, you can level up by dating someone just like you – forming the ultimate power couple.
If you're in Vegas, The League's your ticket to finding an equally ambitious partner. This isn't just a guess or wishful thinking on our part. See, The League only approves ambitious and driven people, so the bar is extremely high on this dating app.
And let us tell you, the gatekeeper has no problem turning applicants down. More than 3,000 singles applied when The League launched in Vegas in 2018, and only 500 were admitted.
The League has more members these days, but it continues to offer a high-quality, balanced dating pool. The staff checks everything from your degree and career to the industry you work in before letting you in.
Why stay solo when you can form a power couple? Head to The League to sign up for the waiting list. You don't have to pay upfront, although buying a membership can get you past the gatekeeper faster.
---
5. Higher Bond – Best for Connecting with Christian Singles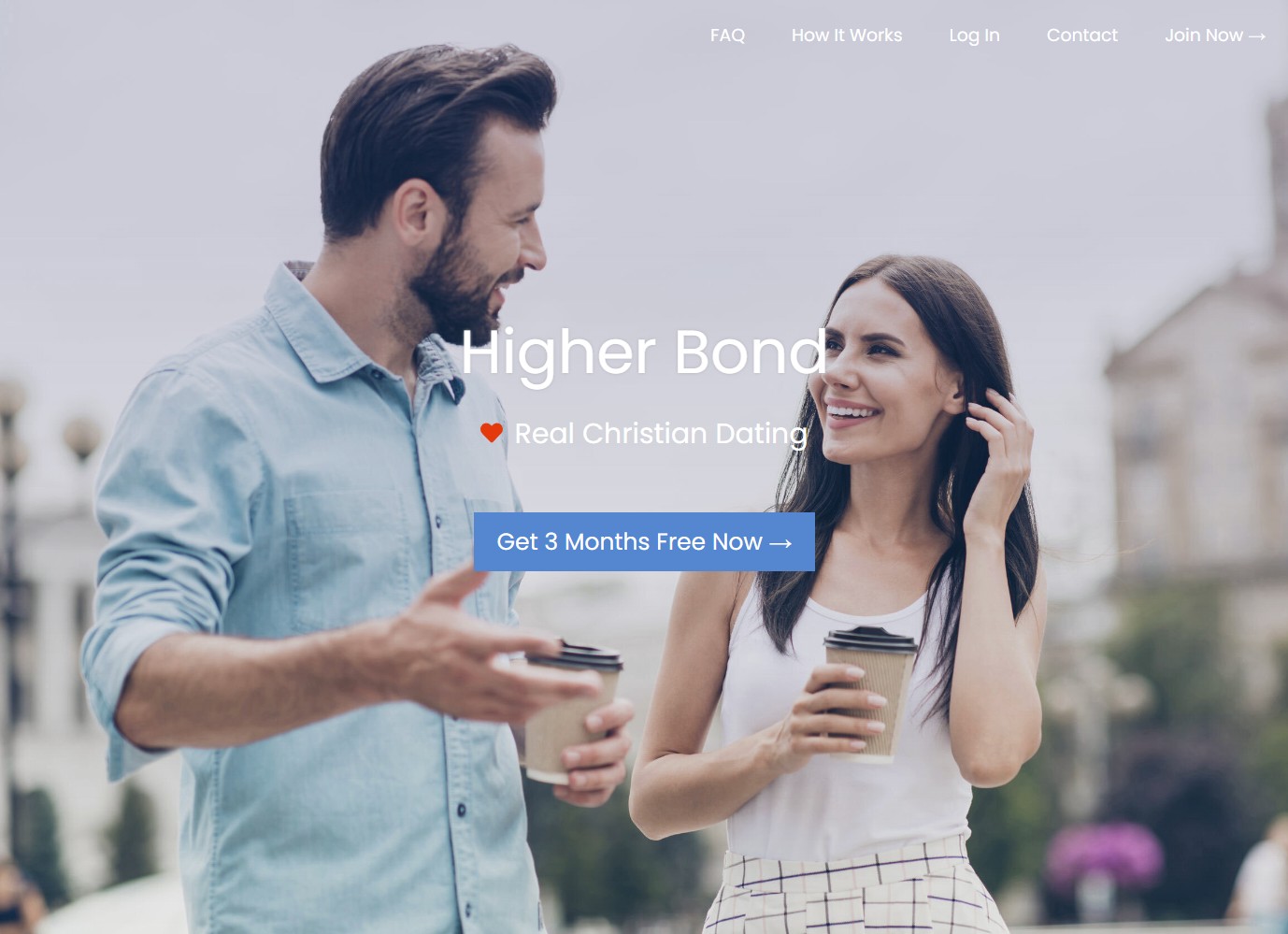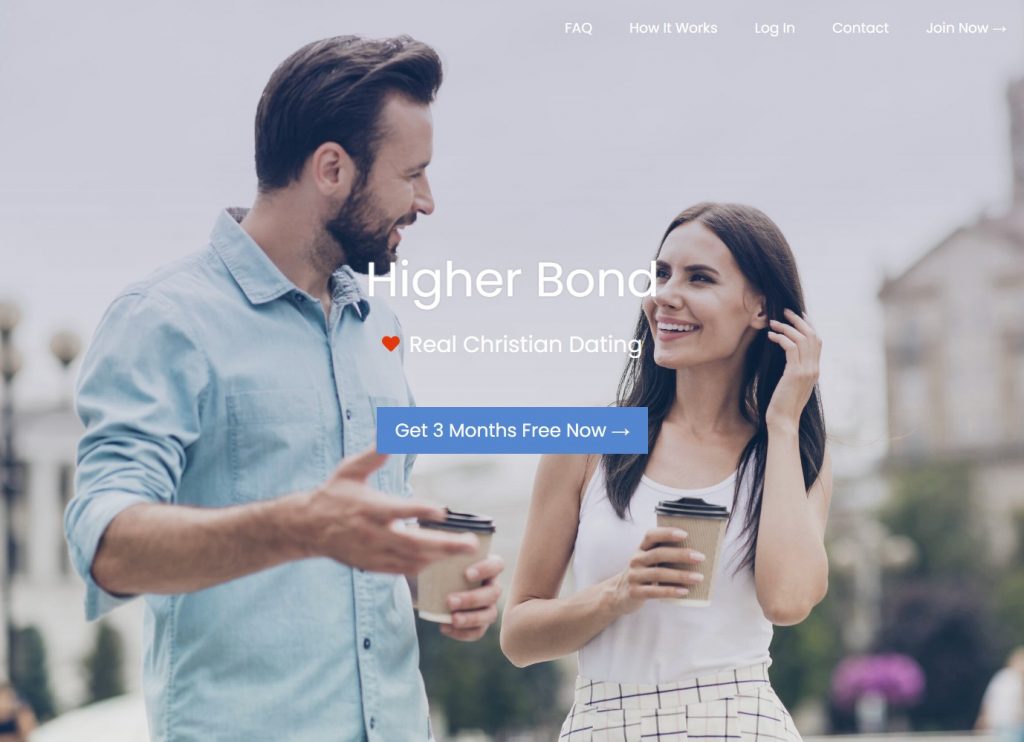 Who Will Love Higher Bond: Christian singles seeking serious relationships with someone who shares their beliefs
Who Might Not Enjoy Higher Bond: Casual daters and secular singles
Biggest Pro: Helps members focus on the most compatible matches instead of overwhelming them with profiles
Biggest Con: Only available on the web, although a mobile app might be available in the future
Starting Price: First three months free
With Vegas's well-known wild side, religion isn't the first thing you think about when it comes to Nevada. But those alcohol-fueled bachelor parties aside, the state's a pretty religious place. According to the Pew Research Center, Christians comprise 66% of the population – and almost half are "highly religious."
If you count yourself among the Christians, those stats are great news. But as much as we hate to break it to you, the Christian dating scene is a bit more complicated than it looks at first glance.
First, almost half the Christians in the state are already married. Then, a tick under 10% of Christians live with a partner, so they're off the market, too.
But that's not all…
Just over 20% of Christians attend church or another religious group each week. Considering that religious singles used to connect in church, the Christian dating scene has clearly changed in Nevada.
While change can be hard to handle, something good came out of this. Higher Bond launched in 2022, and it's helping Christians form meaningful connections with other religious singles.
It keeps the focus on genuine connections by limiting the number of profiles you'll see and interact with each day. First, you'll get 3-5 matches a day, so you can spend time evaluating their profiles and deciding if you want to pursue a connection.
And if you do want to reach out? You can initiate one new conversation each day. That means you're less likely to get ghosted by members on this Nevada Christian dating website. It's also worth mentioning that you can continue previous conversations, so you don't have to stop talking to someone when the day's over.
If you want a relationship full of love and faith, head to Higher Bond to claim the free trial today.

What is the Dating Scene in Nevada Really Like?
Folks are Self-Confident – We're impressed by the self-confidence so many people in Nevada possess. They have no problem making friends and trying new things – but trip up when trying to land dates in public.
Robust Casual Dating Scene – The casual dating scene includes college students, military personnel, and working adults of all ages. While it's most active in Vegas, you can find folks open to keeping things casual throughout the state.
Tourists Come on Strong: Some tourists hit Nevada with the goal of hooking up men and women, so locals don't have to do much work to score dates. If you don't want tourists to slide into your messages, include "locals only" in your dating profile.
Some Couples Like to Keep Things Open – Singles in some states are horrified at the thought of having an open relationship, but folks here are more comfortable with the idea. But let's just say men are a tad comfier with opening things up than women are. Almost 30% of Nevada men would at least consider having an open relationship, compared to fewer than 15% of women.
Dates are Often Outdoors – Your date might take you to dinner and a movie, but that's on the boring side by Nevada standards. Nevadans love spending time in the great outdoors, even when on first dates. Your match might suggest fishing, biking, rock climbing, and other exciting activities.
Indoor Dates are Pricey – Maybe Nevadans are so into taking things outside because dates that consist of dinner, wine, and a movie for two are so expensive here. Nevada's the 15th most expensive state for dating, but the biking trails are free.
People are Open-Minded – You don't have to worry about being judged when hitting the dating scene in Nevada. People here are open-minded, especially in the big cities. Feel free to be yourself when creating your dating profile and meeting your match in person.

Dating in Vegas
Best Vegas Dating App Recommendation: Zoosk and EliteSingles
With a mix of college students, military personnel, professionals, shift workers, and tourists, Vegas's dating scene is anything but standard or straightforward. Even so, some things stand out when looking at how guys and gals approach dating in Vegas.
Scheduling is Tricky – While some singles work the standard 9-to-5 job, others have odd hours. Shift workers typically include their availability on their dating profiles so they can match with someone with a similar schedule. And since Vegas never shuts down, these couples can go out any time, even if it's 2 a.m. on a Sunday.
Hookups and Casual Flings are the Norm – While some singles are searching for their happily ever after, a big portion of guys and gals in Vegas are into casual dating and hookups. We've even heard of some singles setting a three-date maximum. Once the third date is over, they lose the number and move on to the next person.
Serious Daters Need to Use Apps– Those interested in serious relationships or getting married rarely find what they're searching for in person. Instead, they use Nevada dating sites to find other singles that are ready to settle down. And let us tell you, we've heard tons of success stories from couples that found love on eHarmony and other dating sites.
Watch Out for Resume Hunters – Some Vegas singles complain that their dates don't want to know anything about them except where they work and how much they make. While curious guys and gals might be into sugar dating, scammers have also been known to look for targets. High-earners can stay safe by only connecting with people who have verified profiles and video chatting before meeting IRL.
The Strip Is Out on Date Night – Unless you're hooking up with a tourist, your dates probably won't start or end on the Strip. Instead, you might watch the sunset from the Railroad Tunnel Trail, share some laughs at a cosplay bar, or experience the thrills at AREA 15. And speaking of thrills, Vegas natives have that adventurous Nevada spirit, so add rappelling, kayaking, and cliff jumping to that list.
For more tips check out our guide on how to meet singles in Las Vegas.
As you can see, there are two sides to Vegas' dating scene – casual and serious. The casual scene is where you'll find most of the action, especially among active-duty military personnel, college students, and tourists. If you fit into one of those categories, Zoosk is the way to go.
But now, we need to talk about the professionals who are worried about grifters targeting them. If you're in that category, you want a partner who's on equal footing, so check out EliteSingles.
Population: 644,594
Men: 49.88%
Women: 50.12%
Adults Between the Ages of 20-44: 34.8%
Unmarried: 54.20%
White-Collar: 80.45%
Blue-Collar: 19.55%
Bachelor's Degree or Higher: 23.04%
Number of College Students: Approximately 31,500
Average Number of Annual Tourists: 32 million
---
Dating in Reno
If you ask Reno residents how Reno compares to Vegas, they'll quickly tell you that the two couldn't be more different. We agree that both cities have unique vibes – down to the dating scene. Let's dig into what to expect when coupling up in Reno.
It's a Mixed Bag of Relationship Goals – Reno's dating scene is split pretty evenly between casual and serious daters, with some polyamorous folks in the mix. Polyamorous couples aren't always out in public, but you can find them on dating apps.
It Can Get Deep Fast – People in Reno have a reputation for engaging in deep, meaningful convos – even on first dates. Things even go deep during casual dates, explaining how so many former couples remain friends.
There's a Chill Vibe – Reno is a far cry from Vegas – and that can be a good thing. While Vegas is fast-paced, Reno is a bit more laid-back. You'll see that play out when interacting with people and scoring dates.
Reno might not be Vegas, but it does have something in common with Sin City: dual dating scenes. On the one hand, the casual dating scene is fueled by college students, tourists, and young folks – and it's about as hot as what you'll find in Vegas.
But then, there are people who moved to Reno because it's a great place to live, work, raise a family, and retire. These folks usually want their dates to commit to more than a night.
With two dating scenes, we think it's best to recommend two dating apps. If you're into casual dating, Zoosk is the ideal fit. But what if you want something serious? Then, eHarmony is the right choice.
Population: 250,903
Men: 50.41%
Women: 49.59%
Adults Between the Ages of 20-44: 34%
Unmarried: 55.01%
White-Collar: 78.69%
Blue-Collar: 21.31%
Bachelor's Degree or Higher: 31.74%
Number of College Students: Approximately 32,000
Average Number of Annual Tourists: 3,600,000

---
Nevada Dating Sites FAQ
Is Dating Hard in Las Vegas?
In-person dating is tricky in Vegas, but lots of folks have success on dating apps. It's easy to find people open to one-night stands, short-term romances, and long-term relationships on these sites.
Is There a Free Nevada Dating Site?
There are free dating sites, but they tend to attract scammers, flakes, and bots. Fortunately, you can try lots of premium dating apps without putting any money down at first. Check out some dating app free trials to learn more.