New Hampshire's pickup scene is a relic of the past. These days, you don't see singles exchanging contact info in person. Instead, all the action happens online, so you need to hop on an app to score dates.
Seriously, we aren't exaggerating when we say, "All the action." New Hampshirites have Googled "best dating apps" more than any other relationship-related phrase this year, so it's clear they're moving things online.
Google will only get you so far when it comes to finding the best dating sites, though. It'll point you toward some options, leaving you to decide what's worth your time. And honestly, you just want to meet singles, not embark on a research project.
And that's not necessary because we're here to pick up where Google left off.
We evaluated and tested dozens of apps, going over everything from the quality of the members to the matching algorithms and success rates. Now, we're ready to show you the best New Hampshire dating apps.
Top 5 Dating Apps in New Hampshire in 2023:
---
So, why five apps instead of one? Our research unveiled five types of single adults in New Hampshire, and each category has unique dating styles and goals. Going off that info, we selected the best NH dating site for each category.
And speaking of that research, we aren't about wasting, so we're going to share it with you. That includes what to expect on the dating scene and how singles interact in different cities and areas.
As you can see, we have a lot of ground to cover, so let's get started by taking a closer look at the best dating sites for New Hampshire singles.
---
Jump to:
---
1. eHarmony – Best for Settling Down without Settling for Less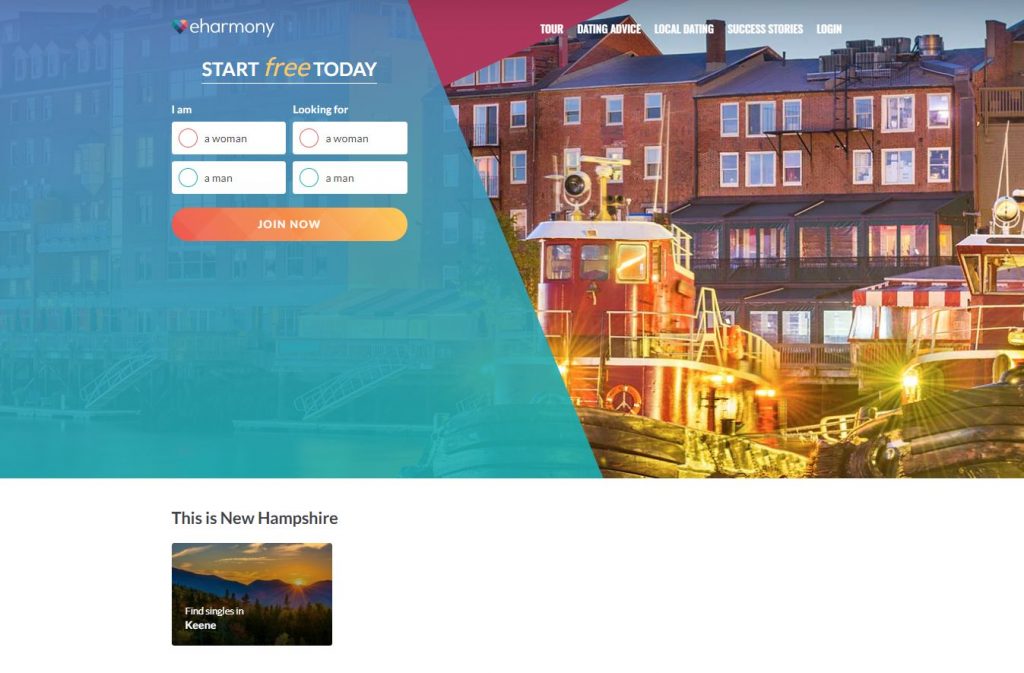 Who Will Love eHarmony: Singles seeking committed relationships with their soulmates\
Who Might Not Enjoy eHarmony: Casual daters into playing the field
Biggest Pro: Science-based compatibility system eliminates the possibility of settling for "good enough"
Biggest Con: Longer signup process than most New Hampshire dating apps, but that's why it's so effective
Starting Price: Premium memberships start at $35.90 a month
Considering that around 53% of New Hampshire adults are married, you've probably attended your fair share of weddings over the years. And hey, it's easy to daydream about your own nuptials when watching people exchange vows.
You might even have the details planned, down to the venue and guests. There's just one thing missing – a partner.
So, that's a pretty big detail, and crossing it off your to-do list is trickier than choosing a venue. The reason? It's all about the numbers.
There are just over 925,000 adults in New Hampshire. Once you take out the married folks, you're left with around 490,000 potential dates. Some of those people already have partners, so you probably have closer to 200,000 or so possibilities. And let's not even get into how many you'll have left after splitting the remaining singles up by gender.
You don't need to be a math whiz to see it's slim pickings out there.
With so few options, some guys and gals settle for people who are "good enough." But "good enough" doesn't lead to a happy relationship. In fact, settling for less is usually the first step in a chain of events that ends with Googling "divorce lawyer near me."
So, settling is off the table, but how can you find marriage material in such a small dating pool? The traditional methods like going to bars probably won't work, and most dating sites are full of casual daters.
Fortunately, you can head straight into serious dating territory on eHarmony.
As the gold standard of serious dating apps, eHarmony takes a scientific, data-driven approach to matchmaking. The data comes from decades of research on relationship compatibility, including what traits bring couples together and push them apart.
eHarmony uses that info to predict which couples are likely to stay together forever. When it finds two members who are destined for long-term happiness, it matches them and lets the magic happen.
Predicting love sounds like something out of a science fiction movie, but it's the reality on eHarmony. Instead of special effects and Hollywood screenwriters, the New Hampshire dating site relies on the 32 Dimensions of Compatibility.
Couples who share most of these traits are destined for true love and happiness. And we know it works, considering eHarmony has helped more than two m million people find love and is responsible for hundreds of weddings a day.
Oh, and as for the happily ever after part…
Couples who date or get married after meeting on eHarmony have high relationship satisfaction rates and low breakup and divorce rates. And the divorce rate isn't just lower by a tick or two. It barely makes a blip on the divorce stat radar.
You've waited long enough to find the one. Take the next step by setting up a free profile on eHarmony today.
---
2. EliteSingles – Best for Keeping it Professional in Love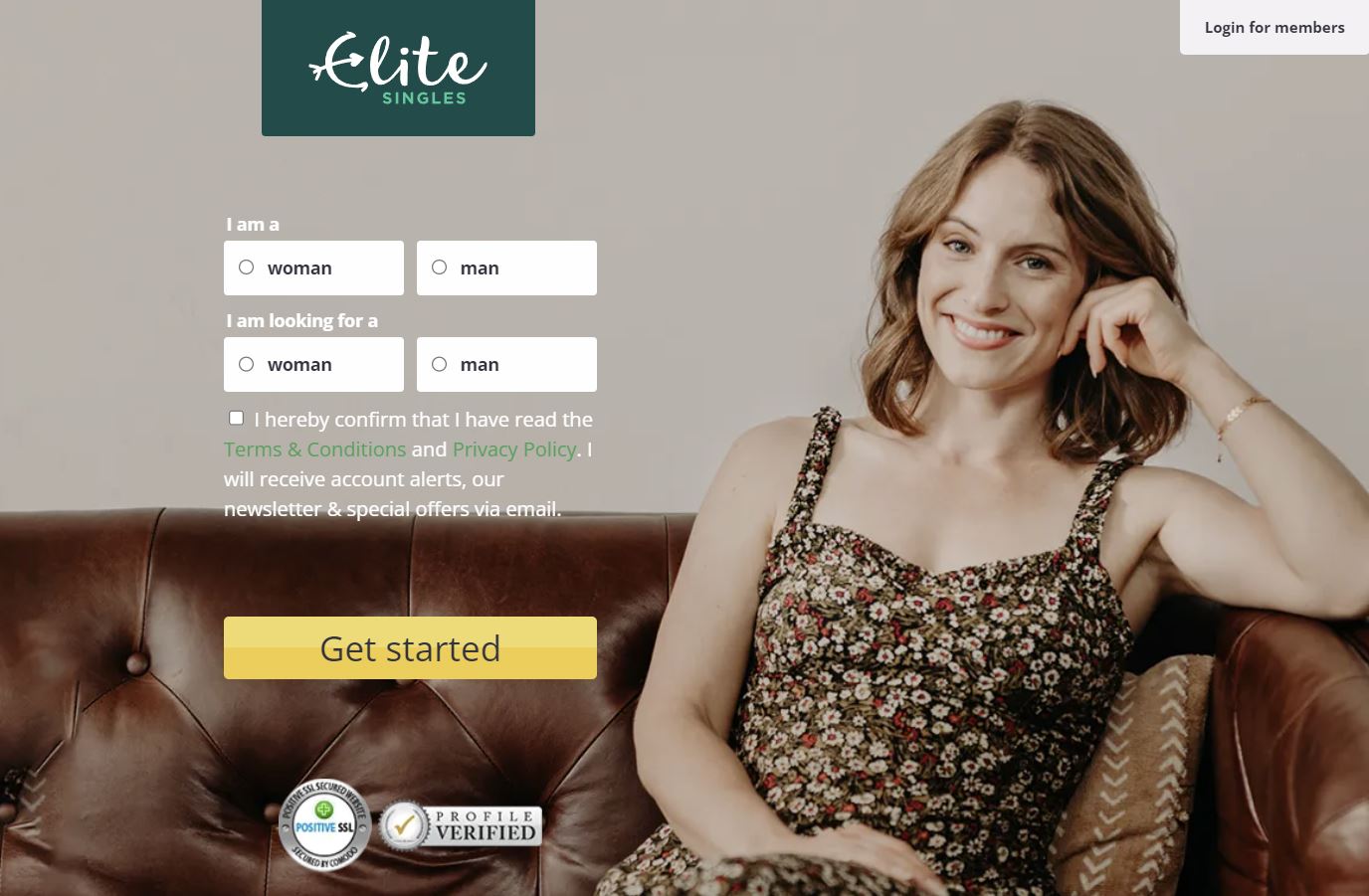 Who Will Love EliteSingles: Professionals seeking career-oriented partners
Who Might Not Enjoy EliteSingles: Singles in non-professional careers
Biggest Pro: Almost all members are established professionals
Biggest Con: Basic web design, although it's fast and easy to use
Starting Price: Premium memberships start at $27.95 a month
If you're an educated professional, you're in good company in New Hampshire. We knew that New Hampshire's one of the most educated states in the country, but we were still shocked to see that 38% of residents have earned bachelor's degrees or higher.
With so many educated folks, New Hampshire's talent pool runs deep. All that talent allows the state to support thriving industries such as advanced manufacturing, technology, and healthcare and life sciences. And that's far from a complete list.
It's clear that all is well on the work front in New Hampshire. But dating as a professional? Well, that's a little harder to figure out (especially without dating apps).
Most professional New Hampshirites avoid dating coworkers, so finding love at work is off the table. Folks also tend to steer clear of people they meet when networking or attending other work-related events, so the available options are much smaller than you'd expect.
But while the options are few and far between in the real world, they're plentiful on EliteSingles.
Most of EliteSingles' members are highly educated professionals with established careers. And you don't need to worry if you put your love life on the back burner while working toward your career goals. Lots of members are in the same position, explaining why most of the people here are 30 or older. And we have to say that while dating over 30 can be tricky in some instances, that's not the case on EliteSingles since most people are in the same position.
Oh, and we also need to talk about EliteSingles' matching algorithm…
This New Hampshire dating app uses the five-factor model of personality to find the best partners for its members. But at the same time, it knows professionals are confident in what they want, so it also lets members set personal preferences. This results in matches that are compatible in every way, from personality to income level.
Your career is on track, so now, it's time to say the same about your love life. Click the link below to try out this New Hampshire dating app today.
---
3. Zoosk – Best for Casual Dating and Increasing Your Options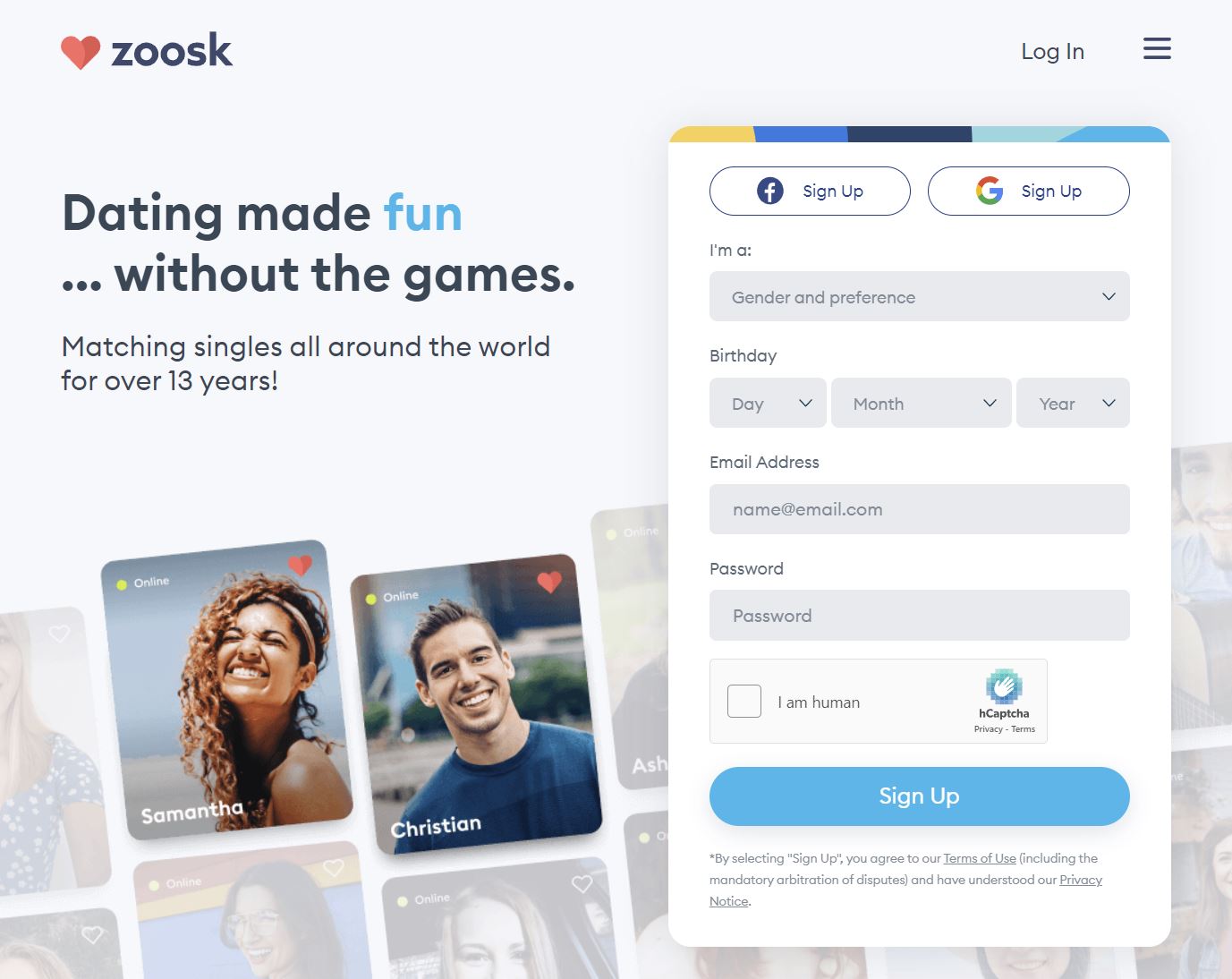 Who Will Love Zoosk: Casual daters looking for various types of short-term relationships
Who Might Not Enjoy Zoosk: Singles who want to strike up something serious
Biggest Pro: Large, diverse membership base
Biggest Con: Some features cost extra
Starting Price: Premium memberships start at $10 a month
Because so many adults here are married, there's not a lot of talk about casual dating in New Hampshire. And that's a shame since lots of folks prefer short-term romances over long-term relationships.
Let's start with the college crowd.
It really is a crowd, with over 147,000 students enrolled in college here each year. That's around 11% of the population, and most of those guys and gals don't want to be tied down. That makes for a huge casual dating scene.
And the scene's even bigger when you consider the other New Hampshirites pursuing short-term relationships. These men and women represent all the age groups, from 18 all the way to the golden years.
Some of these casual daters move from partner to partner, while others are into ethnical-nonmonogamy (ENM) and other types of arrangements.
Since casual daters in New Hampshire represent different goals and ages, most dating apps won't work. But fortunately, Zoosk isn't like most. It's a cut above, making it one of the best dating apps in New Hampshire.
Zoosk has a massive, diverse membership base, with plenty of options in each age demographic. Plus, you can find people into ENM, quick flings, and short-term romances. Basically, if you can name it, you can find it on Zoosk.
And while it's casual through and through, Zoosk also takes safety seriously. Members can verify their profiles, and you can video stream with matches before meeting IRL. Plus, Zoosk regularly reviews profiles, getting rid of the fakers.
New Hampshire's casual dating scene might not get much attention, but it's on display on Zoosk. Head to this casual dating site to set up your free profile.
---
4. SilverSingles – Best for Snowbirds and Locals 50 and Over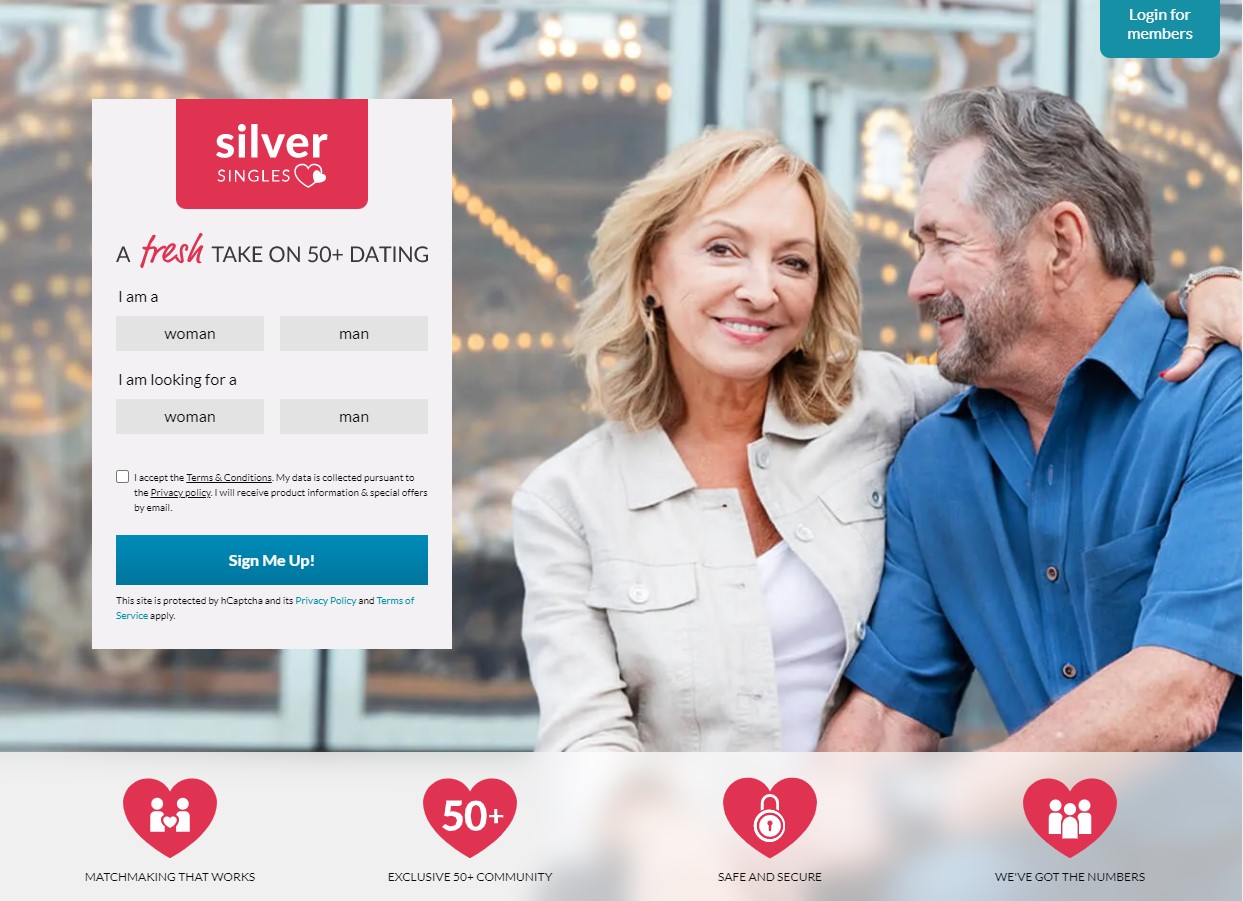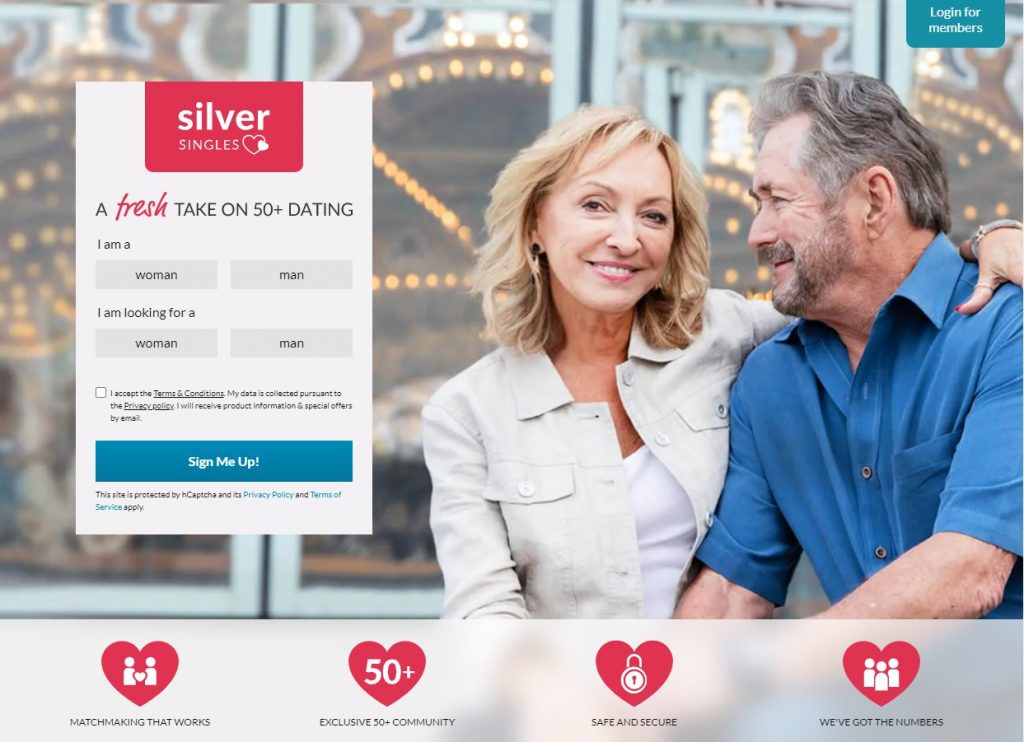 Who Will Love SilverSingles: Seniors who want to find same-age partners in New Hampshire or around the globe
Who Might Not Enjoy Silver Singles: Older singles who prefer dating younger people
Biggest Pro: Exclusively open to people 50 and older
Biggest Con: Basic design, but that's why it's so easy to use
Starting Price: Premium memberships start at $27.95 a month
New Hampshire is often considered the best place to retire in New England. Heck, it even beats out tons of states outside of the Northeast. That's great news for the nearly 469,000 New Hampshirites who are 50 and older.
Some of the 50-and-over crowd stay here all year, while others are snowbirds. They head to Florida during the winter and return to luxurious New Hampshire homes in the summer. Now, that's living it up in retirement.
Both the year-rounders and the snowbirds consist of a mixture of married, partnered, and single folks. Unfortunately, singles represent the smallest of the groups, so there aren't a ton of options when looking for love in person.
It's so challenging that some seniors hire professional matchmakers for another shot at romance. They spend a small fortune on the service, even though there's a good chance they won't find love. After all, matchmakers only have a limited number of possibilities, so it doesn't take long to hit a dead end.
Fortunately, you can bypass the matchmaker and find true love on SilverSingles.
SilverSingles has a membership base full of older singles in New Hampshire and around the globe. And the number of options keeps growing since SilverSingles attracts around 380,000 new members each month.
If you intend to stay local, you can use SilverSingles to search for singles nearby, including in bordering states like Massachusetts. But what if you're ready to take off to Florida? Just change the location, and you can find partners wherever you're headed.
And here's another reason to choose SilverSingles…
It works like a professional matchmaker without the high cost. See, SilverSingles uses the five-factor model of personality to pair people up, creating around 2,000 new couples a month. Now, that's the kind of matchmaker we want to use.
Dating doesn't have to be hard once you turn 50. Simplify your approach and get results by creating a free account on SilverSingles.
---
5. Higher Bond – Best for Finding Christians in a Sea of Non-believers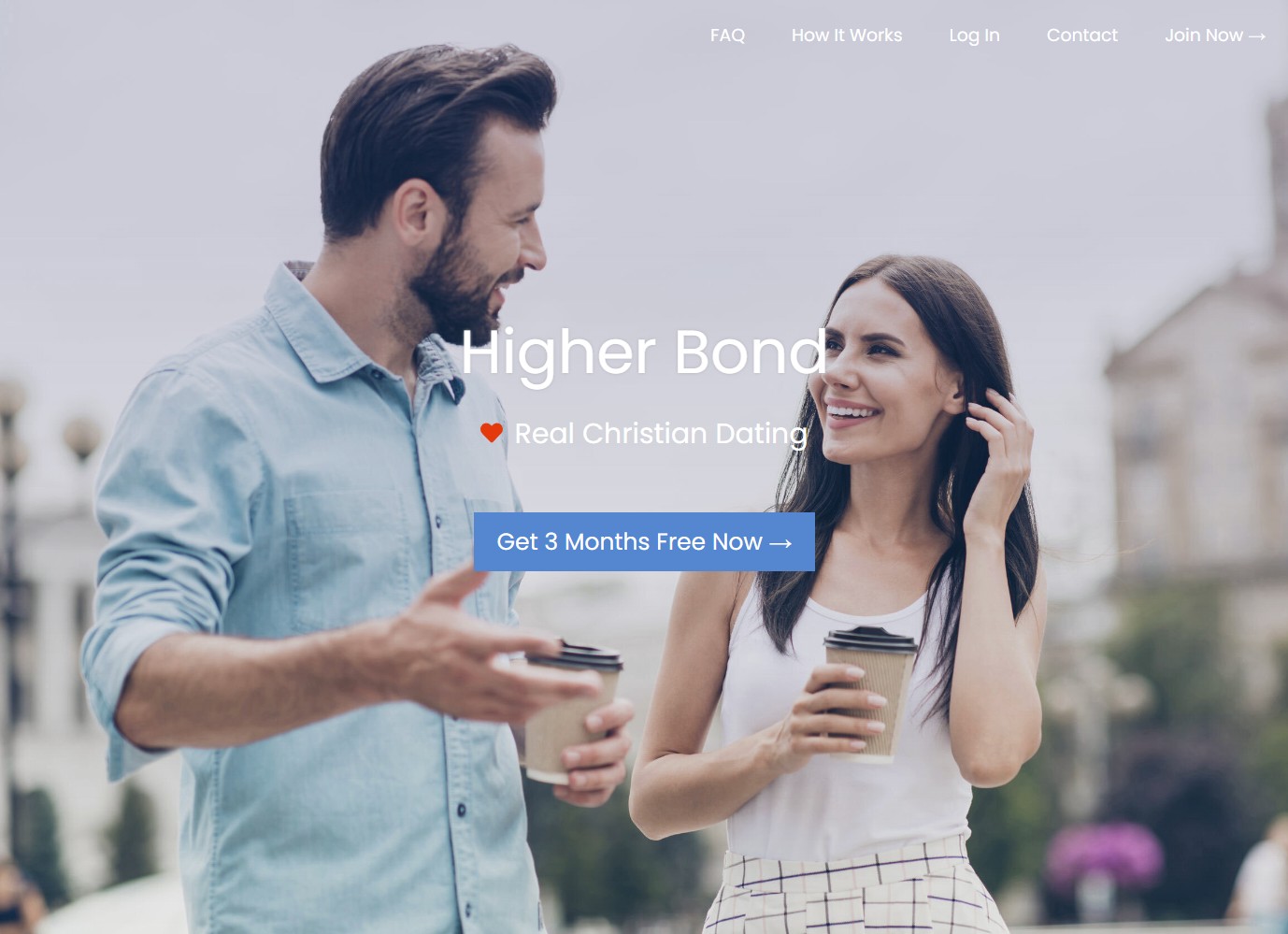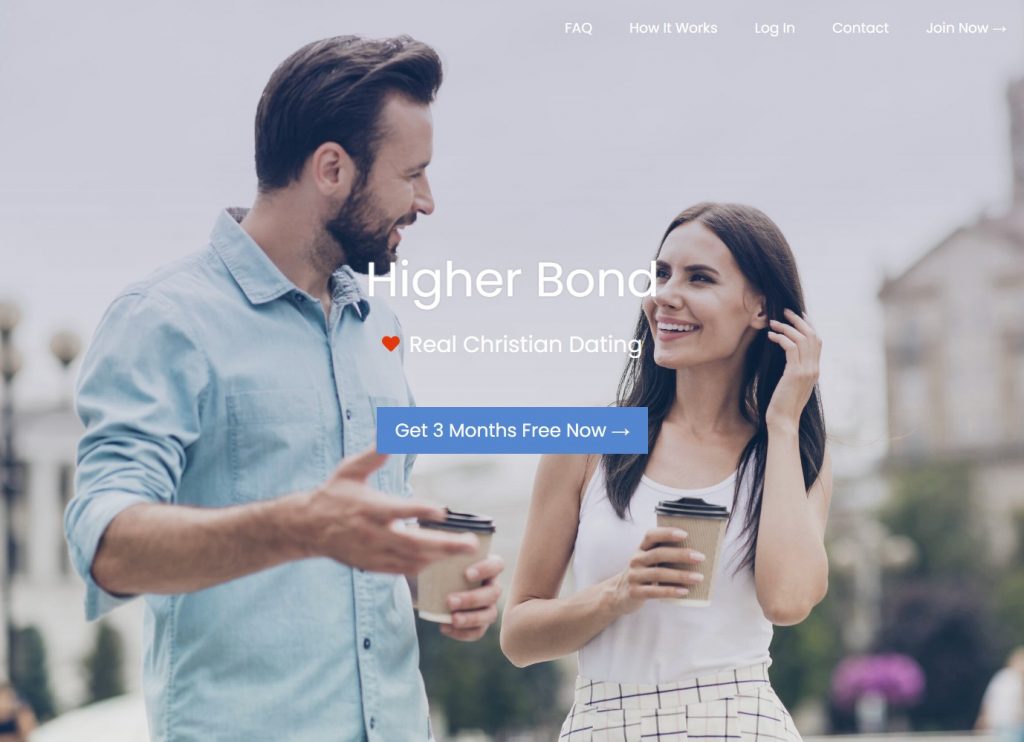 Who Will Love Higher Bond: Devout Christians who want faith-filled relationships
Who Might Not Enjoy Higher Bond: Casual Christians who don't want their faith to be the center of their relationships
Biggest Pro: Matching system based on input from religious leaders and relationship counselors
Biggest Con: Only available on the web, but you can access the mobile version of the website
Starting Price: Premium memberships start at $14.95 a month (the first three months are free)
As the least religious state, you can feel a little out of place if you're a devout Christian in New Hampshire. Sure, almost 60% of adults identify as Christians, but only around a third are highly religious. In fact, the state's home to more unaffiliated people than highly religious folks, so this is a far cry from the Bible Belt.
And there's another problem…
Your faith doesn't exactly align with New Hampshire's dating scene. It's not like you want to find love while downing drinks in a bar. Plus, you don't like the idea of bouncing from date to date before finding someone worth your time. That's not really in keeping with your faith.
Now that we've covered the obstacles, it's time to look at the solution – Higher Bond.
This New Hampshire dating app might take a modern approach to dating, but it is deeply rooted in tradition and faith. For instance, you'll only get up to five matches a day, meaning you won't face endless scrolling and temptation when engaging in online dating in New Hampshire.
And those matches will be on point since Higher Bond's system considers faith, lifestyle, finances, and other factors when pairing people. It even finds out each member's views on pre-marital intimacy.
New Hampshire's dating scene might not have many Christians, but Higher Bond sure does. Head over to set up your free account today.

What is the Dating Scene in New Hampshire Really Like?
Singles are Ready to Mingle During the Workday – Dating app Zoosk discovered that singles in New Hampshire send more messages during the workday than people in any other state. Check out some tips for sending the first message, so you can stand out during busy office hours.
Casual Dating is an Option – Most singles here want long-term commitments, but there's still a relatively active casual dating scene. According to OkCupid, more than 28% of women and 60% of men in New Hampshire are willing to explore casual relationships. And from what we've found, most of those folks are hanging out on dating apps for singles in New Hampshire.
Options are Limited – Around 47% of adults in New Hampshire are unmarried, and additional adults are in serious relationships. But while the options in New Hampshire are on the low side, you can open yourself up to thousands of choices on dating sites.
Bars and Dating Mix – The singles and dating scenes both revolve around bars. That doesn't necessarily mean you have to imbibe when you're out, though. Go over the pros and cons of drinking on a first date so you can make the right decision.
Holidays are Busy Seasons – New Hampshire's single population has more on their to-do list than buying presents around the holidays. People hit the New Hampshire online dating scene to find their plus ones for the holidays, so it's a great time to meet people.

Dating in Manchester
Best New Hampshire Dating Apps for Manchester: Zoosk and SilverSingles
As the largest city in New Hampshire, Manchester is at the heart of the state's dating scene. It provides a nice mix of people, from college students to retirees, so no one has to sit on the sidelines here.
The younger crowd tends to hang out downtown, especially along Elm Street during the warm months. You can grab some food, listen to tunes, and enjoy a drink or two on Elm, but that's where the fun ends.
People here tend to keep their social circles tight, so approaching singles and scoring dates in person doesn't really happen. That might be due to Manchester's crime rate. While it sits below the national average, it's still on the high end for New Hampshire. That can make people a little skittish about exchanging info in the wild.
It's a little easier for the older crowd to expand their social circles. For instance, there's always something going on at the local senior center, and the folks there are nice and welcoming. We've heard of many a senior making a new friend during a round of Scrabble or a Wii Bowling competition.
But it's not even easy for seniors to land dates. A lot of the older folks are already married, so the market is limited. Add in the fact that they're a bit rusty when it comes to dating, and we can see why it's a challenge.
With both younger folks and seniors on Manchester's dating scene, we decided to select two New Hampshire dating sites. Let's start with the younger crowd.
We noticed that college students and Manchester residents in their 20s, 30s, and 40s pursue casual relationships with local singles and people as far away as Boston. Many of them complain about not having enough options, but they can change that with Zoosk.
While Zoosk has some older members, we prefer a dating site dedicated to seniors for people who are 50 and older. If you're in this demographic, check out SilverSingles to meet people in Manchester and beyond.
Population: 115,462
Men: 50.3%
Women: 49.7%
20-34: 29,903
35-54: 29,177
55-64: 13,837
65+: 14,845
Unmarried: 59.4%
Bachelor's Degree or Higher: 31.9%
White-Collar Employees: 77.7%
Blue-Collar Employees: 22.3%

---
Dating in Portsmouth
Bes New Hampshire Dating Apps for Portsmouth: EliteSingles
Quaint, gorgeous, and just an hour's drive from Boston, Portsmouth is the place to live in New Hampshire. The port town welcomes tourists each year, but most of the locals stick around from season to season. And while that makes for a tight-knit community, it makes dating hard.
Some singles hit up the local nightlife when trying to meet people, but many residents travel to Boston. Boston's nightlife is more active and gives people a chance to see fresh faces.
Portsmouth also has some pretty active Meetups, but you'll run into the same issues you'll find at the local bars. You'll encounter the same folks over and over again. If you don't feel a spark at first, it probably won't come, so few people end up with more than friends.
Since the dating scene's so hard to penetrate, some residents pour everything into work. That helps them move up the career ladder but doesn't help with loneliness.
Fortunately, you can keep climbing that ladder and find love on EliteSingles. After going over the best NH dating sites, this was the clear winner. Just like Portsmouth, it's full of professionals who are looking for love.
Population: 22,277
Men: 47.5%
Women: 52.5%
20-34: 5,780
35-54: 5,639
65+: 3,779
Unmarried: 53.4%
Bachelor's Degree or Higher: 62.8
White-Collar Employees: 91.2%
---
Dating in Rural New Hampshire
Best Rural New Hampshire Dating Apps: Zoosk and SilverSingles
Many locals say New Hampshire is like two states in one since the metro and rural areas are so different. Those differences play out in various ways, including dating. Let's just say that dating in rural New Hampshire is a bit more challenging than it is in metro areas.
The first issue?
Well, there just aren't that many people around. On average, there are around 47 New Hampshirites per square mile in the rural parts of the state. Compare that to 3,496.4 residents per square mile in Manchester, and it's clear that available singles are much more limited in rural communities.
And next? The age demographics make dating challenging, too.
So, rural residents tend to be older than their metro counterparts. While young folks might make a trip to Boston when they're on the prowl, that's not nearly as common for older people. And again, that limits the number of options.
Now that we've looked at the issues let's talk about dating apps.
First, Zoosk is the best dating app for New Hampshire singles who want more options. With more than 40 million members, it would take you a lifetime to check out the profiles on Zoosk.
And then, there's SilverSingles. It's the best fit for people who are 50 and over. The large database makes it easy to connect with people near and far, so you can find love from the comfort of your home.
Population: 617,000
25-44: 23%
65+: 18.1%
Bachelor's Degree or Higher: 29.5%
Most Rural Counties: Coos, Carroll, Grafton, Cheshire, and Sullivan

New Hampshire Online Dating FAQ
Is Facebook Dating a Good Way to Meet Single Men and Women?
Lots of New Hampshire residents Google "Facebook dating app" with the intention of using it to connect with singles. Unfortunately, catfishing scams run rampant on the social network. You can protect yourself by using safe dating apps instead of Facebook Dating. You can choose any of the best New Hampshire dating apps if you want a safe dating environment.
Where Do Singles Meet in New Hampshire?
Bars, community events, and Meetups are popular options for singles looking for connections. Some also make trips to Boston or other cities to see fresh faces. However, in-person pickups are rare, so we recommend using one of the New Hampshire dating sites on our list. We checked the membership bases, and each app has members in New Hampshire and nearby states.