If you watched "The Jersey Shore" in its heyday, we'd forgive you for thinking the Garden State is hookup central. The "reality" TV show made it seem as if you just needed to leave your house to find someone to have fun with for the night.
Reality is a bit different from "reality TV," though.
Sure, Jersey has a pretty epic bar scene, but hookups don't just fall in your lap. And dating's even more challenging if you want something serious. It's not like you're going to find your next long-term love at Casa d'Paco or Café 2825.
Instead of using the old dating methods, you need to adjust your game plan – meaning it's time to go online. We did our homework and found the three best New Jersey dating apps for all kinds of relationships and situations. Here's a sneak peek.
Recommended Dating Apps for Singles in Jersey:
So, which of these dating apps is right for you? It depends on your dating style, so stay tuned to find out. Plus, we're going to recommend apps for specific cities and dig into the state's unique dating scene.
Whether you want something for the night or the rest of your life, these apps have you covered. Let's get started by looking at our three favorites and why we chose them.
---
Jump to:
---
1. Zoosk – Best for Keeping it Casual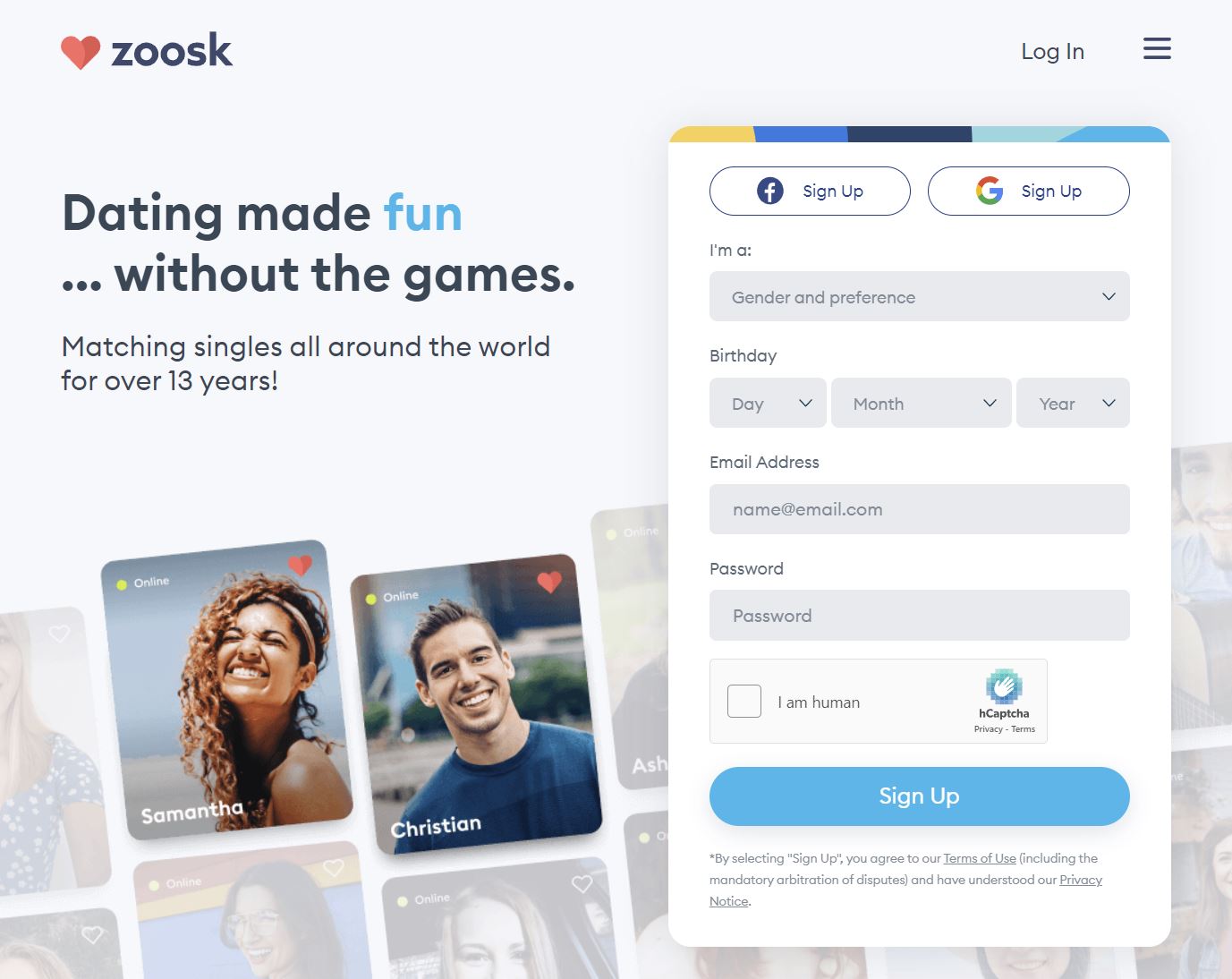 Who Will Love Zoosk: Casual daters, including college students
Who Might Not Enjoy Zoosk: Folks looking for a serious relationship
Biggest Pro: More than 40 million members
Biggest Con: Few members are interested in serious relationships
Starting Price: Premium memberships start at $8.33 a month
Remember how we said the dating scene isn't like "The Jersey Shore?" Well, we'd like to add a disclaimer. Casual dating is still big here, especially for the 400,000 plus college students across the state. Many of them aren't ready to settle down and want to have some fun before graduating.
And let's not forget that around 100 million tourists visit the state each year. A lot of them are looking for casual fun on vacation, and we know lots of locals that are happy to comply. It's just a matter of connecting to make it happen.
And when it comes to connecting for casual fun, Zoosk is the best NJ dating app around.
It's all about choices – more than 40 million of them, to be exact. Most of those 40 million plus members want something short-term, so you won't have to explain that you're not looking for marriage right now.
And even though it's a casual dating app, it has video features like Great Dates and Zoosk Live, so you can get to know the person before meeting in public. You can also keep yourself safe by only connecting with singles that have verified profiles.
Are you ready to swipe and click your way to some fun? Create your free account on Zoosk today.
---
2. EliteSingles – Best for Mixing Work and Love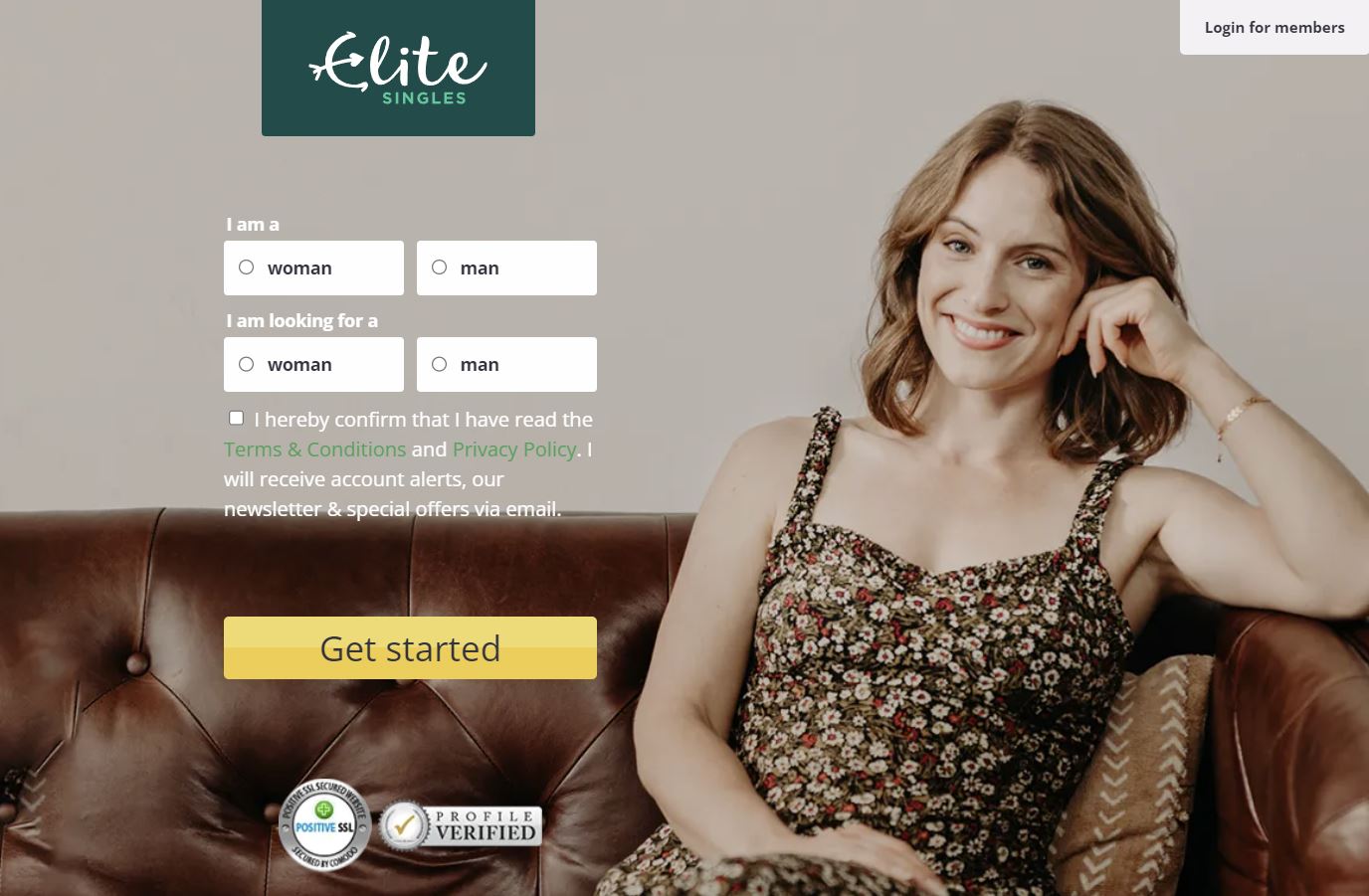 Who Will Love EliteSingles: Career-oriented Jersey singles looking for long-term romance
Who Might Not Enjoy EliteSingles: Casual daters and singles that aren't dedicated to their careers
Biggest Pro: Most members are highly educated and focused on their careers
Biggest Con: Few members want casual relationships
Starting Price: Premium memberships start at $27.95 a month
New Jersey's school system is often ranked as the best in the country, and that first-rate education doesn't go to waste. Top talent goes on to work in industries like fintech, life sciences, clean energy, and media, often earning enviable salaries.
But it takes a lot of work to get to the top. According to the US Bureau of Labor Statistics, New Jersey employees are working longer hours than they did in the past. And while it didn't mention this, those long hours make it hard to find time to date.
Well, at least that's true when using traditional dating methods. You can streamline the process and find "the one" on EliteSingles.
The site was designed for busy professionals, so you don't have to worry about wasting your time here. First, it only takes a few minutes to complete the signup questionnaire, even though you'll provide a lot of info.
On top of that, it focuses on quality over quantity, so you won't waste time shuffling through matches that aren't right for you. Instead, you'll receive 3-7 high-quality matches each day, allowing you to hop on and off the app within minutes.
And finally, most if not all of your matches will be New Jersey professionals just like you. That makes it easy to find someone that's in your league.
If you're a career-minded professional, we know you don't like to throw money away. That's another reason we consider EliteSingles one of the best dating sites in New Jersey. You can get started for free, so create your account today.
---
3. eHarmony – Best for Finding Someone That Fits into Your Life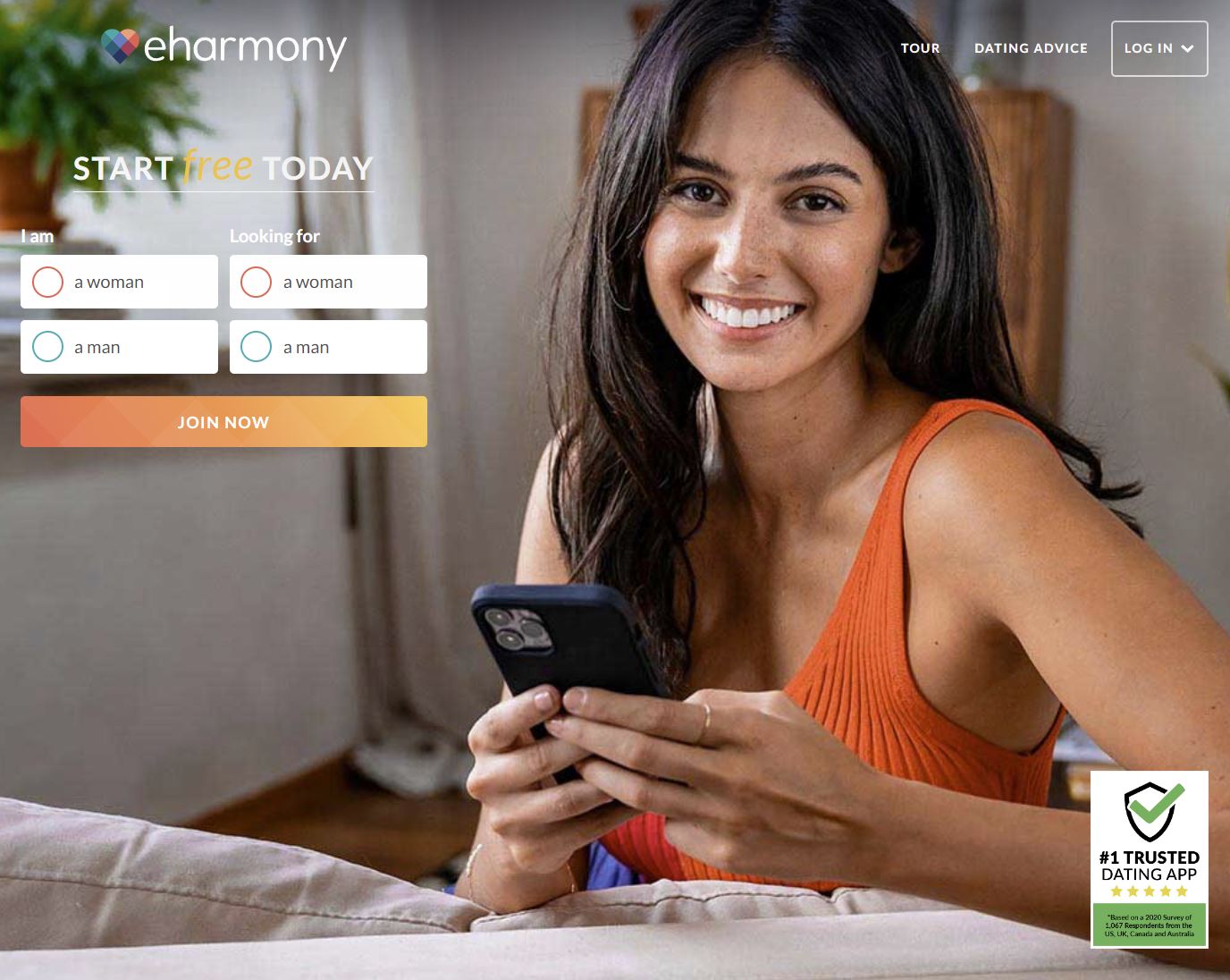 Who Will Love eHarmony: Serious daters that want to find someone that fits into their lives
Who Might Not Enjoy eHarmony: Casual singles
Biggest Pro: Matches people based on long-term compatibility
Biggest Con: Sign up process takes around 20 minutes, but that's why the site's so effective
Starting Price: Premium memberships start at $17.95 a month
New Jersey's dating scene looks a lot different today than it did in the past, thanks to millennials. While previous generations prioritized love over all else, millennials are more focused on jobs, bills, hobbies, and friends.
But don't get it twisted. Millennials still want love and romance – as long as it fits into their lives.
We spent some time thinking about how you can find love without changing your priorities or restructuring your life and realized something. It's all about compatibility.
When you're compatible with someone, they fit right into your life, so you don't have to make any major changes. At the same time, you benefit from the positive traits they bring, so your life is even more enriched than it was before. Now, that's something we can all get behind.
So, what site should you use to find that type of love?
eHarmony might not be the only site that promises to match people based on compatibility, but it's the best. The site has over two decades of matchmaking experience under its virtual belt, and it continues to boast a high success rate. Lots of couples end up getting married after meeting on eHarmony, and the majority report high marital satisfaction rates.
You can see how it works without spending any money. Head over to set up your free eHarmony account today.
---
What is the Dating Scene in Jersey Really Like?
Options Seem Limitless – More than 75% of residents are single in Camden, New Brunswick, and East Orange. Plus, more than half the population is single in hundreds of cities across the state. No matter where you live, there's a good chance you're surrounded by single folks.

Tinder Has a Bad Reputation – Tinder has long been known as a hookup app, but it's gotten out of hand in New Jersey – causing lots of folks to leave it behind. These days, New Jersey singles complain that people expect sex on the first date after meeting on Tinder. And to make matters worse, the first and last dates tend to be one and the same, so be careful with Tinder.

Online Dating Happens in the Real World – Online dating is so popular in New Jersey that people don't stop just because they're out of the house. You can see it in action anytime you go to a bar, restaurant, or another venue. Singles spend time swiping through profiles on their phones instead of seeing what's in front of them, so make sure you have a profile on a popular NJ dating app.

Gender Roles are Dead – Do you expect guys to ask women out and pay for all the dates? That might be the norm in some states, but not in New Jersey. Women are more than happy to take the lead, from securing a date to picking up the tab – or at least splitting the bill.

Expect to Do the Traveling if Dating Someone in NYC – You can search your local area or expand your reach when looking for casual hookups or long-term romances on dating apps. But keep in mind that you might have to do all the traveling if you match with someone in NYC. We've discovered that lots of guys and gals in NYC aren't willing to drive to Jersey for a date, so be sure you're willing to handle the commute before committing.

Dating's Getting Cheaper – According to 24/7 Wall St., New Jersey is the second-most expensive state for dating. But while dates that include dinner, wine, and a movie for two are pricey, many couples are finding affordable ways to connect. From picnics to art galleries, people are getting creative – and saving money.

Competition is Fierce Online: Since so many New Jersey singles use dating apps, you have lots of choices when looking for love. But so does everyone else, so don't just toss up a profile and hope to attract singles. Spend time on your bio and upload an assortment of pictures so you'll catch people's eyes when dating online.

It's Not Like Reality TV: From "The Jersey Shore" to "The Real Housewives of New Jersey," Jersey is a part of pop culture. But while these shows are entertaining, they don't represent New Jersey. DTF, GTL, and flipping tables aren't the norm here. Instead, people are just like they are in other states – unique individuals.

Dating in Newark
Best Newark Dating App Recommendation: EliteSingles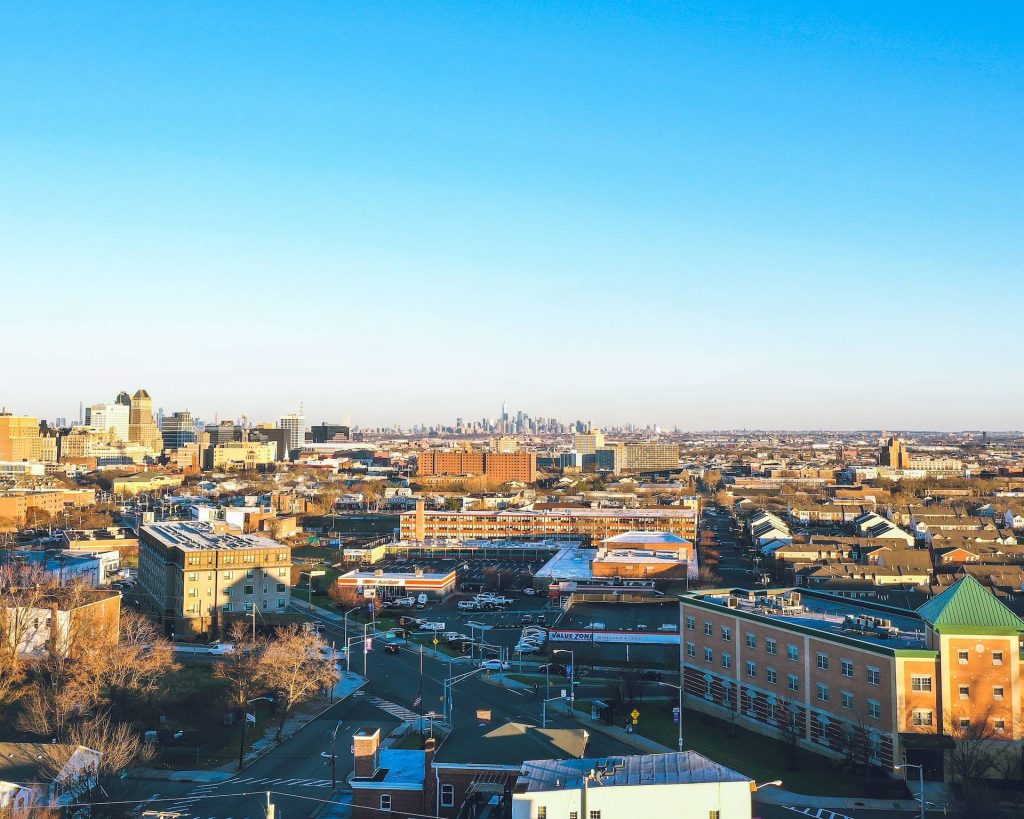 Let's start with some really good news. Over 70% of Newark's residents are single. That's a higher percentage than all but seven other Jersey cities, so the odds of finding love are in your favor if you live here.
And here's some even more exciting news – Newark's like a magnet to tech talent, so lots of young professionals are relocating here. These guys and gals might be busy during the workday, but they want a little romance after leaving the office.
Unfortunately, though, they have some trouble finding it.
Some singles hope to meet that special someone by attending events for young professionals. These events are excellent for networking, but you won't be as successful if looking for after-hours fun.
And then there's the nightlife scene. It's pretty hot in Newark, so you can expect to see all kinds of men and women at the bars and restaurants. And then, who could forget the Friday Night Dance Parties at Newark Public Library over the summer? While these options expand beyond networking, they still don't provide a high success rate for finding dates.
With so little luck in bars and other events, some Newark singles have turned to speed dating to crack the dating game. But let's just say speed dating isn't as fun as some people want you to think. It's hard to get to know people, and it's not very private. And since you only have a couple of minutes, you have to be on your "A game" at all times, or you'll strike out.
Fortunately, we have a much better solution for you. If you live in Newark, you can find your match on EliteSingles.
Since it's full of professional men and women, it's perfect for Newark singles. Plus, it's so quick and easy to use that you'll still have ample time to go to networking events or enjoy the nightlife. And after spending a little time on it, you'll find a plus one to take with you when hitting the town.
Population: 307,220
Men: 48.9%
Women: 51.1%
Unmarried: 71.8%
Median Age: 34.5
White-Collar: 69.15%
Blue-Collar: 30.85%
---
Dating in Jersey City
Best Jersey City Dating App Recommendation: eHarmony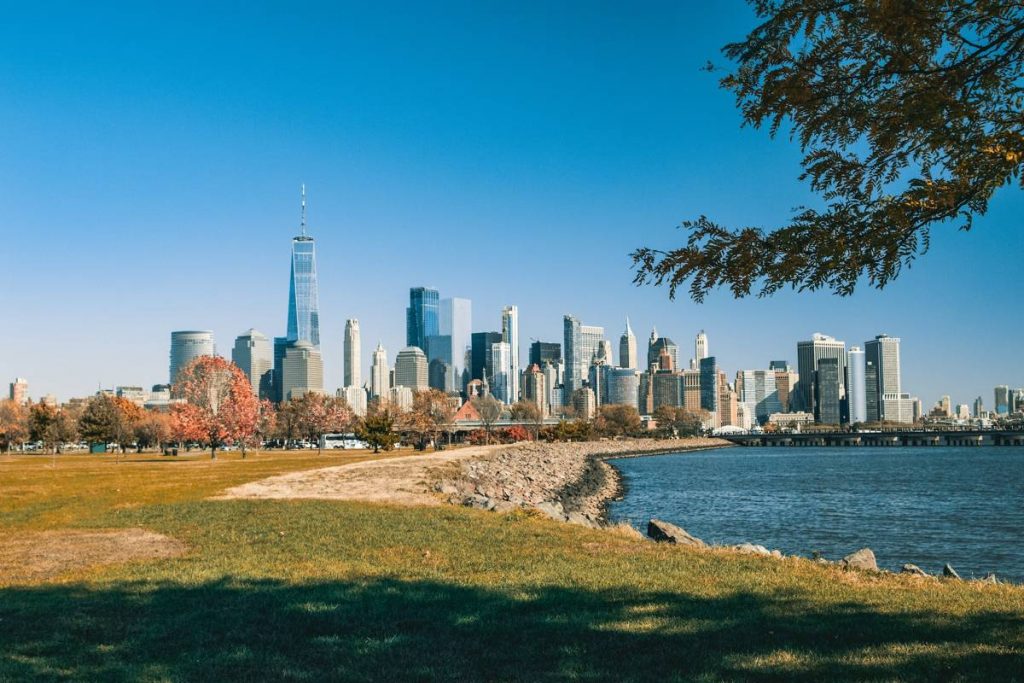 The secret's out – Jersey City is a gem of a city. The population's been growing in recent years, with transplants from NYC snapping up real estate. Homes are more affordable here than in the Big Apple, and since it's just a short commute from NYC, it's a fantastic choice for young professionals.
Jersey City has also turned into one of the best places for married couples. As a result, it's become increasingly family-friendly over the years, but the nightlife is surging as well. It's like the best of everything blended into one.
But dating? Well, it can't all be good news, can it?
Grove Street is the go-to spot for meeting people in the wild, but it's hit or miss. The slightly slower tempo does make it easier to converse with folks, but you're more likely to eat, drink, and be merry with your buds than someone you meet onsite. It's also worth mentioning that the population here is large enough that you probably won't run into the same person twice – so making a long-term connection can be challenging.
We've also noticed that it's a bit easier for women than men in Jersey City. Some guys compare dating in Jersey City to playing an RPG video game. You need to level up before scoring the date in person – and that's not always possible.
But that's just in person. You don't have to spend your time leveling up to connect with someone online. Instead, you can match with people who like you for who you are – instead of who you might be if you upgraded your stats.
Since Jersey City is becoming the premier city for settling down with a special someone, eHarmony is our favorite dating app for people that live here. Now, you don't have to walk down the aisle right after matching, but you can strike up something serious.
Population: 283,927
Men: 50%
Women: 50%
Unmarried: 51.16%
Median Age: 34.2
White-Collar: 83.59%
Blue-Collar: 16.41%

---
Dating in Paterson
Best Paterson Dating App Recommendation: Zoosk
Did you know that over 60% of Paterson's residents are single? That means you have a six in ten shot of meeting an available person every time you leave home. But we have to admit that we're making it sound a little too easy. Sure, the singles are there, but connecting with them takes a little more effort than walking out the door.
The city's bar scene is always hopping, so lots of guys and gals try to meet someone while enjoying a night on the town. Plus, active singles join adult sports leagues, hoping to hit home runs on and off the field. And then, of course, there's always the option of going to a nearby city like Clifton when looking for a casual fling or a long-term partner.
We aren't knocking these choices, but from what we've heard, they don't lead to much success. Sure, there are lots for singles in Paterson, but finding someone in the wild who checks all your dating boxes is hard – even if you just want to spend one night together.
But Zoosk is here to save the day.
You can open up your world to tons of people in Paterson and the rest of New Jersey – or even expand to other states or countries. And while it's hugely popular with people in their 20s and 30s, you'll find older singles on the NJ dating app, too.
If you match with someone outside of Paterson, we recommend using Zoosk's Great Dates feature to get to know the person before meeting IRL. This will help you vet your match before meeting up for an in-person date.
Population: 157,794
Men: 48.8%
Women: 51.2%
Unmarried: 66.7%
Median Age: 33.4
White-Collar: 62.23%
Blue-Collar: 39.77%

New Jersey Dating Sites FAQ
What is the Best Dating Site in New Jersey?
The best dating site depends on your specific situation. If you're into casual dating, Zoosk is the best choice. eHarmony is the right fit if you want to get married, while EliteSingles is our favorite NJ dating site for career-oriented singles looking for serious relationships.
How Do I Meet New People in New Jersey?
Adult sports leagues, bars and nightclubs, and professional organizations are all options for meeting people in New Jersey. However, dating apps provide access to more people, and you won't have to worry if the folks you meet are single or taken.
Are There Free New Jersey Dating Apps?
You can use free dating sites, but you'll be limited by the number of real members and lack of features. Fortunately, the best dating sites have free and paid memberships, so you can test drive the apps without spending money. Get started by grabbing a free trial for a popular Jersey dating site.
What New Jersey Dating Sites Should I Avoid?
The matchmaking service, New Jersey Singles, has a history of unsatisfied customers and complaints, including issues around billing. We also don't recommend using Tinder or free dating apps.