Have you noticed that New Mexico's pickup scene is dead? You can't even get people's attention because they're staring at their phones. That might seem frustrating, but it's actually a good thing. See, they're on their phones because they're using dating apps for New Mexico singles.
With so many apps out there, which one should you choose? We dug into the data and discovered the best New Mexico dating apps. Check them out.
Top 4 Dating Apps in New Mexico in 2023
---
While these dating apps will give you a head start on landing dates, we are going to help even more. See, we also have some info about the state's dating scene to share, along with tips for dating in different parts of the state. Let's get started so you can download an app and start dating.
Jump to:
---
1. eHarmony – Best for Serious Dating without the Stress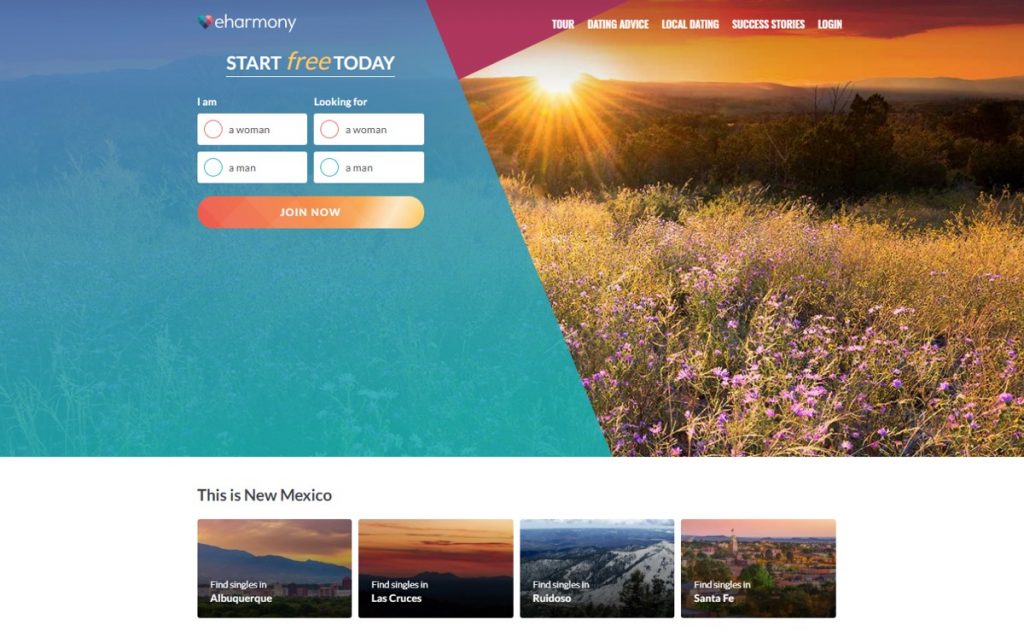 Who Will Love eHarmony: New Mexicans pursuing long-lasting love
Who Might Not Enjoy eHarmony: Casual daters who aren't ready to find their lifelong partners
Biggest Pro: Couples who meet on this N.M. dating site are more likely to stay together forever
Biggest Con: More expensive than other dating sites, but it's a small price to pay for true love
Starting Price: Premium memberships start at $35.90 a month
New Mexico doesn't receive a lot of love when it comes to marriage. For instance, Point2Point Homes ranked it dead last on its list, "Everlasting Love and Wedded Bliss Across the U.S."
Ouch.
Oh, and we can't forget about the shout-out from U.S. News and World Report, where it was named as one of the states where marriages don't last. The culprit? The publication pointed to the state's higher-than-average divorce rate.
All this bad news might be why New Mexico's marriage rate is declining.
It's not that people here aren't getting together. Instead, cohabitation is on the rise, but a lot of those relationships don't work, either. In fact, New Mexicans have been flooding Google with the question, "How to break up."
If you want to avoid divorces, breakups, and make-ups, you need to change the way you approach dating. And that means it's time to use eHarmony, the premier option for online dating in New Mexico.
eHarmony gathers info about each member's psychological traits and personality to find the best matches. The system creates around 15 million matches a day, and many of the members find long-lasting love. And they do it fast, with around 70% of members meeting their significant others within a year of being on this New Mexico dating site.
Both married and cohabitating couples tend to stay together for the long run after meeting on this New Mexico dating site. In fact, eHarmony poured over its internal data and discovered its divorce rate is a paltry 3.86%.
Most of the members are between 35-65, but you'll find younger and older folks on here, too. Regardless of your age, head to eHarmony if you're serious about finding a committed partner.
---
2. Zoosk – Best for a Diverse and Welcoming Casual Dating
Who Will Love Zoosk: Casual daters seeking a safe and diverse N.M. dating site
Who Might Not Enjoy Zoosk: Marriage-minded singles ready to get serious
Biggest Pro: Large, diverse, and welcoming membership base
Biggest Con: Few options for serious dating
Starting Price: Premium memberships start at $10 a month
With over 100,000 college students a year, it's no secret that New Mexico has a casual dating scene. However, it's not just for the younger crowd who is seeking something short-term. New Mexico's high divorce rate also plays into the casual dating scene. Many people want to dip their toes in the water with casual dating before getting more serious, adding even more options to the dating pool.
Some New Mexico singles use Tinder for casual hookups, but we've heard some really negative reports about it. While Tinder's normally known for having a diverse membership base, that doesn't seem to be the case here. Some users even say that only White people land dates when using Tinder for dating online in New Mexico.
People also complain about weird profiles, catfish, and other problems on Tinder. With all those complaints, we knew we needed to find a better casual dating app. And it didn't take us long to realize Zoosk isn't just better. It's superior.
We named Zoosk one of the best interracial dating apps, so you know it's diverse and welcoming. You'll feel right at home with the 40 million plus members. Add in the fact that the members represent various styles of casual dating, from college flings to short-term affairs, and it's easy to see why it stands out on top.
Oh, and there's another reason we love Zoosk…
Safety is a priority for people while engaging in New Mexico's online dating scene. Zoosk allows members to verify their profiles and the site regularly runs safety checks. And if that isn't enough, you can connect over video inside this New Mexico dating app.
Do you want some low-key, casual fun while staying safe? If so, create your account on Zoosk today.
---
3. SilverSingles – Best for Singles 50-and-Over Seeking an Easy (and Effective) New Mexico Dating App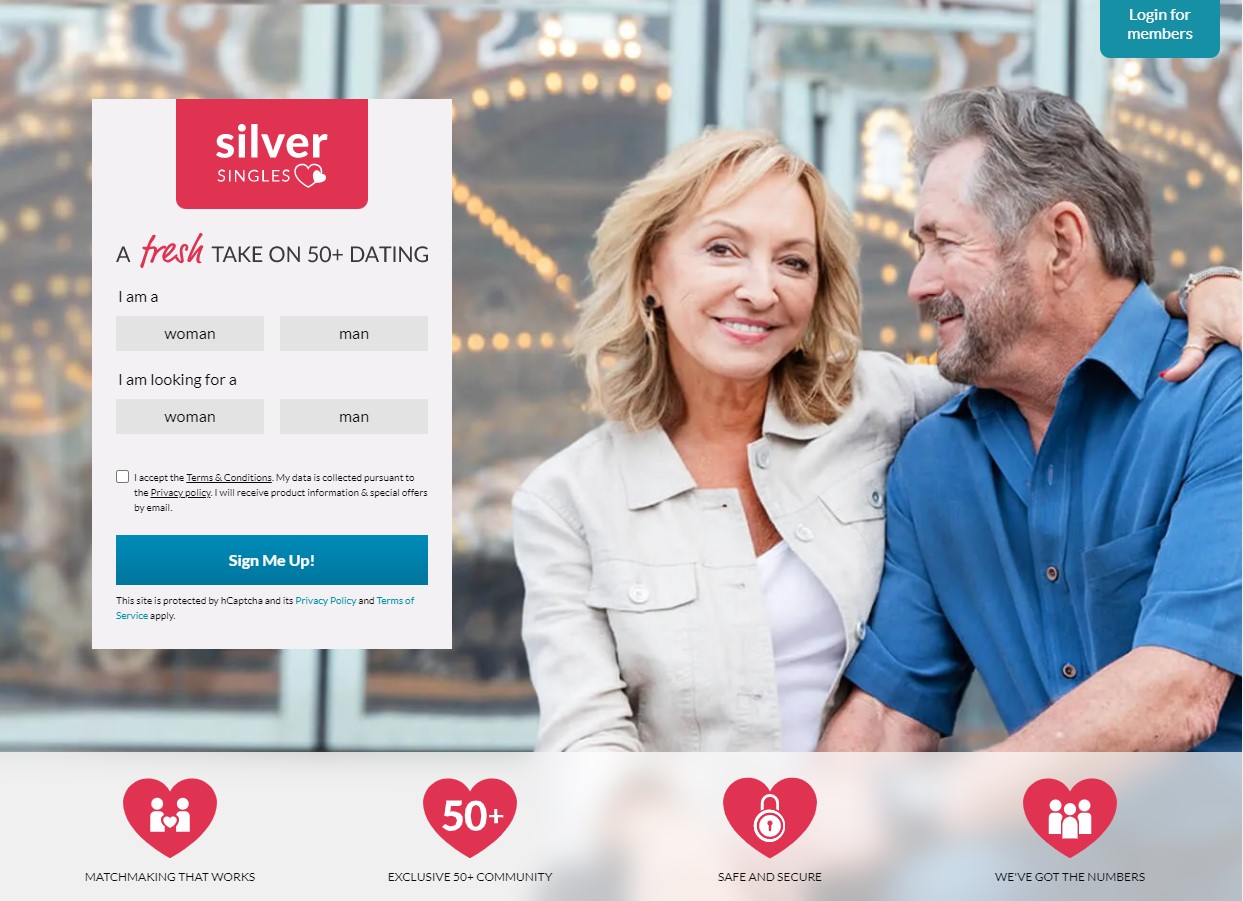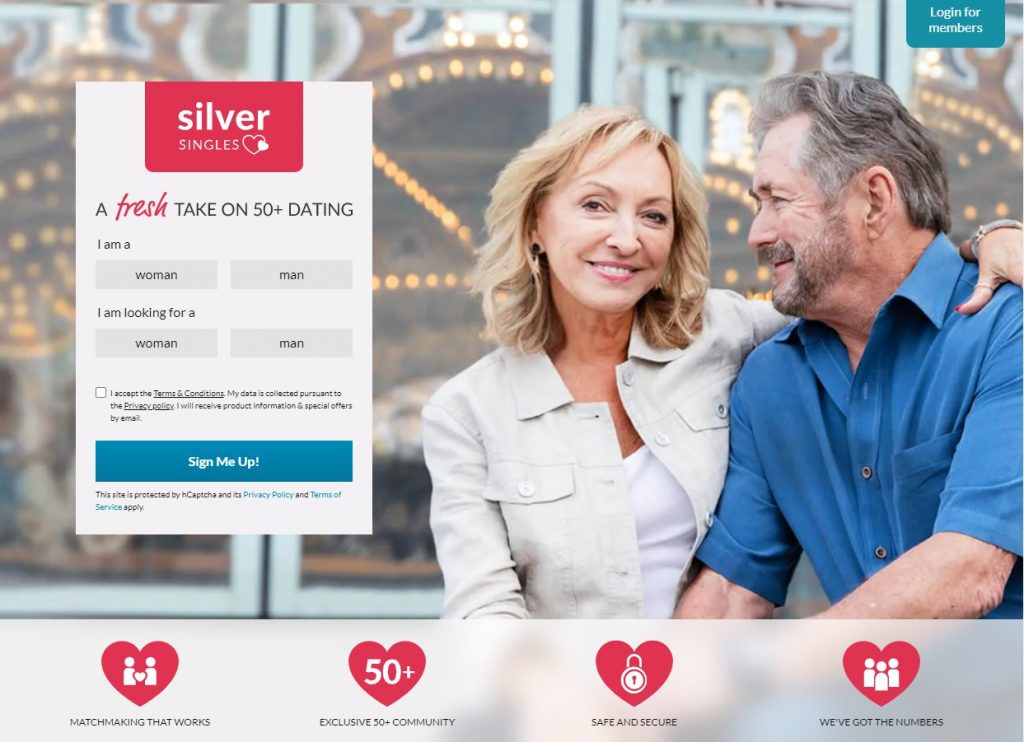 Who Will Love SilverSingles: Seniors who want an easy way to dive into online dating
Who Might Not Enjoy SilverSingles: Older New Mexicans who prefer dating younger folks
Biggest Pro: Straightforward and easy to use
Biggest Con: Profile photos are blurred for free members
Starting Price: Premium memberships start at $27.95 a month
With its warm climate and low cost of living, New Mexico has become the new go-to spot for retirees. In fact, 42% of respondents to a survey from United Van Lines said they were relocating to New Mexico to retire. That's helped push the number of residents 50 and over to more than 434,000 and counting.
And here's some great news. A lot of those folks are single.
According to the Senior List, 12.8% of women and 14.4% of men between 55-64 are single. The number drops a bit when you get to the 65-and-over crowd. Even so, 11.3% of the men in that demographic are single.
While New Mexico might harken back to the Old West, online dating has really caught on with the older crowd. KOB 4's series, "Heart of New Mexico," even profiled a couple around the age of 90 who met online. And spoiler alert – they are now married.
If you're ready to participate in online dating in New Mexico as a senior, SilverSingles is the way to go.
A lot of New Mexico's senior population talks about the difficulty of navigating online dating websites, making SilverSingles such a great fit. The website has a straightforward design, so you won't spend time trying to figure it out.
Plus, you don't have to figure out who to reach out to since it compiles all the matches for you. Just click on the "Matches" tab to see profiles from folks with complimentary personality traits. You can also add personal references if you'd like. This system is responsible for forming about 2,000 couples a month, and you could be next.
Life's so much more fun when you're with someone you love, so create your free account on SilverSingles today.
---
4. EliteSingles – Best for Professionals Over 30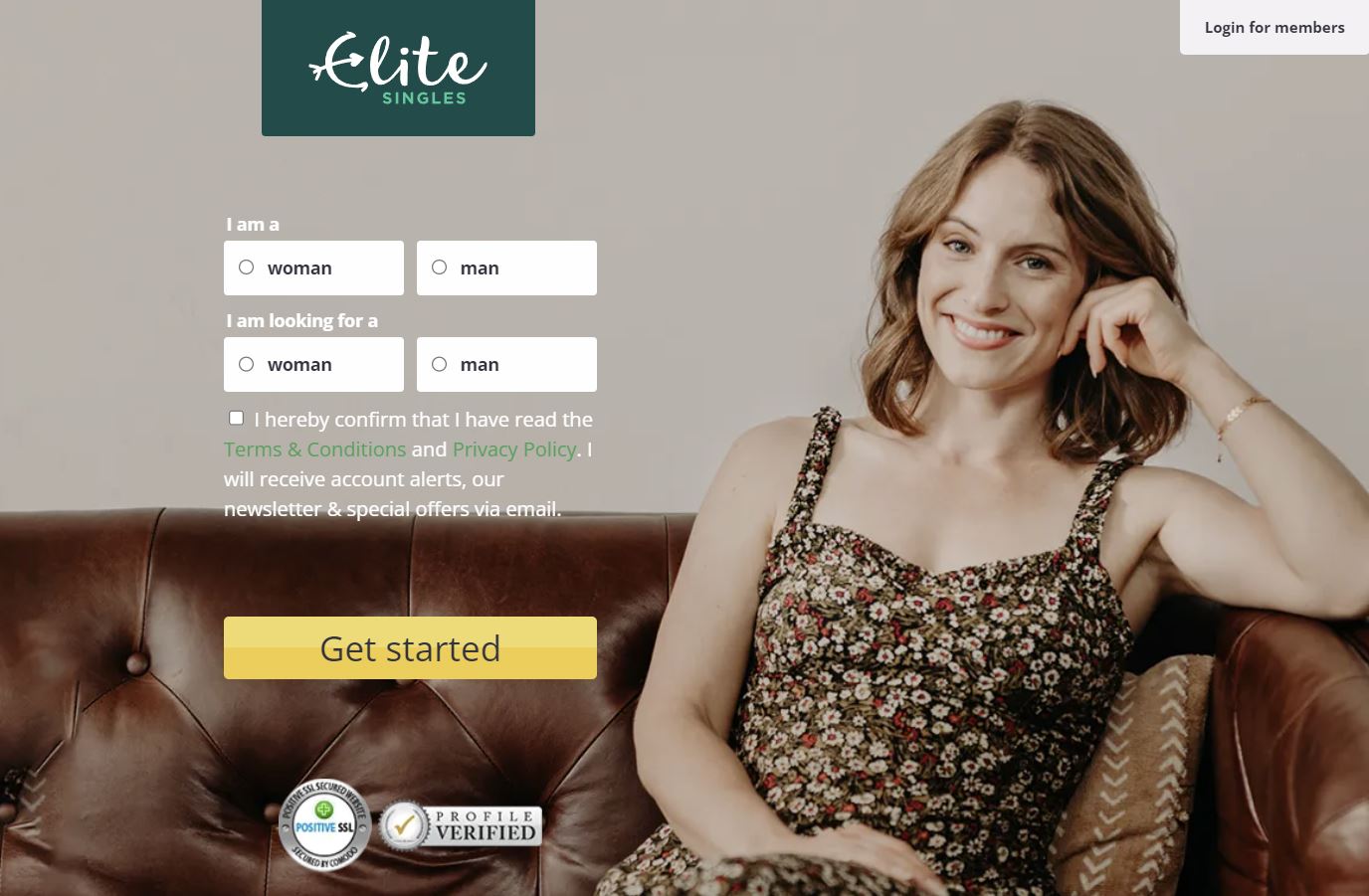 Who Will Love EliteSingles: Career-oriented singles seeking serious relationships
Who Might Not Enjoy EliteSingles: Casual daters and non-professionals
Biggest Pro: Most of the members are professionals 30 and over
Biggest Con: Have to upgrade to a paid membership to view profile photos
Starting Price: Premium memberships start at $27.95 a month
So, dating is really hard for professionals in New Mexico. We've heard complaint after complaint from career-oriented folks who say that they can't find professionals on dating apps for singles in New Mexico. On top of that, they work long hours, so the bar scene's out, too. When you add the two together, meeting other professionals is hard.
And honestly, even those who do make the time for the bar scene usually come up short when searching for other professionals. New Mexico is making a push to attract more professionals, but right now, these jobs are growing slowly. That means the in-person singles scene doesn't usually have many professionals.
Some singles even say they're the only person in their neighborhood with a professional career. We get that it can be frustrating when dating, but you can turn it around by hitting up EliteSingles.
Unlike other dating sites in New Mexico, most of the members here are professionals. The majority want serious relationships and know this site can help them find "the one." After all, it uses the five-factor model of personality to match members, leading to thousands of love connections a month.
Oh, and most of the members are between 30-55, which fits right into New Mexico's professional dating scene. Check it out by setting up a free profile today.

What's the Dating Scene in New Mexico Really Like?
Lots of Singles – It might feel like you're the only single person left in New Mexico, but the data tells a different story. Nearly 54% of the population is unmarried, providing the second-highest share of single adults in the country, according to WalletHub. Dating apps for New Mexico singles make it easy to reach available folks.
Safety First – With a high crime rate, most New Mexico residents aren't into approaching strangers and exchanging contact info in person. Many also take safety measures online, such as interacting with people who have verified profiles and video chatting before meeting IRL.
Options for Serious and Casual Dating – Some states are all about marriage, while others keep it casual. Here's what's great about New Mexico – it has a robust scene on both sides.
New Mexico Online Dating is All About the Apps – While some singles use websites for online dating, mobile apps are more popular in New Mexico. Singles here stick to mobile devices at home and when traveling. We selected dating sites in New Mexico with mobile apps, so you won't have to change your approach to online dating.
Exes and Kids Part of the Picture – New Mexico ranks third out of states with the most babies born to unwed parents. Plus, New Mexico has one of the highest divorce rates in the country. Both divorced folks and single parents hit up dating apps, and many people are clear about their past upfront. This can be tricky, though, so get some tips about telling your new partner about your ex.
Casinos Are Part of the Scene – We've heard that lots of singles approach each other at casinos, which doesn't happen in many other places here. Unfortunately, there's usually a pretty massive age gap between the asker and the asked. That's great if you're into that, but if not, you're better off using dating apps for singles in New Mexico.

Dating in Albuquerque
Best New Mexico Dating Apps for Albuquerque: eHarmony and SilverSingles
From its museums to outdoor recreation options, there's always something to do in Albuquerque. The city also boasts a lower-than-average cost of living, making it a prime retirement destination for people around the country.
The 505 has a nice mixture of people, which makes for an interesting dating scene. Check out our thoughts and stick around to learn about the best Albuquerque dating sites.
It's Affordable – According to Zoosk, dates cost an average of $80 in Albuquerque, well below the national average.
Romance is in the Air – Albuquerque is the most romantic city in New Mexico, according to EliteSingles. Many people use New Mexico dating apps with the intention of getting romantic with someone special.
Lots of Single Parents – A large chunk of Albuquerque singles are also parents, and many of them are seeking serious relationships. Single parents don't have much time to go out on the dating scene, so they use Albuquerque dating sites instead.
There Really Are Singles in their 30s – It might not seem like it, but the 505's home to over 127,000 people in their 30s. Dating in your 30s is hard, explaining the challenges this demographic faces. Fortunately, you can overcome the challenges with help from the best New Mexico dating sites.
It's a Little Harder for Women – Since 51% of the population consists of women, men have it a little easier in Albuquerque. Don't let that get you down, though, since dating sites open you up to thousands of options.
There's a High Crime Rate – People here are a little cautious about meeting folks in person because of the high crime rate. Instead, they vet their matches online. If you try to go old school and pick someone up in person, you might scare your love interest away.
Singles are Spread Out – The fact that Albuquerque is a sprawling city also plays into the lack of in-person dating options. It seems much smaller and more accessible when you log into a dating app.
Standards are in Play – Some singles say it's hard to find people who meet their standards. Fortunately, they can add preferences to dating apps, allowing them to filter out the people with dealbreakers.
With serious dating and high standards part of the dating scene, eHarmony is our pick for Albuquerque singles. This Albuquerque dating app is also popular with people in their 30s, which is another reason it's the right choice.
Actually, it's the right choice for most, but not all, Albuquerque residents.
See, Albuquerque also has a lot of folks in their 50s and older. Many of them want a dating site for that demographic, and SilverSingles is the way to go. You'll find lots of high-quality singles around your age if you use this dating site for mature New Mexico singles.
Population: 562,599
Men: 49%
Women: 51%
20-29: 125,439
30-39: 127,926
40-49: 110,965
50-59: 119,522
60+: 213,813
Unmarried: 58.9%

---
Dating in Santa Fe
Best New Mexico Dating Apps for Santa Fe: Zoosk and SilverSingles
As one of the best cities for seniors, a lot of older folks have put up roots in Santa Fe. However, there are also six colleges in the area, so the city attracts a lot of young people, too. While there are a lot of differences between the younger and older residents, one thing is the same: it's hard to find partners.
We're going to help you change that by sharing some insight and pointing you to the best dating site for Santa Fe singles.
Tight Social Groups – Single men and women point out the fact that the social groups in Santa Fe often form early and are close-knit. It's hard to break into those social groups when looking for dates. Fortunately, you can connect with singles one-on-one by using the top dating sites in New Mexico.
Younger Singles Often Travel for Dates – Santa Fe doesn't have a massive singles scene, so a lot of the younger folks head to Albuquerque when trying to form connections. You can save your gas money by using a New Mexico dating app to look for singles in Albuquerque and other cities.
Dog Parks and Rock Climbing Replace the Bar Scene – The bar scene might be pretty dead, but you can find singles rock climbing, hiking, and at the dog park. Also, lots of folks visit art galleries, play sports, and meet up for board games. This can help you break into social circles and make friends, but landing dates is much harder.
Diverse, Open-Minded Scene – It's not unusual to see same-sex and interracial couples in Santa Fe. People here tend to be pretty open to all relationship types and styles, so you don't have to tone yourself down to avoid judgment.
So, there are two sides to the dating scene: younger folks and older singles. With that in mind, we're choosing two N.M. dating apps instead of one. If you're part of the younger crowd, you can't beat Zoosk. Then, SilverSingles is our choice for men and women 50 and older.
Population: 88,193
Men: 47.7%
Women: 52.3%
20-29: 12%
30-39: 13%
40-49: 13%
50+: 41%
Unmarried: 58.6%

---
Farmer and Rancher Dating in New Mexico
Best New Mexico Dating Apps for Farmers and Ranchers: eHarmony and SilverSingles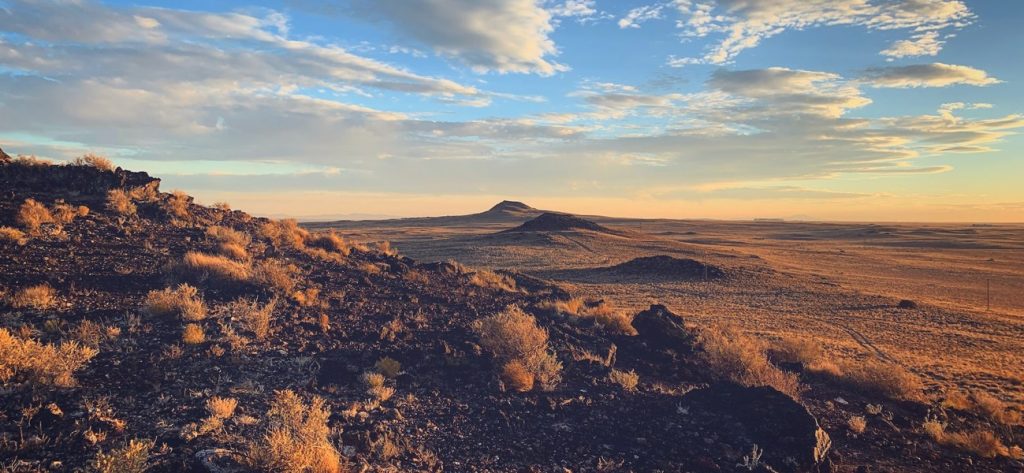 With more than 27,000 farms and ranches, agriculture is a big business in New Mexico. San Juan, McKinley, and Dona Ana Counites have the most farms, but farms are spread throughout the state. And that means farmers and ranchers are looking for love from one border to the next.
Balancing farm life and romance can be challenging, but it's easier when you understand the dating scene. Plus, we're going to help you pick a New Mexico dating app.
Long Hours Provide Little Time for Dating – Farmers and ranchers rarely have time to go grab a drink or hang out in public when looking for love. Along with working long hours, they're often too tired to go out when the day is over. Dating apps for singles in New Mexico have changed the dating game for them, though, giving them a chance to meet people while staying home.
There's a Gender Imbalance – There are a lot more male farmers and ranchers in New Mexico. While farmers often want to date other farmers, that's not possible for everyone. However, dating apps allow people to connect with others who share the same values, even if they aren't both farmers.
Most Farmers are Older – While New Mexico has some young producers, most of the folks on the dating scene are 50 or older. Many of them already have partners, but the state's home to a large number of single farmers of all ages.
Compatibility is Key – Divorces among farm families are on the rise because of the stress of managing a farm. You can avoid becoming yet another statistic by matching with someone who shares your goals, views, and overall outlook. Then, you'll be able to weather anything together.
With compatibility being so important, eHarmony is our favorite New Mexico dating site for farmers. However, we can't forget that a lot of farmers are 50 and over. If you're in that group, we recommend SilverSingles. It uses the five-factor model of personality to match people, so you can also find a compatible mate here.
Producers: 40,850
Women: 12,584
Under 25: 550
25-34: 2,008
35-44: 3,762
45-54: 6,459
55-64: 11,605
65-74: 10,396
75+: 6,070

New Mexico Online Dating FAQ
What's the Most Diverse New Mexico Dating App?
Less than 36% of New Mexico's population consists of non-Hispanic Whites. Thus, many New Mexicans want diverse dating sites. Zoosk is the most diverse, but all the sites we selected have a nice mixture of races and ethnicities. Also, we selected sites with responsive customer support teams, so if anyone steps out of line, you can take action immediately.
What is the Best Free New Mexico Dating Site?
Free sites lack features, including matching algorithms. Also, they don't vet profiles, so you risk being catfished. While we don't recommend using completely free sites, we do love free trials. Grab a free trial to one of the best dating sites for singles in New Mexico to get started.