Finding love or even just someone to have a meaningful conversation with in New York can be a challenge. Many areas of the state move a million miles an hour (we're looking at you NYC) and it can be tough to know how to meet quality singles. Even if you live upstate or in the suburbs, finding the right man or woman can be challenging.
There is hope, though! The best New York dating apps have revolutionized the way singles all over the state meet, match, and date. But—the success is only found when you use the right apps that have the needs of single New Yorkers at heart.
And since we know New Yorkers like to move fast, we wanted to show you all of the best New York dating app options up front!
Top 4 Dating Apps in New York in 2023
And if you'd like to learn more about these dating apps or what it's like to date in New York, we'd encourage you to keep reading. We'll dive into site breakdowns, tips, resources, stats, and information on what you can expect as a single New Yorker dating in this day and age—both in-person and online!
---
---
1. Elite Singles – Best for Movers and Shakers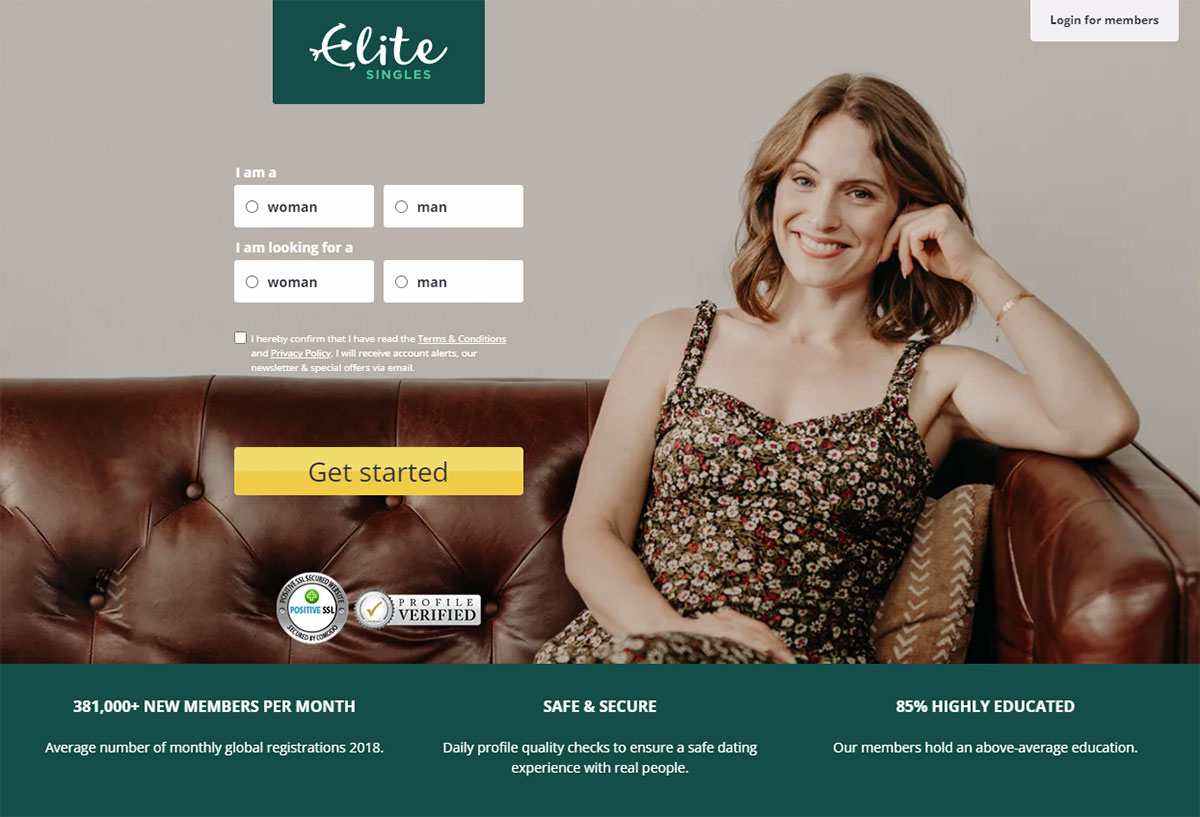 Who Will Love Elite Singles: NY singles looking for professionals, young professionals, and educated men and women
Who Might Not Enjoy Elite Singles: Singles who don't really care about how educated the people they date are
Biggest Pro: Quality singles online in New York City, upstate, and the suburbs
Biggest Con: Lengthy sign-up process (matching questionnaire)
Starting Price: Premium memberships start at $44.95 per month
When you think New York, the chances are high that you think glitz, glamour, influencers, and movers and shakers. And even if you don't live in the heart of the city, you probably still think about people who are successful and care about making a difference in the world and the Empire State.
If any of those people are ideally what you're looking for when it comes to dating, then Elite Singles is the best NY dating app for you. The site boasts that 85%+ of its members hold an above-average level of education and the marketing efforts of the site are solely targeted at the groups we just mentioned.
In other words, if you want to meet some smart people who are doing things with their lives in New York, you'll want to check out Elite Singles.
---
2. The League – Best for Elite Dating in NYC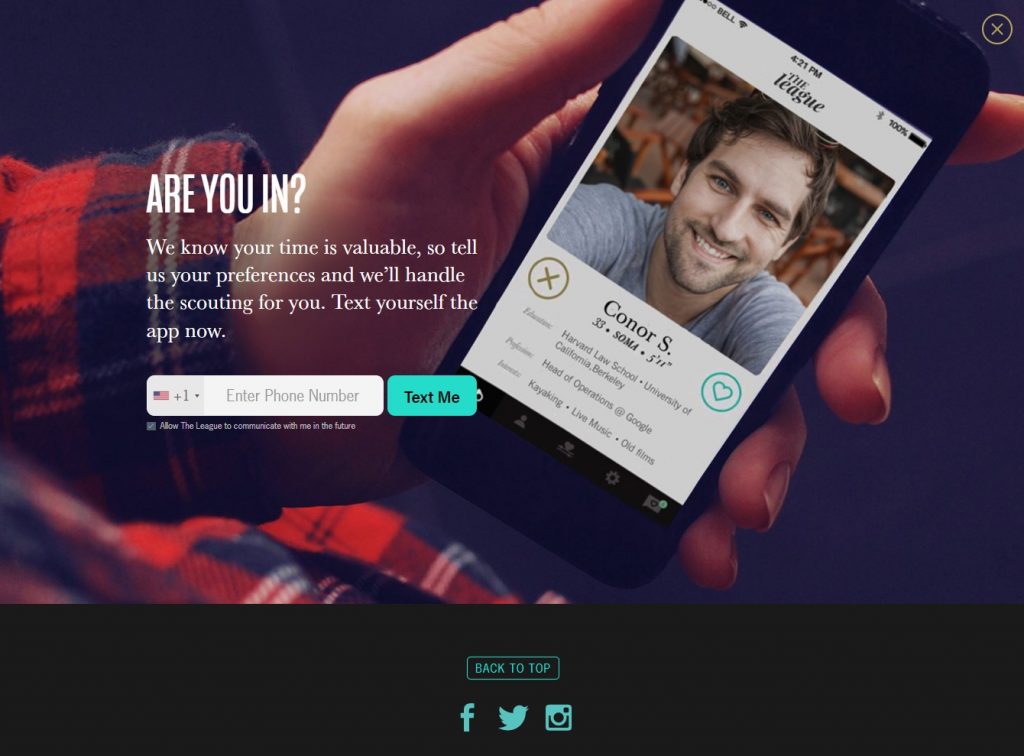 Who Will Love The League: Singles looking for an elevated dating experience and high-quality singles
Who Might Not Enjoy The League: Singles who don't live close to the city or who don't want to go to the city for dating
Biggest Pro: One of the highest caliber groups of singles in NY
Biggest Con: Requires waiting list and insider approval to join
Starting Price: Premium memberships start at $67 per month
While you might find it borderline comical that we didn't give the accolade of 'best for elite dating' to Elite Singles, it's for good reason. Elite Singles might be better off named something like "Professional Singles" whereas The League dating app truly takes the crown with being Elite—in the purest sense of the word.
To join The League dating app you first have to get on a waiting list. After that, you have to be voted into the app by an internal committee. While this might sound crazy, it's how The League keeps the highest caliber of singles and its true elite status.
In a state like New York known for power, success, and influence—The League is a perfect fit. You'll also notice that we mentioned that the app is best for singles in NYC. If you live upstate or in one of the suburbs, the number of options you see will be severely limited. If you live in the city, though, the dating app is booming.
---
3. eHarmony – Best for Relationships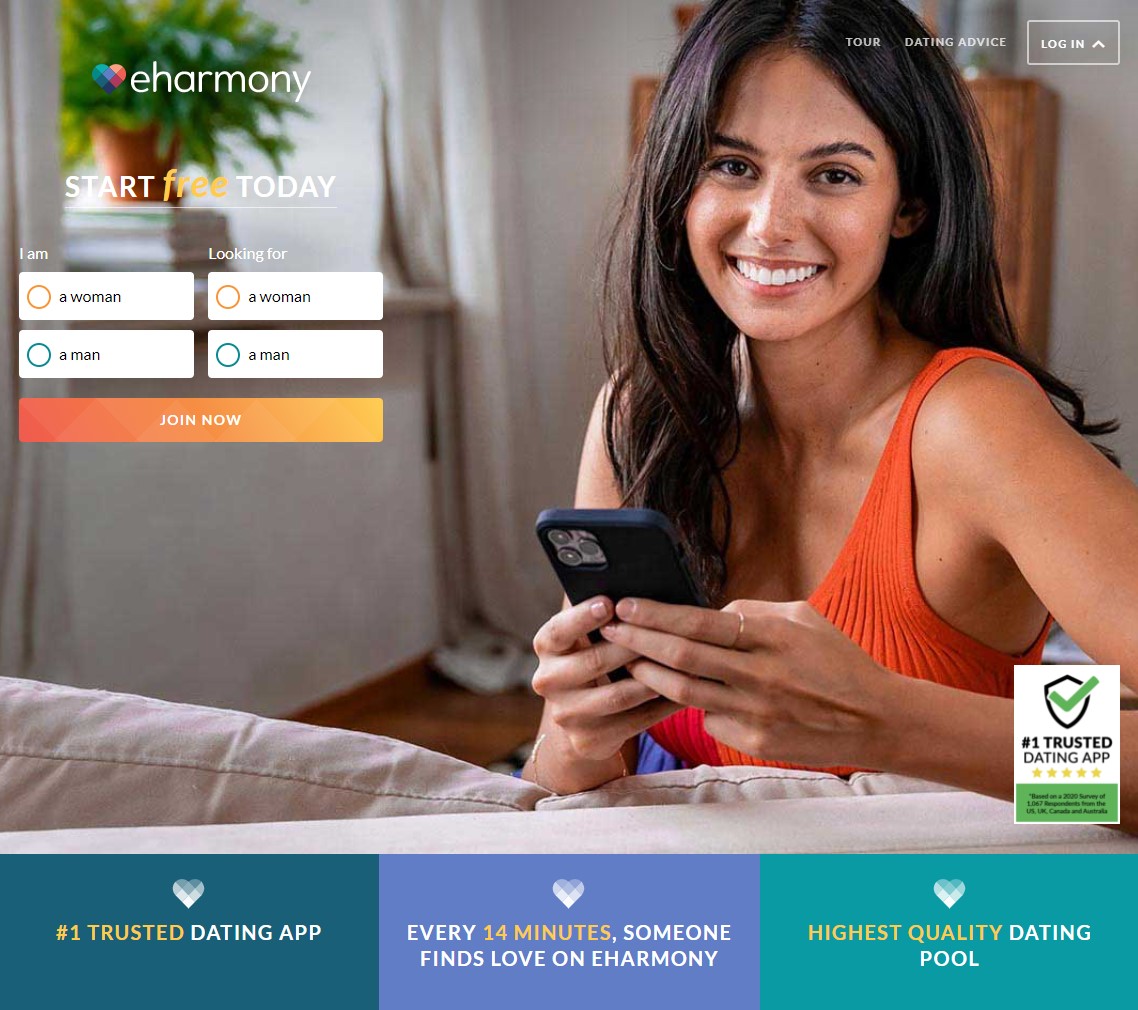 Who Will Love eHarmony: NY singles looking for committed and more serious relationships
Who Might Not Enjoy eHarmony: Anyone looking for casual or no-commitment dating
Biggest Pro: Some of the most impressive matchmaking results of any company
Biggest Con: Requires users to actually put in some effort to the process (not necessarily a bad thing)
Starting Price: Premium memberships start at $35.90 per month
If you got a little scared with all the talk about elite, powerful, and professional singles—that's okay. Not everyone in New York is trying to be the next hedge fund manager or CEO. Some people care more about finding singles who are caring, loving, and down-to-earth, but still have a little excitement in their lives.
If that sounds like what you're looking for, then eHarmony is the pick for you. The site has helped over 2 million people find love, which equates to one every fourteen minutes!
One thing that's super important to point out about eHarmony is that the dating app is 100% geared towards NY singles who are looking for serious and committed relationships. If you're looking for casual or to play games, it's not the best New York dating app for you. But if you do want to find someone special and something meaningful, then you have got to check out eHarmony.
---
4. Zoosk – Best for Upstate and the Suburbs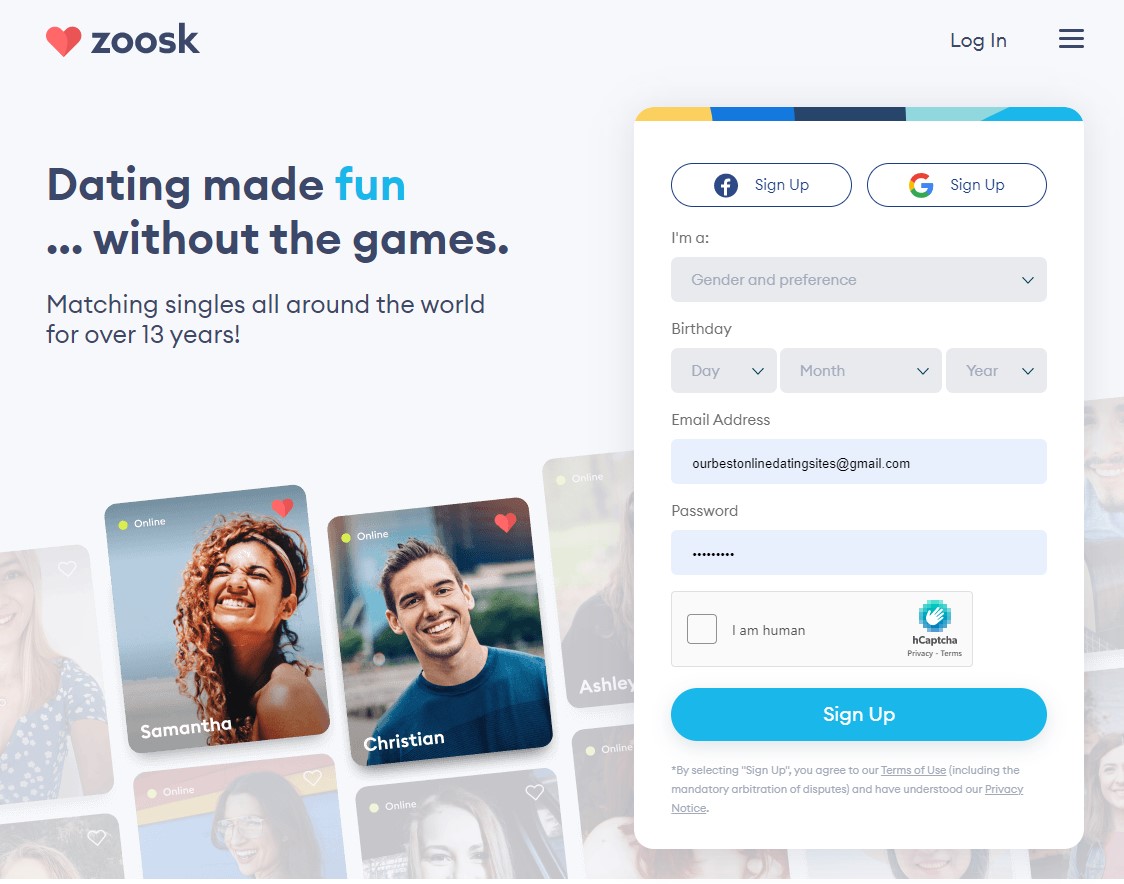 Who Will Love Zoosk: Singles anywhere in the state of New York (including upstate and the suburbs) who want a lot of options to choose from.
Who Might Not Enjoy Zoosk: People who get easily overwhelmed with a lot of options
Biggest Pro: Over 35 million active user accounts
Biggest Con: Good for casual and serious dating (which might annoy some singles only looking for serious relationships)
Starting Price: Premium memberships start at $12.49 per month
26,697 restaurants…180 state parks…1,530 cities…if anyone tries to tell you that New Yorkers don't like options, you can tell them to get a move on! And because of this love for options, we thought it only fitting to include Zoosk on our list of the best New York dating apps because, well, it has 35 million active members!
If you're someone who is picky or just likes to know everything available when it comes to dating, you're going to love Zoosk. What we really like about Zoosk for New Yorkers is that there are options for people in all cities, not just NYC. So, if you live in Rochester, Utica, Buffalo, Albany, Syracuse, Yonkers, or anywhere in the state, you're going to love this option.
---
What Dating App is Most Popular in New York?
We love data. It always tells the truth. And when it comes to figuring out what the most popular dating app in New York is—we turned to data. Specifically, we turned to Google Trends data to look at search popularity for the top NY dating apps we've recommended in this guide.
According to those results over the past 12 months, Zoosk is the leader by a long shot. Now, it's important to point out that the calculations only allow us to test a certain number of sites and apps at the same time as no absolute (only comparative) data is shown. For that reason, we only looked at traditional type dating apps that we recommended. When you add in swipe-style and more casual dating apps, you do have some like Tinder and Hinge that do show higher marks.

Zoosk – Try Zoosk Free!
eHarmony
The League
Elite Singles

What is the Dating Scene in New York Really Like?
There are a lot of great reasons you could be wondering what the dating scene in New York is really like or if dating in New York is any good. Maybe you recently moved to the city and want to know what to expect? Maybe it's been a while since you've dated or you just got out of a relationship? Or maybe you're just curious and considering getting out there?
Whatever the reason, we wanted to do our best to give you some insight into what you can expect out there. Keep in mind that everyone's experience will vary, and we are making some sweeping generalizations here that won't be true for everyone. Still, we think it's a good resource to at least get you an idea of what to expect.
The media paints an incorrect picture – This is especially for those people who are new to the state. According to Hollywood and TV, all of New York is New York City. It's nothing but a bunch of stockbrokers and models running around buying and selling billion-dollar companies. And while this is going on in some cities, it's not going on state-wide. And even in NYC, this is not the majority. Don't let the media fake you out on how things are in the state, especially upstate and in the burbs.
Different cities, different strokes – To expand on the previous point of what dating in New York is like, every city is different. Dating in Buffalo will be different than dating in NYC which will be different than dating in Rochester. The takeaway here is that if you're going out in a new city or you meet someone online from a different city, have an open mind in case they approach things a little differently.
For example, if someone from NYC seems like they're trying to question the validity of a lot of the things you say early on, it may be because they've run into a lot of BS in the city. It might be helpful to give them a little latitude (not forever) in this category.
People value their time – If there is one thing that's true about New Yorkers from state line to state line it's that they understand the value of their time. Don't play games, be flaky, or cancel dates last minute. Whereas in some cities or states in the US you might be able to get a second chance, it's not going to happen in New York.
Dating can get pricey – One thing the media does get right about New York is that it's expensive. According to recent economic research, New York is the third most expensive state/district in the country only after Hawaii and the District of Columbia. What this means for you is that dinner and drinks are going to add up if you're going on a lot of dates. This is one reason we're such big proponents of online dating in New York because you can better filter and vet options to make sure you're not going on dates that don't have any hope of going anywhere.

Dating in NYC
Best NYC Dating App Recommendation: Elite Singles
While we've had a laugh poking fun at NYC throughout this article, the reality is that it's one of our favorite cities and an absolute hotbed for dating opportunities. Let's start by continuing to talk about the dating scene, but specifically in NYC now:
The happy hour scene in NYC is on fire – If you're still a fan of meeting singles the "classic" way (in-person), the happy hour scene in the city is pretty on fire. That being said, you better have a good job or that will get real expensive real fast.
Public transportation is totally normal in the city – In some cities, taking public transportation to a date is considered by some to be odd (not to us). But in NYC, it's 100% normal.
The "competition" can be more intense – The in-person dating competition in the city can be stiff. One—you have a lot of really confident people who have no fear about approaching. Two—the "pickup artist" community in the city is very big, which means you'll have a lot more people making aggressive approaches. What this means is you better be ready to mix it up and get in the game or you'll be left without much to show for your night out.
Dating can get really pricey – As we mentioned above, dating in NY is expensive. But dating in NYC? SUPER expensive. Thankfully wages are generally higher, but that still doesn't help all the time when dinner and drinks is easily $100 every time.
The cultural options are amazing – One great thing about dating in a big city like NYC is you'll get a TON of culture. That means singles from all walks of life and backgrounds. If you want to meet interesting and beautiful people, try dating in NYC.
Expect some BS from time to time – In a town of movers and shakers, you're also going to get a lot of people who talk the talk but don't really walk the walk. Fake it until you make it could easily be the motto for some singles in the city. Thankfully, it's not the majority, but it's still something to be aware of and on guard from.
All in all, dating in NYC often gets a bad rap, but it's really not that bad. If you can stay onboard with the faster pace, you'll meet some amazing people who are really going places with their lives.
Most Popular NYC Dating Apps

Traditional Style: Zoosk
Swipe Style: Tinder

% of Population Unmarried: 51.2%
Number of Men in NYC-NJ-PA Metro: 9,316,130 (48.4%)
Number of Women NYC-NJ-PA Metro: 9,945,440 (51.6%)
Traditional Dating Site Popularity in New York City, NY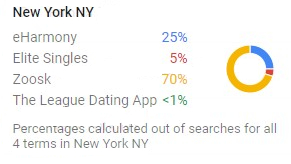 Meeting Singles in NYC
When it comes to meeting singles in NYC, there is no shortage of options. What we wanted to do before closing out this guide is share some of our favorite picks for where to look for singles in NYC.
Work Functions – While it may not be best to date someone you directly work with, most of the companies in New York are big. And these big companies have networking events, cross-department functions, and plenty of other places you can meet other singles who aren't in the cubicle next to you.
Happy Hour – As mentioned, Happy Hour in the city is practically a daily holiday. If you're looking for a good place to meet singles in person, check out a local happy hour. And if you don't have luck, you can always try a different one tomorrow!
Public Transportation – Yes, you can meet people on the way to and from work or anywhere you're going in the city. Be prepared to have to be a little bold, but you never know. The worst they can say is no.
Through Friends – Sometimes having your friends set you up is a great option. If they know you well and know what you want, they could play matchmaker for you.
Online – As you probably guessed from this guide, using New York dating apps is our top option for meeting quality singles in The Big Apple. If you've never tried it before (or it's been a while), we highly recommend giving it a go.

FAQ – New York Dating Sites
What is the best dating app in New York?
The best dating app in New York is Elite Singles.
What is the best dating app for New York City?
The best dating app in NYC is either Elite Singles, The League, or eHarmony.
Is dating in New York hard?
Like most cities, dating can be challenging. In New York (especially NYC), it may be a little harder than other areas because people move at a faster pace and are more protective of their time. That being said, the city has a lot of amenities and great dating apps where you can find someone special if you're willing to put in the extra work.
Is dating in NYC expensive?
Yes, dating in NYC can get very expensive. For this reason, we recommend using online dating to better filter your matches so you go on fewer dates that are duds. Additionally, we'd recommend going out for coffee as a first date instead of dinner and drinks every time if you're looking to not break the bank.