With sandhills, mountains, and a luscious coastline, the Tar Heel State has something for people of all tastes. And hey, we aren't just talking about the scenery. The dating scene is as diverse as the landscape, with eligible men and women of all ages and relationship styles waiting to find "the one."
But while you can just walk up and down the coastline or tackle a mountain trail without getting rebuffed, the same isn't true for dating. Trying to land a date in person usually ends with a quick "no" — if you're lucky — and a few choice words if you're not.
But it's an entirely different landscape when dating online in North Carolina.
Not only do people want to be approached, but you can find men and women looking for everything from casual relationships all the way to long-term love. And with so many profiles, you'll get your pick of options.
Well, at least that's true if you use one of the top dating sites. Unlike other apps that have only a handful of members or lots of fake profiles, the top sites make it easy to find what you're looking for in a match.
Is the anticipation killing you? Here's a look at the best North Carolina dating apps:
5 Best Dating Apps in North Carolina (for 2023)
---
Are you wondering which app to choose or how to navigate the dating scene? We'll break down each one and share some insights into what to expect when putting yourself out there. By the time you're finished, you'll be a dating guru.
You've been single long enough, so let's not wait any longer. Get ready to learn how to come out a winner when dating in North Carolina.
Contents of Our North Carolina Dating Guide – Jump Ahead to:
---
1. EliteSingles – Best for Busy Professionals 30 and Up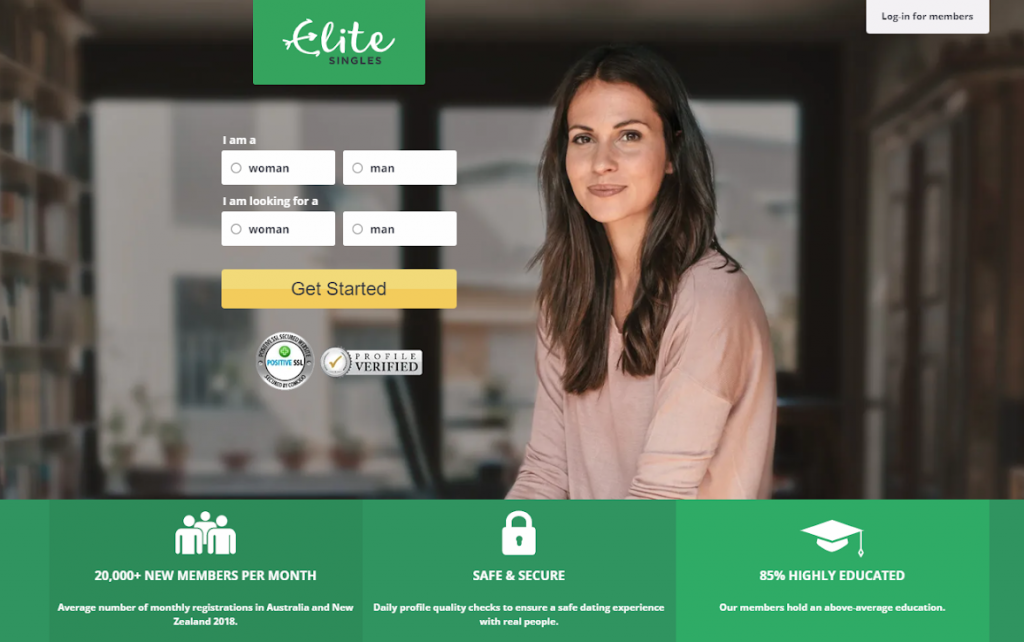 Who Will Love EliteSingles: Driven professionals interested in serious relationships
Who Might Not Enjoy EliteSingles: Singles that leave work behind when the clock strikes five
Biggest Pro: Averages around 2,000 couples a month
Biggest Con: Only a handful of casual dating options
Starting Price: Premium memberships start at $27.95 a month
Aerospace. Biotech. Financial Services. These are just a few of North Carolina's major industries.
And while some employees are on the lower rung, lots of men and women are at the top of their professional games. They're using their education and experience to bring in the big bucks and are killing it at work.
But dating is another story.
See, the movers and shakers tend to be extra-choosy when it comes to dating. They don't want to end up with dead weight on their arms since that might hold them back on their trek up the career ladder. Plus, it means they'll have to foot all the bills. Even big bank accounts can empty quickly when only one person makes money.
Fortunately, you can be as selective as you want on EliteSingles.
So, two things are true when it comes to this dating site. First, most of the people here value education. And second, the majority are professionals. These are the type of folks that don't have jobs — they have careers — and they want the same in a match.
Most members are 30 and older, so they've had time to establish themselves. Now they want something serious with someone like you, so head over to create your free profile today.

---
2. eHarmony – Best for Getting Serious Right Away
Who Will Love eHarmony: Singles ready to get serious right out the gate
Who Might Not Enjoy eHarmony: Singles looking for casual or short-term romance
Biggest Pro: Science-based matching algorithm leads to a high marriage and low divorce rate
Biggest Con: Takes about 20 minutes to sign up and see matches, but the results make it worth spending the time
Starting Price: Premium memberships start at $21.54 a month
Even though almost half of North Carolinian adults are married, we know those serious relationships are still hard to come by. Casual dating is much more common when connecting in the real world, and many people find themselves in "situationships" instead of long-term relationships.
Now, of course, some people do manage to find their long-term partners in the state, but, with 2.8 divorces per 1,000 people, far too many of the partnerships aren't built for happily ever after. And that makes the idea of getting married here a little scarier than it is in some states.
You can avoid being another statistic and match your way to marital bliss on eHarmony.
The founder used his background as a clinical psychologist to design a personality test that finds out how people see the world and interact in relationships. After members fill out the test, eHarmony matches them with singles that they're likely to gel with for the long term.
And that explains why eHarmony reports a lower divorce rate than North Carolina.
It might sound like it's too good to be true, but eHarmony's matching algorithm is based on science, and we've seen the results firsthand. In fact, there's a good chance you know someone that met the love of their life on the site.
And you can be the next success story. First, though, head over to the site to set up your free dating profile.

---
3. Christian Mingle – Best for Keeping the Faith in Relationships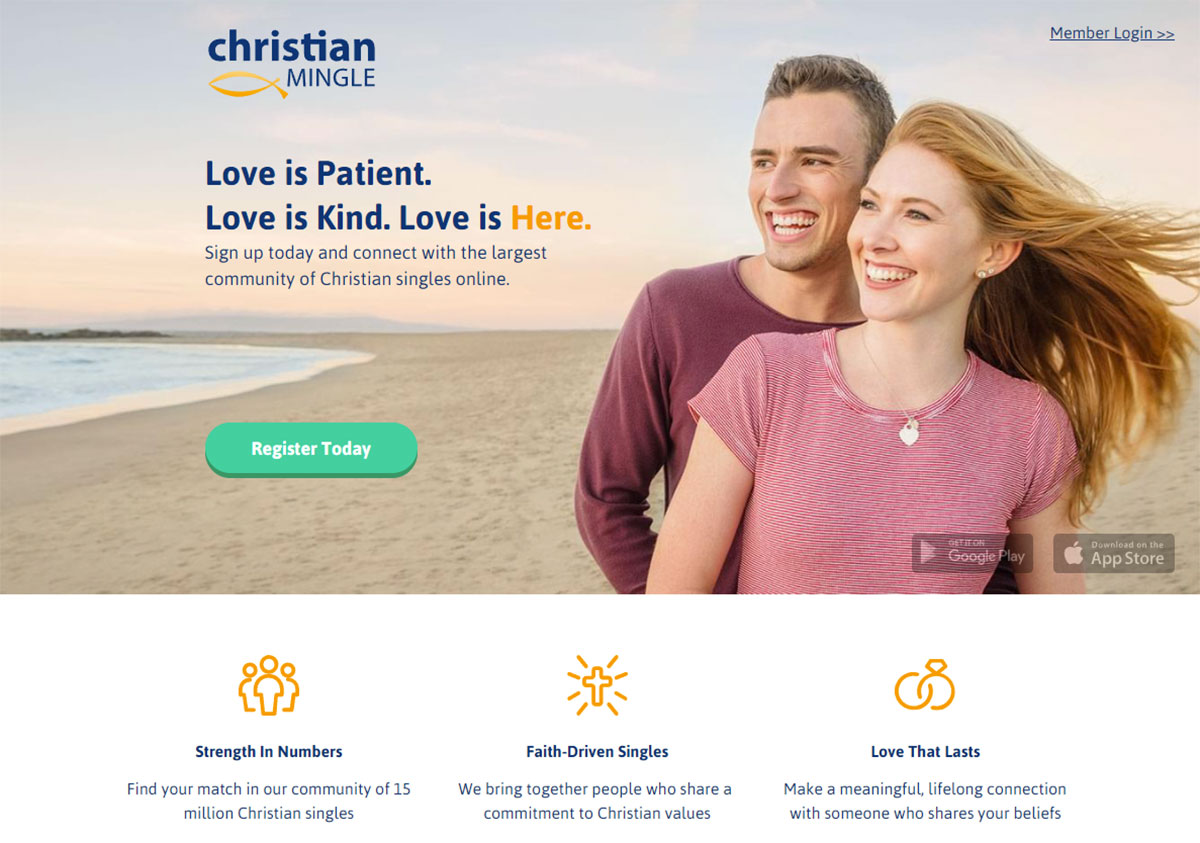 Who Will Love Christian Mingle: Christian singles that want a wholesome dating environment
Who Might Not Enjoy Christian Mingle: Atheists, agnostics, and those of other faiths
Biggest Pro: Almost all members are interested in finding their husbands and wives
Biggest Con: Casual daters will have trouble finding matches
Starting Price: Premium memberships start at $24.99 a month
Did you know North Carolina has more than 15,000 places of worship? And while you can find your fair share of synagogues and mosques, most are Christian churches. That makes sense, considering that over three-fourths of adults in the state identify as Christian.
If you're part of the majority, finding someone that shares your beliefs might be a priority. At the same time, you want to steer clear of the seedy dating scene, or you'll spend most of your single life asking for forgiveness.
That means you need to say "no" to the bar scene and "yes" to Christian Mingle.
The Christian dating site has more than 15 million members around the globe, and it vets all profile pictures to keep things wholesome. It also does a fantastic job of learning about members so it can match them to people that share their beliefs and traits.
If you want a relationship held together with faith, this is the place for you. It's guided thousands of people to the altar, and you might be next. First, though, create your free account.
---
4. Zoosk – Best for Exploring the Casual Dating Scene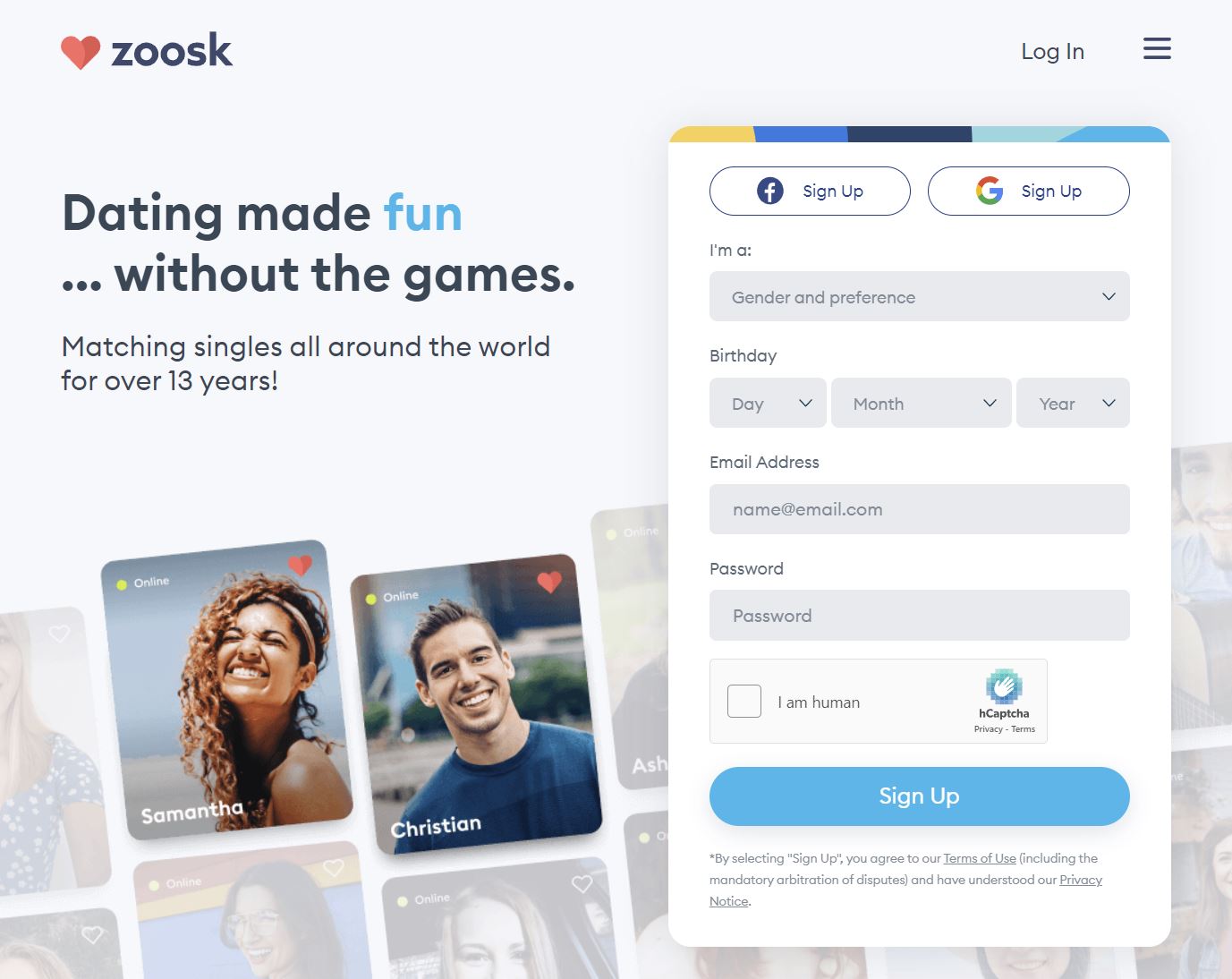 Who Will Love Zoosk: Casual daters that want millions of options
Who Might Not Enjoy Zoosk: Serious singles
Biggest Pro: More than 40 million members in North Carolina and around the world
Biggest Con: The algorithm needs time to analyze your options and bring back quality matches
Starting Price: Premium memberships start at $10 a month
As we've mentioned, casual dating is in demand in North Carolina. But it doesn't always turn out the way you want. Instead of picking someone up at a bar, you're more likely to end up in a situationship with a friend or neighbor.
Now, that takes the fun out of casual dating, doesn't it?
If you want to put the fun back into casual romance, check out Zoosk. Think of this as the anti-situationship dating app. It has so many members that you'll never have to settle for a neighbor or a friend-of-a-friend again.
So, how many is "so many?"
Well, this site has more than 40 million profiles and counting, so it's pretty much impossible to run out of options. That's especially true when considering that only a small portion are seeking something serious.
Now, we know you're probably not used to having so many options, so you might not know where to start. We recommend hitting up the Carousel feature so you can like and pass on profiles. Each time you do, the algorithm will use the info to improve your match quality.
Are you ready to level up your dating game? Create your free profile on Zoosk today.
---
5. The League – Best for Young Professionals Between 25-35
Who Will Love The League: Driven singles between 25-35
Who Might Not Enjoy The League: Singles 40 and up (check out EliteSingles instead)
Biggest Pro: Curated member base, so everyone has the ideal match
Biggest Con: You have to wait to get approved before you can start looking
Starting Price: Premium memberships start at $99 a week
If you're ambitious, dedicated, and better than the rest (hey, it's not bragging if it's true), we've got the dating site for you. It's called The League, and it's the most exclusive app out there. In fact, signing up is kind of like requesting entry into a prestigious university or social club.
You'll start by filling out your profile and connecting your Facebook and LinkedIn accounts. Then, you'll go on a waiting list while the staff digs into your details to see if you're The League material.
But it's not just about making sure you're "good enough" for this exclusive North Carolina dating app. The team also curates the community, providing an even balance of men, women, interests, and professions.
Do you want to be part of the elite dating scene? Sign up for The League for free today.
---
What is the Dating Scene in North Carolina Really Like?
Settling Down Isn't Always the Goal — Lots of North Carolinian singles want to settle down with kids, but there's another side to the state's dating scene. If you're into casual dating, you'll find tons of men and women that want to keep the good times rolling well into their 30s and beyond. That makes it a great fit for serious and casual daters alike.
Men Have Their Pick — There are more women than men in the U.S., so the gender ratio in North Carolina shouldn't come as a surprise. But still, it's worth noting that there's a bigger gap here than in most states. That gives men the edge when looking for dates.
It's Hard for LGBTQ+ Singles — Like a lot of southern states, North Carolina still has a way to go when it comes to LGBTQ+ folks. Maybe that's why the LGBTQ+ population hovers around four percent. But it's not all bad news. It's getting better, and Charlotte and other large cities provide a welcoming environment for LGBTQ+ residents.
Interracial Dating is Easier in the Cities — If you're part of an interracial couple, you won't get a second look in a big city like Raleigh or Charlotte. Unfortunately, there's still some discrimination in the smaller cities, and it seems to be worse for Black men dating white women. We can report that the state as a whole is progressing on this issue, and we hope couples across North Carolina will feel at home soon.
Dating Can Be a Little Pricey — On average, dates cost a little less than $100 in North Carolina. This is below the national average but still pricier than 28 other states. But since the cost factors in dinner, drinks, and a movie for two, you can pack a lot of fun into the night.
Traditional Gender Roles are Fading — As part of the south, many North Carolina residents believe in traditional gender roles when dating and during marriage. That being said, the lines between the genders are starting to blur. Back in 2017, protests erupted after a billboard stating, "Real men provide. Real women appreciate it," went up along the interstate. This is a sign that many people are bucking tradition in favor of equal standing.
Religion is Part of the Dating Scene — While North Carolina doesn't have as many Christians as it did a few years ago, faith is still important to many of the state's residents. And that means it finds its way into the dating scene. Almost 40 percent of adults go to church at least once a week, while less than 25 percent seldom or never attend. That means you might need to wake up early on Sunday for a church date.

Dating in Charlotte
Best Charlotte Dating App Recommendation: The League
You kind of feel like you're on a movie set when walking around Charlotte. We don't mean there's a director on the sidewalk, getting ready to yell "Cut." Nope, it has to do with all the gorgeous, successful people walking up and down the streets.
The city's basically a magnet for beauty and success, and the financial industry seems to draw in more by the day. And, while many people work in the same sector, they fit into two camps. You'll find people ready to settle down, along with lots of singles that want to stick to casual fun.
No matter which camp you're in, you have to step out of your comfort zone if you're going to meet people out and about in Charlotte. The singles won't come to you if you're hanging out by yourself, so go out and mingle.
Charlotte has a vibrant social scene, so hit up events and go to restaurants. Plus, the area's home to more than 50 bars that always attract lots of men and women after a hard day's work. While some of the patrons want to hang with their friends, others are looking for a fun night.
If you don't want to eat and drink your way to a relationship, we recommend embarking on an adventure. You can always meet fit, attractive, and adventurous singles at the Whitewater Center or one of the hiking trails. Sometimes those meetings lead to long-term connections, but most of the time, you'll get nothing more than a little exercise.
See, Charlotte singles are known for being picky and selective, so it's hard to find a match when putting yourself out there in person. At the same time, it's easy on a North Carolina dating app.
When it comes to Charlotte, The League delivers. It's the only dating app that's as high-end as Charlotte's singles, so create your profile and find your match.
Population: 873,570
Men: 47.99%
Women: 52.01%
Unmarried: 55.35
Average Household Income: $98,462
Bachelor's Degree or Higher: 41.41%
---
Dating in the Piedmont Triad
Best Piedmont Triad Dating App Recommendation: eHarmony
Do you know that song, "It's Raining Men?" Well, in the Piedmont Triad, it's raining women — especially in Greensboro. But while guys have the advantage here, the dating scene is a challenge for both genders.
Most single guys and gals in the Triad rely on the bar scene to find dates, and some have a little bit of success. That being said, the success usually only lasts for a night, so they're alone again the next morning. Hey, sometimes they're alone again before the sun even comes up.
Yeah, it's pretty brutal, we know.
Outdoor activities are also a go-to method for meeting people, and Greensboro Grasshoppers games are popular with singles. But after a few trips to the game, you'll feel like you know everyone. That's the issue with living in a big area that feels like a small town.
Fortunately, you can open up your dating life in a big way by hopping on a North Carolina dating site. And for the Triad, we think eHarmony is the best fit. The area is home to lots of families, and people like to settle down here thanks to the lucrative industries and educational opportunities.
Greensboro Demographics
Population: 294,395
Men: 46.35%
Women: 53.65%
Unmarried: 60.11%
Average Household Income: $73,183
Bachelor's Degree or Higher: 34.51%
High Point Demographics
Population: 122,434
Men: 48.06%
Women: 51.94%
Unmarried: 54.44%
Average Household Income: $73,001
Bachelor's Degree or Higher: 28.95%
Winston-Salem Demographics
Population: 250,320
Men: 46.8%
Women: 53.2%
Unmarried: 49.9%
Average Household Income: $79,083
Bachelor's Degree or Higher: 29.09%

---
Dating in Raleigh
Best Raleigh Dating App Recommendation: The League
Diverse, educated, and skewing to the younger side, Raleigh has a lot to offer single men and women. Plus, the Raleigh area has ten colleges and universities, so the dating pool is ever-expanding.
That's great news, but it's not all positive.
If you live in Raleigh, you know the dating scene is hard to navigate. Lots of men and women have high standards, and we aren't saying that's a bad thing. But it does make it challenging to get to know people in person.
When it comes to meeting singles in the real world, college sports and activities are always popular options. Of course, if you're not a student, you don't want to be the older guy or gal hanging out with the younger crowd. Instead of finding dates, you'll just get some strange looks.
Fortunately, you'll be right at home by joining an adult sports league, such as Tri Sports. The athletic and social club is a ton of fun, and you'll walk away with lots of friends and maybe even something more.
And then, of course, there's the bar scene. It's always hopping, and you might make a connection or two. But sadly, there's a good chance that connection won't last past the night.
That's a lot of bad news, so it's time to focus on the positive. As hard as the dating scene is, you can have success without much work on a dating app. And nothing is better than The League when it comes to finding your match in Raleigh.
Population: 469,698
Men: 48.33%
Women: 51.67%
Unmarried: 57.88%
Average Household Income: $98,016
Bachelor's Degree or Higher: 46.82%

FAQ – North Carolina Dating Sites
What's the Most Popular Dating App in North Carolina?
Out of the dating apps on our list, Zoosk is the most popular. Still, lots of men and women use Christian Mingle, eHarmony, EliteSingles, and The League.
How Do I Meet Singles Near Me?
We selected dating sites that can use your location to find singles nearby. You just need to sign up and open the app to find the closest matches. But don't worry if you can't find anyone close since you can expand the search radius or change the location.
Should I Use More than One Dating App?
We recommend sticking to a single app or going with two if you want more options. However, using three or more apps will become overwhelming, making it hard to find what you're looking for online.
How Many Pictures Should I Include in My Profile?
Add four to six pics to your online dating profile for the best results. Make sure to include pictures that show different aspects of your personality.