Being single isn't easy, especially if you've been on the market for a while. You seem to run into more couples by the day, and you're beginning to wonder if you're the only single person left. It's like Cupid used Ohio's single population for target practice – but you were in the restroom when your fellow Buckeyes took arrows to their hearts.
Ok, we admit that we're being a little dramatic…
If we stick to the facts, around half of Ohio's adults are single. And the Cupid thing? Well, it's one of two possibilities: (A) Cupid's ill-timed attack coincided with Ohio's First-Annual Statewide Bathroom Break, causing him to miss four million or so folks, or (B) Cupid doesn't call the shots in Ohio.
If you answered "B," you can progress to the next round of our Ohio dating game, where we'll replace Cupid's outdated arrows with the best Ohio dating apps. Check them out below:
Top 5 Dating Apps in Ohio in 2023
Stick around to find out why we picked these apps and which one is best for your dating style and location. Also, stay tuned to learn all about Ohio's dating scene, including what to expect in big cities and rural areas.
We have a lot to cover before you can start winning over singles and landing dates. Let's start with a breakdown of the dating sites. Then, you'll be a step closer to finding your match.
---
Jump to:
---
1. Higher Bond – Best for Keeping the Faith without Distractions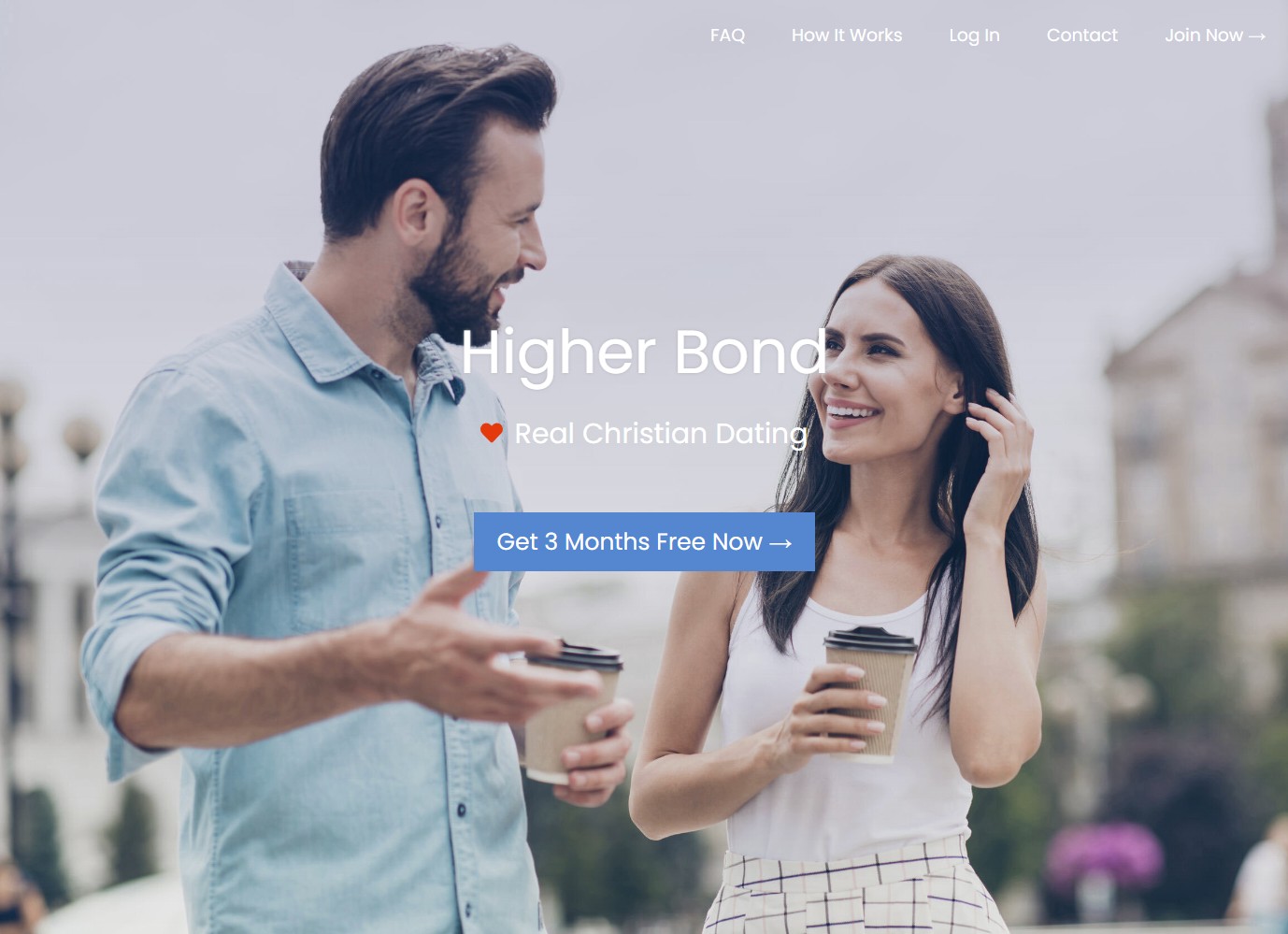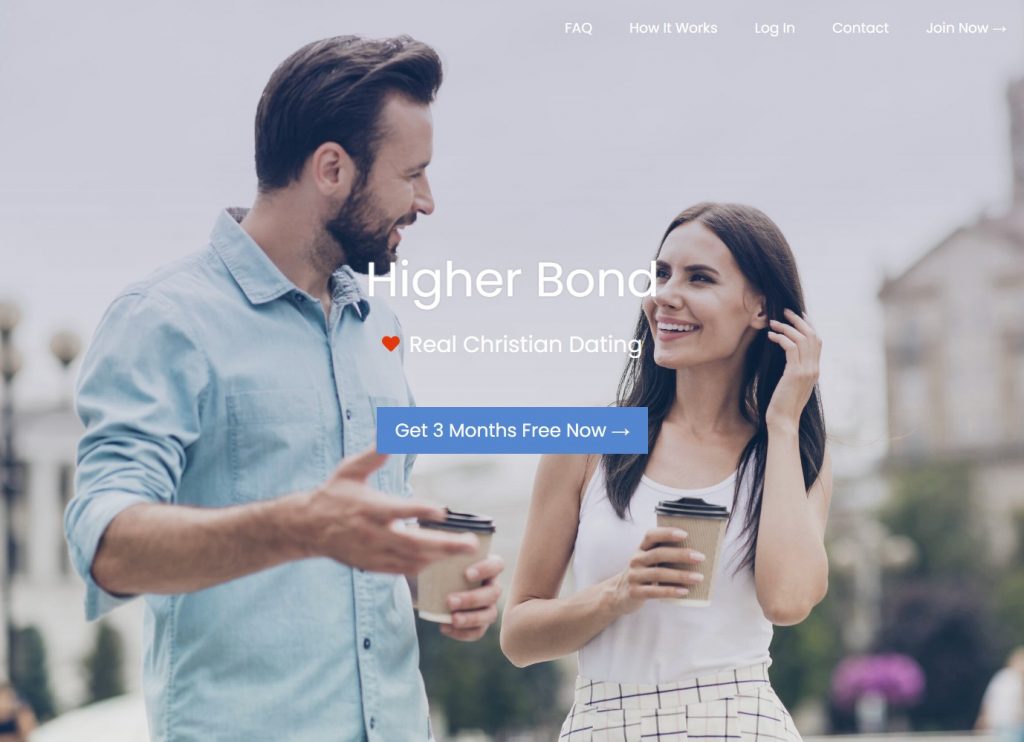 Who Will Love Higher Bond: Christian singles who want serious relationships
Who Might Not Enjoy Higher Bond: Secular singles and folks who aren't ready to settle down
Biggest Pro: Helps members make deep connections by limiting the number of matches and conversations
Biggest Con: Launched in 2022, so it has fewer members than other sites, but it's growing quickly
Starting Price: First three months free
Ohio might not be in Bible Belt, but it has a strong religious identity – especially in the rural areas. Putnam County is the perfect example of rural Ohio's commitment to faith. Ninety-nine percent of the county is rural, and around 80% of residents attend church regularly.
That's even more impressive when you compare it to church attendance throughout the state. Even though Christians make up close to three-fourths of the adult population, fewer than 40% attend church weekly.
Well, that kind of throws a wrench in the religious dating scene, doesn't it?
Actually, this problem is easy to solve. Instead of trying to meet the man or woman of your dreams at church, use Higher Bond instead. This might be the newest app on the Christian dating scene, but it's already made it to the top of the list.
Higher Bond is owned and operated by Christians, and you can tell they used their faith as a guide when developing the site. The dating site addresses some of the biggest concerns Christians have when dating, such as temptation, lack of connection, and too many choices.
The wholesome dating app lets members view 3-5 matches and start up one new conversation a day. With fewer choices, Christians form stronger connections than they would on other religious dating sites. And they're more likely to go all in with one of their matches instead of struggling to pick someone.
Do you want to find a Christian who shares your values, interests, and relationship style? Start the process by creating a free profile on Higher Bond today.
---
2. eHarmony – Best for Drama-Free Serious Relationships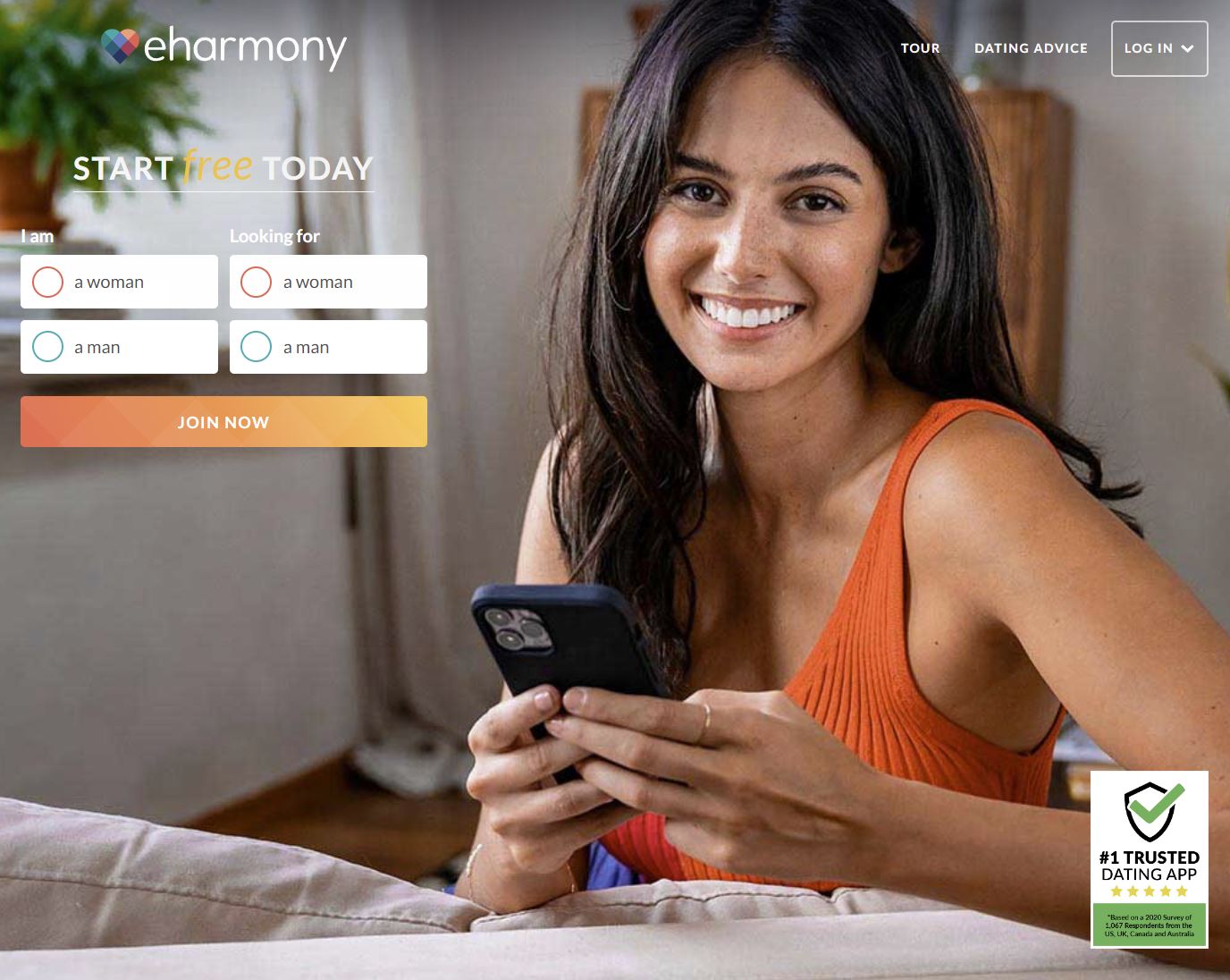 Who Will Love eHarmony: Ohioans seeking serious relationships that last
Who Might Not Enjoy eHarmony: Casual daters interested in casual flings and short-term romances
Biggest Pro: Questionnaire and matching system identities and pairs people based on the core traits they bring to relationships
Biggest Con: Longer sign-up process than other Ohio dating sites, but the system's helped more than two million people find love
Starting Price: Premium memberships start at $17.95 a month
We checked Google Trends for search terms related to dating, marriage, and relationships in Ohio and ended up with an unexpected result. Google listed "marriage counseling near me" as a "Breakout" search term in Ohio – meaning interest has risen by over 5,000%.

Yikes. What if those same folks had gotten professional help before starting their relationships? Then, they could have found out their partners weren't compatible before making such a big commitment – and ending up on the brink of divorce.
Does that sound like a fantastic yet impossible idea?
Well, yes and no. We agree that it's a fantastic way to avoid bad relationships. But impossible? Nope, we can't get on board with that statement. It's possible – as long as you use eHarmony.
So, Dr. Neil Clark Warren worked as a clinical psychologist for decades before co-founding eHarmony. While in private practice, he identified the core traits couples need to maintain successful marriages and helped countless couples work through serious marital problems.
He continued on that path until the divorce rate skyrocketed and online dating became popular. And that's when he decided to bring the divorce rate back down by creating a dating site based on the core traits of marital compatibility.
More than two million people have found love on eHarmony, and couples that meet here tend to stay together. In fact, the site's divorce rate is well below the national average. Don't take the chance of meeting someone who might be the wrong fit. Instead, find a mate made in a psychological heaven by grabbing a free trial to eHarmony today.
---
3. Zoosk – Best for Combining Casual Dating and Compatibility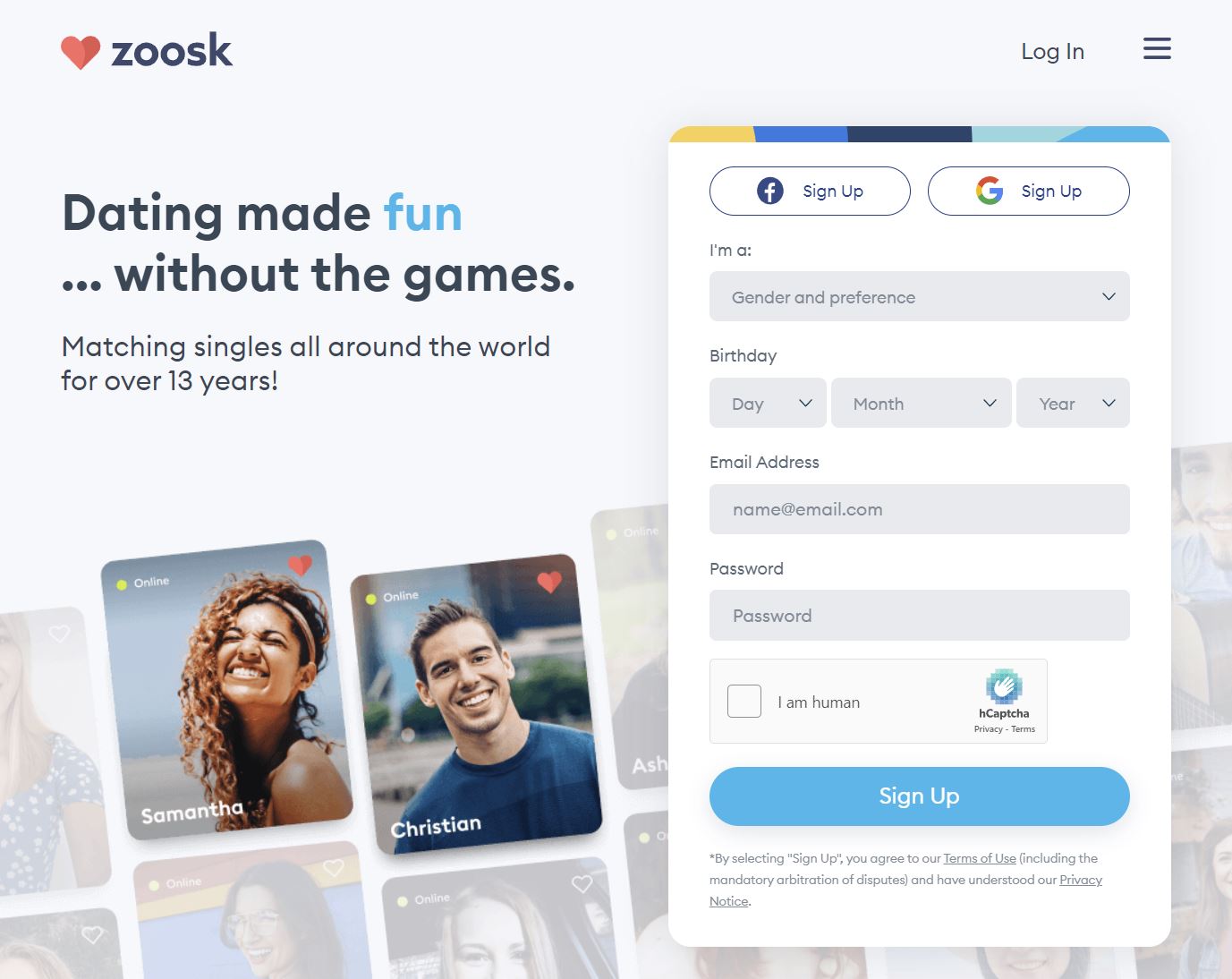 Who Will Love Zoosk: College students, active-duty military personnel, and other casual daters
Who Might Not Enjoy Zoosk: Singles who are ready to get serious right away
Biggest Pro: More than 40 million members in Ohio and around the world
Biggest Con: Takes some time for the behavioral matching system to learn what you're into, but you can speed things up by using the app regularly
Starting Price: Premium memberships start at $8.33 a month
Since Ohio's part of the Midwest, people assume that single residents can't wait to get married. And it's true that lots of folks hope to tie the knot soon, but there's another side to the state's dating scene. And it's all about keeping it casual.
According to OkCupid, more than 60% of the men and 25% of the women in Ohio are into casual dating. And from what we've found, Ohio's casual dating scene is as diverse as it is fun. It's full of college students, active-duty military personnel, and others looking for something without the strings. Let's just say you have tons of casual dating options at your fingertips.
That's especially true when you hop on Zoosk to find a match. With more than 40 million members, you can be selective when searching for flings and short-term partners.
But it's not just about the massive number of profiles…
While some casual dating apps only focus on physical attraction, Zoosk does a nice job of pairing compatible people. But instead of telling the site what you want, you'll show it. The matching algorithm is designed to analyze your behavior when you interact with profiles and sends matches based on your interests.
If you want to level up your casual dating game, create your free account on Zoosk today. Then, feed the algorithm info by swiping and interacting on the app.
---
4. EliteSingles – Best for Professionals Seeking Ambitious Partners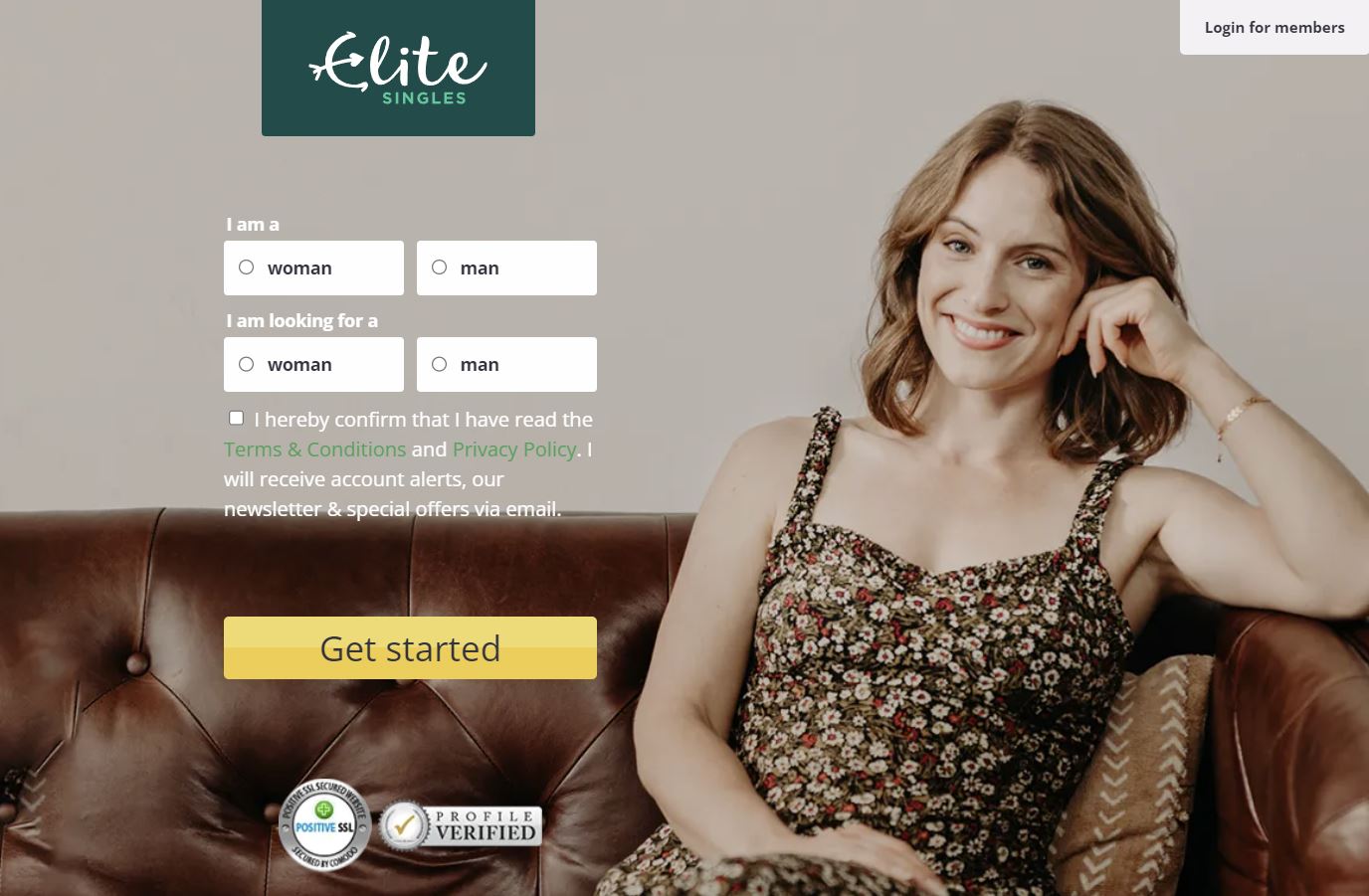 Who Will Love EliteSingles: Career-oriented singles interested in serious relationships with professionals
Who Might Not Enjoy EliteSingles: Singles who don't identify as ambitious professionals
Biggest Pro: Most members are educated, driven professionals
Biggest Con: Few members under the age of 30
Starting Price: Premium memberships start at $27.95 a month
Did you know that more than 37,000 attorneys practice in Ohio? The state is also home to over 34,000 physicians, along with countless CEOs earning massive paychecks (we're totally not jealous). Oh, and let's not forget about the tech startups that attract top talent – and pay impressive salaries.
If you're one of Ohio's thriving professionals, you have enough ambition and drive to come out on top in almost any situation. But even so, the wrong partner can throw you off your game, and it might be hard to recover.
Let's say you pair up with someone who doesn't understand your long working hours. You never know when missing dinner or skipping out on a movie will lead to an ultimatum: shorter hours or no more dates.
We don't envy you if you have to make that decision.
And then, of course, you can't ignore the green elephant in the room – money. As an ambitious professional, you probably have quite a bit of it. If your partner's bank account trails yours by a zero or two, you might be expected to help out. That's great if you offer, but if it's expected, you might feel more like a parent than a partner.
Pretty gross, right?
Fortunately, you can avoid a serious case of the yucks by using EliteSingles. While anyone can sign up for this Ohio dating app, almost all the site's members have impressive educations and successful careers.
Relationships are easier when both people are on equal footing. Find your romantic counterpart by setting up a free account on EliteSingles.

What is the Dating Scene in Ohio Really Like?
Serious and Casual Dating Are on the Menu – Most single Ohioans pursue serious relationships – but there's a pretty significant casual dating scene here, too. Ohio men are more likely to look for casual dating opportunities, but there are enough women involved to keep things interesting.
Commitment is Taken Seriously – Guys and gals in the Buckeye State tend to be faithful and usually don't step out on their partners. Now, we can't vouch for every person in Ohio, but we're quick to trust the folks here.
Men Normally Foot the Bill – Most men think guys should pay for dates – especially the first one. However, lots of women are open to picking up the tab or splitting the bill. If you're a guy and short on cash, we recommend discussing it with your date.
Some (But Not All) Ohioans Will Travel for Dates – Over a quarter of Ohio's residents live in rural areas. Most of these folks don't mind hopping in their cars and driving for a bit to meet a date. However, people in urban areas tend to search for singles that live close to them and aren't all that open to dates that include commutes.
Single Parents are Looking for Love – Unmarried women give birth to more than 40% of the babies born here each year. Now, "unmarried' isn't the same as "single," but many mothers (and fathers) can check both boxes. Only ten states have more single-parent households than Ohio, so expect to see lots of moms and dads on dating apps.
Flowers and Gifts Don't Equal Romance – A study from Pettitts Travel found that Ohio is one of the least romantic states due to the amount of cash spent on Valentine's Day gifts, romantic communications between couples, and other factors. But while Buckeyes might shy away from (unoriginal) traditional dating customs, they show their love by spending quality time together. And hey, we'd prefer cheering on the Bengals and hanging out at an amusement park over flowers anyway.

Dating in Cleveland
Best Cleveland Dating App Recommendation: eHarmony and Zoosk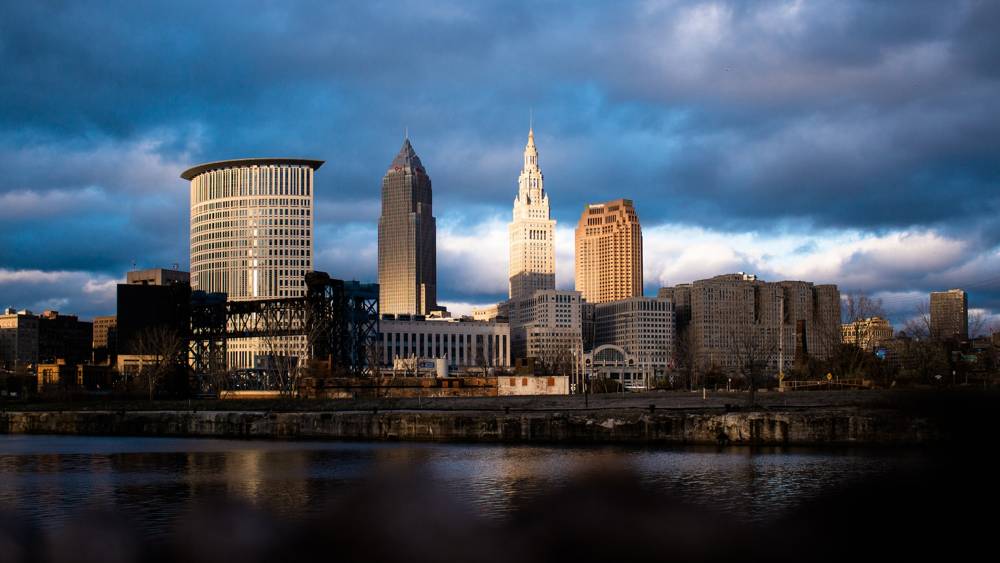 Cleveland's home to a diverse assortment of folks, from young professionals to families. And both thrive here, thanks to trendy and family-friendly neighborhoods and lots of job opportunities.
And here's something else Cleveland offers – ample singles who are ready to date. Some reports state that more than 70% of Cleveland adults are single, along with 60% of the adults in nearby Euclid and Lakewood. With numbers like that, you can be picky when choosing someone to date.
But first, you have to find them.
Most singles hit up the Garden Shore Arts District when looking for love. The bustling bars overflow with singles, but most of them spend the night staring at their phones instead of mingling.
Meetups and professional groups are also options for meeting people. On the plus side, the attendees aren't working through attachment issues with their phones, so they're able to leave them behind. But on the negative side, most aren't looking for dates, either.
The in-person dating scene might be a bust, but it's a whole different story online. Hey, maybe that explains why so many folks at the Garden Shore Arts District are glued to their phones.
So, let's start with college students. If you're juggling dating and classes, we recommend checking out Zoosk.
As much as we love Zoosk, it isn't the right fit for all the single men and women in Cleveland. For starters, Cleveland has more single parents than any other city in Ohio, and they don't have time to mess around with dead-end dates. Also, we know that a lot of childless singles are hoping to settle down with someone.
And that's why eHarmony is our next pick. It can help you find your soulmate, so head over today.
Population: 383,331
Men: 48.01%
Women: 51.99%
People Between 20-44: 30.9%
White-Collar: 75.75%
Blue-Collar: 24.25%
Single-Parent Households: 73.3%
Bachelor's Degree or Higher: 17.87%
Unmarried: 71.96%
Number of College Students in Cleveland: Approximately 25,000

---
Dating in Columbus
Best Columbus Dating App Recommendation: EliteSingles and Zoosk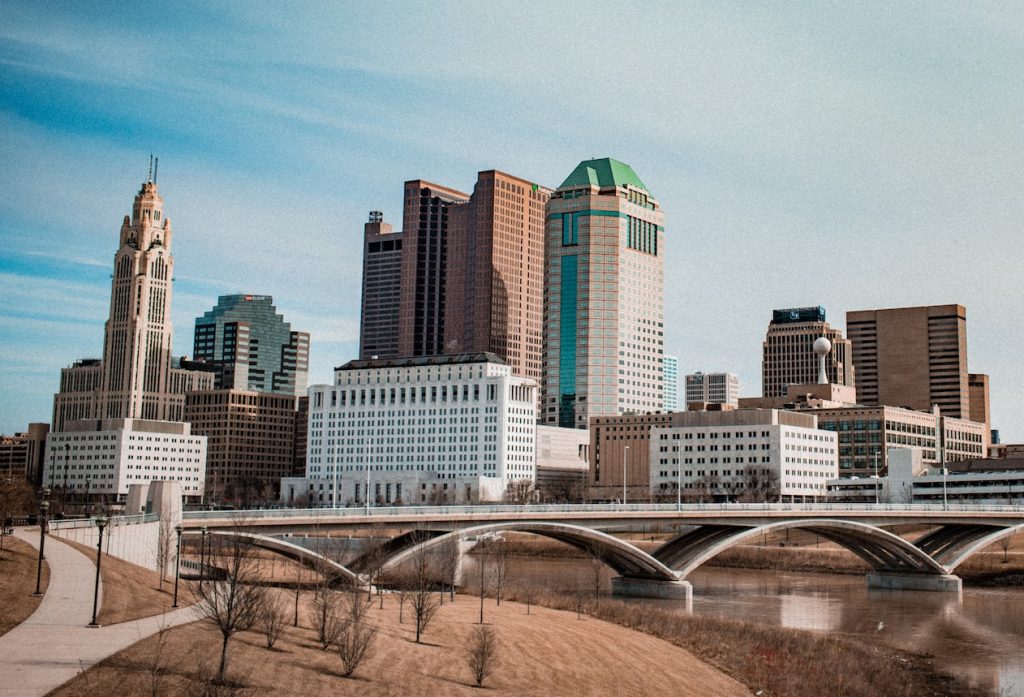 Forget about being the tech capital of Ohio. Columbus is positioned to become the tech hub of the entire Midwest thanks to all the startups popping up.
Entrepreneurs and venture capitalists knew what they were doing when they zeroed in on Columbus. First, the Columbus Region has 52 universities that send an influx of talent to Columbus after each graduation ceremony. Add in professionals from other states and countries, and filling jobs isn't a problem here.
And let us tell you, the professionals here are an impressive bunch. They've got their working lives in order, but their dating lives can be a bit of a mess.
Many of the city's singles use the same old blueprint when searching for romance. They go to bars, join rec leagues, and participate in professional clubs and organizations. Those methods worked a couple of decades ago, but now, they're outdated and don't get results.
Now, some Columbus singles realize that using dating apps is the best way to find a partner. But from what we've seen, success rates are mixed. We looked into it to see why and found the problem right away.
The guys and gals that keep striking out use basic hookup apps that don't ask for much info. That means they have to do all the work, down to figuring out if members have decent personalities. On the flip side, successful folks use Ohio dating apps with advanced matching algorithms and high-quality member bases.
EliteSingles has entered the chat.
The professional dating site uses the Five Factor Model theory to match career-oriented singles. And since Columbus is such a talent magnet, you'll find plenty of local options after creating your profile.
But what if you're still in college? You won't fit in on EliteSingles, so you'll want to use Zoosk instead. This dating app is full of college students, along with some older folks if you like a little age difference when dating.
Population: 889,079
Men: 48.79%
Women: 51.21%
People Between 20-44: 35.7%
White-Collar: 80.92%
Blue-Collar: 19.08%
Bachelor's Degree or Higher: 33.91%
Unmarried: 61.94%
Number of College Students in the Columbus Region: 134,000
Number of Annual Graduates in the Columbus Region: 22,000
---
Dating in Cincinnati
Best Cincinnati Dating App Recommendation: eHarmony and Zoosk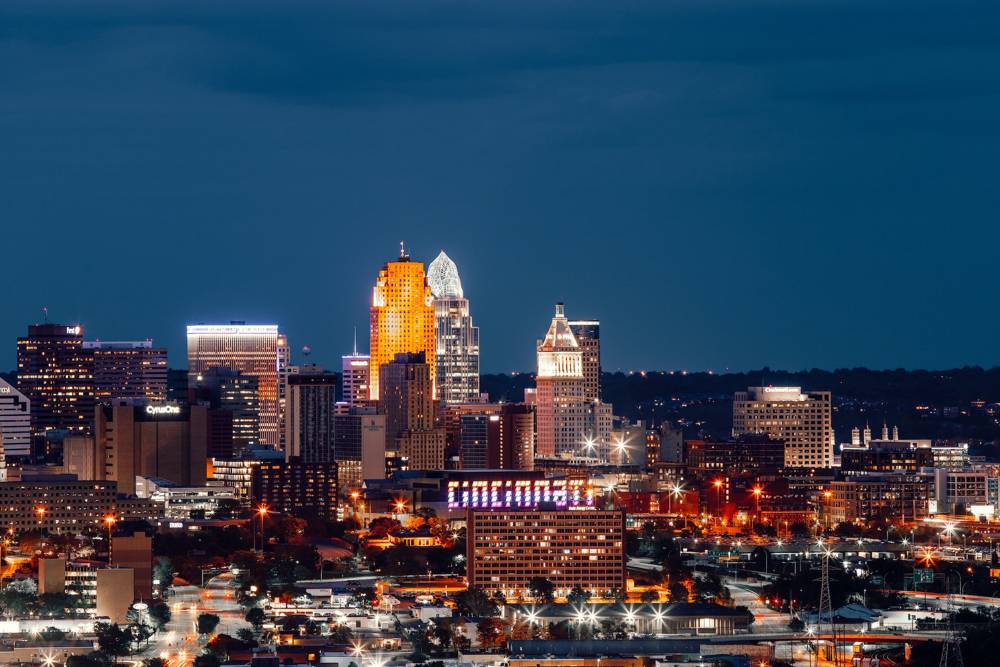 From professional sports to top-notch schools, Cincinnati has a lot to offer folks. Families come for affordable housing and kids' activities, while professionals flock here for job opportunities. And then, of course, college students stop by for a quality education – and maybe a bit of fun.
And you can't talk about fun without discussing the dating scene.
Now, hookup culture is alive and well among college students, but it dies down once you leave campus. And we aren't just talking about one-night stands. Spotting someone down for casual dating is kind of like seeing Big Foot. Sure, maybe it can happen, but we really don't expect it – and we'll probably doubt your story if you say it happened to you.
But that doesn't mean that "friends with benefits" is off the table. Some pals hook up from time to time, but they don't classify it as casual dating or anything that seedy. It's just a couple of friends helping each other out – with one friend catching serious feelings while acting like it's not a big deal.
And that leaves us with bars and sporting events. Since casual dating isn't very common, these aren't the best places to score dates – but folks sure do try.
As you can see, the in-person dating scene is a bit of a headache. But on the flip side, Ohio dating sites have a much better success rate.
So, we have two recommendations yet again. As you probably know by now, Zoosk is our top choice for college students. And since most of the singles outside of college are looking for something serious, we're going with eHarmony for our second pick.
Population: 302,687
Men: 48.41%
Women: 51.59%
People Between 20-44: 32.3%
White-Collar: 82.11%
Blue-Collar: 17.89%
Bachelor's Degree or Higher: 34.59%
Unmarried: 68.3%
Number of College Students in Cincinnati: Approximately 69,000

---
Dating in Rural Ohio
Best Rural Ohio Dating App Recommendation: Higher Bond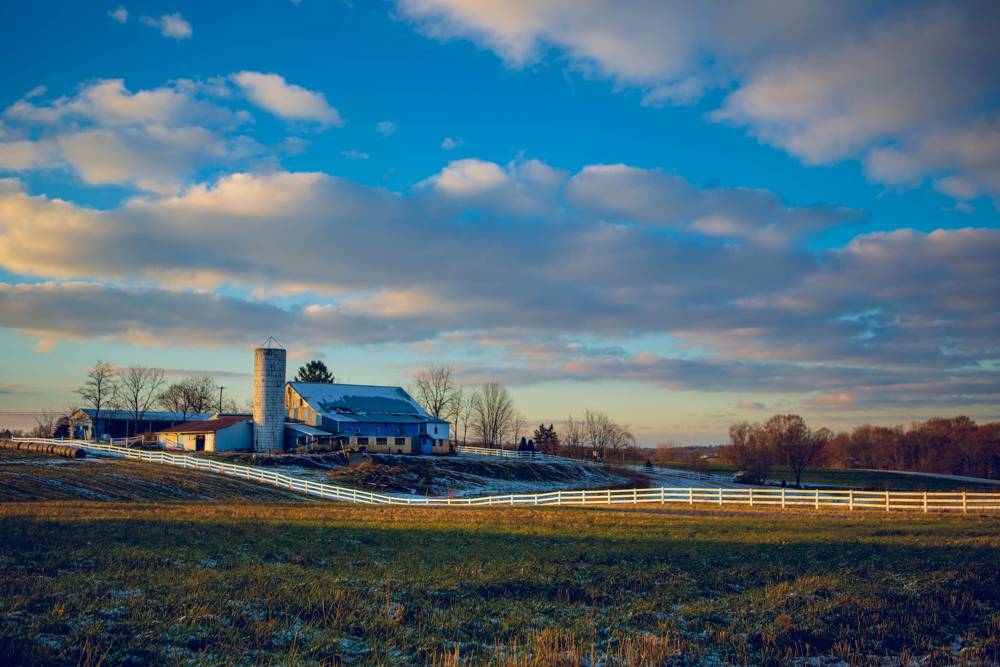 Over a quarter of Ohioans live in rural areas, adding a wrinkle to the dating game. It's not like rural singles can go clubbing to find that special someone. But while the clubs are out, church and work are in, and some folks try to get their friends to set them up.
Unfortunately, these methods rarely work due to the lack of options. It doesn't take long to get to know everyone in a rural community, so you'll run out of choices quickly.
Fortunately, Ohio has worked hard to expand internet access to rural Ohioans. And you know what that means – online dating is taking off. Rural singles love the way dating apps open them up to thousands of choices. Unlike in-person dating, they don't have to settle when using a dating site for Ohio singles.
Rural Ohio tends to be more religious than the rest of the state, especially when it comes to the farmers. With that in mind, Higher Bond is our favorite dating app for people living in rural communities. You can find a partner who shares your faith and other interests on this dating site.
Rural Population: 2,340,261
Number of Farms in Ohio: Over 77,000
Most Rural Counties: Vinton, Monroe, Morgan, Adams, and Holmes
Vinton County
Population: 12,696
Men: 50.3%
Women: 49.7%
White-Collar: 64.17%
Blue-Collar: 35.83%
Bachelor's Degree or Higher: 11.78%
Unmarried: 45.37
Number of Churches: 42


Ohio Dating Sites FAQ
What is the Most Used Dating App in Ohio?
We reviewed Google Trends for the four Ohio dating sites we selected, and Zoosk is the most popular. eHarmony comes in second, with a steady stream of search traffic each month.
How Safe is Online Dating in Ohio?
According to researchers, Ohio is one of the safest states for online dating. You're unlikely to encounter scammers or dangerous people when using a dating app in the Buckeye State.
Is Facebook Dating a Good Option?
While online dating in Ohio is relatively safe, scammers tend to flock to Facebook. You can protect yourself by avoiding Facebook dating. Instead, use one of the four best dating sites for Ohio singles.