A lot of people knock on Oklahoma's dating scene. WalletHub even listed it as one of the country's worst states for singles. But from what we've seen, Oklahomans have taken matters into their own hands and turned things around. See, they've stopped looking for love in bars and have turned to Oklahoma dating sites.
Google searches for dating apps have spiked in the Sooner State, and people have reported lots of success after moving their love lives online. And we're going to help you get on that same path to success by sharing the best Oklahoma dating apps.
Top 5 Dating Apps for Singles in Oklahoma
Choosing the right app will help you connect with singles, but we aren't stopping there. We learned some interesting info about Oklahoma's dating scene, and we're going to pass it along to you.
Let's get started by looking at the best OK dating sites. Then, you'll be one step closer to finding love in the Sooner State.
---
Jump to:
---
1. eHarmony – Best for Finding Your Happily Ever After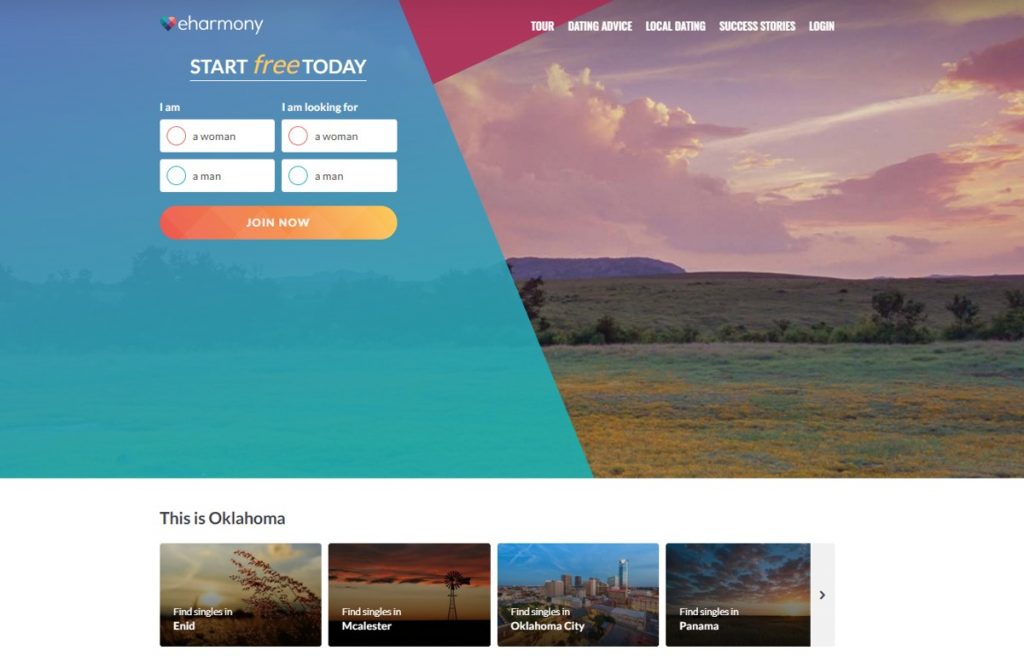 Who Will Love eHarmony: Oklahomans seeking true love that goes the distance
Who Might Not Enjoy eHarmony: Singles who aren't ready to settle down
Biggest Pro: Couples who meet on eHarmony are less likely to break up or get divorced
Biggest Con: Pricier than other Oklahoma dating apps, but most people find love within a year
Starting Price: Premium memberships start at $35.90 a month
After reviewing tons of data, Point2Point Homes ranked the states based on the likelihood of long-term marital success. Oklahoma came in at number 43, mainly due to its short marriage duration and the high share of divorced folks.
While Point2Point Homes stopped there, we did some digging to learn the "why" behind all those short marriages and divorces. And after some research, two things stood out to us.
First, Oklahomans' median age of first marriage is lower than in most states. Second, Oklahoma also has one of the highest remarriage rates in the country. Research shows that people who get married before turning 25 have a much higher likelihood of divorce. The same is true for those who get remarried.
In both cases, the high divorce rates generally come down to not knowing enough about the person before walking down the aisle. Younger folks are more likely to make rushed decisions, while divorced people are prone to rebounding their way down the aisle without finding out if they're compatible.
Fortunately, eHarmony makes it impossible to strike something up with someone you're not compatible with, thanks to its matching system based on clinical psychology.
So, you know all those things like the desire for closeness, self-control, boundaries, and communication that are important in a relationship? It usually takes years to figure out where your partner stands, but eHarmony gets the details during signup.
After getting all the info, it finds appropriate matches for its members. Matches are made based on how many of the 32 Dimensions of Compatibility members share, which has proven to work. Hundreds of people get married each day after meeting here, and the site has a lower divorce rate than Oklahoma and the rest of the country.
Don't let Oklahoma's high divorce rate scare you away. Instead, find your ideal match by creating an account on eHarmony.
---
2. EliteSingles – Best for Professionals 30 and Up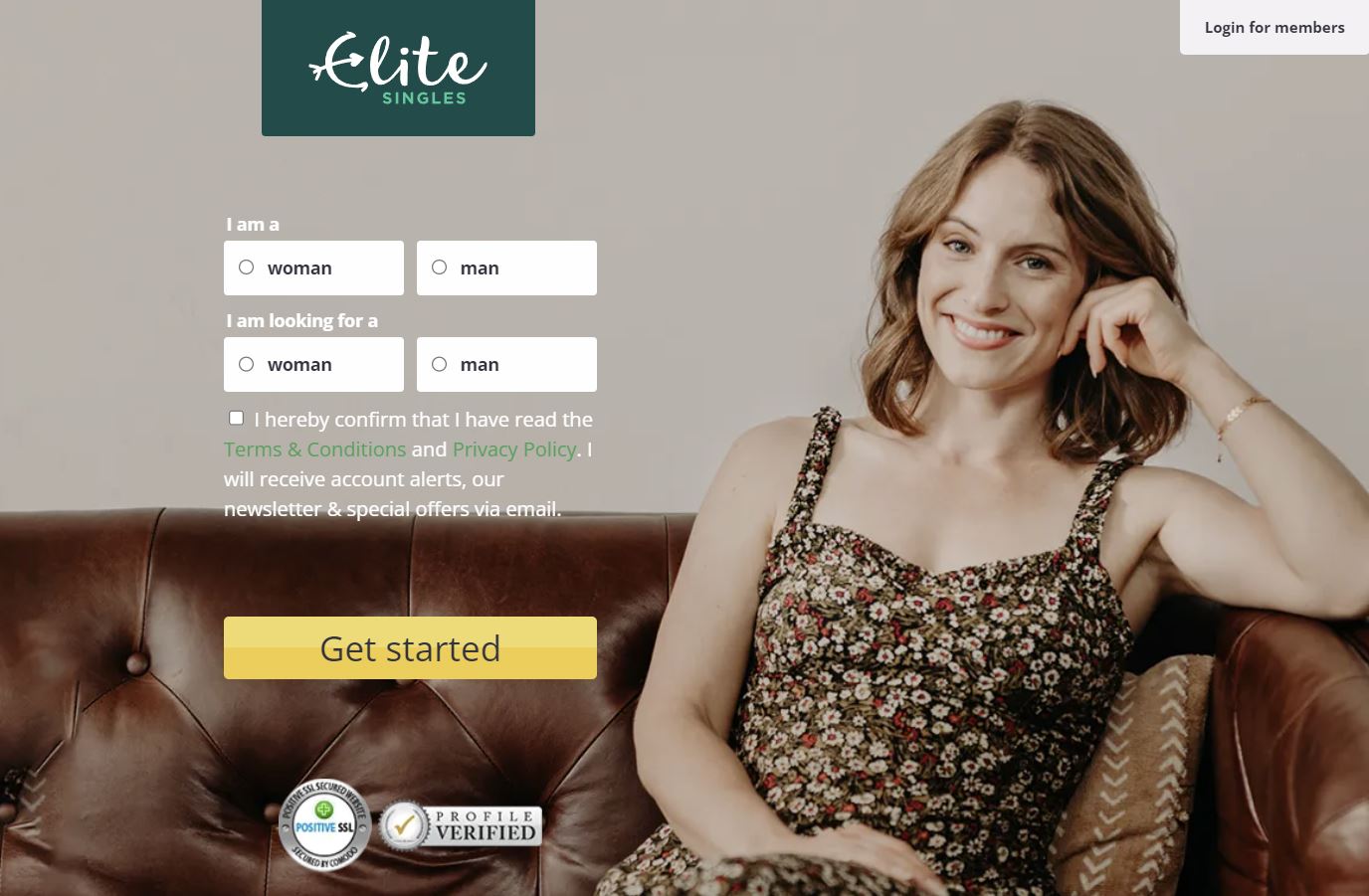 Who Will Love EliteSingles: Professionals 30 and over who want to find career-oriented mates
Who Might Not Enjoy EliteSingles: Singles who aren't devoted to their careers
Biggest Pro: Most members are professionals seeking committed partners
Biggest Con: Few options for casual daters and younger professionals
Starting Price: Premium memberships start at $27.95 a month
With aerospace, technology, healthcare, and other thriving industries, Oklahoma has proven itself as the ideal destination for professionals. It's even managed to snag top IT talent from Denver, thanks to the Tulsa Remote initiative.
While most Oklahomans marry early, we've noticed a different trend with the state's professional crowd. Many of them wait until their 30s to get serious about dating, leaving them feeling lots of pressure to find "the one." That, coupled with the difficulties of dating over 30, puts them in the position to make bad decisions.
Fortunately, you can avoid those issues and find true love on EliteSingles.
Most of the members are professionals between the ages of 30-55, so you'll feel right at home here. Even better, it's hard to make a poor decision since your matches are based on the five-factor model of personality. That means you'll find someone who fits right into your life and speaks your love language on this Oklahoma dating site.
You spent time getting your career in order, and now, it's time to pour some attention into your love life. Get things started by setting up a free account on EliteSingles today.
---
3. Zoosk – Best for Casual Daters Who Prioritize Safety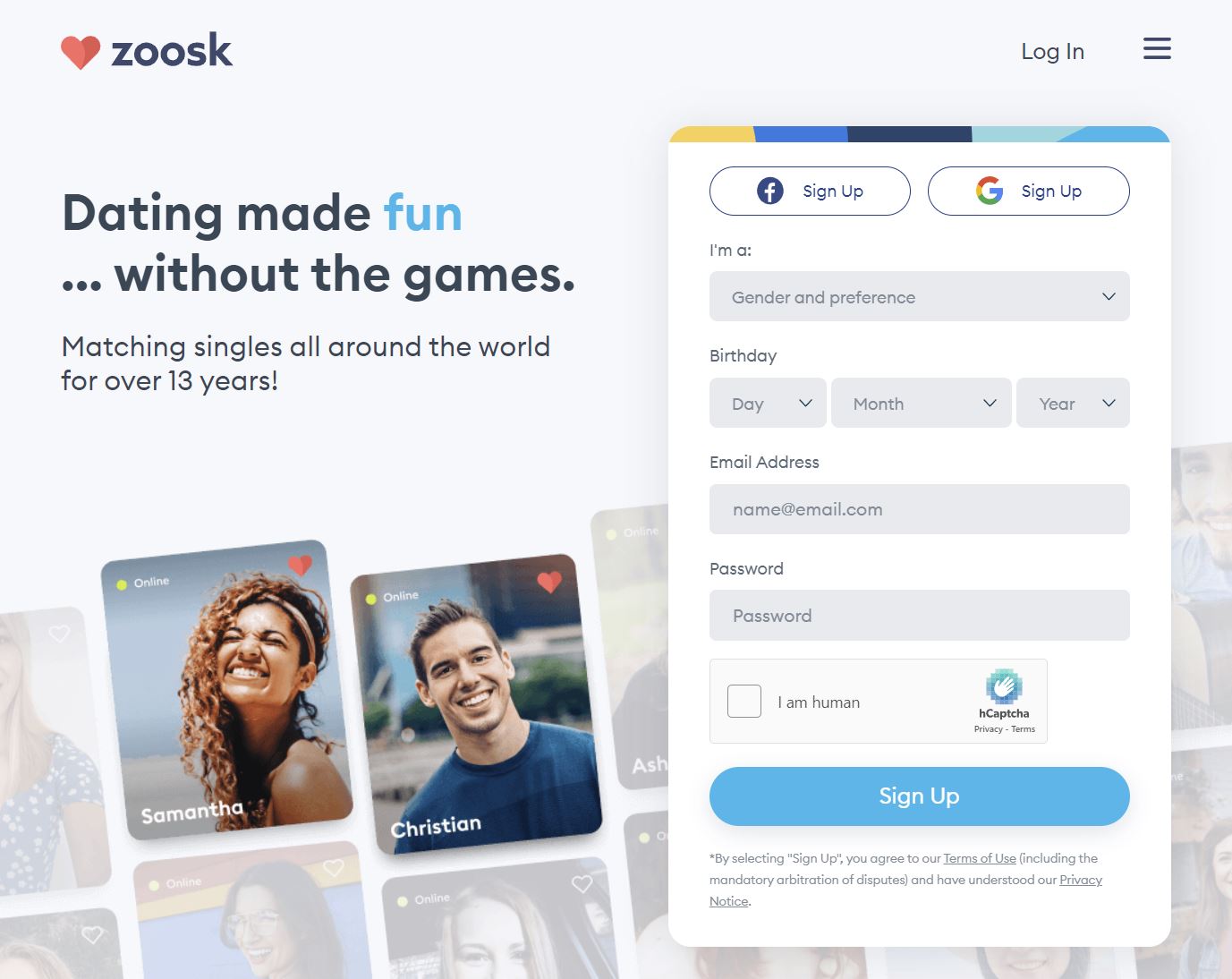 Who Will Love Zoosk: Singles interested in short-term relationships
Who Might Not Enjoy Zoosk: Serious daters who are ready to find "the one"
Biggest Pro: Profile verification, site audits, and video chat protects users
Biggest Con: Some members don't complete their profiles, but you can bypass those singles
Starting Price: Premium memberships start at $10 a month
According to Zoosk, the number of casual daters in Oklahoma is on par with what you'll find around the country. After doing a little digging, we can back that up. Lots of Oklahomans want something casual, and they fit into different categories.
First, most of the state's 200,000 plus college students want to stick to casual dating. The same is true for the thousands of unmarried active-duty military members since they don't know when they'll be deployed. And finally, newly divorced folks tend to hit the Oklahoma casual dating scene as part of the rebound process.
When you add all those people up, you can see there are lots of casual daters here. But there's also a problem…
Scammers and catfish create profiles on Facebook Dating, Reddit, and other casual dating spots. Fortunately, you can stay safe while engaging in short-term dating by meeting your matches on Zoosk.
Unlike most casual dating apps for Oklahoma singles, Zoosk allows people to verify their profiles. It also performs profile audits to eliminate scammers and offers virtual dating so people can get to know each other on the platform.
Oh, and here's something else that's great about Zoosk…
It has more than 40 million members, so you can cycle through dates if you want. As you know, it's easy to get to know everyone on Oklahoma's in-person casual dating scene, but it's honestly impossible on Zoosk.
If you want to date casually without scammers, Zoosk is the way to go. Set up your free profile on Zoosk to start meeting singles today.
---
4. Higher Bond – Best for Devout Christians Seeking Religious Mates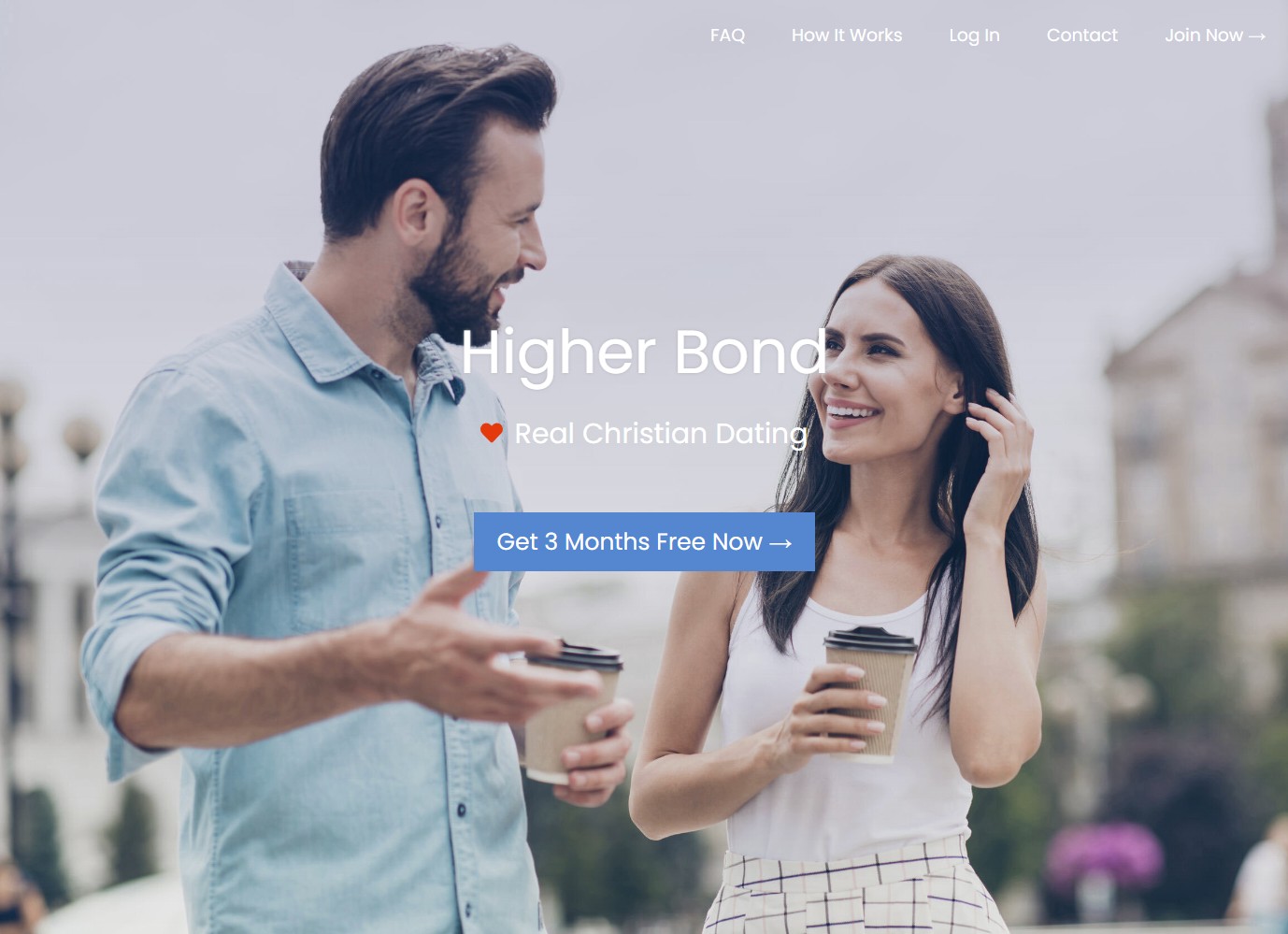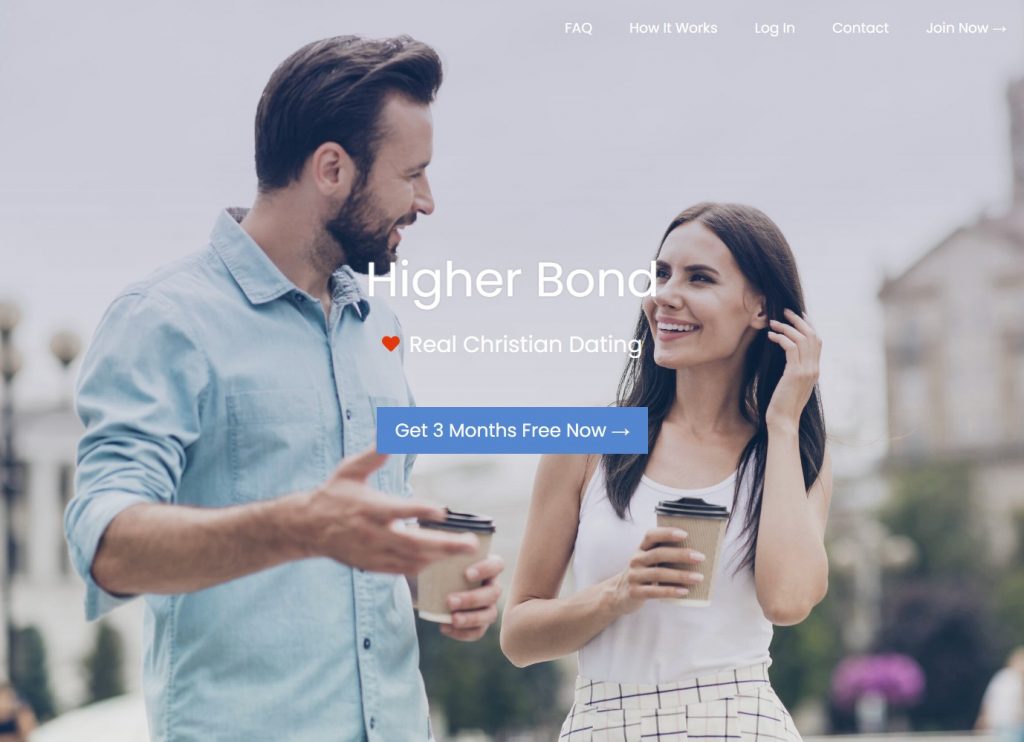 Who Will Love Higher Bond: Devout Christians seeking meaningful connections and serious relationships
Who Might Not Enjoy Higher Bond: Less-devout Christians and non-religious folks
Biggest Pro: Religious leaders and relationship counselors helped develop the matching algorithm
Biggest Con: No mobile app, although you can access the website on a mobile device
Starting Price: Premium memberships start at $14.95 a month (the first three months are free)
Sixty-six percent of Oklahomans are "highly religious," according to the Pew Research Center. Most of them are Christians, and the single ones typically want to find partners with the same beliefs and views.
Unfortunately, over 60% of Christian adults are already married or living with partners, so the dating pool isn't very big. And if you want to meet someone who's never been married, you're only left with 15% of Christians here.
With so few available Christians, you have to be strategic when looking for a partner. So, where should you look?
Over half of Oklahoma Christians attend church weekly, which is impressive. Even so, finding a partner in church isn't easy. Many of the churches here have small congregations. In fact, over 1,700 of Oklahoma's Southern Baptist Convention churches average 100 worshipers or less each Sunday.
Fortunately, you can open yourself up to other Christians on Higher Bond.
This Oklahoma dating app is a departure from what you'll get on most Christian dating sites. Designed with the highly religious in mind, it matches people based on their religious views and values, including thoughts on finances and pre-marital intimacy. Higher Bond's matching system is so on-point that the site only needs to send members 3-5 matches a day to help them find true love.
And since it's so on-point, there's no need to waste your time with meaningless conversation. That's a big complaint among Oklahomans, so we think Higher Bond's take on messaging will be a hit here. See, you can only start one new conversation a day, eliminating those generic messages that fill up too many inboxes.
If you want to find true love with a Christian, set up your account on Higher Bond today.
---
5. SilverSingles – Best for Singles 50-and-Up Seeking Affordable Matchmaking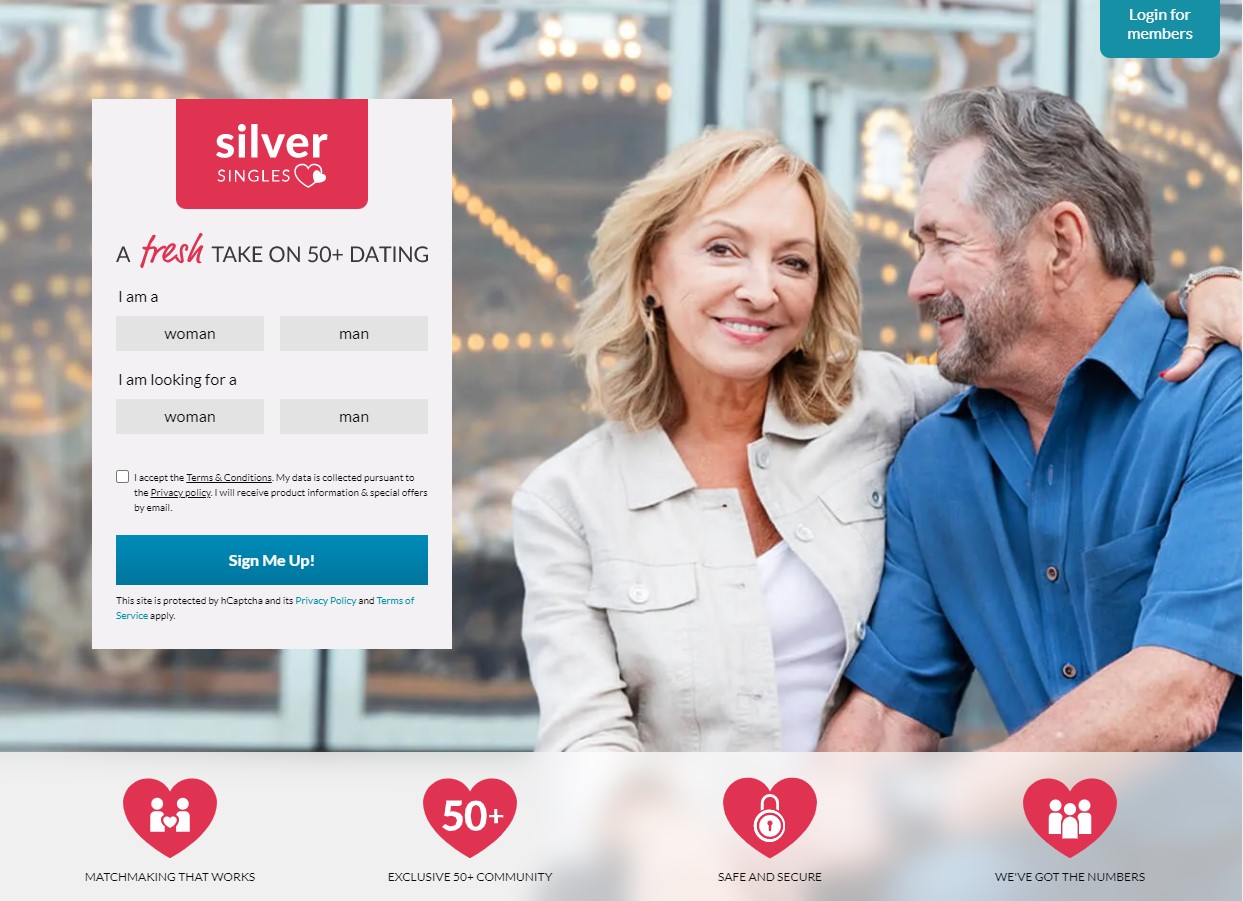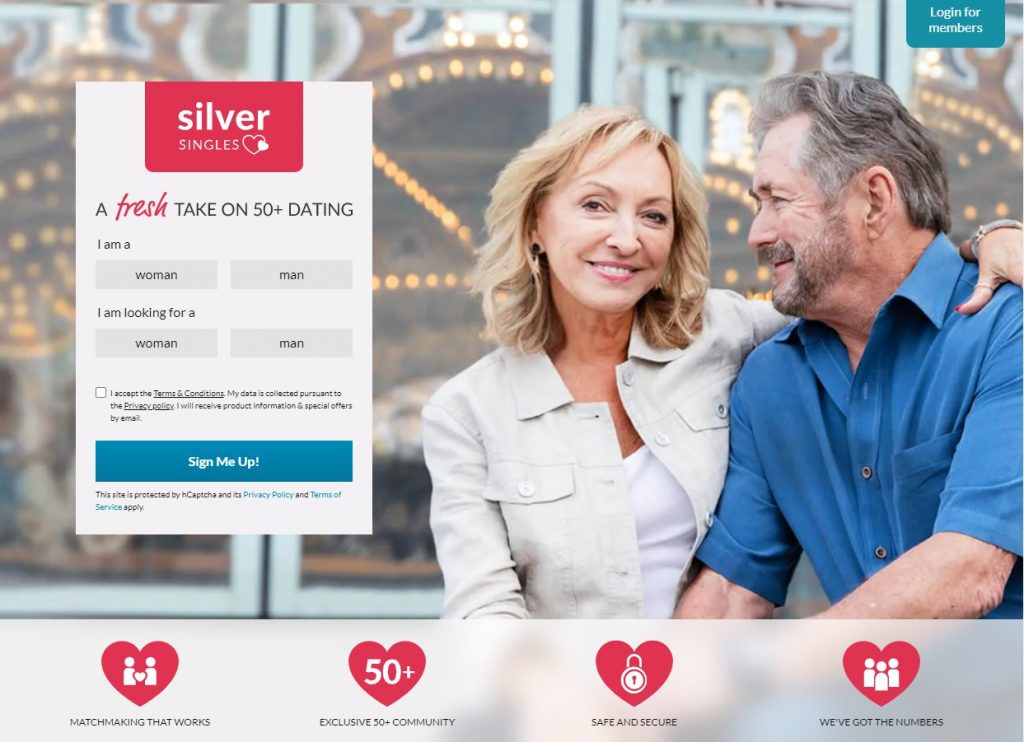 Who Will Love SilverSingles: Seniors who want to find true love without spending a fortune on a matchmaker
Who Might Not Enjoy SilverSingles: Seniors looking to date people under the age of 50
Biggest Pro: Around 2,000 couples form each month after meeting on the Oklahoma online dating site
Biggest Con: Have to purchase a membership to see member photos
Starting Price: Premium memberships start at $27.95 a month
With around a million people 50 and older, it's easy to maintain a solid friend group when aging in Oklahoma. But dating? Well, that's when it gets a little more complicated.
While most of the seniors are open to friendships, only a small portion are single and looking for love. And then, there's another issue with finding love later in life. You're pretty set in your ways and don't want to date someone who doesn't fit into your lifestyle. After all, you've spent way too long doing your own thing to change now.
Some seniors hire professional matchmakers to help them get around the obstacles, but we have a better option – SilverSingles.
While professional matchmakers charge a small fortune for their services, SilverSingles is affordable. You can even try this Oklahoma mature dating site for free. Now, that's a deal.
And as far as finding someone who fits into your life, that's easy on SilverSingles. The exclusive 50-and-over dating site considers your preferences and personality traits when finding matches. That way, you'll only connect with people who gel with your lifestyle and outlook.
But the best part…
SilverSingles has more than 800,000 monthly users around the world, including in Oklahoma. You might not have many single seniors in your neighborhood, but you'll have countless options on SilverSingles.
Are you ready to take another shot at love? Head to SilverSingles to set up a free account today.

What is the Dating Scene in Oklahoma Really Like?
Lots of People Looking for Another Chance at Love – Oklahoma has one of the highest divorce rates in the country. Also, around 10% of households are headed by single parents. Both single parents and recently divorced folks in Oklahoma are dating online.
Chivalry is Alive – Over 70% of men and nearly half of the women in Oklahoma think guys should pay for the first date, according to EliteSingles. Men also open doors and more on dates, so chivalry is part of the dating culture here.
Some Nerves are the Norm – Oklahomans often turn to Google for answers to "When to text back," When to say I love you," and "Am I in love?" Check out our dating advice to learn more about what to expect and how to act when pursuing someone.
Circles are Small – It's hard to find someone that your friends haven't already dated when you're on the market in Oklahoma. Fortunately, the best dating apps in Oklahoma can connect you to fresh faces, so you can step outside of your circle and meet new people.
Professionals Have Their Own Dating Scene – We've heard stories from professionals in their 30s who say that non-professionals aren't interested in dating them. Professionals can avoid this problem by using EliteSingles.
Singles Ignore Generic Messages – Women tend to get lots of generic messages on dating apps for Oklahoma singles. And from what we've seen, recipients usually don't reply when senders don't put in some effort. Stand out by sending the perfect online dating message.
Free Dating Sites in Oklahoma are Risky – Scammers and catfish flock to Oklahoma's free dating apps, creating a lot of inauthentic connections. Some people only lose time, while others lose their money. If you want to stay safe, grab one of our dating app free trials, and upgrade when you find one that's right for you.

Dating in Oklahoma City
With college students, young professionals, families, and retirees, Oklahoma City provides a mix of people across all demographics. And it's no wonder so many people are drawn to OKC, considering it's one of the best places to live in the country.
You know it's a fantastic city, but how's the dating scene? Get the details and check out the best OK dating apps for folks in OKC.
Lots of People Between 20-39 – OKC has more folks between these ages than the surrounding areas do. Since these are prime ages for dating, that's great news for single men and women.

But Few Single Folks – According to Bloomberg, Oklahoma City has one of the lowest percentages of single adults. Fortunately, you can find lots of single people in the metro area and other cities. Simply use one of the dating apps for singles in Oklahoma to check other locations if you can't find anyone close to home.

Most Singles Have Embraced Online Dating in Oklahoma – Pretty much all the singles here use dating apps. Most have stopped trying to meet people in person and are solely interested in making connections on dating sites.

Singles Make Friends Through Work, Bars, Church, and Activities – There are lots of friendly folks in OKC, and you can meet them in these locations. Some of them might share their contact info, but they'll probably have a friendship instead of dating in mind.
So, which of the Oklahoma dating apps should you use? If you're in college or a recent graduate, Zoosk is the ideal fit. You can start all kinds of casual relationships here and might even end up in a friends-with-benefits situation.
Once you get that out of your system, you'll be ready to move to a more serious dating site. Since OKC is a magnet for families and lots of people want serious relationships, eHarmony is our app of choice.
Population: 687,725
Men: 49.6%
Women: 50.4%
20-29: 15%
30-39: 15%
40-49: 12%
50-59: 11%
60-69: 10%
70+: 9%
Unmarried: 52.8%
White-Collar Employees: 77.6%
Blue-Collar Employees: 22.5%
Bachelor's Degree or Higher: 32.3%

---
Dating in Tulsa
With a blend of the Southwest, South, and Midwest, Tulsa has a vibrant, unique culture that you can't find anywhere else. That culture keeps people in place, and many have stayed here their entire lives. However, Tulsa's also seen an influx of new faces thanks to the Tulsa Remote initiative.
Whether you've lived here forever or you're just getting your footing, understanding the dating scene is important. Get the scoop on the dating scene and stay tuned for the best Oklahoma dating apps for singles living in Tulsa.
Churches and Bars are Social Hubs – If you ask people where to meet singles in Tulsa, they'll probably tell you to try churches and bars. While both attract lots of people, we haven't heard of many love connections that started in a Tulsa church or bar. Instead, you'll want to hit the Oklahoma online dating scene to make a real connection.

First Friday Art Crawl is Always a Hit – Tulsa has a pretty significant art scene, and you can take it in during First Friday Art Crawl. Again, making friendly connections is easy, but you'll want to set up a profile on a dating app to find love. Find out how to write a dating site profile, so you can get lots of positive attention.

Families are Tight – The singles here tend to be family-oriented, so you can expect to meet mom and dad if things get serious. On top of that, your partner might want to start a family with you soon, too.

Lots of Single Parents – Both divorced and never-married single parents make up a big chunk of the city's dating scene. Many of them want something serious so they can complete their families.
Because so many people here are family-oriented, eHarmony is incredibly popular in Tulsa. We've heard of many people finding their special someone on it, and since it attracts serious daters, you won't waste your time on people who aren't ready to settle down.
Of course, settling down is still down the road if you're in college. Instead of finding marriage material, make some fun connections on Zoosk.
Population: 411,401
Men: 48.8%
Women: 51.2%
20-29: 13%
30-49: 26%
50-69: 24%
70+: 11%
Unmarried: 55.3%
White-Collar Employees: 77.5%
Blue-Collar Employees: 22.5%
Bachelor's Degree or Higher: 32.4%

---
Dating for Farmers in Oklahoma
Best Farmer Dating App Recommendation: eHarmony
Only three states have more farms than Oklahoma, so agriculture is a driving force behind the state's economy. Plus, farmland covers three-fourths of the state, so it doesn't take long to encounter a farm or a farmer.
While farmers are often hard at work, many of them hope to find their partners. If you're in that group, learn more about dating as a farmer. Also, find out which of the OK dating apps you should use to find love.
Life Centers Around the Farm – Farmers don't clock in and out like other people. Instead, they need to be available at all times in case a situation arises. Even without unexpected issues, it's not unusual for farmers to work seven days a week. Because they're so busy, many of them use dating apps for singles in Oklahoma to find partners.

Open to Dating Farmers and Non-Farmers – There are a lot more men than women in farming, so farmers tend to be open to dating people who have other jobs as well. However, they still pursue people who understand the demands of farming.

Video Dates are Popular with Farmers – Famers can't drop everything and take someone out as soon as they make a connection online. That's why so many of them choose dating apps with video date features.
Farmers need to find compatible partners who understand their busy schedules. Also, many of them aren't interested in casual dating. They tend to be family-oriented and want to get serious out of the gate. That's why eHarmony is the best Oklahoma dating site for farmers. As an added bonus, it also offers a Video Date feature.
Farms: 86,000
Operators/Producers: 130,434
Women: Over 30%
Operators/Producers 34 and Younger: 11,965
Operators/Producers 56+: 43,673


Oklahoma Online Dating FAQ
Can You Browse Oklahoma Dating Apps without a Profile?
While some sites allow non-members to browse profiles, that creates a safety and security concern. We chose dating sites that require people to sign up before looking at the members. That's one of the many reasons these are safe dating apps.
What Dating App is Most Popular in Oklahoma?
Tinder remains the most popular Oklahoma dating app, but we have concerns about it. For one, catfishing is pretty common on Tinder, and two, it doesn't have a matchmaking algorithm in place. Check out all of our thoughts by reading our in-depth Tinder review.
We won't leave you hanging with an app to replace Tinder. Zoosk is our casual dating app of choice and the perfect replacement for Tinder. It's also one of the best dating sites in Oklahoma, so you know you're in good digital hands with Zoosk.