We're just going to put it out there – older women are hot. From their confidence and stability to their independence, you could create a massive list of reasons to date them. But coming up with a list and getting into the dating game are two different things. We're here to help you make the transition into a relationship with an older woman by sharing our favorite dating sites.
These older woman dating apps are crawling with potential matches, so you just need to set up a profile and let the ladies come your way. Get the details on these dating sites, along with some info to help you add some romance into your life.
The 3 Best Cougar Dating Apps
---
1. eHarmony – Best App for Getting Serious with a Cougar
So, we all know older men like courting and marrying younger women. What you might not realize is the opposite is true, too. More older women are marrying younger men than ever before, so it's the ideal time to get serious.
We were shocked to see that the number of so-called "Cougar Wives" in the United States has increased by 67% over the previous 50 years. These days, 15% of married women have spouses who are at least two years younger than them.
Oh, and don't forget the 6% of women married to guys at least five years younger and the 5% of remarried women with spouses at least a decade younger. Yep, Cougar love is going strong in the United States.
If you're interested in marrying an older woman, you need to make sure you're compatible so the age gap doesn't get in the way. That won't be a problem if you find love on eHarmony.
With its 32 Dimensions of Compatibility matchmaking system, you and your matches will have so much in common that you won't have any trouble enjoying marital bliss. Oh, and you can search by age if you want to expand your options.
Are you ready to find an older woman to get serious with and possibly marry? Grab a free trial to eHarmony today.
---
2. EliteSingles – Best Older Woman Dating App for Professionals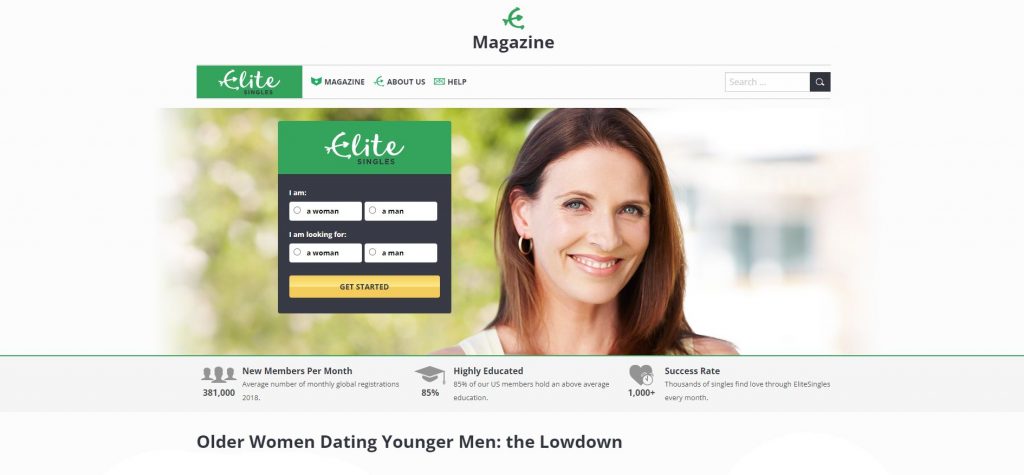 Older women didn't grow up in a world with many female CEOs or entrepreneurs. Back then, the career ladder was stacked with gender-specific obstacles that held women back. After years of knocking down those obstacles, the professional landscape has changed for the better.
But even with a more even playing field, women remember the old days all too well – and that impacts the way they date.
According to Psychology Today, a lot of successful women prefer dating younger men who didn't grow up thinking women can't make it in the business world. They don't want baggage in their relationships, making younger guys ideal relationship material.
Often, that means partnering with younger professional men who share their career goals. And that's why EliteSingles is one of the best older women dating apps.
It attracts career-oriented singles of all age groups and has led to many successful pairings between older women and younger men. You can increase your odds of finding an older woman by setting the match preferences to look for women in a specific age range.
There are tons of older women on EliteSingles who are looking for love with younger men. Test it out by creating a free account today.
---
3. Zoosk – Top No-Strings Attached Cougar-Cub Dating App
Do you love the idea of dating an older, experienced woman who has her life together, but you don't want any strings attached to the relationship? Well, we have some great news for you. A lot of older women feel the same way.
Many women date younger guys so they can enjoy some fun without the pressure of commitment. They aren't ready to give up their lives for a relationship but want to fit in some extracurricular activities.
At the same time, older women view casual dating a little differently than younger folks. They don't have time for flakes and weirdos and prefer dates they connect with on a deeper level – even if it's a short-term fling.
That's why so many older women have left Tinder behind in favor of Zoosk.
Its behavioral matching system makes it easy to find compatible matches. That means you'll connect with older women who share your interests and complement your personality. That's a must for casually dating an older woman, so we think you'll love this site.
Give it a try by setting up a free account on Zoosk today.

5 Reasons These are the Best Dating Sites for Older Women
Countless Profiles – You have a specific type and might not find it on a niche dating site. That's why we selected mainstream sites that attract lots of older women. Finding your ideal match won't be an issue on these dating sites.
Various Age Ranges – What do you consider "older?" An older woman might be in her 30s, 40s, 50s, or beyond, and you'll find lots of members in each age range on these sites.
Search by Age – You won't have to waste your time browsing profiles of younger women on these older woman dating apps. Just set your age preferences, so you can find women who create that spark you're craving.
Match by More Than Age – Sure, you're attracted to older women, but that's not all you're after. You want someone who you connect with, making these the perfect dating sites. Each site uses advanced matching algorithms, so you'll meet people who check all the boxes.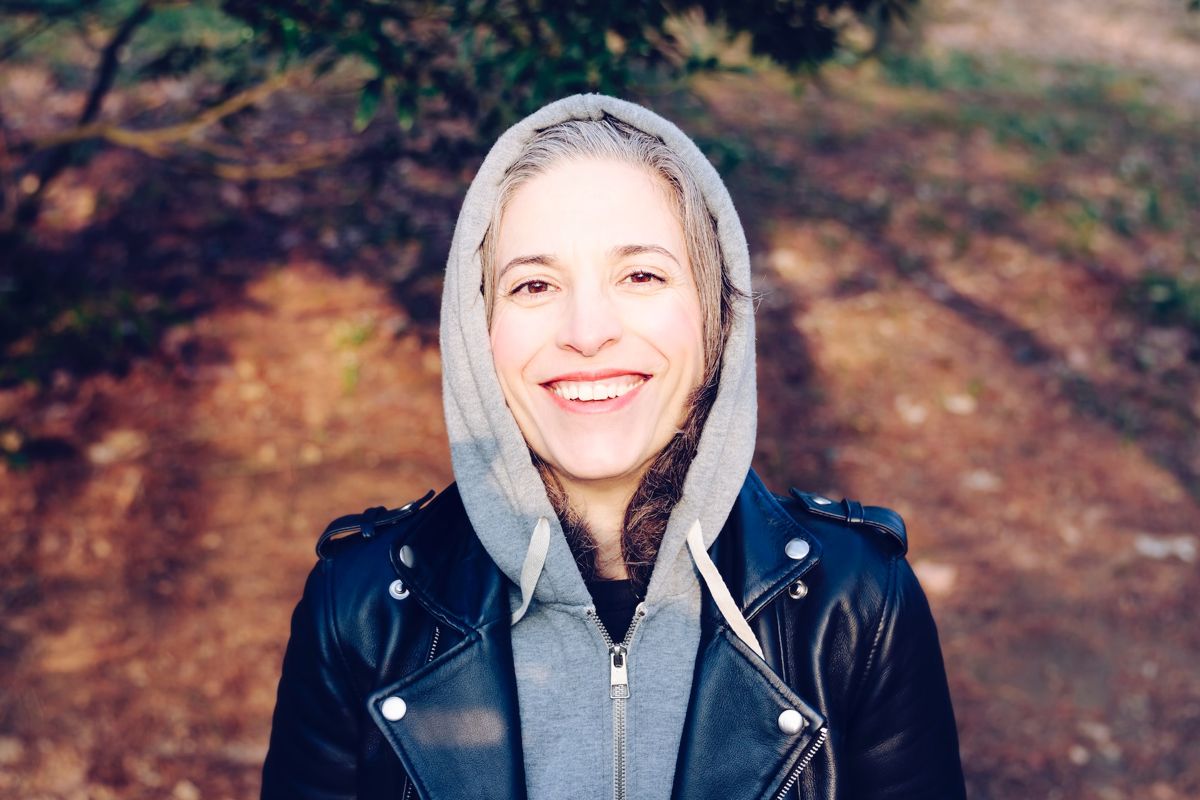 Niche Older Woman Dating Sites
Cougar Life – This is our favorite niche older women dating site, but it has some drawbacks. Our top concerns include fake accounts, a poor matching algorithm, and limited free features for men. Still, if you want a niche cougar dating site, this is our top pick.
OlderWomenDating.com – With few members, limited features, and fake profiles, this dating site is a miss. Some members even claim it's a scam.
LuvCougar.com – We spent all of one second on this site before receiving our first message from a "member." That's a sign that the bots are running the show, so the dating site gets a hard pass from us.
CougarD – Where are all the single ladies? Not on CougarD. Instead, most of the activity comes from scammers who disappear shortly after reaching out.
Cougared.com– With a small membership base, few features, and a poor matching system, we can't find much to like about Cougared.com. Oh, and the site looks like it was designed in 1999 and never updated.

Reasons to Date an Older Woman
Have you been thinking about dating an older woman but aren't sure if it's right for you? Check out some of the top benefits to see why so many younger men and women connect with older women.
Older Women are Independent – Do you feel smothered in your relationships? That's a sign that you need to shift to dating older women. Older women tend to be more independent and want their own space. That means you can do your own thing before getting together for some fun.
They Ooze Confidence – It takes decades to become secure and confident in your own skin, which is another reason to date older women. They feel confident and secure, and they know what they want. And as you know, that's sexy.
Older Women are Great Communicators – The combination of confidence and life experience makes older women excellent communicators. They aren't afraid to tell their dates what they want – including when it comes to the bedroom.
They're Mature – Are you tired of the drama and want something more stable? Older women are mature, so you can expect a drama-free relationship.
Older Women are Financially Secure – If you date someone your age, you can expect some financial issues to come up. Plus, you might have to foot the bill each time you go out. Older women are more financially secure – and often willing to treat their younger dates.
They Don't Play Games – Older women are more direct about what they want, and they aren't into games. They don't even play games when it comes to messaging on cougar dating apps. If an older woman isn't interested in you, she probably won't reply to your message. Check out our study on message response rates to see where older women stand when they aren't interested.

What to Avoid When Connecting with Older Women Online
You can get to know people online before moving things in person. While many people use the time to make a connection, it's possible to push people away, too. We've come up with some red flags that older women look for when choosing partners. Avoid sending any of these out if you want to meet IRL.
Using the Term "MILF" – Older women really hate this acronym. If you can't stop yourself from saying it, make sure you frame it as a joke instead of something serious. Some women will even back away if you joke about it.
Seeking a Therapist – Yes, older women have tons of experience and lots of life lessons under their belts. They make great confidants, but they don't like spending their time serving as therapists or life coaches. You have to take your lumps and learn your lessons like everyone else, so don't dump all your problems on your partner.
Overly Sexual – Sure, you might be fiercely attracted to older women, but getting too sexual too fast is a huge turn-off. Women of all ages pretty much agree that unsolicited pics of your you-know-what are a turn-off.
Lack of Goals – Older women understand that they're likely to be more accomplished than younger folks. Still, a lack of goals can be a dealbreaker for older women. You don't need to be in the same place in your life, but you should have a sense of direction.

Best Cities for Dating an Older Woman
Does it seem like none of the older women in your area are into dating younger folks? It turns out that women in some places are more open to it than others.
Plenty of Fish surveyed its members to find out where older women are most likely to date younger guys. It discovered that Texas is a Cougar stomping ground, but that's not the only state where you can find older women into younger men.
If you can't find any older women in your area, check out the following cities:
San Antonio, TX
El Paso, TX
Houston, TX
Dallas, TX
Fort Worth, TX
Las Vegas, NV
Atlanta, GA
Jacksonville, FL
Los Angeles, CA
If you go this route, you might have some distance between you and your special someone. This might make it hard to get serious unless you intend to relocate, but you can still have casual dates with someone you meet on any of these older woman dating apps.