Did you know that "best dating apps" was the most Googled relationship question in Oregon for the last two years? Singles here have realized that the bar scene is a letdown and online dating is the way to go.
But where did those guys and gals go after researching online dating in Oregon? You don't have to follow their trail because we've done it for you.
After reviewing user data, success rates, and the state's dating scene, we're ready to unveil the best Oregon dating apps. Take a look at the top sites, but don't head to one quite yet. Instead, stay tuned to find out which of the five is right for your dating style.
Top 5 Dating Apps in Oregon in 2023
Choosing the right dating site for Oregon singles is step one. In order to help you be successful out there, we're also going to give you some important info on the Beaver State's dating scene. And finally, we have some answers to popular questions about finding love in Oregon, so you'll have all the info you need to find your plus one.
---
Jump to:
---
1. Zoosk – Best for Casual Dating at Any Age
Who Will Love Zoosk: Singles who want lots of options when dating casually
Who Might Not Enjoy Zoosk: Oregonians ready to settle down and get married
Biggest Pro: Diverse membership base includes people interested in various types of casual dating
Biggest Con: Need to use the Oregon dating app for a while before the behavioral matching system works
Starting Price: Premium memberships start at $10 a month
According to OkCupid, 32% of women and 61% of men in the United States are open to casual dating. Oregon men follow the national trend, but not the women. Nope, they blow that statistic out of the water, with nearly 38% of them down with dating without the strings.
Now, you might think it's only common in Portland, but the scene extends throughout the state.
Take the state's 200,000 plus college students, for instance. They're spread throughout the state, from Coos Bay to La Grande. That means there's no shortage of options, no matter where you live.
But you don't have to stop there. We've noticed that people of all ages and in various stages of life prefer keeping things casual in Oregon. That includes recent college graduates all the way to retirees.
But even with all those interested folks, it's hard to land dates in the wild.
For one, it's close to impossible to catch someone's eye while hanging out at busy hotspots. And two, people in rural areas don't see many fresh faces. Without many people to date, some folks end up in long-term relationships, even if they'd rather keep their options open.
Fortunately, you won't have these problems with Zoosk.
As the best casual dating app for singles in Oregon, Zoosk has an assortment of members in various age demographics. Whether you want someone who just started college or you're looking for an older single, you can find it here. That's one nice thing about using a dating site with over 40 million members.
Plus, you'll find everything from people looking for fast flings to short-term and open relationships. Check it out by setting up your free account on Zoosk today.
---
2. eHarmony – Best for Finding Love that Lasts
Who Will Love eHarmony: Oregonians who want to find their soul mates
Who Might Not Enjoy eHarmony: Casual daters who don't want to commit to long-term relationships
Biggest Pro: Couples who meet on this serious dating app for Oregon singles are more likely to stay together for the long term
Biggest Con: Sign-up takes around 20 minutes or so, but that helps the site get accurate personality results
Starting Price: Premium memberships start at $35.90 a month
Considering that over half of Oregon's adults are married, we know that people here value long-term commitments. But happily ever after isn't always in the cards since marriages don't always last in the Beaver State.
Over 430,000 Oregonians are divorced, explaining why the state has one of the highest remarriage rates in the nation. And unfortunately, divorce rates increase when people get married more than once, so lots of singles here feel stressed and hopeless. Seriously, it's hard to balance the desire to get married with the fear that it won't last.
Fortunately, you can follow your heart and forget about the fear on eHarmony. This is the best Oregon dating app for serious relationships, and it gets results. And those results don't just last for a year or two. Couples who meet on eHarmony are among the happiest and most successful around.
eHarmony's compatibility matching system is rooted in science. Well, clinical science, to be specific. See, the co-founder is a clinical psychologist, and he used his real-world experience counseling couples to create the matching system.
Over two million people have met their special someone here, and most of them are happy to this day. And they'll likely continue to be happy since eHarmony's divorce rate is just 3.86%. When you compare that to the country's divorce rate of 40-50%, eHarmony is the clear winner.
Actually, the couples who meet here win. eHarmony just facilitates those connections.
Some Oregon couples are struggling, but you don't have to be one of them. Make sure your love story has a happy ending by setting up a free account on eHarmony today. Since most people find true love within a year of singing up, you won't have to wait long for your happily ever after.
---
3. The League – Best for Young, Ambitious Singles Looking for Elite Partners
Who Will Love The League: Ambitious, driven, young singles
Who Might Not Enjoy The League: Singles who want to browse thousands of profiles
Biggest Pro: Curated membership list means there's someone for everyone
Biggest Con: More expensive than other dating apps in Oregon, but that's part of why it's so elite
Starting Price: Premium memberships start at $74 a week
We have to admit we were a little shocked to see how many successful young people live in Oregon. From Kellan Navarre of Goddess Mousse fame to Mariano Segura and Hanna Paulette Wolf of Electerro, this state is full of accomplished young folks.
While a lot of the success stories live in Portland, we've heard of big things happening around the state. And it's no wonder considering that Oregon's investing in rural innovation. That's led to 20-somethings starting their own companies faster than we can type their names.
That made us think about how hard dating has to be when you're young and successful. It's not like you're going to find your ambitious match at the local watering hole. And sure, you could settle for less, but you don't want the wrong partner to suck your ambition dry.
That's why The League is one of the top Oregon dating apps. It's not only one of the most elite dating sites out there, but it's the cream of the crop when it comes to meeting young, ambitious singles.
And that's all you'll meet since it's so exclusive.
So, the League is like the Multnomah Athletic Club of dating apps. In other words, you can't just sign up and get access. Instead, it vets and approves members, ensuring that it maintains a curated membership base of young entrepreneurs, executives, directors, and other success stories.
Notice that we said, "young?" The median age is a mere 28 years old, and the majority of members are between 25-35.
The League knows that successful young folks are busy enough, so it only matches people with members who meet their criteria. It's all about quality over quantity, leading to true connections – and creating power couples.
Oh, and are you worried about your professional connections seeing you cruising for singles on dating apps? That might be a problem on other Oregon dating sites, but not The League. Just block your Facebook and LinkedIn contacts for drama-free browsing.
Are you ready to become part of a power couple? Start the process by setting up your profile on The League
---
4. SilverSingles – Best for Singles Looking for Love at 50 and Beyond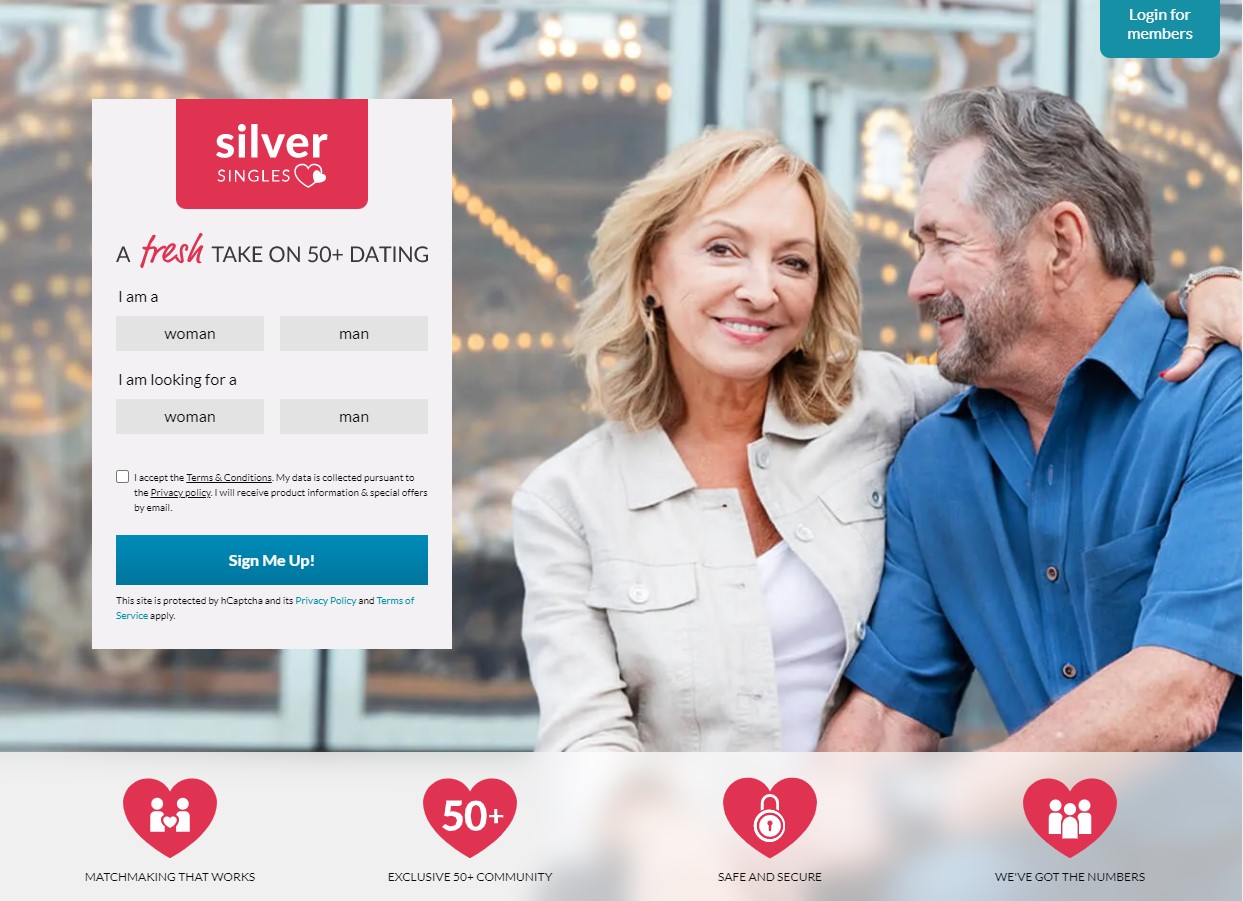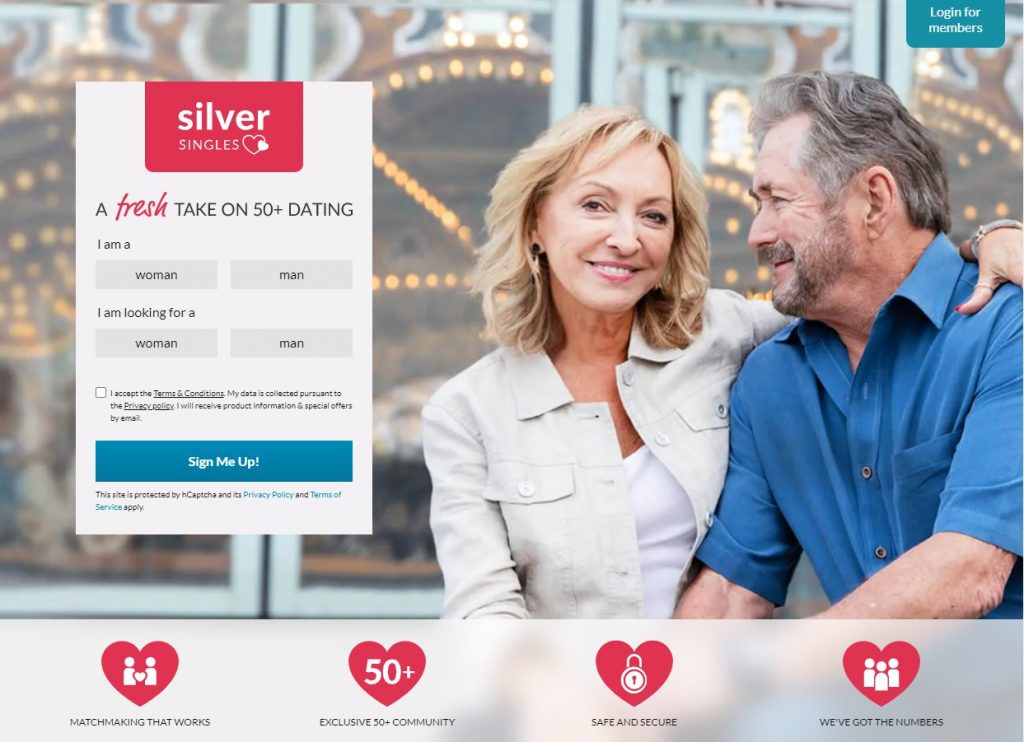 Who Will Love SilverSingles: Singles 50 and over who want to date people in their age group
Who Might Not Enjoy SilverSingles: Seniors looking for younger partners
Biggest Pro: Exclusively open to singles 50 and up
Biggest Con: Free accounts have limited features
Starting Price: Premium memberships start at $27.95 a month
Some states only have hundreds of thousands of people 50 and over, but not Oregon. It boasts around 1.5 million folks in this age range, and a fair number of them are on the dating scene.
Now, we've heard of some seniors meeting people while engaging in activities. Heck, some even go younger and pick up bartenders and others while out and about. But even though Oregon seniors don't sit on the dating sidelines, many of them have trouble making connections.
See, the in-person dating scene is built for the younger crowd, and even 20-something have trouble these days. That's why it's so important to use a mature Oregon dating site. And after reviewing the data, we're confident that SilverSingles is the right choice.
While some Oregon seniors use mainstream dating apps like eHarmony, we've heard a lot of complaints about the lack of options in their age group. Fortunately, SilverSingles is exclusively open to people 50 and over.
And another reason this is great for seniors? You can access it on a desktop or mobile device. Oregon seniors tend to use desktop PCs when they're home, so SilverSingles is a fantastic fit.
This Oregon dating site for seniors also has a high-quality membership base and an excellent matching system based on the five-factor model of personality. Check it out by setting up a free account on SilverSingles today.
---
5. Higher Bond – Best for Christians Searching for Likeminded Partners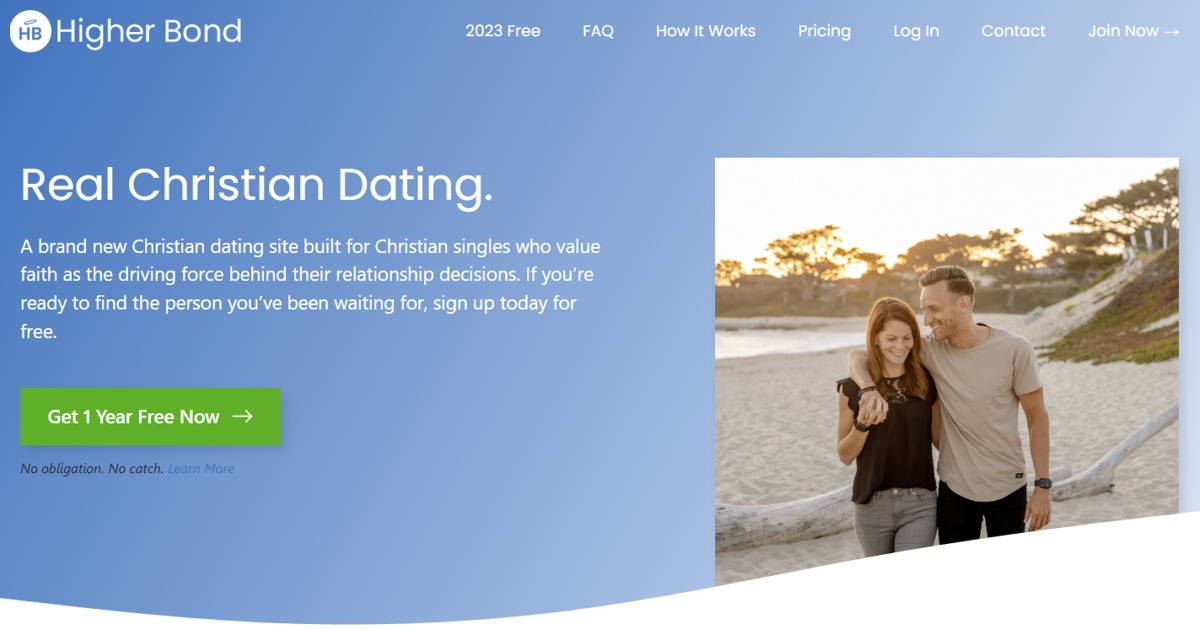 Who Will Love Higher Bond: Christians who want someone who shares their views and beliefs
Who Might Not Enjoy Higher Bond: Secular singles and Christians interested in dating them
Biggest Pro: Matches people based on beliefs, lifestyle, and personality
Biggest Con: Launched in 2022, so it has fewer members than other Oregon Christian dating sites (but growing fast)
Starting Price: Premium memberships start at $14.95 a month (the first three months are free)
So, here's something that might come as a surprise. Almost half the adults in Oregon are "highly religious." But it's not like Christianity has taken over since over 30% of Oregonians are "religious nones." As you can imagine, all those "religious nones" make it hard to find a Christian partner.
An even bigger challenge? Christianity means different things to different folks in Oregon.
You'll find lots of traditional Christians in the rural areas, but liberal Christianity is surging in Portland and some other metros. Liberal and traditional Christians have different belief systems and usually don't mesh well in romantic relationships.
Fortunately, you'll leap right over these obstacles if you use the best Christian dating site in Oregon – Higher Bond.
While some Christian dating apps treat all Christians the same, Higher Bond is all about the small details. Its sign-up questionnaire doesn't take long to complete, but it covers all the key areas, from gender roles to watching R-rated movies. Oh, and it finds out where all the members stand regarding pre-marital intimacy, too.
If you're searching for a like-minded Christian partner, set up a free account on Higher Bond today. The first three months are free, so you'll have plenty of time to meet Christians without paying a dime.

What is the Dating Scene in Oregon Really Like?
Singles are Outdoorsy – Oregon is an outdoor paradise, and lots of singles are ready to mingle while tackling an adventure. Your first date might include climbing, hiking, boating, or kayaking.
Lots of People Are Looking for Another Chance at Love – Oregon has a higher share of divorced people than the national average. Close to 13% of adults are divorced, and many of them are back on the dating scene. They often turn to dating sites for Oregon singles so they can make real connections.
Diversity is Increasing – While the majority of Oregonians are White, the state has become more diverse in the last ten years or so. These days, fewer than three-fourths of the population is White alone. Hispanics and Latinos make up 14% of the population, followed by Asians at 5%. You'll notice the increased diversity when engaging in online dating in Oregon.
Cuffing Season is the Antidote to Winter – Oregon's winters are long and cold, and most folks don't want to be alone. Many of them flock to dating sites in September or October to find mates to stay with all winter.

Dating in Portland
Best Portland Dating App Recommendation: Zoosk and The League
We have to admit that Portland is one of the coolest cities in the world. Seriously, where else can you go on a naked bike ride without getting arrested? We aren't going to try to find out, but we're impressed by how unique Portland is. People here don't copy anyone else, even when dating.
So, what's dating like here? And what's the best dating site in Portland, Oregon? Let's find out.
Men are Chatty on Dating Apps – According to Zoosk, Portland men reply to messages at a higher rate than guys from any other state. You can increase the odds even more by checking out some tips on sending messages on dating apps.

Casual Dating and Open Relationships are Common – Portland has one of the country's most active casual dating scenes, according to Zoosk. Now, we aren't saying people never get serious, but that usually doesn't happen before age 25.

Partying is the Norm – Portlanders know how to have a good time, and you'll see that play out a lot during dates. But should you imbibe on the first date? Get our thoughts on drinking on the first date for some help making your decision.

Time is a Commodity – People here have full, busy lives, so they aren't willing to go out with someone who doesn't check their boxes. That's even true when keeping things casual. Folks need to feel a real connection to commit to a second date.
Now, let's think about dating apps. With over 100,000 college students in Portland, a casual dating app is a must. Plus, most people under 25 want to keep it casual, so Zoosk is our first choice for Portlanders.
We've also noticed that Portland has a lot of elite singles, and they aren't into wasting their time. And that's why The League is our second pick. You'll get to mingle with some of the best and brightest, and the site buries people who swipe on everyone without reaching out. That's a great feature for people who don't want to waste their time.
Population: 641,162
Men: 49.7%
Women: 50.3%
20-24: 5.9%
25-34: 15.5%
35-44: 14.7%
45-64: 25.5%
65+: 14.9%
Unmarried: 57.5%
Living in the Same House as Last Year: 82.1%
White-Collar Employees: 85.2%
Blue-Collar Employees: 14.8%
Bachelor's Degree or Higher: 51.9%
College Students: Over 100,000

---
Dating in Eugene
With a hefty dose of art and recreation, Eugene is a paradise. The city's home to professionals, college students, recent graduates, and others, meaning everyone can find a partner here. But first, you have to know what to expect on Eugene's dating scene. Let's take a closer look.
Singles are Active in the Community – From volunteering to joining Meetup groups, people here aren't afraid to get out and meet new folks. Still, it takes a lot of time to foster those relationships and start dating. If you want to fast-track your love life, using one of the top Oregon dating apps is a must.
All Kinds of Relationship Types – From long-term monogamy to polyamory, you'll find lots of dating styles here. Casual dating is also really popular, especially during cuffing season.
It Gets Harder as You Age – Eugene's dating scene feels like it was built for the younger crowd. Once you hit 25 or so, it gets much harder, mainly because people shift to seeking serious relationships.
Even though Eugene ingles have various dating styles, you can break them into two categories: casual and serious. College students and single men and women under 25 prefer casual dating, so Zoosk is our pick.
It's a lot harder for serious daters to find love in Eugene, but eHarmony can change that. As the best Oregon dating site for serious relationships, it's your ticket to true love.
Population: 175,096
Men: 49%
Women: 51%
20-24: 9.4%
25-34: 13.1%
35-44: 12.1%
45-64: 24.5%
65+: 19.3%
Unmarried: 60.2%
Living in the Same House as Last Year: 74.1%
White-Collar Employees: 83.7%
Blue-Collar Employees: 16.3%
Bachelor's Degree or Higher: 43.8%
College Students: Over 34,000


Oregon Dating Sites FAQ
What is the Best Dating Site for Rural Oregon Singles?
Rural Oregon has a large percentage of seniors, so SilverSingles is our top pick for these folks. However, it's only open to the 50 and over crowd, so you'll need to choose a different app.
Many of the younger singles in rural Oregon are into casual dating but don't have enough options close to home. Zoosk will fix that problem, though. It's the best casual dating site in Oregon and has more than 40 million members.
And finally, eHarmony is our choice for those who are done with casual dating but under the age of 50. You can find a long-term partner on this dating app for singles in Oregon.
What's the Best City for Oregon Singles?
According to WalletHub, Portland is the fifth-best city for singles in the country and the top in Oregon. It provides lots of dating opportunities and ample options for fun and recreation. You can get in on this dating scene by setting your Oregon dating site to Portland.