It might seem like everyone else is coupled up in Rhode Island, but that's far from true. See, Rhode Island is tied with Louisiana for the largest share of single adults in the country, so there are lots of available men and women out there.
Even so, Rhode Island has a small population, so you can't expect to run into single folks when out and about. That explains why people here are downloading and using Rhode Island dating sites in such high numbers. They prefer this method since they can look through hundreds or thousands of profiles instead of running into one or two single people in the wild.
But what dating apps are singles in Rhode Island using?
We followed their trail and came up with the top dating sites for serious and casual dating. Check out the best Rhode Island dating apps, but don't download one quite yet. Instead, stay tuned to find out which you should use.
Top 5 Rhode Island Dating Apps (2023)
We're also going to let you in on what to expect on Rhode Island's dating scene. The info will help you make connections online that you can bring into the real world. Let's get started so you can go full steam ahead and land some dates.
---
Jump to:
---
1. Zoosk – Best for Rhode Island Dating without the Strings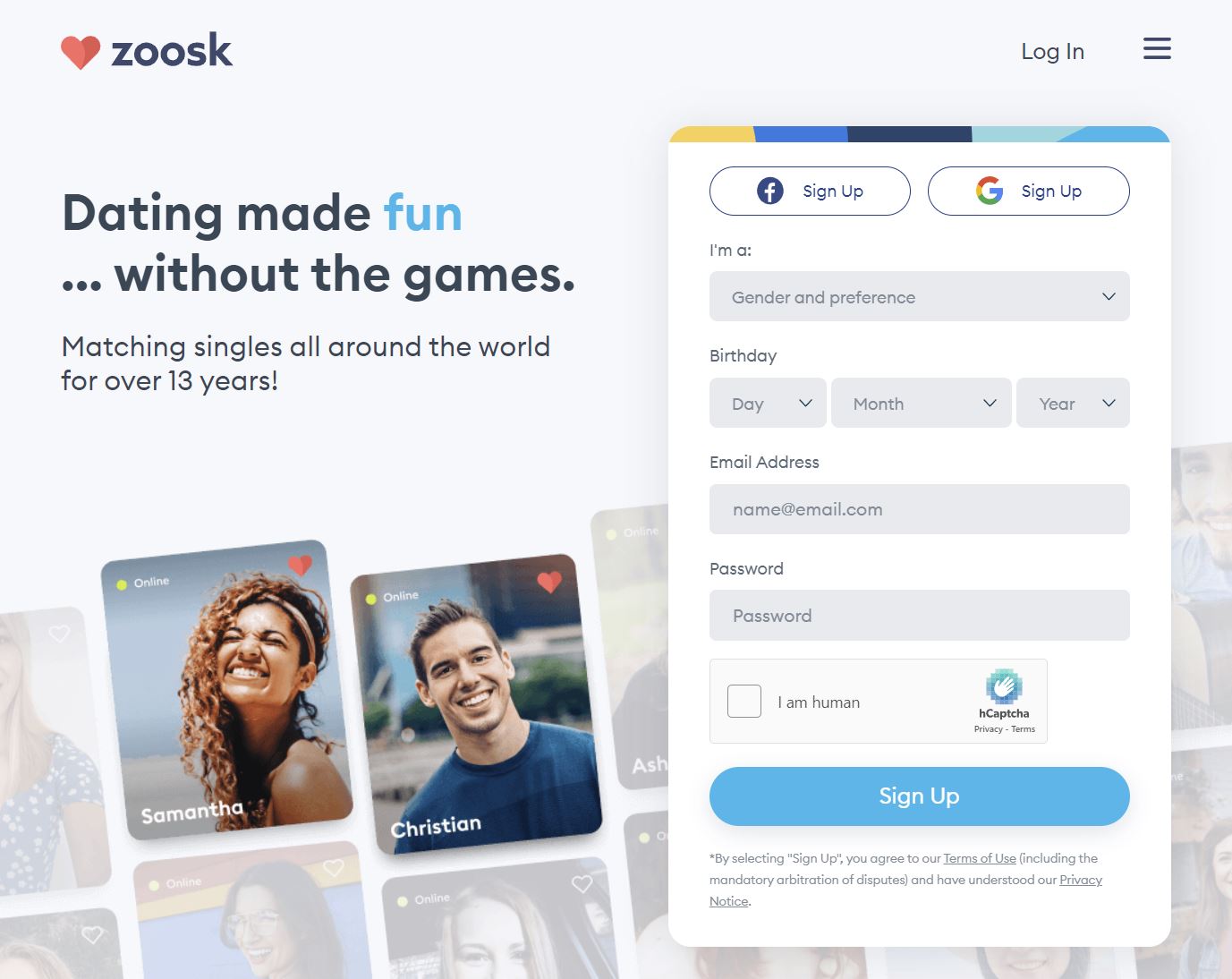 Who Will Love Zoosk: Casual daters interested in finding compatible partners for short-term relationships
Who Might Not Enjoy Zoosk: Rhode Islanders ready to get married
Biggest Pro: Diverse membership base with different dating styles
Biggest Con: Takes behavioral matching algorithm some time to learn your dating style
Starting Price: Premium memberships start at $10 a month
Did you hear about Four Loko's study on the "thirstiest" states? The alcoholic beverage company poured over Google search data to find out where the most singles live.
The winner? Well, that honor went to Rhode Island. No wonder there are so many hookup sites open to Rhode Islanders.
But those sites rarely lead to good results. Plus, most singles don't live near wild nightlife scenes, so meeting people in the wild is out, too. Fortunately, you can quench your thirst over and over again on Zoosk, the best casual dating site in Rhode Island.
Zoosk has over 40 million members, which is around 40 times Rhode Island's population. Most of those members prefer casual dating ranging from fast hookups to short-term relationships. You can even find folks down with open relationships on here. That's important since open relationships are also big in Rhode Island.
And you know what else is big in Rhode Island? Real connections. And Zoosk wins there, too, since it uses a behavioral-based matching algorithm. That way, you can meet people you're really into instead of finding singles who are just "good enough."
If you want to embrace Rhode Island's casual dating scene, head over to Zoosk today. Set up your free profile and start matching with singles in Rhode Island and beyond.
---
2. EliteSingles – Best for Professionals Who Want to Maintain Their Image when Dating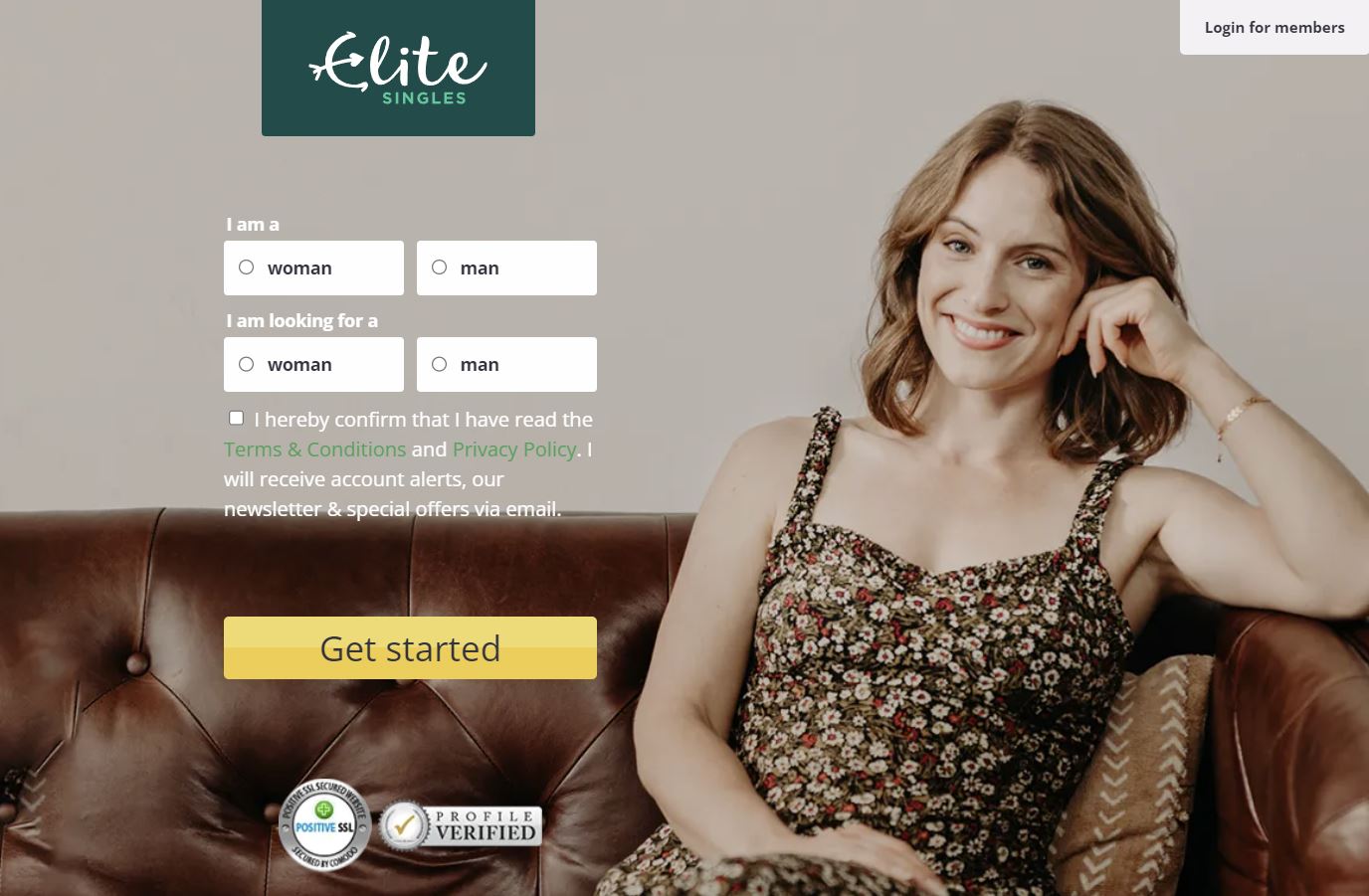 Who Will Love EliteSingles: Professionals who want to maintain their reputations while falling in love
Who Might Not Enjoy EliteSingles: Non-professionals and casual daters seeking short-term romances
Biggest Pro: Almost all the members are successful professionals
Biggest Con: Need to pay for a membership to see profile photos
Starting Price: Premium memberships start at $27.95 a month
Rhode Island might be a small state, but it has lots of professionals. With key industries that include biomedicine, healthcare, and education, some of the country's best and brightest folks live and work here.
Because social circles are tight (and overlapping) in Rhode Island, professionals are often hesitant about hitting the dating scene. They know that dating the wrong person can have an impact on their personal and professional lives, and getting romantic with coworkers is out of the question. And from what we've heard, that's enough to keep some professionals on the sidelines.
Making matters more challenging, a lot of professionals work in towns surrounded by colleges. They know their careers will take a big hit if they mingle with the college crowd, adding yet another reason to be nervous.
Fortunately, it's easy to get over those jitters and head straight toward a connection on EliteSingles.
Since this dating site mainly attracts career-oriented professionals, the people you meet here will improve your status instead of hurting it. Seriously, you can create a power couple on here. Even better, the site uses the five-factor model of personality to match people. That means you'll mesh in all the important areas when connecting with people on this dating app for singles in Rhode Island.
And get this…
The professional dating pool might be small in Rhode Island, but it's massive on EliteSingles. It has around four million members in the United States, along with members in other countries as well.
Find your ideal match by creating a free account on EliteSingles today. It won't be long before you find the perfect ambitious single to have by your side.
---
3. eHarmony – Best RI Dating App for Love without the Stress
Who Will Love eHarmony: Serious daters ready to find "the one"
Who Might Not Enjoy eHarmony: Casual daters who want to date around
Biggest Pro: Couples who meet on the dating app for Rhode Island singles have a higher chance of success
Biggest Con: Pricier than other dating apps, but is the last dating site most members ever need to use
Starting Price: Premium memberships start at $35.90 a month
Rhode Island has some of the lowest marriage and divorce rates in the country. That can make you think that most people aren't into settling down, but those who do go the distance. In reality, the marriage and divorce rates have more to do with a big problem that Rhode Islanders face.
See, Rhode Island is considered one of the worst states for getting a divorce, thanks to its processing period of 510 days. That scares some folks off from tying the knot. And from what we've heard, it also keeps some married couples together, even if they'd rather part ways.
As for the couples who are riding it out to avoid dealing with divorce, they often cite not knowing each other very well before getting married. Their mates turned out to be entirely different from what they expected, so now they're living the opposite of wedded bliss.
That's some scary news, but the best Rhode Island dating app for serious relationships offers a solution. That dating site is eHarmony, and it specializes in creating compatible couples.
So, how effective is it? A review of data discovered that eHarmony's divorce rate sits at 3.86%. That's quite a bit lower than the national divorce rate of 40-50%. It's basically a blip on the radar, so you're not likely to have relationship problems if you meet on eHarmony.
Seriously, the couples who meet here aren't staying together to avoid the headache of splitting up. See, eHarmony matches people based on 32 personality traits ranging from communication to relationship style. This system is so effective that you'll feel like you've known your match forever when meeting on this Rhode Island dating app.
If you're looking for "the one," it doesn't get better than eHarmony. Click the button below to set up a free profile today.
---
4. SilverSingles – Best for Finding a Soulmate Later in Life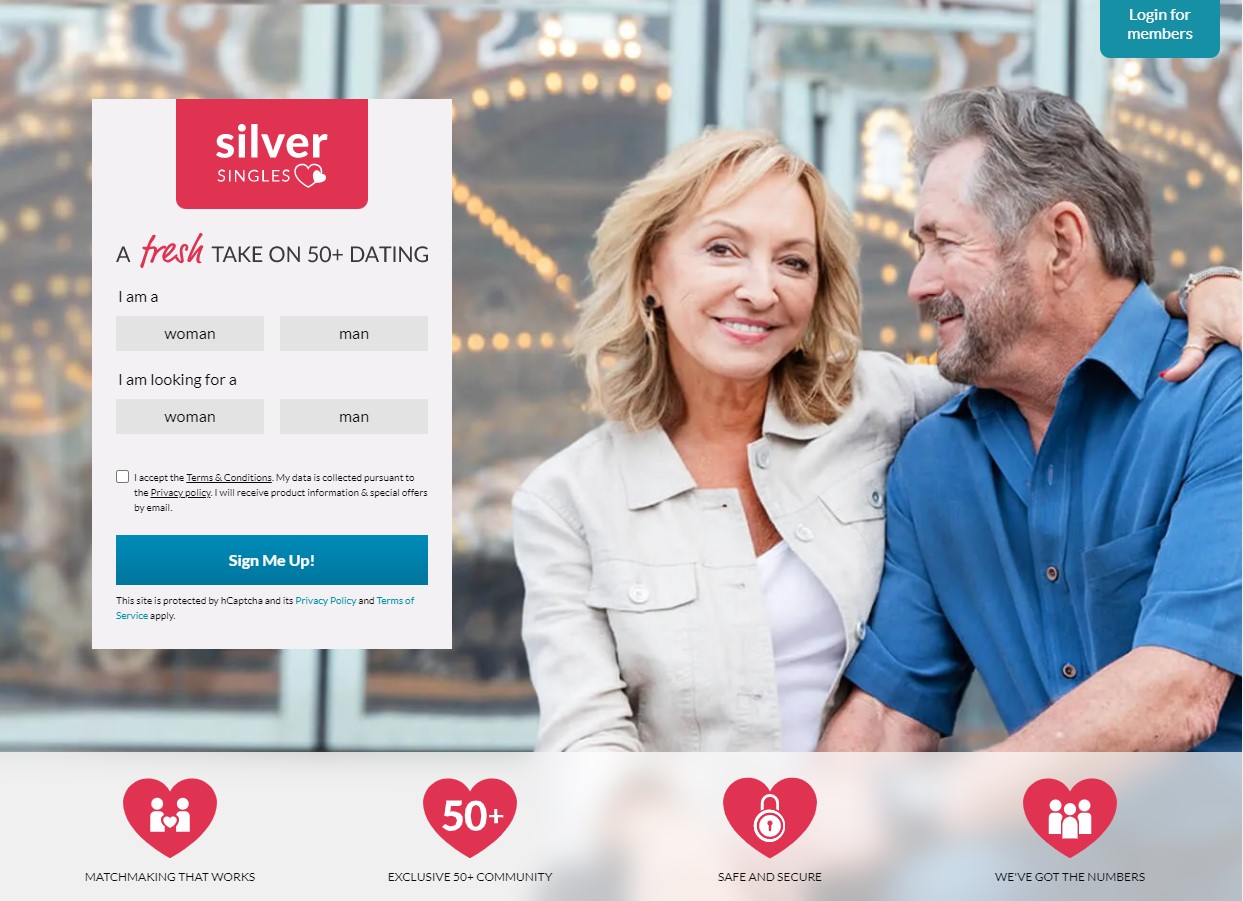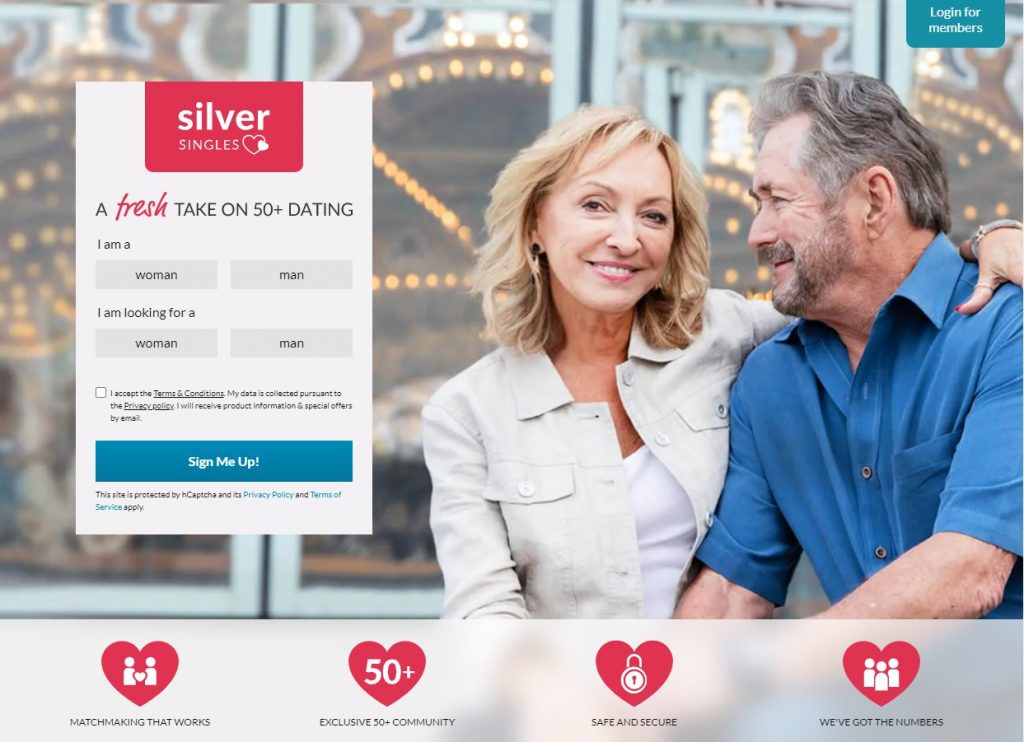 Who Will Love SilverSingles: Singles 50 and over seeking an easy way to hit the online dating scene
Who Might Not Enjoy SilverSingles: Younger singles and seniors who prefer dating people under 50
Biggest Pro: Exclusively open to singles 50 and over in Rhode Island and beyond
Biggest Con: Need to pay for a membership to interact with members
Starting Price: Premium memberships start at $27.95 a month
The entire country is aging, but Rhode Island is ahead of the pack in that regard. The state has one of the oldest populations in the country, with almost 40% of Rhode Islanders 50 and over. Since over half of these folks are already married, though, you aren't exactly swimming in options.
But that's not the only reason the senior dating scene is complicated. See, 40% of Rhode Island's workforce consists of people who are 50 and older. With less free time, it's harder to get out there and try to find someone. Because of that, many seniors are riding out their golden years alone – and dealing with loneliness as a result.
While it's hard to find mates using the traditional methods, it's easy on SilverSingles. As the best mature dating app in Rhode Island, you can expect to find your happily ever after here.
Instead of making time to go out, you can log in and look at matches picked just for you. The site uses the five-factor model of personality to pair people, and it really works. Around 2,000 couples form each month after meeting on SilverSingles, so it's just a matter of time before you find "the one."
And don't worry if you don't click with your first match or two. See, thousands of people use SilverSingles each month, so your partner is out there. And that's true regardless of your relationship goals since this mature Rhode Island dating site attracts casual and serious daters.
Balancing work and dating while 50+ doesn't have to be hard. You can have it all by setting up an account on SilverSingles. You'll be up and running quickly, so it won't be long before you meet a special someone.
---
5. CatholicMatch – Best for Finding Love While Keeping the Faith
Who Will Love CatholicMatch: Devout Catholics looking for partners with the same beliefs
Who Might Not Enjoy CatholicMatch: Secular singles and people with different beliefs
Biggest Pro: Matches people who are likely to have happy marriages
Biggest Con: Fewer members than mainstream dating sites in Rhode Island, but has more Catholics than most dating apps
Starting Price: Premium memberships start at $9.99 a month
According to Gallup, Rhode Island is the most Catholic state in the country. Over 40% of adults here are Catholic, and more than half say religion is very important in their lives. If you're a Catholic with strong beliefs, you're probably looking for a Catholic mate. Otherwise, you'll have to deal with some serious roadblocks if you decide to get married.
And that can be an issue if you try to find a Catholic partner on Rhode Island's in-person dating scene.
First, only 44% of the state's Catholics are men, creating a pretty big gender imbalance. There's also a lack of options since over 45% of the state's Catholics are already married or living with partners. Fortunately, you can increase the numbers and find true love on CatholicMatch.
This is the most well-known Catholic dating site, even sponsoring the annual convention for the National Council of Catholic Women. But trust us, it has more than name recognition going for it. It uses the Likert scale to evaluate members and match them accordingly. This system helps it pair people who are compatible and likely to last for the rest of their lives.
While the pairings are focused on faith, that's just one part of the equation. You can also add additional criteria, such as lifestyle, background, and location. And that's great news since you'll find lots of people in Rhode Island on this dating site.
If finding a Catholic partner is a priority, head to CatholicMatch and set up an account today.

What's the Dating Scene in Rhode Island Really Like?
Singles are Early Birds – According to Zoosk, Rhode Island singles are most active online between 5-10 a.m. If you want to reach people, we recommend sending messages first thing in the morning. Not sure what to send? Get some advice on sending the first message on a dating site.
Most Singles are Open to Traveling for Love – Most of the people on the dating scene are willing to connect with folks in Massachusetts or Connecticut. That's even true for guys and gals living on bustling college campuses.
Singles Events Are Out – From what we've heard, a lot of the in-person singles events in Rhode Island are duds. Instead of attending singles mixers or speed dating, we recommend checking out the top Rhode Island dating apps.
Open Relationships are In – Rhode Islanders have shown lots of interest in open relationships. They're open and honest about it, so these arrangements often work for the long term.
Hookups Happen – We've discovered that a lot of Rhode Islanders are happy to stick to hookups. However, they prefer hooking up with people they gel with so they can maximize the fun. At the same time, the state also has a robust serious dating scene, so there's something for everyone.
Lots of Options – Sure, Rhode Island might not have as many residents as larger states, but many people here are single. According to recent data, Louisiana and New Mexico are the only states with a higher percentage of single adults than Rhode Island.
Online Dating is Sizzling Hot – Expect the number of single adults to go down soon in Rhode Island because online dating has taken off here. Rhode Islanders have been Googling info about dating apps and downloading different options in large numbers. If you want to find your match, check out one of the best dating sites for Rhode Island singles.

Dating in Providence
Best Providence Dating App Recommendation: eHarmony and Zoosk
As the largest city in Rhode Island, Providence is the center of the state's dating scene. Seriously, Rhode Islanders from around the state often travel to Providence for a chance at finding love. Those opportunities multiply when the local colleges are in session, but you'll find lots of options even during the summer months.
Providence has more single people than the national average, and many of them are on the West Side. It also has a lot of families on the East Side, so the city manages to be hip and family-friendly at the same time.
With so much going on in Providence, it has a unique dating scene. Let's go over the details, including which dating apps in Rhode Island get the best results.
Social Circles are Tight – Like a lot of other Rhode Island cities, friend groups are pretty tight in Providence. It's hard to break into them, but you won't have that problem if you hit the Rhode Island online dating scene.
The Same People Pop Up in Person – Providence has an active singles scene, especially at the bars. However, you'll encounter the same people over and over again. Fortunately, dating apps provide access to fresh faces that you don't normally see while out and about.
It's Harder for Women – With so many more single women than men, it's especially hard for women who want to find love in Providence. The bars are usually stocked with women hoping to meet someone, but the odds are more balanced on dating sites for singles in Rhode Island.
Lots of People Ready to Settle Down – Providence is home to lots of single people between the ages of 25-44. This is the prime age range for settling down, and lots of folks here are looking for "the one." In fact, you'll find more serious daters in Providence than in most Rhode Island cities.
We know that not everyone in Providence wants to get married, but many people want serious relationships. Since eHarmony is the gold standard for serious dating, it's our pick for most Providence residents. As the best Rhode Island dating app for serious relationships, you can get results on eHarmony.
Providence's college students are more into casual dating than settling down, though. If you're working toward your degree, check out Zoosk. With more than 40 million members, you'll have the quintessential college dating experience here.
Population: 189,692
Men: 48.4%
Women: 51.6%
20-24: 6.9%
25-34: 13.5%
35-44: 11.9%
45-64: 27.6%
65+: 17.1%
Never Married: 53.7%
Widowed: 4.3%
Divorced: 8.6%
White-Collar Employees: 78.8%
Blue-Collar Employees: 21.2%
Bachelor's Degree or Higher: 33.3%
Number of College Students: Over 29,000

---
Dating in Newport
Best Newport Dating App Recommendation: EliteSingles and Zoosk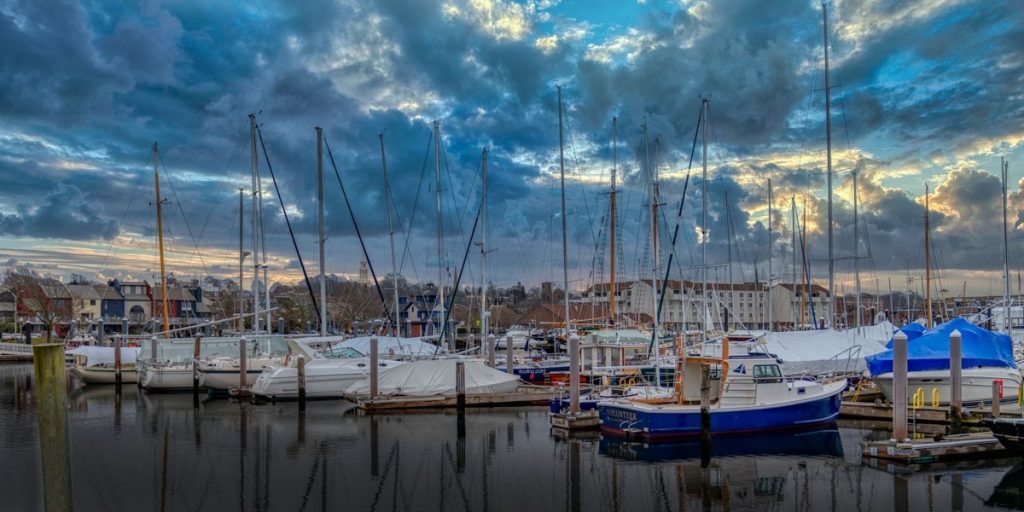 Technically a suburb of Providence, Newport is far enough away from the big city to have its own dating scene. Sure, some folks hit the road to Providence to increase their options, but many look for love right at home. Check out what it's like for single folks in Newport, and find out how to increase your chance of finding love by using the right Rhode Island dating app.
The Truth Matters – There's a good chance you'll have mutual friends with people you date in Newport. We've heard some horror stories from folks who fibbed to their dates, only to have their mutual friends swoop in with the truth. Being upfront and honest is the key to mastering Newport's dating scene.
Exes Tend to Pop Up – With such a small dating scene, you can expect some overlap between your current and past lives. Your ex might even work or hang out with your current partner. With that in mind, get the scoop on how to talk to your current partner about your ex. This is vital reading for Newport residents.
It's Hard for Divorced Singles – Lots of Newport singles don't want to connect with divorced folks. Maybe it's because baggage tends to follow people in Newport, so they'd rather not get involved. Fortunately, divorced singles don't have the same problem when using dating apps for Rhode Island singles.
Newport tends to attract lots of professionals, including people working in management and education. We've noticed that many of them want to find like-minded professionals, so EliteSingles is the best of the Rhode Island dating apps for singles in Newport.
Newport's also home to Salve Regina University, and eight other colleges are in the area. Zoosk is our go-to app for college students in Rhode Island. Check it out if you want to enjoy some casual dating in between classes.
Population: 25,156
Men: 49.1%
Women: 50.9%
Median Age: 35.6
Never Married: 45.8%
Widowed: 5.5%
Divorced: 10.6%
White-Collar Employees: 90.5%
Blue-Collar Employees: 9.5%
Bachelor's Degree or Higher: 54.8%
Number of College Students: Over 2,800


Rhode Island Online Dating FAQ
Should I use a Rhode Island Dating App or Matchmaking Service?
Reports out of Rhode Island show that some people spend $5,500-$8,000 on professional matchmaking services without getting results. Instead, they only have high credit card bills to show for the service.
Rhode Island dating sites are much more affordable than professional matchmaking services. For instance, the apps on our list have starting prices of $9.99-$35.90 a month. They also boast high success rates, so we recommend using a dating site instead of hiring a professional matchmaker.
How Many Single People are in Rhode Island?
Over 55% of adults in Rhode Island aren't married. That breaks down to more than 474,000 men and women. However, some of those people are in serious relationships, so the actual number of single people in Rhode Island is much smaller. That's not an issue, though, since online dating in Rhode Island allows you to access single people here and in other states.