Dealing with some bad luck is normal when dating, but it can feel like the odds are stacked against you if you're Russian. Most countries have a good balance of men and women, but females outnumber males in a major way here. With so many more women, it's easy to find yourself single among a sea of couples.
While you might not have many options in your neighborhood, it's a different world online. With the right app, you can easily find those hidden singles in Russia and other countries. We've done the homework for you and found the best Russian dating apps, so check them out.
3 Best Russian Dating Apps
---
RussianCupid – Best Dating App for Russian Women that Need More Options

There's a misconception that Russian women want to find Western men to marry so they can get their green cards. Well, we're here to set the record straight. While many Russian women partner with westerners, it's not for the green card and U.S. residency. Nope, they do it because they can't find men to date in their home country.
Take Moscow, for instance.
There are over three million single women between the ages of 25-50 in that city alone. That would be fine if there were at least a couple million single men, but it's not even close. With around a million single men, there's roughly one guy for every three ladies.
The imbalance is so bad that some people have even wondered if polygamy is the answer to Russia's dating problems. That might fly in the Western world, but we doubt it'll happen in Russia. But that's OK because we have another solution that won't force you to break the law.
It's called RussianCupid and it's full of Western men looking for Russian women to marry. Western women also use it to find Russian men, but that's a lot less common.
It only takes a few seconds to sign up, but don't start searching just yet. Instead, add match criteria so the system can find like-minded singles. Then, you can look at your matches and see what you have in common.
Oh, and we have to mention one more thing we really like about RussianCupid. You and your match can fill out the International Marriage Broker Regulation Act safety information form directly on the site. You don't have to do it right away, but if you're considering marriage, it'll help you stay safe.
It's also worth mentioning that, while this is mainly an international dating site, you can still find singles in your area. There might not be nearly as many local daters, but we've heard our fair share of success stories.
It's hard out there for women, but RussianCupid makes it so much easier. Head over to set up a free account, and don't forget to complete your profile. Then, check for singles nearby or around the world.
---
eHarmony – Best Russian Dating App for Staying Together

Family values are a big part of Russian culture, with lots of singles hoping to get married, have kids, and live happily ever after. However, Russia has one of the highest divorce rates in the world. So, unfortunately, many people don't reach their goals.
We had one thought after reading about the low marital success rate. "We need to tell Russian singles about eHarmony."
According to eHarmony founder Dr. Neil Clark Warren, the site's main goal is to improve relationship quality and reduce the divorce rate. Those aren't just empty words, either. Warren, a clinical psychologist, developed a matching system based on the key dimensions of compatibility, shaking up the online dating world in the process.
Some people might have shrugged when he came up with the idea, but now most people agree that it works. Couples that meet on the dating app have more marital satisfaction and fewer divorces, meaning you can find your life-long partner here.
Because the system is so advanced, you'll need to spend around 20 minutes signing up. When you're ready, go somewhere quiet to limit your distractions and create your free profile.
---
Christian Café – Best App for Finding Russian Christians Outside of Church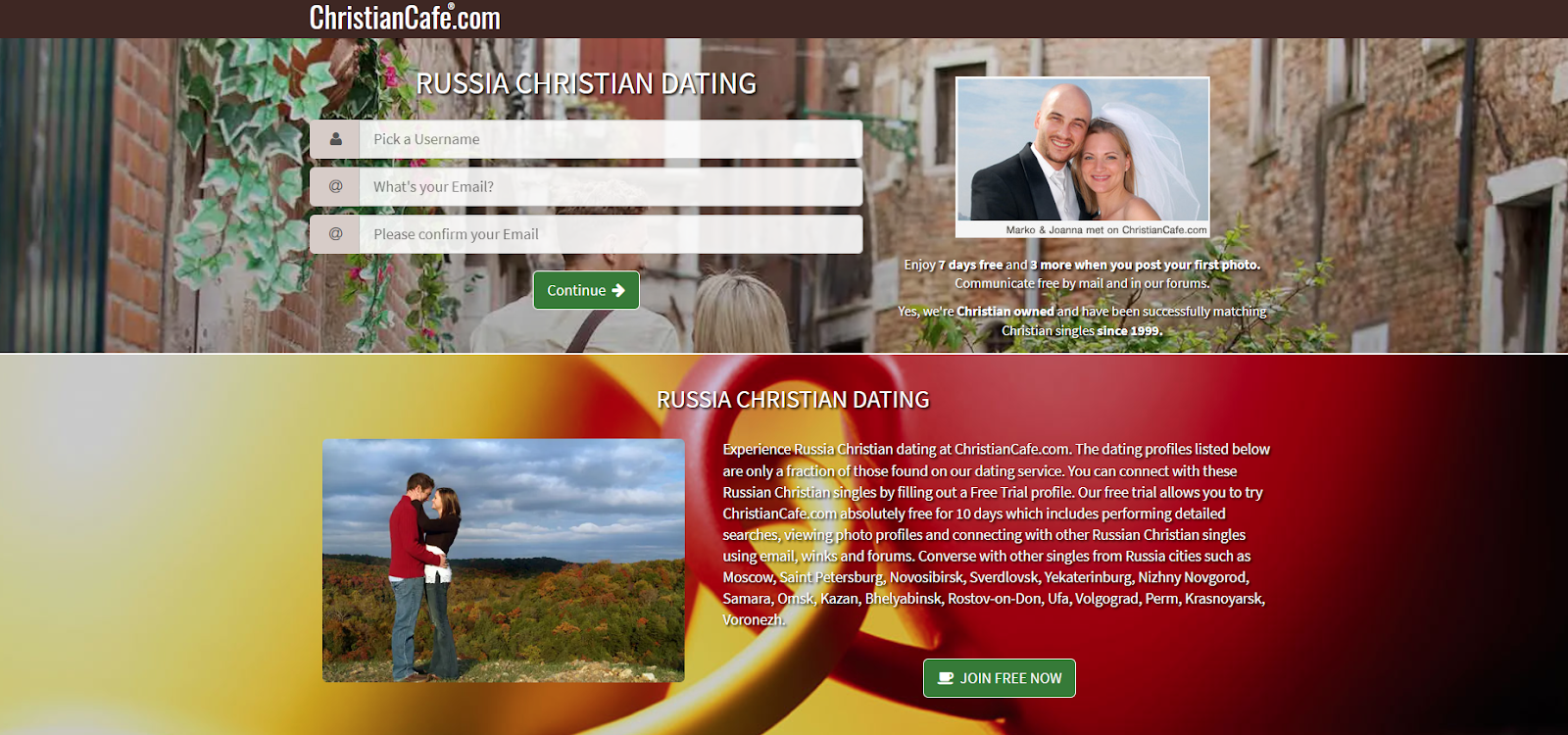 Russians have an interesting history regarding religion. Most Russians identified as atheists while under Soviet rule, but the now nation is now having a religious revival of sorts.
These days, Orthodox Christians make up almost three-fourths of the population. But, while religion is important, modern Russians don't feel that they have to attend church to celebrate their belief. And that can make it hard to meet someone that shares your faith.
At least it used to be hard. Now, you can hop on a religious dating app for Russian singles to find your match. There's no shortage of sites out there, but we love Christian Café for Russian singles.
While you can connect with people that live close to you, the site is also popular with international daters. It even asks if you're willing to relocate when filling out your profile. And speaking of profiles, a lot of the members fill them out to completion, so you can learn a lot by browsing.
If you want to connect over shared faith, you won't find a better site than Christian Café. Check it out by creating a free account.
---
Why We Love These Russian Dating Sites
Full of Serious Singles – Casual dating isn't the norm in Russia, and we think that's a great thing. We love that Russians want to find true love, so we selected sites with that in mind.
Detailed Profiles – While some people head straight to browsing, most singles on these sites provide lots of info in their profiles. That means you can find out if someone is match material after a little reading.
Find Dates Around the Globe – Our favorite Russian dating apps are ideal for finding people locally and internationally. Whether you want to remain in your country or move elsewhere, you can find like-minded singles.
Safe and Supportive Environments – You want an inbox full of sweet messages, not threats or harassment. These sites have fast and responsive customer service teams and don't hold back when dealing with members who abuse users.

Niche Dating Sites for Russians
KissRussianBeauty.com – We were redirected to CharmDate after registering, so that was the first red flag. And the second? The profiles don't look real, so watch out for scams.
Russian-Dating.com – With "Russian dating" in the name, we were shocked to see so many profiles from other countries. But that's not the only problem. It feels like you're shopping for a date instead of looking for a connection, so we don't recommend it.
TrulyRussian – This Russian dating app might be better than the last two, but that isn't saying much. It's buggy and full of fake profiles, and it looks like bots are behind much of the activity.
Russian Dating – Scammers, fake profiles, and bots are the norm on this dating site for Russians. And that's not to mention the glitchy interface. Still, it's the best of the four sites we've covered in this section.

Russian Dating Culture
If you live in the Western world, your dating culture is much different than the culture in Russia. And that's stressful since failing to respect other people's cultures can cause serious issues when connecting online. But put that stress to the side because we've got you covered.
First, it's important to know that traditional gender roles are in effect in Russia, even when dating online. If you're a man, take the initiative and make the first move. Otherwise, you'll have a lonely online dating experience.
Because of gender roles, gallantry is also part of the culture. While you can't open doors and pay for meals online, you can send gifts. It's not just a nice gesture – it's pretty much expected if you want to hold your match's interest.
Flowers are easy to send, so they're a good choice. That sounds simple enough, but you need to be careful. Sending an even number of flowers is only OK if you're paying respects at a funeral. Otherwise, stick to an odd number to show your love. And make sure they aren't yellow, or the recipient will think you're about to break up. Sending carnations is also a bad idea when courting a Russian woman.
This might sound like a lot to remember, but you'll be a dating pro in no time. And we can assure you that your match will appreciate that you took the time to learn a bit about Russian culture.

Watch Out for This Russian Dating Scam
We know that scammers are out there, so we vetted our favorite Russian dating apps before approving them. The sites do a nice job of protecting users and banning fake profiles. Still, it's a good idea to watch out for red flags when dating online.
First, make sure the person on the other end of the profile is the real deal. Scammers often steal pics from models to use when creating profiles, so do a reverse image search. Then, you can see if the pic belongs to someone else or has been blacklisted on dating sites.
Now, let's say the picture seems to check out. You still need to be careful, so hop on a video call before getting serious. Scammers have a habit of resisting video calls, so you'll know if it's time to break off contact.
Finally, don't send money to anyone until you meet in person. If you send money once, the scammer will keep asking. Before you know it, you can end up thousands of dollars in the hole without anything to show for it.
If you keep these red flags in mind, you'll protect yourself when looking for love. Then, you'll connect with someone special instead of dealing with fraudsters.

Where to Find Russian Singles in the United States
Do you love the idea of dating a Russian man or woman but don't want to pay top dollar for travel and relocation expenses? You can hold onto your money and find real love by looking for Russian singles in the United States.
Around three million Russians call the U.S. home, giving you lots of options. They're scattered around the country, but you can increase your chances of a connection by looking in the areas with the highest Russian populations.
If you want your pick of Russian singles, look in the following cities:
New York, New York
Los Angeles, California
Chicago, Illinois
San Diego, California
San Francisco, California
Seattle, Washington
Detroit, Michigan

Russian Online Dating FAQ
Can I Create a Profile for Free?
Yes! You can set up a free account when using one of these best dating sites for Russians. However, you'll need to upgrade to unlock premium features.
What Happens if a Member is Abusive?
You should contact customer support if someone harasses or abuses you. Next, block the user to prevent further communication. If the issue persists, reach out to customer support again to resolve it.
How Many Pictures Should I Add to My Profile?
We recommend adding four to six photos to your profile. Mix them up to show off your personality and include at least one full-body shot.