There's never been a better time to find love as a single dad, according to the dating site Zoosk. It surveyed over 3,000 single women and discovered that more than 90% are open to dating men with kids.
The only question left is, where should you look?
We found the top dating sites for single fathers and women who love them. These dads dating apps will help you make real connections without investing much time. Get the details and stick around to the end for dating tips and info.
The 4 Best Dating Apps for Single Fathers
---
1. eHarmony – Best App for Finding Step-Parent Material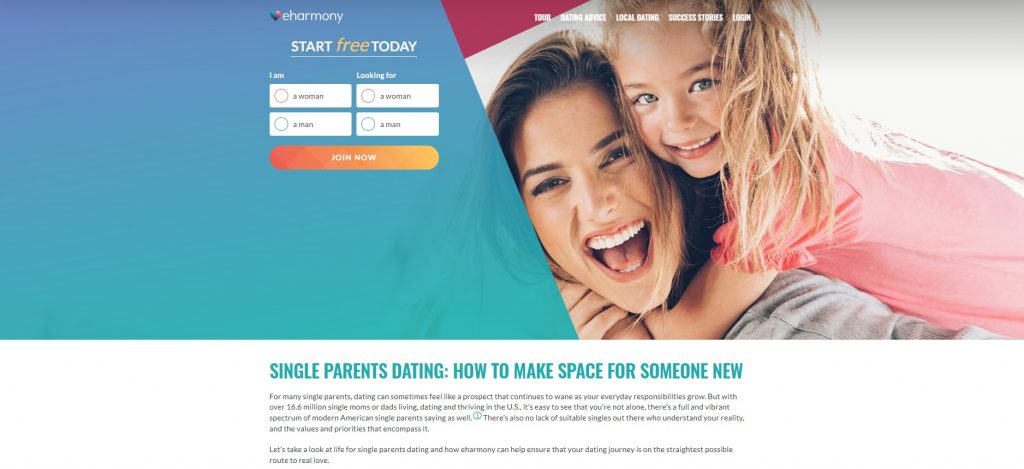 According to the Pew Research Center, around 15% of American kids live with a parent and stepparent. Plus, another 7% reside with a parent and his or her live-in partner. Those stats make it clear that a lot of single dads are looking for stepparent material.
If you count yourself among them, you probably have a laundry list of qualities you're looking for. After all, you want to make sure you choose someone who is a great role model, communicates well, gets along with the kiddos, and has the same views and outlook as you.
Finding someone who checks all your boxes is exhausting in the real world, but it's a breeze on our top single dad dating site: eHarmony.
The site analyzes 32 Dimensions of Compatibility when matching people, so you'll find someone who fits perfectly into your life. And since most people here are looking for marriage or cohabitation, meeting stepparent material won't be an issue. Check it out by creating a free account today.

---
2. EliteSingles – Best Dating App for Career-Oriented Dads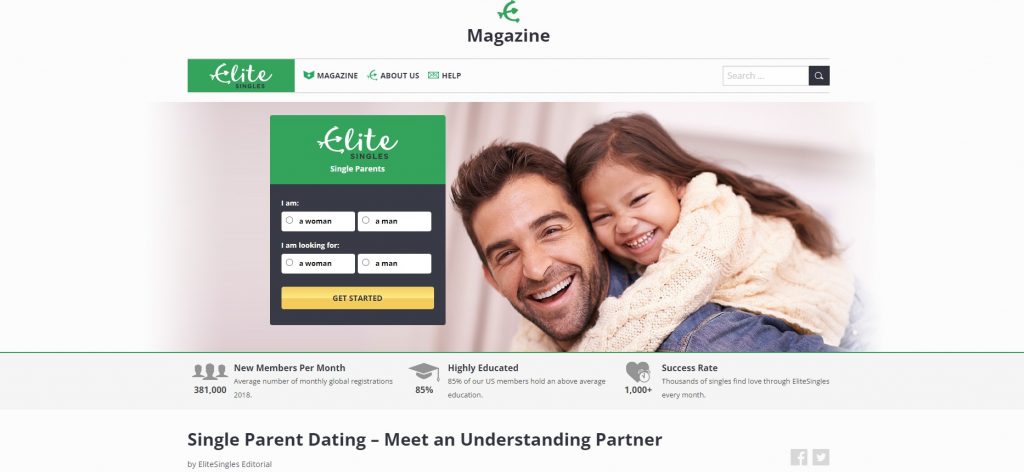 Do you know what Brad D. Smith, Kevin Cleary, and Ian Sohn have in common? First, they have impressive resumes that include CEO positions at Iris, Clif Bar, and Inuit. And second? All three are single fathers.
While single dads report missing networking events and promotions from time to time, many of them excel. If you are balancing a successful career with raising your kids, you can find love on EliteSingles.
As a successful single father, you have to be pragmatic when dating. You can't risk supporting your new partner at the detriment of your kids, and you also don't want someone who doesn't live up to your standards. Neither will be a problem when using EliteSingles.
The dating site for single dads is full of professionals, and you can set income preferences when searching. You deserve a partner who's a great fit for you and your little ones, so set up your free account today.
---
3. Higher Bond – Best Dating App for Christian Single Fathers
Something jumped out when digging into data about single dads. Around 25% of Christian children in the U.S. are raised by single parents. The number's even higher when looking at single-parent households worldwide.
We know that most of those kids didn't stumble into their religious beliefs on their own. Instead, they were raised in the church, meaning there are lots of religious single dads out there.
If you're raising kids in a Christian household, finding the right partner is extremely important. Choosing someone who doesn't align with your faith could cause your kids to lose their beliefs.
Also, you need to make sure your partner understands how your faith will impact the relationship. For instance, you might not be open to intimacy before marriage.
Fortunately, finding the perfect fit's as easy as heading to Higher Bond.
It's not only open to single parents, but Higher Bond asks all the questions on dads' minds– including members' thoughts on kids. Check it out by setting up your free account today.

---
4. Zoosk – Best for Getting Your Groove Back Post-Breakup
So far, we've covered serious dating apps for single dads, but we can't forget about the guys who want to have some fun before settling down. After all, raising a kid is stressful, and now that you aren't with the other parent, you might want to blow off some steam.
Casual dating as a parent is a little different than it was in your child-free days. Safety is more important than ever, and you also want to mesh with your dates. After all, you don't have a ton of free time, so you need to make the most out of what you get.
These are just some of the reasons why Zoosk is one of our favorite single dad dating apps.
As far as safety goes, Zoosk offers profile verification, so you can stick with people who are the real deal. Also, it has virtual dating options, allowing you to check someone out before taking the leap.
Now, for finding people who don't get on your nerves…
Each time you like or pass on a profile, you'll feed the algorithm info. Then, it'll use SmartPick technology to provide matches based on your likes and dislikes.
With more than 40 million members, you won't have any trouble getting your groove back on Zoosk. Head to the site to set up our profile today and see why this is the top dating app for divorced dads.
---
Why These are the Best Dating Apps for Single Dads
No Endless Scrolling – Each of these dating sites will send matches your way, so you won't have to spend your time scrolling through a sea of profiles. As a single dad, your time is limited, so this is a must.
Only Members Can See Profiles – Don't worry about your kids coming across your profile when surfing the web. We selected dad dating sites that only allow members to view profiles, including pictures. This extra level of privacy leads to worry-free dating.
Options to Date People with and Without Children – Maybe you're hoping to meet a single mom or another single dad, or you might prefer a partner who doesn't have children. It's possible you don't even have a preference. Regardless of what you're looking for, you'll find it on these dating sites.
Large Membership Bases – Unlike niche dating sites that only attract a handful of members, these apps have robust membership bases. Now, we do have to mention that Higher Bond just launched in 2022, so its membership base is still growing. However, we're impressed with its growth so far and expect it to have lots of members soon.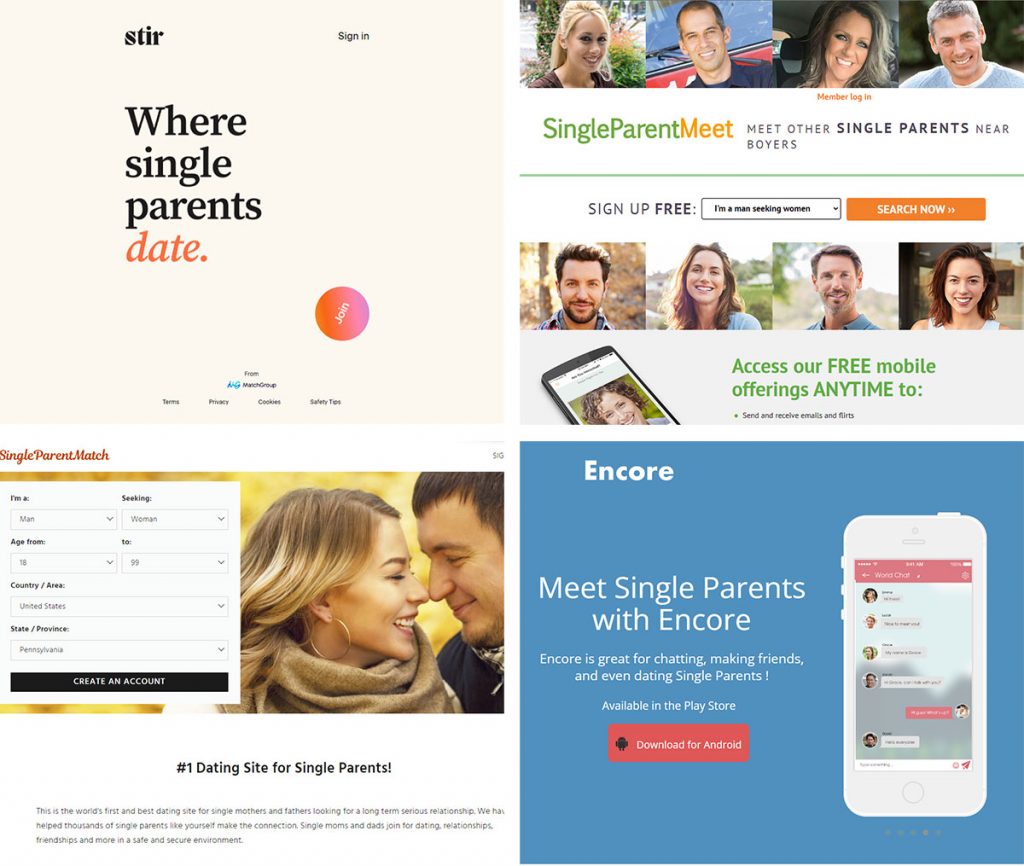 Dating Apps Designed for Single Dads
Stir – Courtesy of dating company Match, Stir is an exclusive dating site for single moms and dads. As much as we want to love Stir, we can't quite get behind it. The concept's great, but too many parents complain of few matches and expensive add-ons. It looks like Match is evaluating the complaints, so maybe it'll make positive changes in the future.
SingleParentMeet – Part of People Media's network of sites, SingleParentMeet is a pretty active site. Thousands of people log in each day, but the quality of the profiles and matching algorithms aren't up to our standards. If you just want to browse profiles, it might be good enough. However, you're more likely to find a real connection on one of our recommended dating apps for dads.
SingleParentMatch – Most members don't put much effort into creating their profiles on this dating site. Plus, the matching system and features are basic at best, so we don't recommend signing up.
Encore – Sadly, this dating site hasn't caught on, so there aren't many members. You'll probably have to go outside your location to find someone, which is not ideal for a divorced dad dating app. Plus, most of the profiles don't look legit, so we recommend avoiding this site.

How to Find Single Dads in the United States
Back in 1960, there were fewer than 300,000 single-father households in the United States, according to the Pew Research Center. That increased to 2.6 million in 2011, and there are still over two million single-father households today.
Over 1.5 million of those single dads live without partners, and many of them are looking to change that. But where can you find them?
Because the population is growing, there's a good chance you can find a single dad nearby. But if not, you can change the location on your dating app to look in one of the following cities or metros:
Visalia-Porterville, CA
Fresno, CA
Bakersfield, CA
Shreveport-Bossier City, LA
Stockton-Lodi, CA
Fort Wayne, IN
Spokane-Spokane Valley, WA
Green Bay, WI
Toledo, OH
Gulfport-Biloxi-Pascagoula, MI

Online Dating Tips for Single Dads
Choose the Right Dating App – Single dads should stick to reputable dating apps when looking for love online. Free sites have bots, scammers, and other unsavory characters that you won't want to bring around the kiddos, so leave those alone.
Don't Give Details About the Kids – You should be open and upfront about having kids, but don't share their details, such as their names and birthdates. Also, don't include any pics of your kids on dating sites. Save those adorable photos for later after you meet in person and progress to something more serious.
Use Your Personal Phone or Computer for Dating – Even if your kids are down with your romantic life, you don't want them to stumble on your dating profile. Seriously, think of how weird it would have been if you'd seen your dad's dating profile. Keep it locked down by avoiding the family PC and using your personal devices.
Be Upfront with Boundaries – Let people know you're a single dad and you can't be available at all times of the day. Your kids come first, so move on if your match doesn't understand that. We promise that there are lots of available singles who understand the importance of parenting.
Be Ready to Talk about Your Ex – Bringing up the ex is never much fun, but it's necessary as a single parent. Your connections will want to know what to expect before committing, so you'll need to have the talk. Read our blog post for tips on how to talk to your new partner about your ex.

4 Reasons to Date Single Dads Online
Do you have your eye on a cute single dad? You've read his profile and are thinking about reaching out, but something's holding you back. We get that you might be scared of committing to a single dad but check out some reasons that make these men such hot commodities on the dating scene.
They're Ready to Commit – But Not Going to Rush It
Are you tired of encountering flaky people when dating? Hey, we get that it's an issue. We even wrote a blog post on how to deal with flaky people.
That post is a great read, but you probably won't have to worry about flakes if you date single dads. Most parents take dating pretty seriously since there are kids involved. That means you can expect a commitment soon out of the gate.
At the same time, single dads don't rush things. They want to make sure their partners are the right fit, so you'll take that slow and steady walk toward commitment. And that's the best way to date if you want something long-term.
You Can Remain Independent
It's annoying when partners want to know where you are every minute of the day. Well, single dads have their own lives going on, so you can do your thing when you want. At the same time, they're down for a quality time, so it's the best of both worlds.
They're Less Likely to Get Jealous About Exes
Single dads understand that everyone has a past – including their partners. If you're tired of guys getting all red in the face when they realize you've been with other people, we recommend giving a single father a try.
Responsibility is In Their DNA
Let's face it – some single folks just aren't that responsible. They forget to meet up for dates, don't pay their bills on time, and have other issues that make them want to run away. But that's not the case with single dads. Raising kids alone is a one-way ticket to responsibility town.