Some studies have show South Dakota as the best of the states when it comes to online dating economics. You can hit the town with your plus one for less than in other states, but first, you have to find your partner.
Now, we can't give you money to wine and dine your date, but we can help you find a special someone. See, it all comes down to embracing online dating apps in South Dakota. But you don't want to download the first app you see. Instead, it's important to choose a dating site with a high success rate and lots of South Dakota singles.
We did our homework and found the 5 South Dakota dating apps that get the best results. Take a sneak peek at our picks below:
---
You don't have to use all five of those South Dakota dating sites to start meeting singles. Instead, we're going to use the rest of this page to help you choose the one that best fits your needs based on: your dating style, values, goals, and location. Plus, we're going to help you make a splash by sharing some insights on the state's dating scene.
As you can see, we have a ton of stuff to cover, so let's get started. First, lets see what the top SD dating sites have to offer:
---
Jump to:
---
1. eHarmony – Best for Keeping Your Standards While Getting Serious
Who Will Love eHarmony: Serious daters with high standards
Who Might Not Enjoy eHarmony: Casual daters who want short-term relationships
Biggest Pro: Considers 32 traits and personal preferences when matching people
Biggest Con: Costs more than other South Dakota dating sites, but it gets results
Starting Price: Premium memberships start at $35.90 a month
According to Point2Homes, South Dakota is the second-best state for married couples seeking everlasting happiness. So, we set out to find out why South Dakotans tend to stay married (and happy) for the long run and realized something.
People here have high standards and would rather be alone than settle for less. Since they don't settle, they don't end up with incompatible mates. It's no wonder the state has so many happily married couples.
Having high standards is fantastic, but it can make the dating process long and drawn out. Fortunately, you can stop looking and find true love without settling on eHarmony. This is the best South Dakota dating app for serious relationships, and it gets results.
South Dakotans consider lifestyle and personality traits when finding mates, and eHarmony does the same – only faster. It analyzes people's personalities during sign-up and considers 32 traits when matching people. That's why you gel so much with the people you match with on eHarmony.
You can also set your match preferences when using this dating site for singles in South Dakota. For instance, you can choose matches who want to have kids or search by religion. You'll unlock more search preferences if you pay for a membership, but even the free account gives you some control over who you meet.
Do you want to find true love without settling? Get the process started by setting up a free profile on eHarmony today.
---
2. Higher Bond – Best for Christians Looking for a Faith-Filled Approach to Dating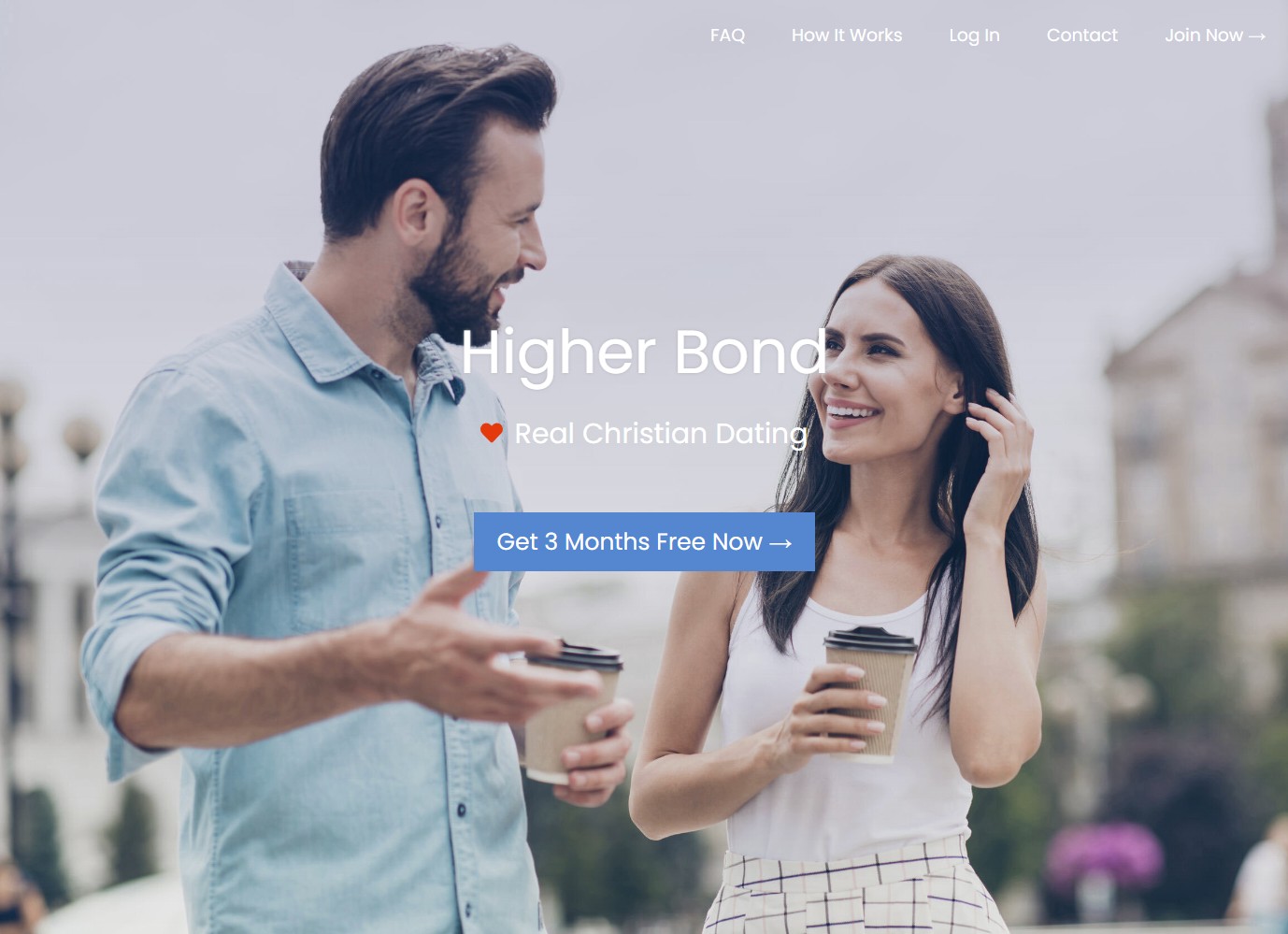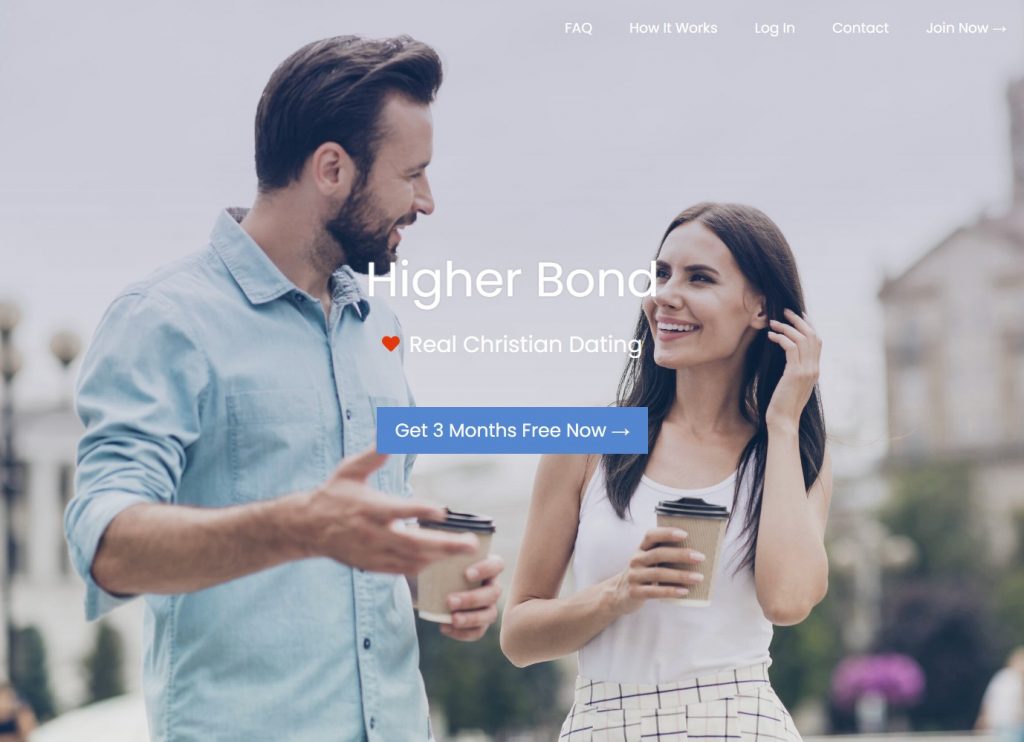 Who Will Love Higher Bond: Highly religious Christians seeking faith-filled relationships that last
Who Might Not Enjoy Higher Bond: Casual daters and secular singles
Biggest Pro: Limits matches and new conversations so members can focus on making connections
Biggest Con: Launched in 2022, so the membership base is smaller (But growing quick!)
Starting Price: Premium memberships start at $14.95 a month (the first three months are free)
There's a lot of talk about the Bible Belt, but it's really more like the Bible Suspenders. Seriously, it extends above the South, all the way to South Dakota. In fact, almost six of ten adults in South Dakota identify as "Highly Religious," making it the 16th most religious state in the country.
Fewer than half of South Dakota's Christians are married, so there are still lots of folks on the dating scene. From what we've heard, many Christians try to meet these available singles at church, but that rarely pans out. See, attendance is declining, with less than 45% attending weekly service.
That leaves some people trying to find singles while out and about, but that's not all that easy, either. Almost 20% of the adults here aren't affiliated, so they're off the table when looking for Christian mates in person. Add in the fact that alcohol is a big part of the singles scene, and it's hard to get too comfy when trying to find love in the wild.
These are just some of the problems with trying to find a Christian mate. Fortunately, though, Higher Bond is all about solutions.
See, this South Dakota dating site helps people keep their faith while connecting with singles. It received input from religious leaders when creating the app, so faith is at the foundation. At the same time, it also got help from relationship counselors, so you can expect to form a long-term connection here.
The matching algorithm is so on point that you won't even have to talk to many people. And that's the point. Higher Bond limits the number of new convos to one a day, so you won't go against your faith by talking to lots of folks.
Also, you can only view 3-5 matches a day, so you won't get lost in swipe culture. Instead, you'll date intentionally, which is in line with your religious beliefs.
If you're ready to find a genuine connection with another Christian, it doesn't get better than Higher Bond. Head to this South Dakota dating app and start meeting Christian singles for free today.
---
3. Zoosk – Best App for Adding Compatibility to Casual Dating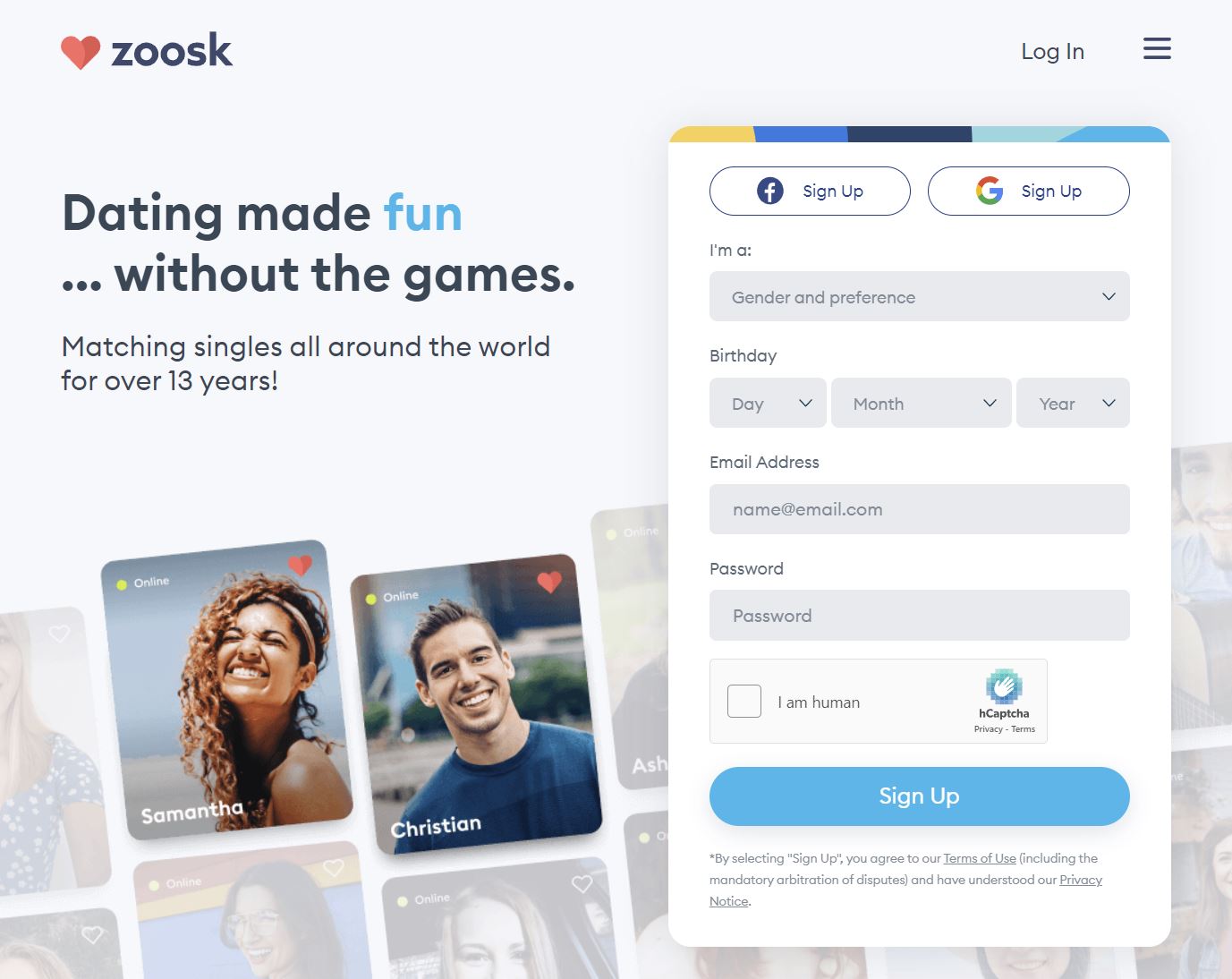 Who Will Love Zoosk: Singles who want compatible casual dating partners
Who Might Not Enjoy Zoosk: Singles looking for long-term relationships
Biggest Pro: Behavioral matching algorithm helps singles connect with people they mesh with on a deeper level
Biggest Con: Have to use the South Dakota dating app for a bit before the behavioral matching algorithm works
Starting Price: Premium memberships start at $10 a month
We've heard some people say that South Dakota's casual dating scene is dead, but we know the 33,000 plus college students would disagree with that assessment. The same is true for a lot of recent college graduates who want to get their careers rolling before getting serious.
In fact, South Dakotans are like people in most places. They need to date around a bit to figure out what they want, so most start with casual dating.
But South Dakota's casual dating scene is different from most states. While singles elsewhere might be happy on Tinder, South Dakotans often balk at the seediness. At the same time, casual daters don't want to use dating apps for serious relationships. If you want something between Tinder and eHarmony, Zoosk is the best pick.
Most of Zoosk's 40 million plus members want short-term relationships with compatible partners. And that's not a problem since the South Dakota dating app uses a behavioral matching algorithm. That means you can find someone who meets your standards while still keeping it casual.
Casual dating doesn't have to be seedy and mindless. Instead, make real connections by setting up a free account on Zoosk today.
---
4. SilverSingles – Best for Singles 50 and Up Who Want an Easy Way to Date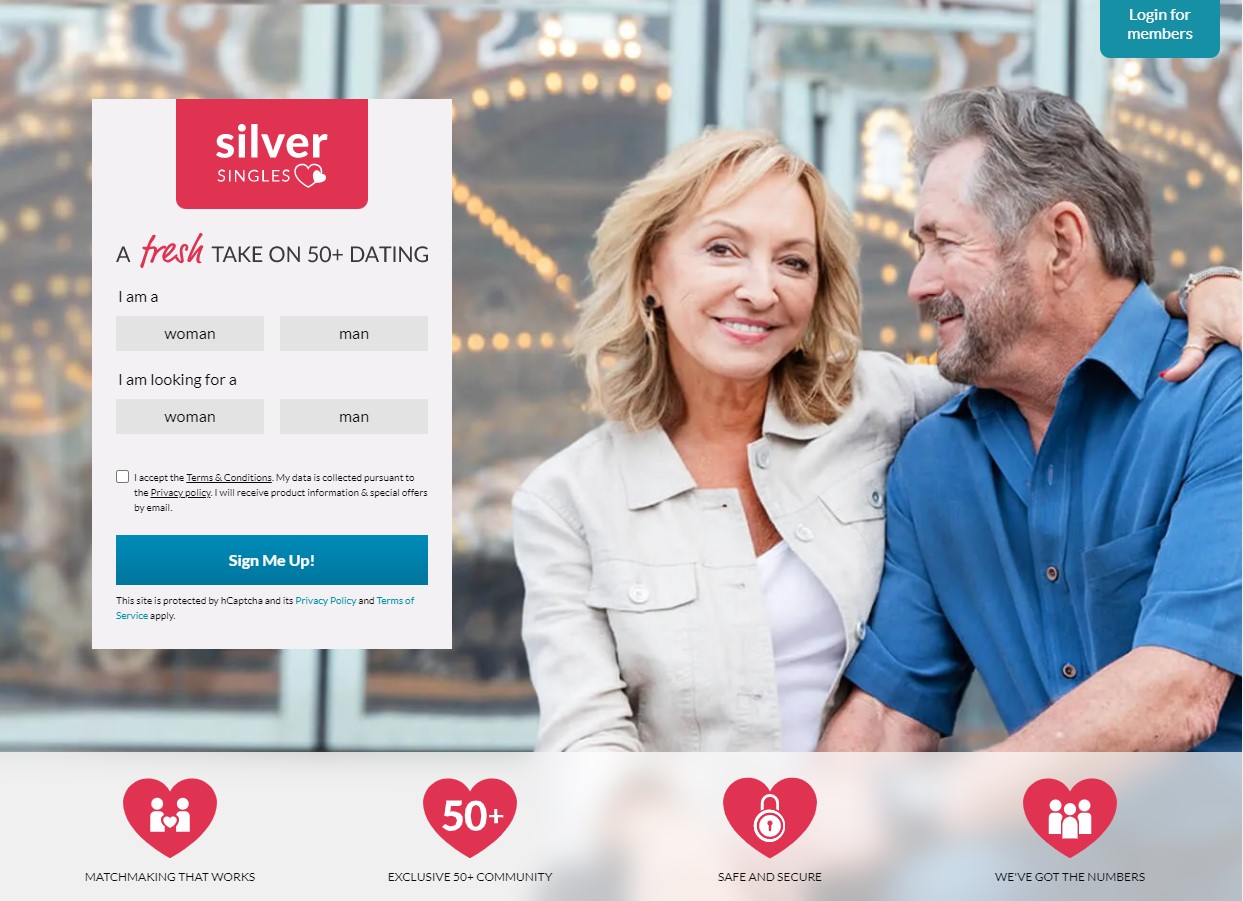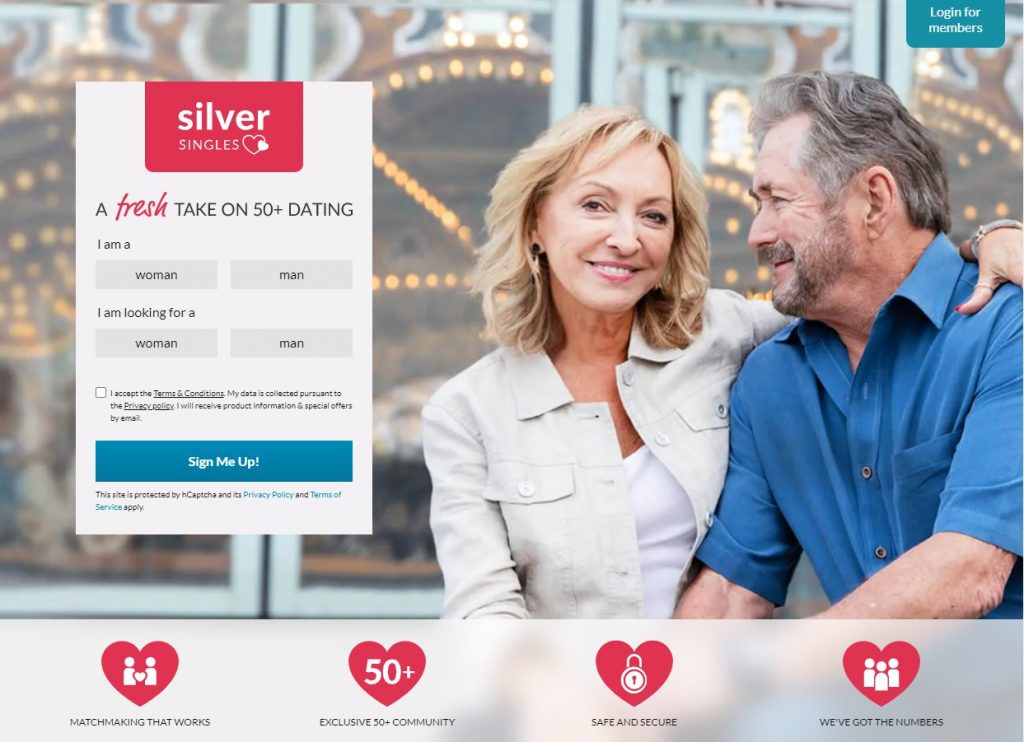 Who Will Love SilverSingles: Seniors who want more options when searching for a compatible mate
Who Might Not Enjoy SilverSingles: Seniors who want to date people in their 40s or younger
Biggest Pro: Specially designed for singles 50 and over
Biggest Con: Free accounts have limited features
Starting Price: Premium memberships start at $27.95 a month
South Dakota's population is on the rise, and that includes the number of people who are 50 and over. Around 36% of the population is in the 50+ club, coming to around 322,000 people. But you'll notice two things if you're trying to find love later in life. First, the majority of seniors are already married, and second, there's a pretty significant gender balance.
Now, this isn't all that different from what you'll find in other states, but it causes some unique issues in South Dakota.
First, of course, South Dakota is among the states with the fewest residents. That means you'll have even fewer options in the dating pool than you would in a larger state like California, Texas, or Florida.
And second, the state is spread out quite a bit. A lot of seniors live in rural areas, so they might have to drive for miles before finding another single person their age. And that's not really how you want to spend your golden years, is it?
Back in the old days, those problems would have been close to impossible to overcome. But these days? Now you just need to hit up a South Dakota dating site for mature singles. And that leads to the question: Where do older singles meet online?
And let us tell you, that question has a simple answer, and it's SilverSingles.
Tens of thousands of people 50 and over log into SilverSingles each day. That includes single men and women in South Dakota and other states. SilverSingles even has a strong international dating pool if you want to expand your search.
You can access these profiles from the comfort of your home instead of driving, and you'll get to know a lot about your matches while online. For starters, SilverSingles uses the five-factor model of personality to match members, so you'll have lots in common with the people sent your way. And second, the folks here take their time filling out their profiles, so their personalities really come through.
You don't have to leave your home to find a partner. If you're over 50, create your free profile on SilverSingles today.
---
5. EliteSingles – Best for Professionals in Hot Careers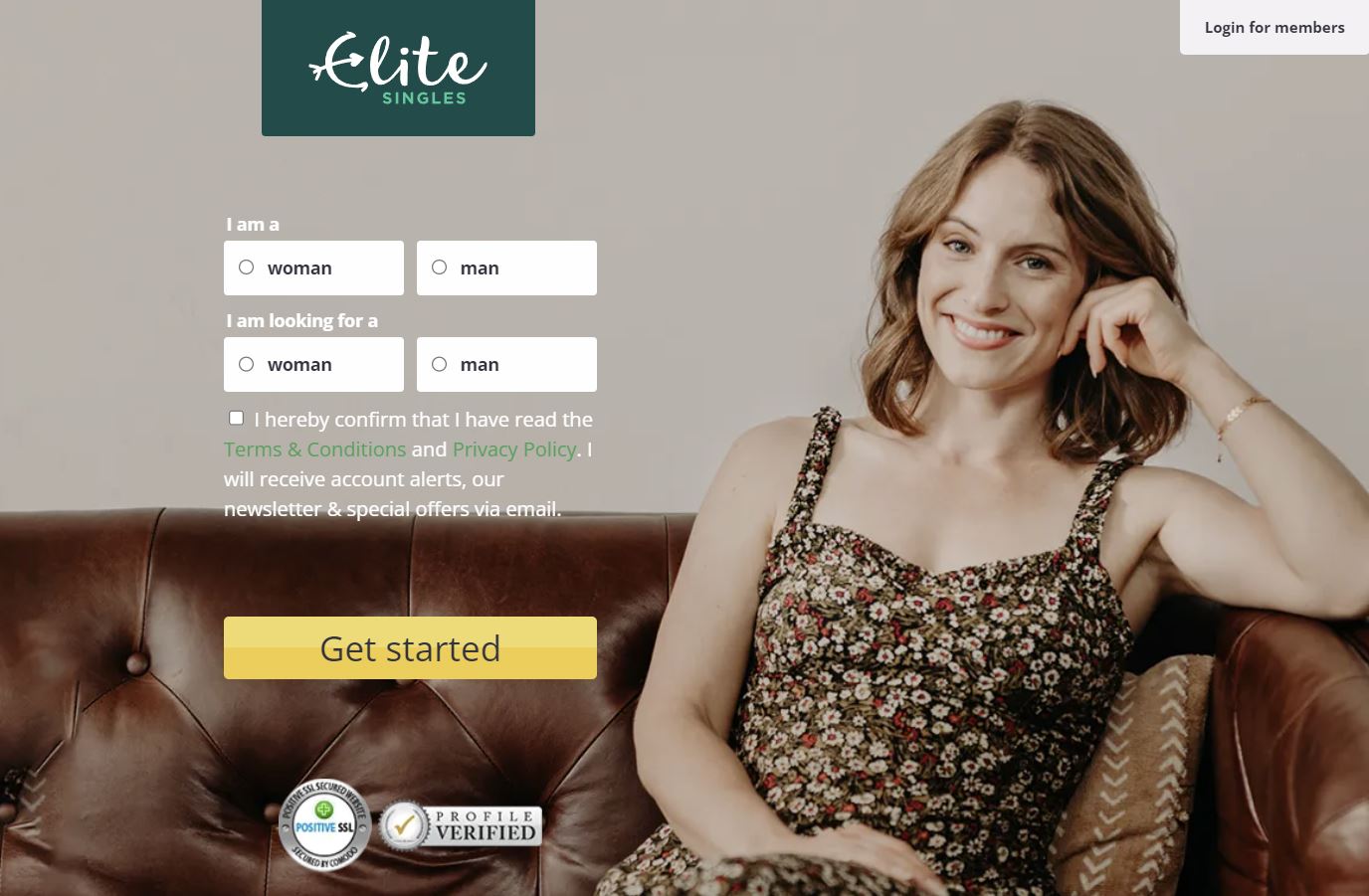 Who Will Love EliteSingles: Professionals with hot careers and other high-paying jobs
Who Might Not Enjoy EliteSingles: Non-professionals and folks looking for casual relationships
Biggest Pro: Most of the members work in professional careers
Biggest Con: Have to upgrade to a paid membership to see profile pictures and make connections
Starting Price: Premium memberships start at $27.95 a month
Agriculture might be the driving force behind South Dakota's economy, but other industries are making a huge impact here, too. That explains why 69 occupations in South Dakota have earned the distinction of being "Hot Careers."
While hot careers span a variety of industries and job types, professionals fill a lot of these roles. For instance, some of the hot careers include nursing and civil engineering. Oh, and you'll be in a hot career if you take on a role as a chief executive. Regardless of which of the hot careers you choose, you know it'll come with a high paycheck.
If you have a high-paying career, you might experience some jealousy on the dating scene. Of course, you can avoid that by finding a partner who is as successful as you are, but that's not easy, either.
With only 10.7 people per square mile, you aren't likely to encounter many professionals when out and about. And it's not exactly like you want to find someone to date at work or while attending a conference.
But don't worry because you don't have to be alone. Instead, you can find your mate on EliteSingles. As the best dating app in South Dakota for professionals, EliteSingles gets results.
Since most of the members are professionals, jealousy isn't a thing on EliteSingles. A lack of options isn't an issue either, considering there are about four million members in the United States. Plus, you can find professionals in other countries, too.
Oh, and here's another reason why EliteSingles is the ideal dating app for single professionals in South Dakota.
Most of its members are aged 30-55, which fits right into South Dakota's professional workforce. The state has a higher workforce participation rate in those age groups than the national average, including in its hot careers. And that means it's easy for South Dakota professionals to find love on Elite Singles.
Seriously, we mean it's really easy! See, EliteSingles uses the five-factor model of personality and your personal preferences when matching you with members. See it in action by setting up a free profile on EliteSingles today.

What's the Dating Scene in South Dakota Really Like?
Many Singles Want to Settle Down Early – Marriage is the goal for a lot of South Dakotans, even when they're young. A lot of folks meet their forever partners while still in their early 20s. That can make it harder to find love in your 30s and beyond unless you use SD dating apps.
Poor Gender Balance – According to WalletHub, South Dakota has one of the worst gender balances through different age groups. While this makes it hard to find partners while out and about, dating apps open you up to countless opportunities. We chose sites with a nice assortment of men and women, so you won't have trouble finding love, regardless of your age or gender.
Singles are Often Connected – It's pretty common to meet someone new, only to discover you have a ton of friends in common. This can make the in-person dating scene pretty awkward, so many singles use dating sites to connect with folks outside of their cities and towns.
It's Hard to Know Who's Single – With so many people already married or dating, it's hard for single folks to know who's already taken. While some singles ask upfront, most say it's easier to hop on dating apps for South Dakota singles. That way, they know the people they're talking to are looking for partners.
Couples are Serious About Commitment – South Dakotans tend to be faithful when in monogamous relationships. Cheating is a rare occurrence here, so you can throw your heart into your relationship without worrying.
Dates Are Often Exciting – From hiking to hot air balloon rides, singles here often take a unique approach to dating. Sure, you can find people who are up for dinner and a movie, but many singles want something a little more exciting. Even so, most of them agree that chemistry is so much more important than the activities they choose.
Families are Close – Many South Dakotans have tight bonds with their parents and siblings, and meeting the family is usually a must when getting serious. And hey, this can be a tasty affair since moms often whip up hot dishes for their children's significant others.
It's Becoming More Diverse – The Hispanic, Black, Native American, and Asian populations are growing in South Dakota. Because of that, interracial dating is becoming more commonplace, especially in urban areas.
No Pics are a No Go – South Dakotans are savvy to scammers and usually ignore people who don't have pics on their dating profiles. Find out how many photos you should add to your profile so you'll be poised to make connections.
Some South Dakota Dating Apps are Known for Bots – We've heard lots of complaints about bots on Tinder, Match, and some other dating sites in South Dakota. Fortunately, you're not likely to run into bots when using one of the dating apps on our list.

Top Dating Apps in Sioux Falls
Best Sioux Falls Dating App Recommendations: eHarmony and Zoosk
With a low cost of living, fun nightlife, and excellent public schools, Sioux Falls is one of the best places to live in South Dakota. But can the same be said about dating? Get all the details on Sioux Falls. Plus, find out which South Dakota dating sites are ideal for singles in Sioux Falls.
In-Person Dating Scene Moves Slowly – Sioux Falls singles can meet people organically through groups, organizations, and activities. Then, they slowly build friend groups and might eventually land dates. Since this is such a slow process (think months or years), most singles prefer using South Dakota dating apps.
Downtown is Where the Action's At – Most of Sioux Falls is spread out, but downtown is concentrated with people and things to do. Some people hit the downtown bars for hookups, but those who prefer meaningful connections (even for short-term relationships) use dating sites.
Distance Isn't an Issue –. A lot of Sioux Falls singles expand the distance radius when using dating apps. Some go as far as 100 miles out to find partners, although you'll also have lots of options closer to home.
Options for Casual and Serious Dating – We've noticed that there's a big casual dating scene among college students in Sioux Falls. Plus, some of the younger professionals are still keeping it casual while growing their careers. Once people hit their mid-20s, most of them prefer serious relationships, though.
Now that you know what the dating scene's like, it's time to find out which app to use. Let's start with the top South Dakota dating site for college students and other casual daters. Most of the casual daters want genuine connections, so Zoosk is our pick.
But those serious daters? eHarmony is the gold standard of South Dakota dating apps for serious relationships.
Population: 196,528
Men: 50.2%
Women: 49.8%
Unmarried: 51.8%
White-Collar Employees: 77.7%
Blue-Collar Employees: 22.3%
Bachelor's Degree or Higher: 36%
Number of College Students: Over 3,000

---
South Dakota Dating in Rural and Frontier Areas
Best Rural Dating App Recommendations: SilverSingles and Higher Bond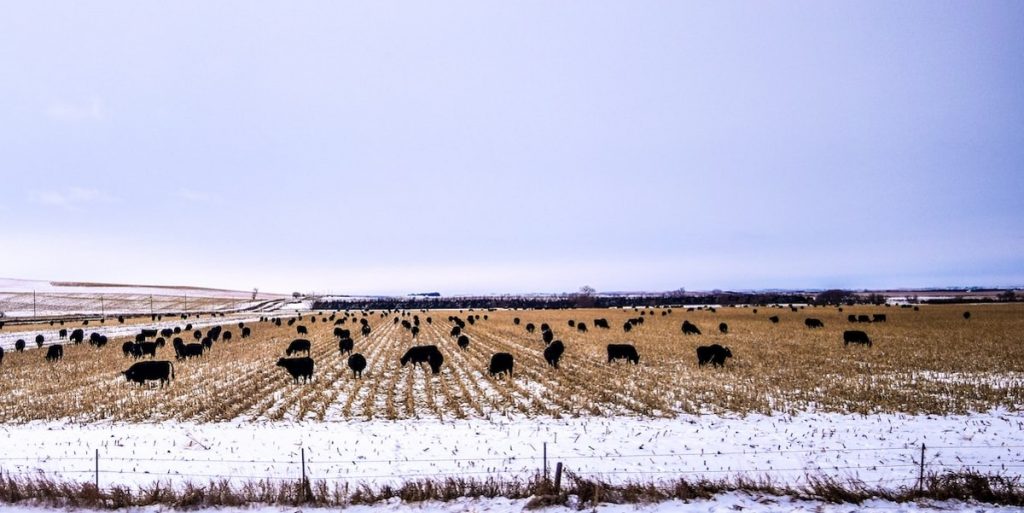 Considering that South Dakota is home to 34 frontier and 30 rural counties, there's a good chance you live outside of a city. Now, some dating experts forget all about the rural and frontier populations when covering online dating in South Dakota. However, there are far too many non-metro residents to leave them out, so we're going to cover the dating scene.
Dating Apps Have Opened the Doors for Singles – Before cell phones and broadband access, singles hoped to meet available men and women through friends, family, and work. Now, non-metro South Dakotans have adopted dating apps. Most of the state is covered by cell phone service, broadband, or both, explaining the popularity of the rural South Dakota online dating scene.
Distance Radius is the Single's Best Friend – Rural South Dakotans pretty much know their neighbors – and their neighbor's neighbors. Many of them use SD dating sites to find fresh faces outside of their general area. The only downside is the icy roads during the winter, which can make it hard to travel far for dates.
Religion is Part of the Scene – Rural South Dakotans tend to be more religious than their urban counterparts. In fact, Hyde County is the most religious and second-least populous county in the state. Almost 60% of Hyde County residents attend church, which is the seventh-most in the country.
Work Often Comes First – A lot of singles here are farmers and ranchers and have to put in long work hours before dedicating any time to dating. Fortunately, dating sites for South Dakota singles are always available, so they can fit dating into their busy schedules.
South Dakota's rural and frontier populations tend to skew older, so Silver is our pick as the best dating app. However, not everyone here is 50 and older. Since many of the younger folks are religious, Higher Bond is our next selection.
Population: 458,587
Number of Rural Counties: 30
Number of Frontier Counties: 34
Main Industry: Agricultural
Number of Farms: Approximately 30,000
Average Age of Farmers: 56


South Dakota Online Dating FAQ
What's the Best City for Dating in South Dakota?
WalletHub ranked Rapid City at number 16 on its list of the best and worst cities for singles. It beats out lots of other cities when it comes to dating economics and opportunities, making it a fantastic spot to find dates.
Also, Sioux Falls made the list at number 50. It also scores high marks in the dating economics category and offers more dating opportunities than a lot of other cities.
Neither city has many nightlife options, but that's not necessary, thanks to dating apps in South Dakota. You can even look for partners in these cities if you live elsewhere by changing the location on your dating site.
Is the South Dakota Online Dating Scene Safe?
As one of the safest states for online dating, South Dakota singles aren't likely to run into issues. Additionally, the top South Dakota dating apps prioritize safety. They check profiles, offer verification services, and more to protect singles.
Learn more about how this works by reading about safe dating apps. Keep in mind that the article was written before Higher Bond launched, but it's also one of the safest dating sites in South Dakota. In fact, it reviews profile pictures before letting new members use the site.