Are you worried that your STD diagnosis killed your dating life? Feeling isolated and alone is common after a positive test, but there are tons of compatible singles out there. It's just a matter of knowing where to look.
With that in mind, we set out to find the best dating apps for singles with STDs. While there are lots of options, five stand out, and we're excited to share them with you. Check out our recommendations so you'll be ready to click and match your way to love.
5 Best Dating Apps for Singles with STDs
---
Positive Singles – Best App for STD-Positive Dating and Support
Coming to terms with your diagnosis while dating can feel like a balancing act. It's so difficult that you might think something has to give. Fortunately, you don't have to choose between the two when using Positive Singles. Let's start with finding love…
While some dating apps focus on specific STDs, this one is open to all positive adults, explaining how it's accumulated over 2.3 million members. And the members are as diverse as their diagnoses, with people looking for hookups, casual romances, and marriage. No matter your relationship goals, you'll find like-minded singles here.
Even better, this STD dating app is full of resources to help you learn how to live with your diagnosis. The treatment stories and STD blogs are full of info, and you can submit questions to receive professional advice from an STD counselor.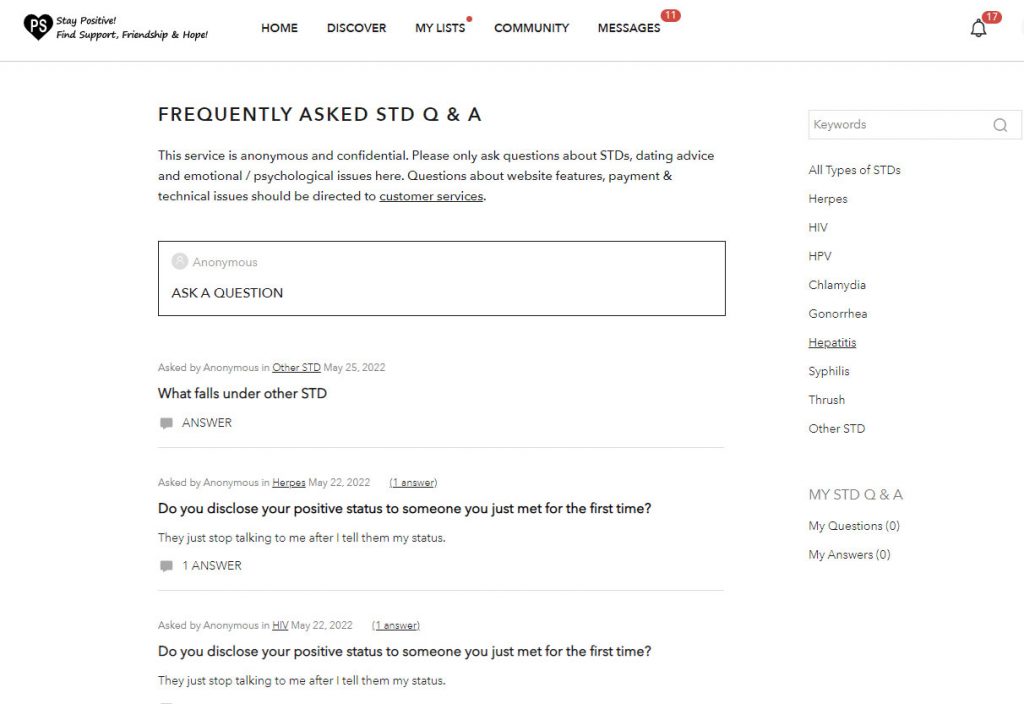 And since it's free to join, you have nothing to lose. Set up your free account today so you can match with singles while learning more about your condition. You can learn more about the positive singles free trial or…
---
Meet Positives – Best STD Dating Site for Finding Singles with the Same Condition
Are you hoping to match with someone that shares your diagnosis? Then, your match will know what you're going through, allowing you to connect on a deeper level. Plus, sex is a lot easier when you don't have to worry about passing an STD onto your partner.
You won't have any trouble turning your wishes into reality when using Meet Positives.
It has a ton of search features, including the option to find singles based on STD type. And since you're more than a diagnosis, you can also narrow down your matches by adding additional search criteria. It even lets users search by keyword when looking for dates.
We also think this is one of the best dating apps for singles with STDs because of its privacy features. By including chat to text and private number calling, you can keep your identity sealed until meeting in person. It's a lot easier to dive into dating when you aren't worried about your info getting into the wrong hands.
These are just some reasons we love this STD dating site. Create a free profile on Meet Positives today so you can start matching.
---
HSV Date – Best for Easy Matching for HSV Positive Singles
Do you have HSV-1 or HSV-2 and want to find singles that are also positive? That's simple as could be when using HSV Date. While the site grabbed our interest by creating a safe space for HSV-positive singles, it didn't take long until we found another reason to love it.
Unlike complicated sites that are challenging for low-tech users, this one is a breeze to use. The intuitive interface is easy to navigate, so you'll be flying around the app in no time. At the same time, it's loaded with features you'd expect from a more complicated site.
If you want to flip through profiles quickly, use the Quick Match feature to like or pass on members. Or you can browse profiles and click "Flirt" when you see someone you like. If you decide to flirt, you'll choose from a list of icebreakers and send it to the guy or gal.
You can get a lot out of the dating site with a free profile, but we recommend upgrading to a paid membership if you're serious about finding love online. It includes unlimited messaging, additional flirts, and extra features that will help you stand out and connect with matches.
But you don't have to decide yet if you want to pay for a membership. Instead, start by creating a free profile on HSV Date.
---
MPWH – Best Herpes Dating Site for Younger Singles Living with HSV
MPWH stands for "Meeting People with Herpes," and it's full of men and women looking for friendship, casual flings, and true partnerships. It's open to all adults living with herpes, but we really like it for younger singles.
The app's search features are well set up for younger singles who still aren't sure exactly what they want from a relationship. On top of this, it also has an impressive list of free features. It's also been on the market since 1999 making it one of the oldest and most trusted herpes dating sites online. So check it out if you're ready to find a match. You can fill out your profile and create your free account in a matter of minutes.
---
eHarmony – Best STD Dating App for Long-Lasting Love (Mainstream Option)

Yes, you're STD-positive, but that's just part of who you are. There's so much more to your personality, and you want to find a compatible partner. That's why we've included eHarmony on our list of the top dating apps for STD-positive singles.
It matches people based on personality, habits, and interests, so you can find a compatible partner with or without an STD. This algorithm is so effective that it's helped more than two million singles find love, so it's the real deal. With numbers like that, this could be your ticket to the romance of your dreams.
Because this isn't a niche STD dating app, you won't check a box to designate your status. Additionally, eHarmony doesn't consider STD status when matching singles. Still, you can let singles know in your profile or through chat before moving things offline.
If you're tired of breakups and want something long-lasting, sign up for a free eHarmony account today.
---
Why Are These STD Dating Apps the Gold Standard?
Open Environment – Whether you use one of the best mainstream or niche dating apps for singles with STDs, you can expect a welcoming, open environment. You'll feel comfortable living your truth when looking for a partner.
Be More than Your Diagnosis – These dating apps look deeper than STD status when matching singles. They dig down to help members find compatible partners based on their traits, interests, and relationship styles.
Privacy is a Priority – Our favorite dating apps for STD-positive singles take privacy seriously. You don't have to worry about your status or personal details getting into the wrong hands.
Explore Friendships and Relationships – You can find supportive friends and love on these dating apps and sites. Whether you're ready to walk down the aisle or want to take things slow, you'll find your match.

Herpes Dating Sites
Basically all dating sites for singles with STDs cater to the HSV crowd, but maybe you're looking strictly for a community of individuals that are dealing with the same things you are? We can certainly understand that! In addition to HSV Date and MPWH (which we've already discussed), here are three of the most popular HSV dating apps:
HSV Singles – While this dating site does a great job of appealing to HSV positive singles in all 50 states there is one major issue we can't ignore and that's using user data to advertise their product. If you're on the homepage of this site or any of the state focused pages you'll notice real users pictures, user names, ages, location, and bios. This hits us as a huge red flag.
HerpesFish – Also advertised as "Plenty of Herpes Fish" this site boasts "millions of quality members" and free profile placement. And while there are some unique features including the inspirational stories of over 1,400 members we couldn't help but notice that this site looks like it hasn't been updated since its launch in 2001. It's free… but since your time is valuable probably still overpriced.
Hwerks – In contrast to the last 2 options this herpes dating apps is refreshingly modern. There are also unique social features that allow users to engage outside the app like chat rooms, active forums, and a "secret Facebook group". They are also working toward hosting local and national events in the future. Unfortunately the small user base prevents us from recommending this app to our users right now, but they've certainly caught our attention.

Should You Only Date People with STDs?
We're not going to lie… There's a comfort that comes with dating other positive singles. You'll have an understanding with your partner and feel less self-conscious in the early stages. Plus, having the same diagnosis eliminates the fear of passing it on to your partner.
Even though all of that's true, you don't have to limit yourself to dating singles with STDs. The stigma around sexually transmitted diseases is fading, and more singles are comfortable with dating positive people. By opening yourself up to these possibilities, you'll expand the dating pool and increase the chance of finding true love.
That's why we recommend claiming eHarmony's free trial along with trying niche-STD dating apps. By throwing a mainstream app into the mix, you can try your hand at dating singles with and without STDs.
It's like doubling your chances for love. We're not math geniuses, but that sounds like good odds to us.

Disclosing Your STD Status When Dating Online
Because STDs don't spread online, some singles keep their lips sealed until meeting in person. However, we recommend disclosing it before moving from the dating app into the real world. This will help you avoid an uncomfortable in-person conversation. Plus, disclosing early will keep you from getting too attached to folks that aren't down with dating STD-positive people.
So, how should you handle the disclosure?
Some singles include it on their profiles. For instance, they might add "herpes+" to let matches know their status. Or you can make it more fun and welcoming by adding something like, "I'm HSV-1 Positive – Ask me Anything." Not only is that a great icebreaker, but it can help you reduce the stigma by educating singles.
Does disclosing it on your profile make you a little nervous? If so, you might want to wait until you have some virtual conversations with your match. Once things start progressing, you can discuss your status before taking it to the next level.

Dealing with Rejection Based on STD Status
We've worked hard to find the most open, welcoming dating apps for people with STDs. Still, you could encounter rejection at some point during your online dating journey. As much as it stings, you can dust yourself off and get back out there with the right mindset.
Let's look at some ways you can work through rejection and regain your power.
First, realize that your diagnosis is just part of who you are. Understanding this can help you roll with the punches online. It's much easier to dust off rejection when you know you're a great person with a lot to offer the right partner.
Second, think about what went wrong. Did you wait to disclose it until chatting? If so, you can put your status in your profile to avoid attracting people who aren't interested. Or maybe you did put it on your profile, connected, and then got rejected. In this instance, it sounds like the person doing the rejecting is blaming the STD when it's really just a lack of connection.
Finally, it's a good idea to put things into perspective. Rejection is a part of online dating, no matter the person's status. You've probably rejected your fair share of singles as well.
Once you have things in perspective, get back out there and start dating. You'll find tons of people that are ready to date you, so don't dwell on the one or two that got away.