In a state of nearly 29 million people, finding someone special to date and share your time with should be easy, right? With rich culture, eclectic activities, and incredibly diverse population, it should be a breeze, right?
While we wish finding love was as easy as pie (Pecan pie, of course), it's just not the case. It's hard to make big cities feel small and sometimes options overload can make things worse instead of better.
Thankfully, technology has come to save the day! We are talking about online dating. And before you groan and think that's weird, we're here to tell you that online dating in Texas is now one of the most popular ways that singles of all ages and backgrounds meet!
Top 5 Dating Apps in Texas in 2023
In the remainder of this guide, we're excited to share a wealth of knowledge and information with you. We'll start by introducing you to the best dating apps in Texas. After that, we'll talk about which apps are the most popular and then break down dating in Texas city by city. And finally, we'll close with some great tips to help you master the Texas dating scene, and answer your most pressing questions about how to get started on the road to love success right now.
---
Jump to:
---
1. eHarmony – Best for Finding Love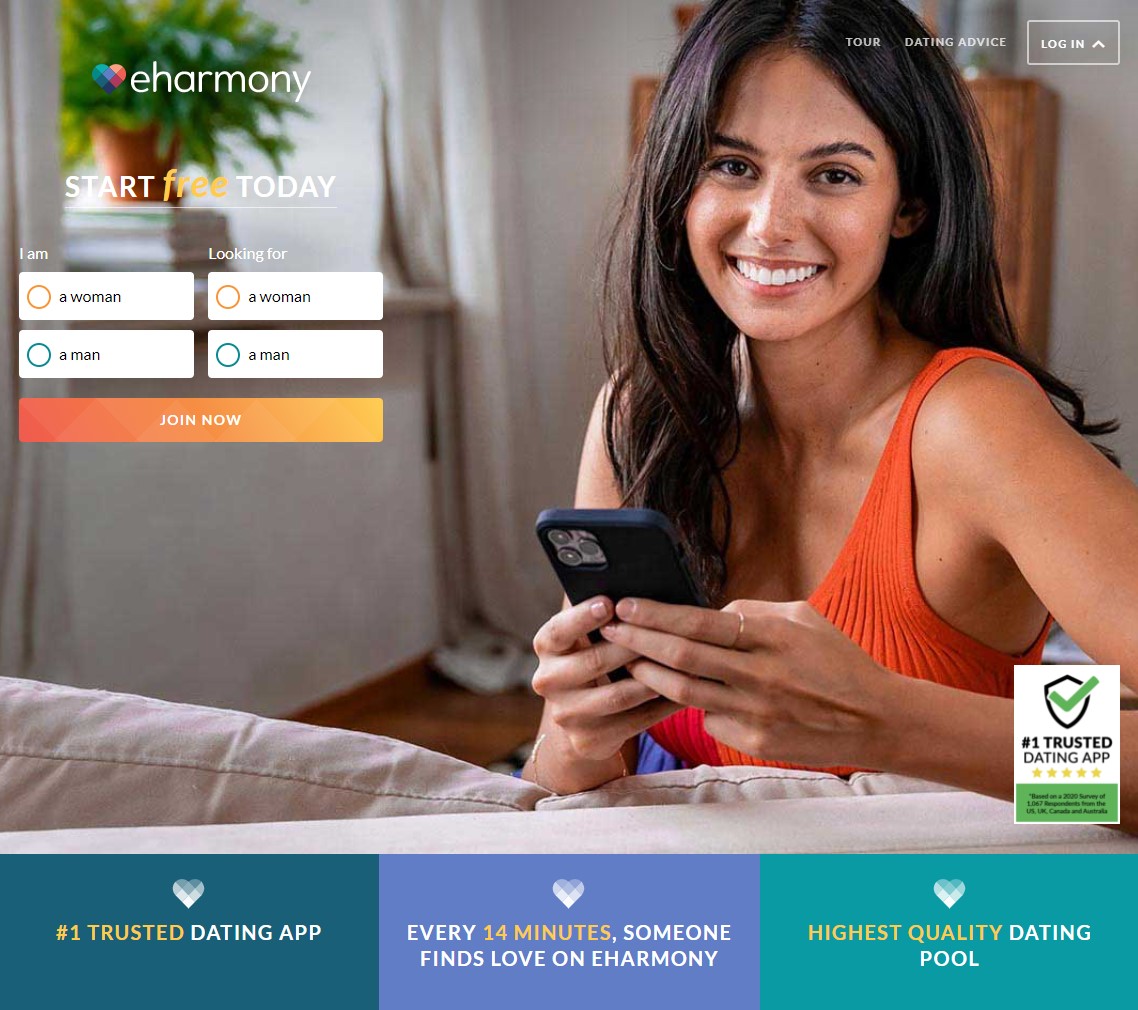 Who Will Love eHarmony: Singles who are looking for serious, committed relationships
Who Might Not Enjoy eHarmony: Texas singles who are looking for casual dating or flings
Biggest Pro: Over 2 million singles have already found love through the app
Biggest Con: More in-depth and longer sign-up process with the matching questionnaire
Starting Price: Premium memberships start at $35.90 monthly
The battle for the best dating app in Texas came down to what really amounts to a tie, based solely on what you're looking for. If you're looking for casual dating or to take things really slow, head down to the next couple of options. If you're looking for a committed relationship and to find love, then eHarmony is the number on dating app for you.
While eHarmony is not technically a Christian or religious dating app, there are an abnormally high number of Christian singles on the site. With Texas being the 11th most religious state in the U.S. (64% of adults say they are highly religious), this bodes pretty well for almost two-thirds of the population.
And if you're not religious or looking for a faith-based Texas relationships, that's okay. There are plenty of singles from all backgrounds and walks of life.
eHarmony as our top pick was easy-peasy.
---
2. Zoosk – Best for Options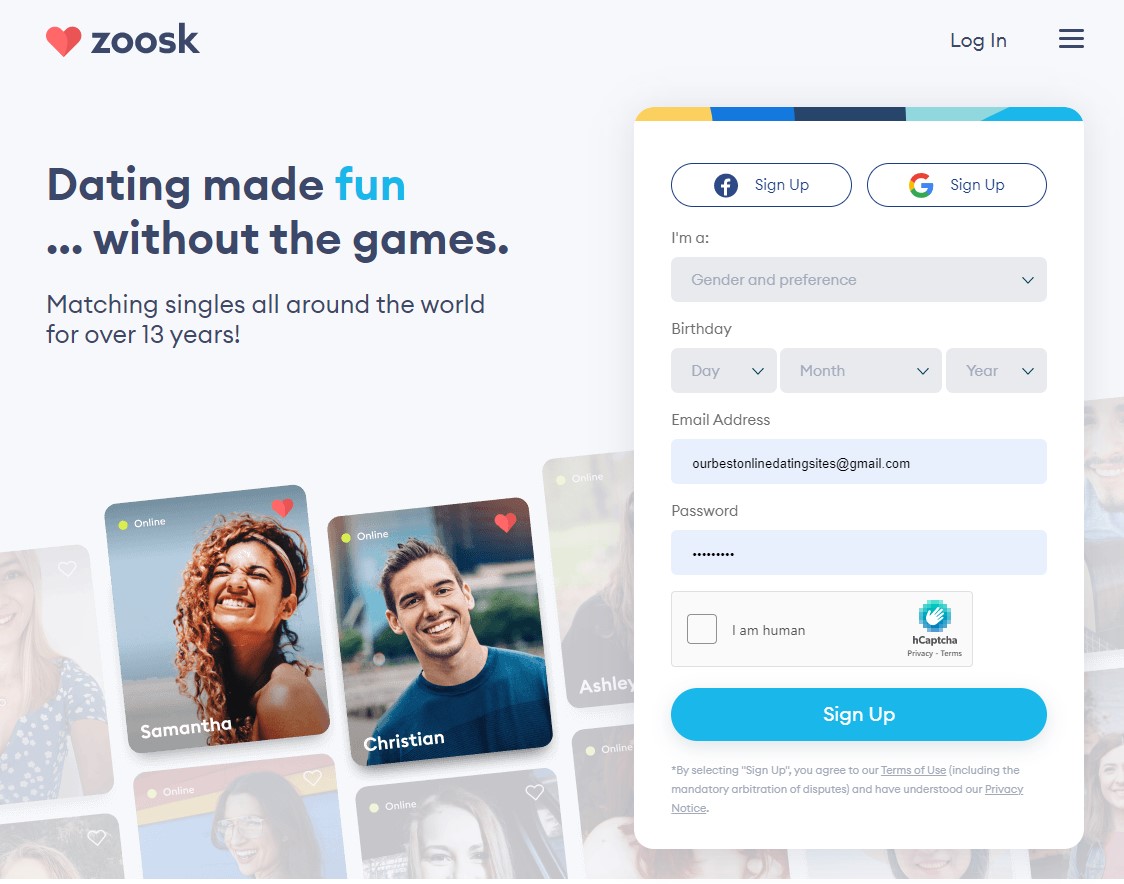 Who Will Love Zoosk: Texas singles who want the most options to choose from
Who Might Not Enjoy Zoosk: Singles who 100% want a serious or committed relationship
Biggest Pro: 35 million active accounts
Biggest Con: May have to deal with messages from singles who want something different than you
Starting Price: Premium memberships start at $12.49 per month
If you look further down in this guide where we talk about the most popular dating apps in Texas, you'll see that Zoosk takes the cake by a long shot! What this means for Texas singles is options—35 million to be exact. According to the company, there are over 35 million active user accounts with over 3 million messages sent on average every day.
Wowzers. If everything is bigger in Texas, the same can probably be said about Zoosk. What's really great about the site (besides the options) is that you'll have a healthy mix of people who are looking for serious relationships, people who are looking for casual dating, and everything in between.
If you're looking for the best Texas dating app, you owe it to yourself to at least check out Zoosk and see what's available in your area.
---
3. Elite Singles – Best for Professionals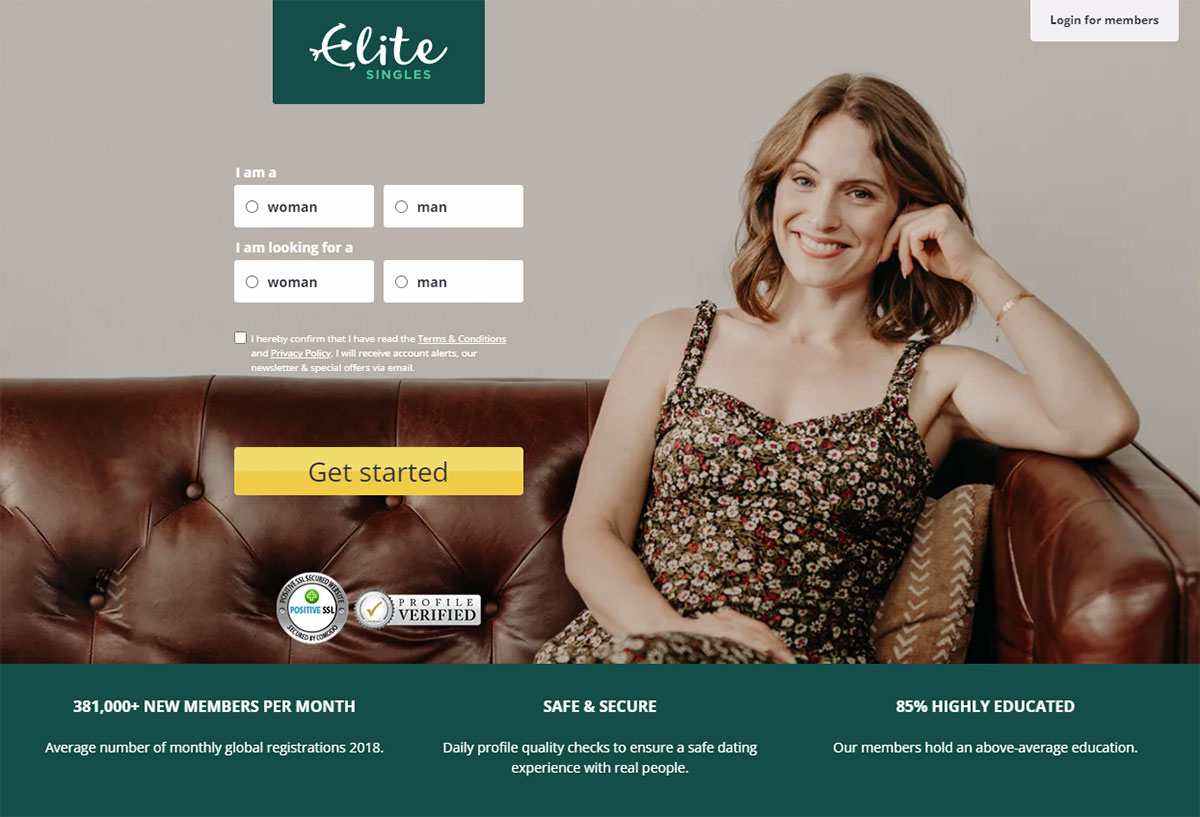 Who Will Love Elite Singles: Ideal for singles in their late 20s to early 50s who value education and success
Who Might Not Enjoy Elite Singles: Singles who don't care about the education level of their partner
Biggest Pro: Over 85% of the singles have an above-average level of education
Biggest Con: The desktop interface could use a facelift
Starting Price: Premium memberships start at $44.95 per month
Whether you spell it Elite Singles or EliteSingles, the site you're looking for is the same great quality. With several hundred thousand new singles joining every month and over 85% of the members holding an above-average level of education, this option is a must-try for Texas singles.
While this is a great Texas dating app for anywhere in the state, we're really big fans of the option for people living in some of the bigger cities like San Antonio, Houston, and Dallas. As these cities are major hubs of industry for Texas, you'll find a lot of higher performers who fit perfectly into the Elite Singles pathway.
If you value education and find people who are successful attractive, it's time to give Elite Singles a try.
---
4. SilverSingles – Best for Seniors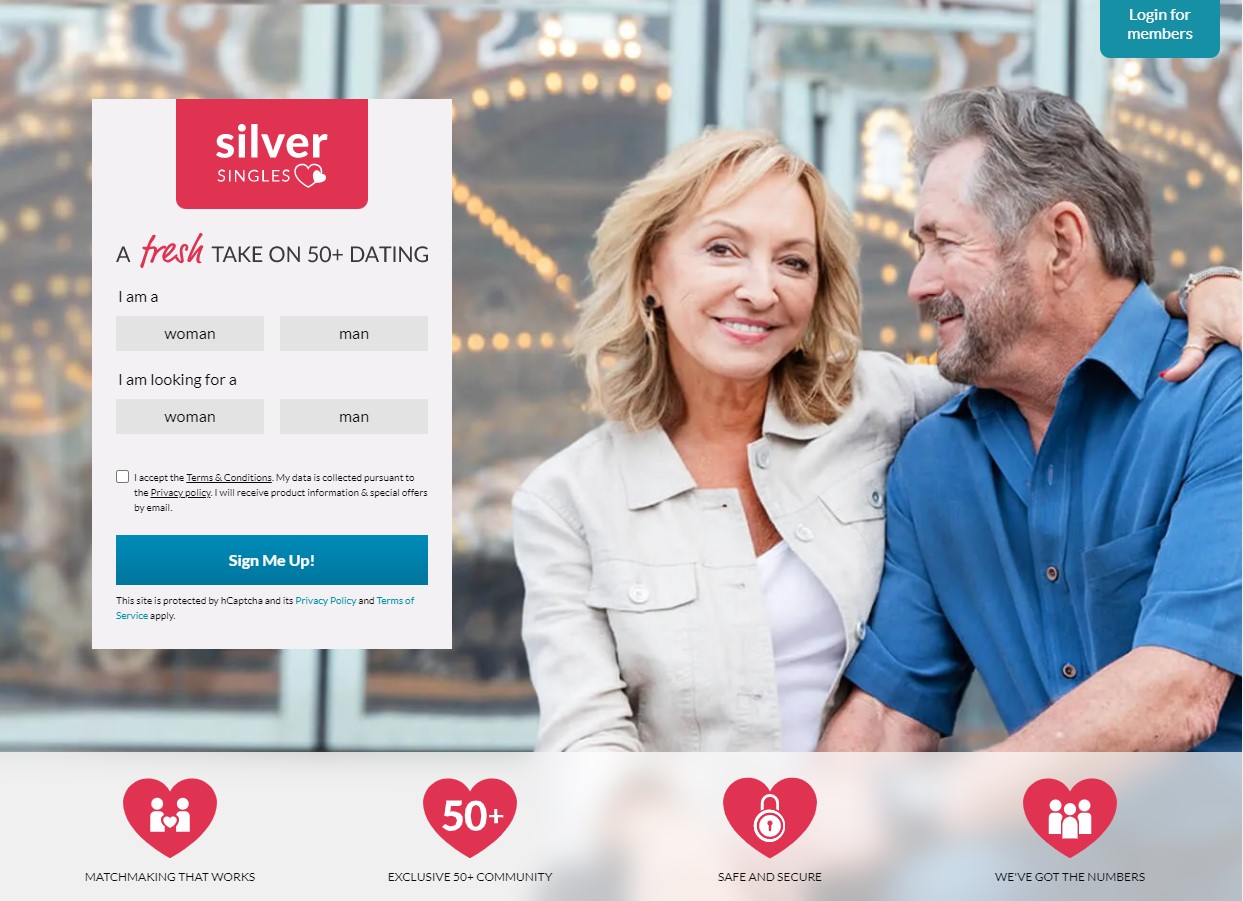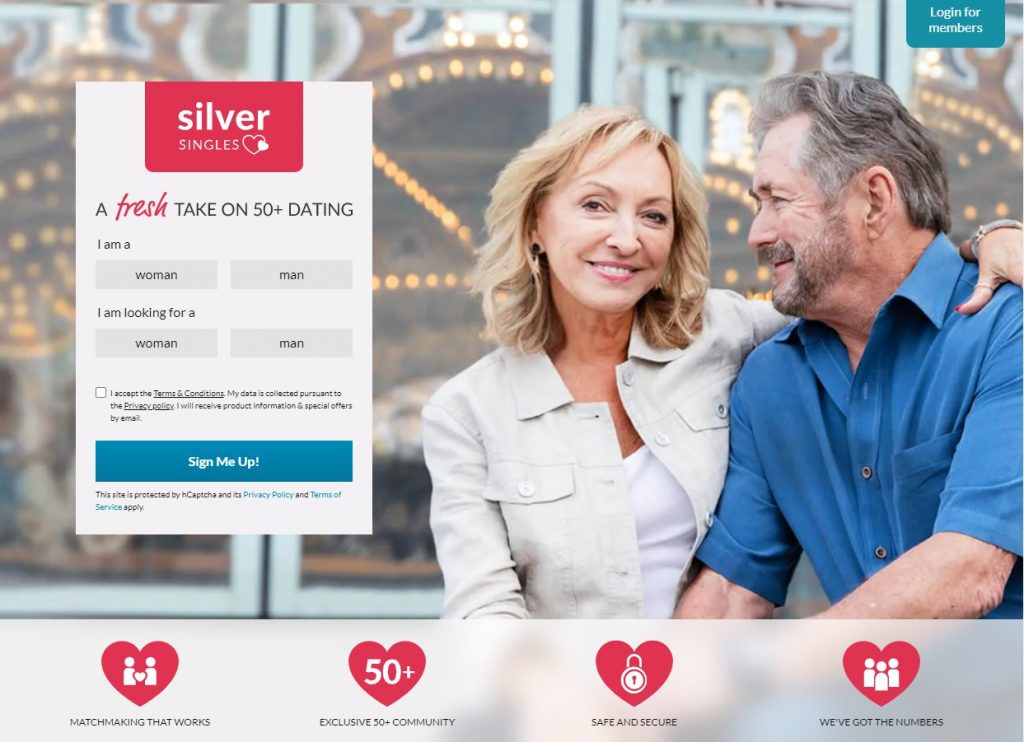 Who Will Love SilverSingles: Senior singles over the age of 50 looking to meet someone new
Who Might Not Enjoy SilverSingles: Anyone under the age of 50 or who wants to date people under 50
Biggest Pro: 100% designed specifically for senior singles with their needs in mind.
Biggest Con: Not ideal if you're in your early 50s and may want to date someone in their 40s
Starting Price: Premium memberships starts at $19.95 per month
According to the most recent Census, 31% of the population of Texas is 50 years of age or older (that's almost 9 million people)! However, even with so many people, dating after 50 can seem like an uphill battle, especially when you're not in the mood to settle during the best years of your life.
Thankfully, SilverSingles is an incredible option to help connect you with likeminded singles in their 50s, 60s, 70s, and on. As one of the staples on our list of the best Texas dating apps, this option is 100% designed specifically for people over the age of 50. In fact, if you're not at least 50 years old, you can't join!
---
5. Christian Mingle – Best for Faith Dating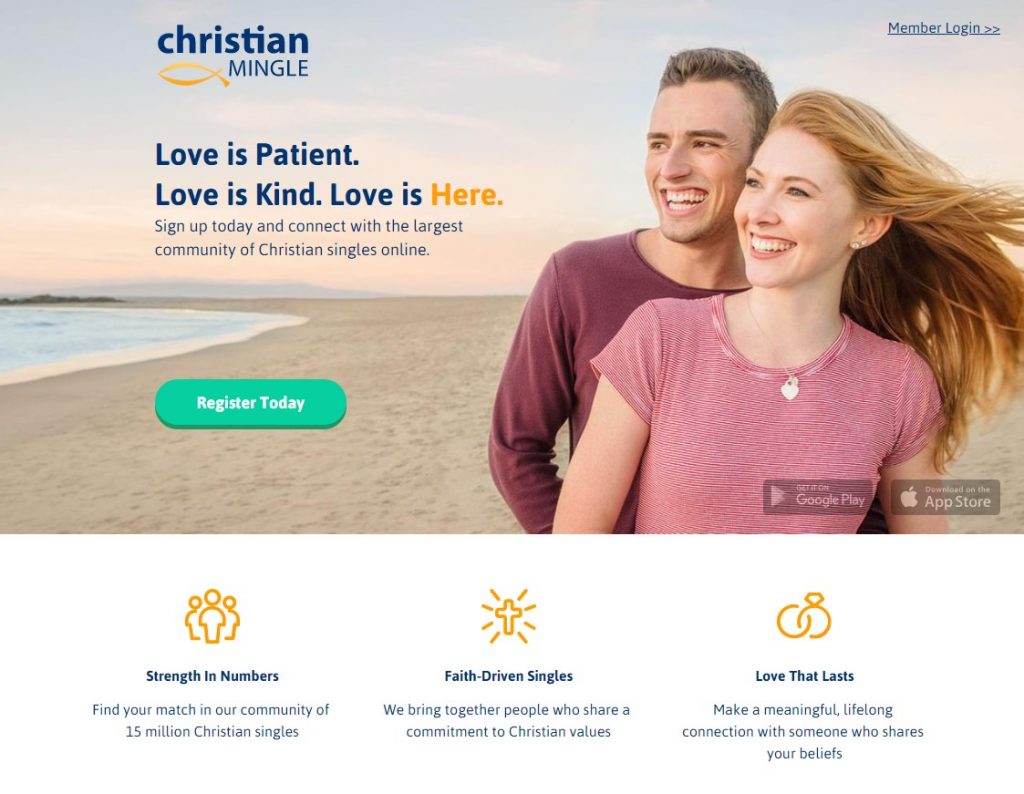 Who Will Love Christian Mingle: Christian singles who are looking for a faith partner
Who Might Not Enjoy Christian Mingle: Anyone who is not a Christian or doesn't care about the faith of their partner
Biggest Pro: Safe-space for over 15 million Christian singles
Biggest Con: Not as in-depth of matching
Starting Price: Premium memberships start at $24.99 per month
As we mentioned already, Texas is ranked as the 11th most religious state in the US, which means the need for faith-based dating in the state is big. According to a recent study, 64% of singles in TX (almost 18.5 million people) say they are highly religious.
Thankfully, Christian Mingle (and its 15 million members) are a great option for Christian singles in Texas. The site takes a simplistic approach to dating that does a great job of helping to match people without overwhelming. The app is available via desktop, iOS, or Android, giving you the ultimate flexibility to date, search, and match from anywhere you are.
The site is 100% not a great fit if you're not a Christian single who cares about their faith. But if you are—it's a home run.
---
What Dating App is Most Popular in Texas?
Since Texas is so famous for beauty pageants, we thought we'd have ourselves a good ole' time and hold our own popularity contest. And while we can't have Texas dating apps sing, dance, and answer questions on stage, we can look to an incredible source of data for help—Google Trends.
Below, you'll find the comparative search traffic of the top five Texas dating apps over the past five years. While popularity isn't everything when it comes to choosing the right option for you, it sure goes a long way to winning our favor—especially in a state as large as Texas.
Zoosk – Try Zoosk Free!
eHarmony
Christian Mingle
SilverSingles
Elite Singles
Congrats to Zoosk! As you can see, the site is by far the most popularly search dating app in Texas over the past five years. While its popularity has been slowly coming down over the past few years, our Zoosk review points out that 35 million active accounts is still reason to get excited. If you look at eHarmony, the second most popular dating app by this metric, you can see that it's on the climb over the past year or so. And with over 2 million+ people finding love through the site (as per our eHarmony review), that's also cause for excitement.
Keep in mind that we're limited in the number of app options we can compare at one time. For that reason, we chose the top traditional, profile-style dating apps to compare here. If we were to include swipe-style dating apps like Tinder and Bumble, those would be towards the top of the popularity charts, at least in terms of search traffic.
Additionally, Match.com (headquartered in Austin, Texas) started more popular than eHarmony but less popular than Zoosk over the past five years. However, over the past two years, eHarmony has eclipsed Match in the state of Texas for search popularity, according to Google.

What is the Dating Scene in Texas Really Like?
It doesn't matter if you're brand new to Texas or you've lived there your whole life and are just getting back out into the dating scene; knowing what to expect can give you a big advantage over the other Texas singles searching for the same thing as you. Here are some insights from Texas natives about what you can expect when you get out there.
Online dating is popular in Texas. – We saw a massive boost in search interest of online dating apps in the state around 2018. Since then, the popularity dropped slightly off the peak, but has leveled out to a consistently high level. Texas is currently ranked 16th in the nation for level of interest in online dating, according to recent search traffic over the past 12 months.
Dating in Texas is not the same in every city. – As you may already know, Texas is a massive state with over 1,200 different cities spread across the expansive state. While the scenery may look the same in each city, the culture, people, traditions, and activities are wildly different. For example, the types of singles you'll run into in Austin will vary wildly from what you'll see in Dallas which will vary wildly from what you'll see in Laredo. If you're not having luck with the types of people you're meeting in your city, consider expanding your search a little wider.
It's not all cowboys and cowgirls in Texas. – If you are looking for a cowboy or cowgirl, you will find plenty of them on the singles scene in Texas. However, if you're looking for something a little different, you'll find people of all walks of life in the state. This is one area where Texas dating sites really shine to help you select exactly what it is you're looking for.
The culture of the state makes picking out dates a little easier. – This actually works in two ways. First, the culture of available events (like rodeos, festivals, fairs, etc.) make it super easy to pick out places to take a date. Second, the culture and diversity of the people, give you a lot more options of different types of people to choose from to take on those awesome dates.

Dating in Houston
Best Houston Dating App Recommendation: Elite Singles
The weather is not the only thing that's hot in Houston! As Texas' largest city by population, Houston is also home to a budding dating scene, both online and in-person throughout the metropolis and the suburbs. If you're looking for love in the southeast corner of the Texas Triangle, you've certainly got options in the city.
For the online dating realm, Elite Singles is our top recommendation, due to the professional scene in the city. It's a great app for singles who value success, drive, and education, which puts it to the top of our list. For those looking for something more casual, we'd recommend Zoosk (if you want traditional dating) or Tinder if you're just looking for a fling. Both registered at the top of our Google Trends data research for the most popular apps in the city of Houston (data below).
Regarding the actual dating options in Houston, the median age in Houston is 33.4 (a little less than the state average), the gender split is 50/50 between men and women, and the largest ethnic group in the city is Hispanic (at 46%). And with over half of the population in the city not married, there are still plenty of singles for you to get to know.
Most Popular Houston Dating Apps
% of Population Unmarried: 55.6%
Number of Men in Houston: 1,157,680 (50%)
Number of Women Houston: 1,159,117 (50%)
Traditional Dating Site Popularity in Houston, TX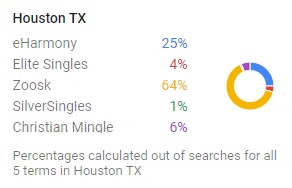 Dating in San Antonio
Best San Antonio Dating App Recommendation: Zoosk
Texas' second-largest city and also America's seventh-largest city is a place born of rich history and tradition. Beyond the tourist attractions like The Alamo and Sea World is a southwestern city that is ripe with singles looking for dating and love.
Because San Antonio isn't nearly as big as Houston, we opted to recommend Zoosk as the best San Antonio dating app, due to the large number of active members (35 million as per the last report we saw). And with just over half of the cities population unmarried, it's a great choice for those looking to find someone special for forever and for those looking to enjoy the city casually with someone new.
When it comes to the singles population in San Antonio, expect to see a high prevalence of Hispanic singles (64% of the city). This is followed pretty distantly by 25% white and 6% black. Females are the slightly higher majority at a little under 51%, but not by much. Median age in the city is 33.6, which, much like Houston, is slightly below the Texas state average of 34.6 years old.
Most Popular San Antonio Dating Apps
% of Population Unmarried: 56.3%
Number of Men in San Antonio: 744,596 (49.4%)
Number of Women in San Antonio: 763,487 (50.6%)
Traditional Dating Site Popularity in San Antonio, TX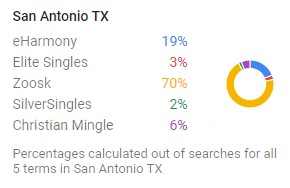 Dating in Dallas – Ft. Worth
Best Dallas Dating App Recommendation: eHarmony
If you live in the Dallas or Ft. Worth area, you know that even though the area is ripe with bars, culture, and things to do—dating is still hard. In our humble opinion, faster-paced cities like Dallas are where singles benefit the most from dating apps. It gives you the ability to meet people who you otherwise wouldn't even get the chance to see, thanks to the pace of the city.
For us, eHarmony is our top choice for the Dallas and Ft. Worth areas. If you look at Texas dating app popularity broken down by city, eHarmony has a much higher percentage of search volume than it does in other cities. While it's still lower than Zoosk in search volume, we think it's worth taking note that the popularity is rising, making it a great option for singles in Dallas and Ft. Worth.
For the city, the split of men and women is about equal, with the slight edge going to the ladies. Nearly 60% of the city is unmarried, making it a great spot for anyone who might be looking to take things to the next level. The ethnic breakdown of the area is much like the rest of Texas where it favors Hispanic singles (42%), followed by 29% white, 24% black, and 3% Asian.
Most Popular Dallas Dating Apps
% of Population Unmarried: 58.0%
Number of Men in Dallas: 660,177 (49.1%)
Number of Women in Dallas: 683,388 (50.9%)
Traditional Dating Site Popularity in Dallas, TX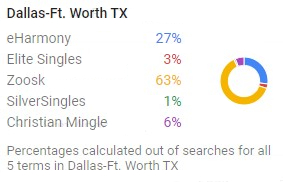 Dating in Austin
Best Dallas Dating App Recommendation: Zoosk
We're not going to try and hide it—we love Austin! As one of the most eclectic, unique, and sometimes weird (in a good way) cities, it's no wonder that it's a great place to find love. What's great about Austin is that not only are the Texas dating apps recommended here great to use in the city, but the city itself has a ton of great places to meet singles. You can meet people at music festivals, at the bars on Rainey Street, or at any of the many cultural events held regularly.
For dating apps, we recommend Zoosk. Why? Well, with Austin being so eclectic, what you're looking for when it comes to dating may be eclectic as well. For that reason, we think a dating app with more options is most ideal. And with 35 million people on the site, Zoosk fits the heck out of that mold.
As far as the culture of Austin, we're just going to keep saying eclectic because it's the absolute best word to describe it. As opposed to many of the other cities in Texas, Austin is predominantly white (48%) followed by Hispanic (34%), Asian (8%), and Black (7%). The gender split is slightly more males, and the median age is 33.9 years old, slightly below the state average.
Most Popular Austin Dating Apps
% of Population Unmarried: 57.3%
Number of Men in Austin: 495,874 (50.6%)
Number of Women in Austin: 483,389 (49.4%)
Traditional Dating Site Popularity in Austin, TX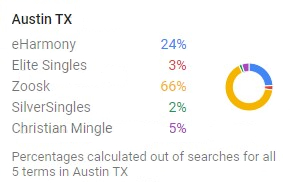 FAQ – Texas Dating Sites
What is the number one dating app in Texas?
The best dating app in Texas is a tie between eHarmony and Zoosk, depending on what you're looking for. If you are looking for a serious and committed relationships, go with eHarmony. If you are looking for a more casual relationship or aren't sure yet, go with Zoosk.
Is Tinder popular in Dallas?
Yes, Tinder is quite popular in Dallas. In fact, according to Google Trends, it's the most searched swipe-style dating app in Dallas and the state of Texas.
What's the best Texas dating app for serious relationships?
The best Texas dating app for serious relationships is eHarmony.
Is online dating in Texas safe?
Online dating in Texas is as safe as it is in any other state in the US. While dating apps can do quite a bit to keep you safe (and they do), it's ultimately up to you to ensure you're being smart when you date online. If you follow some basic safety principles, dating online in Texas can be safe.
Is online dating legal in Texas?
Yes, online dating is completely legal in the state of Texas
Where can you meet men in Texas?
When it comes to meeting men in Texas, you have both online and offline options. For offline, we recommend taking advantage of Texas' rich culture, seasonal events, bar/nightlife scene, and the gym. You can also leverage friends and families to introduce you to anyone that they know. For online dating options to meet men, we recommend trying Zoosk, eHarmony, or Elite Singles.
Where can you meet women in Texas?
The options you have for meeting women in Texas are the same ones that we recommend for meeting men! You can try offline options like festivals, bars, nightclubs, gyms, churches, or through friends and family. For online options, we recommend eHarmony, Zoosk, or Elite Singles if you're looking for more than a casual fling.