Have you snogged your fair share of frogs, and now you're searching for your prince or princess charming? You want to use the best UK dating apps to find your match, but what makes the cut?
We asked ourselves that same question and spent hours searching for the answer. After poring over data, browsing features, and looking at match quality, we came up with four that check all the boxes. Check out our options so you can avoid dating disasters and match your way to love.
4 Best UK Dating Apps
---
eHarmony UK – Best for Finding True, Long-Lasting Love

UK residents have changed the way they define long-term partnerships. Walking down the aisle was the goal in the past, but these days, more and more couples are living together without getting married.
But either way, countless UK men and women crave long-term partnerships with someone they love. And in each instance, compatibility is the key to happiness. Everything is easier with the right partner, from social interactions to communication.
Fortunately, finding compatible matches is a given on eHarmony.
Now, you can't find the perfect fit without a little work upfront, so you'll take a compatibility quiz when signing up. But don't stress about the word "quiz." This isn't a maths exam. No, you'll answer questions about how you see the world, your reactions to situations, and your interests.
After answering the last question, eHarmony will evaluate your:
Communication style
Behavior in relationships
Everyday life
Personality
And then, it'll compare you to other singles and find compatible matches.
You can even see how you mesh with a match by clicking on the profile and heading to the "Compatibility" section. Then, it'll break down your similarities and differences, so you'll know if you want to pursue a connection.
Are you ready to find that special someone and make a long-term commitment? Create a free account on eHarmony today.
---
EliteSingles – Best for Singles at the Top of Their Professional Games

Have you spent your career climbing the ladder, taking on higher-paying jobs with each step? That's par for the course in the UK. See, more than a fifth of UK workers hold "professional" jobs, including senior official and director roles.
We know top earners like to pair with other ambitious people. That way, their partners can help them achieve their goals instead of holding them back.
With that in mind, we dug around to find the best UK dating app for professionals, and EliteSingles won by a landslide. While you don't have to earn six figures to sign up, most members are highly successful.
We really like the income and education preference settings in this app. If you set it to "very important," EliteSingles will find guys or gals with comparable incomes and degrees. Simply put, you can set the bar high and find people that jump right over it.
You don't have to settle when looking for love. Instead, find someone that's as much of a go-getter as you are on EliteSingles.
---
Christian Mingle – Best for Mingling Faith and Love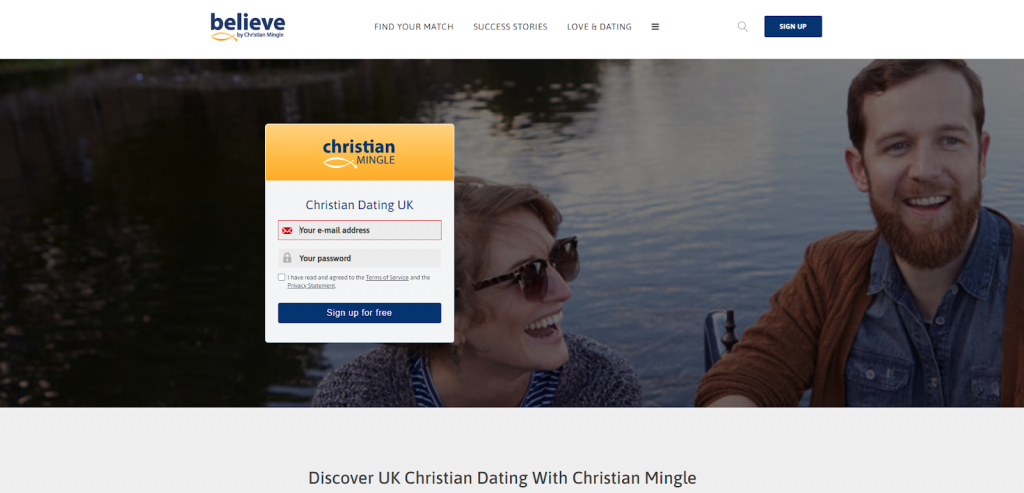 Have you noticed that it's getting harder to find Christian singles in the UK? Some are calling it a "post-Christian era," with the number of self-identified Christians falling. But even so, around half the population still identifies as Christian.
If religion is a big part of your life, you want a partner that feels the same. And that's why Christian Mingle is our top choice for religious singles living in the UK. It matches people based on religion and interests, so you can find true love here. And with tons of users, you can be as picky as you want without running out of options.
You don't have to leave religion behind to find your match. Instead, head to Christian Mingle to set up a free profile.
---
SilverSingles – Best for UK Singles 50 and Up

During our research, we discovered the UK's aging population is on the rise, and tons of people 50 and older are living alone. We also found out that many of them want to start relationships.
And that made us wonder, where do seniors go to find love? We know they can use eHarmony, EliteSingles, and other sites, but those cater to the younger crowd. So instead, we wanted to find something made specifically for older singles.
It turns out that SilverSingles is the hotspot for the 50+ crowd.
Because this dating app is meant for seniors, it does things differently than the others. First, you'll notice that it's really easy to use. You don't have to be a techie to match with men or women across the UK.
Plus, it asks questions that are important to seniors looking for partners. For instance, you'll let SilverSingles know if you have a strong desire for sex. Since sexual compatibility is a big deal in these relationships, we love that SilverSingles asks this question upfront.
Oh, and SilverSingles also strives to keep fake profiles off the site. Instead of just using an algorithm to detect fakers, it deploys agents. We know some scammers target older singles, so this is a must when using a UK dating app.
Whether you're looking for your first or fifth chance at love, you can find it on SilverSingles. Check it out by creating your free profile.

Why We Love These UK Dating Apps
Find Matches Throughout the UK – Our favorite apps are ideal for singles in England, Scotland, Wales, and Northern Ireland. No matter where you live, you can find someone nearby.
Influx of New Members – Since these dating apps get new sign-ups by the day, there's no shortage of singles to meet. Check back often because you never know when your ideal match will slide into your inbox.
Comprehensive Profiles – You'll see more than a picture or two on these dating apps. Each includes a questionnaire for singles to fill out, allowing you to browse and match by personality and interests.
Date at Home and on the Go – With mobile and website versions, you can date on the go when using an option from our list. Online dating is fast-paced, so it's nice to connect on the go. 

Niche UK Dating Apps
We recommend using one of the mainstream apps for the best results. Still, a handful of niche dating sites made it onto our radar, and we want to share them with you. You can use them to supplement your online dating game, but they aren't good replacements for mainstream sites.
Telegraph Dating – This dating app is courtesy of Telegraph Media Group and is the best niche option. It has advanced search filters, so you can find a match that checks all the boxes. It also has lots of active users, plus some neat features to help you connect quickly.
Fluttr- Fluttr is the UK's answer to catfishing and online dating scams. The app uses biometric ID verification technology to authenticate users. We love the idea, but it's still too new to know how it works. We'll be keeping our eyes on this one, though.
Muddy Matches UK – If you live in the countryside, it can be hard to find dates. And that's where Muddy Matches UK comes into play. It's designed specifically for singles in rural areas and covers the entire UK. But while it's led to some connections, the matching system is pretty basic, so it doesn't stand up to the top UK dating apps.
UK Social – This dating app is full of so many fake profiles that it's not worth trying. Plus, people from other countries sign up, even though it's supposed to be a UK dating app. After reviewing it, we're comfortable saying it's pure rubbish.

Best Dating Apps by Country – How to Find Love in the UK
All of our recommended apps will set you up for romantic success. Still, you can improve the odds even more by choosing a site based on where you live. Let's break it down so you'll be ready to create your profile and find matches.
Best Dating App in England – EliteSingles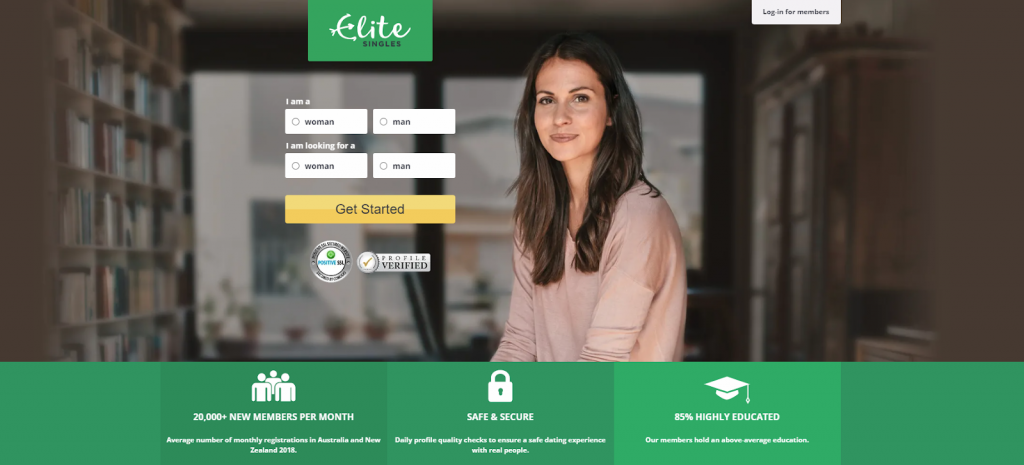 Because most of EliteSingles' members are successful, it's a great fit for England residents. The country is full of ambitious professionals, especially in big cities like London. But even if you live on the outskirts, you can expect to find love here.
---
Best Dating App in Scotland – eHarmony

eHarmony is among the best UK dating apps, especially for people living in Scotland. And the reason might come as a surprise but hear us out.
If you're Scottish, you might have noticed that the number of religious wedding ceremonies is declining here. At the same time, civil and humanist weddings are on the rise. In other words, people are connecting based on compatibility instead of religion.
And we know what you're thinking. Isn't eHarmony a Christian dating website?
In a word, no. It used to be, but now, it's changed lanes and matches people based on personality and interests. In fact, it barely even touches on religion.
At the same time, you can talk about your faith if you want. Either way, you can expect to find a life-long connection when using this dating app.
---
Best Dating App in Wales – Silver Singles
If you're a senior in Wales, you're far from alone. Wales has more seniors than the other countries in the UK, and many of them aren't in relationships. With so many available men and women, you can swoop in and find a match in your golden years.
And that's why we recommend SilverSingles if you're in Wales. Of course, if you're under 50, you'll want to use one of the other UK dating apps. Still, we think SilverSingles is a great fit for a large portion of Wales singles.
---
Best Dating App in Northern Ireland – Christian Mingle
The rest of the UK might be losing its religion, but that's not the case in Northern Ireland. Instead, most residents identify as Christian, and many are searching for faith-based relationships. That's why Christian Mingle is our choice for Northern Ireland singles.
Now, we realize that the religious landscape has changed a bit in Northern Ireland. More people are identifying as Catholic and fewer as Protestants. But that's not a problem since you can search for both on this dating app.
---
Avoid These Profile Picture Fails
No matter which dating app you use, you're going to need to upload a killer profile picture to land your match. But don't reach for your camera just yet. Instead, check out some massive mistakes you want to avoid.
Editing and Filtering Photos
Do you get a little filter and edit happy when uploading pics to dating sites? That's fun for social media, but you want to be authentic on these apps. Forgo the edits and filters, so your natural self comes through.
Using Old Pictures
Since authenticity is the name of the dating game, don't use any pics that are more than a year old. A lot can change in a year, so go with something newer. If you don't have any recent pics, snap a few and use them.
Only Using Headshots
Does it annoy you when someone uploads all headshots on a dating app? It's hard to know what the person looks like when viewing a pic from the neck up. Other singles feel the same, so include some full-body shots as well.
Uploading Group Photos
Your potential dates don't want to play "Where's the Single" when looking through your photos, so stay solo in your pics. By doing that, you're more likely to find your plus one. Plus, you won't have to explain why you included your ex on your dating profile. Now, that would be an awkward conversation.

Can You Use the Best UK Dating Apps for Casual Dating?
Each of our favorite dating apps is geared toward long-term relationships. Still, you'll find lots of singles that are interested in something casual. You can include what you're looking for when creating your profile and search by relationship type.
And who knows? Maybe you'll start something casual, and it'll progress to long-term love before you know it.
That's the magic of online dating. The matching algorithms are so fantastic that you can form connections that are close to impossible to make in the outside world.