Meeting Ukrainian singles in the real world is hard enough if you live there. If you're overseas, it's close to impossible without a hefty travel budget and a lot of patience. But, fortunately, you don't need tons of time or money to find your match on a dating app.
Whether you want to find someone in your neighborhood or in another country, dating sites are the way to go. And we're going to make it even easier by giving you the details on the best Ukrainian dating apps.
The 4 Best Ukraine Dating Apps
UkraineDate – Best App for Ukrainian-Western Connections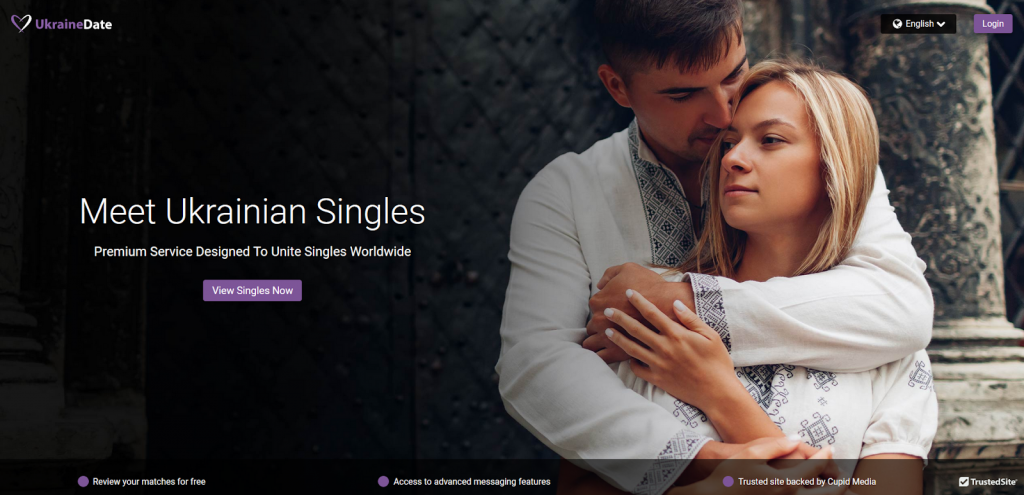 If you watch "90 Day Fiancé," you know that international dating is popular in Ukraine. And while Yara, Natalie, and other reality TV stars get all the attention, most of these relationships form away from the cameras.
If you're into the international dating scene, UkraineDate is the site for you. Powered by Cupid Media, it's one of the most trusted Ukrainian dating apps. It's also super easy to use, so nothing's standing between you and your match.
The profiles are color-coded, with green highlighting what you and your matches have in common.
While some people give the profiles a quick glance, we recommend reviewing the "Basic" section to find out if the person wants to relocate. Then you'll know if it's worth reaching out or if you should pass.
Since we recommend the app for international dating, you might wonder why we mentioned checking the relocation status. While it's not as common, some Ukrainians use it to find nearby matches. The local dating pool is more limited, but numerous users manage to find true love without moving.
Whether you're dating locally or internationally, make sure you fill out your profile completely and add CupidTags. The tags will help people find your profile and lead to more potential connections.
This is just a quick rundown of UkraineDate, but it has so much more to offer. You can try it yourself by setting up a free profile today.
---
InternationalCupid – Best for Increasing the International Dating Pool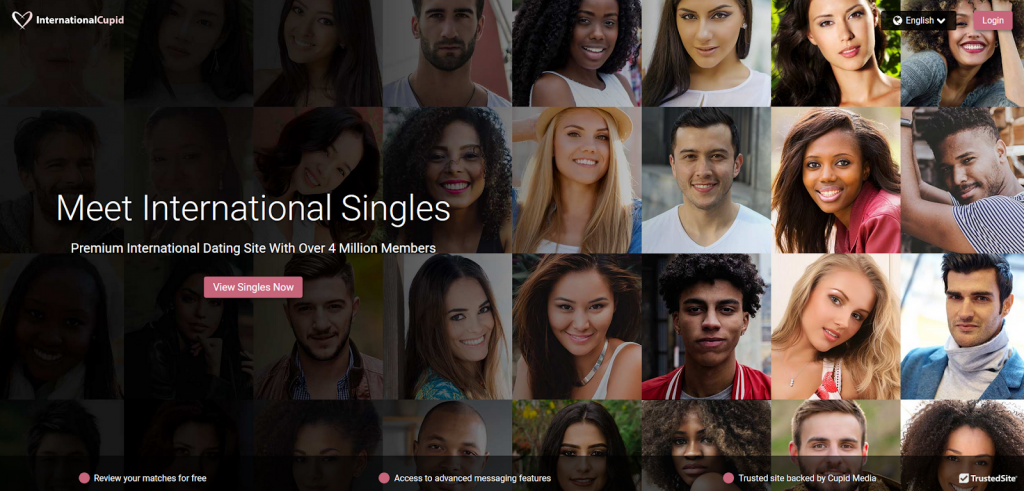 Cupid Media also owns InternationalCupid, and it's set up the same way as UkraineDate. But unlike UkraineDate, it's not just focused on Ukrainians and those that love them. Instead, it's a worldwide dating site with people finding matches around the globe.
You'll access the same features, including CupidTags, and you can find out if people want to relocate. And since there are more profiles, you can find your next partner in Ukraine or anywhere else in the world.
With so many singles on InternationalCupid, you can be as picky as you want when looking for a match. Get started by setting up a free profile so you can browse men or women.
---
eHarmony – Best Ukrainian Dating App for Long-Term Relationships and Marriage

Hookup culture isn't big in Ukraine, and most singles want to start serious relationships. Often that leads to a trip down the aisle, but many couples don't live happily ever after. The Ukrainian divorce rate is over 40 percent, meaning far too many people marry the wrong partners.
With that statistic in mind, we set out to find a Ukrainian dating site that helps people find long-lasting love. After reviewing dozens of sites, we settled on eHarmony because it has the highest marital satisfaction rate of all dating sites.
eHarmony takes a psychological approach to matchmaking, which makes sense considering the founder is a clinical psychologist. He spent decades helping married couples through issues and identified the factors needed for a successful marriage. And then he used that knowledge to help singles find compatible matches online.
After taking the personality questionnaire, the site will match you with the people that you're most likely to stay with for the rest of your life. This doesn't mean you have to get married, but, if you do, expect it to last for the long run.
Whether you want marriage or a lifelong partner, you can't beat eHarmony. Dive in today by creating a free profile.
---
Christian Café – Best Dating App for Religious Ukrainians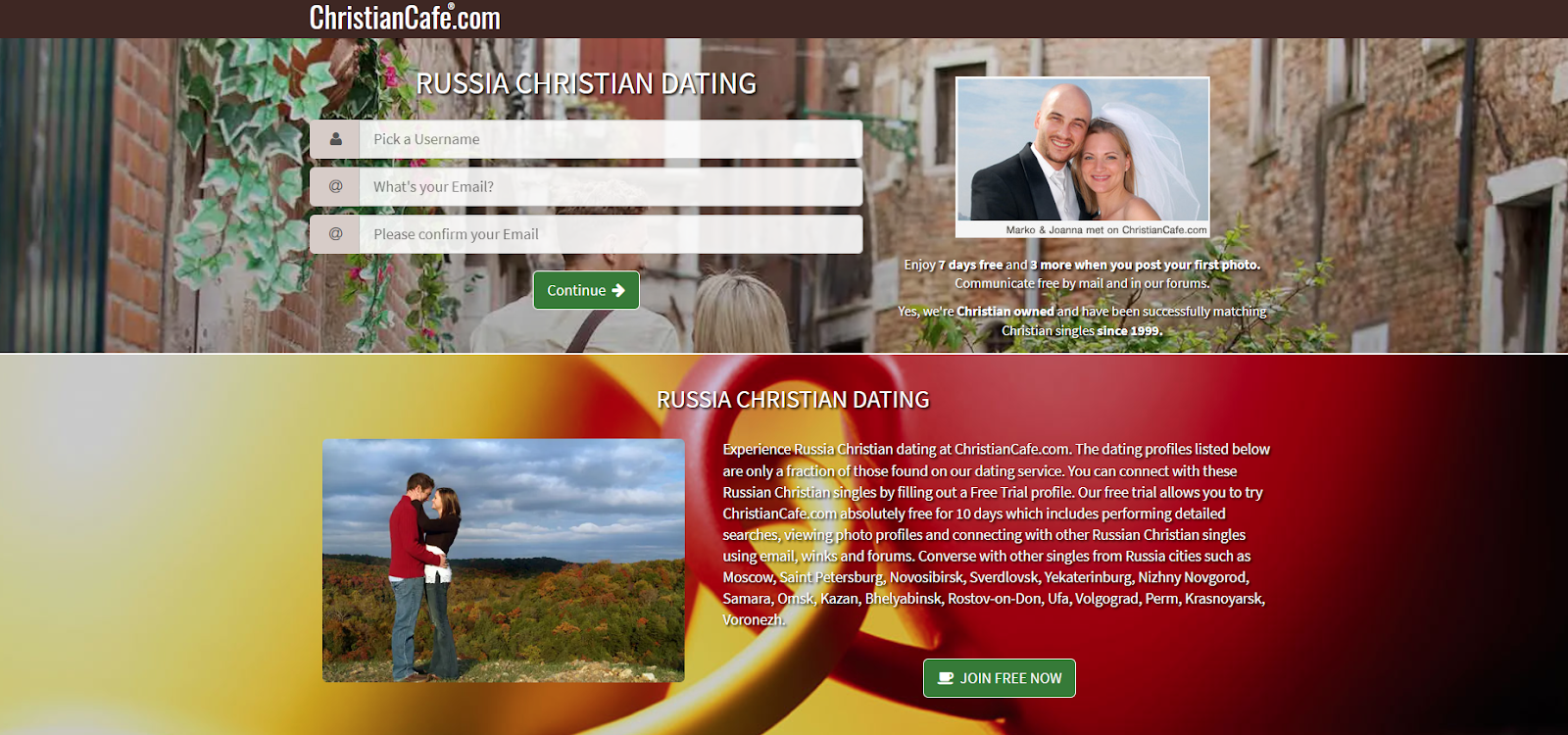 Let's start with a disclaimer. We promise we didn't get all of our research from watching "90 Day Fiancé." We normally keep our reality TV addiction separate from dating research, but something came to mind when choosing Ukrainian dating sites.
During our research, we read that close to 80 percent of Ukrainians are religious, with most identifying as Orthodox Christians. And that's what made us think of "90 Day Fiancé." Well, specifically, it made us think of one of the couples.
Mike and Natalie first appeared on the seventh season of the show and seemed like the ideal match at first. But there was one pretty big difference between them. See, Natalie is an Orthodox Christian from Ukraine, like many people in her native country.
And American Mike…Well, he believes in aliens. Yes, we are serious. And no, that's not common in America or any other country, but we digress.
It didn't take long for the two to argue about religion. She wasn't sure how she felt about spending her life, and having kids, with a guy putting all his faith in UFOs. Of course, religion wasn't the only issue, but it caused her to second-guess the relationship.
So, now, back to dating apps…
Since atheism and aliens are dealbreakers for some Ukrainian singles, we think a Christian dating app is a good fit. But instead of choosing a random site, go with Christian Café. It's responsible for 25,000 marriages and counting, so there's a good chance you'll find the love of your life here.
So, how does it do such a nice job of creating compatible couples? It comes down to the questionnaire that covers your faith and dating preferences. As far as dating preferences go, you can even decide if you want to relocate or stay in your country.
Don't end up like Mike and Natalie. Instead, head to Christian Café to set up your free profile.
---
Reasons to Use These Ukraine Dating Apps
International and Local Dating – Some Ukrainians want to meet foreigners, while others prefer to stay in their native country. You can choose either option on these dating sites.
Advanced Matching Algorithms – These apps consider personality and interests when matching singles instead of just filtering singles by location.
Serious Singles – We chose sites that attract people looking for serious relationships because we know hookup culture is frowned upon in Ukraine. Many of the members on these apps want to find husbands and wives.
Free Profiles – You can set up free accounts on all of our favorite Ukrainian dating sites. Plus, each site has premium memberships that include extra features.

Ukrainian Dating Culture – How to Date Online
Understanding Ukrainian dating culture is vital if you're going to make it work for the long haul. If you respect the culture online, your match is more likely to move things into the real world.
We want the best for you, so let's go over the culture. And don't worry — we'll leave the "90 Day Fiancé" references out this time.
First, expect things to take things slow when dating a Ukrainian single. Ukrainians typically need time to open up, so you'll spend a while getting to know each other. But that doesn't mean you won't be official. See, Ukrainians aren't known for dating around, so don't be surprised if you become exclusive after a conversation or two.
Gender roles are also important in Ukrainian relationships. If you're a man, you'll take the lead and pay the bills. You probably won't have to pay anything while online, but get ready to pick up the tab when meeting in person. With that in mind, save some cash while chatting so you'll be ready to impress your date.
Respect is also a big part of Ukrainian dating culture, and we have a couple of tips to help you with this.
First, learn some Ukrainian words or phrases to show you're invested. You don't have to take a full course, but even saying "hi" in your match's native language will give you an edge. And second, respect your match's family. Ukrainian men and women value their loved ones and expect the same from their partners.
Once you get the respect down, it'll be time to move on to gifts. If you're wooing a Ukrainian woman, presents are a must — but don't order up a dozen roses. That's normal in the U.S., but it'll be a strike against you when dating a Ukrainian woman.
See, in Ukrainian culture, you only bring an even number of flowers to a funeral. But if you remove one rose from the dozen before sending, you're in the clear. Or you can save some cash by giving a single rose. That might be a lame high school move in the States, but you'll be good to go in Ukraine.

American Cities with the Most Single Ukrainians
If you live in the United States, you can find Ukrainian singles without leaving home. Well, scratch that. You might have to look in another city, but you won't have to change countries.
More than one million Ukrainian Americans live here, spread out across the country. You'll find the most singles in:
Sedalia, Missouri
Auburn, New York
Dickinson, North Dakota
Pottsville, Pennsylvania
Hudson, New York
Elmira, New York
Amsterdam, New York
Sunbury, Pennsylvania
Additionally, you can check some metro areas. Lots of Ukrainians live in:
Allentown, Pennsylvania
Bethlehem, Pennsylvania
Easton, Pennsylvania
Sacramento, California
Roseville, California
Folsom, California
Vineland, New Jersey
Bridgeton, New Jersey

Overcoming Language Barriers when Video Chatting
Let's say you meet a Ukrainian guy or gal online but can't meet in person for a while. That's common if you live in another country, so you'll want to hop on video chat to grow the connection.
But there's a problem.
You don't speak Ukrainian, and your match isn't fluent in English. So, while you want to video chat, you'd rather not spend your evening getting lost in translation. Fortunately, there's an easy solution for this.
You can use a service like Skype Translator to translate in real-time. Fire it up and let the tech do the hard work while you gaze in your match's eyes. And after a few video calls, it might be time to get a plane ticket. Then you can test your connection in the real world.