With the lowest percentage of single adults in the country, dating can be a little tricky in Utah. It's not like single folks will just fall into your lap when you're grabbing a drink or hanging out at work. Nope, you have to take a different approach to find love in Utah, and that means hitting up dating sites.
We know that Utah singles are a picky bunch and want the best when it comes to romantic partners. That's why we dug into membership bases and other data to find dating sites that are ideal for Utah singles. And now, we're ready to show you the best Utah dating apps.
Each of these apps is designed for a specific relationship style, and we'll help you pick the right one for your needs. And it's not just about relationship style, either. Location matters, too, so we'll share our favorite Utah dating sites for Salt Lake City and other places.
These apps will help you make connections, but we also want you to be able to close the deal and start relationships. And that's why we're also going to share some interesting info on Utah's dating scene. We have a lot to cover, so let's dig into everything you need to know about online dating in Utah.
---
Jump to:
---
1. eHarmony – Best Utah Dating App for True Love that Lasts
Who Will Love eHarmony: Utahns seeking compatible partners for long-term relationships, including marriage
Who Might Not Enjoy eHarmony: Singles who want to enjoy casual dating before getting serious
Biggest Pro: Matching system based on the traits needed for long-term marital success
Biggest Con: More expensive than other Utah dating apps, but it also has the highest success rate
Starting Price: Premium memberships start at $35.90 a month
Most Utah singles hope to get married someday. Actually, scratch that. Most of them hope to get married soon. Utah has one of the youngest median ages for first marriages, with lots of people walking down the aisle in their early to mid-20s.
Even though marriage is such a priority here, Utah also has one of the highest divorce rates in the nation. Those two facts seem at odds with each other, but it actually makes sense. According to data, people who get married before turning 25 have a much higher chance of divorce. That explains why Utah has such a high divorce rate.
Now, that doesn't mean you can't find "the one" when you're young. However, you do have to change how you look for your forever partner. Instead of going off your gut in the real world, make sure you find a compatible partner by using eHarmony.
Dr. Neil Clark Warren was a renowned clinical psychologist before co-founding eHarmony. He used his experience counseling married couples and performing "divorce autopsies" to identify the traits needed for successful marriages. Now, eHarmony matches people based on those same core traits.
Over two million men and women have found true love on this Utah dating site. And hey, they're more likely to stay together than people who meet elsewhere, thanks to the scientific matching system.
You don't have to wait to get married, but you should be mindful of how you find your mate so your marriage will last. Lay the groundwork for your happily ever after by setting up a free account on eHarmony today.
---
2. EliteSingles – Best for Professionals Seeking Their Perfect Matches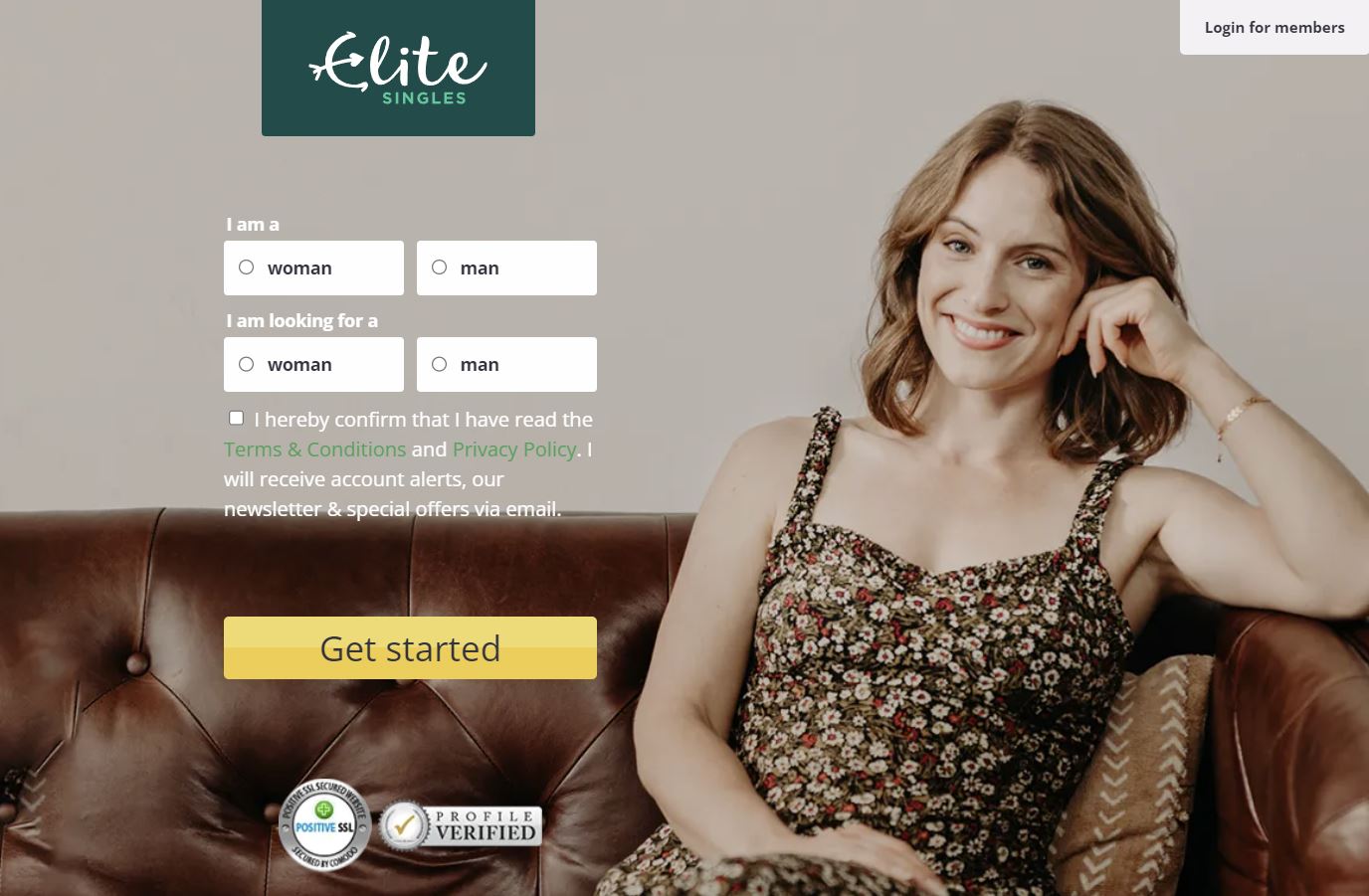 Who Will Love EliteSingles: Utah's professional men and women who want more options
Who Might Not Enjoy EliteSingles: Non-professionals and singles into Utah dating apps for hookups and casual dating
Biggest Pro: Most members are ambitious professionals
Biggest Con: Few features available with free accounts
Starting Price: Premium memberships start at $27.95 a month
Did you know that Utah is among the states with the most CEOs? In fact, there are 3.33 CEOs per every 1,000 jobs, according to Insider.
Of course, you don't have to become a CEO to make the big bucks in Utah. For instance, some of the best minds work at tech startups around the state. Plus, ambitious, motivated people take on roles in aerospace and other key industries.
Unfortunately, the more successful you are, the harder it is to date in Utah – mainly because of the big gender gap.
Let's look at people between the ages of 18-30 living outside of the Salt Lake City metro area as an example. You'll find 1.7 single college-educated gals for every guy outside the metro area. It's a little bit better when looking at the 31-45 age group. Then, you have 1.2 single women for every man. And while that's great news, the imbalance goes back up in the 46-64 age group.
With so many more professional, educated women than men, finding partners in the wild is nearly impossible. Fortunately, it's as easy as creating an account when using EliteSingles.
You won't even notice the gender imbalance on this Utah dating site. Instead, you'll find tons of profiles from successful, career-oriented men and women. And don't worry about choosing who to reach out to since EliteSingles uses the five-factor model of personality to match you with others.
This is by far the best Utah dating app for professionals, and you can create your account for free. Don't let the gender imbalance hold you back. Instead, set up your free profile today.
---
3. The League – Best for Ambitious Singles with High Standards
Who Will Love The League: Young, ambitious people with high standards
Who Might Not Enjoy The League: Singles without impressive resumes or big ideas
Biggest Pro: Curated membership base ensures that singles connect with the cream of the crop
Biggest Con: Longish waiting list for free members, but you can get to the front of the line with a paid subscription
Starting Price: Premium memberships start at $33 a week
A lot of people talk about how Utahns get married young, but we're here to tell you that's not the only thing they do early in life. People here tend to be ambitious and succeed at a much younger age than people in most states. And it's no wonder, considering that programs like the Utah Entrepreneur Challenge and Young Entrepreneurs Camp help young folks channel their ambition so they can do great things.
The number of success stories among Utah's younger crowd goes on and on, and many of those folks have high standards when it comes to dating. We're talking so high that most people can't meet them, which is why The League is one of the best Utah dating sites.
The League is all about standards. Seriously, almost a quarter of the members are executives or directors, and 30% have advanced degrees. And speaking of standards, free members don't even get access to the app immediately. Instead, they have to get vetted to see if they have what it takes to become part of this exclusive group.
Oh, and remember how we said the League's members are on the younger side? The majority of the people on the app are between the ages of 25-35. Considering their ages and accomplishments, they're truly among the state's elite.
Are you The League material? If so, set up your free account for this Utah dating app today. It's the best way to guarantee that you meet other Utah singles in the same "league" as you.
---
4. Zoosk – Best Casual Utah Dating App (Judgement-Free)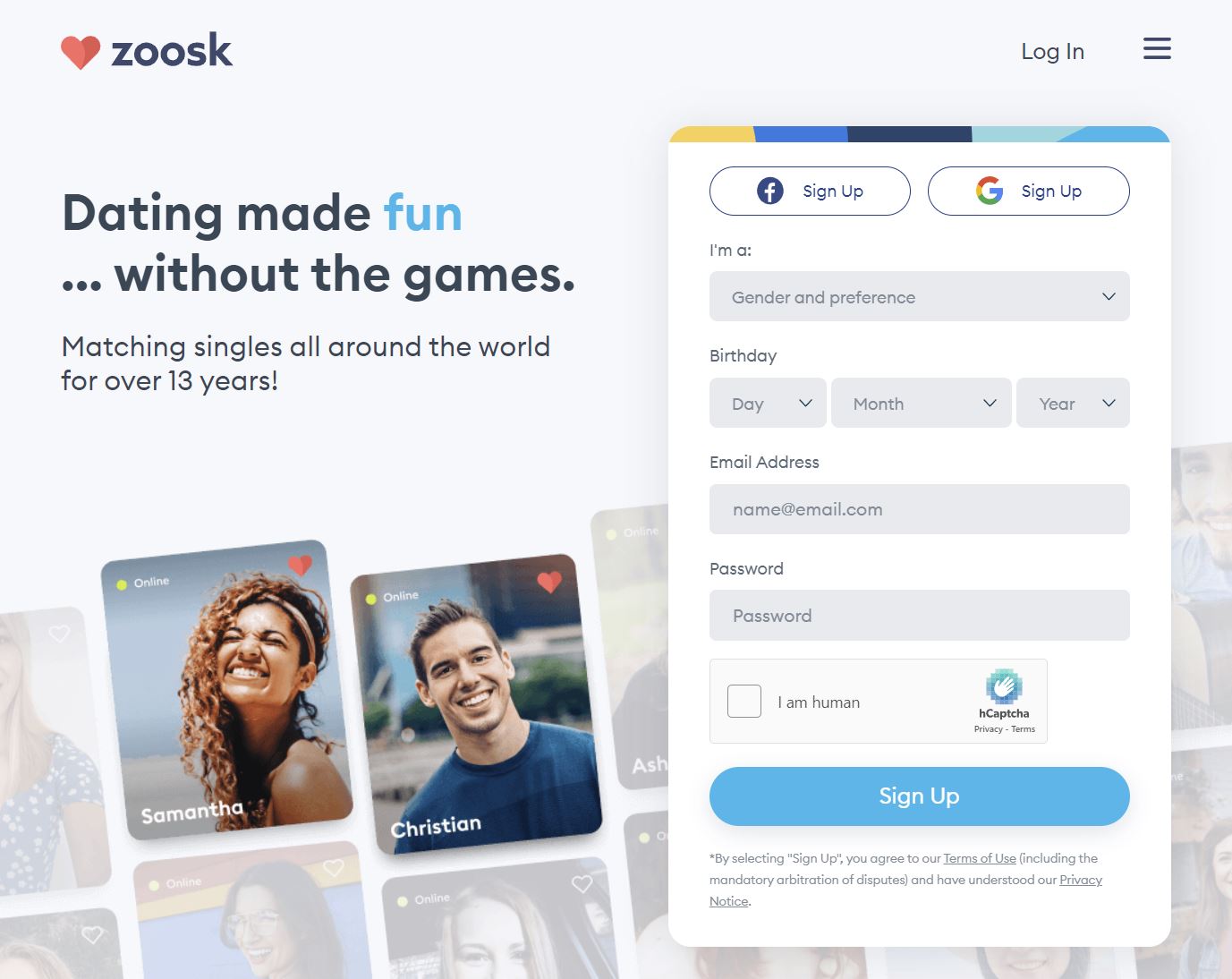 Who Will Love Zoosk: Casual Utah daters tired of keeping hookups and short-term flings on the DL
Who Might Not Enjoy Zoosk: Utahns looking for marriage material
Biggest Pro: Millions of members seeking various types of casual relationships
Biggest Con: Few options for Utah singles looking for serious relationships
Starting Price: Premium memberships start at $10 a month
You might think that online dating in Utah is all about getting serious, and in many ways, it is. See, most Utahn's value marriage and hope to find their forever partners.
But dating app Zoosk discovered an interesting tidbit about Utah singles. It reviewed its membership base and realized that 60% of its members in Utah are down with casual dating. Plus, 30% of the women in Utah are open to keeping things casual.
As you probably know, though, casual dating kind of stays on the DL in Utah. It doesn't really fit in with Utah's image, so people think they have to stay in the shadows when hooking up or keeping the strings out of the relationship. That causes people to make some potentially dangerous (and often regrettable) choices.
Fortunately, you can engage in casual dating without stress by using Zoosk.
For starters, this dating app has more than 40 million members, so you'll find more choices than you'll ever see out in the open in Utah. Plus, it's easy to search by relationship style, so you can find someone into the same kind of casual fun you are, whether that's a hookup or a short-term fling.
Possibly most importantly, almost all the members are open to casual dating on here. That means you can approach people without judgment. The same can't really be said if you try to pick someone up in person.
And unlike in-person pickups, you can find out who people really are before getting down to business on Zoosk. This dating site for Utah singles conducts safety audits, offers profile verification, and has video dates available. That way, you can weed out any creeps and connect with someone on a deep yet casual level.
Most single people in Utah have marriage on their minds, but that doesn't mean you can't explore. Zoosk is the best dating app in Utah for casual fun, and you can get started for free. Set up your account and meet like-minded singles today.
---
5. SilverSingles – Best for Singles 50 and Over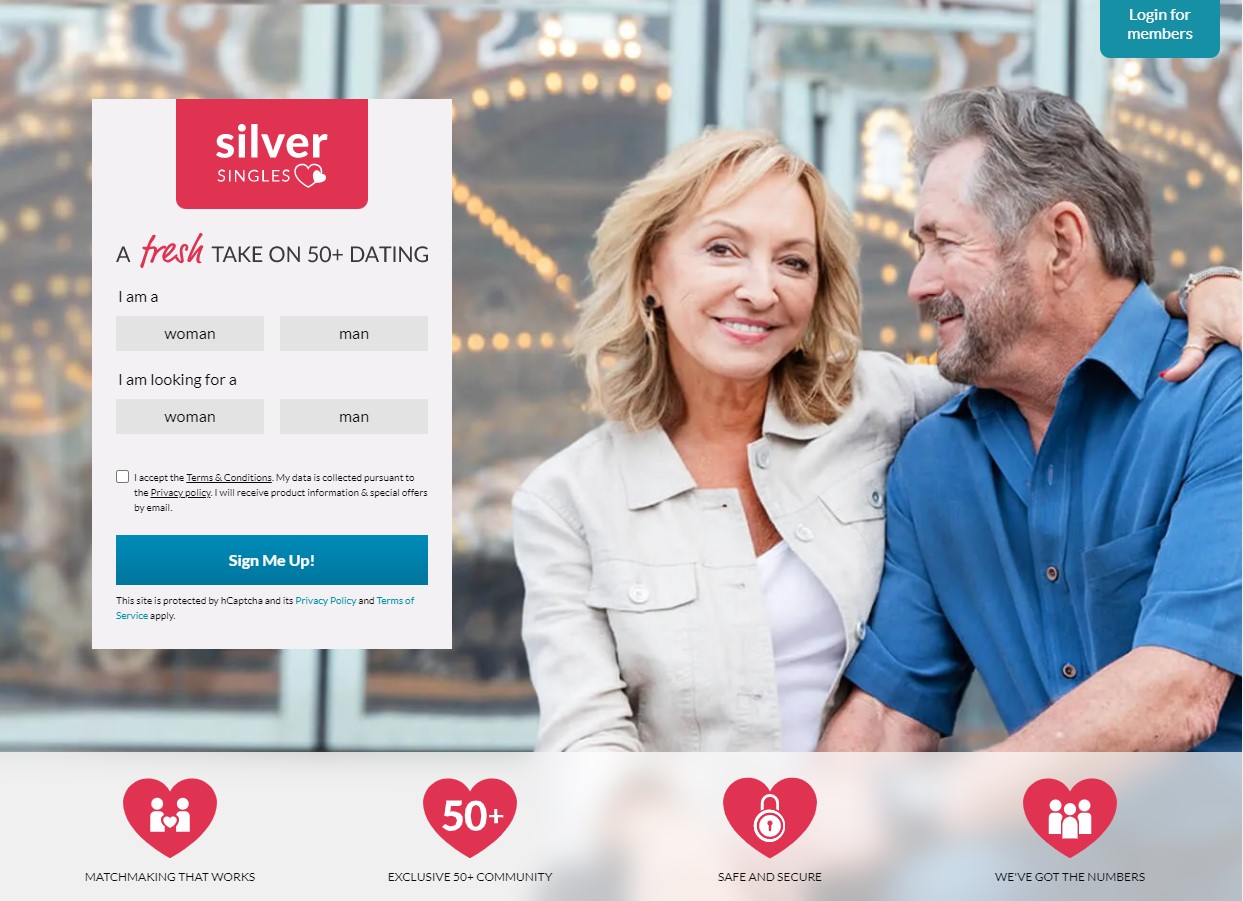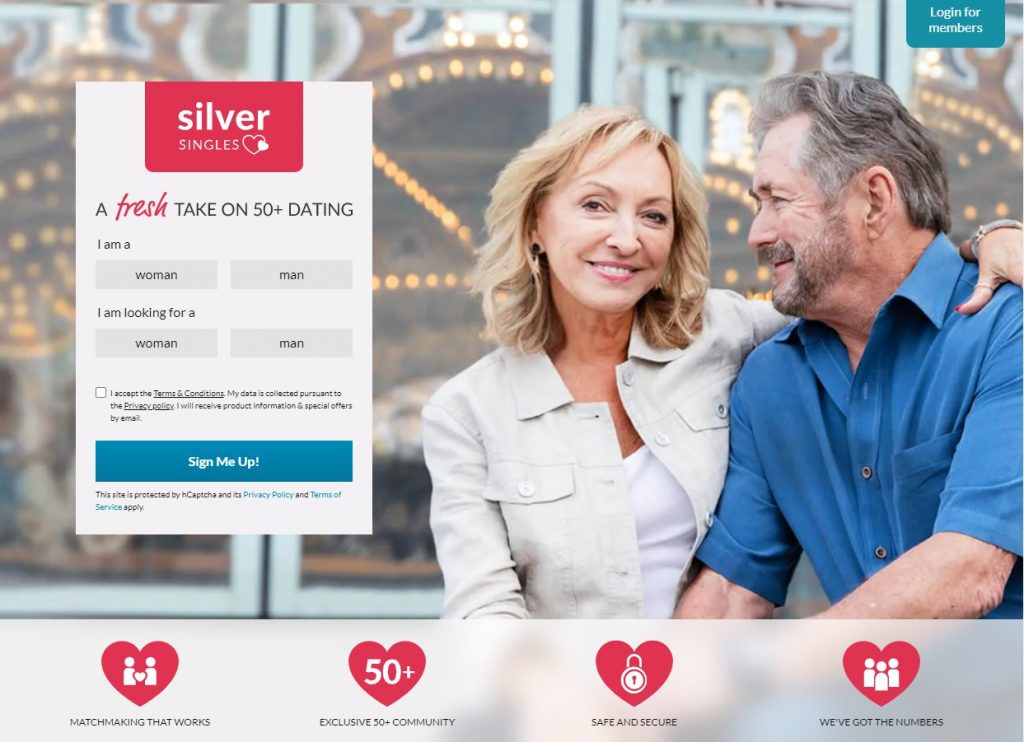 Who Will Love SilverSingles: Singles 50+ seeking compatible partners interested in long-term commitments
Who Might Not Enjoy SilverSingles: Seniors looking for partners in their 40s or younger
Biggest Pro: Exclusively open to singles 50 and over
Biggest Con: Fewer members than some Utah dating sites, but seniors don't have to compete with younger folks
Starting Price: Premium memberships start at $27.95 a month
With almost 400,000 people 50 and older in Utah, there's not a shortage of seniors. But while that's good news if you're single, there's a big problem you can't ignore: the gender imbalance.
There are lots more men than women in the single 50-54 age group, only to switch to more women than men in the subsequent age groups. And no matter which side of the gender imbalance you're on, it'll sting if you're looking for love.
We know that older folks aren't the only ones to deal with this, but you'll feel the impact more as you age since there are fewer single people. See, people are also more likely to be married or partnered as they get older, so your options are already more limited.
But it's not all doom and gloom. Many sources say that Utah is one of the best states for dating over 50, but the key is knowing where to look.
And when it comes to finding love later in life, SilverSingles is the best of the mature dating apps for singles in Utah. With hundreds of thousands of active users in Utah and around the globe, you'll have tons of options here. And even better, it matches you based on personality and preferences, so you can find true love when using the site.
Are you tired of riding out your golden years alone? Find your plus one by creating a free profile on SilverSingles today.

What's the Dating Scene in Utah Really Like?
Settling Down is the Goal for Most Utah Singles – On average, women marry at 24 and men at 26 in Utah. This is much younger than most states, and it greatly impacts the dating scene. You can expect to meet people on dating sites in Utah that hope to find "the one" and progress down the aisle.
Some People Get Ahead of Themselves – During her appearance on "Good Things Utah," licensed therapist Loni Harmon said that some singles get in their way by wanting to know where a relationship is headed right out the gate. Since that can hurt a relationship, she recommends that Utah singles try the cuffing season trend. Then, they can get to know each other without pressure.
Fewer Singles than Other States – Over 56% of Utahns are married, which is the highest percentage in the country. This leaves few single through each age demographic. You can increase the number of single adults you find by using Utah online dating sites, though.
Gender Ratio Favors Men – While there are more women than men in the United States, it goes the other way in Utah. You'll find more men than women in different age ranges, giving guys a slight upper hand when dating. You won't notice the big gender imbalance when using dating sites for Utah singles, though.
Most People Looking for a First Chance at Love – Utah has the third lowest share of divorced adults, so most people are searching for their first (and last) spouse. This can make divorced folks feel a little uncomfortable when dating in person. Fortunately, dating sites remove stress and discomfort and help people connect with like-minded men and women.
Religion is Huge in Utah – Over half the adults in Utah are practicing Mormons, while just over 22% are "religious nones". The biggest religious groups behind Mormonism are Evangelical and Mainline Protestants, although these people are in much smaller numbers statistically.
Alcohol Isn't a Big Part of the Scene – It's no secret that Mormons don't drink, but they're not the only Utahns who aren't into alcohol. Fewer than 30% of adults here are currently using alcohol, so most singles interact while engaging in alcohol-free activities. If you like to imbibe, you might be unsure of what to do before going on a date. Get our thoughts on drinking on a first date for help.

Online Dating in Salt Lake City
Best Salt Lake City Dating App Recommendation: The League and Zoosk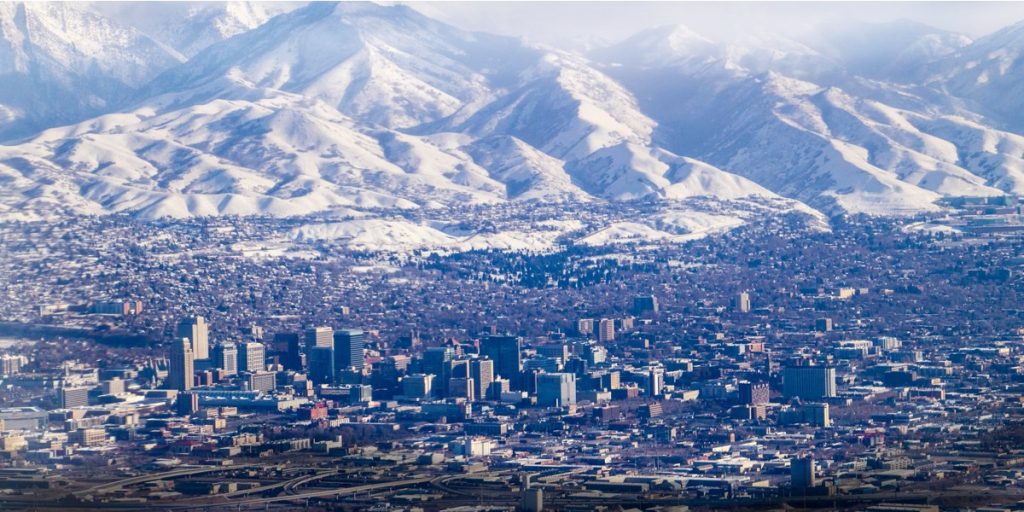 Outsiders might think of Mormonism when Salt Lake City comes to mind, but the landscape is changing. Sure, close to half the population identifies as Mormon, but it's not just a religious city these days. Instead, families, professionals, college students, and others have an assortment of belief systems and viewpoints.
The changing landscape has impacted the dating scene, too. Check out what we've discovered about dating in Salt Lake City. Also, get the details on the best Utah dating apps for finding love in SLC.
Hobbies are Where the Action Is – Salt Lake City singles tend to be quite active. Many of them engage in hobbies to expand their social circles and make romantic connections. Unfortunately, hobbies often take people into remote areas, creating safety concerns when trying to land dates. That's one reason many people prefer using dating apps for Utah singles.
Bar Scene Skews Young – Salt Lake City does have a bar scene, but it's mainly for the college crowd. You won't find many people 25 or older at the bars, so finding dates there is pretty much a miss.
Personality is a Must on Dating Profiles – Some people only put their interests on dating app profiles, completely leaving their personalities to the imagination. People here want deeper connections, so we recommend putting some time into your Utah online dating profile so you can stand out. Check out our dating profile tips for some help in creating the perfect profile.
Ghosting Happens – We don't know why, but ghosting seems to happen more in Salt Lake City than in other cities.
Sometimes, people ghost after a date, but other times, they don't show up at all. Don't worry about falling victim to this, though, since we have you covered. Check out some tips on dealing with flakey people, so you won't have issues when dating.
Expanding the Search Radius Helps People Find "The One" – Even though SLC has lots of people, many of them are already married or in serious relationships. That's why so many singles use Utah dating sites to search for people in Ogden or other nearby cities.
Two things stand out when looking at the singles in Salt Lake City. First, many of them have high standards and work hard to find a mate who meets them. And second, a lot of the folks here are ambitious and positioned to become the next great thing. After considering those two things, The League is our pick as the best Salt Lake City dating site.
The Salt Lake City area is also home to more than a dozen colleges, so students need a dating app, too. Zoosk is by far the best Utah dating app for college students. It's full of people into casual dating, so you can have the ideal college experience with help from the app.
Population: 200,478
Men: 51.2%
Women: 48.8%
Unmarried: 57.27%
Single: 28.7%
White-Collar Employees: 83%
Blue-Collar Employees: 17%
Bachelor's Degree or Higher: 49.8%

---
Online Dating in Ogden, Utah
Ogden is known for providing residents with the best of both worlds. You get big city amenities while also enjoying majestic mountain views. On top of that, it has a low cost of living, making it a fantastic place to live.
But as nice as it is to live in Ogden, dating can be a little challenging. Get the details on dating in Ogden and learn which dating sites for singles in Utah will give you the best chance of success.
It's Diverse: Over 90% of Utah consists of White folks, but Ogden is different. More than 30% of residents are Hispanic or of Latino descent. Because of that, interracial dating is more common in Ogden than in other places in Utah.
It's Less Religious – Ogden has less of a Mormon presence than many other cities in Utah. If you're looking for secular singles, set your Utah dating app to Ogden and start browsing.
Substance is Important – Singles here aren't looking for quick flings with people they don't like. They value substance, and that's a priority when hitting the Utah online dating scene.
With such a value on serious relationships with substance, eHarmony s our pick as the best dating site in Ogden. However, there are also five colleges in the area, and most students aren't ready for eHarmony quite yet. We recommend Zoosk for the college crowd.
Population: 86,798
Men: 51.8%
Women: 48.1%
Unmarried: 53.3%
White-Collar Employees: 66%
Blue-Collar Employees: 34%
Bachelor's Degree or Higher: 23.9%


Utah Online Dating FAQ
How Many People are Single in Utah?
According to the Kem C. Gardner Policy Institute at the University of Utah, 61% of Utah men and 49% of women between 20-34 are single. The percentage of singles goes down to 28% of men and 27% of women for Utahns aged 35-44.
A quarter of men between 45-54 are single, while 27% of women are. And finally, 25% of men and 28% of women between the ages of 55-64 are single.
While this doesn't seem like many options, the best dating apps for Utah singles are full of eligible men and women. You can find single folks in Utah and across state lines if you wish. These dating sites even provide options for dating people in other countries.
What Dating Apps Do Mormons Use?
We chose dating apps that are open to religious and secular folks. eHarmony is the top Utah dating app for people who value religion. It was initially a Christian dating site, but non-religious people use it now.
We evaluated Mormon-only dating sites and couldn't find any that stand up to eHarmony and other Utah dating apps. Mutual is the most popular, but it's too glitchy for us to recommend.